There are many amazing leftover ham bone recipes to help you make full use of the remaining food after a special occasion. If you do not have any recipes to cook these bones, then the list below is definitely perfect for you.
I've selected this collection of ways to utilize ham bones carefully. From hearty and filling main dishes to light side dishes, you can find all sorts of recipes in this article.
I guarantee that they are the simplest, tastiest, and most comforting dishes you will ever try. Why not utilize the leftover ham bone recipes below and start cooking them right away?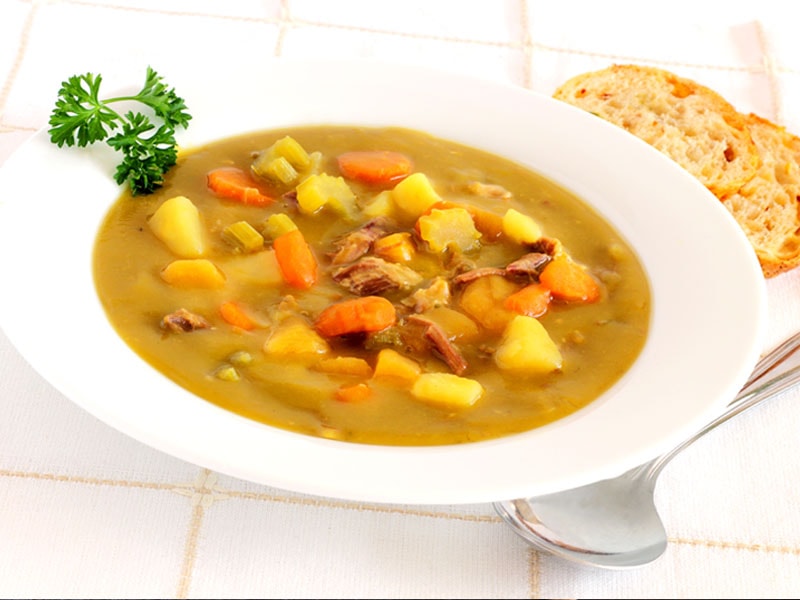 Ultra Easy Ways To Turn Leftover Ham Bone Into Tasty Dishes
To save money and not waste food, there are many ways to use leftovers. You can even create novel dishes that are more addictive than the original. The recipes below are good examples for you to apply to dishes involving ham bones.
Total time: 1 hour 20 minutes
You can solve the problem of leftover ham bones from the holidays quickly with this white bean ham bone soup recipe. It is a delicious dish with straightforward cooking methods and easy-to-find ingredients.
A hearty and hot breakfast or main meal awaits you with this recipe. If you do not have any dried white beans (or Navy beans), you can completely substitute them with canned ones. Doing this can save extra time for soaking and cooking the beans.
The flavor combination of oregano, ground cumin, and red pepper flakes is ideal for seasoning white bean ham bone soup. When serving this dish, remove all the bones to make it easier to eat.
Warm up your tummy by making this white bean ham bone soup.
Total time: 2 hours
You won't be able to stop eating after the first bite of this dish. The maple and bourbon ham and baked bean soup recipe is a hearty dish that is perfect for evening gatherings.
It is more distinctive than other soups because of the umami flavor of ham bone and alternating notes of vanilla, wood, and also caramel in bourbon whiskey. You can make this flavorful recipe with both the slow cooker and the stovetop.
The result is hot, satisfying, and perfectly flavored ham. The ham bone makes this recipe much richer.
Total time: 30 minutes
After encountering this recipe, you'll rethink the idea that ham bones have no real use. Healthy ham and barley soup is a delectable dish filled with nutrients.
One hundred grams of barley contains 17.3 grams of fiber and 12.5 grams of protein. It maximizes the digestive system's function and prevents osteoporosis and gallstones.
Plus, ham bones can infuse a naturally sweet flavor to the soup, so incorporating them into this dish is an excellent choice. Add spinach and diced ham to spice up this recipe.
Total time: 7 hours 10 minutes
If you are looking for a new pasta soup to try, this recipe is what you need. You only need to spend about 10 minutes preparing the ingredients, and the slow cooker will handle the rest.
You can enjoy a rich broth of beef stock, minced garlic, carrot, onion, and celery in this soup. Instead of making the sauce from fresh tomatoes, spaghetti sauce is a great substitute.
Pasta e Fagioli, or literally pasta and beans, is a cozy Italian soup that warms your belly on a chilly day. It is the perfect dish for using up your leftover ham bone.
Total time: 3 hours 10 minutes
This ham stock is easy to make at home and can become the base for many other dishes like stews, soups, and rice like risotto. As ham bones already have a savory taste, you don't need to add salt to the pot. The flavor of the stock should be intense but not too salty.
The slow-cooking method is quite time-consuming, but it is optimal for ham stock. Surely no one wants to check the amount of liquid in the pot constantly.
This recipe might take a while to make, specifically more than three hours. However, I am sure the result is worth your effort and time.
Your dinner table wouldn't be complete without this ham stock. So don't wait, do it now!
Total time: 2 hours 20 minutes
Chowder is a thick soup with a cream or milk base mixed with ingredients such as potatoes, sweet corn, seafood, and meat if you're craving a corn and ham bone combination.
This ham bone corn chowder is even better when you can make the most of the leftover ham. It is also a recipe you can use to serve a whole crowd.
Whole milk and butter are the reasons behind this ultra-creamy soup. To make the best consistency, you should stir the flour and butter mixture into a broth. Then add the black pepper and enjoy with some bacon crumbles.
Total time: 1 hour 30 minutes
This creamy and warm leftover ham and potato soup is a must-try soup for chilly autumn days. Potatoes and ham bones are the holiday leftovers that you can utilize in this dish. Moreover, you also need to top this soup with chopped ham and black pepper.
This recipe is super handy on busy days, as you can prepare leftover ham soup from the previous day and store it in the refrigerator. Then, reheat this dish again whenever you want to enjoy it for dinner.
This holiday ham and potato soup recipe is the simplest way to save money when entertaining a crowd.
Total time: 2 hours 40 minutes
To take your taste buds on an exciting culinary trip through this next recipe of mine. Ham – a versatile food in Western cuisine, appears in this Chinese rice soup recipe.
Chinese ham bone rice soup is more accurately called congee. If you like a soup consistency that is chunky, warmer, and heartier, you might want to try this one. The ham bones make this broth sweet and do not need too much seasoning.
Moreover, the shredded meat sticking in the bone becomes its main topping. Toward the end of the cooking process, garnish it with fried shallots and green onions, and drizzle with some sesame oil for an extra Asian twist.
Usually, in Hong Kong or China, congee is enjoyed as a big breakfast. However, you can eat ham bone rice soup for lunch or dinner.
Total time: 1 hour 35 minutes
This yellow split pea soup with ham dish is an outstanding option for Easter dinners. What better way to celebrate the holidays than treating your family to a full, hot, and healthy gluten-free meal?
Using leftover ham bone can reduce the cooking time as it's already cooked. In addition, it elevates the flavor and richness of this recipe. Remember to add the outside meat of the bone to the pot.
Everyone will be pleased when you make this split pea soup with ham recipe for them.
Total time: 4 hours and 5 minutes
Another great way to use up all leftover ham bone is this collard greens with ham bone dish. Bitterness is the dominant flavor in collard greens, which is very similar to that of kale but a little milder. That taste goes very well with any popular side dish for ham you may prepare.
In southern collard greens recipes, they are often braised with savory meats. So, ham bone is the best choice to spice them up in classic Southern side dishes.
The recipe suggests using unsalted chicken stock and butter. All dishes indeed need salt to create depth. But note that the combination of ham, chicken stock, and butter will be too briny if all three contain salt.
Total time: 1 hour 25 minutes
Give this ham and lentil soup recipe a try when you need something to warm your belly. The ham bones are perfect for making any soup because they are rich in umami flavor.
In addition, soup is one of the simplest dishes because you just need to prepare all the ingredients and put them in the pot. If you don't want to spend too much time in the kitchen, this ham and lentil soup recipe is right for you.
This dish is not only delicious, but it will also surprise you with the benefits it brings. In addition to the ham, the lentils in this dish have high nutritional value.
They reduce the risk of obesity and diabetes and promote good heart health. So adding this dish to your daily menu helps you improve your well-being.
There's no better way to make the most of leftover ham than making a lentil soup following this step-by-step guide.
Total time: 45 minutes
Fragrant and spicy are two words to describe the taste of Cajun seasoning. It has a boldly smoky and savory flavor with many layers thanks to cayenne pepper, black & white pepper, garlic, onion powder, and paprika.
More than that, this ham and beans rice isn't time-consuming and perfect for busy weeknights. This recipe is cost-efficient and avoids food waste as you can reuse ham and even leftover rice from a previous meal.
Overall, the recipe is easy to make but still full of flavor thanks to the combination of peppers, thyme, butter, bay leaf, and basil.
Leftover Ham Bone Is No Longer A Worry
Leftover ham bones are often overlooked in reuse recipes because many people think they are no longer worth much. However, as you can see, there are many great ways to utilize this ingredient.
The bones are rich in smoky flavors and go well with main meals such as soups, rice, and congee. You can even use them to make delicious side dishes. Please like, comment, and share this post with many people so they can use the recipes above to avoid wasting food.