Are you seeking easy leftover chicken recipes after you have realized leftover meat in your refrigerator? Or, you want to make a delicate dish for your family, but there are only some leftovers in the fridge. Not a big deal! This post has got what you need.
This article will provide you with loads of recipes as well as plenty of helpful information. In addition, it will also connect you to links to step-to-step instructions, ensuring you are in the right place to trust and try new cooking ideas with leftovers.
So, are you in or not? If you are interested, stay tuned with me and keep reading for more!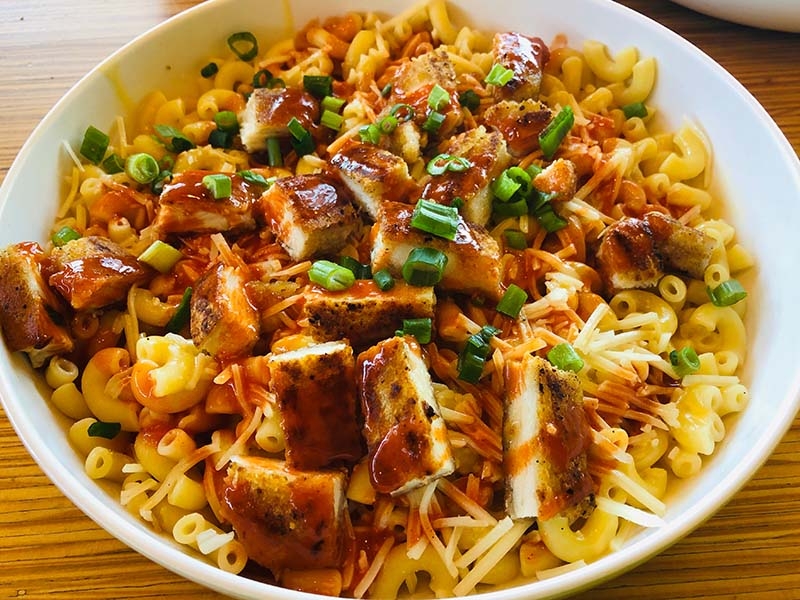 Learn How To Make Magical Dishes With Your Leftover Chicken
After every meal, there are more or less a few chickens left. And I know leftover chicken has always been a headache problem for many of you. But you do not want to waste food, right? So let me help you get out of this insane problem with these 37 recipes made from leftover meat.
Total time: 65 minutes.
Mac and cheese is a famous dish everyone must have known or even eaten in their lifetime. Indeed, mac and cheese is such an easy-to-make dish that everyone has their best recipes. To make yours, you can add any favorite ingredient to this dish, including your cooked chicken.
You will find a chicken mac and cheese delicious and super fatty. And I am sure that your children will love it right away with its creamy and cheesy texture.
In addition, you can also add breadcrumbs or veggies on the top to create crispiness to the dish. It all depends on your creativity!
Total time: 30 minutes.
Hailing from the traditional pizza, people make leftover BBQ chicken pizza with barbecue sauce and leftover chicken.
Unlike the regular one, this pizza tastes sweet and tangy from the barbecue sauce with a meaty chicken flavor and pungent red onion odor. All combine a strange but super tasty dish!
If you do not have much time to prepare for your upcoming party, BBQ chicken pizza will be handy since you can pre-assemble and freeze it in the fridge.
To properly freeze, put your pizza in a freezer bag, or wrap the entire pizza with plastic wrap and foil thoroughly and put it in the freezer. You can also store them in the fridge for up to 4 days as long as you keep them in an airtight food container.
Check out this easy leftover BBQ chicken pizza for your kids!
Total time: 15 minutes.
Native to Rome, Carbonara has earned its name from the Italian word meaning "charcoal burner". For that reason, many believe that Carbonara was once an easy-to-make dish for men who worked a long time under severe weather outdoors. So, how to make Carbonara?
Carbonara will consist basically of whisked egg, hard cheese, bacon, or pancetta with black pepper. With this chicken version, you just simply add your leftover meat, baby leeks, and some special seasonings into the dish, such as tarragon leaves.
Adding chicken will make your dish balance out the fat of cheese. Besides, tarragon leaves in chicken Carbonara will add sourness to your food, stimulating your taste buds.
But if you are not into tarragon, you can always substitute it with grain mustard or lemon zest. These ingredients will work for the same result. Besides, you can feel free to invite more people onto the table with a 100-gram increase per person.
Total time: 30 minutes.
The chicken parmesan casserole recipe will be a very convenient dish if pasta, tomatoes, cheese, and leftover chicken are available in your kitchen. You will get a creamy and cheesy meal by blending and cooking them well.
Also, you will have a beautiful golden brown color cover on top, thanks to the additional breadcrumbs. In addition, to spice up your meal, you can serve chicken parmesan casserole with plenty of salad bowls or veggies.
You can take advantage of the vegetables left in the fridge and mix them with mayonnaise. Then you can enjoy your meal with a perfect combination of fatty, sour, and fresh flavors.
Total time: 45 minutes.
Once a kid, everyone is all into chicken spaghetti, a legendary food of many generations. As the name suggests, chicken spaghetti includes two main ingredients: chicken and spaghetti pasta with some additions.
After cooking, the overall color will be yellow from the noodles and chicken, thanks to the cheese coating.
Although it seems simple, making chicken spaghetti also requires a lot of experience to harmonize the flavors. There are some tips you should apply to this dish:
First, you should cut the chicken into small pieces to be well-cooked and blended.
Second, you should undercook the pasta to retain its firmness and flavor when mixed with the cream.
Last but not least, if you want to add cheese, it is better to chop it up for an even cheese texture all over.
Total time: 35 minutes.
Originating from Greece, chicken pot pie was once a combination of cooked meat and open pastry shells until Romans added a crusty top and made it a famous pie like today.
Indeed, there is a Great American Pot Pie Day every September 23. So, you can understand how crucial the pot pie is in American cuisine.
You can pair chicken pot pie with white wine, as every white meat requires. In particular, a bottle of Sauvignon Blanc or Chardonnay would be a perfect choice. While Sauvignon Blanc will bring you a dry and acidic flavor, Chardonnay will surprise you with an additional vanilla note.
Step-by-step guide you on cooking leftover chicken pot pie.
Total time: 30 minutes.
Derived from the Tex-Mex cuisine, chimichangas are fried burritos accidentally created by the carelessness of a chef in Arizona when dropping a burrito into a fryer. Thanks to that accident, you and I have a wonderful dish today.
Chimichangas have numerous filling recipes, from beef to beans and, of course, chicken also. In common, chicken chimichangas will take time and effort, but with a leftover chicken, you can speed it up a lot.
Simply use it to make chimichangas filling, put the filling onto the tortilla, and fry these rolls. Well done! You have got a nice chicken chimichangas meal.
Besides, you can feel free to add any toppings you like to enjoy the dish. Sour cream, salsa, or cheese will be a great addition to making a burst of flavor.
Total time: 35 minutes.
As the latest version of chicken pot pie, chicken Shepherd's pie is up to the next level. This type of pie will have a well-blended creamy mixture of chicken and vegetables added on top with mashed potatoes. Especially in this recipe, there is a grainy texture from the parmesan cheese.
After following the recipe, you will receive an incredible homemade chicken Shepherd's pie with a perfect yellow cheese cover. When you cut a pie into segments, the interior will be full of wholesome vegetables and shredded chicken.
Furthermore, along with the attractive filling is a charming aroma. And I am sure the dish smell will make your stomach growl non-stop.
Total time: 40 minutes.
If you work from 9 to 5 but still want something special to feed your family, creamy chicken pasta bake should be on your list. This Italian dish only takes a few common ingredients to cook, including leftover chicken, pasta, bacon, some dairy products, and seasonings.
Although most pasta bake recipes require cooked pasta, it is a risk that your pasta can come out too soft and mushy. If you do not do it right, you will overcook the dish by the time you take it out of the oven. So, is there any other measure?
The first option is that you must follow the instructions strictly. Another option is a simple no-cook method, soaking your pasta in warm salted water. This method will help you clean off its starch and hydrate the pasta, which usually lasts forty-five minutes to complete.
Total time: 20 minutes.
If you have leftover chicken, BBQ sauce, and whatever cheese, you can celebrate a party with BBQ chicken quesadilla in just twenty minutes.
As a classic dish of Mexico, BBQ chicken quesadilla will have a variety of flavors as you would expect from Mexican cuisine. The tenderness and sweetness of chicken, the tanginess of barbecue sauce, and the fattiness of cheese.
All will create a masterpiece of leftover food for you and your friends to have a delightful encounter, regardless of appetizer, lunch, or dinner. So, why not try?
How to make BBQ chicken quesadilla from leftover chicken? Here is the answer.
Total time: 60 minutes.
Mexican chicken enchilada is another notable dish to learn from Mexican cuisine. Mexicans make enchilada by rolling filled corn tortillas and covering them with a delicious sauce. In particular, the filling can consist of numerous ingredients, namely meat, beans, and vegetables.
You can enrich your meals by making a few side dishes for enchiladas. Usually, I will serve this dish with Mexican sweet potato salad and guacamole, a great Mexican dip for enchiladas. These flavorful side dishes will add more flavor to your main dish.
In addition, you can also utilize some available ingredients in your kitchen to make toppings for enchiladas instead of making a whole side dish. Some popular toppings are sour cream, chopped onions, and salsa. Or, you can make creative combinations depending on your taste.
Total time: 25 minutes.
With its easy to make as well as eat, chicken tacos are a preferable dish in big events. You can take advantage of this dish on a school occasion or at weeknight dinners at home.
Besides, you can also serve these tacos as a yummy appetizer with chicken on New Year's Eve or as a light meal at the Super Bowl.
In common, this tacos dish will come with beer or soft drinks, but for a perfect pairing, chicken tacos should go with light white and red wine. Some suggestions are a white bottle of Vinho Verde and a red bottle of Gamay, whose sour and fruity flavors will stimulate your taste buds.
Total time: 20 minutes.
For your information, chicken tostada comes from two English and Spanish words. In specific, tostada has a Spanish meaning toasted. However, in this case, "tostada" is not a toasted chicken but rather the way to cook the tortilla, the thin crust in this recipe.
For those who haven't heard of chicken tostada, it requires ingenuity and technique from you to eat this dish. If you do not eat tostada properly, you will scatter the food all over the plate. So, what is the right way to eat tostada?
The eating technique relies on your hands. First, you will lift a chicken tostada by using your two thumbs and remaining fingers. Besides, remember to use your pinky finger to aid in the middle for breaking prevention. Then you can take a small bite at the center of the tostada and enjoy its flavor.
Total time: 45 minutes.
Dumplings are a famous dish in Chinese cuisine. Indeed, dumplings are neither difficult nor easy to make. They only need a few components to create but require you to set the right amount and doneness to get a perfect finished product.
However, you must watch out for these flour products when making chicken and dumplings. If you overcook dumplings, they could tear apart in the broth and make your soup denser.
Instead, if you keep that under control, this dish is noble for leftover chicken disposing and cooking in advance.
For storage, you can put chicken and dumplings in an airtight container and store them for three to four days or in the refrigerator for two to three months in the freezer. However, frozen chicken and dumplings will not guarantee 100% the same taste as when eaten fresh.
Total time: 30 minutes.
If you feel hungry and have a big bowl of leftover chicken, the chicken fried rice will be your favorite. Not only is it quick to make, but this dish is also tasty, and the most important is to help you recharge energy, thanks to its high carbs content.
To make chicken fried rice correctly, you must fry the vegetables at first until soft. After that, scramble eggs in the middle of the pan till well-cooked, then add cooked rice and chicken and mix well.
Remember to season while frying with soy sauce and especially end up with chopped onion for spicing up the taste. Those last efforts will be well worth it!
Total time: 40 minutes.
Chicken pot pie soup will taste almost the same as a chicken pot pie dish but without pastry shells covering it. In particular, this recipe will be way a lot healthier since there is no milk or heavy cream in the soup.
Besides, this 40-minute recipe will fit a large family from four to six members. Hence, you can utilize the leftover chicken in your fridge to make this perfect dish for your family visit.
Chicken pot pie soup is also for your night meal preparation since you can store this dish in the refrigerator and reheat it in many ways. The easiest way is using the microwave to reheat.
Also, you can reheat it on the stovetop until warm. If the texture is too dense, you can add broth or water to regain the desired consistency.
Professional chicken soup pot pie with sour cream and leftover chicken cooking instruction.
Total time: 30 minutes.
Are you a fan of Thai food? If yes, you should try to make chicken pad Thai, one of the insanely easy and tasty Thai recipes.
Although the dish name only points out two ingredients, chicken and noodle, you will need more to make chicken pad Thai, especially seasonings. These additional ingredients include shrimp paste, coriander, garlic, and spring onions.
In addition, you can put some lime wedges and chili flakes to add spice to this tasteful chicken and shrimp dish. Besides, the perfect sides for chicken pad Thai should be carrot ginger soup and green papaya salad if you want to add some to the meal.
Total time: 45 minutes.
To make use of leftover chicken, you and I will change beef chili to another version of chicken, white chicken chili. This dish will surely satisfy you with its flavorful taste.
When scooping a spoon of soup, you will feel the rich and creamy broth and beans, then comes the tender texture of chicken. All taste good and are super pleasant.
If you want to enrich the flavor of this scrumptious shredded chicken dish, feel free to add your favorite toppings. These toppings can be sour cream, shredded cheese, crispy tortilla chips, and more – you name it!
Total time: 25 minutes.
Southwest chicken wraps are similar to burritos from Tex-Mex cuisine. They are famous for the convenience and nutritional content in each wrap. Indeed, they will supply a sufficient fiber amount from the vegetable layer and protein from the chicken and beans.
With their convenience, you can treat these delectable chicken wraps as a meal prep for an eat-and-go dish or for making a quick weeknight dinner. Also, you can serve chicken wraps in crowded events such as camping or football matches. I am sure the kids will love your wraps.
Total time: 30 minutes.
Chicken bowtie pasta salad is a great way to enjoy the tropical atmosphere right at your dining table. Not only does it bring a tropical feel in color, but this salad bowtie is also in taste with the sweetness and tanginess of pineapple, grapes, and mandarins.
In particular, you can create your unique salad bowl depending on your local fruit season. Just tropical fruits, they will take care of the taste for you. To this salad recipe, there are numerous dressings you can apply. You can adopt some citrus fruits in your kitchen to do citrus vinaigrette.
Or, you can make a dressing of two popular fruits, pineapple, and mango. Although they have different sweet and sour flavors, the tropical tanginess among these dressings will bring the same result to your salad bowtie.
Besides, this recipe requires cooking chicken for three to six minutes per side in the skillet. After it is done, you must let it cool to proceed with the dish. Thus, having leftover chicken is more convenient and saves you a lot of cooking time.
Total time: 25 minutes.
Compared to tropical chicken salad, chicken Caesar pasta salad will require less effort and time to create. All you have to do is cook pasta and prepare the dressing, then put all things together and done. Chicken Caesar pasta salad will be delicious and worth the whole family's enjoyment.
For a better dish, there are some tricks you can follow. First, smaller-shaped pasta will be the best option for your salad bowl since it is easier to absorb dressing sauce than others.
Moreover, this recipe is an ideal make-ahead idea, but do not toss ingredients in the dressing if you do not plan to consume the salad right away.
Total time: 55 minutes.
Tamale pie is a pie and casserole hailing from Texas in the early 1990s. This dish is a part of the Southwestern United States cuisine and has somewhat similar ingredients as tamales, a Mesoamerican dish. That's why people add "tamale" to the dish name.
To make chicken tamale pie, you first bake the cornbread base in the skillet and spread shredded chicken and enchilada sauce evenly on the surface. Then fill on top your favorite cheese until the cheese is gooey and your dish is ready to go.
When eating a slice of chicken tamale pie, you will find the texture light and fluffy with a sweet chicken and creamy cheese on top. All blend creates a delicious cheesy pie for you and your family.
As the main course, chicken tamale pie can pair with various drinks, including red and white wines. If you do not know what brand to choose, I highly recommend South African Cabernet Sauvignon. This dry and oaked red white will retain the spicy note on your tongue.
Total time: 55 minutes.
Originating in the Indian subcontinent, chicken curry is now a famous dish worldwide. Typically, this dish will comprise chicken, tomato sauce, and dozens of spices and seasonings. Fortunately, the younger generation can easily make this dish with a commercial product called curry powder.
With its creamy texture, chicken curry can match many sides. You can serve it with a classic dish such as rice, flat bread, and steamed vegetables. In addition, you can choose more hearty side dishes like Indian yogurt sauce – Raita, avocado salsa, or a light appetizer, Samosas.
Figure out how the chef cooks a chicken curry with leftover chicken!
Total time: 55 minutes.
With just a bowl of leftover chicken, you can make a party at home for your children and their friends.
Simply combine mushrooms, potatoes, crumbs, and other ingredients, then roll the mixture into small ball-sized pieces. After that, deep fry them, and you will have loads of crunchy balls to enjoy.
In common, you can serve chicken croquettes with tomato or chili sauces. Or, you can dip your fried balls into sour cream or balsamic vinegar. In addition, goat cheese and arugula with lemon wedges will be a perfect choice if you want a strange flavor to your dish.
In particular, a similar Japanese dish, Korroke, also pairs croquettes with tonkatsu sauce and shredded raw cabbage if you are interested.
Total time: 22 minutes.
Cranberry chicken puffs will be a mouthwatering snack or light appetizer for your day. Simply make a cranberry chicken salad, wrap it in the dough, and bake it. After that, you will have a crunchy texture yet savory taste for meals.
When you bite into a puff corner, you will hear a crunchy sound and feel the crispy texture on the outside shell. Inside, the filling will be hot and creamy with tender chicken chunks and a tart flavor of cranberries.
Keep chewing until the out and inside blend well, and then the rich flavor and crunchy texture will set off a fire, making you want to take another bite.
Total time: 30 minutes.
Are your kids bored eating chicken dishes? Do not worry! Pesto chicken sliders will brighten up their mood when consuming chicken. Not only can the kids enjoy a delicious dish, but they also have fun pulling each bun off the plate.
Originated in the 1940s, sliders consist of many miniature hamburgers. The dish had earned its name when American sailors referred to sliders as these burgers because of their ease of sliding down.
That was because of their greasiness from cheese, which remains the same in almost every slider recipe.
Easy leftover chicken sliders recipe for your weekend meal!
Total time: 35 minutes.
As its name suggests, Thai chicken salad will bring the Thai cuisine taste into your dish through some distinctive Asian ingredients, namely ginger and fish sauce.
These ingredients will add a mildly salty and spicy flavor to your salad. If you love the spicy chili taste of Thai food, please feel comfortable adding some.
Although you can enjoy Thai chicken salad on its own, many dishes can pair well with it if you are curious. Some recommendations are spaghetti squash Pad Thai, a well-known type of noodle dish in Thailand, or curry chicken satay, a popular curry dish in Malaysia.
Total time: 20 minutes.
Coming from the tropics of Hawaii, Hawaii chicken salad tastes fresh and fruity with the sound of tropical. In particular, the coconut appearance in the recipe sets this dish apart from other salads.
When you taste the salad covered with the dressing, you will discover the tartness of pineapple and grapes with an oily and fatty taste of coconut exploding in your mouth. It might be a little weird at first, but after the second scoop, you'll be hooked.
Hawaii chicken salad also sounds healthier to people on specific diets. To Keto diet mates, you should substitute grapes and pineapple with bell pepper and alter coconut aminos to soy sauce according to the diet requirements.
Total time: 20 minutes.
Although the dish name is weird and hard to pronounce, you still can guess its meaning by two English "chicken" and "king" words. Yes! Chicken A La King means chicken in the style of King. However, there is no definitive information for its name though many theories and stories exist.
Chicken A La King sounds formal and complex, but you can rest assured that the dish recipe is super easy to make. All you have to do is prepare ingredients, put them in order, and let the mixture simmer in the pot until getting the perfect thickness. Then your dish is ready to serve!
Cook time: 10 minutes.
You are sick of these regular salad bowls. No worries! Chicken avocado salad roll-ups will be your savior. These tortilla rolls with a salad filling will make you feel more strange eating, but still, ensure to keep the fiber and fresh taste of the salad.
With a firm structure and stable nutrition, you can cut the rolls in half, wrap and freeze them in the refrigerator for later use instead of eating fresh. These rolls will be perfect for your kid's lunch box or breakfast on the road to work.
In addition, you can add on top any favorite ingredients such as cheese to make it more interesting. It's totally up to you!
Total time: 25 minutes.
Unlike Eastern soup, Asian chicken noodle soup does not have a thick and creamy texture from cream or milk. Instead, it focuses on the broth flavor based on local vegetables, namely the sweetness of carrots and mushrooms and the tanginess of gingers and garlic.
If you are tired of eating noodles, you can substitute them with more of your favorite vegetables in the chicken soup. Or, you can make this soup your side dish. In particular, the soup will taste good in pairs with bread, rice, and sandwiches.
How to use your leftover chicken and make an Asian chicken noodle bowl!
Total time: 20 minutes.
Southwest chicken burritos are a Mexican-style dish spreading the popularity in American cuisine. Burritos include various ingredients wrapped in a flour tortilla with a cylindrical shape. Like other wraps or rolls, you should eat burritos by hand to tightly hold the burritos.
Instead of grilled or steamed, you can also use the air fryer convenience to make this dish easier. Merely put your rolled burritos in an air fryer, spray oil on the shells, and cook for about 5 minutes at 400 degrees F.
Then, use tongs to gently flip the burritos, sprinkle oil on the other side, and cook for another 5 minutes. After hearing a "ding" sound, your Southwest chicken burritos are nicely ready. Plus, serving burritos with a medium-bodied red wine will be more than perfect for your dinner.
Cook time: 20 minutes.
You may hear about spring rolls of Vietnamese cuisine but may not know about their summer rolls. These summer chicken delicacies are light and fresh dishes, healthier than spring rolls since there is no oil and no frying.
Like spring rolls, summer rolls are fun to make and eat. All you need to do is prepare and place all ingredients to make summer rolls on the table, including vegetables, chicken, and noodles. Then everyone at the table will test their skillful hand by rolling and enjoying summer rolls.
In addition, you will pair this dish with an authentic peanut Asian sauce, which is easy to make but will bring your rolls to the next level. Therefore, Vietnamese chicken summer rolls are worth trying.
Total time: 40 minutes.
Chicken gnocchi soup is one of the best warm treats on your cold night. This soup contains cooked chicken, vegetables, milk, and gnocchi, varied dumplings from Italian cuisine. Since there is milk in the recipe, chicken gnocchi soup will have a white and creamy color.
Besides, the gnocchi made from potato and flour will also contribute to the dense texture of the soup. That's why when you sip soup, you will feel the blended taste of milk and broth in your mouth longer.
Plus, the sweetness of tender chicken and vegetables paired with a piece of bread will complete your hearty dinner.
Total time: 15 minutes.
Created by New York's Waldorf Astoria Hotel, chicken Waldorf salad has reigned its popularity worldwide for over a hundred years. So, what is the secret to the test of time?
Although this salad dish contains simple ingredients, the secret of this recipe lies in the freshness and the type of fruit you choose. In this recipe, red grapes and Granny Smith apples are suggested fruits due to their tangy sweetness.
Moreover, you should check your nut shells before serving the dish. In particular, the fresher the shelled nuts, the more buttery flavor they add to your salad bowl.
Do you want to try the quick and easy chicken Waldorf salad recipe? Jump in!
Total time: 40 minutes.
Chicken Cordon Bleu Stromboli is a hybrid recipe crossing between chicken Cordon Bleu and Stromboli. While it takes the chicken loaf from the Cordon Bleu recipe, the additional cheese is from Stromboli. Together, they will create an insanely tasty dish of your leftover chicken.
The name sounds confusing, but this dish is so easy to make that your kids can help you prepare it. First, let the dough rise. After the dough floats to the desired height, you proceed to put cheese, bacon, and chicken in layers in the center of the dough.
Then you carefully roll the dough into a log so that all ingredients stay inside. After that, cover the log with a towel and preheat the oven to 350 degrees. When the oven is hot enough, butter the surface and place it in the oven for twenty to twenty-five minutes.
Ding! Now you can take out your chicken Cordon Bleu Stromboli, slice it, and serve.
Total time: 30 minutes.
You read the name and understand all but Florentine? For your information, Florentine in the culinary arts refers to recipes prepared in the style of the Italian region – Florence. In other words, these recipes will have spinach as the main ingredient.
Therefore, when you first look at a chicken Florentine pizza, you will see its key color is green from spinach. Besides, there is also the burnt yellow color of cheese and mushrooms.
Indeed, these colors combined will stimulate your appetite and make you want to grab a delicious piece of pizza right away.
Leftover Chicken Is Not A Waste, But A Chance To Cook
Do you rush in seeking easy leftover chicken recipes because you want zero waste in your house? Like a piece of cake, you have all you expect in this title.
So, the leftovers are no longer a headache problem. Instead, it is an opportunity to let your creativity fly. And I know you are ready and full of ideas to apply these recipes in time. Comment below when you have finished your dish!
Also, hit the like button to support my site, and do not forget to share widely on social media to help people like you get through the problem. You will be their savior. Thank you, and stay well!