These fantastic, best leftover brisket recipes will help you get more ideas for your must-cooked list.
People usually force themself to finish those leftover briskets because they are scared that if they leave those in a freezer, those briskets will not taste delicious anymore.
Moreover, most people just heat those leftover briskets and enjoy them as they don't know how to recreate the briskets into other delicious dishes.
For that reason, these leftover brisket recipes will be your savior and help you handle those leftover briskets, turning those into delicious, tasty dishes.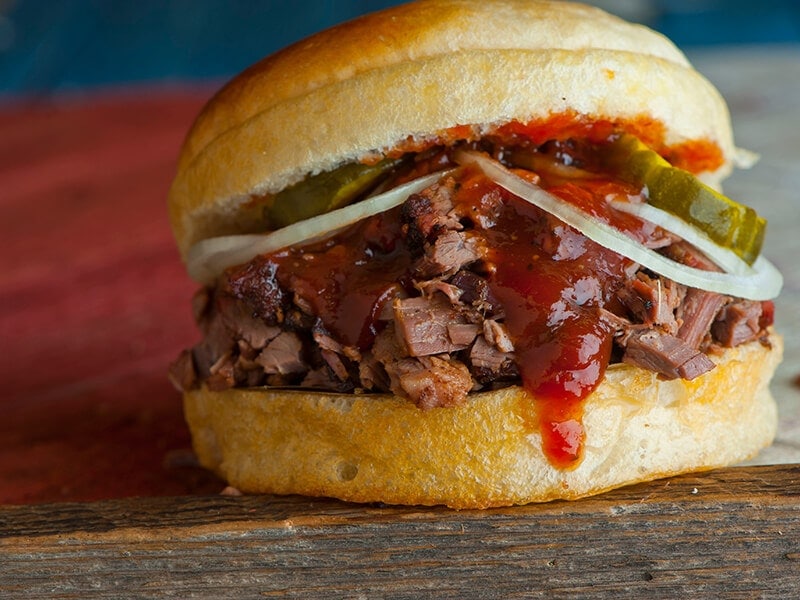 Welcome To My Best 19 Leftover Brisket Recipes
The recipes below will show you that time has little effect on the deliciousness of your brisket as long as you know how to cook it properly. Also, don't forget to add some fantastic side dishes for brisket to increase the flavor profile. Now, let's dive into this helpful list!
Hand Foods:
Smoked Brisket Tacos
BBQ Brisket Sandwiches
Brisket Grilled Cheese Sandwich
Brisket Quesadillas
Brisket Enchiladas
BBQ Pizza
Brisket Bruschetta
Leftover Brisket Tostadas
Brisket Frito Pie
Table Foods:
Spicy Brisket Chili
Brisket Stew
Leftover Brisket Ragu
Leftover Brisket Salad
Shepherd's Pie
Leftover Brisket Mac and Cheese
Leftover Brisket Fried Rice
Leftover Brisket Stroganoff
Spicy Brisket Baked Beans
Leftover Brisket Hash and Eggs
To discover these delicious leftover recipes, keep scrolling down for them.
9 Leftover Briskets That Can Turn Into Delicious Hand Foods
These handfoods cover the meat and all ingredients inside, and people can taste everything in just one bite, and all the flavors of the dish are in your mouth.
This dish will be the best taco idea to use leftover briskets, especially beef. You just need to heat some leftover beef, give it some seasonings, and shred these, and you already have the main ingredient for your tacos.
Toppings are on your creativity; you can add any favorite topping that you want for your tacos.
Or you can keep it simple with some fresh cilantro, onions, bell peppers, and some squeeze of lime. And there you have delicious, flavorful, delightful tacos that are easy to make and so quick to be done.
Sandwiches are straightforward to mix with anything to become a delicious dish. Here is a BBQ brisket sandwich, which combines leftover beef and some ingredients and vegetables for more flavor.
This sandwich has a complex flavor; it is juicy, creamy, add some cheese if you want, and BBQ sauce will play a starring role in this dish.
This sandwich has many different layers with different ingredients and a lot of cheese. The dish also needs many briskets, so it is suitable for a few leftover briskets.
These buttery, juicy, and crispy grilled sandwiches with briskets make an incredibly delicious, tasty grilled cheese sandwich.
This is how you should make a delicious Grilled Cheese Sandwich
This dish looks like slices of pizza; the spicy beef quesadillas are very interesting to enjoy. They have many flavors, from spicy to juicy to cheesy, and side ingredients like bell peppers, onions, chipotle pepper.
The quesadillas are very tasty, delicious, and very easy to cook. You will not believe that leftover briskets can turn into mouth-watering dishes like this.
Fill it into a tortilla with shredded meat, add some onions, pour some salsa sauce, and put some cheese on the top. And that's how you have a delicious, attractive dish that everyone will be happy to enjoy.
This dish is easy to make, delicious and you can cook it in a big batch for your family or friends to come over.
Pizza is an easy-to-mix dish; you can add almost any toppings that you want for your pizza. This BBQ pizza recipe will help you make a pizza at your house and taste delicious like it is cooked at a pizza restaurant.
These pizza slices look incredible, colorful, and promisingly delicious with many ingredients. You can't believe that you can make a tasty pizza from leftover briskets.
When you love baguettes, this Brisket Bruschetta is a must-try recipe for you. Crunchy and crispy slices of baguette and thick Greek yogurt will blow your mind at the first bite.
With one bite through all the layers of beef, sauce, and bread, eating this Bruschetta will be an outstanding experience for you.
These tostadas are a flavorful dish with crunchy tortillas. Top them with beef, cheese, and veggies to create a dazzling appearance for the dish.
The Tostadas are usually served with sour cream. Together, all the ingredients are unbelievably delicious and eye-catching.
This Leftover Brisket Tostadas will be an excellent treat for your meal.
Frito Pie is a really quick preparation and cooking dish with simple ingredients but undeniably delicious.
This sausage Frito pie looks stunning; you can tell it will taste delicious by its appearance. It is mixed with many ingredients like onions, meats, corn chips, and cheese topping and poured over BBQ sauce.
Its taste is phenomenal and flavorful. This dish can be considered a snack, suitable for watching football, relaxing, and chatting time.
10 Stunning Table Food Recipes From Leftover Briskets
Table foods are great for a warm family dinner. You can sit down and enjoy a slow, heartwarming meal with your lovely family with the following recipes.
Leftover brisket can turn into a spicy and yummy dish. Using a cast-iron pot will make the meat softer, and with the combination of chili and other ingredients, this dish becomes a delicious, undeniable dish.
This slow cooker chili dish looks complicated, but it is very simple and quick to make but still outstanding.
Do you want to know how to cook Slow Cooker chili perfectly? Here are your instructions
Brisket stew is a suitable dinner for winter days when the weather is cold, and you have a delicious, fragrant, hot bowl of stew brisket in your hand.
This dish is rich in flavor, tender and it feels like the meat will melt in your mouth. The taste is incredible. This brisket stew will give you many layers of flavor, making you satisfied with a dish you have made and want to make it again.
Also, there are many ways that you can enjoy the dish. The recipe with beans is great in taste with nutty and earthy flavor from the beans.
This Leftover Brisket Ragu is a liquid dish, but it is more thick and creamy. After you finish eating the beef, the remaining soup you can use as a sauce to eat with bread or cook it with noodles or pasta.
The beef from this dish is very delicious; it is slow-cooked, so the ingredients will melt, blend into the soup and permeate to the meat.
The meat is permeated with all the ingredients; it is tasty, tender, soft, and of course, delicious.
Here comes the refreshing recipe for leftover brisket. This salad is full of veggies and has a fantastic spices combination.
Leftover brisket salad has juicy cherry tomatoes and is balanced with fresh cucumber slices. Chopped bell peppers will create a naturally sweet taste for this fascinating salad.
This pie is full of briskets, and it is incredibly tasty. You can tell how good this pie is just by its look and the smell of it.
The combination of briskets, carrots, onions, butter, cheese, and other ingredients makes this pie so tasty that you can not skip this. You can cook this dish as a big batch suitable for family dinners.
Let's amaze your family with this Shepherd's pie; they will love its taste
Leftover Brisket Mac And Cheese will be an exploding party of flavors for your meal. It has rich cheese, smoky brisket, and a fascinating noodle texture.
Ketchup and applesauce are great choices for making the yummy sauce. If you are a cheese lover, I think you should not miss this amazing recipe.
If you have some leftover brisket, try this fried rice recipe. I'm sure you will love it. The dish is a perfect combination of refreshing veggies, rice, and creamy eggs.
The final touch from strong ingredients like pepper, ginger, or onions will enhance the flavor of this lovely dish.
Remember to watch out for the heat from the frying pan to avoid overcooking your meal.
Stroganoff shows that leftover briskets can be used to make many good dishes. Stroganoff is one piece of evidence to prove that you can use leftover briskets to work with pasta and become a new delicious, tasty dish.
The combination of onions, tomato paste, and chianti will raise the flavor of the meat and pasta, making it more flavorful and delicious.
Baked bean is a traditional dish that everyone has cooked several times. Spicy Brisket Baked Beans is an upgraded recipe for baked beans, and of course, the taste and flavor will be elevated.
This dish is rich in flavor, and with the join of meat and onions, this dish takes longer to cook, but it will be worth your waiting time.
This dish is considered a convenient breakfast choice because it is easy to make and provides whole nutrition to start a day.
Moreover, you can cook this dish for lunch or dinner if you want, it is suitable for every condition, and it tastes delicious, flavorful, and looks colorful.
The delicious and nutritious brisket hash and eggs for breakfast are right here!
Save Your Money And Time By These Recipes
You don't have to waste your food if there are remaining; you can use those remaining to cook other dishes for other meals. This way, you can save your money, save time, and not let your food go to waste.
Moreover, with the help of these recipes, you can serve your friends, your family willingly without being hesitant that there will be remaining.
As a result, you will be in a good mood for your party and have some ideas for your next meal if there are some leftover briskets.
Nutrition Facts
4 servings per container
---
Amount Per ServingCalories673
% Daily Value *
Total Fat 46.5g

72

%
Cholesterol 168mg

57

%
Sodium 369mg

16

%
Potassium 472mg

14

%
Total Carbohydrate 14.6g

5

%

Dietary Fiber 1.7g

7

%
Sugars 2.7g

Protein 46.9g

94

%
---
Calcium

236

%
Iron

4

%
Vitamin D

3

%
* The % Daily Value tells you how much a nutrient in a serving of food contributes to a daily diet. 2,000 calories a day is used for general nutrition advice.