Best leftover baked potato recipes would be your saviors, especially if you underestimated the number of potatoes required for last night's meal and are looking at the leftovers piling up in the refrigerator.
Or perhaps, you purchased too many potatoes, and the leftovers are on the verge of going bad.
Either way, you need some solutions to repurpose those leftover baked potatoes. Well, you would be surprised to know that having a large quantity of leftover baked potatoes on hand can significantly simplify your meal prep. Therefore, have no fear.
Follow me to explore the following 7+ wonderful recipes to help you deal with those batches of leftover potatoes and save money. Trust me when I say you can do pretty much anything with this ingredient, including soups, casseroles, and other things.
Without further ado, let's get right into these recipes!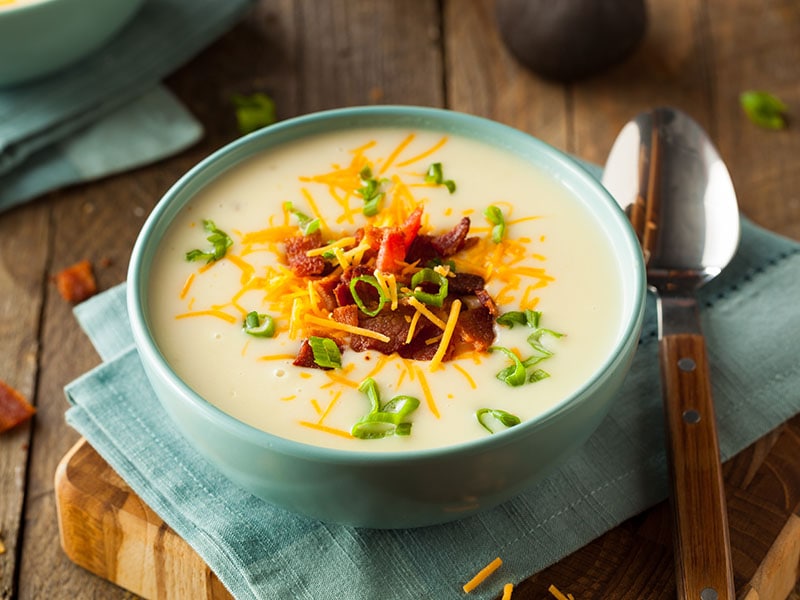 Comprehensive List Of 7+ Best Leftover Baked Potato Recipes
It's time to make your leftover baked potatoes great again! These recipes are delicious enough on their own, but your enjoyment will be ten times as great if you prepare some tasty side dishes reserved for baked potatoes. Without further ado, let's dive into the list!
1 Enticing Leftover Baked Potato Appetizer
Baked Potato Skins
7 Creative Leftover Baked Potato Main Course Recipes
Baked Potato Egg Bowls
Potato Fried Rice
Potato Shepherd's Pie
Potato Soup
Taco-Stuffed Potato
2 Easy-Peasy Leftover Baked Potato Side Dish Recipes
Potato Home Fries
Potato Casserole
1 Enticing Leftover Baked Potato Appetizer To Kick-Start Your Meal
It would be a brilliant idea to start your delicious meal today with an enticing appetizer that uses up your leftover baked potato from yesterday's party. Here is one classic appetizer recipe that you should try whenever repurposing leftover baked potato becomes a headache.
These delightfully crispy Leftover Baked Potato Skins guarantee to become the all-time favorite appetizer dish in your family. Not only delectable, but this recipe is also surprisingly easy to prepare. Simply bake the potato skins until crisp and top them with your preferred toppings.
Like other stuffing recipes, you get countless options to experiment with your toppings. This recipe calls for bacon and a bit of cheese for a hearty meal. However, you can make the dish entirely vegetarian with the use of avocado and other fresh ingredients.
Another cool thing about this appetizer is that you can stack everything in a freezer bag once frozen and keep it in the freezer for many months. This feature allows you to have a quick starter whenever you like.
With the big game approaching and many of us recommitting to making healthier eating choices, this dish is ideal for this time of year. It is crunchy, crispy, and flavorful without being high in salt or fat.
With a few tips and tricks, you can elevate this recipe to a whole new level to be the famous TGIF Baked Potato Skins.
5 Leftover Baked Potato Main Course Recipes For A Hearty Meal
Whether you are looking for an energetic meal for breakfast, an amazing hot lunch idea, or a zestful supper to stay fit, these leftover baked potato recipes will not let you down.
Let's discover how you can use leftover baked potatoes to create a variety of tasty and healthy main courses.
If you are searching for a refreshing breakfast idea, give these Leftover Baked Potato Egg Bowls a try! They are tiny yet filled with a double dose of protein and deliciousness.
The making of these egg bowls is unexpectedly easy. Plus, the dish is a wonderful way to revitalize your leftover baked potato from dinner a few nights before, instead of leaving the ingredient to spoil in the fridge like other leftover food.
What I love about this recipe is that there is no dirty dish to clean as you are baking eggs in edible things. It is a win-win situation with reduced dishwashing and increased carbohydrate consumption. Serve these egg bowls with salad or creamy dips makes a great breakfast choice.
With 20 minutes of free time on hand, you can put together this addictive Leftover Baked Potato Fried Rice. Every spoon you eat will be full of chewy brown rice, creamy potatoes, bell peppers, garlic, and scallions cooked in a fragrant gluten-free sauce.
It is not an exaggeration when I say this recipe is the pinnacle of fried rice. If you have leftover rice available instead of brown rice, you can use this ingredient as well. Don't worry, as fried rice recipes are always a good dish to make with leftover rice!
Combine all ingredients in a large mixing bowl to create a delicious one-pan dinner that tastes superior to takeout! If you share my passion for potatoes, you are definitely going to enjoy this satisfying potato fried rice dish!
You can certainly elevate the meal and serve it as the main course by including an egg and some bacon bits. The dish is an excellent addition to the menu to enhance the eating experience of your guests. It is also a nutritious option for your weekly meal plan.
Leftover Baked Potato Shepherd's Pie is an amazing concept of beef stew cooked with baked potatoes on top. Not only does the rendition taste rich and delicious, but it also looks pretty darn good. It is delectable enough to serve at both informal family dinners and formal weekend gatherings.
Rather than peeling and boiling potatoes for the topping, save time by repurposing leftover baked potatoes. Simply scrape the meat off the skins and fill the potato boats with melted cheese, ground meat, vegetables, and sour cream.
This pie is an excellent dish to prepare during the cooler months when you are in the mood for something substantial and warming. I guarantee it will quickly become one of your favorite quick family meals that both children and adults will love!
Shepherd's Pie made from baked potatoes is a lovely dish to enjoy when you are in the mood for something hearty and warming.
If you haven't noticed before, baked potatoes are an excellent match for bacon, cheese, and chives. That is why a large number of these recipes, including this one, contain such components.
The recipe calls for 30 minutes of simple preparation. Simply cut the leftover baked potatoes, add your preferred stuffing mixture, and then mix everything up to yield a creamy and thick soup.
If you prefer some texture while eating, feel free to leave some potato peels. By doing this, your soup has more depth. However, this step completely depends on your preferences.
You don't need any side dish to accompany this Leftover Baked Potato Soup. It is substantial, filling, and delectable on its own. In fact, this creamy soup will surely warm your stomach and excite your taste senses.
If it is Monday and you are looking for a fuss-free supper for your family, look no further than this Leftover Baked Taco-Stuffed Potato. This recipe is indeed the easiest and most delectable dish on my dinner menu for Monday and any weeknight meal.
This perfectly baked potato filled with spicy taco meat is a delightful way to satisfy your taste buds. It is also a dream come true for cheese lovers as your meal is brimming with the ingredient.
With this recipe, you can rest assured that your leftover baked potato can be beneficial in yielding a cheesy and hearty meal. Next time, if you find yourself stuck with so many leftover baked potatoes, think of this recipe right away!
2 Potato Side Dishes Complement Perfection For Meals
One main course cannot fulfil your craving? Don't worry, 2 side dishes will satisfy you.
Starting a day with something crispy like Home Fries is more than enough for me! Making Home Fries from leftover baked potatoes is even better, as it is not only delicious but also straightforward to put together.
Why do I say that leftover potatoes make this recipe better? Well, pre-cooked potatoes are already crispy on the surface and tender on the inside. All you need to do now is brown them. That is how this particular ingredient can simplify your meal preparation.
Before browning, make sure to trim leftover potatoes into wedges and combine them with onions and bell peppers. They provide a great hint of flavor and fire that you will not want to miss.
It is not an exaggeration to say that Leftover Baked Potato Home Fries is a morning must. If you have never tried this recipe for breakfast, you should try it out for tomorrow's meal!
This Leftover Baked Potato Casserole has everything you love about a filled baked potato, plus the added benefit of sneaking in your preferred vegetables. If I must describe the taste of this dish in three words, I would say "Delicious – Creamy – Meaty".
Believe it or not, the main star of this meal are leftover baked potatoes. If you prepared more baked potato than you needed, you are in luck since the ingredient is the perfect foundation for this cheesy casserole.
The leftover baked potato' interiors form the mashed base, while the outer skins are cooked until shatteringly crisp. Following the correct instructions, you can have the potato crisp up beautifully and ready to serve in minutes.
This dish literally had my family asking for more, and I am sure it will do the same for yours! Expect to see your kid have three enormous portions of supper with this casserole and say merrily: "Mom, this is fantastic!"
Prepare this simple Baked Potato Casserole in minutes to wow your family!
Let's Turn Leftover Baked Potatoes Into Unforgettable Meals!
These 7+ best leftover baked potato recipes are surely a valuable source of information you can refer to whenever your leftover potatoes are piling up! They are really a wonderful material that you can sneak into both your main courses and appetizer.
I hope you find good value from my list of recommendations. I also hope to receive your feedback and suggestions. Thanks for reading!
Nutrition Facts
4 servings per container
---
Amount Per ServingCalories827
% Daily Value *
Total Fat 8.4g

13

%
Sodium 44mg

2

%
Potassium 622mg

18

%
Total Carbohydrate 167.4g

56

%

Dietary Fiber 4.5g

18

%
Sugars 2.3g

Protein 15.5g

31

%
---
* The % Daily Value tells you how much a nutrient in a serving of food contributes to a daily diet. 2,000 calories a day is used for general nutrition advice.