The best leek recipes are what people look for when they have this vegetable lying around. They want to use this green vegetable to make refreshing, delicious, and healthy dishes. If it's also your case, I've got you covered!
Leeks have a mild allium taste, as they belong to the onion family. They have white flesh and leafy green tops. With high versatility, they appear in many dishes. For example, you may once hear of the well-known leek and potato soup.
Leek recipes are not difficult to make. Follow me through this post to see what dishes we can make with this wonderful vegetable!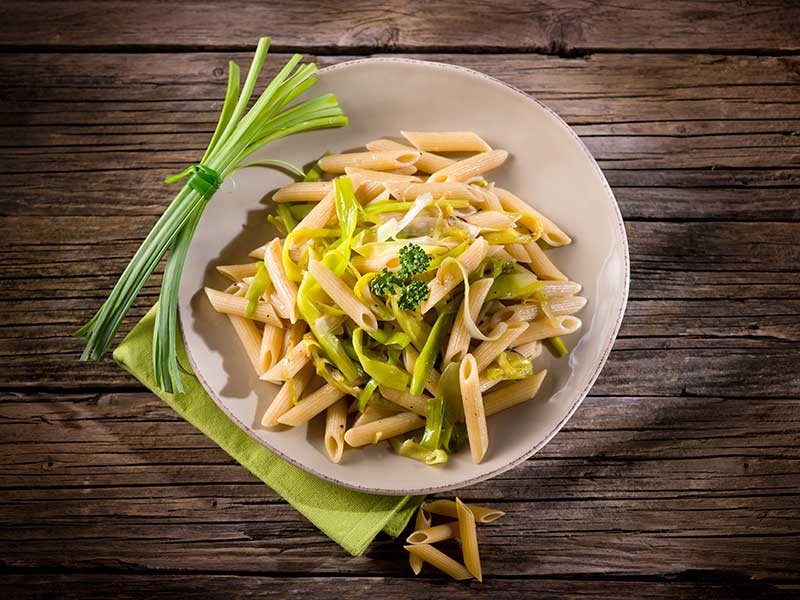 The Best Leek Recipes For Refreshing Meals!
Are you ready to start the recipe list today? Here are the best leek recipes, among many others. Make sure to scroll through the list so that you don't miss any fantastic dishes!
Total time: 1 hour 5 minutes
The first easy dish you can make with this humble vegetable is leeks in white wine sauce. The dish has tender leeks in a buttery mixture of white wine and chicken stock. Unlike most leek dishes, you utilize the tougher green part of the leeks.
You can make a vegan version by slightly changing the ingredients. For example, simply use vegetable stock instead of chicken stock. Besides, you may also want to substitute olive oil for the butter.
For serving, you can pair the sauce with a pan of roasted chicken. In addition, pour it on pasta and top with grated Parmesan cheese to have an easy weeknight dinner. The dish can accompany cooked ham, fresh bread, and green salad.
Total time: 55 minutes
This recipe is a vegan answer to the traditional Italian lasagne. Vegan lasagne consists of layers of pasta, veggies such as leeks and kale, and cheese. The dish is hearty and packed with flavors.
Because it's mostly veggies, vegan lasagne is low in calories compared to the classic version. Serve it with a mixed salad to have a low-carb weeknight dinner.
Except for cooked veggies that can stay good for a week in the refrigerator, pasta sheets and other ingredients cannot last that long. Therefore, vegetarian lasagne is best served within three days.
Total time: 45 minutes
The chicken and leeks recipe is a delicious dinner that should be on rotation in your kitchen. The dish involves chicken cooked in a creamy mixture of leeks, flour, stock, and milk. You can enjoy the dish as it is or accompany it with some pasta.
As one of the main factors of the dish, leeks have a mild and slightly sweet taste. Don't forget to rinse the leeks carefully to remove all the dirt and sand. Remember to use the white and light green parts only for tender results.
The dish uses chicken breasts packed with protein. Besides, they are also rich in vitamins and minerals, including zinc, potassium, and magnesium. When pan-frying chicken, let it cook undisturbed until golden brown, and you can flip it easily when the side is seared.
Total time: 1 hour 20 minutes
Quiche is a pastry crust filled with custard and various fillings such as bacon, seafood, or vegetables. Although making a homemade crust might be tricky, the result is worth your effort.
In this quiche, the leeks have a sweet, subtle flavor, while the bacon has a salty, smoked profile. The quiche is perfect for a crunchy green salad and a glass of white wine.
Surprisingly, you can make the quiche a day ahead and refrigerate it overnight. Then, when you are ready to serve, slightly reheat or serve it at room temperature. Also, you can keep the baked quiche in plastic wrap in the freezer for longer use.
Making this beautiful bacon and leek quiche is so easy with this tutorial!
Total time: 45 minutes
Besides soups, leeks and potatoes also combine wonderfully in cakes. They are a real treat to your family members. After 30-40 minutes of baking, the leek and potato cakes have a golden, crunchy edge and creamy, soft content.
A food processor will help you to chop the leek and herbs and grate the potatoes. To grate the potatoes, place small potato cubes into your food processor and press the "pulse" button after some seconds until they're grated.
Making leek and potato cakes is so fun and easy to make, so it's a great chance for family bonding, especially with your kids. They will enjoy helping with pressing the food processor button or filling the muffin pan.
Total time: 1 hour 35 minutes
A classic potato gratin is a baked dish full of thinly sliced potatoes, heavy cream, and grated cheese. In this recipe, you will add tasty sautéed leeks and pancetta (cured and unsmoked bacon) to diversify the gratin flavors.
A tip for you is to slice the potatoes with a Mandoline slicer. It will be much faster than when you cut them by hand. Besides, you will get potatoes with the same thickness, which helps them to cook evenly.
Before serving, remember to top with some chopped fresh thyme leaves to add a delightful flavor and color. You can pair potato leek gratin with roast beef or roasted chicken. Besides, it's nice to enjoy it with veggies such as carrots or asparagus is a good idea.
Total time: 40 minutes
Originating in Italy, a classic frittata is an omelet-like dish made with eggs, meats, cheeses, or vegetables. This potato and leek frittata consists of easy-to-find ingredients available throughout the year, so you can make it anytime.
Both leeks and potatoes make the dish filling, which can keep you feeling full longer during the day. Seasonings such as garlic and thyme give their subtle flavors.
You can check its doneness by sticking a toothpick into the frittata. Your frittata is ready to serve if the toothpick is still clean after sticking to the dish. In terms of serving, a salad is a great side dish to serve with your delicious frittata.
Total time: 30 minutes
When winter comes, and the temperature starts to come down, a satisfying vegan potato leek soup warms your belly up. Also, this gently spiced soup comes together in just 30 minutes in one pot, making it an easy breezy dish.
The soup involves simple yet nutritious ingredients, notably potato, leek, cashews, and herbs. Potatoes contain antioxidants such as zinc, copper, manganese, and vitamins. Meanwhile, leeks are long known for their manganese and vitamins A, C, and K.
You can freeze potato leek soup, but it would thicken in consistency. Therefore, add some water to the soup before heating it in your microwave, and stir it thoroughly.
A warming vegan potato leek soup satisfies your cravings during winter.
Total time: 24 minutes
Orzo leek and dill soup are comforting to eat in winter and summer, especially when you feel not good with the changing weather. The soup comes together within 25 minutes, making it a breeze to make.
Leeks act as the base of the soup with their slight crunch rings. You also use orzo, a rice-shaped pasta made from flour. Besides, you get an aromatic fragrance from a sprig of fresh dill.
With various ingredients, the soup is filling enough to enjoy as it is. However, pair it with biscuits if you want a more hearty meal. Quick rolls and soda bread are also good options.
Total time: 30 minutes
Risotto is an Italian creamy rice dish cooked with broth made from meat, fish, or vegetables. However, this leek and mushroom risotto is a plant-based version because you will use veggie broth and vegan parmesan cheese.
The recipe calls for arborio rice, which is short-grain rice usually used in risotto. It releases starch during cooking to create a creamy risotto. If you can't find arborio rice around, carnaroli rice (Italian medium-grain rice) can be a good substitute.
Before serving, top with extra vegan cheese and some parsley. It's great to enjoy delicious mushroom risotto as-is or pair it with some salad for a light dinner or special gatherings. For storage, you can refrigerate the dish for up to 3 days.
Total time: 50 minutes
As the name indicates, the dish is loaded with plenty of goodness. You will roast butternut squash and leeks before drizzling them with orange tahini sauce. A mixture of walnuts, herbs, and za'atar is added at last to add a punch of flavor.
The recipe gathers both the limp texture of leeks and the soft, moist texture of roasted butternut squash. Make sure that you discard the tough ends of leeks before cooking.
To prepare in advance, roast the veggies and reheat them before cooking. For the orange tahini sauce, you can materialize it two days ahead and store them in your refrigerator. Lastly, mix the walnut mixture right before serving to top the dish.
Total time: 36 minutes
Sautéed cabbage and leeks recipe is surprisingly simple, even for a new cook. You only need to add all ingredients into a pan and keep sautéing along the way. Apart from the veggies, diced bacon also adds flavor and crunch.
Cabbage has a high nutrient profile with plenty of vitamins, minerals, and antioxidants. Notably, it contains plenty of folate and vitamin B6, which benefit your metabolism and nervous system.
Sautéed cabbage and leeks can be a favorite accompaniment for corned beef. Also, you can enjoy it with any roast dishes, such as roast potatoes or cashew nuts.
Total time: 30 minutes
Creamy leek and pancetta pappardelle pasta is an indulgent, creamy dish with crispy cubes of pancetta, sautéed leeks, and grated cheese. You may also want a glass of white wine on the side to make it a fantastic meal.
The recipe calls for egg pappardelle pasta. You can buy it from the store or even make a homemade version. Another key ingredient is cubed pancetta, an Italian cured pork belly with a distinctly porky flavor.
The pasta is most delicious when served hot from the pot. If there are any leftovers, store them in an airtight container in your refrigerator for up to three days. Remember to reheat cold pasta in the microwave before serving.
Make and enjoy leek with pancetta pappardelle pasta today!
Total time: 6 hours 45 minutes (including cooking time in the crockpot)
Crockpot potato bacon leek soup is warm and filling. All ingredients are slowly cooked before adding a creamy mixture of milk and flour later. The soup is dairy-free, thanks to low-fat coconut milk or soy milk.
This creamy crockpot soup also has many other plus points. Cooking in a crockpot gives you more time to finish your work as you don't have to spend time standing by the stovetop. Also, this method helps bring out the aromatic flavor of leeks and other veggies.
If you are a dairy consumer, top the soup with shredded cheese and enjoy. Some crusty bread is also perfect for mopping up a potato bacon leek soup. Besides, you may like a side dish of salad to pair with the dish.
Total time: 37 minutes
If you are short of time but still want a hearty and nutritious meal, a curried lentil and leek soup is for you. The dish is ready to serve within 30 minutes if you use pre-cooked lentils. Besides, both lentils and leeks have a reputation for their impressive nutrient profile.
Lentils contain more plant-based protein than most beans. Besides, they are a good source of fiber, potassium, and folate, which are beneficial for your heart, blood pressure, and cholesterol management.
The warming spices in the soup are another highlight. You can adapt it to your preference. Turmeric, cumin, paprika, or Madras curry can add extra spiciness to your soup.
Total time: 50 minutes
Few side dishes can be easier to make than these roasted leeks. Baking leeks in an oven is convenient and makes them beautifully caramelized. The leeks release their natural sweetness and absorb all the flavorful seasonings.
For spices, a combination of salt and pepper is enough to compliment the sweetness of roasted vegetables. However, you can use some paprika for heat or some parsley for a touch of earthiness.
Before serving, don't forget to take off the tough external leaf. These side dishes are versatile in any meal. Simply pair it with chicken breast, meatballs, or fish. In addition, you can eat it with polenta and cheese for a vegetarian meal.
Roasted leeks are one of the simplest dishes to make with leeks!
Total time: 25 minutes
Hummus usually contains chickpeas and is full of nutty flavor packed in a creamy texture. If you want to try hummus with even more flavors, this variation with charred leek and roasted garlic is exactly what you want.
The dip keeps all the goodness from its ingredients. Chickpeas and tahini bring their nutty flavors and texture, while charred leeks give a subtle sweetness. In addition, sour cream makes the hummus creamier. Finally, a sprinkle of fresh parsley for decoration.
As always, you can use hummus as a great appetizer. Pita, tortilla chips, and crackers come as top options to pair with the hummus. In addition, you can dip raw veggies like carrots, cucumbers, or broccoli into this wonderful hummus.
Total time: 2 hours 5 minutes (with 1 hour 15 minutes of proofing time)
This recipe is a beautiful buttery twist bread filled with flavorful garlic and leek. It's a great accompaniment to soups, stews, and chowder. You can also dip it in tasty hummus.
Chopping leeks into small chunks helps make it easier to incorporate into the bread. If you don't want so much onion-like flavor in your bread, simply steam leeks beforehand to reduce the flavor.
Another tip is to knead the dough until it's elastic and ping back when you stretch it. After filling the ingredients, split the rolled dough lengthwise into two strands and overlap them to create a twist bread.
Total time: 45 minutes
This recipe is a hearty, creamy combination of tender gnocchi, nutritious leeks, and easy-to-find butternut. The ingredients are beautifully baked and completed with a sprinkle of sunflower seeds and dried parsley.
Dried Gnocchi is an Italian dumpling made from semolina flour. Therefore, it's better than fresh gnocchi made from potatoes that can make the dish mushy when you over-boil it. But if you only have fresh gnocchi on hand, you can bake them directly without pre-boiling.
There are many ways to switch between variations. For example, seeds can give way to nutritional yeast or vegan parmesan because they all have a cheesy flavor. Besides, any squash is a good alternative to butternut.
Total time: 1 hour 40 minutes
Pies are always enjoyable, especially in cold weather. This mushroom and leek chicken pot pie is not an exception. It's flavorful, chilling, and made with chicken – the most common type of poultry in the world!
The star of this pie is the chicken thighs. First, they are beautifully seared on all sides. Then, you poach it in a savory chicken broth and chop the meat. Finally, add the chicken to the vegetable mixture and cover it with the puff pastry dough.
You will bake until the crust turns deep golden and the filling bubbles hard. After baking, let the pot pie stand for 15 minutes and serve it with mashed potatoes and a dressed green salad.
Mushroom and leek chicken pot pie is a real treat on chilling nights!
Total time: 55 minutes
Also known as "Keftes de prasa", leek fritters is a traditional way to eat leeks by Sephardic Jews in Turkey, Greece, and Romania. The dish is a to-go side dish for the Jewish New Year festival.
They become a great patty mixture when combining sautéd leaks with bread crumbs and beaten eggs. Thankfully, the patties don't absorb much oil when you fry them, which helps retain the allium flavor of leeks better.
To make gluten-free, vegan leek patties, switch eggs and bread crumbs with chickpea flour or red lentil. Both of them have plenty of starch to form your patties. If you are following a paleo diet, simply use squeezed grated potato instead of bread crumbs.
Total time: 25 minutes
Vegan leek and tomato tart would be a real treat to your family member on any occasion. The base of crispy puff pastry and cream cheese carries slightly sweet roasted leeks and tomatoes, making a beautiful tart.
Leeks with long white and light green stalks give you a tender texture. As a tip, don't spread too much cream cheese as you don't want a softened crust. Besides, overcrowded toppings also take more cooking time.
After cooling from baking for 10 minutes, the tart is good to go. You can also refrigerate it in your refrigerator for four days. Interestingly, the dish is also delicious when eaten cold, so you don't need to reheat it.
Gear Up And Make Delicious Leek Dishes Now!
Given leeks' impressive nutrient profile and versatility, there's no reason to exclude them from your daily meals. So choose for yourself some favorite recipes and start making them today. The results are likely to be beyond your expectation.
Are your taste buds stimulated now? Go for it! If you find my post informative, send it to those who may be interested. Also, feel free to leave a comment below sharing your ideas. I hope you enjoy cooking and see you in my next post!