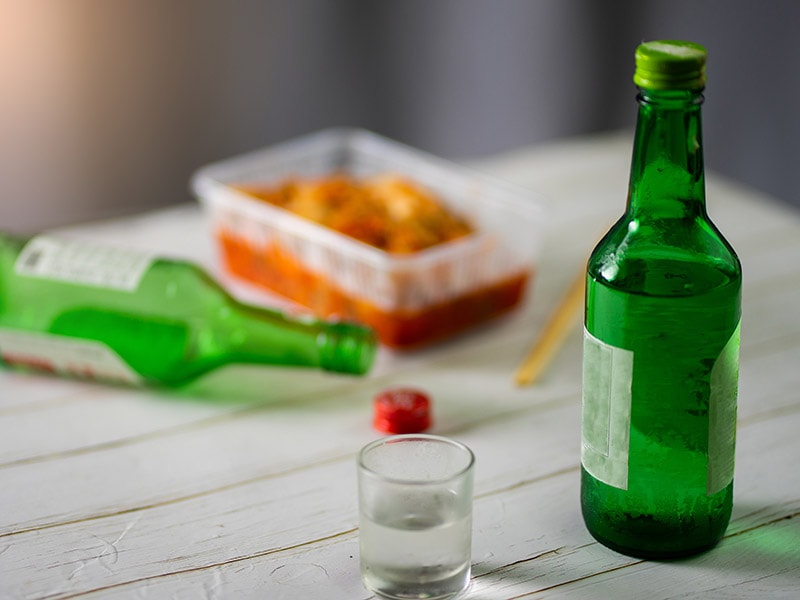 One thing to be said about Korean drinks is that Koreans know what they are doing. This quality is a testament to how resourceful Korean people are at making the best out of what they got. These Korean drinks are not only refreshing, but they also have medicinal benefits.
Some of these drinks are made from local fruits across Korea that have held cultural and economic significance for a long time. These beverages are a celebration of the hard work and the resilience of the people of Korea.
So if you are looking for a sign to start immersing yourself in the Korean food and drink world, this is it. I hope you are delightfully surprised by what you find. Let this list be the starting point to the wonderful journey you are going on.
Get A Taste Of Korea With These Alcohol-Free Drinks
These non-alcoholic drinks will give you a run for your money. These savvy and trendy beverages will surely satisfy your entire family, from young children to the elderl. So how many of these drinks are you dying to try after this list? Let's take a look.
Infused Korean Tea-Style Drinks To Soothe The Soul
Koreans may have its assembly of healthy smoothies and dairy drinks, but let's not forget the teas that have become the backbone of Korean culture. Forget the standard flavor of tea! I'm going to show you many exotic varieties of tea you can enjoy and refresh your palate.
Non-alcoholic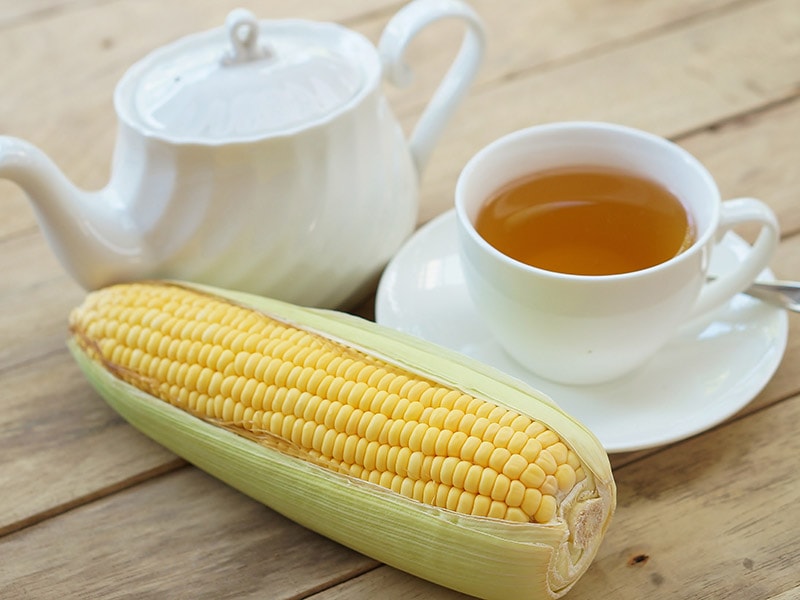 Oksusucha is quite an interesting way to utilize your corn crops. You can make corn tea from two parts of corn cobs. The most popular way that Koreans brew their corn tea is by roasting the whole corn kernels and steeping the roasted corn in boiling water.
Another way you can brew corn tea is with the corn silk – the fibrous strands at the top of the corn cob. The tea made from corn silk is less sweet and has a stronger corn fragrance than if you were to brew tea from corn kernels.
Corn tea is rich in vitamin C and folate, which is amazing for women expecting and nursing. Cold corn tea is also an excellent way to rehydrate your body due to its high water content.
Where to buy: Corn tea is now popular worldwide and can be found in most Asian and Western grocery stores.
This drink is sweet and smells like freshly roasted corn.
Non-alcoholic
Yulmucha is a distinctive Korean drink made from the seed of the Yulmu tree, more often called Job's tears in Western society. The seed of this tree is harvested, dried, and roasted to elevate the nutty, toasty aroma of the tea.
Yulmucha is unlike teas made with other grains made by steeping whole seeds in hot water. Making Job's Tear tea starts with grinding up the roasted seeds and dissolving them in warm water until it is creamy like you would some hot cocoa.
People use Yulmucha in traditional Korean medicine to treat allergies and lower the level of cholesterols in the body. Another way you can use this beverage is to promote healthy weight loss since it aids digestion.
Where to buy: You can buy the prepackaged powder online on Amazon, or it is sometimes sold in vending machines across Korea.
3. Nokcha – 녹차 (Green Tea)
Non-alcoholic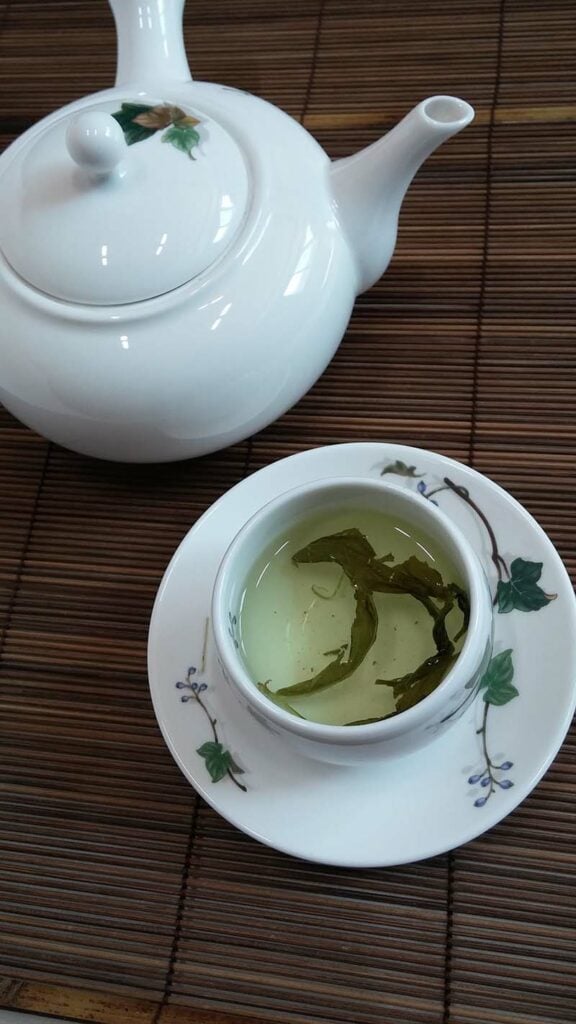 Nokcha directly translates to green tea in English. Your first impression when I mention green tea might be that it is from China. While you aren't wrong, green tea plays an integral part in the lives of people Asian people all around the world.
Tea-drinking customs have appeared in Korea since at least the 7th century. The majority of the Korean green tea crop comes from Boseong, a southern town in South Korea. So much so that South Koreans lovingly refer to Boseong as the green tea capital.
In South Korea, you can find green tea in many various applications. People drink green tea to start their day or relax after hard work. Korean people even use green tea in making various noodle dishes because they just can't get enough of its wonderful flavors.
Where to buy: Every major grocery store worldwide will carry at least one of the many types of green tea. For Korean brand green teas, you can find them at Korean grocery stores or on Amazon.
This video will teach you all about Korean tea culture and how it is valued in Korea.
Non-alcoholic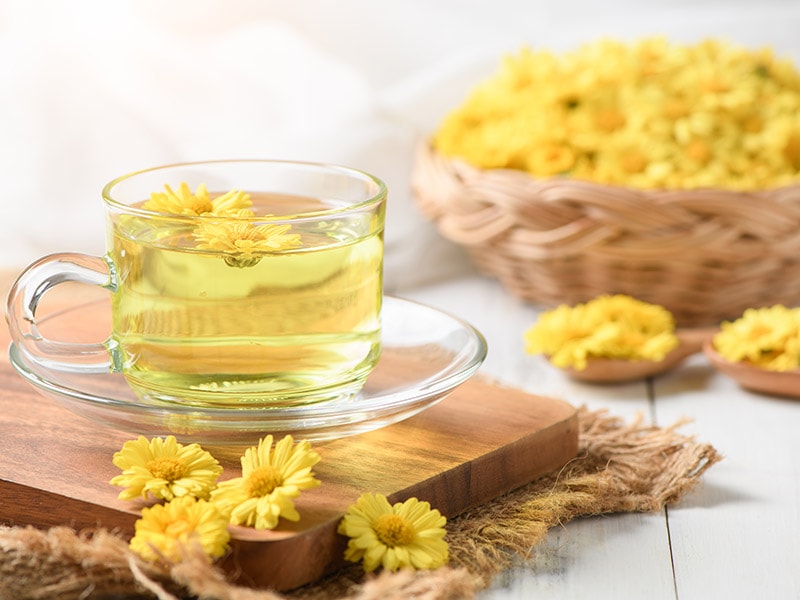 Gukhwacha is a type of Korean tea beverage that the integration of Chinese-Korean Immigrants has influenced. The practice of drinking chrysanthemum teas has been around and famous since the Chinese Song dynasty.
Unopened young chrysanthemum flowers are harvested and dried before they are steeped in hot water or preserved in honey to bring out their medicinal properties. Mildly sweet tea is the direct product of this handling process.
Regular consumption of this delicious beverage is beneficial to your cardiovascular health as well as your immune system. In traditional Chinese medicine, chrysanthemum tea has been used to ward off diabetes and other bodily ailments.
Where to buy: You can buy the dried flowers or the canned premade tea in most Asian or Korean grocers.
Non-alcoholic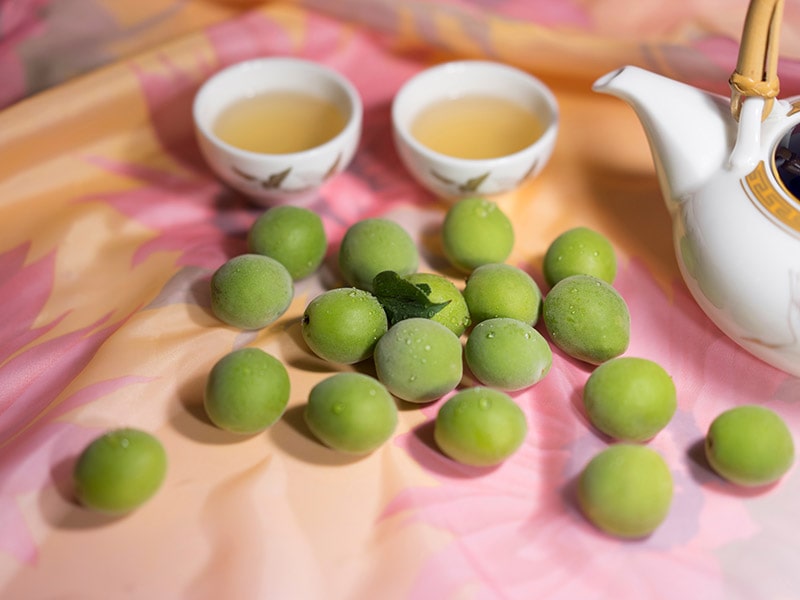 Maesil is another very versatile and regularly used ingredient in the Korean pantry. Green Maesil (also called green plum or Ume in Japanese) is preserved in sugar until a thick viscous syrup forms from the moisture inside the fruit. The drink comes from diluting the Maesil syrup.
Maesil syrup is common in Korean cooking as a natural sweetener. The tea – Maesilcha, is enjoyed cold to cool down the body when the heat gets too much. So much so that parents will serve this tea to children who want to overcome seasonal fatigue.
Other medicinal benefits of Maesilcha include: aiding digestion, supporting the liver in detoxifying the body, and being a diuretic (good for peeing). This tea also helps cure dehydration because of its high content of electrolytes.
Where to buy: Buy the preserved Maesil syrup in Korean grocery stores or fresh green plums in the farmer's markets.
Non-alcoholic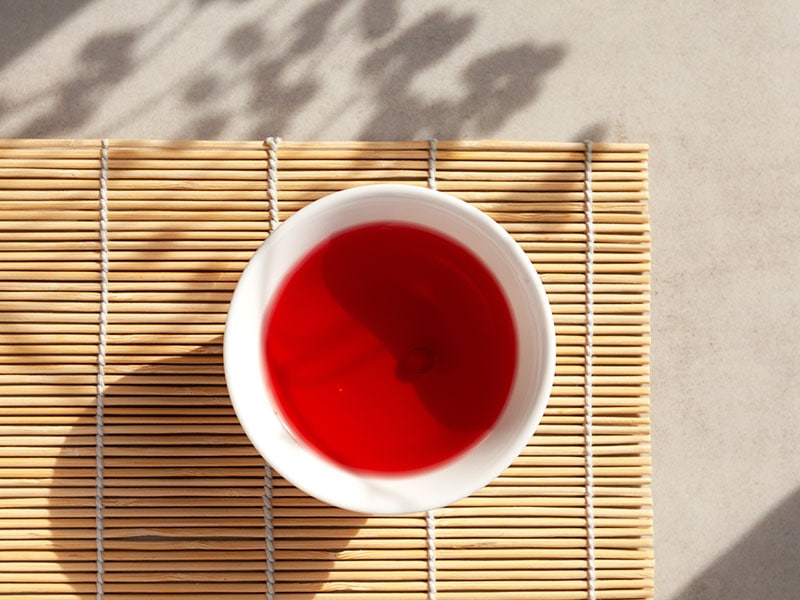 There is a fruit that is a very odd berry in the Korean fruit group called Omija. The name does not describe the tea that has the flavor of five different types of berries. Omija culminates all five of these flavor elements sweet, sour, pungent, bitter, and salty.
Because of Omija's peculiar flavor profiles, few people, even native Koreans, know how to enjoy Omija tea. Usually drunk as a medicine to improve liver function, strengthen the immune system and rejuvenate skin.
A tip for when you get in the mood to make Omija tea is to steep the berries in cold water overnight instead of the traditional boiled water steeping method. The heat will intensify the bitter and sour flavor of the berries, making them less pleasant on the tongue.
Where to buy: You can buy the dried berries and the tea extract on Amazon or at your local Korean grocery store.
Omijacha is the summer drink you can't get enough of.
Non-alcoholic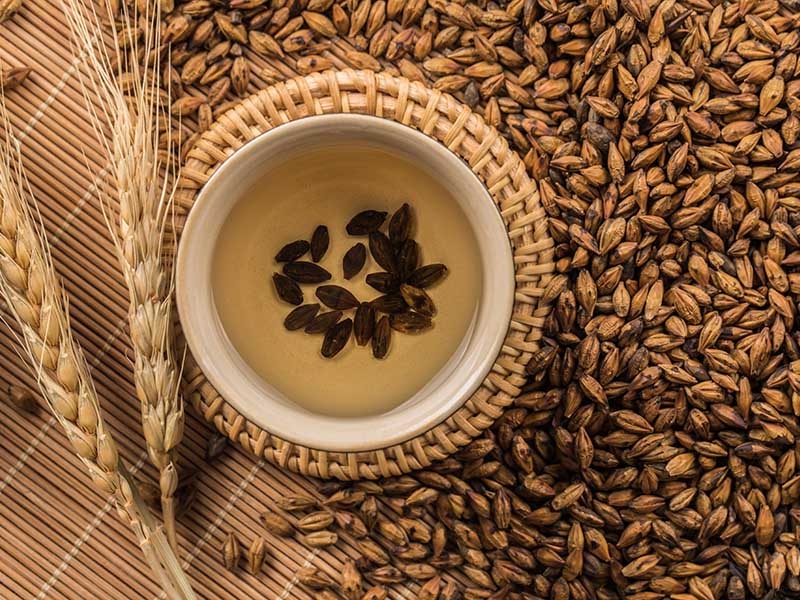 This tea is not only popular in Korea, but it is popular in many other Southeast Asian Countries. Barley has been cultivated and used as a medicine to strengthen and purify the body for ages before modern medicine.
In most barley tea recipes, you may find that the barley is roasted to bring out the nutty, slightly floral aroma before it is steeped in boiling water. In Korea, the locals add corn to the brewing process to utilize the natural sugar in corn.
Barley tea has the medicinal property of regulating the amount of blood sugar in your body, making this drink perfect for diabetics. Barley tea is also a drink that is low in calories and
Furthermore, though there is no discernable side effect to drinking barley tea, people who suffer from celiac disease or gluten intolerance should steer clear of barley tea. The gluten protein in barley is also not suitable for anyone that endorses a gluten-free diet.
Where to buy: You can buy dried barley in almost any Asian grocery store and many Specialty western grocery stores.
Non-alcoholic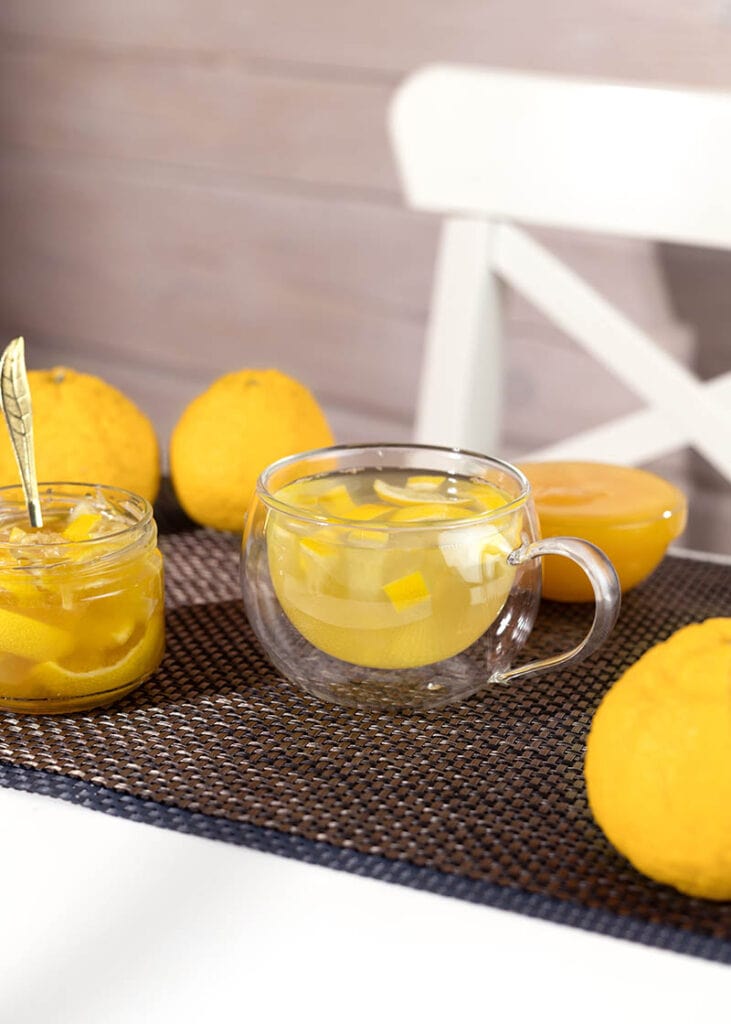 Yuja tea is a cooling beverage, a medicine for the common cold, and sometimes even cough syrup. The main ingredient in this drink is a special citrus fruit called the Yuja fruit. You can hardly find a drink as versatile as this, except for Maesil-cha.
Yuja is a citrus family member and looks faintly like a bumpy lemon. Though the pith of Yuja is much thicker, it can hold more essential oil. This high oil content is part of why lemon tea isn't as popular as Yuja tea in Korea.
The Yuja fruit is cured in either sugar or honey until all medical properties are effectively extracted from the flesh. The sweet syrup is mixed with either warm water as a cold remedy or cold water as a summer beverage.
Where to buy: Buy the Yuja Preserve or premade tea in Korean Grocery stores.
Yujacha was once the drink for royalties.
And Other Well-Loved Non-Alcoholic Beverages In Korea
The list of wonderful drinks for all ages in Korea keeps expanding with these 10 options below. If you have a chance to visit this country, please do not forget to try them all.
Non-alcoholic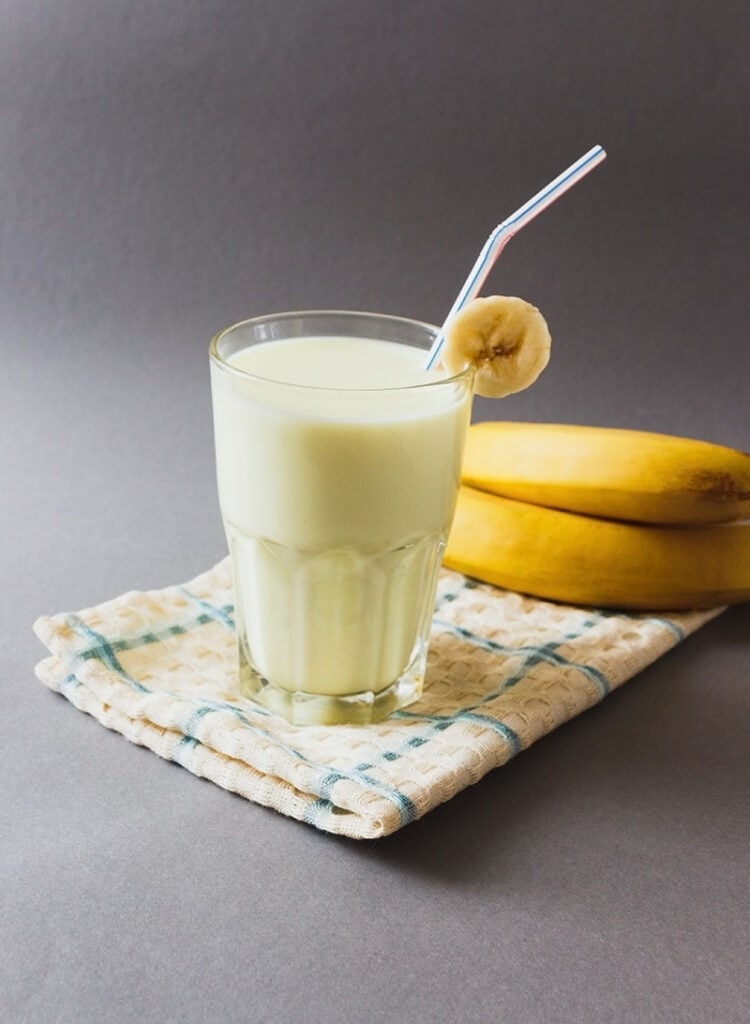 Banana milk is a great dairy-free, nut-free milk substitute for when you crave that creamy goodness of milk but nothing seems to get it just right. Banana milk is mildly sweet and creamy for a beverage only made with two main ingredients.
Banana milk is made by blending frozen or chilled bananas with some water until it reaches the consistency and creaminess of dairy. Don't confuse banana milk with the banana smoothie that you drink at breakfast because banana milk has a more watery texture to it.
It is rich in potassium, fiber, and electrolytes. This quality makes banana milk a beloved cold beverage on hot summer days. But don't leave this drink out too long because it can oxidize and discolor.
Where to buy: You can buy Bananamat Uyu in most convenience stores and supermarkets in Korea and vendors on the streets.
It has been more than 40 years since Bananmat Uyu became a favorite amongst Koreans.
10. Milkis – 밀키스 (Korean Milk Soda)
Non-alcoholic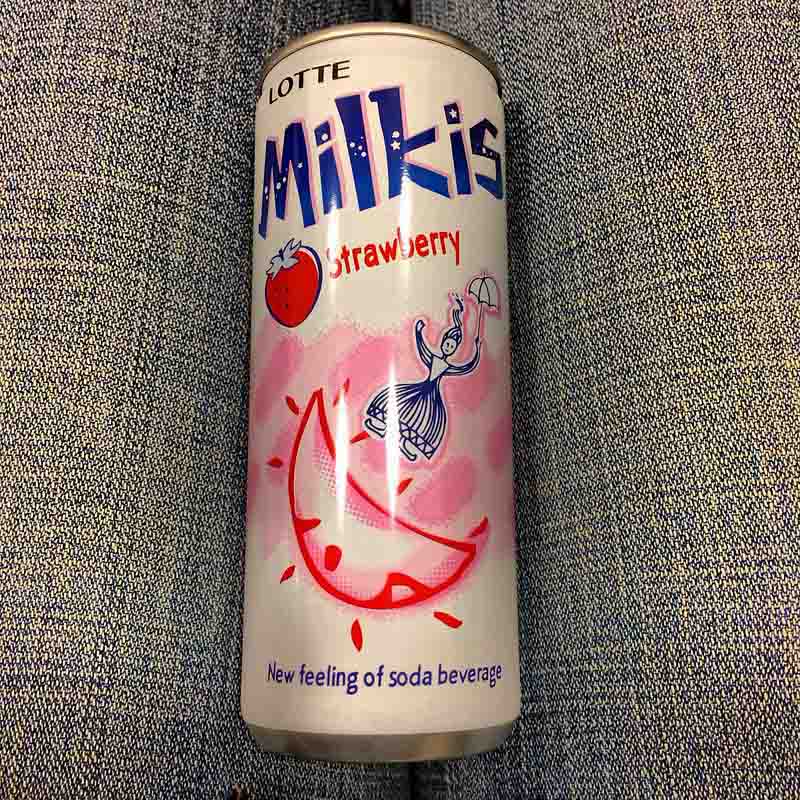 A Korean fizzy soft drink that has been a part of many adults' childhood. That should be a testament to how long this drink has been popular in Korea. You may even wonder what even a milk soda is?
These unlikely ingredients (milk, sugar syrup, and fizzy carbonated water) go very well together. The combination makes a refreshing, milky white drink perfect for sipping when you need a pick-me-up. It is cold, sweet, and slightly creamy.
Unfortunately, you will have to seek out a whole pack of this stuff to stack up in your pantry because you can't make it as they do at home (believe me, I tried). This drink is perfect for children and young adults because it belongs in the soda category.
For those of you that love a bit of a fruity punch, Milkis offer their sodas in an array of flavors: orange, strawberries, peach, etc.
Where to buy: You can purchase in any Korean grocery or convenience store worldwide.
11. Bacchus-F – 박카스 (Korean Energy Drink)
Non-alcoholic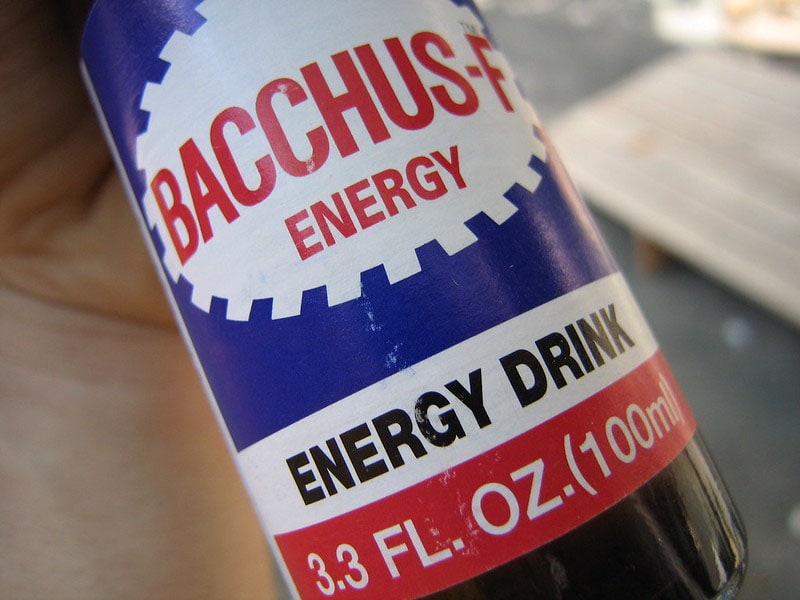 The name of this drink is inspired by a statue of the Greek god Bacchus, the god of wine and exhilaration. The reason is that the founder of this brand of drink saw this statue while studying in Germany.
Before Baccus hit the market as an energy drink, it originally presented itself as herbal medicine to cure hangovers. Baccus has gained prominent popularity from its debut in Korea and made its way into convenience stores all across the US.
In contrast to other popular energy drinks, Bacchus is sweet, a bit tangy, and not at all carbonated. Think of an energy tea. Drink a chilled bottle of this stuff, and you're set for the whole day.
Where to buy: You can buy Bacchus in most Korean and some US convenience stores.
You will love the taste of Bacchus after the first sip.
Non-alcoholic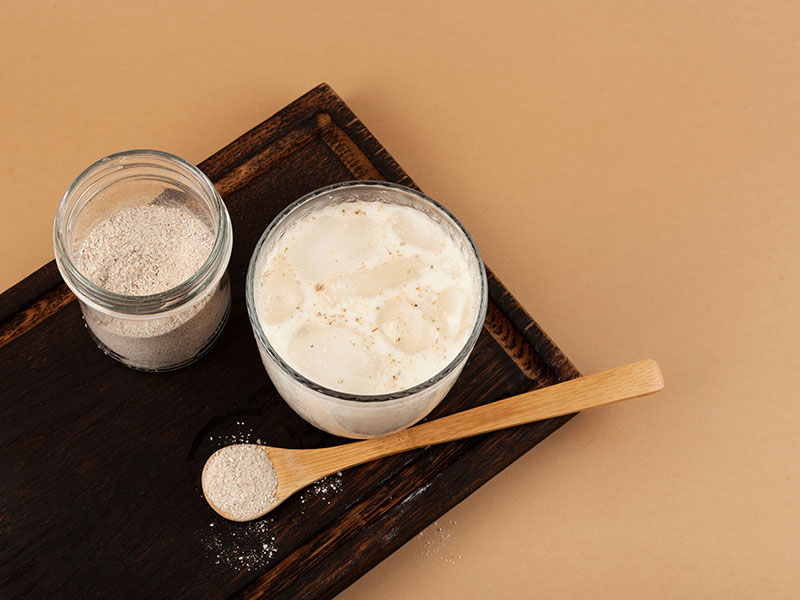 Misutgaru is a hearty Korean beverage made from a mixture of 7-10 grains. This blend of grains usually includes yulmu, barley, an assortment of rice, and other grains. This nutty drink is often associated with Korean summers when your body needs to go down.
Remember that because this is a powder made of multiple types of grains, the Misutgaru powder doesn't dissolve in water. You will need to keep stirring the drink for the sediments to not settle in the bottom of the glass.
Some versions of this drink often instruct consumers to use nut milk instead of water to mix with the grain powder. The creaminess of the nut milk adds well to the overall flavor of the drink. You have the option of adding sugar, but I find that the drink is already sweet on its own.
Where to buy: You can buy the Misutgaru powder online or at any Korean supermarket.
13. Sukchwihaesoeumnyo – 숙취해소음료 (Dawn 808)
Non-alcoholic
This drink might surprise you if you have never been to Korea. After 808 trial tries, the founder of this beverage finally discovered the perfect cure for the symptoms of a hangover. The drink's name is also "Dawn 808" because of that.
Dawn 808 is completely made with natural ingredients with no added artificial substances. Arrowroot, ginger, and jujubes are all active ingredients listed on the label. Furthermore, the drink is naturally sweetened with honey instead of added sugar.
So the next time you have a big party that will leave an impression on you the next day, grab a can of this liquid miracle. The recommended time of consumption is immediately before or after you drink alcohol.
Where to buy it: You can find a pack of 4-6 cans in most grocery stores in Korea. Otherwise, you would have to purchase it online if you are abroad.
Non-alcoholic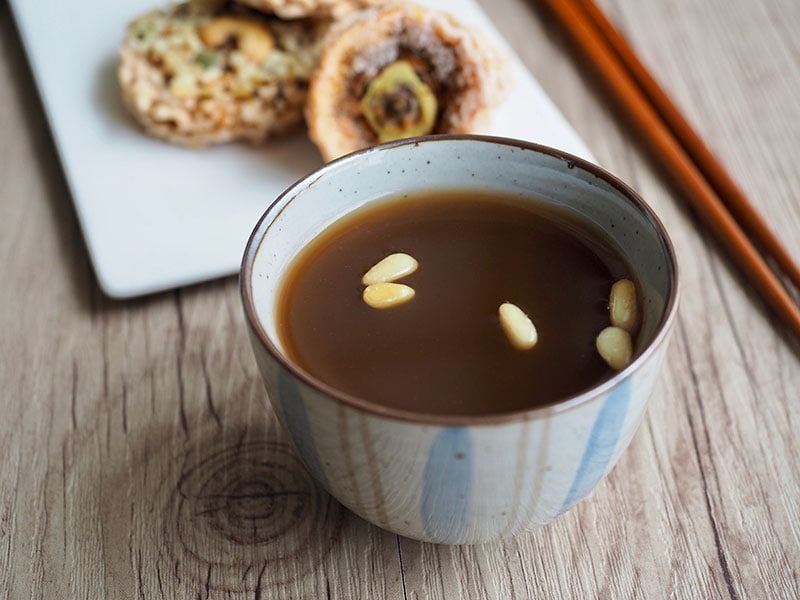 Korean has a way of celebrating each turn of the season by highlighting the most prominent ingredients then. In the cold fall weather, cinnamon and ginger are warming spices you can find in many seasonal beverages, including Sejeonggwa.
Traditional Korean preparation boils the cinnamon and ginger separately before combining them at the end. It is unclear whether it improves the flavor of Sujeonggwa. But since ginger and cinnamon finish cooking at different times, you should follow that instruction.
Enjoying Sujeonggwa with an ice-cold slushy texture is the most refreshing thing you will ever experience. You can also enjoy the punch with dried persimmons, an astringent fruit popular in Korea. Soak the dried fruit in the punch for up to 2 hours to soften the fruit before eating.
Where to buy: You can find cinnamon and ginger as common spices in most grocery stores. The dried persimmons are a bit tricker and are only available when it is in season in Asian grocers.
Non-alcoholic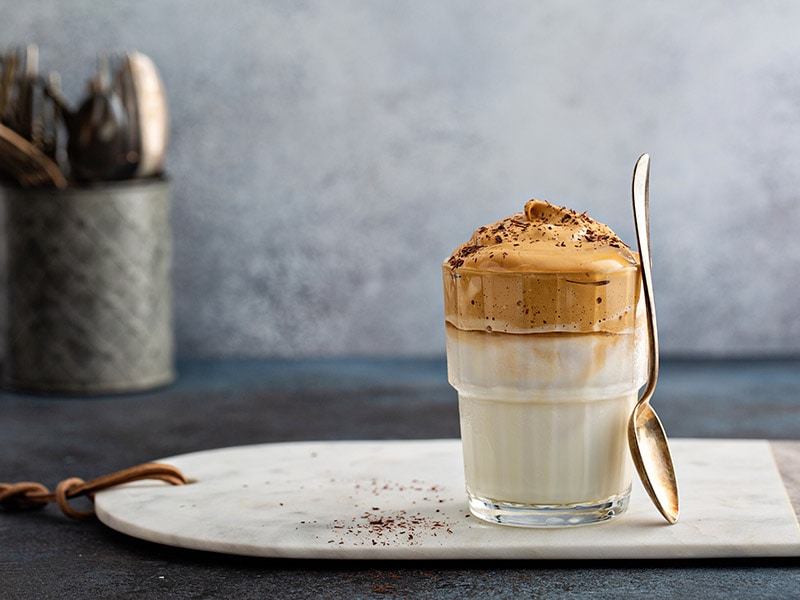 After the 2021 quarantine, one of the few good things that came out of that period was the popularization of the Korean Dalgona Whipped Coffee. You may even recognize the first component of the name – Dalgona (a popular type of Korean street food).
If you are wondering how Dalgona is made and whether you can make this deliciously cool-looking coffee drink from scratch, you can! You can Dalgona coffee by whipping instant coffee, water, and sugar together until a thick, foamy texture takes on.
This drink is best-enjoyed iced as the cold temperature preserves the fluffy texture of the whipped coffee. Pair this cloud of sweet coffee foam with some of your favorite milk, and you've got a great day ahead of you!
Where to buy: You can easily make it at home or buy it in popular coffee shops worldwide.
This video is everything you need to know about Dalgona coffee.
Non-alcoholic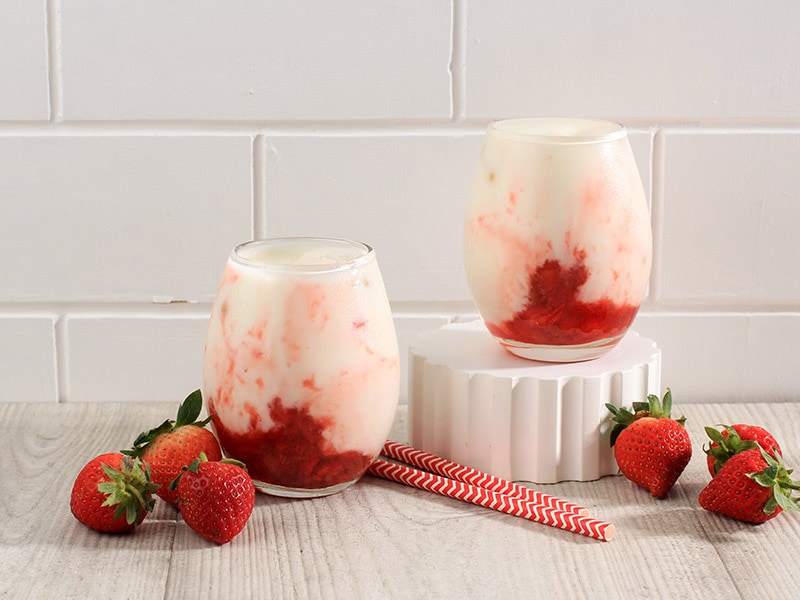 Strawberries are one of those fruits that tastes better in Korea than anywhere else. Ttalgi Uyu is the perfect way to celebrate this vibrant fruit. Many of Korea's most popular cafes serve this refreshing drink when the strawberries reach peak ripeness in the summer.
Ttalgi Uyu isn't the same thing as a strawberry smoothie. Since sugar is hydrogenic, the fruit will release its water content, making a thick, red syrup. Korean cafes will toss strawberries in sugar to macerate the fruit.
No doubt, this drink is beautiful to look at, but the taste is also divine. The baristas will serve the strawberries syrup with the fruit chunks in fresh milk or other dairy substitutes. Creamy and just slightly sweet, this drink is truly a summer must-try.
Where to buy: You can buy fresh strawberries to make your Korean strawberry milk at home or buy ready-made Ttalgi Uyu in cafes all around Korea.
Non-alcoholic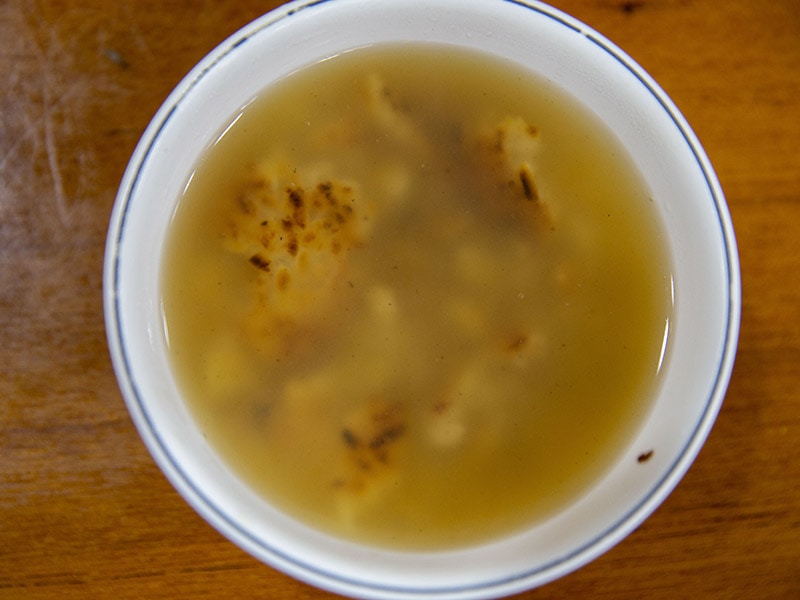 The categorization of Sungyung is debatable whether it is a drink or a soup. But most of my Korean friends refer to this odd concoction as a drink. Sungyung isn't a product of fermentation like other rice-based drinks on this list but rather just soaking the scorched cooked rice in water.
This beverage is a common occurrence after Korean meals. When the bits of cooked rice stick to the bottom of the pot, Koreans will pour boiling water on top and let the rice sit to soften. The reason is that the clean taste of Sungnyung will clean the palette after a meal.
You shouldn't add any sugar or other sweetener to Sungyung. The whole point of this beverage is to use the bland taste to wash away the residual flavors of other dishes. Some Koreans even believe this warm rice water will aid digestion after a heavy dinner.
Where to buy: You can't buy this drink outside. Add boiling water to burnt rice, and you've got some Sungnyung.
Non-alcoholic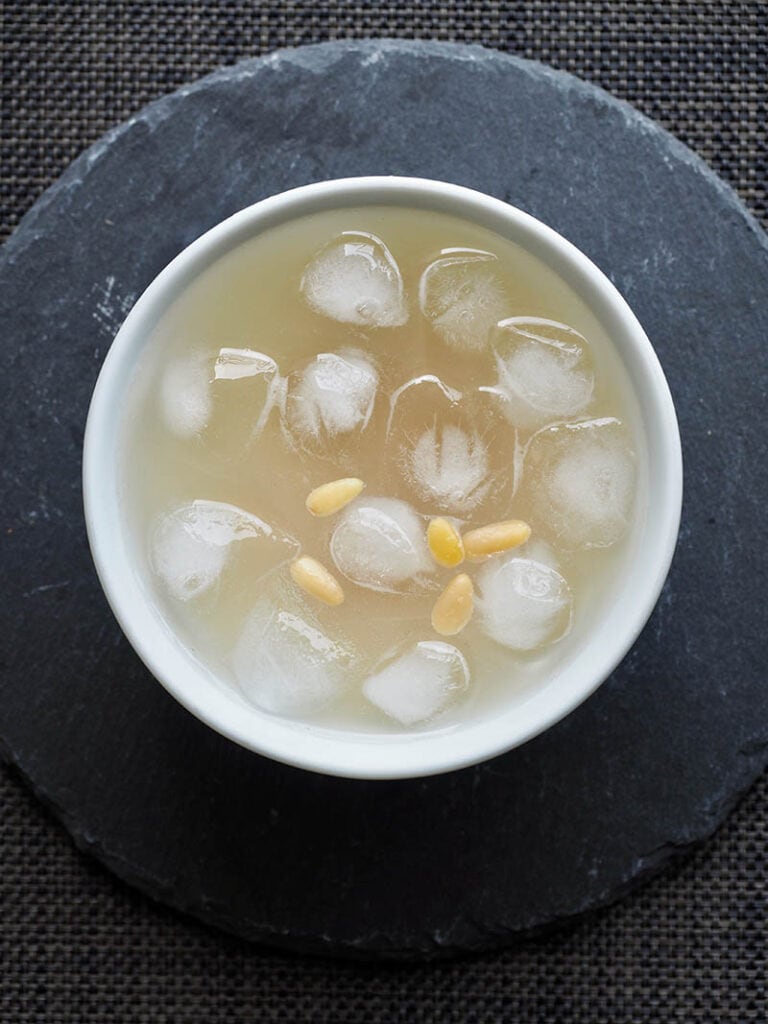 Sikhye has held its spot in the heart and soul of Korean culture for a long time. A mildly sweet drink made from barley malt, sugar, and cooked rice, Sikye will do a fantastic job of quenching your thirst in no time.
Sikhye is often drunk during the holidays, such as the Harvest Festival or New Year's Day. Being a non-alcoholic beverage that everyone from the elderly to young children can enjoy, Sikye is nationally celebrated as one of Korea's most beloved drinks.
Another reason Sikhye is well known in Korea is the digestive benefits of barley malt. An enzyme called Amylase improves the stomach's digestive function. Sikhye is also commonly served after a big heavy feast.
Where to buy: You can find Sikhye in most Korean grocery stores in Korea and other countries worldwide. It comes in cans or plastic bottles.
Every family in Korea has its own uniquely delicious recipe for Sikhye.
Alcoholic Drinks In Korea Deserves All The Spotlight
One of the many simple joys of being an adult is the ability to drink alcohol (responsibly, of course). Would this list of various Korean alcoholic drinks entice you? You may have already been exposed to some of the items on this list through Korean shows but let's recap.
19. Bokbunja-Ju – 복분자주 (Korean Black Raspberry Wine)
Alcoholic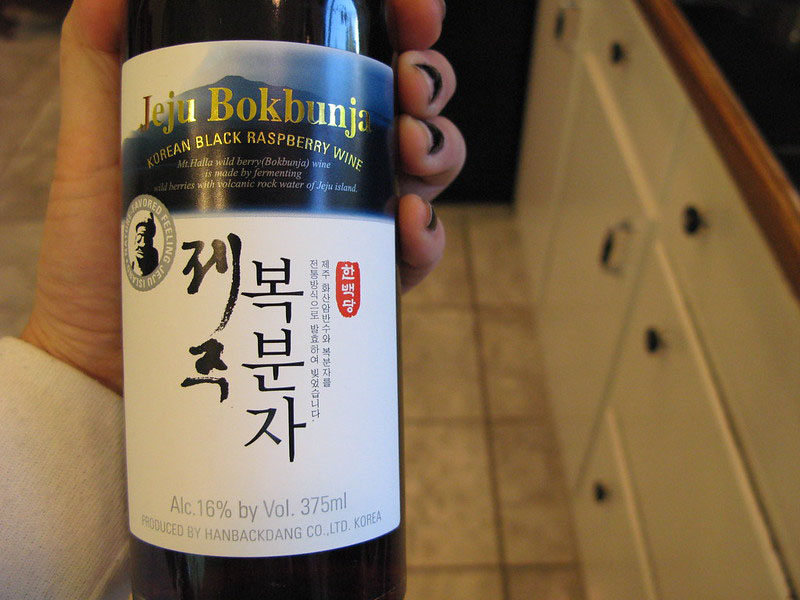 Bokbunja is the Korean name for black raspberry, which isn't the same as blackberry in terms of taste and appearance. When you ferment Bokbunja in water, you'll get a slightly sweet and dry alcoholic drink named Bokbunja-Ju. This wine also goes by the name Bok Bun Ja Joo.
The wine has a rich, sweet aroma of ripe raspberry and a dark burgundy red color from the rich tannins in the skin of Bokbunja. But Bokbunja-Ju isn't sugary like other fruit wines. Korean black raspberry wine is on the dryer end in terms of fruit alcohol.
The alcohol content per volume of Bokbunja-Ju varies from brand to brand, but it usually stays within the 15%-19% range. Other than being a common party drink, there is also a folk rumor in Korea that discusses the benefits of Bokbunja-Ju in the sexual health of men.
Where to buy: You can find Bokbunja-Ju in many Asian alcohol stores, but if it is unavailable, you can always find it on Amazon.
Non-alcoholic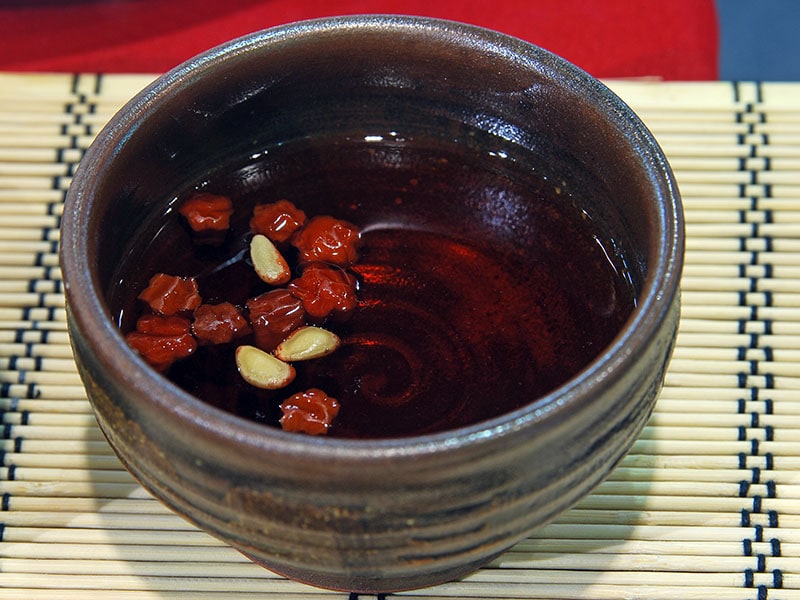 You might have seen jujube in many Korean savory dishes. But did you know that you can make this deliciously sweet fruit into a beverage that will improve your circulation? Jujube is rich in iron and potassium, two essential minerals to your overall well-being.
There are two ways you can tackle Daechucha. The first method is simply boiling dried Jujube in water until the tea becomes a rich red color and has taken on a sweet aroma. The second is diluting jujube syrup in hot water and enjoying it as you would with Yuja tea.
The Jujube is easy enough to make from scratch. You just need to simmer the sun-dried jujube fruits on a low heat setting until the liquid becomes thick and darkens in color. Jujube teas don't need any sweetening because the fruit is already so sweet.
Where to buy: You can buy dried whole jujubes in many Asian supermarkets. However, you can only find the elusive jujube syrup in Korean grocery stores.
Daechucha is the remedy for seasonal sickness.
Alcoholic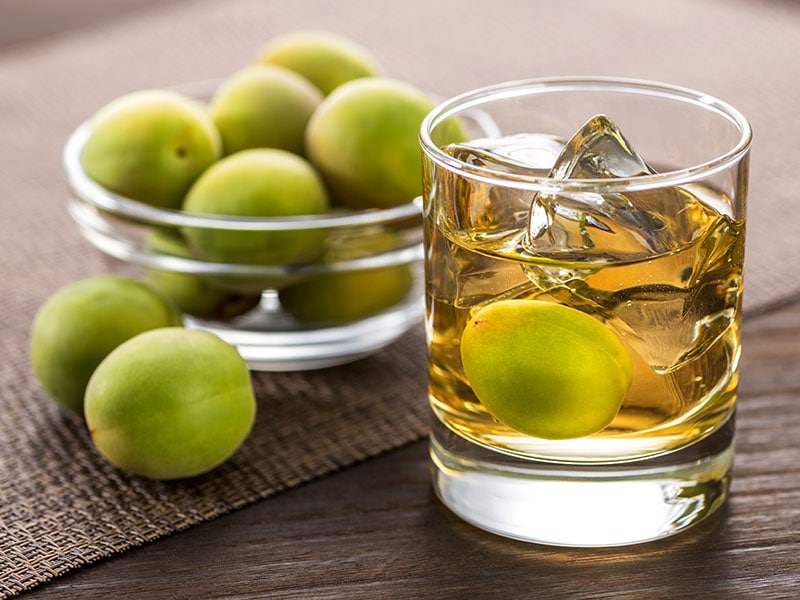 Take Maesil-cha a step further, and you've got some Maesil-Ju. Maesil is a popular fruit in Korea that has a lot of culinary uses. The plums have to go through a strict selection process to ensure the quality of the Maesil-Ju.
Korean wine-makers prefer the Hwangmae plums (yellow plum) variety because they produce the best-tasting wine. You can use the unripe fruits and also the ripe fruit. The ripe Maesil is sweeter and more fragrant, whereas the unripe fruits are tarter and less aromatic.
Usually, Koreans will use Soju as the base alcohol to soak up all the flavor of the plum. People will also add sugar to make this wine a bit sweeter and more suitable to drink as a refreshment. You can eat the plums after fermenting as a snack too!
Where to buy: Maesil-Ju will taste best if you make it from scratch, so you can adjust the ratio of sourness and sweetness to your liking. You can buy fresh green plums from Korean grocery stores when they are in season. You can also buy the premade wine on Amazon.
22. Soju – 소주 (Korean Rice Wine)
Alcoholic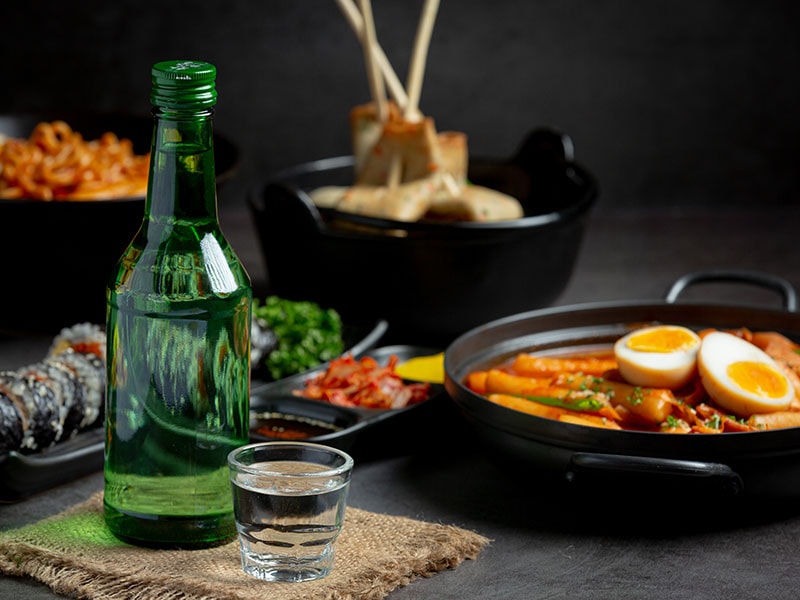 The history of Korea and its popularization did not happen without Soju – the colorless alcohol that is usually present at every good time. In fact, Soju is so great that it is its own classification of alcohol that has been an official word in the Miriam-webster dictionary.
The distillation process that gave birth to Soju came to Korea in the Goryeo era, around the 13th century. Mongolians, who learned the distillation techniques from the Persians, brought their methods to Korea. The brewing and distillation of soju gain perfection over time.
Though there is much to say about Soju, I will try to make it brief. "So" translates to "burn," which is indicative of the high temperature at which the distillation process takes place. Soju fermentation includes various starches, including glutinous rice and other starchy vegetables.
There is an etiquette to drinking Soju that has become an unspoken rule in Korean culture. The youngest person at the table must always serve their elders with both hands. This rule does not only apply to ages but also to the hierarchical order of the company they keep.
Where to buy: You can buy Soju in Asian and Korean grocery stores around the world. You can even find Soju in convenience stores all around Asia.
Soju is the most widely consumed alcohol in the world.
23. Maekju – 맥주 (Beer)
Alcoholic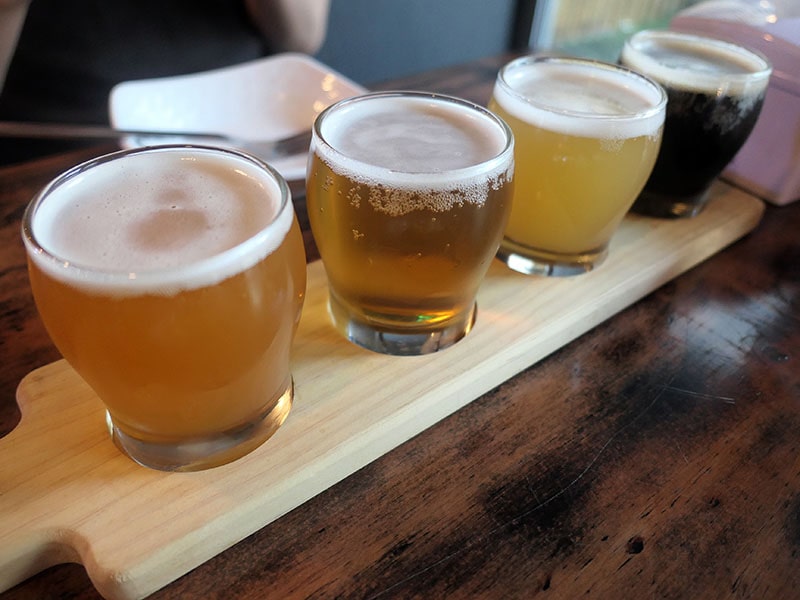 The term "maekju" isn't a singular type of drink but a whole category of alcoholic drinks. Beers play an important part in the alcohol culture not just in Korea but almost anywhere else in the world. Koreans love beer so much that there are foods in Korean cuisine made just for beer.
The introduction of beer to Korean culture started around the 20th century, with the first Seoul brewery established in 1908. Though South Korea has more media portrayal of beer, North Korea actually brews better beer in terms of Asian beers.
After a published article criticized the lack of quality in South Korean beer brewing, the South Korean government passed a reform in alcohol law to allow micro-brewing. This opens up a horizon of opportunities for brewers to experience and create better beers.
There is even a trend of beer-brewing at home that's making its way across Korea, though supplies and resources are still limited. Furthermore, more and more Koreans prefer to drink alcohol at home instead of in social settings due to the influence of TV shows.
Where to buy: You can buy beer, more specifically Korean beers, at any Korean grocery store and Korean convenience store.
Alcoholic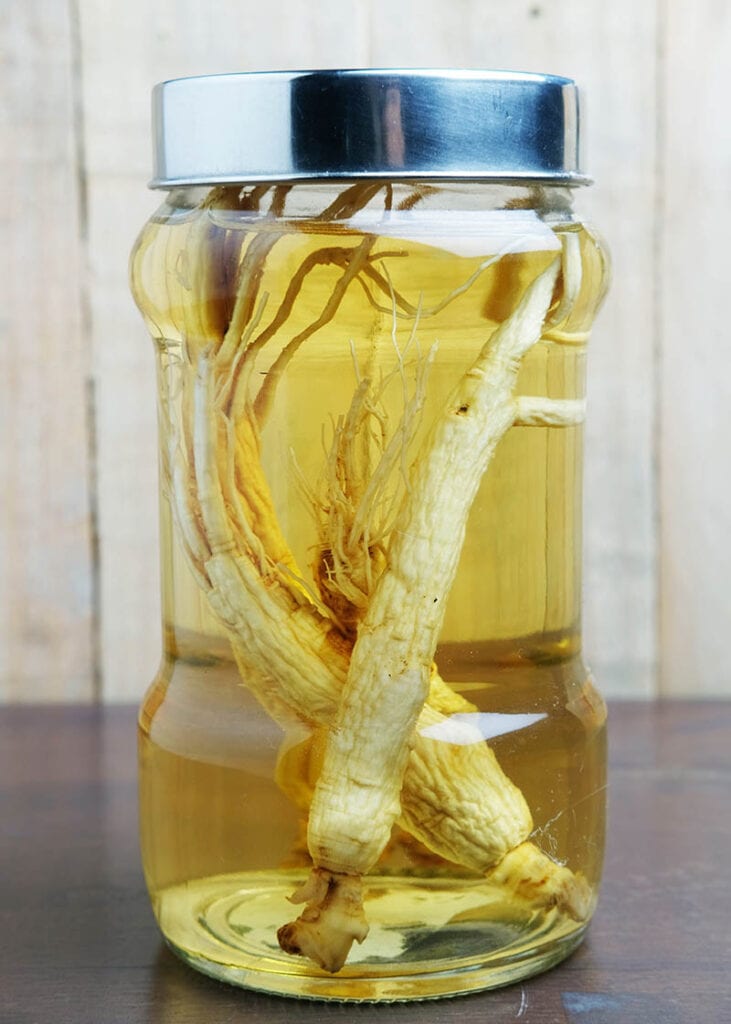 Ginseng is a famous herb in all corners of Korea for its medicinal purposes. You wouldn't be surprised to find that Koreans found ways to incorporate this wonderful herb into a type of alcohol to reinvigorate the body.
The first few iterations of Insam-Ju appeared around the 14th century when people used to soak the ginseng root in Soju. The resulting alcohol has a smooth, balanced taste with a few slightly medicinal notes.
There is a long-standing belief in Korea that when you want to cool off from the hot weather, you should eat hot soups such as Samgytang. Samgyetang is a chicken and rice soup with Ginseng and Jujube. Insam-Ju is a favorite pairing with this soup.
Where to buy: Because of the relatively high price of ginseng and, by extension, Insam-Ju, you can't always find authentic Insam-Ju unless you have access to a specialty alcohol store. You can also find Insam-Ju in online alcohol vendors.
Alcoholic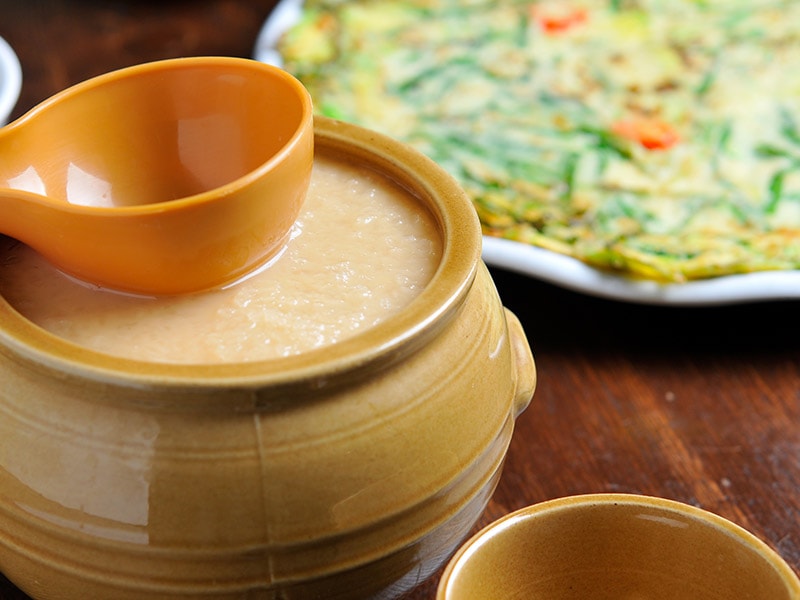 Makgeolli is probably one of the most widely noticeable alcoholic beverages in the Korean drinking culture. Makgeolli is an unfiltered rice wine that tastes quite complex compared to other communal alcoholic drinks.
Makgeolli takes the title of the oldest and longest-running alcohol in Korea. This mildly sweet and bitter alcohol was a popular fermented wine since the first century BCE – from the time of the three kingdoms.
The fermenting of the Makgeolli wine contains steamed rice in the form of Nuruk. This peculiar fermentation starter is a compilation of different cereal grains that have gone through some degree of fermentation to promote the breaking down of the starch in the rice.
Though the people of Korea prefer the unpasteurized version more, it is not suitable for mass production and storage. Many brewing companies that make Makgeolli will pasteurize the wine before bottling to stop the fermentation, eliminating some beneficial enzymes in the process.
Where to buy: Though you can make Makgeolli at home, it is hard to find the proper tools and ingredients. You can buy bottles of Makgeolli from Korean grocery stores.
You can drink Makgeolli with your friends on any occasion.
Drinking In Korea Has Never Been More Enjoyable
In Korea, a simple drink can be an exquisite pleasure as well as an invaluable medicine. Whether you plan to go out on a night of fun with your friends or just want a beverage to rehydrate and nourish your body, Koreans will have just the drink for that.
Koreans have perfected the art of combining health and longevity with deliciousness. Do you like what you see and can't wait to learn more? Don't forget to hit the like button, leave a comment down below and share with everyone you know! See you again very soon!