These kiwi recipes are worth considering since kiwi provides a rich source of vitamins, minerals, and nutrients. Kiwi also contains fiber, vitamins C and E, antioxidants that help prevent constipation and other bowel problems.
Do you think kiwi is only suitable to eat directly? That is completely wrong, and these amazing recipes will make you realize kiwi is more interesting than you think.
But how to prepare delicious dishes from kiwi? Do you need a little inspiration to tackle your kiwis? Check out 25 fantastic dishes that will surely make you fall in love.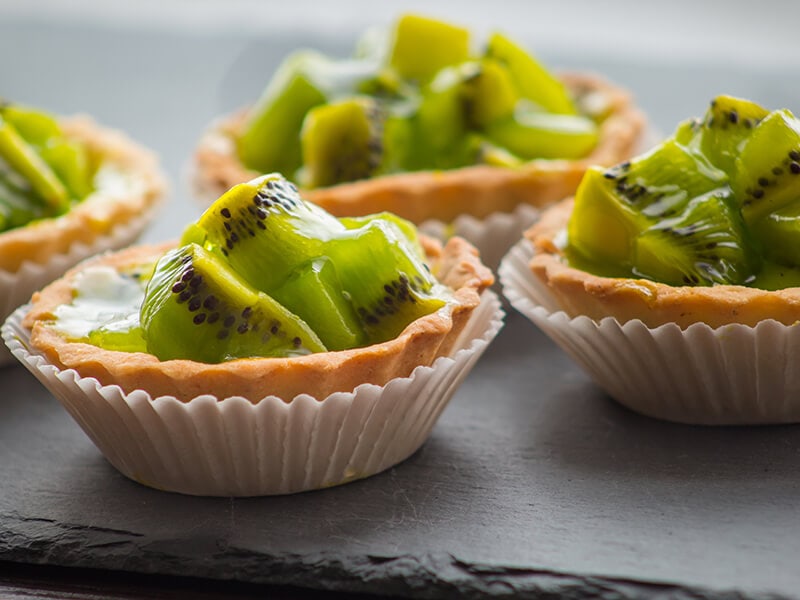 Learn These 25 Fantastic Homemade Kiwi Recipes To Treat Everyone!
From now on, you will be great in everyone's eyes with these 25 delicious kiwi recipes. Let's get started!
Kiwi Salad Recipes:
Strawberry Kiwi Salad
Kiwi Berry Salad
Citrus Salad
Kiwi Dessert Recipes:
Kiwi Cake and Pie:
Kiwi Lime Pie
Kiwi Lime Loaf Cake with Yogurt
Kiwi and Strawberry Shortcake
Pavlova with Lemon Curd and Kiwi
Kiwi Cheesecake
Kiwi Cupcakes
Kiwi Muffins
Kiwi Pudding and Tart:
Kiwi Lime Tart
Kiwi Chia Pudding
Kiwi Frozen Desserts:
Kiwi Lime Sorbet
Kiwi Popsicles
Kiwi Beverage Recipes:
Apple Kiwi Smoothie
Kiwi Juice
Kiwi Pineapple Smoothie
Kiwi Margarita
Strawberry Kiwi Smoothie
Kiwi Lemonade
Other Kiwi Recipes:
Kiwi Bread
Kiwi Avocado Salsa
Kiwi Parfait
Strawberry Kiwi Fruit Pizza
Kiwi Oatmeal
Be Healthy Every Day with 25 Splendid Kiwi Recipes Below
How to absorb the most nutrients from kiwi? Here are a few recipes with kiwi that you will definitely be hard to ignore:
Let 3 Wonderful Kiwi Salad Recipes Enhance Your Family Meals!
Kiwi is known as a fruit rich in vitamin C, so it is the first choice for enthusiasts to improve health. Kiwi is always on top of good fruits to prepare many delicious dishes. Every dieter should try the following kiwi salad recipes!
Not only is it a cooling fruit, but kiwi is also a raw material for preparing nutritious salads. Try variations with the following simple strawberry kiwi salad recipe to supplement nutrition for a stunning breakfast.
With just a few simple steps, you have finished preparing a beautiful accompaniment for summer meals. The attractive color and taste of kiwi and strawberry, especially the aroma, make this salad unique.
This salad combines beautiful red-green fruits that provide vitamins, water, and fiber to make the meal more amazing. You can add ice cream or any other favorite ingredients to enhance its taste.
Are you looking for the perfect side dish for dinner? The sweet flavors in this kiwi strawberry salad recipe blend so nicely with the syrup!
Combine kiwi and fresh berries with your favorite special sauce for a refreshing summer salad. The perfect combination covered in a bright sauce is the absolute best.
This salad brings bright colors and natural flavors that are perfect for upcoming parties. It is also an ideal, healthy snack.
One thing that you should not skip is your favorite salad dressing. The sauce enhances the natural flavor of the fresh fruit even better than the taste itself. Try the kiwi berry salad recipe!
This time, try to make a colorful and exciting citrus salad with kiwi! For this recipe, you need citrus, kiwi, and possibly some seasonal fruit. This fruit salad is a light and refreshing side dish with a pop of color and flavor. The fruit is drizzled with a mild sour sauce made from citrus juices.
You can make this tasty Daniel Fast-friendly recipe in just 10 minutes from start to finish. The sweetness of the fruit blends perfectly together with the amazingly delicious citrus special sauce. This cool salad also beautifies the skin, helps to keep fit, and is very good for health.
These Kiwi Dessert Recipes Will Make The Sweet Lovers Passionate!
All sweet teeth come here! Here are all the delicious kiwi desserts that you shouldn't miss! Everything you love, from pie, cake, tart to pudding, is on this part:
Bring 7 Stunning Kiwi Cake and Pie Recipes Into Your Everyday Life:
If you are tired of the normal sweetness of cake and pie and need some more interesting flavors, why not try this recipe with sour kiwi? Some combinations will completely surprise you! Try it now!
I've wanted to make a kiwi lime pie for a long time, and on my first try, I succeeded with this recipe. Lime pie is cool, refreshing with a beautiful layer of kiwi on top!
I love this idea, and it looks pretty good, with a persistent and robust flavor. You can add a layer of whipped cream and sprinkle it with macadamia nuts for added flavor. This is the pie version that you must try!
Let's impress your guests with this healthy and easy-to-make kiwi lime pie recipe! Everyone will enjoy it to the end!
If you're wondering which recipe you can make with lime and kiwi, try this loaf cake. The ingredients are also extremely simple, with just frozen yogurt and kiwi.
Kiwi lime loaf cake and yogurt with a fresh and refreshing taste are really great for a busy day. It is also perfect as a summer cooling dessert.
These recipes will show you how to make a succulent, moist, sour, vitamin-rich kiwi lime loaf cake. The whole family will love this dessert.
Strawberry and kiwi shortcake is delicious with a crispy crust, strawberry slices, and slightly sour kiwi to balance the smooth taste of cream. You may think this recipe is difficult, but the kiwi strawberry shortcake has a straightforward way to make it!
You can cover this shortcake with a thin layer of whipped cream to make it more appealing. The combination of moist texture with the fatty taste of kiwi and sour strawberry cream is guaranteed to satisfy the most demanding people.
You can make pavlova meringue with various kinds of sour fruits and cream. And this sweet option using lemon curd and kiwi is definitely a wise choice. Let's discover how to make this stunning kiwi and lemon curd-covered Pavlova with me!
The combination of sweet kiwi and mild sour lemon curd juice will make Pavlova taste just right. You can add some cream to balance and create a special and unforgettable flavor for this dish.
The cool kiwi cheesecake has a crunchy jelly layer interspersed with a greasy cream. The kiwi is succulent for an extremely delicious dessert. In particular, this dish does not require an oven so that you can make it successfully with just the first time.
The first impression when tasting cheesecake is the crunchy cookie base layer and the natural taste from fresh kiwi fruit mixed with a fatty cream.
Kiwi cupcakes are easy to make. This recipe features a soft texture with the unique taste of kiwi and the fatty taste of the cake base. The simple cupcakes incorporate kiwi to enrich the flavor of cupcakes.
Kiwi cupcakes, when just baked, have the sweet aroma of buttermilk and cool kiwi fruit. Each beautiful little cake has a light taste that makes it hard to forget. Kiwi cupcakes can be used as a dessert or in birthday parties that children will love.
Kiwi is definitely a fruit with nutrients and has a delicious taste. Now that deliciousness is doubled when combined with the muffin recipe. Kiwi muffins are usually quite moist, soft, and fluffy. It tastes great when combined with chocolate!
The fragrant, slightly sour fruit-flavored muffin will surely conquer the taste! The soft, spongy cake, the smell of kiwi, and the moderate sweetness make this recipe hard to resist.
Let These 2 Kiwi Pudding and Tart Recipes Give You A New Fresh Taste:
Melt in the mouth is pudding and tart! Easy and quick to make, you'll be blown away by these options! Try making a few recipes with kiwi and see how they get the most out of them!
These kiwi lime tarts are a suitable dessert for autumn's cool weather. It has a buttery taste from the base, the smooth taste of eggs and butter, and the gentle sweetness of kiwi fruit.
This dish also has the characteristic aroma of lime curd, which helps the taste feel less boring. Let's make your kitchen richer with this kiwi lime tart!
I want to introduce a refreshing summer breakfast – kiwi chia pudding. My family really likes this pudding, especially as a suitable sweet treat for children. This is also one of the best options for those on a weight loss journey.
In particular, you can adjust the taste in the pudding base and topping to suit each family member without taking much time. The method is fast, neat, clean, suitable for a busy person.
This is also nutritious food for human health, helping to supplement essential nutrients, rich in protein, omega-3, and fiber. Kiwi and chia seeds are great ingredients for delicious dishes!
Try to make easy and quick recipes for a healthy breakfast, with chia pudding topped with fresh kiwi!
Blow Up Your Hot Summer Day With 2 Kiwi Frozen Dessert Recipes Below!
It seems that adults and children alike love frozen desserts! It makes us feel fresh and remember the old days. What are you waiting for? Try two recipes with kiwi right away!
It's hard to describe the happiness of eating ice cream, and it's also a kiwi lemon sour sorbet. You can make your own little sorbets at home with just kiwi and lemon.
This fruit sorbet recipe uses kiwi and lemon, but you can also vary the ingredients to your likings, such as a dash of blueberry or watermelon! To enjoy, you can layer grated coconut on top. The cool and refreshing sorbets are ready to serve.
Yes, it will help you to please the diners! In addition to saving you valuable time, sipping this cool kiwi sorbet also allows your guests to feel full and refresh their mood.
When the weather is hot, nothing can dispel the heat more effectively than this refreshing popsicle treat. The ingredients are simple and easy to find.
All you have to do is mix the ingredients, pour them into creative ice cream molds that can be easily purchased online or at your local supermarket, and freeze them in the fridge. Wait for a few hours and take out to enjoy the cool ice cream.
Make 6 Cool Kiwi Beverage Recipes For Everyone To Enjoy And Provide Nutrition!
Suitable to make many different beverages, kiwi is loved by many people, from the elderly to the young. At all times, drinks will become the number one choice for both effective refreshment and health benefits. I present to you amazing kiwi beverages recipes:
Kiwi apple smoothie is a great combination of fresh fruits – a healthy green smoothie recipe made with apples, bananas, kiwis, and spinach. It is a vegan drink, perfect for helping curb hunger and provide extra nutrients to your diet.
The flavors of kiwi and apple blend together delightfully. At the same time, yogurt will make the smoothie more fragrant, sweet and provide a lot of protein.
The sourness of kiwi, the rich aroma of milk, and the natural flavors of apples will surprise you with such a harmonious balance. Learn how to make this refreshing drink with the recipe I recommend!
With just the familiar ingredients – pineapple and kiwi, you can make a delicious dish rich in vitamin C and antioxidants to stay young and full of life every day!
The combination of kiwi and pineapple is super delicious, calm, and good for the body. Pineapple contains many enzymes that are good for the digestive system, especially rich in vitamin A that is good for the eyes. You should add this smoothie to support your body every day.
Just cut all the ingredients into small pieces and put them in the blender. Blend until the mixture is smooth, then you can pour the smoothie into a glass to enjoy. What's better than a morning starting with such a refreshing smoothie?
Take your drink to the next level with this healthy, delicious, and protein-rich kiwi pineapple smoothie recipe!
Strawberry kiwi smoothies with easy-to-buy ingredients will help you have more nutritious drinks these days. This smoothie contains a lot of vitamins that are good for your skin and help fight oxidation.
At the same time, you can add your favorite ingredients to your smoothie to create the extra flavor you want. If you love a little fatty taste, you can add some whipping cream. You can also drink it with your favorite fruits, or grated coconut, etc.
In addition, you can add shaved ice after pouring the smoothie into a cup, or put the smoothie in the refrigerator for 20 to 30 minutes to taste better. Let's follow how to make a strawberry kiwi smoothie. I wish you success with the way I offer!
Kiwi juice is a nourishing juicing treat suitable for all ages. This juice has a beautiful color and a slightly sour taste that is very suitable for you to drink every day. And of course, it tastes better cold!
Kiwi juice is made from ripe kiwis. Depending on the color of the kiwi fruit, the juice can range from green to dark yellow. A cup of excellent nutritious juice helps to beautify the skin and keep it in shape. In addition, you can also choose other green leafy vegetables to combine with kiwi.
This drink also contains a great source of nutrients. The variety of nutritive substances, such as vitamins C, K, E, folate, antioxidants,… makes this drink very nutritious. So don't miss the 2 ways to make delicious kiwi juice that I introduce to you right here!
This kiwi Margarita cocktail is gorgeous, fresh, and attractive. Just use kiwi juice as a base, then add some flavor with Tequila and fresh lemon juice, and you can easily create an excellent fruit cocktail!
This drink is perfect for BBQs, cocktail parties, etc. It's all the flavor of a classic Margarita cocktail, plus the deliciousness of kiwi fruit and the freshness of orange liqueur.
The flaky salt around the rim of your glass gives the extra flavor to be refreshing. Try now how to make a Margarita kiwi cocktail with me!
Try out this super easy kiwi margarita recipe and see how this nutritious fruit is well balanced with every other ingredient!
Do not miss the super attractive way to make kiwi lemonade on hot days! Enjoying a glass of kiwi lemonade can make you feel perfect. With this interesting combination, you will have one more delicious beverage recipe.
Moreover, you also need this even on cold days. This kiwi lemonade is the ideal drink to prepare for the first cold of winter because both kiwi and lime are essential for anyone who needs vitamin C and fiber. You can add ice cubes and mint leaves to the pitcher, pour them into a glass and enjoy.
And Do Not Ignore 5 Other Fantastic Kiwi Recipes To Nourish Your Body
You see, you can do so much more with just fresh kiwis. There are many more ultimate recipes with kiwi below. Check it out!
The reason I made this kiwi bread was so coincidental: I had a bunch of kiwis lying around that were already starting to wrinkle. I hate wasting food, but I can't eat wrinkled kiwi raw either, so I knew I needed to bake with it. So I have kiwi bread!
This healthy whole-grain kiwi bread recipe is perfect for a quick and easy breakfast. The taste is like a light pastry. Besides, your kiwi bread combo is unlimited! You can add many of your favorite ingredients to create a delicious dish.
The combination of kiwi and avocado is the perfect way to make salsa. The sauce mixture works well for weight loss and skin beauty. The light sour taste of kiwi mixed with avocado's fatty and aromatic taste creates a strange but fantastic dish.
This dish belongs to the most superficial group of simple recipes. You don't need to spend much effort, just mix the ingredients, and you're done. That's why you can fully enjoy the purity of the ingredients.
At the same time, the nutrients that are abundant in kiwi and avocado are not lost by cooking. Simple, but making delicious salsa still requires a reasonable calculation so that the ingredients are in harmony with each other, not in conflict.
Parfait means "perfect" in French, and really this kiwi dessert is hard to resist. There's nothing more enjoyable under the summer sun than an elegant dessert like Parfait with kiwi.
You can enjoy it in layers of ice cream and fruit in tall glasses or Parfait in the form of chopped layers and garnished with kiwi. When it's hot outside and friends are over, this no-bake dessert recipe is an easy choice.
This pizza that looks like tiny slices of watermelon is sure to make everyone say yes! This is a unique recipe you can't miss with the contrasting colors of blue kiwi and red strawberries like the watermelon rind and pulp. It also has chocolate chips as the fake seeds.
Not to mention, the combination of these ingredients creates an incredibly delicious and appealing taste. The method is also relatively simple.
First, you just need to mix the ingredients according to the instructions to make the cake crust. Then, bake them with kiwi and strawberries. Finally, just sprinkle chocolate chips on top to complete this wonderful dish.
This strawberry kiwi fruit pizza will make your best choice to decorate your dining table with colors!
Try kiwi oats for a healthy breakfast treat. The ingredients you need include the simplest things. It only takes a couple of minutes to prepare, and you will have an awesome dish.
This is also mentioned a lot in the baby's weaning menu. Kiwi and oats are rich in iron, zinc, calcium, and folic acid that are good for the development of babies. They are also the ingredients that are good for adults.
You can combine kiwi oatmeal with other ingredients to create a healthy dish like other vegetables and fruits.
Start Making Your Favorite Kiwi Recipe Now!
Well, not only bringing health benefits, but kiwi is also the ideal ingredient to make many irresistible recipes. You can always refer to the 25 simple recipes with kiwi above!
I wish you success in making kiwi recipes for your family and friends! And remember to share this article if you find it useful. Now, let's go to the kitchen!
Nutrition Facts
8 servings per container
---
Amount Per ServingCalories403
% Daily Value *
Total Fat 26.1g

41

%
Cholesterol 77mg

26

%
Sodium 239mg

10

%
Potassium 265mg

8

%
Total Carbohydrate 38.7g

13

%

Dietary Fiber 2.1g

9

%
Sugars 28.4g

Protein 6.3g

13

%
---
Calcium

70

%
Iron

1

%
Vitamin D

10

%
* The % Daily Value tells you how much a nutrient in a serving of food contributes to a daily diet. 2,000 calories a day is used for general nutrition advice.