A list of easy, kid-friendly slow cooker recipes can be a savior when it comes to cooking for young children. Understanding this, I have rounded up all the hassle-free Crock-pot recipes that even the pickiest kids will end up liking.
Whether it's for the whole family or a sizable group, cooking meals gets simpler with a slow cooker. And there are many delicious dishes that a Crock-pot can do, from hearty breakfast and lunches to dinners, delightful appetizers to yummy slow cooker desserts.
Slow cooker dishes are always my go-to when I want to enjoy some spare time to rest or to have some outdoor activities with my children. This article will give you all the kid-friendly slow cooker recipes that everyone should try.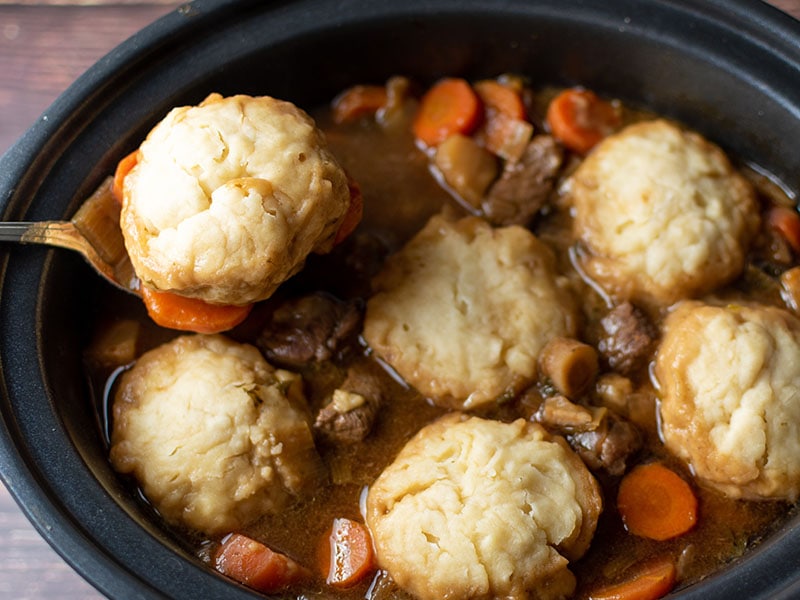 Total time: 4 hours 20 minutes
If your kids are big fans of sweet and savory food like mine, teriyaki chicken will be a perfect fit for an easy weeknight Crock-pot meal. This flavorful Asian-inspired dish is healthy, family-friendly, and really effortless to make.
To prepare, you only need to whip up the teriyaki sauce, which only takes somewhere 10 minutes. Mix it with the chicken breasts in the slow cookers. Cook for 4 hours or until the chicken is crumbly but not too dry and the teriyaki sauce gives out a delectable smell.
Crock-pot teriyaki chicken goes perfectly with rice, quinoa, or veggies. Or better, you can pair the teriyaki chicken with some slider. It tastes much better than the takeout.
Total time: 4 hours 15 minutes
Not only is chicken good for the kids but it is also great for slow cooker meals. Crock-pot sweet and sour chicken is an excellent case in point. With an impressive flavor profile, it makes a perfect dish to add to the menu rotation.
My version of slow cooker sweet and sour chicken requires chicken breast, pineapple, bell peppers, and sauce. First, I coat the chicken with cornstarch and do a bit of quick fry beforehand.
When the chicken turns golden brown, it's time to place it in the Crock-pot with the sauce and other ingredients. The chicken should have a crispy texture while the coating is not too heavy. The tangy sauce and sweet-tart pineapple chunks highlight the taste.
When served over rice with some sesame and green onion on top, this delicious chicken dish will surely make your kid end up devouring it.
Total time: 6 hours 25 minutes
What's the best comfort food for a cold winter night? Slow cooker beef barley soup, for sure. Your kids and family will certainly rave over this warm, delicious, and nutritious dish.
This beef barley soup is super easy to make. You just have to brown the beef and cook it in the Crock-pot with needed ingredients for about 6 hours, during which the carrots will nicely soften. Top it off with a tinge of spices and herbs for a heavenly smell.
One important takeaway here is the beef. It's best to opt for fattier beef like chuck roast as it offers a juicy and tender texture. By contrast, lean cuts often end up tough and dry. Once the soup is perfectly cooked, add the parleys for a better flavor.
Total time: 4 hours 20 minutes
If you need a quick, kid-friendly recipe, this slow cooker cheesy potato dish is a good fit. It only takes 5 minutes to prepare because the slow cooker will take care of all the hard work.
So, what do you need for this recipe? Frozen diced potatoes, shredded cheddar cheese, and butter are the key ingredients that evoke the rich taste of the dish. On the other hand, pepper, onion, and garlic powder make the dish earthier.
This recipe is absolutely straightforward. Just throw everything and half the shredded cheese into the Crock-pot for about 4 hours. Then, add the remaining cheese, wait for 15 minutes, and the dish is ready to go.
Total time: 7 hours 5 minutes
Your kid may fall in love with the dish when you serve it as a savory side to mac and cheese for an impactful meal. The dish itself has an aromatic and tender pork loin roast. There is no better feeling than coming home after a long day and breathing in its amazing smell in your kitchen.
I think some of the best side dishes to accompany pulled pork are bread and fresh veggies. This combination is like a perfect match in heaven. And the kids will love it. For other variations, baked potatoes or tacos also pair really well with Crock-pot pulled pork.
This is how you make the best pulled pork with a slow cooker.
Total time: 8 hours 30 minutes
This easy slow cooker beef stroganoff is basically a stew version of the traditional Russian dish. It's more affordable, more savory, and requires minimal effort to prepare.
The slow cooker beef stroganoff employs low-cost stew cuts that are perfect for long-time cooking. Once ready, the juicy beef harmonizes beautifully with the creamy and gooey sauce, providing a perfect melt-in-the-mouth texture.
Meanwhile, the butter garlic mushroom helps add more flavors to the dish. With mash, pasta, and egg noodles on the side, the slow cooker beef stroganoff makes a perfect comfort dish for winter nights. It will indeed please your kids' palates.
Total time: 3 hours 30 minutes
Honestly, this mac and cheese is one of the easiest yet most appetizing pasta cooked in a slow cooker. If your kids are cheese lovers, this popular comfort food is a must-cook.
For this mac and cheese recipe, you will need evaporated milk, macaroni, butter, cheese, salt, and pepper. The first ingredient is for a richer taste. Cooking the pasta ahead will prevent it from absorbing too much liquid and ending up mushy.
When properly done, the chewy macaroni will pair nicely with the creamiest cheese and provide a wonderful mouthfeel as well as flavor experience.
Total time: 7 hours 40 minutes
Slow cooker Tex-Mex chili is a super easy yet satisfying dish that takes only a few minutes of prep time. Its ingredients are just wheat berries, cooked chicken, canned beans, and some spices, which you can easily find in your kitchen.
Before going to bed, throw all the ingredients into the slow cooker, except for the chicken, beans, and corn. Things will be cooked perfectly overnight. Before serving, you just add the remaining ingredients to the Crock-pot and wait for ten minutes.
Just like that, you will have a wholesome and hearty bowl of slow cooker Tex-Mex chili that keeps your kids full and energized all morning. If you are itching for some topping, cilantro leaves, Cotija cheese, and lime wedges will be delicious.
Total time: 6 hours 20 minutes
At first, I didn't think I would make slow cooker chicken and dumplings because of the mixed reviews. But since it was everywhere, I couldn't help but try it. With some twistings, the chicken and dumplings turned out unexpectedly good.
Because the dumplings are cooked with the lid on, they end up with a soft texture to go with the tender chicken. The thyme gives the dish a boost in flavor, but the given amount in the recipe makes it a bit too much. So, reducing it to half a teaspoon really helps balance things out.
Chicken and dumplings are very filling and comforting for the cold winter. If you like the ease of slow cooker meals, you don't want to miss out on this dish.
This is how you make amazing slow cooker chicken and dumplings that satisfy everyone's taste buds.
Total time: 8 hours 25 minutes
You can whip this dish up in the morning and come home to find it ready for dinner. All you'll need to do is to place the roast and vegetables in the slow cooker. The slow cooker will do all the job while you are busy at work or with your children.
Searing the roast before throwing it into the Crock-pot is optional. But if you have some extra time, do it. With a quick searing, the roast will turn out with much more flavor and caramelized notes.
Slow cooker pot roast tastes heavenly when combined with the prepared beefy gravy and smooth mashed potatoes. Your kids will definitely love it!
Total time: 3 hours 10 minutes
If you are looking for some good kid-friendly vegetarian recipes, this one is a good fit. It's a healthy and balanced plant-based dish with a perfect blend of ease, flavor, and nutrition.
Major ingredients like quinoa, beans, and bell pepper provide an excellent source of protein, fiber, and vitamin C for kids. Meanwhile, the addition of earthy spices like paprika and pepper helps highlight the flavor, evoking a sense of comfort.
Altogether, they make a very filling and hearty dish. Served with fresh lime wedges and shredded cheese, a warm bowl of this vegetarian chili is a perfect way to end your kid's day on a high note.
Total time: 4 hours 25 minutes
Wholesome and easy to scale up, this lasagna is a well-loved casserole to make with your slow cooker for the next meal or gathering. Kids love it, adults devour it, and even the pickiest eaters fancy it.
My recipe takes on Italian ingredients like lasagna noodles, pasta sauce, cooked ground Italian sausage, and Italian cheeses. Besides, I also include greens like baby spinach and basil to boost the flavor and balance out the excessive richness.
With some layering techniques, the dish turns out absolutely scrumptious. In just about four hours, the slow cooker lasagna gets a perfectly smooth texture that goes well with the divinely savory cheese and yummy vegetables, giving a burst of flavor in every bite.
Total time: 4 hours 5 minutes
This 3-ingredient Mexican-style slow cooker chicken will take your cooking game to the next level. All you'll need to do is to dump the chicken breasts, taco seasoning, and salsa into the slow cooker before turning it on.
During the cooking time, the savory salsa will provide moisture for the taco seasoning-infused chicken, allowing it to be soft and juicy enough with no extra liquid needed.
Once the chicken is nice and smells good, shred it with two forks or a stand mixer. And your dish is ready. This sweet and spicy Mexican-style shredded chicken can't go wrong with tacos of all kinds of toppings. It also pairs well with enchiladas and salads.
This ultimate slow cooker Mexican shredded chicken will satisfy your kids in many ways.
Total time: 8 hours 15 minutes
Effortless, kid-friendly, and requiring short prep time, this vegetarian-friendly Thai-themed curry butter squash soup ticks all my requirements for a perfect slow cooker starter dish. I'm sure meat-loving kids will enjoy this comforting dish, especially on fall or snowy winter days.
So, what's special about this soup? It's the perfect symphony of the ingredients in creating a velvety and smooth dish that explodes with aromatic flavor. After a few hours of cooking, diced butternut squash nicely softens in the savory vegetable broth.
They blend well with each other and make a soft and dreamy pureed soup. With a touch of spicy Thai curry and creamy coconut milk at the end, the soup gets a rich and much deeper and earthier tone. Altogether, you'll have an irresistible, full-flavor soup.
Total time: 6 hours 15 minutes
Including Mexican shredded chicken without mentioning this slow cooker carnitas is just unfair. With just a few minutes of preparation, you'll surely give your kid a 5-star meal that uses simple ingredients and has an incredible taste.
The slow cooker will cook the pork to perfect tenderness suitable for shredding. While the seasoning adds a depth of flavor, the orange juice imparts more moisture and juiciness to the pork. But you may want to crisp the meat up for a bit of caramelized undertone.
With a mild flavor, slow cooker carnitas works perfectly with whatever Mexican dish you have on hand. Enjoy it with tacos alongside other toppings like diced avocado, sliced tomato, grated cheese, and sour cream. Burritos and enchiladas are also great choices.
Total time: 3 hours 15 minutes
There are a plethora of yummy ways to cook meat with a Crock-pot, and meatball subs are always my favorite slow cooker recipe. The primary ingredients for this recipe are meatballs, tomato (or spaghetti) sauce, and bread.
The soft and juicy meatballs harmonize beautifully with the sweet tomato sauce. Prepare them by mixing the ingredients together, form them into balls and let the Crock-pot do all the cooking. They just can't go wrong with crusty hoagie rolls and rich melted cheese.
Total time: 4 hours 10 minutes
This wholesome Crock-pot chicken pot pie will definitely light up a gloomy winter day. The finger-licking combination of soft chicken, creamy soup, and heart-shaped puff toppers provides an umami taste. It's so good that your kids will keep nagging you to make it again.
The recipe requires some simple work. You'll have to warm the creamy soup separately before dumping them into the slow cooker. In addition, the chicken should be shredded when the chicken is tender enough, shred it before returning it to the pot.
To serve, I like to decorate my chicken pot pie with some parleys and baked puff toppers to make it more exciting. So, you may need some extra time to bake the toppers, but the result is totally worth it.
This guide will show you the most straightforward slow cooker chicken pot pie recipe ever.
Total time: 5 hours 20 minutes
With flavor-loaded shredded chicken, fiber-packed cabbage slaw, and sweet slider buns, those honey garlic chicken sliders provide a lot of wholesomeness and goodness in such small bites. What a wonderful meal to prepare for the kids!
Making these sliders is super simple. It only takes about 20 minutes to make the cabbage slaw. And you just have to place the chicken and needed ingredients in the Crock-pot. After a few hours, the chicken will end up with perfect tenderness and a heart-warming flavor.
Sweet and garlicky, slow cooker honey garlic chicken sliders are absolute heaven-sent. If you have never made this combination of savory chicken, refreshing vegetables, and malt sweetness of buns, you're really missing out.
Total time: 4 hours 5 minutes
Packed with tons of flavor, this hands-off slow cooker turkey pumpkin white bean chili will definitely impress a bunch of people. It's the best fall dish that I have made so far.
This recipe is a real dump-and-go. After 10 minutes of preparation, you can leave the hard work to the slow cooker. In just four hours, it will cook the white beans to a perfect nutty, melt-in-the-mouth texture to go with the turkey and the nice and tangy pumpkin puree.
For toppings, this slow cooker turkey chili can't go wrong with aromatic chopped cilantro, red onion, and chives. You can also serve it with Greek yogurt or low-fat sour cream for a richer taste.
Total time: 4 hours 30 minutes
Effortless and scrumptious, chicken Marbella is the best and easiest kid-friendly food made in a slow cooker out there. What's better than going home to a fully prepared, heart-warming dish that your kids will love?
For this recipe, you'll have to blend some dried plums and seasonings into a smooth paste, which should be a cinch if you have a food processor. Then, all you'll need to do is to place the chicken thighs and the processed mixture in the Crock-pot and walk away.
In about 4 hours and a half, the chicken will be perfectly soft and tender with a lot of sweetness and savoriness. Pair the dish with chicken broth, olives, and dried plums, and enjoy a balanced and zesty taste that really impresses the family.
Total time: 4 hours 10 minutes
Slow cooker ribs are the perfect dump-and-go recipe. All you'll need is to throw the ingredients into the slow cooker. In just about 4 hours, you will be rewarded with a fully prepared, succulent meal and a house full of a wonderful smell.
Yet, there are some tips for making the best slow cooker ribs. First, you should set the Crock-pot on low to prevent the ribs from being overcooked and getting mushy. Secondly, don't use frozen ones without defrosting them first. Cooking from frozen isn't recommended here.
The slow cooker will help the ribs achieve golden perfection. With the right balance of seasonings, they offer a fatty mouthfeel and fragrant smell that makes everyone salivate. To add more depth and savoriness to the flavor, pour extra sauce over the ribs before serving.
I tried this 5-minute tutorial on how to make Crock-pot ribs, and the result was outstanding.
Total time: 8 hours 20 minutes
This specialty is an Italian-inspired sauce. With a perfect blend of delicious ground beef, creamy parmesan cheese, earthy Italian seasoning, and mushrooms, this easy Crock-pot sauce delivers a burst of flavor to everyone's liking.
In this recipe, mushrooms really take the dish up a notch. They boost the overall flavor nicely by providing a touch of meatiness and an umami taste. You can also make the sauce vegetarian-friendly by cutting the meat, yet it still turns out flavorful.
Anyway, this meat sauce is an actual crowd-pleaser with a unique flavor profile that works beautifully with pasta and garlic bread. So, what are you waiting for? Let's save this recipe and make even the pickiest kids fall in love with it.
Total time: 5 hours 5 minutes
If you like the ease of slow cooker meals, you'll definitely love this kid-friendly four-ingredient mango chicken recipe. Though this dish only requires a short prep time, it is quite scrumptious. You can also freeze the finished chicken without any loss of quality.
For this recipe, I use chicken breasts, mango with peach salsa, brown sugar, and salt. The combination of salsa and brown sugar makes a sweet and savory sauce that helps add flavor and moisture to the chicken. Ultimately, the chicken ends up super soft and zesty.
Slow cooker mango chicken is best to serve over a warm bowl of steamed white rice and veggies. It also goes nicely with tortillas, tacos, and baked sweet potatoes.
Total time: 8 hours 2 minutes
In this entry, I would like to introduce my family's all-time favorite: slow cooker shredded balsamic beef. It's so filling and piquant yet requires minimal effort. You'll just need to get the beef cooking in the morning and be ready to come home to a succulent and aromatic meal.
For this recipe, I use beef chuck roast, which fits best with slow cooking. After cooking, the beef will be tender enough to be easily shredded. Alongside tangy and sweet balsamic vinegar and earthy spices, this tasty-smelling beef dish is definitely a treat to the taste buds.
Personally, I love to serve this savory beef with rolls. It also works perfectly with egg noodles or cauliflower rice. Otherwise, you can be creative and make a hearty vegetable rice bowl with beef.
Total time: 6 hours 10 minutes
I've made this slow cooker turkey chili several times because it's so quick and stress-free yet super hearty and wholesome. Within just 30 minutes, this amazing dish makes a heart-warming dish for breakfast and dinner.
The starchy buttery beans harmonize beautifully with the turkey, creating a robust taste. Meanwhile, additional elements like tomatoes, chili powders, and cumin pack the chili with a sweet and woody undertone. Altogether, they bring in a healthy and balanced dish.
To make the chili more tempting to eat, I love adding fresh cilantro and red onion before serving. If you desire something rich, shredded cheddar and avocado would be a great option.
Total time: 2 hours 50 minutes
Are you still looking for some easy slow cooker recipes to satisfy your choosy kids? This Crock-pot baked ziti will not let you down.
This recipe features ground meat, Italian cheeses, and ziti pasta as the main ingredients. You'll have to cook up the meat and the cheese mixture before transferring them to the slow cooker. But don't worry, this process requires no hard work.
With some layering steps, in just about 3 hours, the ziti will be cooked to al dente, which goes well with the nice and tangy sauce. Serve it alongside the melted cheesy mixture for a rich and creamy texture in every bite.
Easy dump-and-go Crock-pot ziti recipe that turns out to be the best kid's favorite.
Total time: 6 hours 5 minutes
I think I have included quite many chicken dishes on this list, but come on, cooking chicken in a slow cooker is so easy, yet the outcome is just irresistible. And this slow cooker peanut butter chicken is another prime example.
The wonderful combination of protein-rich chicken cooked to a perfect tenderness and creamy, nutty peanut butter just gives a big flavor boost.
This chicken dish should be a must-have for those who are struggling with picky eaters. It's even better to serve over a warm bowl of freshly steamed rice.
Slow Cooker Recipes Make Perfect Meals For Kids On Busy Days
The slow cooker is designed to make your day hassle-free and stress-free, especially when you don't have much time to spend in the kitchen. Slow cooker recipes come and save the day with many great kid favorites, from meaty dishes to vegetarian ones.
My list of such dishes will help you make an easier decision on what to cook with a slow cooker, so you can enjoy whatever you are doing at your leisure.
You just have to pick one recipe, set up your slow cooker, and walk away. The slow cooker will do all the work. And you will be rewarded with a fully prepared meal that satisfies every child in the world.
Now, thank you for taking your precious time. If you want to see more of this content, please hit the like and share button. That way, I will know you appreciate the content. Also, don't hesitate to comment below. I would love to learn about your thoughts!