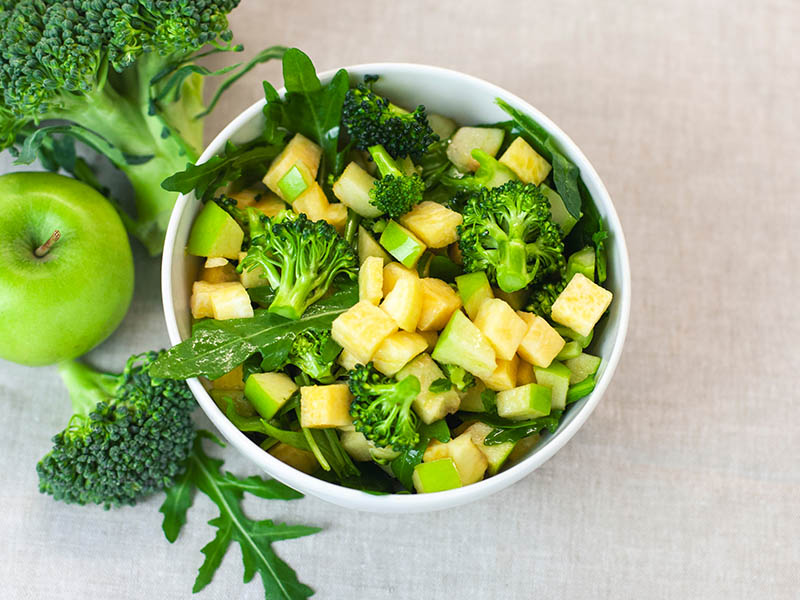 Let the best keto side dishes instantly enhance the quality of the delicious main dishes in your daily meal. Alternatively, if you want to lose weight or protect your health, the low-carb content of these keto dishes will be valuable to you.
Aside from the nutritious value, the taste of these accompaniments steals your heart quickly. Do not forget to keep the tricks in your cookbook to apply when making these incredible treats. Keep reading so as not to miss any vital information.
Broccoli salad is the best choice to treat your loved ones to a ketogenic meal.
Try Making These Excellent Keto Side Dishes Now!
You must focus on reading each recipe I introduce in this section to create remarkable dishes. Let's make them and try the authentic taste right now!
Total time: About 23 minutes
You can make the low-carb baked Parmesan zucchini fries as a substitute for potato fries to satisfy your kid's craving for fries. This yummy food can be eaten as a snack, side dish, or appetizer, depending on your preference.
These eye-catching fries have a crispy exterior and a soft interior. Adding onion powder to this recipe can create a big hit. In addition, this dish will not achieve the standard flavor without Parmesan cheese, paprika, and other seasonings.
Aside from Parmesan cheese, you can try other options for keto coating. Crushed pork rinds are the first suggestion you should try to bring out the crunch. Almond flour or sesame seeds are other suitable choices.
Total time: About 25 minutes
Keto broccoli cheese soup is one of the must-try creamy soups made with broccoli, cheddar cheese, heavy whipping cream, and butter. This soup's rich and creamy taste can satisfy even the most demanding guests at the party.
Note, you should not use storebought vegetable or chicken broth for this recipe as they can negatively affect the taste of the dish with the high salt content of these ingredients. To get the best soup, I highly recommend using only water.
The thickness plays an essential role in the success of the soup. I usually add xanthan gum, psyllium husk powder, or cheddar cheese to give this excellent soup the perfect consistency.
Find out how to make yummy keto broccoli cheese soup immediately.
Total time: About 30 minutes
Your keto party menu will be more diverse with the addition of creamy garlic mushrooms with bacon. It will create great combinations with the keto main courses and bring unforgettable experiences to diners.
You will be immersed in the signature meaty flavor of mushrooms, sexy fragrance and creamy texture of garlic sauce. In addition, a bit of crunchy bacon on top highlights this beautiful dish.
For serving, this savory dish pairs well with pork chops, steak, and oven-roasted chicken. The cheesy touch from the mix of mozzarella and Parmesan cheese will steal your soul in no time. 
Total time: About 20 minutes
Oven-roasted mushrooms with garlic and soy sauce will be a great accompaniment to the success of the Thanksgiving or Christmas party. Plus, it's suitable for almost any diet, from vegan to low carb.
If you want to turn it into a gluten-free dish, you can use tamari or liquid aminos instead of soy sauce. This food has a beautiful golden brown color with the addition of soy sauce. You'll feel the distinctive caramelized taste after adding balsamic vinegar.
Add other vegetables such as zucchini, broccoli, potatoes, or carrots to bring new flavors and fresh air to this dish. They will give you many different choices for meals.
Total time: About 15 minutes
You only spend about 15 minutes making a rich, creamy side dish from spinach and Boursin cheese. You should use just enough Boursin cheese and heavy cream to thicken the sauce without increasing the carbs and calories of the dish.
The dish will be more refreshing and delicious with fresh spinach. Nevertheless, a frozen one is also an option you can try. It's best to use baby spinach for a tender and sweet dish. The food won't taste good anymore when you overcook the spinach.
Total time: About 30 minutes
Bacon-wrapped asparagus satisfies the criteria of a delectable side dish or snack. Its simplicity and deliciousness will save you a lot of preparation time, but it still leaves an indelible impression in diners' minds.
The bacon wraps around trimmed asparagus for a unique look. After baking in the oven, the bacon has perfect crispiness and a gorgeous golden-brown color. This element blends with the tender and slight crunch of the asparagus stalk.
You must trim all the asparagus before using it for the recipe. You should slice the bacon in half lengthwise for perfect thinness. This helps you avoid overlap when wrapping the bacon slices around the stalk.
Total time: About 15 minutes
The delightful cranberry treat with sweetness and tartness is a perfect accompaniment to leftover turkey sandwiches or salads at gatherings. Of course, you can buy it at the supermarket, but try making it at home since it's pretty simple.
In particular, this delectable sauce is good for your health as you cannot find sugar in this fantastic recipe. When making this sauce, I always add cinnamon or orange zest to the sauce to garnish and enhance the taste.
It is more accessible to make keto cranberry sauce with these tutorials.
Total time: About 15 minutes
Buffalo cauliflower is a popular recipe at many parties. One advantage I like about this recipe so much is that I can cook these bites in the oven or air fryer. These bites may remind you of buffalo wings due to the similarity in appearance.
This healthy dish grabs your attention thanks to its prominent yellow color. When eating the small bites, their mild spiciness can awaken your taste buds immediately. It'll be hard to forget the perfect crispiness of these excellent bites.
Total time: About 10 minutes
Have you ever tried mixing avocado and boiled eggs in a salad bowl? It's time to get a best-loved salad with a fantastic combination. This food has the buttery flavor of fresh avocados and the soft taste of boiled eggs.
In addition, the appearance of pepper, mustard, and mayo gives the recipe an incredibly creamy texture. My favorite is enjoying the fabulous and fresh avocado egg salad with keto bread for an excellent keto sandwich to kick off a new day.
Total time: About 15 minutes
You should immediately save the Caprese salad recipe in your cookbook of classic Italian fares to treat your family members on warm summer days. This incredible dish calls for mozzarella cheese, fresh tomatoes, balsamic glaze, and fresh basil.
You can find the glaze's gentle sweetness and tangy taste when eating this salad. It is simple to dive into mozzarella cheese's subtle and milky texture. Instead of balsamic glaze, you can use balsamic oil for a new experience.
With a few minor changes, it will fit into other diets. Use plant-based cheese to replace mozzarella for a vegan meal. Make sure to check the carbs of the balsamic glaze if you would like to make a low-carb salad.
Total time: About 30 minutes
Suppose you crave the cheesy and creamy touches of the mac and cheese, you can go to the kitchen and make cauliflower mac and cheese immediately. It is made up of roasted cauliflower and cheese sauce.
You'll be addicted to the rich flavor and thick consistency of mac and cheese sauce from the first try. Nevertheless, it is acceptable to add protein to the excellent dish by adding leftover rotisserie chicken.
Dijon mustard or prepared horseradishes can help you effectively diversify the taste of this treat. To make it fresher, add green peas, sauteed mushrooms, or sun-dried tomatoes.
Total time: About 7 minutes
Mouthwatering keto coleslaw is an indispensable dish at my family's summer picnics or BBQ parties. This salad's refreshing flavor and slight sweetness can give you a pleasant mouthfeel.
The shredded coleslaw mix comprises red, green cabbage and carrots. The heart of this excellent salad lies in the tanginess and sweetness of the dressing. It is a well-combined mix of mayonnaise, lemon juice, vinegar, and sweetener.
There's no problem making this salad beforehand and keeping it in the refrigerator until the party begins. To bring the exciting sensation, it is good to chill the salad for about 2 hours in the fridge before serving.
Follow these directions to prepare the best keto coleslaw right now.
Total time: About 10 minutes
In case you urgently need an accompaniment for a weekend party, you should not ignore the keto caesar salad. It takes only about 10 minutes to finish with common ingredients and simple operations.
This yummy salad is made with romaine lettuce, Parmesan cheese, keto grilled chicken sliced, and caesar dressing. Occasionally, I sprinkle a few pumpkin seeds for extra crispiness.
For variations, feel free to add avocado and cherry tomatoes to this recipe. Alternatively, grilled red onions and hardball eggs are other great additions. Besides the chicken, this food still tastes perfect with grilled steak, salmon, or shrimp.
Total time: About 15 minutes
Oven-roasted Parmesan asparagus is a convenient accompaniment made from healthy asparagus, grated Parmesan cheese, and minced garlic. It is the best companion for a perfect meal with pasta, fish, chicken, and many yummy main courses.
It looks tempting and fresh with the white and green color of cheese and asparagus. The veggie gets the perfect crunch and signature smoked flavor. To get the best result, it is necessary to use fresh asparagus. You must serve it warm to keep the mild crispiness.
Total time: About 30 minutes
With just about 30 minutes in the kitchen, you can get the creamy, cheesy, and delicious broccoli au gratin casserole to serve your family at holiday gatherings. This food is a mix of melted cheese, crispy bacon, and broccoli.
This creative yet effortless French side course tastes better when consumed with yummy and aromatic garlic herb sauce. In fact, unlike other dishes, you must steam the veggies instead of boiling or blanching them before adding them to the casserole.
In case you want to turn it into a yummy main course, you can add cooked leftover ham or chicken to the dish. It is better to add some crispy pork rinds on top to accentuate the texture of the food.
Total time: About 50 minutes
I have the habit of making green bean casserole on Thanksgiving Day to go with my yummy main courses. This food is the convergence of fresh green beans and creamy mushroom sauce. Also, you are free to add a crispy topping for extra flavor.
Your topping list includes crushed pork rinds, bacon crumbles, crushed Parmesan chips, or slivered almonds. You can store leftovers in the refrigerator for about 3 to 4 days. Or freezing them is a viable option.
Total time: About 30 minutes
You should add cauliflower tots to your keto diet menu right now. This delicious food combines 3 different kinds of cheese and other spices. They create tasty tots to serve as a snack or side dish.
It is difficult to resist the allure of these striking yellow, crispy tots. For cooking, you can choose 1 of 3 methods to cook these tots. Baking is the simplest way. Alternatively, you can fry them in oil or cook them in the air fryer.
If you want to use it as a side dish, it will taste perfect with keto burgers, rotisserie chicken, fried pork strips, or chicken drumsticks.
Learn the ways to create excellent keto cauliflower tots.
Total time: Around 34 minutes
Balsamic maple roasted brussels sprouts are the best food with a complex flavor of spiciness and savory. Alternatively, the golden-brown shade of the roasted dish can catch your eyes at first sight.
When biting the sprouts, their crunch can captivate you in no time. I love the roasting method since it helps release the bitterness of the veggies. Adding a bit of olive oil, pepper, and salt gives the dish an alluring caramel flavor.
I highly recommend using aged balsamic vinegar like balsamic glaze if you want to enjoy a sweeter dish.
Total time: About 10 minutes
Rice is a familiar side dish at meals in many countries worldwide. Cauliflower rice is a low-carb dish you must learn right away to serve your guests at the party. This keto accompaniment will bring its full value when eaten with chicken, steak, or fish.
You will fall in love with the tenderness and smoothness of this delectable rice. Not only that, the creamy and cheesy flavor of cheddar cheese, butter, milk, and cream cheese will captivate you instantly.
Total time: About 17 minutes
If the low-carb mozzarella is available in your kitchen, try making keto garlic bread. This yummy bread can win your heart thanks to its beautiful golden color and softness. The outside of this bread has an enchanting crunch.
To make this bread, you must prepare a blend of almond flour dough and mozzarella. This bread will not have the perfect flavor without Parmesan, garlic, and herbs. You'll have golden-brown bread after baking. Enjoy it with a layer of cheese on top.
Usually, restaurants put their name on the menu list of keto side dishes. You can also enjoy it as an incredible snack with the keto tomato sauce. Many people eat it alone as a keto appetizer as well.
Total time: About 20 minutes
Salad is a simple and suitable choice for anyone looking for a staple that complements chicken wings well in every way. You can use cauliflower potato salad if you want an alternative to the classic potato salad. It contains about 4 net carbs, making it a suitable choice for a keto meal.
Their flavor is pretty similar, and the only difference is the texture, as cauliflower doesn't have the fluffy and starchy consistency like potatoes.
All you need is to prepare chopped cauliflower and dressing with vinegar, mustard, mayonnaise, and dill relish. After gathering these ingredients, you'll have a refreshing dish for your meal. I recommend using fresh cauliflower instead of frozen one for a better taste.
Total time: About 30 minutes
Do you know the perfect alternative for mashed potatoes at the upcoming party? You can consider healthy and low-carb mashed cauliflower to mix with other foods. The appealing white shade can give a bright accent to your dining table.
In terms of consistency, this delectable food gives you a pleasing mouthfeel with this mashed recipe's smooth and creamy texture. It is best to serve hot cauliflower mash with butter and chives on top for the best accompaniment.
Let's mash cauliflower for a ketogenic diet with these steps.
Total time: About 25 minutes
There are many beautiful options to enhance the quality of the burger, but crispy onion rings are a fantastic suggestion you should consider. Furthermore, it can work best as a delicious appetizer for your dinner.
The rings-like shape of this food will make an impression on you as soon as you see it. The distinctive brown color of the crumb coating outside makes you want to chew on the rings immediately. A little bit of paprika's spiciness will tickle your tongue while eating these rings.
Total time: About 1 hour 5 minutes
Broccoli is one of my best-loved vegetables. Its versatility allows you to eat raw, baked, steamed, or fried. You cannot miss keto broccoli salad if you want a delectable side dish containing broccoli for a weekend party.
If you like food with a light crunch, use raw broccoli for this recipe. Nevertheless, you should blanch or steam the veggies if you want to taste a dish with a tender consistency.
This excellent salad will become more attractive and delicious when complemented with cooked bacon. Usually, I love to chill the salad in the fridge for a short time before serving it to bring out the best taste when tasting.
Total time: About 35 minutes
Soft and fluffy rolls are another keto recipe I would like to recommend on this list. Besides the pleasant texture, these rolls have a dominant golden-brown shade which helps them not to be confused with other delicious food on the dining table.
This excellent bread contains coconut flour, psyllium husk, and eggs. Not only that, this bread has a mild tangy taste since I use white or apple cider vinegar in the recipe. For storage, you can keep the rolls in the pantry or freezer for later uses.
Total time: About 1 hour 5 minutes
You'll have a delicious treat for the party after wrapping thin and soft zucchini around spinach filling and creamy ricotta. In addition, you can fall in love with the silky consistency of egg custard when you try this fantastic recipe.
I usually use a kitchen mandolin (a device for slicing juliennes) to create thin and perfect zucchini slices. Keep in mind that wrapping is more difficult using thick and hard slices.
A touch of nutmeg in the cheese blend will tickle your taste buds. The earthy spinach flavor and the ricotta sweetness will make the dish more appealing. You can enjoy it as a primary or side dish at parties.
Total time: About 20 minutes
If you love presenting side recipes that spell summer, you must make cauliflower rice pilaf immediately. This keto recipe has the perfect texture and flavor. In particular, it has low processing costs and works well with many different dishes.
You will have the opportunity to supplement your body with many amino acids, proteins, and omega oils with hemp hearts in this recipe. This component also brings chewiness and a slightly nutty flavor to the dish.
Total time: About 15 minutes
Zucchini fritters bring a fun and fresh breeze to your party. Combining sliced veggies and cheese in one pan creates an immortal dish. Also, the great taste of this treat comes from eggs, almond flour, and seasonings.
I usually use olive oil to fry the fritters for healthy food. You should shred the zucchini to remove the excess moisture, which helps yield fritters with crunchy edges. It often appears at parties as a side dish or yummy snack.
Total time: About 15 minutes
You'll love the rustling sound when you chew on the crunchy keto cauliflower bites. The eye-catching golden-brown color can make you want to consume these bites instantly. Besides frying in hot oil, you can use the oven or air fryer to cook this dish quickly.
When eating these bites, you can fall in love with the freshness of cauliflower and the cheesy touch of Parmesan cheese. Do not consume this treat alone, and you should enjoy it with your best-loved dipping sauce.
Go to the kitchen and bring crispy keto cauliflower bites to treat your loved ones.
Total time: About 20 minutes
If you are familiar with potato chips, it's time to change your palate with the keto air fryer radish chips. This crispy food is the best option for serving as a delicious side dish or snack at mid-day meals.
With the support of an air fryer, you can make this dish faster and more convenient. The radish slices are flavored with garlic powder, salt, pepper, and onion powder. Besides the great crunch, the lightly golden-brown hue makes it more attractive.
Total time: About 45 minutes
Putting eggplant slices in an air fryer is a fantastic way to get a delectable accompaniment for many delicious main courses. Also, people serve it as an amazing snack with a glass of cold beer with friends.
You will love the crispy exterior and creamy interior of this fantastic recipe. Remember to use a bit of oil for better eggplant sticks. Suppose you would like to enhance the quality of this treat, you should eat it with marinara.
Total time: About 20 minutes
In case you are seeking delicious food for a Thanksgiving gathering, you should not miss this keto stuffing. You can find the slightly crunchy texture of keto bread when trying this wonderful dish. It is flavored with Italian seasonings and herbs.
In addition, the refreshing and delicate taste of various veggies can make your mouth water continuously. You can pre-baked the bread or saute the veggies beforehand to save you time. Also, these tips make your dish more flavorful and crunchy.
Total time: About 10 minutes
You can take advantage of rotisserie, leftover, or canned chicken to make delectable keto chicken salad to serve at meals. In particular, you can prepare this amazing and fresh salad beforehand for crowded parties.
To ensure the keto-friendly criteria, I will use sugar-free mayo for this excellent recipe. Also, the appearance of celery, red onions, and garlic powder can enhance the taste of this delicious treat.
Check The Taste Of These Keto Accompaniments
Are you on a ketogenic diet? You can get many options to change the palate day by day after reading this post. What are you waiting for? Step into the kitchen and follow these recipes step by step to prepare excellent side dishes to fill the ketogenic menu immediately.
After finding the desired option, do not skip the sharing stage to convey the essential and beneficial information to many people around you. Another step you must take is to show me your troubles while making them, and I'll respond as soon as possible. Thanks a lot!