Are you looking for the best keto shrimp recipes skimpy on prep time yet big on flavor? You've discovered a treasure here!
Packed with nutrition, naturally low in carbs, and so easy to prepare: here are the things that make shrimps the most popular type of seafood in the U.S. But do you know what's better? They are also a great source of protein.
Because of that, you can find this shellfish in the fridge of any keto lover. However, if you are new to the diet, making some tasty shrimp dishes might be a bit of trouble. But I've rounded up my low-carb substitutes for shrimp recipe favorites just for you!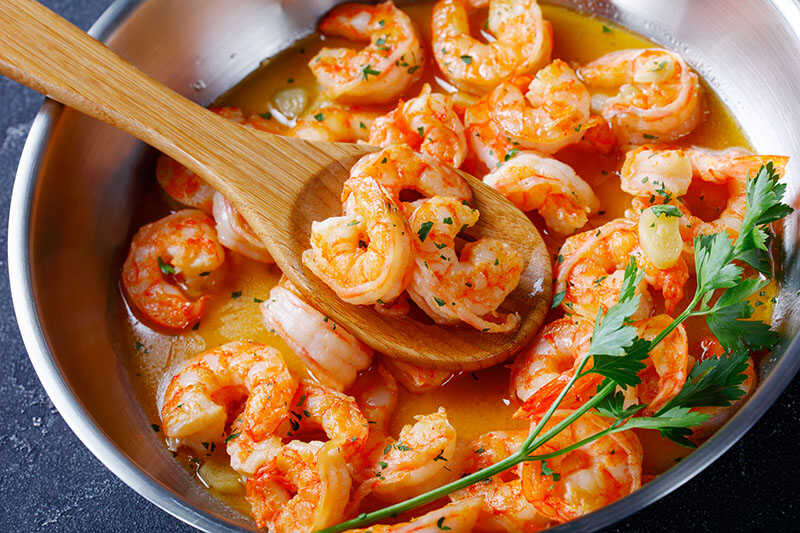 Why Are Shrimps Excellent For Keto?
The answer is simple: They are very low in net carbs. Also, shrimps are extremely versatile, thanks to the mild flavor. This allows you to go wild in the kitchen and come up with countless ways to prepare your dishes.
My collection includes recipes for keto shrimp curry, fried shrimp, garlic shrimp, and even BBQ or Mexican shrimp dishes. They are all low in carbs, quick to prepare, and only require a few ingredients.
Total time: 20 minutes.
The buffalo-style chicken wings are a classic American dish loved by many. Who could resist the crispy fried chicken dipped in heat, zest, and buttery sauce?
As luscious as they are, the traditional buffalo chicken doesn't sound ideal if you want to reduce calorie intake. But it doesn't mean you have to give up on your favorite flavors! These lettuce wrap tacos are gluten-free, keto-friendly, and contain only 93 kcal per serving.
Tender shrimps are cooked to perfection, then tossed in hot, rich buffalo sauce. Thanks to the use of sautéed onions and cayenne pepper, the dish features a wonderful combination of sweetness and spiciness that's great for both appetizers and main dishes.
Finally, wrap everything in lettuce and complete it with your favorite taco toppings. I'm sure you won't get enough!
Total time: 30 minutes.
Does Cajun shrimp sound a bit too fancy to you? Well, here is a surprise: You can actually prepare it in 30 minutes. Yes, it only requires a few simple ingredients like shrimp (of course!), lemon, rosemary, and butter. And, yes, it is extremely tasty!
The secret to this keto-friendly, irresistible shrimp dish is the sauce, a mixture of garlic, butter, rosemary, lemon juice, and Worcestershire sauce. There is a lot of butter, making it richer than anything you've ever tasted.
It doesn't mean the dish will get all fatty, though. The tanginess of lemon juice, together with the spiciness of Worcestershire sauce, will balance out the richness, creating a symphony of flavors. Are you eager to take a bite?
Total time: 10 minutes.
In case you are not familiar, chimichurri is an Argentinian green sauce. Made with parsley, olive oil, cilantro, garlic, red wine vinegar, and other seasonings, the herbaceous sauce is so full of flavor. And you won't believe how simple the process is.
Other chimichurri shrimp recipes might recommend cooking shrimp in a skillet. However, I will grill them instead. It's because the tangy and spicy chimichurri sauce is great with anything grilled. Since you are on a keto diet, serve chimichurri shrimp with a fresh salad!
Total time: 15 minutes.
Does going on a diet mean giving up on that savory, crispy flavor or fried food? Well, you don't have to!
This recipe contains only simple and low-carb ingredients like shrimp, eggs, and coconut oil. But what's so special about it is the use of coconut flour – a gluten-free, grain-free, and high-fiber flour excellent for the keto diet. It also gives your shrimp a crunchy texture that's sure to please.
Nonetheless, to achieve that crispy coating, there is one thing to note: Make sure you've heated the oil. Only when the oil is hot enough can you fry the shrimp fast and create a savory outer layer that no one can resist.
And what if you love spicy food? Add a bit of chili powder to the coating mixture to lend your snack some extra heat! Crispy on the outside and juicy on the inside, these keto fried shrimps will make a mouth-watering appetizer or snack.
You will want to make these crispy keto fried shrimp again and again!
Total time: 40 minutes.
Don't mistake this popcorn shrimp with the previous recipe! Instead of 2 layers (eggs and flour), it uses 3 layers. First, coat your shrimp with mixed flour (including flour, paprika, oregano, cayenne powder, etc.). Then, dip it into the milk and egg mixture. The last one will be flour again.
Three-dipping layer creates an even crust for your shrimp yet still keeps it juicy. Popcorn shrimp goes well with almost anything. My favorite combination is making it into some tacos for game days. Or you can serve it with rice like a simple meal.
But if you want to eat it as a snack, prepare some dipping sauces, such as garlic cilantro sauce. Popcorn shrimp will be a nice change for your movie nights.
Total time: 10 minutes.
When it comes to Cajun cuisine, most people will remember the unique "blackening" cooking style. Before placing the shrimp in a hot skillet and letting them sizzle, you will coat them in an exquisite blend of bold spices and a touch of herbs.
Don't let the word "exquisite" freak you out. You will use only the familiar seasonings in your cabinet: Oregano, thyme, smoked paprika, black pepper, garlic powder, etc.
They create a sensational combination of savoriness, smokiness, and spiciness that goes well with shrimp and will leave you wanting more. People always say that the most complicated flavors come from the simplest things!
Total time: 15 minutes.
This savory, hearty keto fried rice is filled with simple low-carb ingredients, making a satisfying meal for a hectic night. You can make it in one pan within just 15 minutes!
Since it's a keto recipe, you will use cauliflower rice instead of authentic one. Of course, you can go with the frozen version if you don't have enough time. However, I wouldn't recommend it for frying since frozen cauliflower rice often has a lot of moisture.
The first thing to do is chop the shrimp. Add the cauliflower rice and shrimp to the sautéed onion, garlic, and ginger mixture. Cook the mixture for a few minutes, add scrambled eggs, and mix the whole thing with green onion.
Super simple, healthy, and oh-so-delicious!
Total time: 30 minutes.
Instead of the classic chicken Caesar salad, why don't you spice things up with fresh seafood? Using garlic shrimp, a bowl of Caesar salad will add more variety to your meal! It is hearty and quick to prep, taking only about 25 minutes to whip the whole thing up.
Nonetheless, if you have some extra time, you can marinate the shrimp in the lemon juice mixture longer to enhance the flavors.
You might think that a keto salad means you have to give up on the savory crunchiness of croutons, but my recipe has something more special: Parmesan crisps! After trying these golden, cheesy, crispy toppings, you will never want to return to croutons again.
Total time: 1 hour.
There are countless ways to make soups and stews, but gumbo, a classic from New Orleans, is truly a phenomenon. With large, plump shrimp and spicy andouille sausage in Cajun broth, it features a complex, exquisite aroma that will please any taste buds.
Here is the best thing about gumbo: The original recipe is already low in carbs. That means you can easily make your own keto version without altering its unique flavor. Avoid using flour to thicken the roux, and serve the dish with cauliflower rice instead of white rice.
The recipe requires many ingredients, and it might take some time for the broth to simmer to achieve a thick, rich texture. Nonetheless, this weekend project is totally worthy of your time and effort. A big pot of gumbo will take you to the highest level of comfort and satisfaction!
A huge pot of keto gumbo with shrimp will transport you to New Orleans!
Total time: 30 minutes.
Originating from Sichuan, China, Kung Pao shrimp embraces all the characteristics of Chinese cuisine: Rich and colorful, with an aromatic flavor and excellent taste.
It features fresh, plump, and succulent shrimp mixed with Sichuan peppercorns and dry chilis. This flavorful mixture baths in sweet, savory, peppery Kung Pao sauce, enhancing its taste and odor.
The recipe I bring to you is low-carb and gluten-free. Compared to the traditional dish, this one will taste less sweet and salty, but you can still savor all the unique flavors from the Sichuan peppercorns and the numbing, tingling sensation from the crisp chili oil.
Total time: 30 minutes.
Soft, buttery, and creamy grits, topped with a lot of juicy shrimp and crispy bacon – no wonder "shrimp and grits" has become one of the most well-known southern specialties.
Whether it is an indulgent keto-friendly breakfast or a side dish, you won't be able to resist the distinctive seafood aroma and delicate texture.
"But it's not keto-friendly", you say? Let me reveal something that will help you enjoy shrimp and grits 100% guilt-free: Lupin meal. Made of lupin beans, this is the best alternative to the original corn meal with a similar texture, yet very low in carbs and high in fiber.
Simply replace cornmeal with a lupin meal to make the grits, and you can enjoy all the flavors without worrying about carbs intake.
Serve it with extra bacon, onions, bell peppers, and maybe some parsley or green onions for color and crunch. A bite will make you feel like being on the windy Gulf coast!
Total time: 40 minutes (including 30 minutes of rest time).
Speaking of Mexican cuisine, it would be a shame not to mention ceviche. Marinating shrimp in citrus juice will make it burst with fresh and tangy flavors that will cool you down even on the hottest summer days.
The traditional ceviche recipe uses raw shrimp. The acid in lemon and lime juice alters its protein structures, thus "cooking" it without using any heat. However, this recipe uses my leftover shrimp (which is already cooked), so no one will be worried.
You can still follow the classic path, but remember to buy the freshest shrimp possible. I have a small trick: You can poach the shrimp for a few minutes in hot water. That way, you can still savor all of their sweetness without worrying about food safety.
You will find a spicy kick of flavor from jalapenos in this ceviche. Don't forget to mix shrimp with avocado, cucumber, and tomatoes before serving!
Are you a fan of fresh flavors? This shrimp ceviche will surely entertain your taste buds!
Total time: 25 minutes.
On a cold evening, nothing's better than a bowl of hot curry with rich, creamy coconut milk. I'm sure this keto shrimp coconut curry will make it to your top comfort food!
The beauty of this meal comes from a unique mixture of spices. Cumin, cinnamon, garlic, ginger, parsley, and cilantro create an earthy and pleasant aroma that will warm you up from the inside out.
For the recipe, it is acceptable to use frozen shrimp. Always defrost them a few hours before cooking and remove the excess liquid. Otherwise, the curry sauce will be runny.
Before wrapping up, here's some good news for busy bees out there: Shrimp coconut curry tastes even better the next day! If you let it rest in the fridge for hours, your dish will have a thicker, more creamy texture that's simply irresistible. A convenient and yummy make-ahead meal!
Total time: 15 minutes.
Shrimp spaghetti squash has won me over because it features a luscious low-carb pasta substitute. At first, I started with just garlic and butter, which was good but not impressive. Then, I added a lot of basil to the dish and got a flavor bomb.
The complex aroma of basil and the generous use of garlic go great with buttery spaghetti squash. Another advantage is that you can prepare the dish within 15 minutes using 4 simple steps!
But there is still a point in its favor: The dish isn't only low in carbs but also calories as well. To be more precise, each serving contains only 262 calories. Do you feel like giving this healthy weekday meal a try now?
Total time: 15 minutes (excluding 1 hour of marinating time).
A philosopher once said that you could never go wrong with shrimp skewers. I totally agree. Grilling takes shrimp meat's semi-sweet and salty flavor to the next level, turning them into a feast.
So if you want to spice things up a bit without spending the whole day in the kitchen, I've got you covered: All you need are some garlic cloves, lemon zest, parsley, and olive oil. I'm sure these ingredients are always available in your house.
If you prefer your skewers to be richer, just throw some butter onto the skillet while grilling the shrimp. You will get the buttery goodness with the tangy, fresh lemon juice. Garnish with fresh parsley, and your flavorful dish is ready to serve.
Total time: 15 minutes.
Perhaps you are getting all confused now: Why sushi? Obviously, rice is not an option on a keto diet. Therefore, I will use cauliflower rice for a low-carb shrimp sushi bowl. You can get the frozen version at the grocery store to save some time.
But it doesn't mean you can't enjoy the perfect sushi bowl! By mixing the cauliflower rice and shrimp with rice vinegar, soy sauce, and mayonnaise, you will end up with all the flavors of your favorite sushi while still sticking to your diet.
Aside from rice, the Japanese-style shrimp mixture also makes a delicious topping for noodles. Plenty of noodle options are available, including low-carb shirataki, zucchini noodles, and spaghetti squash.
Total time: 40 minutes.
For the perfect steak and shrimp, season the decadent duo with sea salt and black pepper. Then, cook these two until crispy on the stove.
The making process sounds simple, but the taste is not: The dish features layer upon layer of flavor. The fresh, grilled shrimp and the juicy steak make a wonderful bite.
And it tastes even better with my favorite ginger or yum yum sauce. To make the former, blend grated ginger with coconut aminos, white vinegar, and lemon juice until smooth. Meanwhile, the latter needs mayonnaise, unsalted butter, ketchup, apple juice, and other seasonings.
Total time: 20 minutes.
Most of the time, when people hear shrimp fajita, they will think of wrapping it with tortillas. But this time, let's take a healthy turn by serving it with avocado or cauliflower rice, lowering your carb intake yet still satisfying.
This amazing appetizer for people on a keto diet is super easy to make. Just saute your shrimp with onions and bell peppers, then assemble them with mashed avocado and romaine lettuce.
Aside from shrimp, you can use chicken or beef instead. To add more colors to your bowl, use different bell peppers (yellow, red, green). One bowl of shrimp fajita can last 5 days in an airtight container.
Total time: 19 minutes.
Here comes another recipe for the hot days of summer! Avocado has gained popularity recently due to its health benefits. The green fruit is also low in net carbs and high in healthy fat, which is beneficial for those following a keto diet.
A ripe avocado tastes amazing on its own, but do you know that it makes a fantastic pairing with shrimp? Thus, you'll fill buttery avocados with spicy Cajun shrimp, cherry tomato slices, and cilantro!
Bursting with fresh flavors, it is truly the best appetizer with shrimp for every occasion, from dinner parties to date nights. However, if you prepare the dish ahead of time, do not fill the avocados with the shrimp mixture early on. Brush them with lemon juice so they won't turn brown.
These creamy shrimp-stuffed avocados will be ready in 20 minutes with no fuss!
Total time: 3 minutes.
To make the perfect creamy shrimp salad, you need to have high-quality mayonnaise. Its rich flavor will help other ingredients shine bright. However, make sure not to choose ones with a too intense taste.
Once you've gathered the best ingredients, the rest is as easy as pie: Mix cooked shrimp with mayonnaise, feta cheese, lemon juice, cucumber, and onion together. Then, season according to your liking.
In less than 5 minutes, your creamy, mouth-watering shrimp salad is ready! The best thing is that it can be a topping for anything. As a keto lover, I would enjoy it alone with some nice white wine.
Total time: 24 minutes.
At the end of this list is a famous recipe with a healthy twist: Keto-version Bang Bang shrimp. Aside from keto, it is also paleo, whole30-friendly, and dairy-free. Moreover, it also switches from normal flour to gluten-free ones (coconut and tapioca flour) for the coating.
The highlight of every Bang Bang shrimp is its sauce, and this recipe is no exception. Whisk avocado oil mayo with ketchup and hot sauce. Don't forget to sprinkle some chipotle powder in the mixture for some heat. But if you're afraid of spiciness, replace it with paprika.
This Bang Bang shrimp makes a wonderful appetizer, but you can turn it into a full meal by serving it with rice or taco. There are countless scrumptious side dishes for shrimp you can choose from. Choose carefully, though, because not all of them are suitable for a keto diet.
Going Keto Is Never Easier With These Shrimp Recipes
From classics like gumbo pot or Swedish salad to modern favorites like chimichurri shrimp, above is my collection of the best keto shrimp recipes! Each of them really showcases how fantastic everyone's favorite little pink crustacean can be.
Just whip up any of these dishes at the next gathering, and you can surprise your friends and family with the fact that it is keto!
What is your favorite keto recipe? Don't hesitate to leave a comment below! Like and share this article if you find your new favorite here. You might help someone kick start their keto journey.
Nutrition Facts
6 servings per container
---
Amount Per ServingCalories184
% Daily Value *
Total Fat 7g

11

%
Cholesterol 216mg

72

%
Sodium 190mg

8

%
Potassium 17mg

1

%
Total Carbohydrate 3.3g

2

%
Protein 28.5g

57

%
---
* The % Daily Value tells you how much a nutrient in a serving of food contributes to a daily diet. 2,000 calories a day is used for general nutrition advice.