People love whipping up easy keto appetizers as they are quick and flavorful to enjoy. In addition, you can also limit the carbs intake while enjoying good food simultaneously. This article is for you if you want to level up your starters menu with a keto twist.
There are thousands of ways to adapt ingredients into a keto diet. But to enjoy some of the classic appetizers, you may consider substituting carbs ingredients with keto-friendly ones. So let's fire up your meal with these incredible keto appetizers.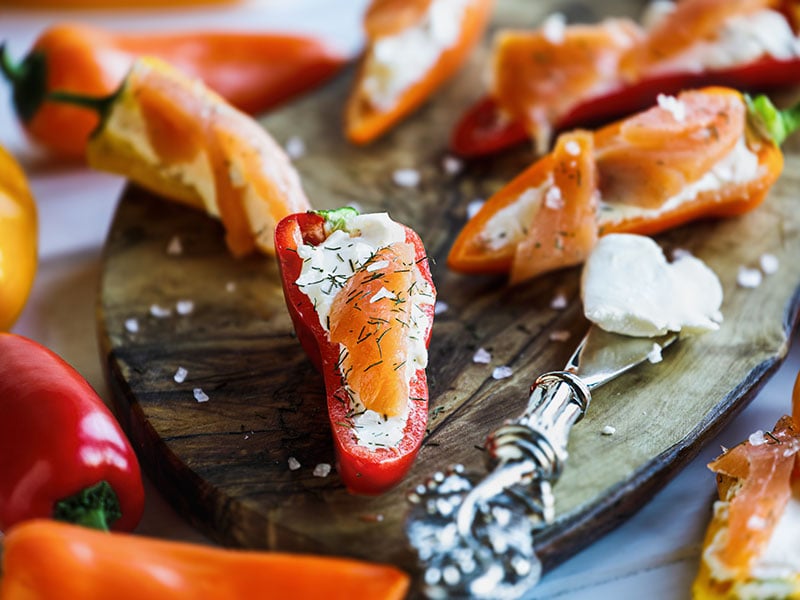 Amazingly Tasty Keto Starters For Your Meal
Keto starters are the ideal options to begin your hearty meal with a bang. So you need to keep your appetite up for these incredible keto appetizer ideas.
Total time: 30 minutes.
Let's start kicking carbs with an explosion of the flavor from these delicious pizza bites. It's a super fun recipe that allows you to work the dough from scratch, giving you more control over the number of carbs in your meal.
For the crust, it's best to utilize a mixture of almond flour with pepperoni, cheese, and various spices. Make sure you knead the batter thoroughly to distribute the elements evenly. In addition, you should crack in a couple of eggs to help the ingredients bind better into a round ball.
Bake these balls of deliciousness for around 25 minutes until the outside layer becomes crispy enough. These palatable pizza appetizers are perfect for anything, from big family meals to intimate get-togethers. Don't forget to enjoy them alongside your favorite choice of dipping sauce.
Total time: 17 minutes.
Garlic bread is ideal for jump-starting your taste bud with a fragrant smell and buttery taste. However, conventional bread contains too many carbs to fit into your keto diet. Therefore, I suggest creating the bread from scratch.
Don't worry about the hectic you're going to cause in the kitchen because it's easy to make. I like creating cheesy bread by including mozzarella and cream cheese into an almond flour-based batter. The dough you get should be sticky before baking in the oven.
Bake until the edge becomes golden brown and crunchy. At the final 5 minutes, sprinkle the bread with mozzarella and parmesan to melt the cheese in the oven. If you're wondering about the garlic, I prefer using the powder form to infuse it in the dough blend.
Learn how to recreate a healthy keto cheesy garlic bread at home.
Total time: 30 minutes.
Zucchini is a prime candidate for any healthy diet, including keto. Instead of going for bland salad, zucchini makes for excellent keto side courses or even as an entree to your meal. These little zucchini tots come together quickly in the kitchen with little effort.
Typically, you want to utilize a muffin mold to stabilize the tot's structure. Commonly, I prioritize mixing zucchini pieces with mozzarella, cheddar, and spices. Don't forget to drain out the excess water from the zucchini before incorporating the vegetable with other ingredients.
A little secret to a rich tot is to crack a few eggs into the mixture. Pop the tots into the oven for baking to a golden brown color. Another way is to spoon the tots into small balls and let the air fryer handle the rest of the cooking.
Total time: 15 minutes.
Smoked trout may not be the first thing people think about when you mention an appetizer. However, the solid smoky aroma of trout is perfect to open any meal in the form of a dip. You will leave everyone mouth-watering when serving this great smoked trout dip.
Aside from the smoked trout, I prefer adding a creamy texture by using cream cheese with a touch of lemon juice and zest to enhance the freshness. Don't bother cooking the trout, as you can eat it directly. The dip is simple because you only need to mix the ingredients to serve.
Total time: 1 hour.
Frying is an excellent way for adapting asparagus into a simple starter recipe for your family to enjoy. The dish is perfect for a light snack before moving toward the night's main event. So ditch your conventional high-carbs potato and replace it with asparagus the next time you make fries.
To elevate the asparagus taste, I suggest preparing a spice mix of almond flour with parmesan, cayenne pepper, and baking powder. In addition, you also need to give the asparagus an egg bathe to help the spice mix stick better.
Aside from baking the asparagus in the oven until they become crunchy, you can use an air fryer to cook up the dish. Simply spray oil in the air fryer and flip after 5 minutes for each side to get a nice golden brown layer.
Elevate your asparagus with a crunchy texture for a fries recipe.
Total time: 15 minutes.
Brussel sprouts are a healthy option for whatever recipe you make. In this case, I love infusing the sweet and nutty taste of the Brussel sprout with an umami flavor of crispy bacon. The dish is perfect for starting any meal with a harmonious aroma of both meat and vegetable.
All you need to do is wash the sprouts thoroughly and wrap them with strips of bacon brushed with keto sweetener. In addition, you may want to find some toothpicks to secure the bacon and Brussel sprout. Pop your Brussel and bacon creation in the air fryer until it becomes crispy.
Total time: 40 minutes.
Mushrooms deliver an incredible earthiness to any dishes you create. However, you can turn mushrooms into the center of attention with a great sausage filling. It's a fantastic appetizer for everyone to enjoy the savory filling with tasty mushroom texture.
It's an easy task to whip up these delicious mushroom-based appetizers. For starters, you should utilize Italian sausage for a mild licorice taste to pair with the smooth taste of cream cheese and shredded cheese.
As for the mushrooms, I prefer using cremini for an earthy and mildly savory profile. When the sausage filling is ready, transfer it to the mushroom caps to prepare for baking. The result is a soft mushroom texture with beautifully browned cheese on top.
Total time: 5 minutes.
A dip to begin your meal is fantastic as it provides an array of combinations with your favorite foods. The ranch dipping sauce is a favorite choice for many people because of its rich and creamy flavor. Therefore, I want to offer you a keto solution for this fantastic dip.
Even for a homemade recipe, you must be careful not to use premade ranch seasoning since it contains many processed ingredients with high carbs. The most solid choice for a perfectly keto ranch is a combination of mayo, lemon juice, and sour cream as the smooth base.
Remember to include chives for a herbal note. If you want a dip-like consistency, I suggest adding more sour cream to your creation. One crucial piece of advice is that you don't want to use buttermilk as it's not a keto-friendly product.
Make all your keto foods unforgettable by dipping them with a delicious keto ranch sauce.
Total time: 25 minutes.
Instead of starting your meal with a savory delicacy, you should switch it up sometimes with a unique Brie cheese delicacy. The delectable dish comes together quickly and only requires a handful of ingredients to materialize in your kitchen.
Commonly, people settle for strawberries and pecan nuts to toss with some condiments. Bake the seasoned strawberries and pecan nuts until they're cooked thoroughly. Allow both the elements to cool before topping them over the Brie wheel for serving.
Ideally, the Brie cheese provides an excellent rich buttery profile to accompany the sweetness and nuttiness of the toppings.
Total time: 1 hour 15 minutes.
If you're unfamiliar with salami, it is a cured sausage with an incredibly spicy, sweet, and savory taste. The sausage is perfect for beginning your meal course with a blast of terrific goodness. You only need to whip out a simple roll-up recipe to treat everyone.
First, you want to get a decent amount of salami slices and lay them over a flat surface to spread a generous amount of cream cheese. In addition, I enjoy this dish full of banana peppers due to their sweet, mild profile.
After rolling the salami with the ingredients, I suggest chilling it to stabilize the structure of the roll-ups before cutting it. The nice thing about this recipe is that you don't have to treat any ingredient through the heat because even the salami is perfectly safe to consume raw.
Total time: 10 minutes.
If you like to keep everything extremely simple, I'd like to introduce a keto-friendly fried pickles recipe to recreate at home. It's a straightforward way to enjoy the pickle with a fun crunchy powder layer coating on the outside.
The critical part of working with pickles is that you must drain out excess moisture to prevent a soggy fry afterward. Next, give the pickle pieces an egg wash and roll them through various spice mixes to intensify the flavors. Make sure you use almond flour for the keto option.
Fry until the batter coating becomes golden brown and crunchy. Serve these fried pickles with your favorite keto dip for the ultimate experience.
Turn your pickles into a tasty fry recipe by following this simple guide.
Total time: 10 minutes.
Guacamole is a heavenly creation that fits any meal course you have in mind. It's easy to create a keto version because the ingredients are easy to find and abundant. Furthermore, Guacamole makes for an amazing dip to pair with keto chips and other dishes.
For people unfamiliar with Guacamole, it's a familiar recipe that appears alongside tacos to create an authentic Mexican combo. In addition, you may want to lay your hands on Jalapeno (Mexican green chili) for an authentic approach to the dish.
To create a keto version of Guacamole, you don't have to make many adjustments because the combination of tomato, avocado, and onion still works wonderfully. Add a splash of lime juice with some herbs, and you're good to go.
For storing, you should limit the exposure of the Guacamole to air since the avocado may turn brown, making the dip lose its beautiful appearance.
Total time: 15 minutes.
A slider has to be everyone's favorite, so I love including it in a keto diet with much more easy-to-find ingredients. Instead of buns, I settle with eggs to create a unique mini slider with savory fillings.
People often use hard-boiled eggs for this recipe to sandwich creamy cheese and crispy bacon. In addition, the slider also has ripe avocado in the mix to enhance the overall creaminess. If you find keeping all the elements together challenging, I recommend using a toothpick to secure it.
Total time: 25 minutes.
Here's another brilliant cooking idea with eggs to create at home: classic deviled eggs. It's one of the favorite foods in America to celebrate Mexican holidays. However, you can also use this recipe to whip up a quick and delicious party treat for everyone.
After hard-boiling the eggs, people tend to extract the yolk to incorporate with mayonnaise, mustard, and a splash of white wine vinegar to create a creamy concoction. To spice up the filling, you may include a dash of hot sauce.
Grab your halves of white yolk and start filling them with the creamy yolk. Garnish the deviled eggs with paprika. In addition, you can refrigerate the deviled eggs for later consumption.
Deviled eggs are easy to create and ideal for serving any occasion.
Total time: 30 minutes.
If you think cauliflower is not tasty, you should try these savory cauliflower wings. Simply pick your favorite dipping sauce to enjoy these vegan wings. It's almost certain that the crunchy cauliflower is a new favorite of your family.
You want to pay attention to the flour for the batter mixture, as the almond variety is more prioritized for a keto recipe. Whisk the flour with spices and milk until the batter gets a smooth consistency. Dip the cauliflower into the liquid batter for frying until crispy.
For serving, I prefer pairing the cauliflower wings with BBQ sauce for a savory and smoky flavor. It's best to serve these wings while they're still hot to enjoy the ultimate crispiness.
Total time: 1 hour.
Pigs in a blanket are the sausage starter dish in everyone's dream. The only problem is the dough layer, which threatens your keto diet. However, you can easily handle this by using an alternative ingredient.
To create this BBQ entree banger, you need to lay your hands on almond flour to create dough. I recommend infusing the almond flour with cream cheese and mozzarella for a cheesy and fragrant dough. Chill the dough and cut it into strips afterward to wrap around the sausages.
On average, it takes 15 – 18 minutes to brown the dough in the oven perfectly. Allow the dish to cool down and serve it with your favorite keto dip.
Total time: 35 minutes.
A Big Mac is undoubtedly a guilty pleasure for many people. Lucky for you, there's a method to enjoy these Big Macs without too many carbs. You only need to ditch the buns to enjoy the juicy and flavorful filling.
Typically, I prefer a filling of ground beef with onion to pair with American cheese, lettuce, and pickle. Place the ingredients in the exact order, then run a stick through them to complete this unrivaled appetizer on skewers and enjoy all the Big Mac's flavors in one bite.
To take the recipe further, you may whip up a special dipping sauce of mayonnaise, white wine vinegar, and dill pickle relish. The creamy sauce makes a perfect combo with savory Big Mac fillings to enjoy at the start of any meal.
Impress everyone at your meal with scrumptious keto Big Mac bites.
Total time: 40 minutes.
Everyone loves to eat burgers, but since I'm giving you guys a tour of the keto diet, it's wise not to include buns into the recipe. Instead, I'll make it up for everyone with a unique burger bowl specialty with exquisite elements.
If you have muffin mold, it's perfect for making these burger bowls with a ground beef base. In addition, people include crispy bacon with cheddar cheese to infuse these little bowls with extra tastes. It takes around 15 minutes to cook through the beef and melt the cheese completely.
Of course, these bowls are not ideal without pairing them with keto ranch dressing to enhance a creamy flavor. Garnish the burger bowls with some chives for a touch of green color.
Total time: 45 minutes.
If your kids refuse to have spinach at any meal, it's time for you to bust out an ultimate cheese ball with spinach to encourage your child to eat more green. Plus, the chewy texture of these spinach balls will leave a good impression on everyone.
You want to swap out conventional flour with almond variety for a keto approach to the spinach balls. After boiling the spinach leaves, chop them to mix with the flour mixture with cheese and eggs. Keep mixing until you reach a consistency that you can form into a ball.
You may use extra almond flour if the dough is too moist. Once baked, these balls have a beautiful golden brown color and slightly crunchy texture.
Total time: 2 hours 23 minutes (including 2 hours of chilling).
A crunchy mozzarella stick may not be a unique dish to impress everyone at the dinner table, but I have the perfect solution to elevate its flavor. With a generous amount of spices, these mesmerizing mozzarella appetizers will pack enough punch to excite everyone's taste buds.
The secret to enhancing the mozzarella taste is combining crushed pork rind with various spices. Adding pork rinds helps improve the crunchy texture while giving the creamy mozzarella a smoky profile.
Just remember to dip the cheese stick through the dry almond flour before moving to the egg wash and pork rinds. Cover the cheese stick thoroughly to prevent the inner content from oozing in the air fryer. The result you get should be hard to resist for anyone.
With this simple instruction, the secret to nailing keto crunchy and gooey mozzarella sticks is now in your hand.
Total time: 27 minutes.
Although pretzels may sound like an impossible dish to create for a keto diet because of their carbs content, I'm always up for a challenge to bring your keto-friendly pretzel bites. With only a few alterations to the traditional recipe, I'm sure the flavor of these pretzels is extraordinary.
For a keto pretzel, it's suitable for you to utilize cream cheese with eggs, but make sure you get your hands on almond flour to substitute for conventional variation. I like using yeast in the batter to help the dough rise while resting.
Furthermore, it's amazing to introduce mozzarella to the dough for a cheesy pretzel. Give the pretzel dough balls a brush of egg wash to achieve a beautiful golden brown color after baking. Typically, these pretzels are slightly crunchy outside, while the inner is soft.
Total time: 17 minutes.
Jalapeno popper is a staple of Mexican treat; the dish traditionally uses Mexican chili to serve with a cheesy filling. On their own, Jalapeno poppers are great at pleasing a crowd and can be made with little effort.
For the Jalapeno, I recommend grabbing decent-sized ones, so you have more space to work with once you carve out their inner content. To keep everything simple, I often resolve to a keto filling of cream cheese, cheddar, and bacon.
Don't worry about the Jalapeno's spiciness, as they are usually mild and have a subtle sweetness. Fill the Jalapeno with the creamy mixture and let the air fryer handle the rest. It usually takes 7 minutes to melt the cheese before serving the dish with extra crushed bacon.
Total time: 25 minutes.
Classic onion rings are another fan favorite food before any main meal event happens. These crunchy onion rings are ideal for a low-carb or keto diet, helping you stay on a healthy track while enjoying good foods.
To replace regular flour, I prioritize the combination of almond and coconut flour to mix with cheese. Grab your onion rings to dip them through an egg mixture and follow it up with the flour concoction. Remember to repeat the process twice for the best coating.
Before frying the onion rings, check the oil temperature to ensure a perfect frying process. Each side of the rings only needs around 1 minute to cook to a golden brown. These crispy onion rings taste incredible when they go along with a savory or creamy keto dip.
Instead of buying onion rings, you can modify the dish into a keto diet at home.
Total time: 17 minutes.
Shrimps are a succulent option adored by everyone worldwide. Although there are various ways to adapt shrimp to a keto diet, I prefer introducing a special coconut shrimp recipe to start your meal with a blast.
Aside from the shrimp, it's crucial to prepare a keto-friendly batter. While this seems difficult, you can conveniently use monk fruit sweetener and coconut flour. In addition, I love to add an extra bowl of shredded coconut to bestow a nice coating on this scrumptious shrimp appetizer.
In the correct order, you should dip the shrimp into the flour and follow it with the egg before rolling in the shredded coconut. Like the onion rings, you want to cook each side of the shrimp for approximately one minute to a golden brown. Another way is to use an air fryer.
Total time: 15 minutes.
Tuna provides you with an array of valuable nutrients for your body. Therefore, it's easy to understand why I want to offer you a tasty starter made of tuna and served on a beautiful pickle boat. The dish is a fun twist for enjoying tuna at the beginning of the meal.
To prepare the pickle boat, I suggest cutting the pickles in half and scooping out their inner content to make room for the tuna filling. I often go for canned tuna to combine with onion, mayonnaise, and spices for quick filling preparation.
When you have all the elements ready, scoop the creamy tuna over the pickle boats. Refrigerate the dish until you're ready to serve it.
Total time: 25 minutes.
Avocado is often a popular pick in salad recipes, but have you ever tried frying the fruit? I promise the experience is unprecedented and provides a new way for you to approach avocado. These avocado fries are crunchy but soft in some ways, making them an addicting dish.
This avocado fry is similar to other fries recipes as you must go through two coating stages. The first is an egg wash to help the second layer of flour coat evenly. In addition, you may blend almond flour with parmesan for an extra cheese fry.
At this stage, you can either bake these avocado fries or fry them in oil. Whatever method you choose, the result should be beautifully golden brown slices of avocado with a mild sweetness and creaminess.
Fry your avocado slices for an exotic starter before your main event.
Total time: 12 minutes.
If you have surprise visitors coming to your house, you may want to buy time with a straightforward appetizer to keep your guests busy while preparing the main dish. You may want to grab some pepperoni slices to make some chips.
For a hand-free cooking experience, use the air fryer for cooking the pepperoni. Ideally, slice the pepperoni into thin pieces, so they become crunchy after some time in the air fryer.
These pepperoni chips are quick and deliver a tasty spicy, savory, and salty taste. In addition, the crunchy texture of the thin pepperoni will keep everyone's hands busy for some time.
A Keto Starter Is Perfect To Fire Up Your Healthy Meal
Keto appetizers are what you need to elevate your meal experience. I hope you will find your favorite dish in these terrific delicacies. The road to a healthy keto diet is long, but it doesn't mean you can't have decent foods along the way.
Do you know anyone who needs a spark of an idea to start their meal on the next occasion? If so, you should give them a hand by sharing this article. Furthermore, in the comment section, you may express your opinion about keto diets.