Looking for the best juicing recipes that you can make at home? What is the healthy juice to start a day? Which fruit juice pairs well together? That's a relief because now there's no need to wonder about these problems. You can find all of the answers in this article.
This post is a whole list of juicing recipes that are quick and easy to prepare. Besides, there are still more great ideas for fruit juice combinations. Amazingly, these are all made from common ingredients around you. Let's begin your day with awesome healthy juice!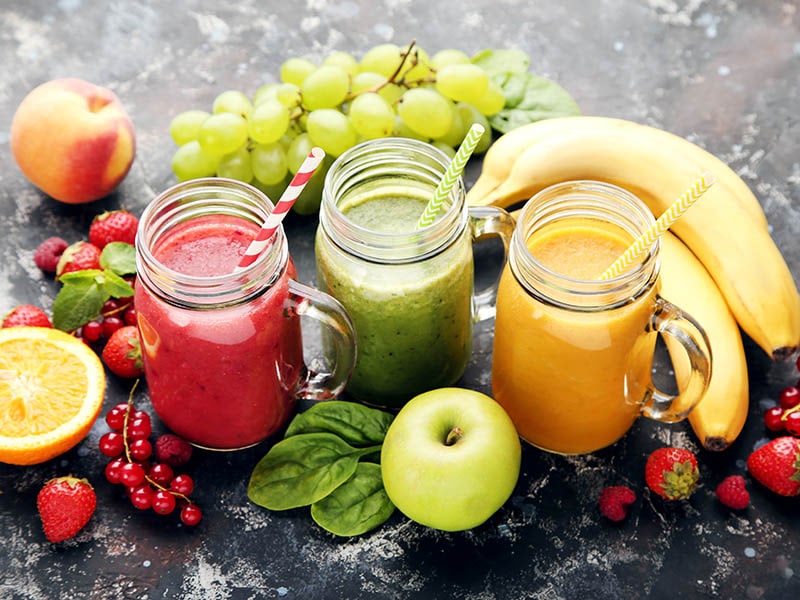 Try These Refreshing Juice Ideas From Fruits And Veggies
Don't always serve the same juice every day. There are a large number of ways to change familiar fruits and veggies into wonderful drinks. Nothing is better than taking care of yourself with a glass of fresh and healthy juice to start a new day.
Total time: 10 minutes
Looking for a naturally fresh and tart juice? These tropical drinks can fit your taste. Passion fruit juice gives a slightly tart, acidic, and sweet flavor. Making a glass of super refreshing passion fruit juice is effortless with 3 components: passion fruit puree, water, and syrup.
Fresh passion fruits can have a dark purple or yellow color and contain a large number of seeds. You can find them at many supermarkets. They usually place passion fruit together with other tropical fruits like mangoes, dragon fruits, etc.
There are several ways to prepare passion fruit juice. The fastest way is just to take out all the pulp, including seeds and liquids. If you'd like to remove all the seeds, you can use a fine-mesh strainer and the back of a spoon to extract the liquids, or simply use a blender.
A glass of fresh passion fruit is ready to serve with a few steps.
Total time: 10 minutes
Mango juice is extremely sweet, refreshing, and full of citrusy sweetness. This vibrant yellow juice will be a family-friendly drink in the summer with its 3-step making process: blending, straining, and serving. The ingredients are barely ripe mangoes, sugar, and water.
To upgrade the classic mango juice to the next level, follow these tips. You should chill the mangoes and use really cold water for juicing. Do not add too much water to the juice, or you'll ruin the taste. Substitute water for coconut water or orange juice if you want.
Total time: 4 hours 10 minutes (including 4 hours of chilling)
I bet cantaloupe is one of your ideal fruits to eat on hot summer days. Ripe cantaloupe usually has a deeply sweet flavor, juiciness, and tenderness. Surely, the taste of cantaloupe juice will never disappoint your expectations.
This is how to make your cantaloupe juice wholesome without using a blender. Start by removing the cantaloupe seed and pulp and putting them in a bowl. Pour clean water through the seeds. Using the back of a spoon, press down the pulp to release the juice, then set aside.
With the cantaloupe flesh, cut it into long strips in a large pitcher, add any of your favorite juices along with the remaining cantaloupe water, and add sugar or syrup. Now let it chill for at least 4 hours in the fridge. If you serve it with ice, you can add more sugar to taste.
Total time: 5 minutes
Who can resist a glass of yummy orange carrot and ginger juice? The highlight of this juice is not only in its appearance, but the taste is also quite toothsome. Orange carrot ginger juice will leave a mild sweetness and a little zinger of ginger at the tip of your tongue.
There are also many ways to mix and match your juice. You can sweeten the juice by adding more oranges or apples. Furthermore, give your juice a green shade mixing celery into it.
Orange carrot ginger juice also provides a huge amount of vitamins and minerals to your body, such as vitamin C, vitamin B, beta-carotene, etc. Besides, ginger is also a source of anti-inflammatory properties.
Total time: 4 minutes
After trying pineapple juice and apple cider vinegar, you may want to add this vivid yellow drink to your daily juice routine. Why? This luscious juice contains a huge amount of vital minerals and also affects your body positively.
Here are some amazing facts about the health benefits of pineapple juice and apple cider vinegar: It can be detoxifying your body, reducing inflammation, declining insulin sensitivity, losing weight, reducing risks of some cancers, Alzheimer's, diabetes, etc.
The ingredients list of this amazing tropical summer treat includes pineapple juice, apple cider vinegar, turmeric, fresh lime juice, and honey. This drink can last for 5 days when stored in the fridge, but don't forget to shake well before serving.
Total time: 5 minutes
Pineapple ginger juice has a vivid yellow color and is incredibly sweet and tasty. There's no need to mention the enormous nutrients and health benefits of pineapple and ginger because you already know them.
Pineapple ginger juice can quench your thirst within a nick of time with its strongly refreshing sweetness. This pineapple ginger juice is tastier when served chilled and can last about 7 days in the fridge. Please remember to shake before serving.
A glass of pineapple ginger juice is an old but gold beverage on scorching days.
Total time: 6 minutes
This light green juice from kiwi, grapes, and spinach will surely go beyond your expectations because of its heavenly flavorful taste and healthy-giving benefits. What's more, this is extremely easy to make.
The complex ingredient combination creates an unforgettable flavor for the juice and makes you fall for it right after taking the first sip. Kiwi grape green juice is a mix of deep sweetness with a slightly acidic and astringent taste.
The skin of kiwi and orange is bitter, so make sure you discard all the peels before juicing. Meanwhile, because the basil stems and leaves contain a lot of flavor, you can juice them all.
Some of the great health advantages of consuming this drink every day include promoting hair and skin health, reducing inflammation, supporting the immune system, cutting down on cholesterol, etc.
Total time: 20 minutes
Parsley is always famous for a large number of health benefits like reducing risks of heart diseases, cancers, stroke, or diabetes because they contain high levels of antioxidants and vital minerals.
Are you worried about the bitter taste of parsley? This parsley juice is totally the opposite. Apple, lemon juice, cucumber, and ginger will turn the unenjoyable flavor of parsley into a delightful drink.
For preparing parsley, it's better to use flat-leaf parsley. You can remove the bottom one-third of the stem after rinsing. Plus, if there's any leftover parsley juice, it can last for 4 days when you store it refrigerated in a tight-lidded container.
Total time: 5 minutes
Starting a new day with something vibrant green can boost your energy to the fullest. Vitamin-rich super green juice contains a high level of nutrients and vitamins. It will instantly bring a detoxifying and refreshing feeling when you take the first sip.
Guess what's in this vitamin-rich super green juice? It's simply a handful of spinach, 2 fresh red apples, ginger, lime, and water. The flavor of this natural drink can be slightly sweet, mild, or far more pleasurable.
If you use a blender, a cloth, sieve, or nut milk bag can help you make an extremely smooth glass of green juice.
Total time: 6 minutes
When you'd like to mix many veggies and fruits together but are not sure if they go well together, I have a suitable juicing recipe for you. Note, this juice can astonish you with its amazing taste as well as many awesome health advantages.
Let's talk about the ingredients! As for the fruits, they are green apples, pineapples, and lemons. The rest of the components are vegetables, including cucumber, spinach, celery, and ginger. Believe me, they all work well together and create a lovely bright green color.
There are reasons why you should have a glass of this gluten-free juice every day. Some magically positive health effects are reducing inflammation, boosting the immune system, lowering blood pressure, lowering the risks of chronic diseases, etc.
Total time: 5 minutes
Save this recipe if you're a fan of cucumbers. I can say cucumbers are an important ingredient and appear in every cuisine in the world. They are also one of the greatest ingredients for making juice as well.
Cucumber, mint, and lemon create a smooth, vivid green texture. This juice is totally sugar-free, but never mind about the taste: it is good. There is a bold cucumber flavor mixed with a slightly sour taste of lemon and a pleasant minty aroma.
You can serve this beverage along with your breakfast in the morning or anytime you want to rehydrate your body. Obviously, cucumber juice is rich in nutrients, but a juice glass only contains about 45 calories.
It's best to consume the drink immediately after blending or store it in a mason jar within 24 hours in the fridge.
Cucumber juice merely takes several steps to prepare.
Total time: 15 minutes
If you lack ideas for a juice recipe to add to your healthy diet, how about celery and cucumber juice? This is one of the easiest and healthiest drinks you should try to make at home. Conveniently, this juice stays at its best for 3–4 days in the fridge.
Have you ever heard of the amazing health effects of celery on your body? Besides keeping your body hydrated, celery helps you improve the digestive system, reduce inflammation, support gut health, etc.
Either a juicer or a blender can create a glass of green celery and cucumber juice. However, some people may feel a bitter taste caused by the celery leaves. To enhance the flavor, you can discard the celery leaves and add more lemon, ginger, and water.
Total time: 15 minutes
WIth creativity, you can make juice of any color you want. This red drink is not merely good-looking but can bring you a refreshing feeling and act as an energy booster.
Made from a few main components: beets, pomegranate seeds, red cabbage, and ginger, this maroon-hued juice is a yummy sweet-tart combination and is a great energy drink to start the day.
Apart from the well-known benefits of ginger and beets, pomegranates are also packed with nutrients and fiber. For storage, feel free to keep it in airtight containers in the fridge for 3 days.
Total time: 7 minutes
This simple beetroot ginger lemon will make you fall in love with it due to the stunning purple-pink color and the irresistibly tasty flavor. Don't worry about the taste; I have some tips to fix the unenjoyable flavor of beetroot.
Beetroot is a huge source of vitamins and minerals, including vitamin C, zinc, calcium, magnesium, etc. Thus, this juice can work as a natural detoxer and an immune system booster with a wide range of other health benefits.
If you find the combination of beetroot, ginger, and lemon a little earthy, spicy, or sour, you can attempt other ways. Let's try adding apple juice or orange juice to sweeten the mixture. Adding some ice cubes also helps the juice be more refreshing and suits your taste.
Beetroot ginger lemon juice can have many positive effects on your body.
Total time: 6 minutes
You'll never get tired of this beet grapefruit green juice. An unfamiliar combo of beet, grapefruit, and greens creates a unique flavor for this recipe. The tartness with a tinge of bitterness from grapefruit strikes a balance with the earthiness of the beet.
Like the option above, this juice can appeal to you because of its stunning pink-purple color. Your juice can become much healthier when you add more greens to it. Some suggestions for the veggies are spinach, beet greens, or kale.
Total time: 5 minutes
Dragon fruit juice will satisfy you with its heavenly sweet taste and a beautiful pink color without adding any food coloring. Dragon fruit juice, especially from the red variant, has a thick and smooth texture. It'll be more interesting for you to chew tiny seeds.
Preparing the juice is super easy. Just remove the peel, cut the flesh of dragon fruits into small cubes, and blend with sugar or syrup. You can add lemon juice and zest to create a little sourness in the drink.
Total time: 10 minutes
Let's cool your summer with this supremely refreshing drink: watermelon mint juice. You should choose a seedless watermelon. Otherwise, you can remove all the remaining pulp by pouring the blending mixture through a fine-mesh sieve or using a cheesecloth.
A glass of dark red watermelon mint juice will instantly satisfy your thirst. Mint leaves balance the deeply sweet taste of watermelon with a little spicy flavor, a lingering cool effect, and a fresh minty scent. A handful of mint leaves is enough for 6 cups of cubed watermelon.
Total time: 20 minutes
Waterlemon, cucumber, and mint are the perfect combinations for a refreshing juice recipe. When you take a sip of water lemon cucumber mint, you'll notice a pleasantly sweet and minty flavor, as well as a fresh fruit aroma.
If possible, let's choose organic fruits and veggies as well as seedless watermelon to create a smooth beverage, and keep the skin of the cucumbers because a large amount of fiber is there. Plus, it's advisable to use organic cane sugar, agave, or honey as a sweetener.
The deep red appearance of this juice will completely satisfy your eyes. Add seltzer water or club soda and garnish with some basil if you like your beverage a little bubbly and look tastier.
Total time: 1 hour 15 minutes
If you'd love to try out a new taste, homemade tomato vegetable juice won't fail you. Have you ever imagined combining tomatoes with onion and garlic to make juice? Sounds weird, but its final taste will be high in acidity and sweetness.
Making tomato juice without a juicer isn't a big problem. Let's begin with adding all the veggies to a large stockpot and bring to a boil after cutting them into small pieces. Then reduce the heat and cook for 30-45 minutes until they're tender.
Now, blend all ingredients with a potato masher or a blender, add lemon juice for safe canning, and strain through a fine-mesh sieve. Tomato juice stored in jars can last for 1 week in the fridge and even 1 year in the freezer.
Total time: 10 minutes
Ripe blueberries, beetroot, celery, and apples give this blueberry juice a sweet and slightly sour flavor. You never expect this tasty juice to provide you with a huge source of nutrients and minerals such as dietary fiber, vitamin C, K1, etc.
By choosing the ingredients, you can make this blueberry juice totally organic by using organic blueberries, other veggies, and fruits. Feel free to add cucumber or ice cubes to meet your personal taste.
If there's no juicer in your house, let's use a blender instead. Before blending, you need to rinse and cut large fruits into smaller pieces. Then blend it all with a half cup of water. Use a metal strainer to remove the remaining fibrous pulp. Now squeeze the lemon and serve!
Blueberry juice is yummy and quick to prepare.
Total time: 10 minutes
Plant-based maqui berry juice will definitely amaze you with its glowing purple appearance and irresistibly tasty flavor. The primary flavor of this drink can be a mix of sweetness, a tinge of tartness, and a slight sourness and spiciness of lime juice and ginger as well.
The thing that makes this beverage so unique and outstanding lies in the ingredients. Maqui berries grow wild in South America, particularly Chile, and are high in antioxidants, vitamin C, vitamin A, several types of minerals, and other nutrients.
Don't worry about where to find fresh maqui berries because you can purchase organic maqui berry powder, which is just as nutritious. Plus, storing the juice in the fridge can last up to 5 days.
Start Your Day With A Glass Of Yummy And Healthy Juice
Throughout the post, I hope you enjoy the useful information about easy juice recipes as well as the incredible health benefits of drinking juice. After several weeks of drinking healthy juice every morning, you will realize how wonderful your body changes.
Let's share this post with your family and friends to let them know about this helpful knowledge. By the way, if you have any great recipes, don't forget to share your experience in the comment section. I always love to hear about them.