Japanese recipes are varied and rich, and learning more Japanese recipes will enrich your recipe book. You can show your cooking skills in all dishes from Asia to Europe. To do that, you have to learn about this famous Asian cuisine.
In this article, you will have the opportunity to learn many interesting and attractive Japanese dishes, from appetizers and main dishes to desserts, to create a perfect menu for you. Trust me! You will gain more than lose when reading this article.
If you do not want to miss any amazing Japanese recipes, you should focus on reading this post carefully. Let's enrich your family's meal together with this list of 25+ excellent Japanese dishes.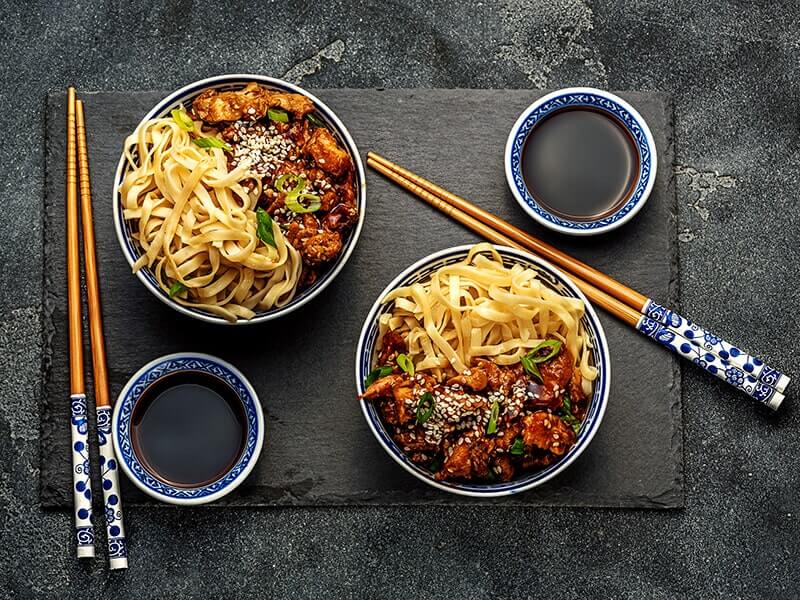 Elevate Your Meal With These 25+ Wonderful Japanese Recipes
Japanese dishes always bring fantastic and unique flavors to your meal. I will provide you with a list of 28 Japanese recipes, from appetizers to desserts. I hope the information that I provide will help you in your life.
Starting Your Party With Yummy Japanese Appetizers
Japanese Chilled Tofu (Hiyayakko)
Japanese Spring Rolls With Pork (Harumaki)
Japanese Miso Eggplant (Nasu Dengaku)
Japanese Chicken Meatballs (Tsukune)
Japanese Pork Potstickers (Gyoza)
Japanese Beef Tataki Rolls
Delicious Japanese main dishes
Wafu Spaghetti
Miso Chicken Katsu Ramen
Teriyaki Chicken
Baked Tonkatsu
Udon Noodles
Salmon With Unagi Sauce
Miso And Tonkotsu Ramen
Sushi Bowl
Japanese Fried Rice (Hibachi Fried Rice)
Teriyaki Tofu
Fantastic Japanese side dishes
Spinach Oshitashi
Spicy Kani Salad
Japanese Cucumber Salad (Sunomono)
Miso Soup
Japanese Chicken Wings (Tebasaki)
Spicy Bean Sprout Salad
Japanese Pickled Cucumbers (Tsukemono)
Japanese Izakaya Style Salted Cabbage
Refresh your taste buds with Japanese desserts
Japanese Cheesecake
Japanese Red Bean Pancake (Dorayaki)
Coffee Jelly
Red Bean Kanten (Mizu Yokan)
Kick-Off Your Fantastic Dinner By Yummy Japanese Starters
Let's start this fabulous Japanese food party with a list of attractive and famous Japanese appetizers. This list will help you relieve the pressure of searching for recipes to diversify your appetizer menu.
Tofu is a popular ingredient not only in Japanese cuisine but also in the countries of East Asia and Southeast Asia. If you think tofu recipes will be boring, you will change your mind when you have the chance to enjoy this famous Japanese chilled tofu.
The combination of tofu and other toppings enhances the flavor of this special chilled appetizer. The soft and smooth silky tofu pieces are bathed in delicious and rich soy sauce. All have created a perfect whole to start your hearty meal.
Spring rolls are a recipe that you can easily find in the food list of many countries in Asia. But Japanese harumaki spring rolls bring out Japanese cuisine's typical and traditional flavors.
The crust is carefully fried to create an eye-catching golden color and the most satisfying crispness. Passing through that luscious crust is a filling filled with all the flavors of pork, vegetables, and mushrooms seasoned and cooked to perfection.
If talking about a vegetable that is commonly used in Japanese cooking besides cucumber, I will mention the name eggplant. Japanese miso eggplant is a combination of famous vegetables and sauce of Japanese cuisine to create a wonderful appetizer.
Pieces of eggplant go well with a sauce that is a combination of miso and a condiment made from soybeans. At that time, the recipe will become both salty and sweet and extremely pleasant to enjoy. A plate of Nasu dengaku, whether hot or warm, is perfect for your meal.
Take a trip to Japan to learn these step-by-step instructions to make traditional Japanese miso eggplant.
Ground chicken or turkey is shaped into beautiful and cute meatballs. Tsukune is a common Japanese street food and appetizer. This recipe is a harmonious combination of ground meat and other popular ingredients.
The soft and tender meatball appetizer will become more fragrant and flavorful when cooked with Japanese soy sauce. To make the dish more crispy and perfect, you should cover the surface of the meatballs with a layer of sesame seeds.
Gyoza is a famous appetizer made with pork. This is a dish that will enrich your appetizer menu. The ingredients to make this dish are also quite simple to find. So, let's spend a short time making a delicious dish for your family.
When enjoying gyoza, you will feel the typical flavor of carefully seasoned pork. Ginger and garlic make the flavor of the dish richer. You should add a little soy sauce to bring balance to the wonderful dish.
Japanese beef tataki rolls are a combination of beef and vegetables. The taste of beef will be enhanced when accompanied by veggies. Japanese beef tataki rolls will help stimulate your taste buds to prepare for the main course.
You can hardly resist the chewy and tender as well as the characteristic sweetness of beef. Veggies such as cabbage and carrots will bring a crunchy feeling when enjoying the dish. You should add fresh cilantro to create a distinctive aroma for the dish.
The Real Party Begins With The Authentic Japanese Main Dish Recipes
After going through the gentle prelude with attractive and Japanese-style appetizers, it is time to take the party to the next level with fantastic main dishes. Have a pen and paper ready to jot down this essential information.
Let's start the main course with standard Japanese-style wafu spaghetti. Its name refers to a Japanese pasta. The recipe is an excellent combination of ingredients to form a flavorful sauce. The noodles need to be cooked correctly to get the desired results.
Pasta sauce is cooked from seafood, milk, and other components to create a perfect overall taste. The noodles are thoroughly bathed in the sauce, so each strand has a rich flavor. A sprinkle of grated Parmesan cheese on top will make it more lively and eye-catching.
Miso is an indispensable seasoning in Japanese cooking. Miso chicken katsu ramen is a perfect main dish for your weekend meal. I could not forget the distinctive taste of miso sauce when I enjoyed it with chicken.
The salty and sweet taste of miso permeates every piece of grilled chicken, while the smell of smoke will slowly disappear in your mouth. A plate of ramen with miso chicken on top will satisfy your hunger instantly.
Let's create delicious miso chicken katsu ramen to treat your loved ones for dinner tonight!
It would be remiss if I did not mention teriyaki chicken in this list. A recipe that is popular and associated with all Japanese people. It only takes about 30 minutes to make and enjoy this wonderful dish with your family.
Chicken is cooked just right and covered with a teriyaki sauce with a unique and wonderful flavor. The sauce permeates evenly and caramelizes the chicken, creating a flavor that you will never forget.
A baked tonkatsu plate with a bright golden color on the outside and tender meat on the inside is a fantastic addition to your meal. These fried pork chops will be a suitable choice for your health.
Besides the aesthetic factor, baked tonkatsu will give you a crunchy feeling when you take a bite of them. This fried pork also has a super attractive taste. You will be hooked from the first taste, so share this feeling with your loved ones by making it.
Referring to Japanese recipes, I immediately think of udon noodles. This dish has brought the popularity of Japanese cuisine to countries around the world. Perhaps the bowls of udon noodles will be the most delicious to enjoy in the land of the rising sun.
Cooking delicious udon noodles depends a lot on the right time and temperature. If you cook properly, you will get noodles that are both chewy and soft. Add some fried chicken if you like. Also, make it more eye-catching with chilis.
In a country famous for its fishing industry like Japan, salmon is an indispensable ingredient in Japanese cuisine. Salmon with unagi sauce is a Japanese-brand salmon dish. It does not take long to make this amazing dish. For a fulfilling meal, you can serve it with rice.
The salmon pieces are elaborately pan-fried to ensure that the salmon meat inside is cooked just right and still retains the freshness, and natural flavor of the dish. Unagi sauce is a remarkable and essential highlight for the recipe.
A bowl of ramen noodles with a rich hot tonkotsu broth will warm you up on cold days. The tonkotsu broth is perfectly cooked with ingredients that are properly measured to create a rich but equally attractive flavor.
The broth is a combination of pork and chicken stock that is stewed for a certain period of time, making the meat soft and fully absorbed. You should add garlic, pepper, and other components to enhance the flavor of the recipe.
Learn how to make the perfect miso and tonkatsu ramen to show off your culinary talents to your friends over the weekend!
Sushi has become an icon for Japanese cuisine. Enjoying sushi is enjoying the completely natural flavor of the ingredients. To make standard Japanese sushi, what you need is an extremely sharp knife.
Carefully and beautifully cut pieces of seafood bring out the characteristic sweetness and flavor of raw seafood. Wasabi is an optional choice to enhance spicy flavor when consuming Japanese sushi.
For Asians, rice is a staple food in a meal in various Asian countries. Rice helps to replenish energy as well as keep you full for longer. Hibachi fried rice is a traditional and typical recipe of Japanese cuisine.
The rice grains are evenly fried by hand and mixed with eggs, meat, and other ingredients. Everything is spiced up and extremely delicious. The interwoven grains of white rice and bright yellow eggs that create an attractive appearance for the dish.
Teriyaki will turn mild-tasting tofu into colorful and flavorful tofu pieces. Thanks to the unique flavor of teriyaki sauce, you can use teriyaki tofu to accompany many different main dishes. You will be surprised at the results it brings.
Fried tofu will have a crispy and eye-catching crust, while the inside of the tofu retains its inherent softness and creaminess. Covered with teriyaki sauce, tofu, when eaten, will have a sweet taste; you should add a bit of savory sauce for a more balanced taste.
Create New Feelings For Meals With Incredible Japanese Side Dishes
In a meal, the presence of side dishes is extremely essential. They both help add flavor to the main dishes and help you feel less bored. This section will give you a list of famous Japanese accompaniments.
Oshitashi is a healthy plant-based accompaniment. This is a recipe that you can easily pair with any Japanese dish. And you know, it is very easy to prepare. So go to the kitchen and bring this amazing side dish to your family right away.
The secret of a perfect ohitashi is to boil the spinach first and soak them in ice water for 1 to 2 minutes. To avoid soggily, you should squeeze all the water inside the spinach out. Add some garlic, soy sauce, and sesame for a richer taste.
Kani salad is an accompaniment that you can easily find on the menu of Japanese restaurants. The recipe is a harmonious combination of flavors and colors of crab meat and other ingredients.
A low-carb Kani salad will be a wise choice to serve along with your dinner. The pieces of crab meat bring a natural sweetness to the salad. What I like most about this salad is the taste of the salad dressing.
Cucumber salad will bring freshness to your party. After tasting this wonderful vegetarian delicacy from Japan, I am sure you will forget about enjoying the main dishes. I am not exaggerating. I fell in love with this food right from the first time I tasted them.
Thinly sliced cucumber slices with a mild flavor are covered with a sauce that has a distinctive and pleasant taste. The sauce has turned the gentle taste of cucumber into a much richer and more attractive flavor.
A cup of miso soup is something you always see on the Japanese table. It is used to accompany all Japanese dishes. Its light and savory taste will make your taste buds more balanced and refreshing.
The highlight of the dish lies in the rich dashi-flavored broth. This recipe allows you to add a few other ingredients to add more flavor to the dish. Seaweed and tofu are two main stars to make it successful.
A cup of hot miso soup for a meal with 5 ingredients. Let's follow these instructions step by step to get a high result.
The fried chicken wings with bold Japanese flavor will help your menu become richer and more diverse. It is hard for you to stand in front of this wonderful dish without enjoying it right away.
The secret to making the most crispy and delicious Japanese chicken wings is to use potato starch instead of flour. The salty and sweet chicken wings with the aroma of garlic and ginger will make you salivate.
Spicy bean sprout salad is a traditional side dish associated with Japanese people. Moreover, the preparation of this recipe is extremely simple when you just need to go through a few basic steps to have this wonderful salad to entertain your family.
The spicy, salty, and sweet flavor of bean sprouts go well with almost any dish. In addition to being used as an accompaniment, you can also serve it as an appetizer or a snack. Come to the kitchen and bring Japanese flavor to your family.
A recipe that you must try when coming to Japan is Japanese pickled cucumbers with soy sauce. This is a famous Japanese appetizer made from cucumber. I did not need to spend too much time and effort to make it. It is a simple recipe.
When you dip the pickled cucumbers into the hummus and take a bite, you will feel the crunch of the cucumber dancing in your mouth. My favorite is to enjoy this wonderful dish with a sauce that is combined with soy sauce and ginger.
24. Japanese Izakaya Style Salted Cabbage
Japanese izakaya style salted cabbage is a recipe made mainly from plants which will be very good for your health. You should try this recipe because its components are available in your kitchen, and the process is straightforward.
Japanese izakaya style salted cabbage is a fantastic choice to start your meal with sake. The salty taste and moderate crunch of cabbage will stimulate your taste buds before enjoying the bold and excellent dishes of the main meal.
Refresh Your Taste Buds With Traditional Japanese Dessert Recipes
A perfect party needs the perfect desserts. While the appetizers make the first impression on your diners, the desserts will leave the last impression of the meal. I will bring you to a paradise of amazing Japanese desserts.
One dessert that you can consider as a perfect end to your meal is Japanese cheesecake. The thickness, creaminess, and sweetness of cheese will blow your mind. The ingredients to make Japanese cheesecake are similar to any other cheesecake.
Japanese cheesecake has a moderate sweetness, so it can suit many people's tastes. You can add some familiar fruits in Japan, like strawberries, to make the cheesecake more attractive, and its taste is also richer.
The dorayaki round cakes will send sincere thanks to your guests on your behalf. This dish is made by stuffing red bean paste into 2 slices of pancakes. Dorayaki not only has a beautiful color on the outside but also has a great taste.
When you bite dorayaki, you will feel the softness, sponginess, and slight sweetness of the pancakes. Going deep inside is the sweetness and characteristic aroma of red bean paste. Enjoying dorayaki with a cup of tea is wonderful.
Coffee jelly will bring you a cool and pleasant summer. The combination of coffee and sweet cream promises to create a super Japanese sweet treat for you and your family. The time is short, and the ingredients are easy to find, so why don't you make this delicious dessert immediately?
The seductive sweetness of the cream comes with the slight bitterness of the coffee, creating a balanced and perfect whole. It is hard to say no to this Japanese-inspired jelly. The softness of the jelly will make you mesmerized.
Mizu yokan is also a type of jelly used for dessert in Japan. However, unlike coffee jelly, Mizu yokan is made with red azuki bean paste as the main element. Your taste buds will be completely refreshed after enjoying this dessert at the end of the party.
The slight sweetness of red bean paste makes the dish not too harsh, so you will feel comfortable enjoying Mizu yokan. Eat a piece of Mizu yokan, and take a sip of tea; you will feel your mouth become lighter.
Has This Incredible List Of Japanese Recipes Satisfied You?
These wonderful Japanese dishes will be the perfect additions to your party. Your menu will become richer and more attractive, which will leave a good impression in the eyes of your diners. I hope you will apply these recipes well and make your life better.
The recipes are extremely diverse, so you need to spend a lot of time on learning them. The recipes that I provided will make a pretty essential part of your cookbook later. So, do not miss out on anything that benefits you.
Please like and share this post to convey these helpful recipes to other people. If you have any other fantastic Japanese recipes, feel free to share in the comments. Thanks for reading!
Nutrition Facts
4 servings per container
---
Amount Per ServingCalories470
% Daily Value *
Total Fat 31.2g

48

%
Cholesterol 143mg

48

%
Sodium 1075mg

45

%
Potassium 24mg

1

%
Total Carbohydrate 12.7g

5

%

Dietary Fiber 0.1g

1

%
Sugars 9.6g

Protein 31.2g

63

%
---
* The % Daily Value tells you how much a nutrient in a serving of food contributes to a daily diet. 2,000 calories a day is used for general nutrition advice.