Suppose you have a huge passion for Japanese fruits, you can get many essential and valuable things from this excellent article. Besides the list of many kinds of fruit, you have the opportunity to blow your mind with a lot of exciting knowledge related to these fruits.
I hope the options I am about to mention in this post will bring remarkable experiences for your upcoming trip to Japan. The best way not to miss any beautiful ideas is to keep your eyes on this post from beginning to end.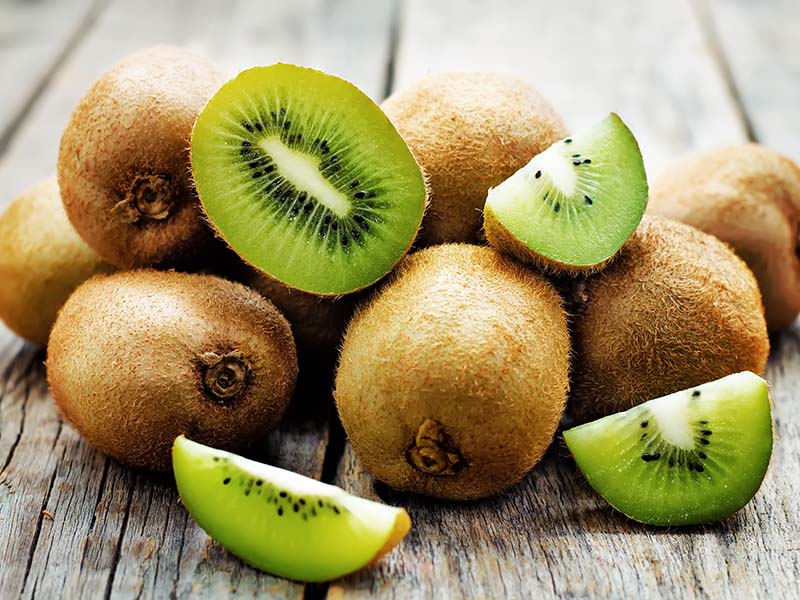 Kick-Off The Party With Excellent Drupe Fruits
Drupe or stone fruit is a collection of delicious options that contain only one seed in the middle. This section provides the famous drupe fruits you can find easily in Japan.
1. Ume – Plum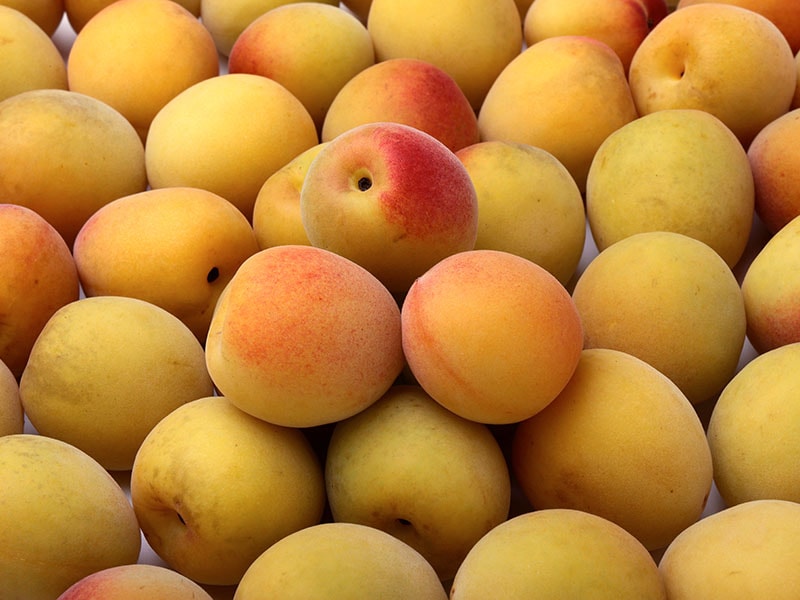 Ume or plum is a prominent member of the drupe category. It is the main ingredient for Umeboshi, a delicious Japanese dish made by pickling ume. Locals often eat it with white rice, a simple and rustic yet utterly flavorful combo.
This fruit is also the soul of plum wine (umeshu), whose sweet taste will give you a pleasant mouthfeel. That flavor comes from the fruit's distinctive tartness and juiciness, which is so evident in raw plums. Enjoy them, and you will find their taste resembling a mix of peaches and apricots.
As a result, you can use ume in various tasty plum desserts. Anyway, don't miss the plum blossoms festival, a long-established local custom, if you have the chance to go to Japan at the right time. Typically, all blossoms will open about 3 months before the ume matures.
Season: Its season is often in June.
Nutrients: Rich in vitamin A, C, K, potassium, and calcium.
How to eat: People usually prepare salads, tea, salsa, or smoothies with plum. You can peel its skin and eat the raw fresh around the pit.
Take a trip to a plum farm in Japan to taste this wonderful fruit right now.
2. Momo – Peach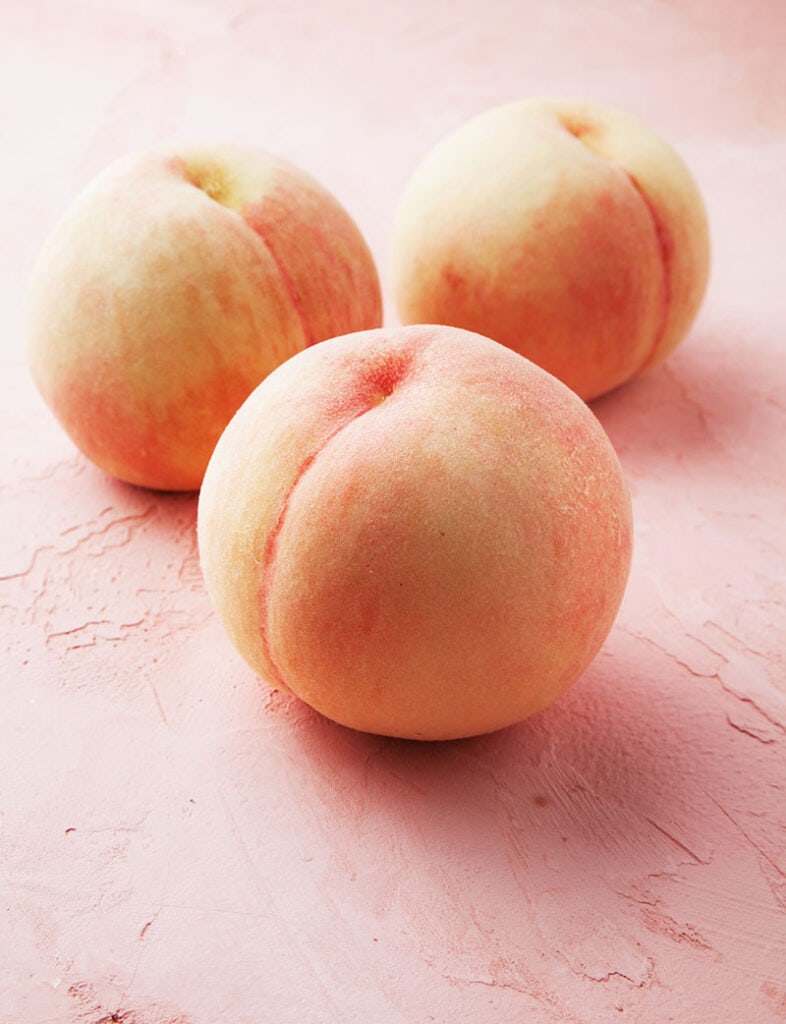 Japanese peaches are one of the luxury fruits in the country of blossoms. The Japanese call it "momo". This excellent fruit was born in China and appeared in Japan in the Yayoi Period (300 BC – 300 AD). It is grown commonly in Fukushima and Yamanashi.
Compared to various peach species in the West, this version will be larger and more tender. In addition, you have to pay more money to buy Japanese peaches. However, this money will be worth it since you can enjoy its charming sweetness.
To enjoy fresh Japanese peaches, you just need to consume them around the seed or turn them into fabulous peach sweet treats for additional flavors. Japan has various momo varieties, such as Shimizu white peach, Fukushima Akatsuki peach, and Yamanashi Hakusho peach.
There are 2 main Japanese peach types including yellow skin and white skin. The yellow peach often has a stronger sour taste. Meanwhile, white one has a softer flavor and it is the sweetest peach in Japan. Today, the sweetest peach in the world is found in Fukushima.
Season: Momo is common in the summer in Japan.
Nutrients: A source of vitamin C, E, magnesium, and potassium.
How to eat: There are many ways to consume this fruit. Apart from eating it raw, you can bake, broil, or saute it to make many yummy dishes.
3. Sakuranbo – Cherry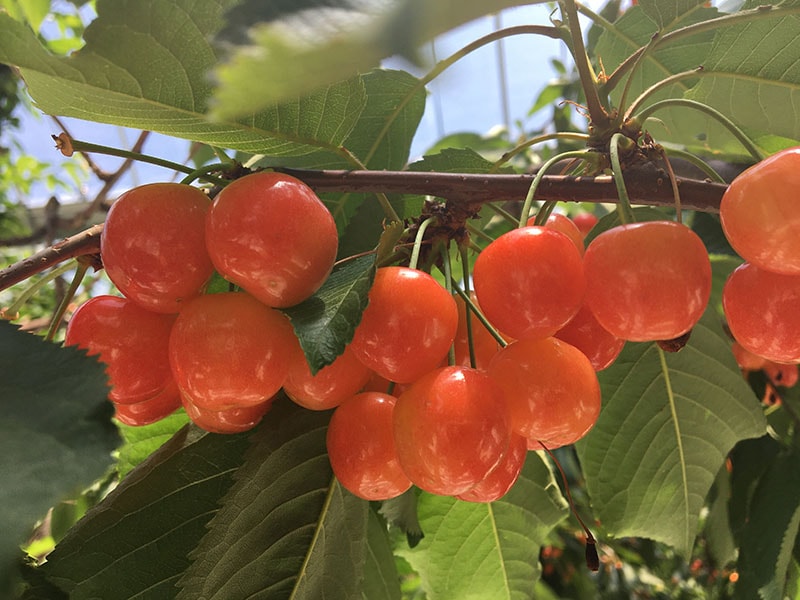 Cherries are a fruit with high nutritional value and are loved by many people. In Japan, cherries began appearing in this country from the West during the Meiji period. Cherries are a popular fresh treat in the mid-summer.
You can find many different sorts of cherries in Japan, and Satonishiki is the most famous species. These cherries existed in Japan in the early 1900s. The Japanese used the name of cultivator (Sato Esuke) to name the bright red cherries.
Satonishiki cherries are a symbol of Yamagata Prefecture. This region is also the most Satonishiki cherries planting place in Japan.
This amazing fruit is diverse in variants. Gassan Nishiki is the version with yellow skin and sweet taste. Sato Nishiki looks amazing in ruby red color. Benishuho is another type of Japanese cherry.
Season: Its season runs from June to early July in Japan.
Nutrients: High in sodium, vitamin C, folate, and calcium.
How to eat: Enjoying Japanese cherries is simple. You only need to consume the flesh around the seed.
Tickle Your Taste Buds With Incredible Citrus Fruits
Citrus fruit is a high source of vitamin C and minerals. Also, the typical citrus flavor of these citrus options in this part will be suitable for seasoning the food while cooking.
4. Yuzu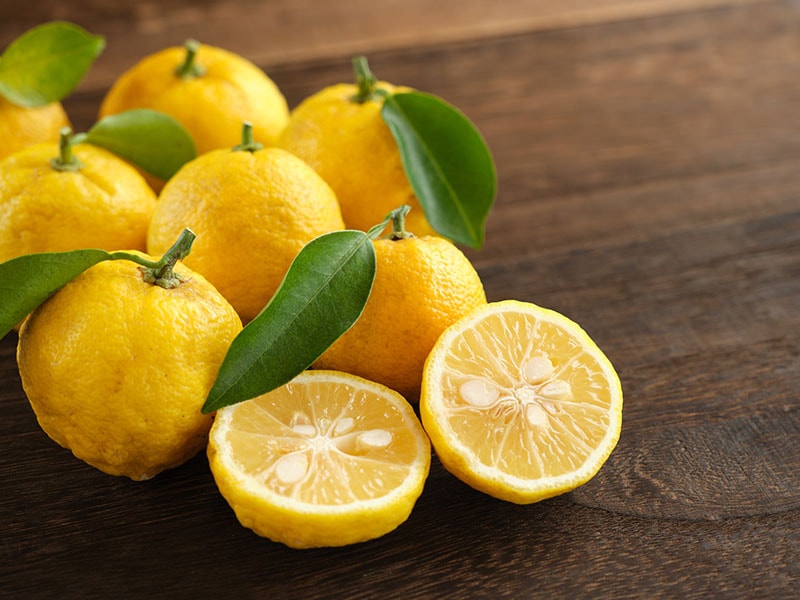 If you are seeking an excellent type of citrus fruit to create an accent for food, Yuzu is an option you should consider. Its size resembles a lemon with a characteristic sourness and appealing fragrance. Juicy segments will be surrounded by yellow or green skin.
This fruit is pretty famous in East Asian countries. People think China is the homeland of this fruit. Nonetheless, yuzu cultivation is not only widespread in East Asia but also strongly developing in New Zealand, Spain, Italy, and France.
In Japan, this fruit appears a lot on Shikoku Island. You can easily see this fruit in the winter in this country. For culinary uses, Japanese people often use juice as a seasoning. Meanwhile, the distinctive color of its rind will be suitable for beautifying the dishes.
Furthermore, it is possible to mix this fruit with honey to make syrup (yuzu hachimitsu), yuzu sour, or Japanese sauce (yuzu kosho). Also, you can make wine and liquor with this fruit. It has many variations, such as shishi yuzu and dangyaja (common in Jeju Island, Korea).
Season: It is available all year round in Japan but winter is the best time to find yuzu.
Nutrients: A source of fiber, vitamin C, E, calcium, copper, and magnesium.
How to eat: Please discard the skin and separate the segments to eat. Also, you can take advantage of its skin to prepare jams.
Let's give yuzu a try to understand more about its authentic flavor.
5. Mikan – Tangerine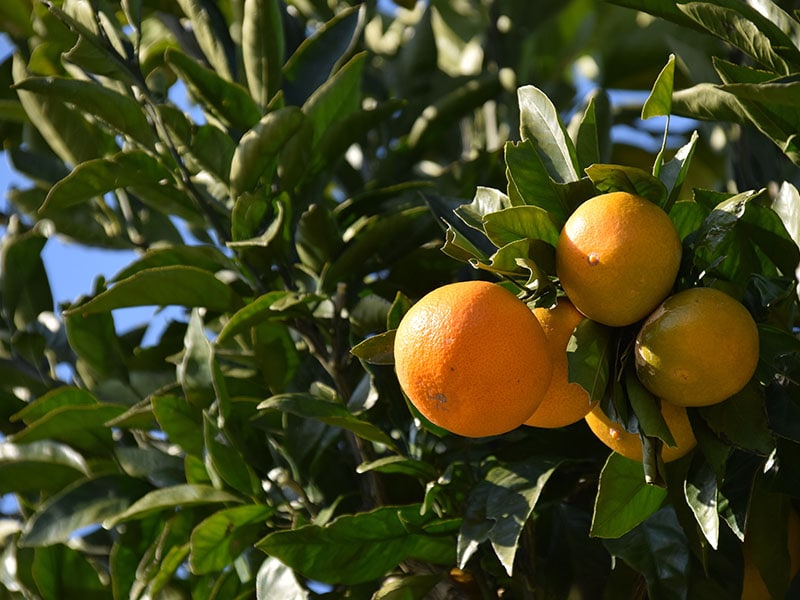 Among other fruits with an orange color, mikan is an ideal choice to bring a sweet and fruity flavor to your dishes. It will ensure the balance between your culinary recipes' sweetness and tangy taste. Also, you will absolutely love the juiciness of the mikan segments.
Like different orange species, this version is a source of vitamin C. This component helps boost teeth and gum health. In addition, you will have good eye health, thanks to the abundant amount of beta carotene in this fantastic fruit.
Initially, mikan was a native fruit of China. And it existed in Japan about 400 years ago. After that, it spread to Western countries. Today, Japan is one of the leading mikan producers in the world. This fruit is popularly grown in Ehime and Wakayama prefectures.
Season: Its season extends from October to January in Japan.
Nutrients: High in potassium, calcium, vitamin C, and magnesium.
How to eat: You can peel the mikan and eat the juicy segments. In addition, it is possible to get the juice of this fruit for cooking.
6. Kinkan – Kumquat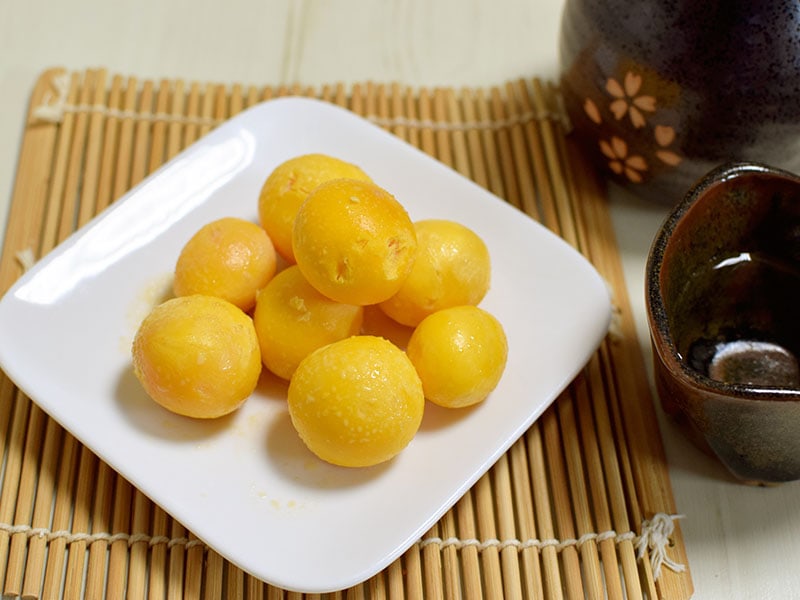 Kumquat is a member of the Rutaceae family. It has many similarities in shape and color to orange. Nevertheless, it is smaller. The bright yellow of this fruit will catch your eyes at first sight.
The distinctive citrus flavor will mesmerize you immediately. Nonetheless, the sourness of this fruit will be lighter than lime or lemon. Even better, you can enjoy this fantastic fruit without peeling. Kumquat is a common component in making liqueur or marmalade.
China is the birthplace of kumquat, and it is popular in the Miyazaki Prefecture of Japan. You can come across many different species of kumquat of various shapes and sizes, including round kumquat, oval kumquat, Hongkong kumquat, or Meiwa kumquat.
Season: Its season is in the winter in Japan.
Nutrients: High in vitamin A, vitamin C, sodium, and potassium.
How to eat: The natives often squeeze kumquat juice to add to many recipes. Also, you can make salad with this fruit. Sometimes, the Japanese consume the sweet skin and remove the sour flesh.
Check the right way to make Umeshu (Kumquat wine) in Japan.
7. Sudachi – Japanese Lemon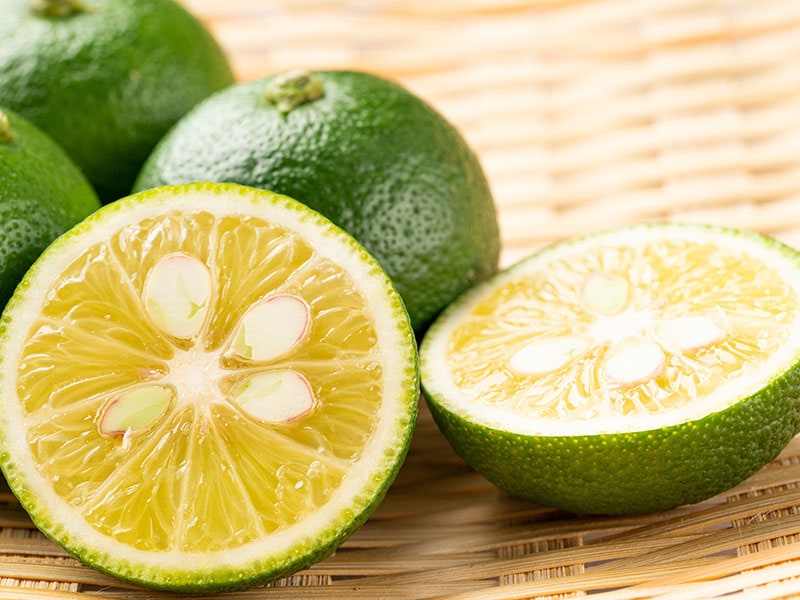 You should buy small, green, and round sudachi to make juice or replace lime or lemon when cooking meals in Japan. This excellent fruit is a specialty in the Tokushima region of Japan. People rarely eat it directly since the sour flavor is pretty intense.
This fruit resembles yuzu, but it is smaller. The Japanese often squeeze this fruit to get juice and add it to grilled fish to bring a hint of citrus flavor. Also, sudachi slices act as the perfect garnish for soba, udon, or alcoholic beverages.
Tokushima accounts for 98 percent of sudachi output in Japan. If you want to prevent blood sugar spikes or reduce fatigue, you should use sudachi in regular meals since it contains plenty of vitamins and antioxidants.
Season: Its season is often from autumn throughout winter in Japan.
Nutrients: Plenty of vitamin C, K, potassium, and calcium.
How to eat: This excellent fruit works well in sweet and savory dishes. Plus, you can make sauces or marinades with this fruit.
Do Not Ignore These Amazing Japanese Berries
If you find a berry to serve your guests at the party, I recommend choosing these wonderful Japanese berries to leave a deep impression on their minds.
8. White Strawberry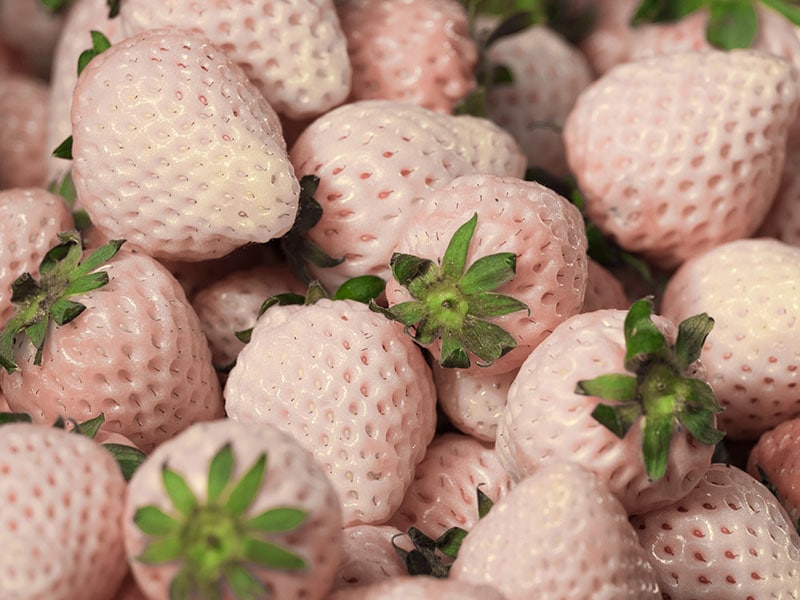 Besides the red strawberries, you can see strawberries with white color in Japan. It is called "Hatsukoi no Kaori Ichigo", which means "scent of first love" in Japanese. It is the most expensive version among countless different strawberry types.
In terms of flavor, you can find them in common with regular strawberries. Nevertheless, its flesh will be white instead of red or pink. To get this typical shade, Japanese people have to apply a strict cultivation process to reduce the impact of light.
You should not confuse it with pineberries in Europe and the US since this white strawberry version will be sweeter, bigger, and more succulent. I recommend eating this fruit with tomato, grapefruit, or broccoli to improve skin health and prevent cancer.
Season: Its season runs from December to May in Japan.
Nutrients: Plenty of vitamin A, folate, vitamin C, potassium, and antioxidants.
How to eat: You'll have no problem eating the whole fruit after washing.
Let's explore all the vital things about delicious white strawberries.
9. Budo – Grape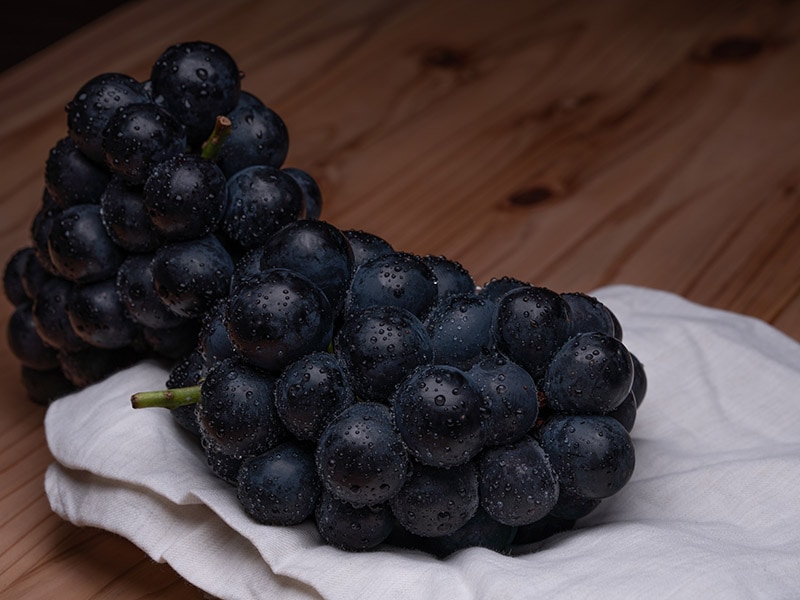 Grape is one of the global fruits because it is sold in many markets and supermarkets worldwide. Japanese people often call grapes "Budo". Japanese grapes are pretty similar to the wide different grape varieties of Western countries.
Japanese grapes have a charming sweetness and eye-catching appearance. The succulent grapes will make it hard to keep your mouth water. Unlike other grapes, Japanese grapes have thicker skin, so you should peel them before enjoying the soft and silky fruit.
Japanese grapes are pretty diverse in categories, but the Kyoho grape is the most popular version in this beautiful country. Japanese often eat this dark purple grape fresh or make wine. Plus, Ruby Roman grape, Pione, or Delaware are other types you can try.
Grapes were brought from China to Japan in the Nara period (710-784). The Japanese have enjoyed Western grapes since the 1800s. If you want to explore grape farms or grape wine factories in Japan, you should go to Yamanashi Prefecture.
Season: Its season extends from July to December in Japan.
Nutrients: A source of fiber, copper, vitamin K, and thiamine.
How to eat: Commonly, people make juice, wine, or jams with grapes for dessert. To consume fresh grapes, it is better to peel the skin and consume the succulent flesh.
10. Kaki – Japanese Persimmon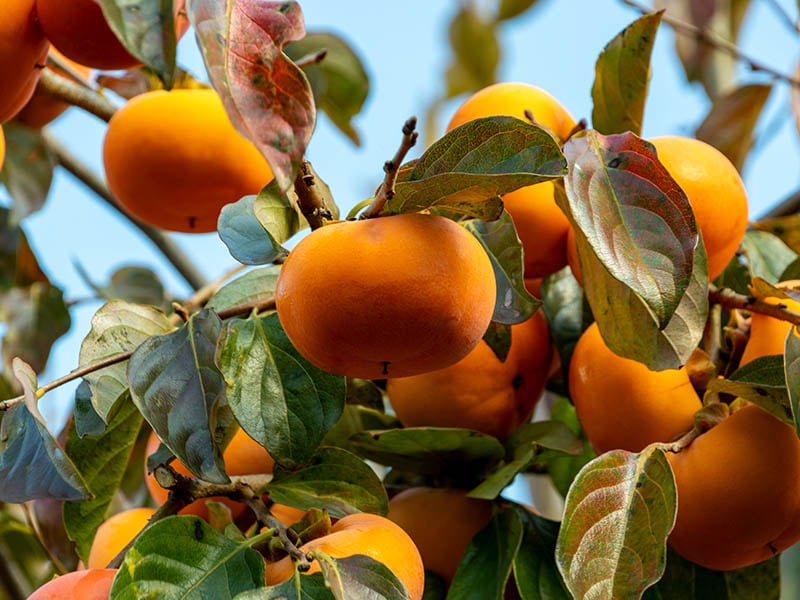 Kaki or Japanese persimmon is a typical representative of the pome fruit group. You can find many similarities between this fruit and apples, or nashi. They are the same in size, shape, brittle texture, and how to enjoy them.
The first botanical description of this persimmon species was published in 1780. It is considered the oldest persimmon since Chinese people have planted kaki for more than 2000 years. The first kaki trees appeared in Japan in the 7th century.
This fruit's yellow or red skin can captivate you in no time. Like different persimmon varieties, there is no problem when eating this fruit raw to enjoy its authentic flavor. The Japanese describe its flavor as a blend of mango, sweet pepper, and cinnamon.
Season: This fruit is popular in Japan from late fall to winter, especially during October and November.
Nutrients: Rich in potassium, sodium, vitamin A, C, and manganese.
How to eat: Let's start by slicing this fruit into 2 sections, then remove the seed and consume the flesh with a small spoon.
Learn the proper instructions to consume excellent persimmons.
11. Red Strawberries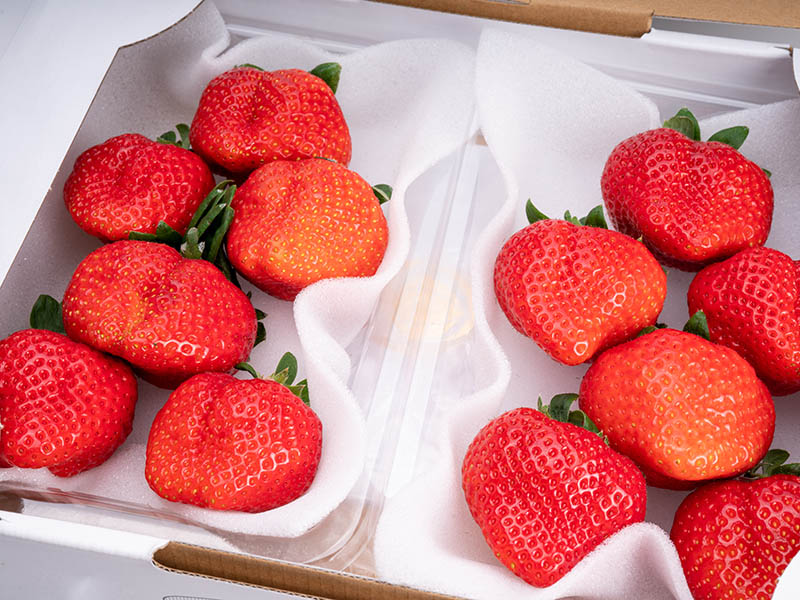 Strawberries are an essential ingredient in many culinary recipes of various countries worldwide. This amazing fruit has its origin in the West. France was the first country that had a strawberry garden. It appeared in Brittany in the 1750s.
You can find many common points between the Japanese and Western strawberries. In Japan, strawberries were introduced in the 1800s and the natives cultivated this fruit in 1900. Please come to Japan in the spring and enjoy fresh, sweet, and juicy strawberries from farms.
In Japan, there are 3 common types of strawberry, including Tochiotome, Amaou, and Beni-Hoppe. Tochiotome is popular in eastern Japan with its typical red color. Amaou is often round and has enchanting sweetness.
Also, if you would like to consume yummy strawberries with both sweetness and slight sourness, you can give the Beni-Hoppe variety a try.
Season: Its season lasts from December to early May.
Nutrients: Rich in calcium, potassium, vitamin C, and phosphorus.
How to eat: Please clean the fruit with water and consume the strawberries directly.
End Your Meal With Fresh And Yummy Pome Fruits
To bring a new breeze to your meal, you can refer to the fruits in the pome category. Let's check their excellent flavor right now.
12. Nashi – Japanese Pear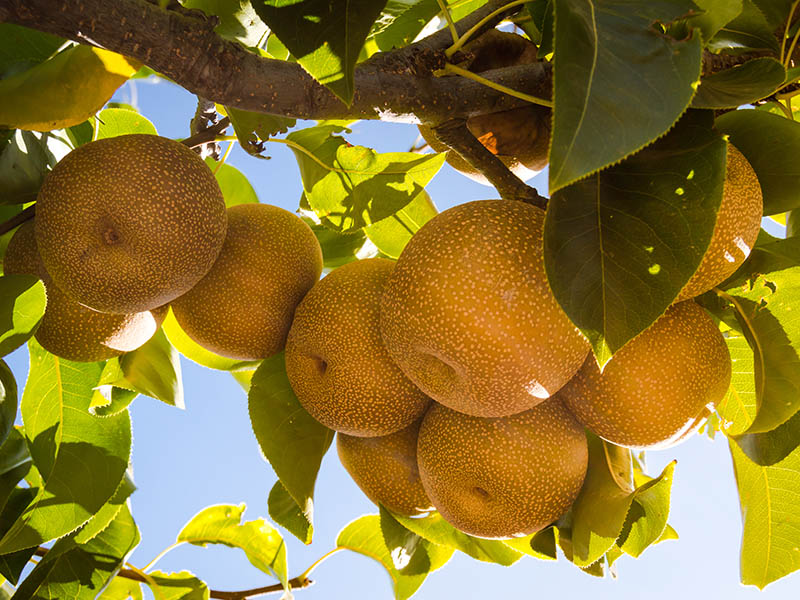 Nashi is a prominent name among countless different varieties of pear in Japan. This delectable fruit comes from China, Korea, and Japan. And the Japanese started planting this pear in prehistoric times.
There are many different pear varieties that you can find in Japan and East Asian countries, such as bong ri, choju, dan bae, or shin go. Compared to Western pears, the Japanese version is larger and has a tougher shell.
In addition, I love to consume Japanese pear more because it seems crispier and has a sophisticated and lighter flavor. Suppose you are thirsty, you can eat a nashi to relieve your thirst since its flesh is succulent.
People usually utilize fresh nashi to make juice, smoothies, or extraordinary desserts. This fantastic fruit contains many healthy vitamins (K and C) that are good for bone health.
Season: Its season lasts from August to October in Japan.
Nutrients: Rich in vitamin C, K, and potassium.
How to eat: Please get rid of its skin with a knife and cut the fruit into small wedges to serve.
13. Fuji Apple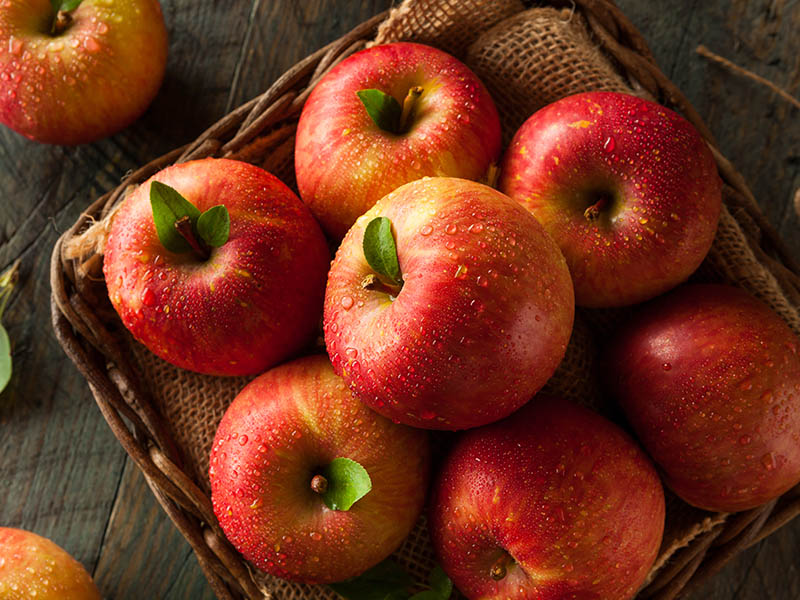 I like to enjoy the stalking flavor of various mouthwatering apples after each meal, and the Fuji apple is a treat not to be missed whenever I come to Japan. This apple originated in Japan's Aomori prefecture in the 1930s.
It is a hybrid apple between Virginia Ralls Janet and Red Delicious apples. Many people believe that its name derives from the Fuji mount, but it is actually named after a small town in Aomori Prefecture.
Nowadays, Aomori is still the most extensive apple production area in Japan. In terms of appearance, this large apple has a unique red color and smooth rind. When biting this fruit, the crunchy and mesmerizing sweetness will make you fall in love in no time.
Season: Its season runs from September to mid-late November.
Nutrients: High in vitamin C, calcium, zinc, magnesium, and potassium.
How to eat: Before eating the apple, I recommend peeling its skin to protect your health.
The diversity in kinds of fruits of Japan gives you many other choices to bring the best meal to your diners. Keep reading to save all these fruits in your notebook right away.
14. Yubari King
Yubari King is a high-class and luxurious food for Japanese people. You should consider this option if you want a delicious gray fruit to add to the gray-themed party menu. It is a type of cantaloupe originating in greenhouses in Hokkaido.
This famous melon looks excellent in a round form and smooth shell. It is not complicated to recognize this fruit, thanks to its distinctive gray-green skin. The value of this melon is in the nutritious and alluring sweetness of its bright orange flesh.
It is an excellent gift on the occasion of Chugen (Taoist and Buddhist festival) to give to loved ones. This superb fruit had a high price when the Japanese sold 2 melons for 2.5 million yen in 2008. And 11 years later, a pair of melons cost 5 million yen.
Because geographical indications protect the melon, its price is excessively expensive. Aslo, you just find the luxurious melon in the greenhouse in the Yubari region.
Season: This fruit is available popular in Japan in June.
Nutrients: High in vitamin A, C, K, iron, and calcium.
How to eat: Use a knife to dice the fruit into small slices and eat the flesh from the shell.
Find out the reason that leads to the high price of Yubari King melons.
15. Akebia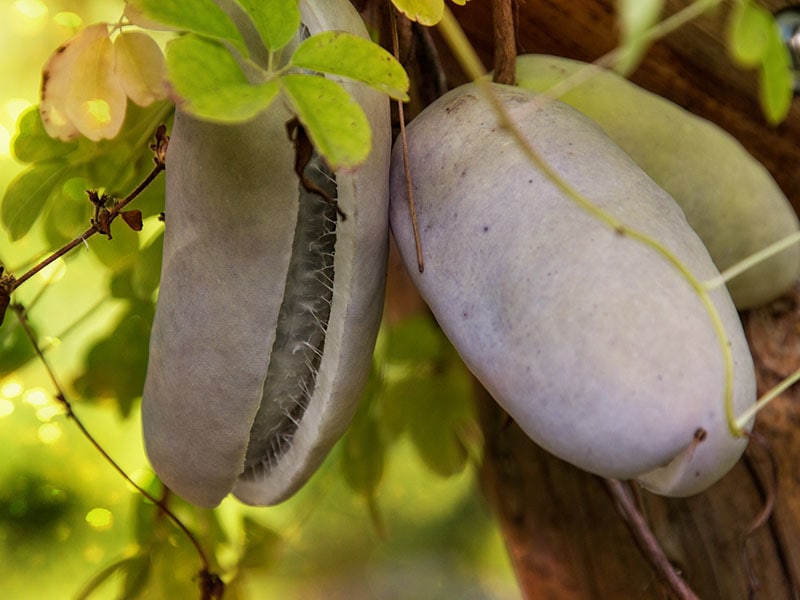 Akebia is an indigenous fruit in Taiwan, Korea, Japan, and China. In addition, it is possible to find this exotic fruit in New Zealand because it is an invasive fruit in this country. It acts as an essential ingredient in many Japanese dishes for vegetarians.
The taste of this fruit is pretty complicated since it is quite similar to the mixture of passionfruit, lychee, and banana. You can realize this fruit quickly, thanks to the gorgeous purple rind.
This fruit is a familiar name in many Japanese literary works. In terms of uses, people in the northern parts of Japan love to fill the rind with minced chicken. This dish becomes better with the addition of miso. Furthermore, Japanese people also use leaves or vines to make delectable tea.
Season: This fruit is common in the early autumn of Japan.
Nutrients: Rich in vitamin C, antioxidants, vitamin B6, zinc, and potassium.
How to eat: The common way to eat this fruit is to consume it raw with lemon juices or make a drink or cream with this fruit. Plus, you can fry the rind of the fruit to eat.
16. Suika – Watermelon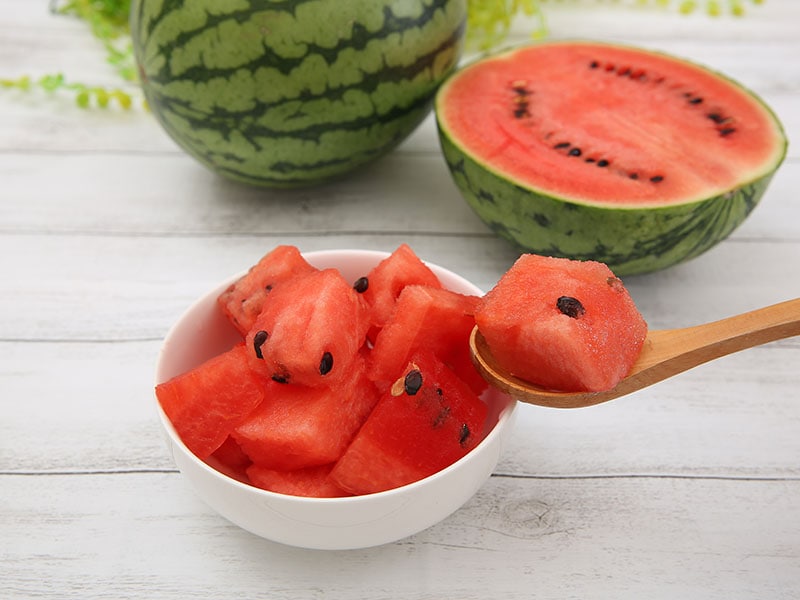 It is comfortable to enjoy fresh and juicy watermelon on summer days. The Japanese began to know about watermelon in the Edo period. Japanese watermelon is usually large and has a hard shell. You'll be quickly immersed in its flesh's sweet taste and juicy and crispy texture.
Seedless watermelons are pretty famous in Japan, and they have been grown in Japan since the 1930s. Have you ever seen a watermelon with a square shape? If not, please come to Japan instantly. But, you need to pay a considerable amount to enjoy this type.
This delectable fruit originates in China, and it is brought to Japan at the beginning of the Edo Period (1603-1867). You should attend a summertime game (suika-wari) when you come to Japan. This game is pretty popular on beaches in Japan when the player will move around the watermelon and use a stick to split it.
I love the freshness and juiciness of watermelon in various delicious Japanese foods. People often utilize this fruit to make mouth-watering juices, smoothies, sorbets, or ice cream. Also, it is compatible with making excellent salads.
Season: This fruit is common in the summer.
Nutrients: Rich in vitamin C, A, fiber, and calcium.
How to eat: To eat watermelon, cut it in half and use a spoon to get the flesh to eat.
17. Kiwi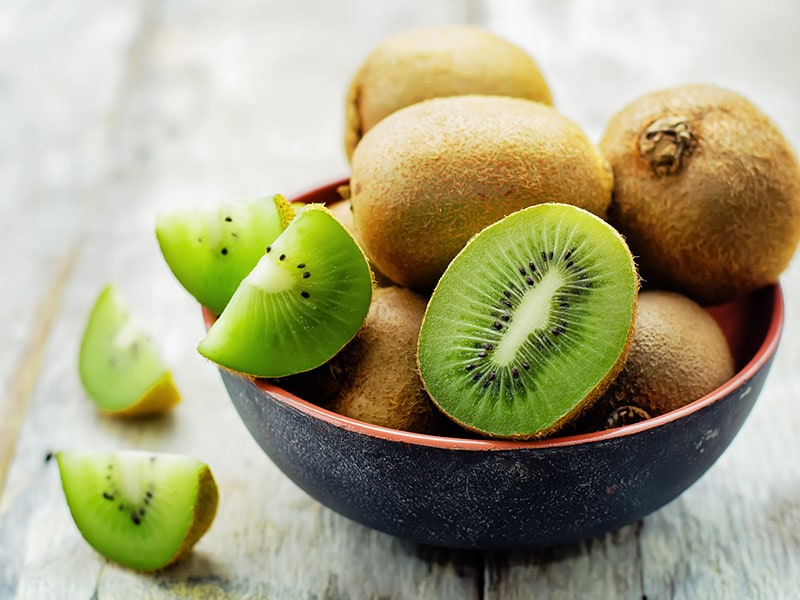 Kiwi, or Chinese gooseberry, is a type of berry that came from Eastern and Central China in the 12th century (Song Dynasty). It became famous across China and neighboring countries in the 20th century.
The Japanese became aware of kiwi in the 1960s, and it started becoming more widespread later. Aside from the domestic kiwi, Japan imports many kiwis from New Zealand.
Compared to different kiwi varieties on the market, the Japanese version has a distinctive brown and thin shell compared to different kiwi varieties on the market. When you taste it, The soft and sweet-tart flesh gives you a pleasant mouthfeel.
Season: Its season runs from late winter to early spring in Japan.
Nutrients: Rich in sodium, vitamin C, vitamin E, fiber, and potassium.
How to eat: You can remove the skin and slice this fruit to consume. Also, people also dice it into 2 halves and use a spoon to consume the flesh.
18. Fig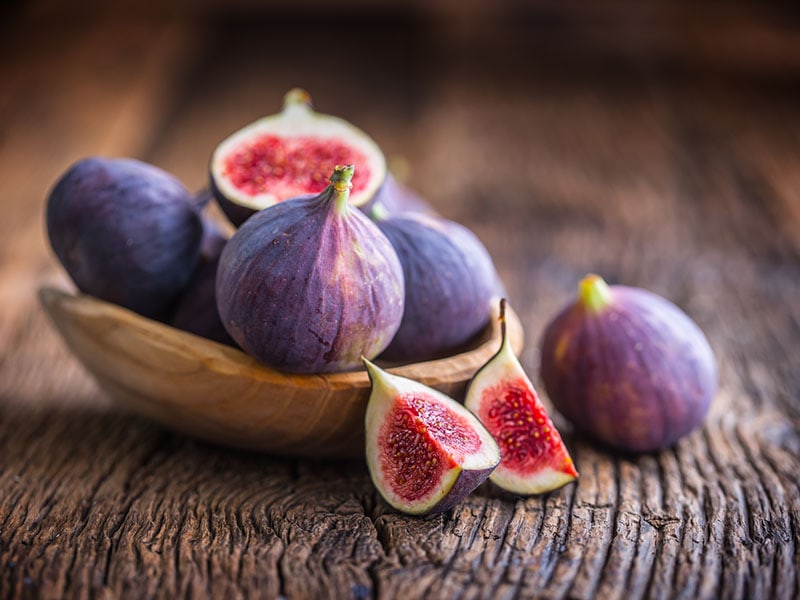 Fig is a popular fruit in many parts of the world. It has existed since ancient times in West Asian and Mediterranean. It appeared in Japan in the 1600s. You can imagine a tear when looking at the shape of this fruit.
Masui Dauphine is a type of big fig in Japan. Mr. Masui was the first to plant the fruit in the early 1900s and his name was used to refer to this variety.
It is simple to recognize fig thanks to its green shell. Nevertheless, brown and purple will appear when the fruit starts to ripen. I believe you love the wonderful crispness of this fruit. Its reddish flesh tastes sweet with numerous seeds inside.
There are many ways to enjoy fig. Consuming fig raw is the most common method. In addition, you can dry fig to create a perfect snack. It will be a mistake if you do not make jams with amazing fruit.
Season: Its season runs from the late summer to early fall.
Nutrients: High in potassium, calcium, and magnesium.
How to eat: It is straightforward to consume the whole fruit after washing with clean water.
Enjoy Your Trip To Japan With These Fruits!
Do you know other fruits in Japan? Please share them in the comment part to introduce helpful suggestions to many people. Furthermore, there are many people who do not know about the ideas in this post, so let's share this article instantly to help them.
Fruits are an important part of the diet of the Japanese. If you plan to take a trip to this country, I am sure these options I have provided in this list will be beneficial to you. Save them and enjoy your tour. Thanks a lot.