Japanese foods are so distinct from those of other countries. They use special ingredients, exceptional sauces, and pleasant ways of decoration. Sometimes, people can even enjoy them in fascinating ways.
It's also fascinating to understand the differences between Mexican foods and Japanese foods. You will have a closer look at their cultural aspects. And who knows? You may want to visit a Mexican restaurant in the future.
Sushi is maybe the first recipe that comes to your mind. However, I am sure Japanese people have other dishes on par in terms of quality. You can try making some of them at home for a fascinating experience.
Get ready to join this multicultural trip! Let's broaden your horizons with these savory Japanese cuisines!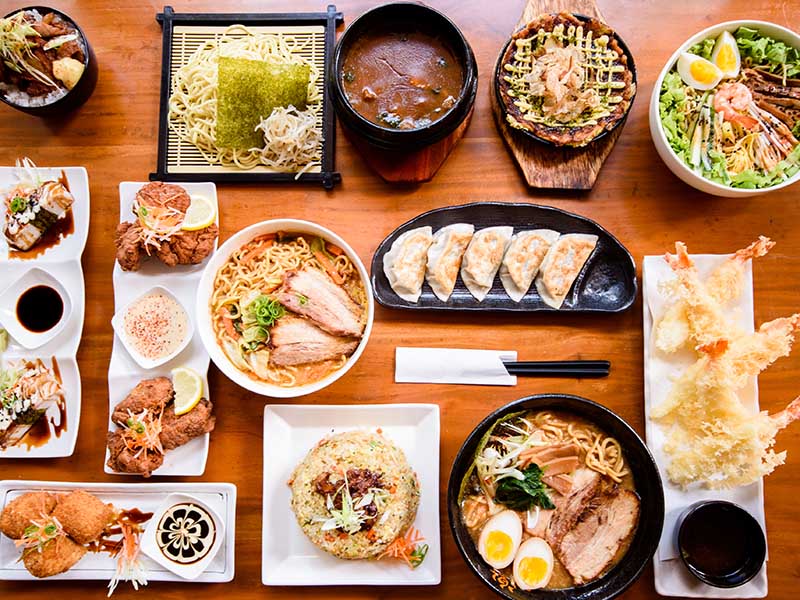 13 Japanese Appetizers And Side Dishes To Make An Entrance
An appetizer will stimulate your appetite, while a side dish will make your meal more flavorful. Here, some tasty Japanese appetizers and side dishes will fill the role better than you expect. Let's check what they are!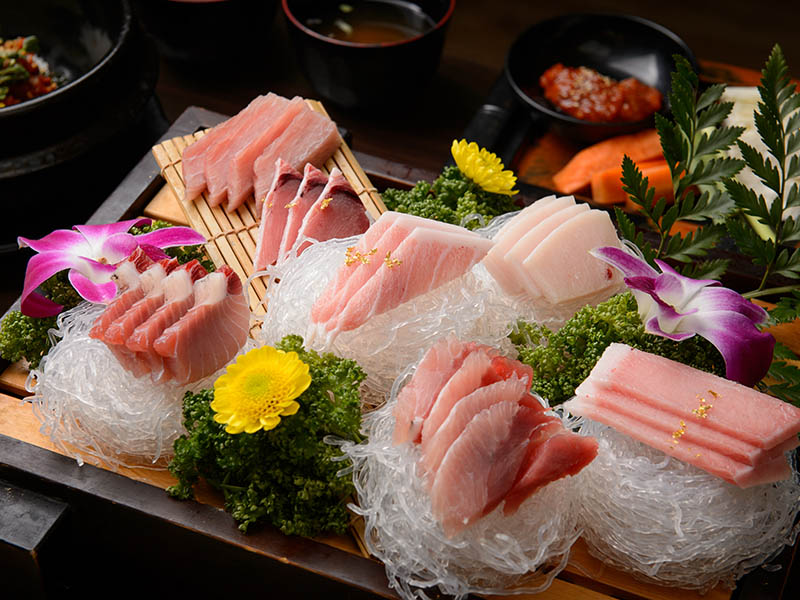 Many people may use Sushi and Sashimi interchangeably, but they are 2 completely different dishes. The latter doesn't have rice as an ingredient. Instead, it is small slices of meat and raw fish eaten with soy sauce or wasabi. People often have this dish with refreshing Japanese beverages.
In Japanese, "sashi" means "pierced" while "mi" means "body, meat". It uses the term "pierce" instead of "cut" since the Kanji word for "cut" was ‌ exclusive to samurai. Sashimi is often served as an appetizer on some occasions.
Seafood Sashimi is the most popular type of Sashimi. People are fond of using tuna, salmon, shrimp, and squid. Some varieties involve vegetables, meat, or seaweed. The health benefits of Sashimi strongly depend on its key ingredients.
There are many things to learn about presenting a Sashimi plate.
People assume this Japanese recipe appeared around 1900. Western restaurants in Japan might have come up with it. However, it enjoys fame as a Nagoya's specialty nowadays, thanks to a Japanese celebrity named Tamori.
This man made fun of how people in Nagoya called "Ebi Furai" as "Ebi Furyaa". Although this was not true, people associated Nagoya with "Ebi Furyaa" after this event. Restaurants in the city took this chance to serve "Ebi Furai" as a specialty, which led to the popularity of this dish.
Ebi Furai usually uses black tiger shrimps. People remove the legs and shells and then cover the shrimps with flour, beaten eggs, and Japanese breadcrumbs. Deep-frying is the final step. You can enjoy this dish with chili sauce and ketchup or flavor it with lemon juice.
There is a similar shrimp-based recipe in Japan named "Ebi Tempura". But in contrast to Ebi Fry, Ebi Tempura is not breaded.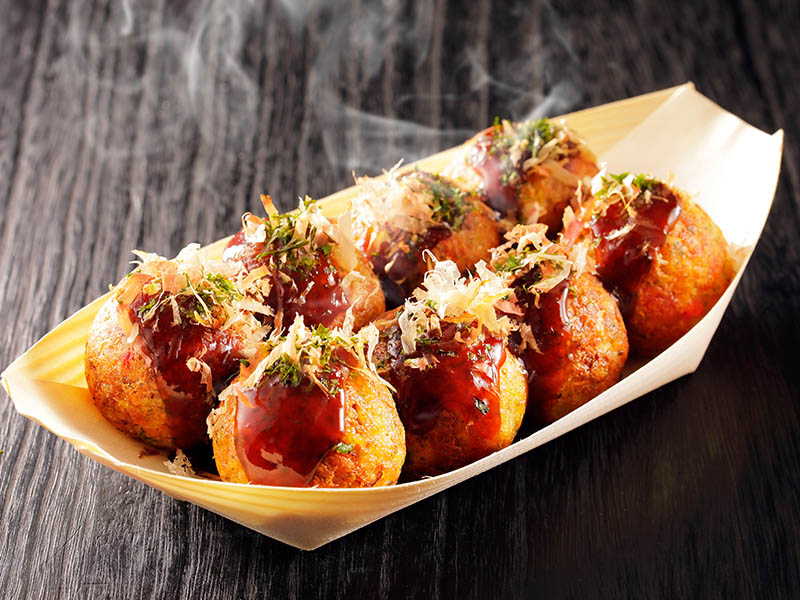 This savory dish has Osaka as its origin, and it is also a specialty of the city. In Japanese, "tako" means "octopus" and yaki means "to grill". Takoyaki exists in almost every Japanese-themed restaurant around the world. It's also a very popular Japanese street food.
People are fond of this recipe for its combination of octopus's chewiness and the crispiness of wheat batter.
Apart from the two above, there are also a lot of other ingredients. You can fill the balls with pickled ginger, green onion, and tempura scraps. And coat it with mayonnaise sauce, okonomiyaki sauce, and bonito flakes.
There are many variations of this recipe on the market. They may use crabs, shrimps, or other seafood in place of octopuses. Depending on your taste, they can be as delicious as the original Takoyaki.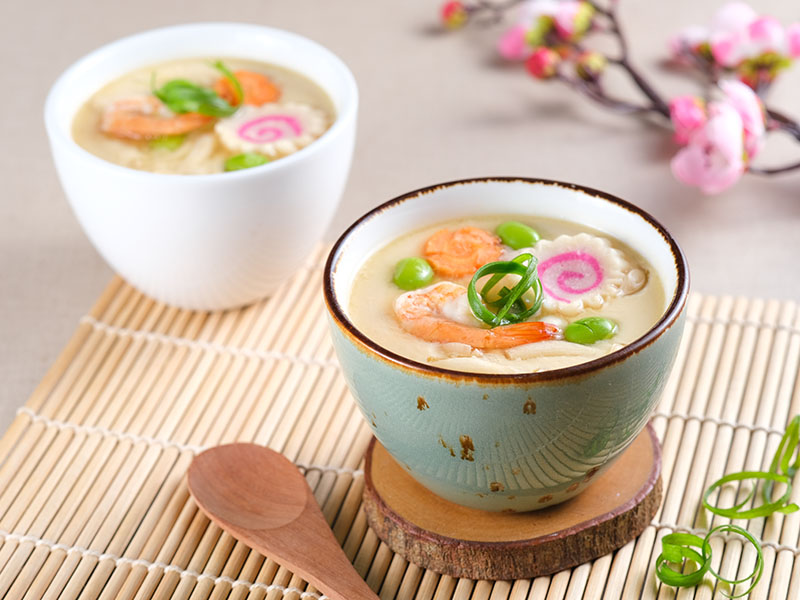 Chawanmushi likely emerged centuries ago, during the Edo period (1603-1868). These days, it usually plays the appetizer role in many meals, but you can also enjoy it as a part of the main course.
This custard is an incredibly nutritious dish, ensuring that you will have an energetic start to the meal. It usually has egg as the main ingredient together with mushrooms, soy sauce, dashi, ginkgo seeds, etc. Ingredients can be flexible according to your taste.
You can enjoy Chawanmushi either hot or cold, depending on your preference. On cold days, the Japanese treat this custard as a tool to warm up. Although it may take some time to prepare this dish, the results are worth it.
A smooth surface is the most important sign of a high-quality Chawanmushi. There are several tips for this. First, mix the egg well enough so that they are not too thin. Next, remove bubbles from the egg surface. And finally, only heat the custard moderately.
Check this guide to learn what Chawanmushi is and how to make it?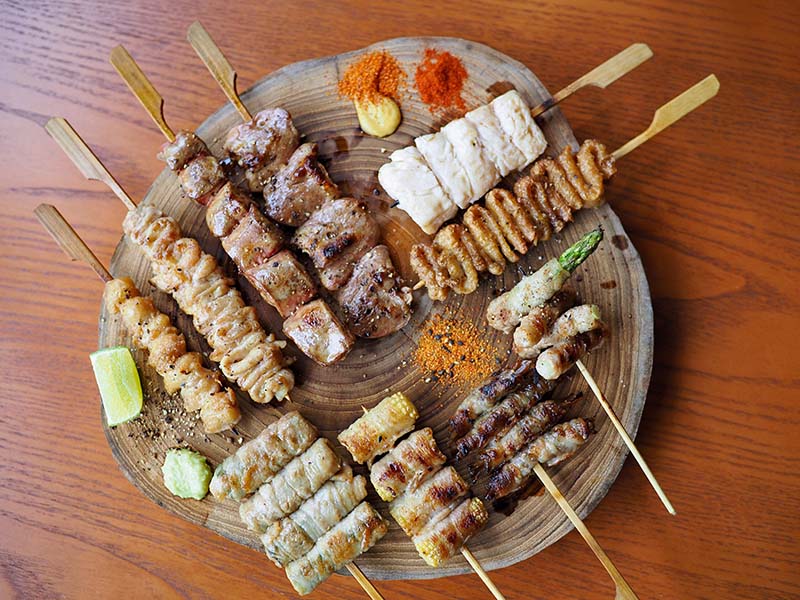 "Kushiyaki" in Japanese refers to all kinds of skewered meat and vegetables. This includes beef, pork, seafood, and so on. You can prepare this recipe at home since it requires a few ingredients and little effort.
To begin with, you season the pieces of meat in a salty or salty-sweet way. Then, stack the pieces on bamboo skewers. Finally, grill them using a barbecue at moderate to high heat. They should be ready in 6 minutes with 3 minutes for each side.
There is a quite similar dish named "Kushiage". This dish uses the same ingredients as Kushiyaki. However, they are fried instead of grilled.
In case the skewed food is fish (mostly eel), the term will be "Kabayaki". Despite this, restaurants rarely identify it under this name. This is because the fish will be served without skewers. Therefore it won't fit the definition anymore.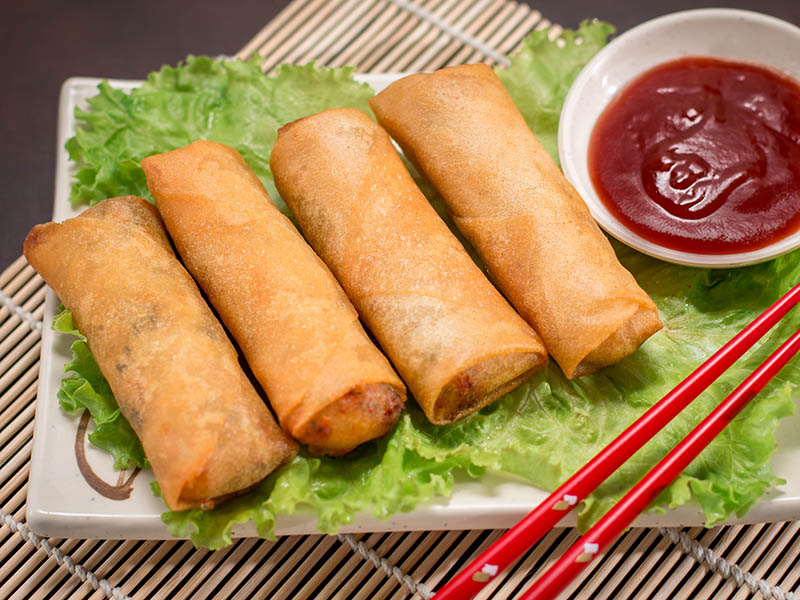 Harumaki directly translates to "Spring Roll" in Japanese, with "haru" meaning spring and "maki" meaning roll. Japanese Spring Rolls are a variety of Spring Rolls, which originated in China under the name "Chun Bing".
The Chinese introduced their Spring Rolls to Japan somewhere in the late nineteen century. The Japanese then made some changes to the traditional recipe to match their taste better.
Therefore, Harumaki falls into the "chuuka" category, which refers to Chinese foods that are converted to Japanese style.
Like the Chinese counterpart, Harumaki uses vegetables and meat as the primary ingredients. The cover is a thin pastry that gives out a crunchy taste. The signature of this dish is that it can be served with Japanese mustard and soy sauce.
Many families in Japan also alter the rolls' original long and thin appearance. They prepare the recipe in a flat, rectangular shape, facilitating a unique experience.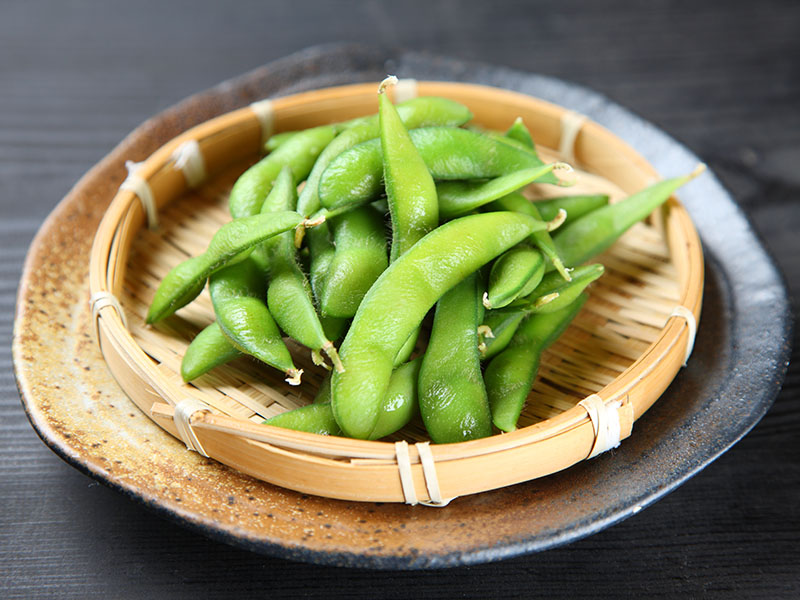 Here you get a plant-based appetizer with green soybeans as the protagonists. You can come across this dish in almost every Japanese and izakaya pub. Besides being an appetizer, it also goes well with beers and other alcohol as a snack.
Making this dish is a piece of cake. You only need to boil beans in salt water for 5 minutes and then serve it in a bowl. When paired with salt, the sweet, buttery taste of the cooked beans will create a savory, memorable flavor.
This recipe is definitely a go-to appetizer for vegans when visiting a Japanese-style restaurant. It is also nutritious besides being tasty. Soybeans will supply you with calcium, iron, magnesium, and other vitamins.
Edamame is simple but tasty food, you can prepare this dish in minutes.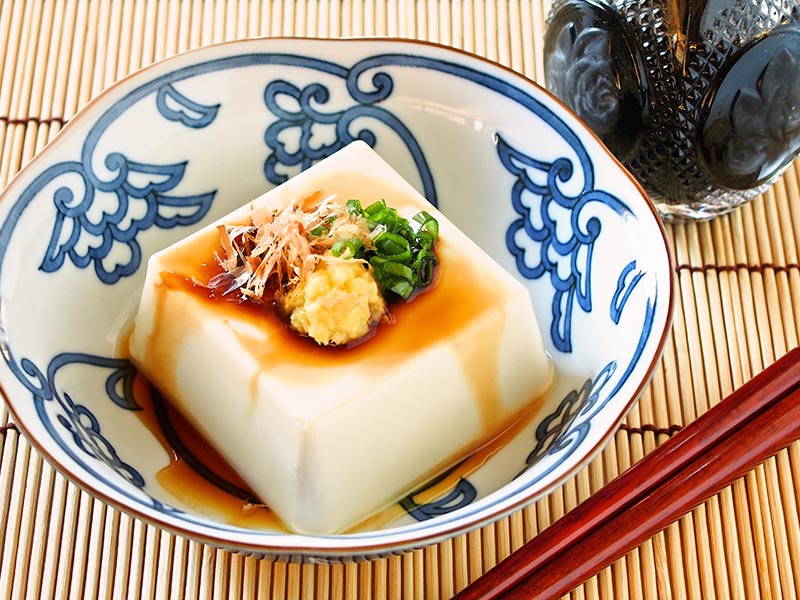 This Japanese tofu has enjoyed its popularity in Japan since the Edo period. "Hiya" means "chilled" in Japanese, while "yakko" means servants during the Edo period. To understand the latter word better, you have to look a bit into the past.
The servants during this time had a nail-puller crest on their kimonos. This symbol looks like a cub with a small, square hole in the middle. When you cut tofu into cubes in Japan, it means that you cut it into yakko. Therefore, yakko can be indirectly interpreted as "tofu".
Hiyayakko requires little effort and ingredients. Traditionally, people use silken tofu for its creamy, smooth texture. The toppings are ‌green onion, soy sauce, and dried skipjack tuna. If you are vegan, you can switch them to vegan-friendly ingredients instead.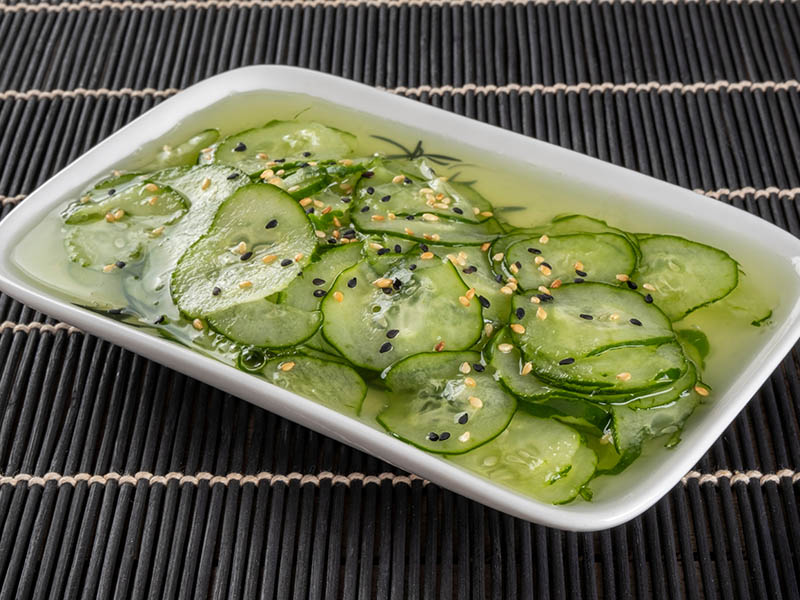 You may have encountered this dish in a Japanese restaurant before. Being tasty, healthy, and easy to prepare, Sunomono earns a great reputation around the world.
The salad can be any vegetable (cooked or uncooked), but the most popular is maybe cucumber. You can turn it into a flavor-packed side for picnic trips to pair with any savory dish. Cover it with rice vinegar and seaweed plus other seasonings, and the dish is ready to enjoy.
Restaurants in different places around Japan may have different ways of cooking this salad. They may add meat, fish, or seafood to Sunomono to better fit their people's tastes. Besides, if you like some spiciness, ginger and spices can enhance the vegetable's flavor.
There is a dish similar to Sunomono called "Namasu". They are identical in terms of ingredients. However, while the former uses only a moderate amount of vinegar, the latter is marinated in vinegar.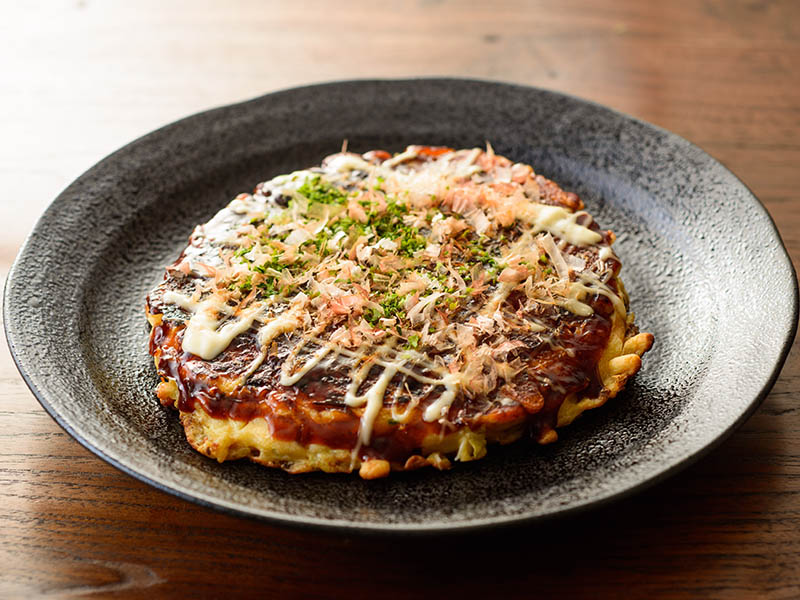 The previous versions of this recipe appeared back in the 16th century. However, it was not until the 1930s that our Okonomiyaki today was officially introduced. This food is a common sight at most street food stores in Japan, especially in Osaka, its hometown.
"Okonomi" means "as-you-like", and "yaki" means "grilled". This means that you are free to choose fillings and toppings comforting to your liking. While people call this dish a "pancake" in English, this is not entirely true.
Okonomiyaki doesn't have the sweet, fatty taste of your traditional pancake. Batter and cabbage usually play the main roles while the rest fluctuate as much as you want. From meat and fish to eggs, just choose whatever you like.
One fascinating fact is that different regions in Japan have different ways of preparing this dish. For instance, in Hiroshima, people place Okonomiyaki on top of noodles, which is an unusual practice in Osaka.
Have you ever wondered how different Hirosaki Okonomiyaki is from Osaka versions?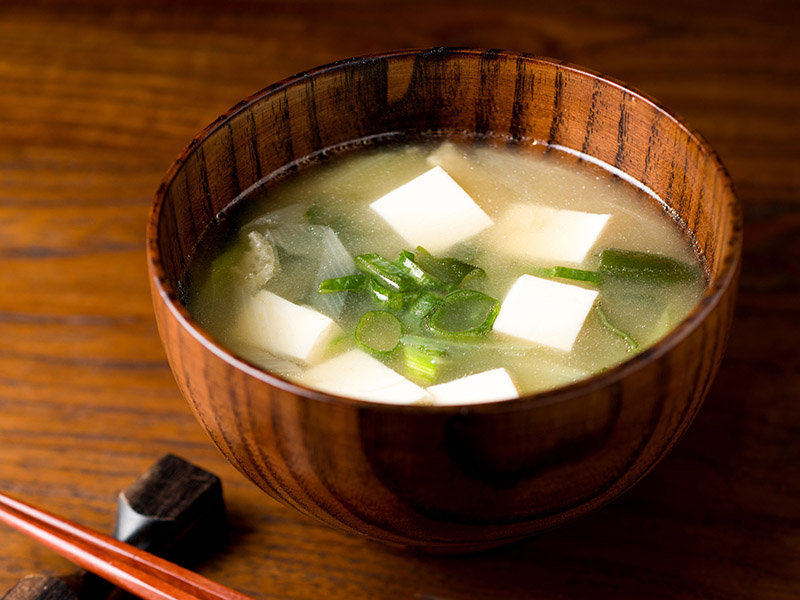 Japan loves this dish so much that according to a survey, 75% of Japanese eat it at least once a day. Starting your morning with a bowl of Miso soup ensures that you will have an energetic day. While it contains a high amount of protein, it is low on calories.
People believe Chinese priests brought this recipe to Japan around 1,300 years ago. It was almost exclusive to the noble since it contained rice, a luxury. Subsequently, it became inseparable during wars for being accessible and easy to make.
To make perfect Miso soup requires a special ingredient called "Dashi", a kind of broth. The other ingredients are tofu, vegetables, egg, and so on. Depending on regions and seasons, you will come across different variations of this soup across Japan.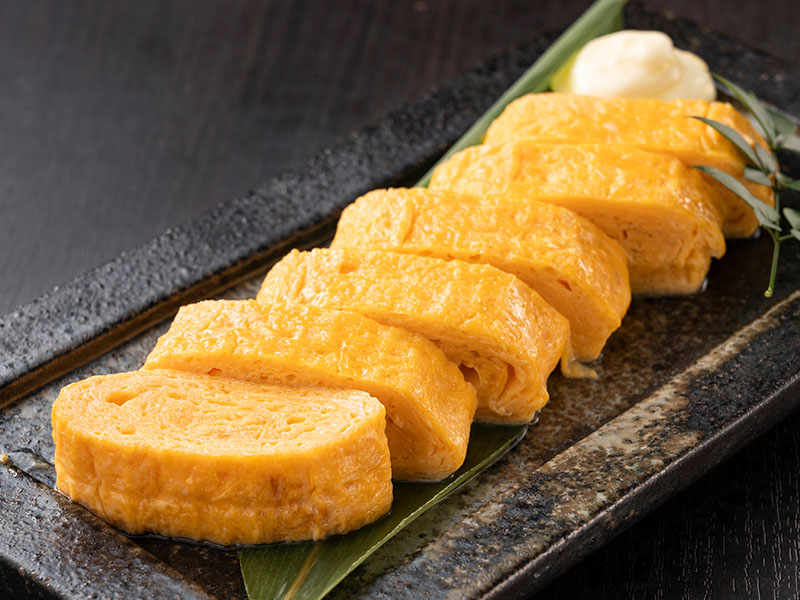 Tamagoyaki directly translates to "grilled egg" in Japanese. Omelet appears in the breakfasts of most countries around the world. However, this Japanese-style omelet is special for its pillow shape, this requires a different technique.
The first Tamagoyaki emerged in the 17th or 18th century. It gained popularity because of the sweet taste, distinct from the salty taste of other foods‌. Today, you can buy Tamagoyaki at many shopping malls or restaurants.
Although it requires a strange cooking method, you can prepare this dish at home. After cooking the egg, sugar, and soy sauce combination in a pan, you will have a thin omelet. Then, fold them into a log shape before carefully cutting them into slices.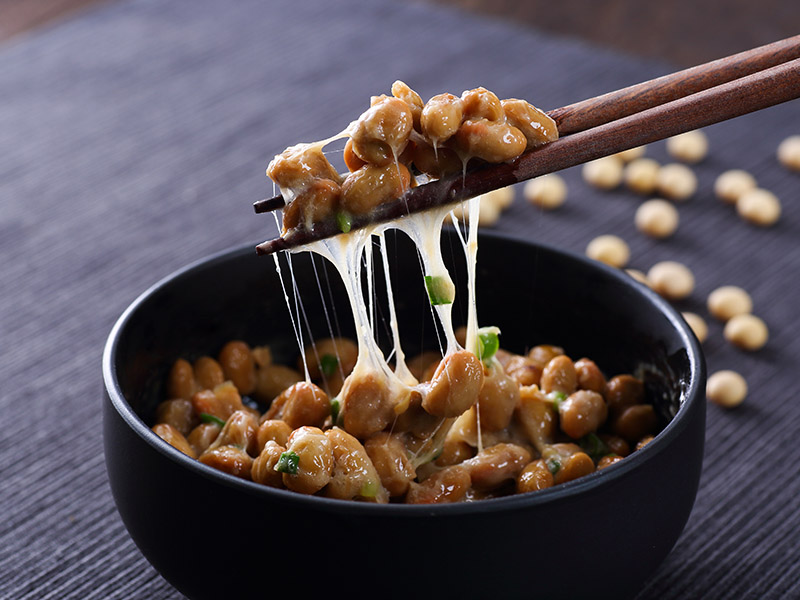 While the taste and smell of this food can drive some people away, you may love it after getting used to the dish. Besides, Natto is also very healthy since people prepare it in a unique way. This dish is the most well-known in Japan's eastern and northern parts.
Although the dish looks quite simple, preparing it requires time and skills. First, you have to cook soybeans for hours and then ferment them with healthy bacteria. This process ensures the dish will be rich in protein and nutrition.
The soybeans are quite firm outside but soft inside with a pungent smell. The signature of this recipe is the slimy, sticky texture of the beans. You can enjoy them with rice and soy sauce or add them to Miso soup.
Understand more about how to enjoy Natto to the fullest.
10 Main Courses In Japanese To Brighten Your Spirit
Considering how diverse Japanese foods are, I will divide this section into 2 parts. First, I will talk about breakfast and then move to lunch/dinner. I am sure that these main dishes have several surprises for you.
Start Your Day With Some Japanese Flavors
I bet you will impress your friends, family, or even yourself with the following Japanese breakfasts. When you are on a Japanese trip, don't forget to try them for a wonderful morning.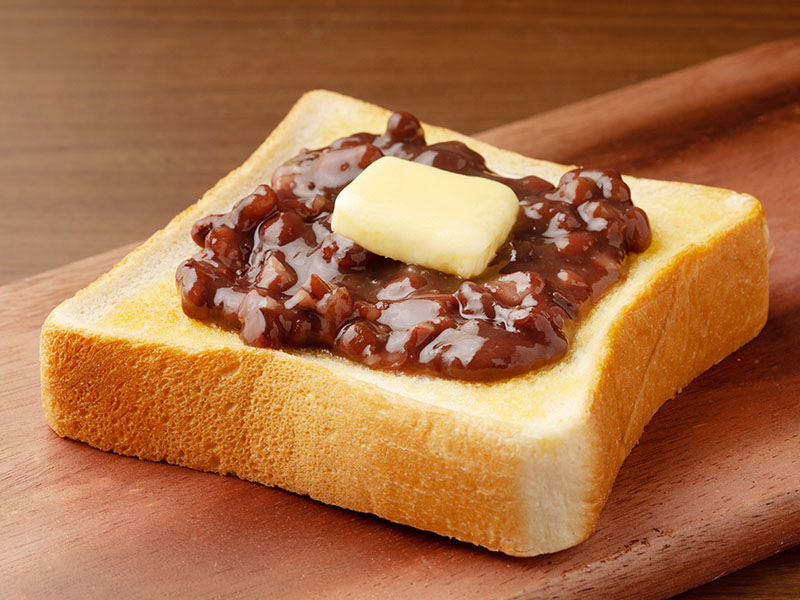 Next, you also have a bread-based recipe. This food is a specialty of Nagoya, where it is served in many cafes nowadays. It's a thick slice of bread with Japanese red bean paste topping. People usually enjoy it with a cup of coffee, especially on cold days.
Ogura Toast first appeared in a coffee shop named "Matsuba" in the Sakae district in 1921. The owner realized that some young customers love to combine toast with red bean soup. This inspired him to come up with the Ogura Toast you see today.
Variations of this dish exist since it is so simple to change the ingredients. People may use different ‌toast or toppings to make it stand out from other shops. The juiciness and tastiness of this recipe will be an exceptional beginning to a new day.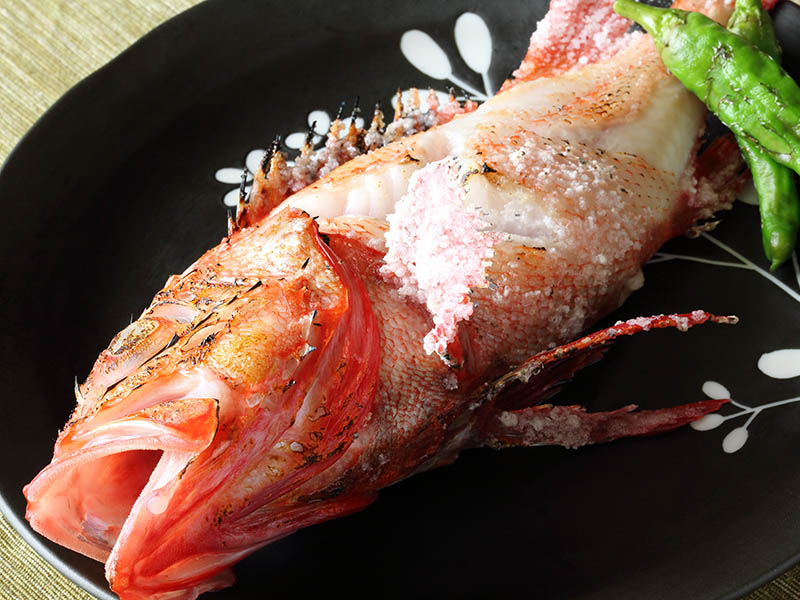 Starting your day by eating fish is not a bad idea. This is the go-to breakfast for many Japanese since it is so simple yet nutritious and delicious. This recipe can also appear at lunch and dinner.
The fish you use can be any species, the most common ones are horse mackerel, mackerel, and saury. You often eat the whole fish after grilling it. Daikon, a winter radish, can be served with the fish to boost the flavor.
If you have cooked the fish perfectly, its skin will be crispy while the meat stays firm but moist. You can enjoy the fish with a bowl of rice or Miso soup. In Kaiseki Ryori, a traditional Japanese meal, Yakizakana is the 6th dish on the list.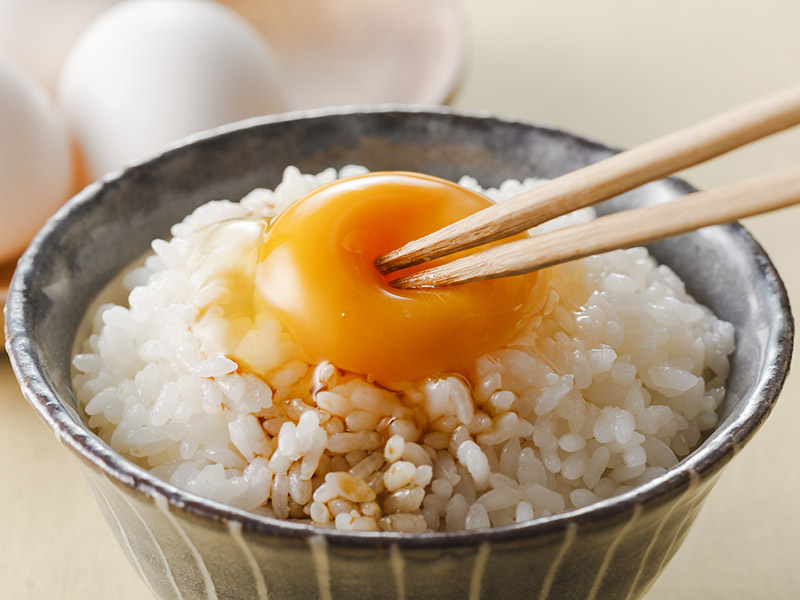 This dish means "egg on rice" in Japanese. As the name says, it is just a rice bowl with raw egg and soy sauce on top. Despite this simplicity, the dish has attracted generations of Japanese together with non-Japanese.
This brilliant idea belongs to Ginko Kishida, the first war reporter in Japan. After dumping raw egg on rice, he loved the combination so much that he started introducing it to people around. The recipe has received its glory ever since.
You can use a beaten egg as well as a non-beaten egg, according to your preference. The rice can be cold or hot, but hot rice may give a better taste. In case you want to add more flavors, feel free to use spices, ginger, or your favorite sauce.
Here is the answer to why eating raw eggs is safe and how to make Tamago Kake Gohan.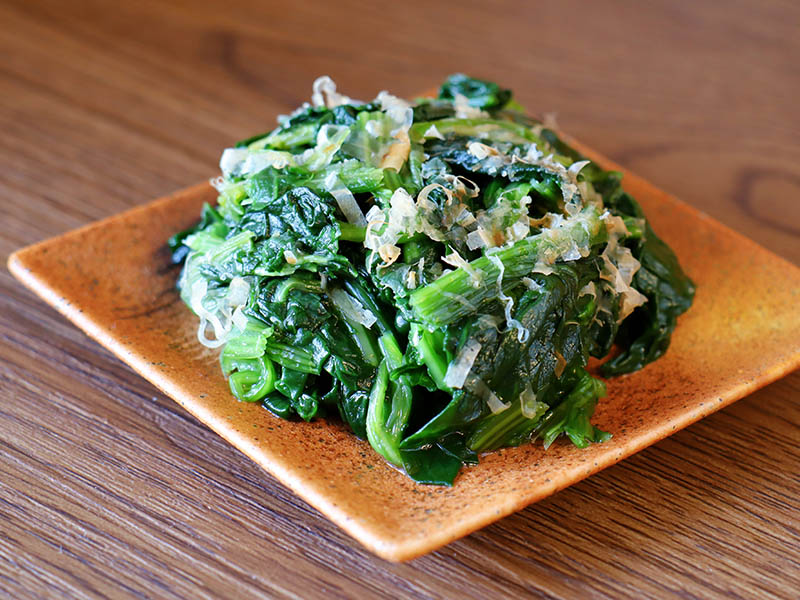 Ohitashi is a special technique in Japan, mainly used to prepare vegetables. An Ohitashi dish involves vegetables submerged in dashi sauce. This will keep the natural flavor of vegetables. However, nowadays, people just fill the boiled vegetables with soy sauce for convenience.
In the past, people referred to Ohitashi as "soaked things". People during the Edo period applied this method to non-vegetable food like jellyfish and sea cucumber. It was the Meiji period when vegetables became the norm.
The dish is really easy to make. All you need is spinach, dashi, and mirin. After cooking the spinach, place it in a bowl and fill it with the sauce mixture. You can wait for the sauce to infuse the spinach or eat the vegetable straight.
6 Amazing Lunch And Dinner Delicacies That Leave You In Awe
Let's move to the main dishes you can enjoy as incredible Japanese-themed lunches or dinners. You may recognize some while others sound very unfamiliar.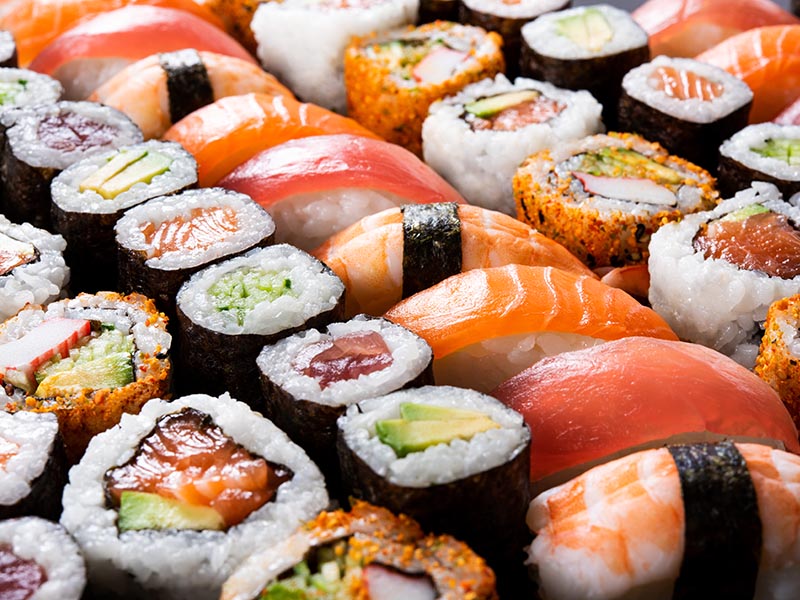 Sushi is probably the first thing that pops up in your mind regarding Japanese foods. You can come across this dish in almost every Japanese-themed restaurant. It's not easy to resist the sweet and tangy flavor of Sushi, it's also healthy on top of that.
The concept of Sushi appeared millennia ago in China as a method to preserve fish. Later, it was introduced to Japan in the 8th century. In around 1824, a Japanese man – Hanaya Yohei- came up with Nigiri-Zushi, the most popular type of Sushi nowadays.
You may assume that raw fish is the main ingredient, but in reality, it's "Sushi rice" that plays a vital role here. Fish, meat, and shrimp are all flexible, depending on your preference. Pickle ginger, wasabi, and soy sauce are also inseparable in a Sushi meal.
Many Sushi variants exist apart from our traditional Nigri. Maki Sushi uses seaweed as a roll, while Uramaki Sushi has rice as a coat. There is also Oshizushi, a pressed Sushi with cooked or cured fish. You should look for these varieties to enjoy different fascinating experiences!
Learning how to eat Sushi is the first step in knowing about this delicate food.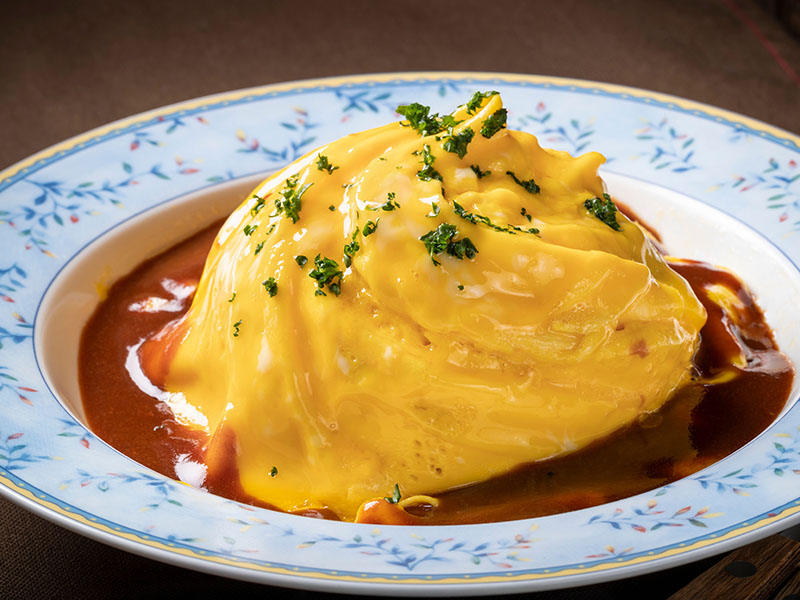 The origin of this recipe remains in darkness. People assume it emerged near the start of the 20th century in a Western-theme restaurant in Ginza, Tokyo. It perfectly combines a Western-style omelet with Japanese fried rice.
This dish has a soft texture of scrambled egg paired with the satisfying smell of fried rice. You can add ketchup, mayonnaise, or other sauces to it for a more pleasant look or taste. Other seasonings like species, salt, and pepper are also good options.
In 1985, a Japanese movie invented a new type of Omurice. In this recipe, you will place a half-cooked omelet on top of the fried rice. Then, you cut the egg to wrap the whole rice. This method is well-loved since it makes the dish look better.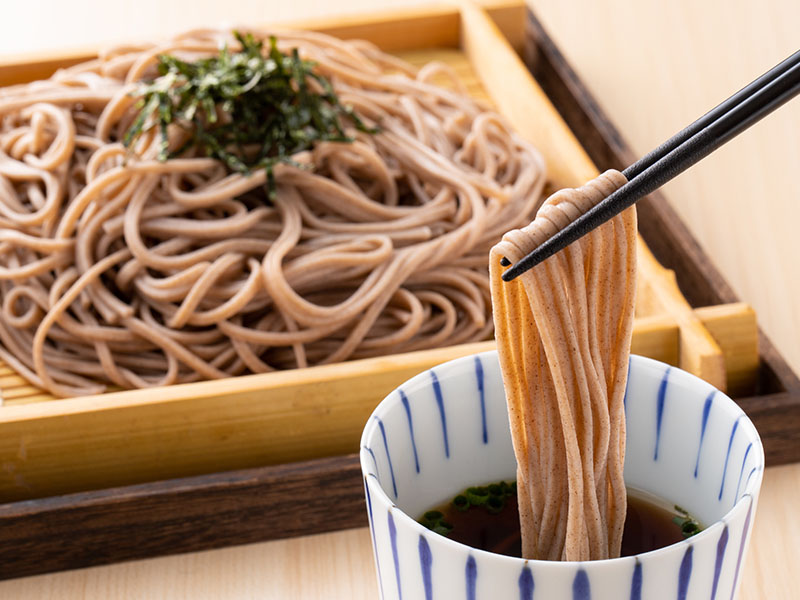 Each Asian country came up with a special noodle recipe, and in this case, Japan has Soba. It's a type of thin noodle made from buckwheat flour. You can enjoy it chilled with a dipping sauce or hot with noodle soup. Tasty but fast to make, this dish will not disappoint you.
It is believed that Soba came from China thousands of years ago. The Chinese then introduced it to Japan during the Jomon period. Nowadays, Soba noodles are important in Japan's culture. It's a custom for the Japanese to eat this noodle one day before the New Year.
There is a wide variety of Soba noodles for you to choose from. Wakame Soba uses wakame seaweed, Hegi Soba uses funori seaweed together with hot Chinese mustard. People also serve cold Soba or hot Soba. I am sure that you will find Soba that suits your taste!
The way this noodle master prepares Soba will leave you in awe.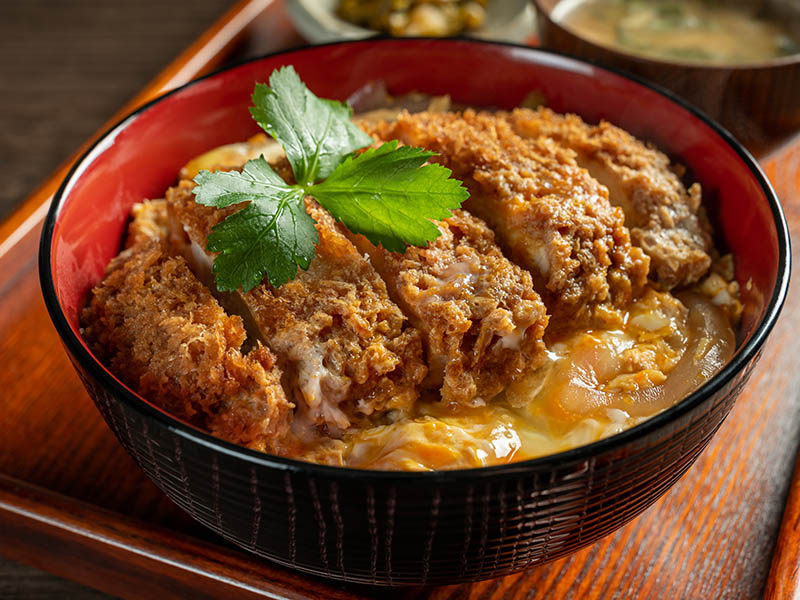 The name of this dish is quite complicated because it comprises the words "tonkatsu" and "donburi". The former refers to pork cutlet, while the latter means a bowl of rice. It's so popular that many restaurants around the world treat Katsudon as their signature dish.
In Japan, it's a tradition for students to have Katsudon the night prior to an important test. The reason is that "katsu" is pronounced similar to the verb "katsu", which translates to "win" or "victory" in Japanese.
Different regions of Japan also have their version of Katsudon. In Niigata, people use a thinner cutlet covered with soy sauce. Okayama has domi Katsudon as its specialty, cabbage and green peas are the additions to the dish.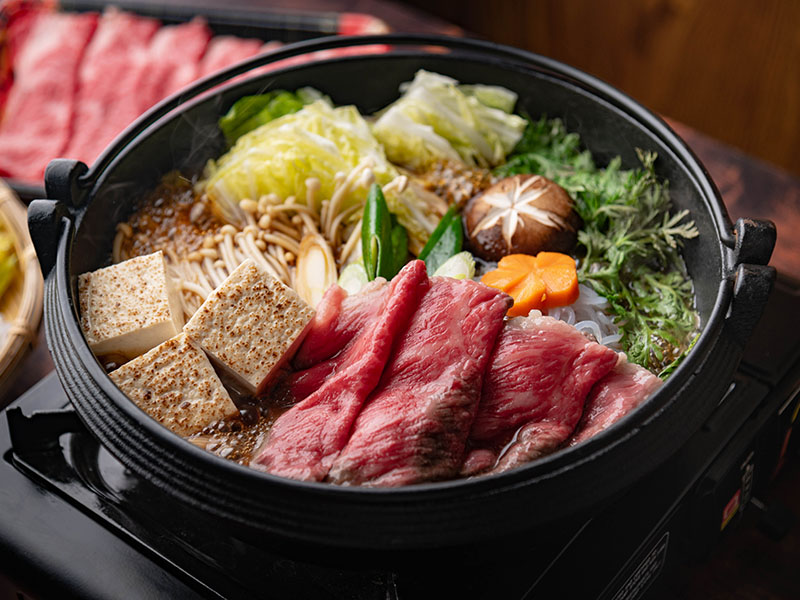 This dish is served in a hot iron pot, known as the "Nabemono" cooking style. It mainly uses thin slices of beef, vegetables, and other ingredients like sugar and shoyu or soy sauce. This dish is most popular during winter when you can easily see it at year-end parties.
Sukiyaki appeared at the end of the Edo period, in the 1860s. The next period – Meiji period – marked the rise in the fame of this dish since eating meat was not a taboo anymore. Nowadays, you can easily enjoy Sukiyaki at most Japanese restaurants.
There is a Japanese dish similar to Sukiyaki named "Shabu-Shabu". Shabu-Shabu uses the same ingredients but is more savory, and the meat is also thinner. The latter is also cooked in a clay pot called "donabe" instead of an iron pot.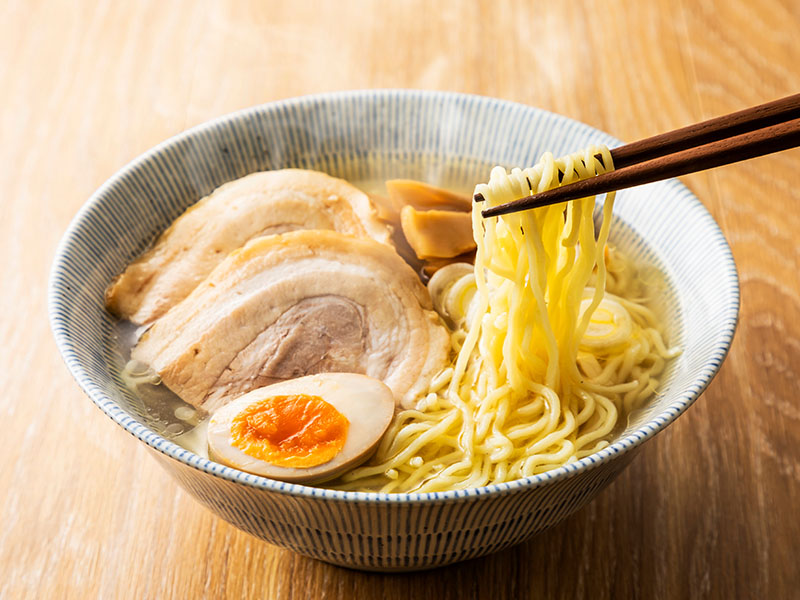 Here you got another kind of Japanese noodle. It uses Chinese-style wheat noodles together with soup broth. Other ingredients, like eggs and vegetables, may vary in different types. Cheap and accessible, this dish is a favorite for many visitors.
Ramen has China as its origin. It was not until the 1860s that the dish appeared in Japan along with other noodle-based recipes. It's so popular today that instant Ramen is a product widely sold around the world with various flavors.
There are some popular Ramens you may want to know about. Tonkotsu Ramen uses a broth made from boiled pork bones. Miso Ramen uses Miso broth, while shoyu Ramen has a broth usually made with chicken and vegetables. The toppings for this dish are limited only by your imagination.
Learn more about Ramen through one of Japan's best Ramen chain stores: Ichiran!
11 Flavorful Japanese Desserts To Finish Your Meal
The Japanese-based desserts here will complete the "perfect meal" definition. It's truly impressive how creative and complicated some of them are. They can also be awesome desserts to try after your meal.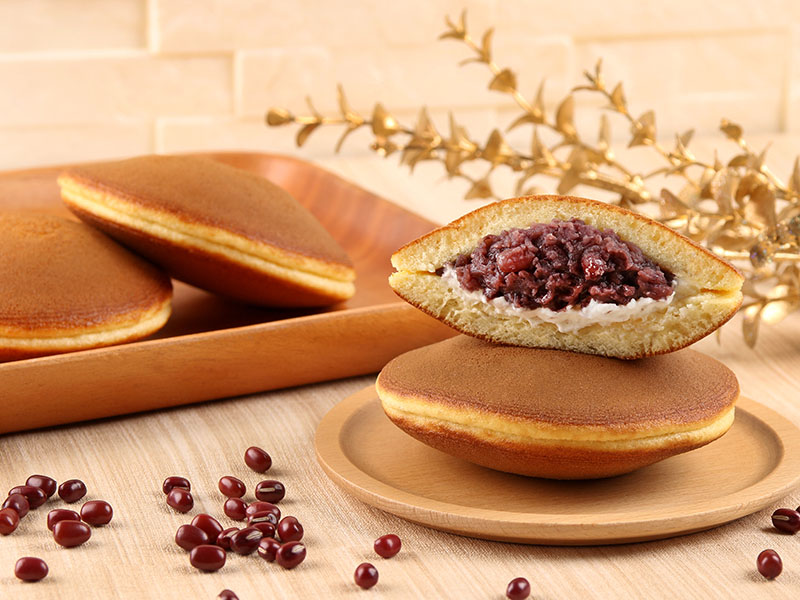 In Japanese, "Dora" means "gong", which refers to the shape, and "yaki" means "to grill". This pancake has appeared in many mangas, with Doraemon being the most popular. From children to adults, it's hard to find a Japanese person who doesn't love this food.
To best describe it, Dorayaki involves two pieces of sweet pancakes with red bean paste in the middle. You can enjoy it hot or cold since the food won't lose its delicacy.
Unlike regular pancakes, Dorayaki is thicker and flavored with honey. Nowadays, people also come up with new Dorayaki variants. They may use different fillings or add matcha powder to the cake, so it looks better.
Want to know how Japanese people make this Dorayaki? Don't miss this guidance.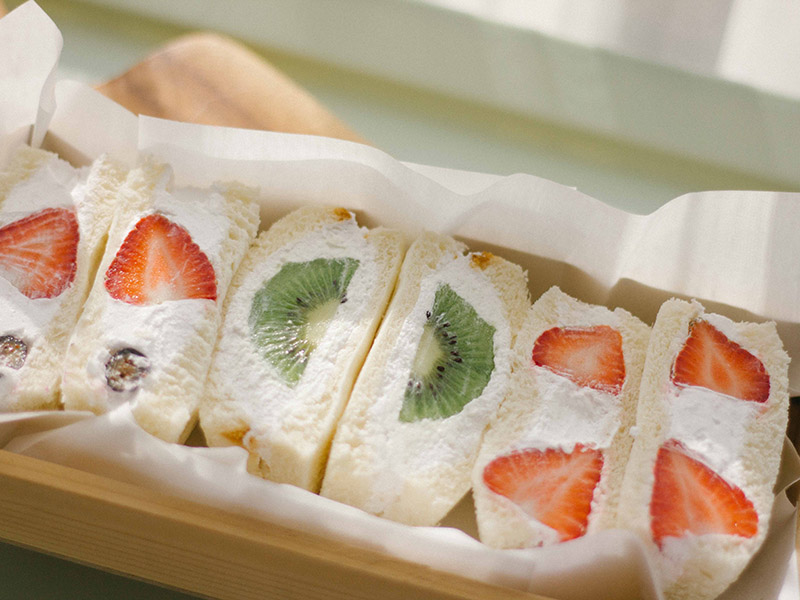 The Furutsu Sando resembles a Western-style sandwich, except tasty Japanese fruits as the main ingredients. You can see this dish by visiting cafes and convenience stores in Japan. The colorfulness of this dish will attract your attention in an instant.
The origin of the Furutsu Sando still only exists in theory nowadays. Some believe they appeared in a cafe in Kyoto, while others think a snack store was where it was born. There are even more assumptions other than these two.
This sandwich involves 2 pieces of Japanese milk bread as the coat. Inside it, people fill fresh fruits, with strawberries being the most popular, and whipped cream. Originally, people used square-shaped bread, but nowadays, triangular bread dominates most recipes.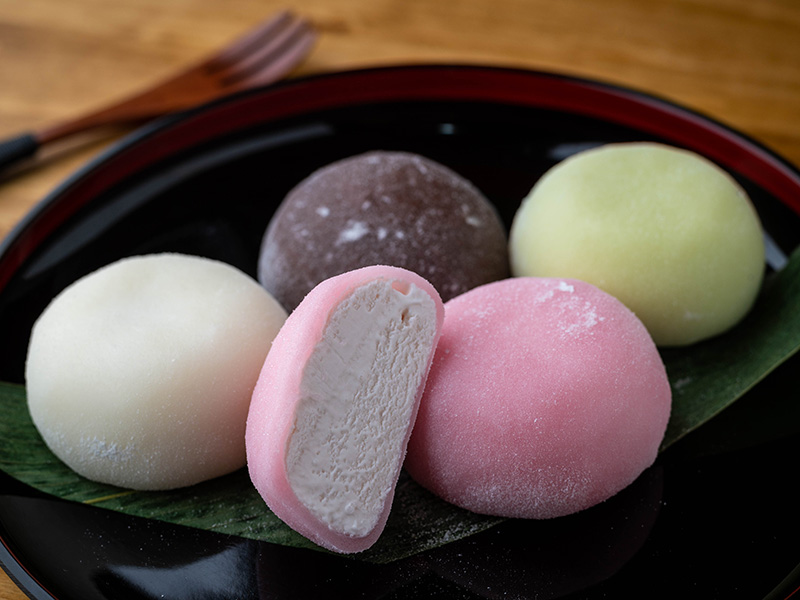 Mochi is a food familiar to people everywhere, it's a soft and chewy rice cake. Have you ever wondered what it tastes like with ice cream inside? Many people say that the taste is amazing.
This dish is an invention of the Japanese-American businesswoman, Frances Hashimoto. The women's company introduced this food in the 1990s and quickly caught people's attention. In the UK, thanks to a social media trend, the sales of this dish rose rapidly.
The flavor of mochi fluctuates depending on the ice cream inside. Mochi ice cream will be a great dessert for your meal. The chewy taste of mochi and the sweetness of ice cream are for sure irresistible to your kids.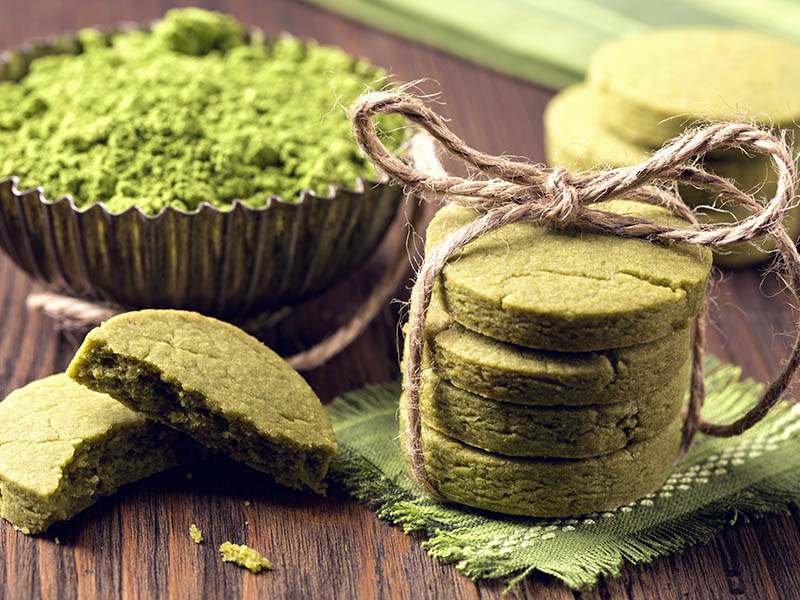 If you adore eating cookies after a meal, this recipe will not disappoint you. The green looks of cookies, combined with their pleasant aroma and sweet taste, will encourage you to have a bite. You can also enjoy them with coffee or tea.
Like a traditional cookie, this recipe uses flour, white sugar, and baking powder. However, for the green look, it also uses green tea powder. The final product is crispy and chewy outside with a soft inside.
Sometimes, people with sweet teeth also enjoy this food with white chocolate chips. Nuts like almonds can also be a nice addition to the cookies.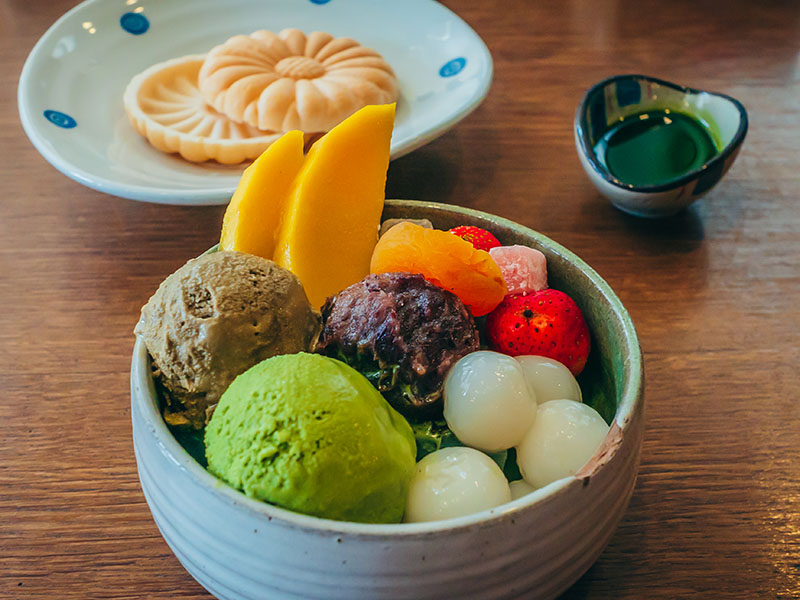 Although this dish is most popular in summer, you can enjoy its tastiness at any time of the year. Some types of Anmitsu are perfect choices for vegans and people looking for a low-calorie dessert. Since it is quite simple, you can prepare it by yourself.
Anmitsu is a type of Mitsumame. "An" is short for "anko" which means red bean paste, while "mitsu" refers to "Mitsumame". The other ingredients can be fruits, peas, ice cream, etc. All of them can remove the heat from your body effectively.
Mitsumame includes agar jelly, black sugar syrup (mitsu), and red edamame peas (mame). The dish will change its name depending on what you add to it, and in this case, I use anko. And if you top Anmitsu with ice cream, it will become cream Anmitsu.
A bowl of Anmitsu won't be out of reach after these instructions.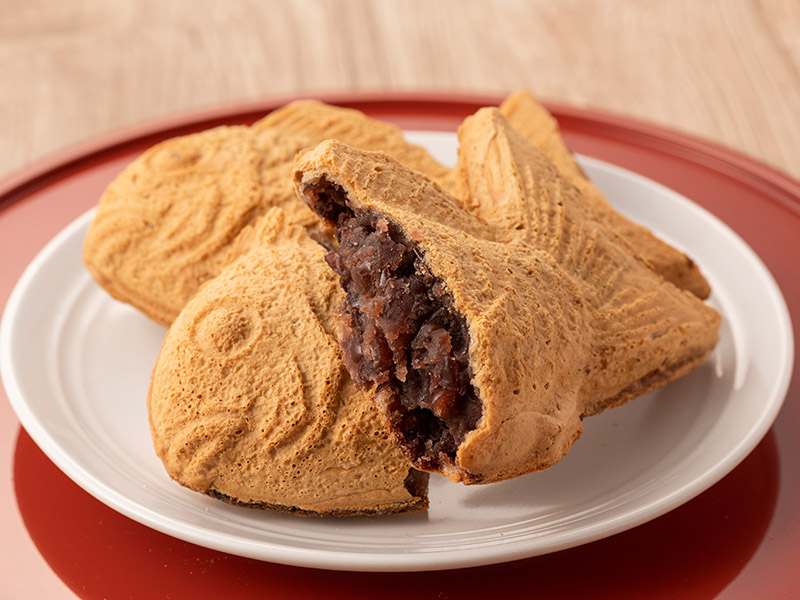 You may bump into this food in almost every street food store in Japan. It is a cake with the shape of a red sea bream, which means "tai" in Japanese. People enjoy it as a snack as well as a dessert at festivals.
The popularity of this food may lie in the fish shape itself. In Japan, the red sea bream is a symbol of good luck. This is because of its red color and elegant shape. The fish also used to be a gift to the shogun during the Edo period.
In Korean, there is a pastry named "Bungeo-ppang" that gets the inspiration from Taiyaki. The differences in these two dishes reflect how Korean dishes are compared to Japanese dishes.
Generally, people stuff the cake with red bean paste since it has a pleasant sweet taste. Others also fill it with custard, cheese, or sweet potato to fit personal preference. The cake is often made with pancake or waffle batter.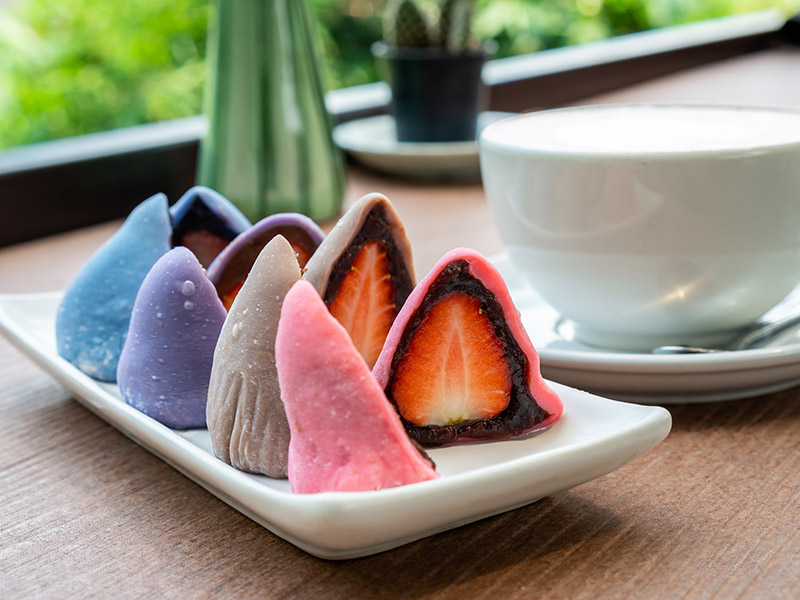 Daifuku has a lot of variants, but the most common you will meet are white, green, and color mochi with anko inside. No matter how old you are, Daifuku will guarantee you a joyful experience.
The ancestor of Daifuku was Harabuto mochi, which appeared during the Edo period. Harabuto can translate to "fat belly", which implies that it will keep you full. The name "Daikuku", which came later, somewhat means "great luck".
There are various variants of Daifuku with different fillings and flavors. Mame Daifuku mixes the mochi with azuki beans or soybeans. Shio Daifuku has unsweetened anko inside. Coffee Daifuku includes a sweet filling with coffee flavor.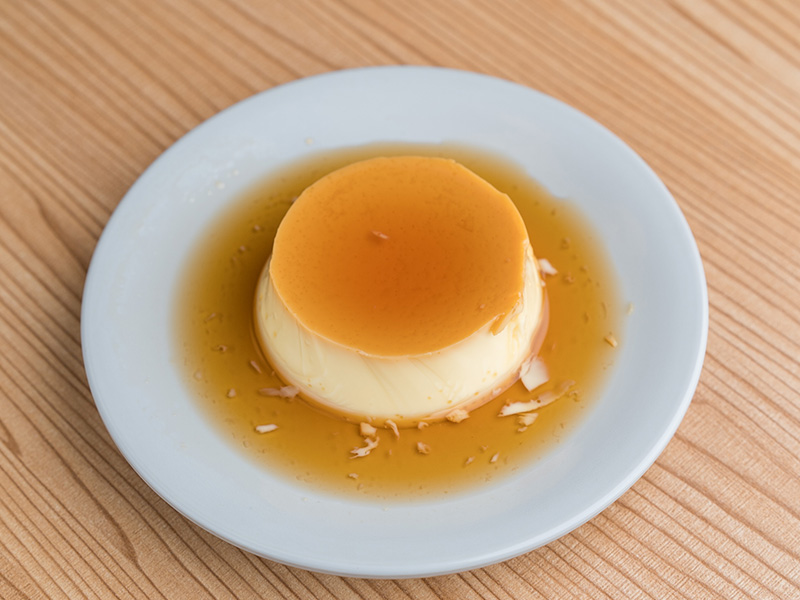 Pudding is a well-known food around the world, and the Japanese also have their style of it. People of all ages welcome this dish for its sweet and creamy taste. Like your traditional pudding, the main ingredients for Purin are milk, eggs, and sugar.
The most common other varieties of Purin that you may come across are Yaki Purin and Mushi Purin. The former is baked in an oven while the latter is steamed. It may come in different flavors, from matcha and fruit to classic vanilla.
The popularity of this food leads to the appearance of instant Purin mix, which you can see at stores. This enables you to make a Purin in an instant.
Even a regular Purin in Japan has a unique way to eat. Check it out!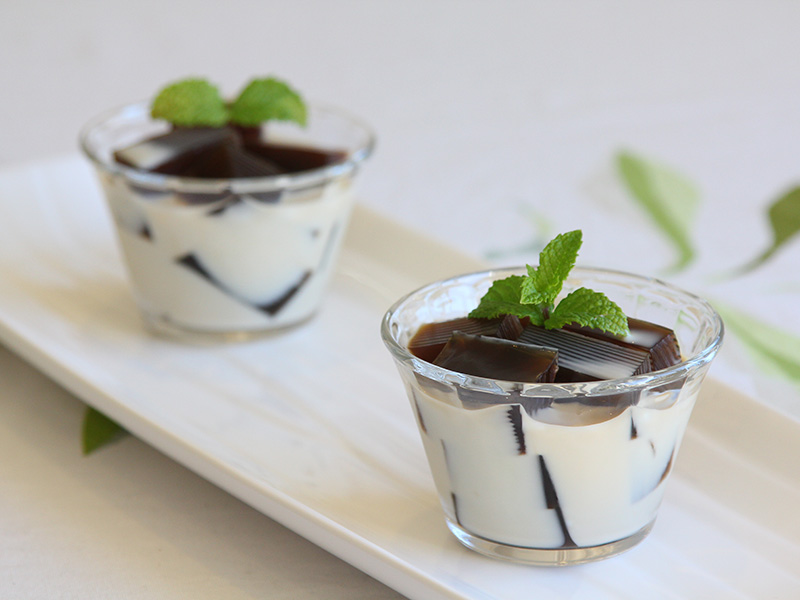 You may have seen this combination before: gelatin and black coffee. Japan got this idea from Britain and America, and now, the Japanese version has become the most popular. You can get this dish at a restaurant, a convenience store, or a cafe in Japan.
Coffee jelly generally contains sweet coffee and agar (gelatin made from algae). People may also use traditional gelatin instead. It is often served with whipped cream or ice cream in a bowl or glasses.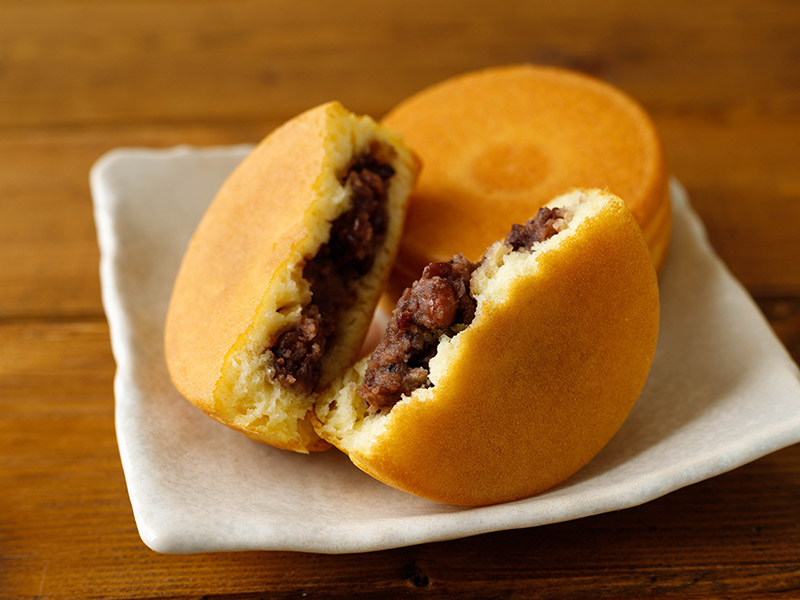 Imagawayaki is a batter with a sweet filling, most commonly azuki bean paste. It is a common sight at Japanese festivals. Outside of Japan, you can meet this batter in Taiwan and South Korea.
Around 250 years ago, during the Edo period, a shop near Kanda's Imagawashabi sold red bean buns. As time went by, people called the food "imagawayaki", and it has kept the name until this day.
Nowadays, apart from the traditional anko, restaurants stuff Imagawayaki with different fillings. For instance, fruit-based custards, vanilla custards, or even vegetables and meat are popular options.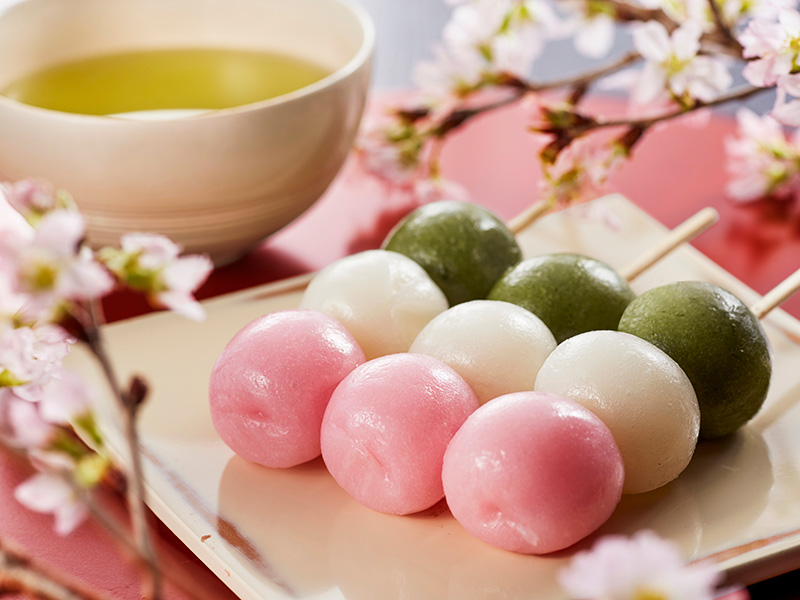 This is Japan's version of dumplings. You may see that these balls look closely like mochi. However, while mochi is created by steaming glutinous rice, people make Dango by mixing rice flour with uruchi rice and glutinous rice flour.
People believe that Dango first appeared at a small store in Kyoto, close to the Shimogamo Shrine. The name might refer to the similarity between the dumplings and the bubbles at the shrine entrance.
Nowadays, you can easily spot Dango at Japanese festivals. Generally, people place 3 to 5 Dango on a skewer. Depending on the seasons, the Japanese will serve different types of Dango.
See how Dango is often prepared in Japan now!
Do You Feel Hungry After Reading About These Japanese Foods?
If you feel ‌your belly is growling after this post, you are not alone. There are many magical things surrounding Japanese dishes that make you famished instantly. The good news is that you can make many of them at home.
Being a star at parties or family gatherings is not hard anymore after you have absorbed all the guides in this post. Time to prepare people around you with some Japanese surprises!
Among these treats, which draws your attention the most? Do you intend to try them one day? If you have any thoughts to share about Japanese foods, the comment section is at your service. Share this post for equally astonishing lists in the future. Thank you in advance!