Are you thinking about adding a new touch to your day with Japanese breakfast recipes? Are you bored with the regular dishes you have eaten again and again? In case you didn't know, there are many Japanese treats you can make at home to start your day.
In this article, I'm excited to introduce to you over 20 recipes for a unique, delish, colorful breakfast that can get your friend jealous of your cooking abilities. You will be surprised by how many dishes you can make on this list.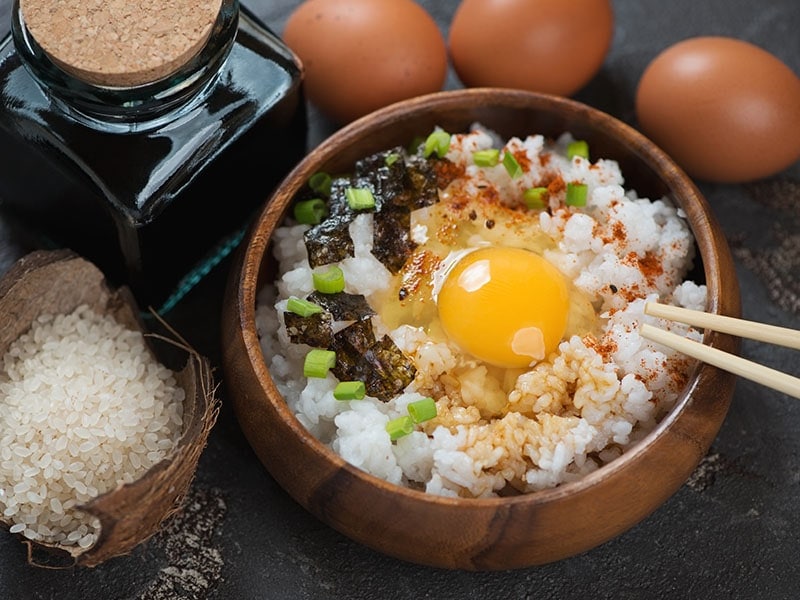 Note Down These Simple, Amazing Breakfast Recipes In Japanese Style
First of all, you will see that many of these dishes use the same spices and condiments. So, I suggest you note down and try recipes using similar seasonings so you can get used to the Japanese cooking style faster.
Now, are you ready? Let's check out these morning meals together!
Total time: 40 minutes
Japanese pancakes are made with the same key ingredients as American pancakes, but they use much more egg whites. It explains the "fluffy" part in its name.
Japanese pancakes have a very soft, light, and airy texture with a slightly sweet taste. You can increase the amount of sugar in the recipe if you have a sweet tooth.
Another signature trait of Japan's pancakes is their shape. By its nature, each piece is much taller than other versions. You can eat these fluffy pancakes alone to enjoy the original flavor or serve them with butter and syrup to add more to the taste of the dish.
How can you make such tall Japanese pancakes? Find out here!
Total time: 10 minutes
Strawberry Sando can be not only a dessert or a snack but also the perfect breakfast dish for busy mornings. If you have less than 15 minutes to eat, grab some strawberries, whip some heavy cream, and make a sandwich.
This easy, refreshing dish has become very popular in Japan's cafes and convenient stores due to how quick, healthy, and delicious it is.
Apart from the whipped cream and fresh fruit, you also need Shokupan, or milk bread, whose crust needs to be cut off. You can also replace strawberries with any fruit available in your house.
Total time: 1 hour and 30 minutes (including resting time)
In Japanese, Taiyaki means "baked sea bream," as the cake resembles the fish's appearance. Traditionally, the Japanese eat Taiyaki at happy events or celebrations. But now, you can have this delish flour-based dish any day you want to.
Taiyaki can be served as a yummy snack or a lovely breakfast on days when you have a lot of free time to work on its recipe. It consists of a soft, dense outer layer wrapping around red bean paste filling.
If you don't want to go by tradition, the Anko (red bean paste) filling can be alternated with other fillings like cheese, chocolate, and the sweetened hazelnut cocoa spread Nutella.
Total time: 15 minutes
Tamagoyaki is a widely used Japanese method to cook eggs for breakfast in this country. On other days, Tamagoyaki can occupy a place in your bento box, the Japanese home-made single-portion lunch box we all love.
Tamago means "eggs", while yaki means "fry". However, Tamagoyaki isn't fried egg it's fluffy, multi-layer fried egg rolls. For breakfast, you can serve this dish with miso soup and rice or eat it alone.
A Tamagoyaki made properly has a bright yellow color, a custardy texture, and comes in a rectangular shape. It's meant to have a slightly sweet taste and a signature smell of soy milk. To form the right shape for Tamagoyaki, you need a rectangular fry pan.
Total time: 5 minutes
Onigiri is even easier and quicker to make than fruit sando. All you have to do is make some rice, mix it with seasonings, form a triangle ball, wrap the rice ball in nori (dried seaweed), and you're good to go.
When it comes to seasoning the rice ball, I personally use black sesame salt, plum sesame salt, and bonito flakes. Bonito flakes are dried tuna fish that you can sprinkle on various Japanese dishes.
Depending on your preference, you can either enjoy the dish hot or at room temperature. Plus, Onigiri will be one of the best Japanese-origin rice treats if pancakes or omelet is not enough to fill your stomach in the morning.
Total time: 25 minutes
Okonomiyaki is a nutritional dish that you can make with leftovers in your fridge like cabbage, nori (dried seaweed), and some eggs. In fact, you can say it's one of the most healthy dishes in Japanese cuisine since it contains so many nutrients good for your health.
What's more, these Japanese pancakes are a combination of flavors, including sweet, savory, spicy, and smoky. It's paired with a crunchy and creamy texture that will wake you up physically and mentally.
If you have less than half an hour in the morning to get ready, Okonomiyaki will ensure a great meal for you to start the day.
Total time: 1 hour
First of all, Harajuku is not a cooking style it's a location in Tokyo, Japan. It's said to be the first place in the country where crepes were sold.
Back in 1970 or so, crepes first appeared at Yatai standing food stalls at Yoyogi Park, which were wrapped into a cone shape so that customers could eat them during their walks. That's why the dish has since been named Harajuku crepes.
Try this recipe if you like these round Japanese-style crepes, and have a free, relaxing weekend morning.
First, make batter with flour, sugar, milk, egg, and salt. Then, fry thin crepes at medium heat; remember to tilt the pan so the batters spread all over. Once you're done making crepes layers, wrap them with your favorite fillings.
Rolling Japanese crepes into cones is not difficult if you follow this video.
Total time: 18 minutes
Ogura toast is an unexpected mix of ingredients. Had it not been for this dish, I would never know toasts can go so well with red bean paste.
If you are seeking a breakfast that is simple and taken from Japanese cuisine, these red bean toasts are the best candidates.
While the red bean paste is quite dry, the melted butter on the Shokupan (square-shaped milk bread) adds juiciness to the ingredient, while the toast gives a crispy flavor. Adding some whipped heavy cream on top makes the dish taste even better.
Total time: 1 hour
Onigirazu is a Japanese rice ball formed into a rectangle with fillings in the middle, making it look like a sandwich. The rice ball is still wrapped in nori or dried seaweed as usual.
Having a rice sandwich for breakfast is actually quite heavy for the stomach, but it gives you more than enough energy to go through a hard-working day. If your work requires a lot of physical strength, Onigirazu is what you need.
There are various recipes for this dish, featuring all types of fillings you can think of. However, to help you save time in the morning, I will introduce to you a recipe involving only 10 ingredients, including spices, tuna, and vegetables, instead of over 20 things like typical ones.
How many kind of fillings can you make for Onigirazu? Here's the answer.
Total time: 2 hour 30 minutes to 3 hours
Sipping rice porridge warms you up on cold days. Meanwhile, a simple porridge recipe allows you to sleep in and still get a tasty breakfast. This Toriniku Okayu recipe, or chicken rice porridge, is the best of both worlds.
The recipe takes about 3 hours to complete from start to end, but it includes 2 hours of cooking chicken broth. During this time, you just have to add garlic to the pot once and let it continue cooking. You can cook the broth the night before to save time in the morning.
After waking up, you just need to reheat the broth before adding seasonings and rice. As the dish is cooked, you can wash your face, change, then sit down for a bowl of hot porridge.
Total time: 1 hour 30 minutes
For those passionate about different types of bread in Japan, trying this milk bread recipe is a must. It's also called Hokkaido milk bread because of its birthplace, Hokkaido island.
This Japanese signature bread is sweet, featuring a fluffy, feathery texture. Especially, it has more sweetness and a milkier taste than most Western loaves. To balance the flavor, you can eat Shokupan with jam or butter.
To be honest, making any type of bread is not easy. So, if you are not experienced in baking, I suggest testing the recipe first when you have free time. This way, you have plenty of time to identify issues and enhance your skills to make perfect bread for breakfast.
Total time: 55 minutes
In Japanese, Satsumaimo means sweet potato, and Gohan denotes rice. When combining these two words, you have one of the popular foods in Japan for autumn, which can make a perfect breakfast, lunch, or dinner per choice.
Satsumaimo Gohan, or Japanese sweet potato rice, is the easiest to make for those with a rice cooker. But you can totally cook rice on a stove if there aren't any rice cookers in the kitchen.
Basically, you have to prepare the sweet potato by washing the potatoes, chopping them into cubes then adding to the rice cooker or a pot with rice. It takes about 45 minutes for the rice and sweet potato to be well-done. Lastly, mix it up and serve.
Total time: 15 minutes
The Japanese name of this dish has quite a poetic explanation. In Japanese,Oya, Ko, and Don mean "parent", "child", and "bowl", respectively. The dish consists of chicken, the equivalent of a parent, and egg, corresponding to a child, as the chicken lays the egg.
As to making this dish, it's basically cooking the chicken and egg in dashi broth mixed with soy sauce and seasonings. You should pay attention not to overcook the egg because it's meant to remain soft and juicy at the end instead of being well cooked and hardened.
It's best to use fresh ingredients: unblemished chicken thighs with skin and fresh eggs. Also, pick eggs with larger yolks as they create a more eye-catching color for the dish and a better overall taste.
Don't forget to use soy sauce in this recipe or Oyakodon won't taste as it is supposed to.
Total time: 5 minutes
Ochazuke, or Chazuke, is a super simple dish made with leftover rice topped with salty ingredients or pickled vegetables. It doesn't require any cooking at all. Because of how simple Ochazuke is, it leaves you no excuses to escape breakfast.
The special thing about this dish is that you eat rice with hot green tea rather than any kind of soup or broth. It may not make sense to the Western diners, but you should really give it a try.
Last but not least, Ochazuke is one of the easiest Japanese recipes for vegetarian delights, even if you are going vegan. Just omit salmon flakes from the ingredient list and top the rice with pickled vegetables instead.
Total time: 20 minutes
Traditionally, Namasu is served during the Japanese New Year, but it can now be found in Japanese households all year round. Kohaku means red and white, while Namasu refers to vinegared food.
In terms of the taste, Kohaku Namasu has a slightly sour, sweet flavor from the mixture of ingredients: soy sauce, salt, sugar, and vinegar. Daikon and carrot offer a crunchy texture that goes well with soft food like white rice.
Kohaku Namasu takes little time to make and can last in your fridge for a few weeks. However, with the nature of vinegared food, you should not store it for too long as it won't taste as good as freshly made.
Total time: 30 minutes
Pan-fried rice is undoubtedly an all-around winning option for breakfast. It's generally easy to make, delicious, and suitable for an entire family. Fried rice can't fail anyone.
After half an hour, you will get a plate of hot fried rice with a savory and sweet flavor from the seasoning and the soft, juicy texture of the omelet. On top of that is the sour and sweet flavor of ketchup, but it's optional, depending on your preference.
Total time: 50 minutes
Dorayaki may not take as long to make once you have got used to the recipe, and it can be a delicious breakfast, a relaxing dessert, or a snack. These pancakes just fit any situation you want them to.
From the traditional formula that uses red bean paste, the dish has now become popular worldwide, and many variations have arisen. The filling can be custard cream, chestnut filling, matcha cream, cream cheese, and Nutella.
It's worth noting that Dorayaki is a sweet treat, so if you are not a fan of sweet breakfast, you should change red bean paste with another filling of your choice.
Total time: 10 minutes
Tamago Kake Gohan is meant for those who don't mind having raw eggs in their bowls.
There are two ways you can follow to make this dish for breakfast. You can mix the egg with shoyu and mirin before adding it to the rice bowl, or you can put the egg in the rice, then add seasonings on top and mix well.
Either way, the rice must be very hot so that there's enough heat to "cook" the egg. After mixing, let the bowl sit for five to ten minutes while the egg gets thicker.
Tamago Kake Gohan is the top choice for busy people because it's super simple, it's quick to make with only a few things to do, and you can prepare for work while the bowl's getting ready to serve.
Lastly, it doesn't involve much equipment, only a bowl and a spoon, which helps you save a lot of effort doing the dishes.
Total time: 15 minutes
Miso soup is one of the most popular dishes in Japan, presented in Japanese meals throughout the day, including breakfast. This mouthwatering soup is served by itself though you can pair it with another dish to fill your stomach.
When enjoying miso soup, you get to take a sip of the savory broth and take a bite of the silky tofu topped with scallions. The steam from the bowl will wake you up immediately.
I'm introducing the simplest recipe to you for the sake of efficiency and speed. However, you can always add more toppings as you like, such as mushrooms and pumpkin.
If you want to make dashi by yourself, follow this cook's instructions.
Total time: 20 minutes
A "garden breakfast skillet" is a blend of British and Japanese cuisines. It features eggs, veggies, tomatoes, mushrooms, and other ingredients cooked in a skillet.
When it comes to flavoring ingredients in Japanese cuisine, there are soy sauce and rice vinegar that ensure a blast of flavors for this dish. If you have extra free time at the weekend to slowly enjoy your breakfast, why not try this beautiful cuisine collaboration?
Total time: 30 minutes
Sanma No Shioyaki is the typical dish you can find in all recipe books for Japanese food, as it's the autumn treat that's earned a place on the table.
Shioyaki is one of the two common cooking methods the Japanese apply to fish. It means salt and grill, aimed to bring out the fresh flavor of the fish instead of hiding it with seasonings.
By tradition, this dish is served alongside rice and miso soup, forming a true Japanese breakfast that you often see on the screen.
Decide What You Want To Have Tomorrow Morning
With these 21 easy recipes for Japanese breakfasts, I'm confident there is something you can try tomorrow, no matter if you are a busy office staff or a remotely working freelancer with a lot of spare time in the morning.
Whether you are a vegan or not, you will find the perfect Japanese breakfast here. Whether you are passionate about sweet treats or prefer savory dishes, there is something for you here.
If this article proves useful to you, please don't hesitate to share it with others. If you know someone who can benefit from these recipes and doesn't mind trying foreign cuisine, share the list with them.