When it comes to Italian recipes, the number of dishes is numerous. Finding classic and signature dishes is not an easy task. Most of the time you will think of pasta and pizza. But there actually is more than that.
I recommend that you get some snacks while reading, or you will get hungry and cannot wait to taste the dish. If you are ready, let's take a tour to Italy to pick your favorite dishes.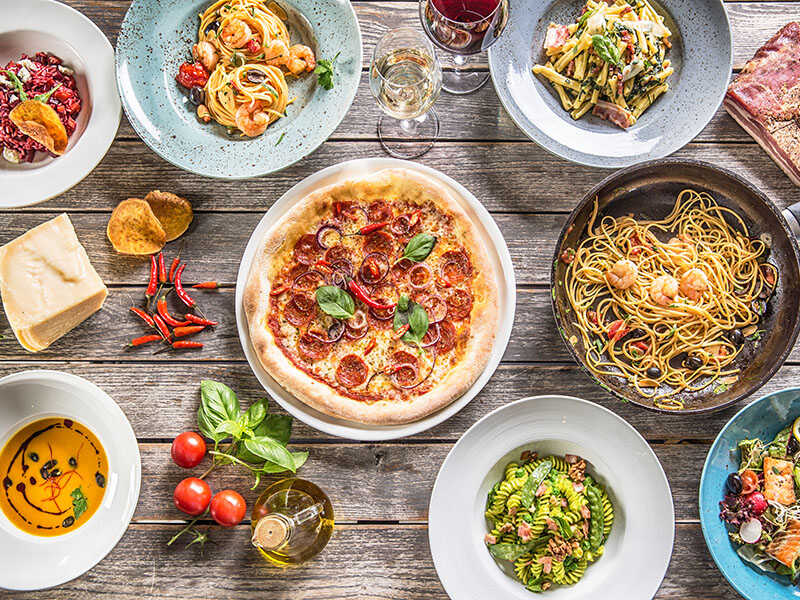 These 27 Italian Recipes Will Make You Crave Badly
Picking the most delicious Italian recipes is no longer a concern after you read this list. I will provide you with various Italian dishes, ranging from main courses, appetizers, to sweet desserts.
Let's start with a classic one. You should have heard about Neapolitan pizza at least once or might have tasted it at Italian restaurants. It is special because of the thin, crispy, pillowy, and chewy crust and light cheesy and tangy flavor. Yet making it at home is absolutely possible.
You just need the most basic ingredients. They are Mozzarella cheese, tomatoes, and basil. The unique dough can be made with your home oven. There is nothing better than that.
Salad is an essential appetizer for every Italian party. Italian salad is fresh, beautiful, and comforting. The veggies are tossed and topped with cheese and lettuce. The Italian dressing finishes it off with an acidic flavor.
This flavorful salad is best served with some familiar bread kinds from Italy, especially Croutons, bolognese, and meatballs. It will surely no longer be on the table in a second.
Eggplant is soft, and creamy, which is perfect to serve with pasta. Pasta alla Norma is a hearty, rich, and saucy dish that will brighten up your day. The mixture of tangy tomato sauce, fresh basil, and eggplant provides a burst of flavors.
This dish is completely vegan. If you are not a vegetarian, you can add some cheese to make it even richer.
Italians love eggplant a lot. And you will love it, too. This warm and quick-to-make dish is perfect for weeknight dinners. You just need potato sauce, some veggies, and seasonings. It tastes rich, tangy, and herby.
Eggplant caponata can serve as both an appetizer or main dish. Crusty bread and pita must go along with it.
Are you falling in love with the adorable and delicious meatballs? They taste wonderful when served with pasta. Try making this dish at home. It is easier than you think.
The beef and pork is mixed with seasonings and herbs, scooped, and pan-fried to be more flavorful and tender. Tomato sauce makes the balls juicy and tangy. These meatballs are the must-have companion of pasta. Serving them with bread is also a great choice.
The chef's instruction for making Italian meatballs will help you a lot.
Tomato sauce is one of the most popular sauces in the world. It is an essential ingredient of almost every Italian dish. So this sweet and velvety sauce deserves to be the superstar of this list.
With this authentic Italian tomato sauce, everything is fresh and no sugar is included. I want to emphasize that. Right tomatoes are the game-changers. You need nothing else except for tomatoes and some seasonings. That's what classic tomato sauce is made from.
Steak is a luxurious and very delicious dish. That's why it is always present in any party. And Florentine steak is one of the best. Surprisingly, this famous dish is made with very few ingredients, just steak, rosemary, butter, and some simple seasonings.
What does it taste like? It's beefy, tender, juicy, and full of flavors. The way you grill or pan-sear it determines whether it tastes good or not. So be ready to go ham on it!
Pizza is not often bitter. But this pizza with arugula on top is an exception. This sausage and arugula pizza is fresh, meaty, sharp, cheesy, and soft. This unique flavor will hold you back. If you don't want a rich and greasy pizza, this Italian one will please you.
To add a tangy note, put in some tomato sauce. You can also use multiple types of cheese, such as mozzarella, ricotta, and parmesan. Everything will work with this simple recipe.
Rosemary mushroom risotto is one of the quickest, easiest, and most nutritious Italian dishes to make. The aromatic rosemary and sweet mushroom provide a heavenly tasty flavor. White rice adds more starch. And chicken broth transforms the dish into a creamy wonder.
You can add more cheese to intensify the flavor. Choose it for your dinner. It will please the crowd.
Can you believe that this tasty chicken Caprese takes only 30 minutes to cook? If you are short of time and ideas about what to serve, choose this Italian dish.
Seasoned grilled chicken breast is always amazing. It is topped with mozzarella cheese, tomatoes, and fresh basil. Finally, balsamic glaze is sprinkled onto it to give a sweet complexity. Each bite is aromatic, meaty, sour, and sweet. You will want to cook it again and again.
Make this chicken Caprese dish for your dinner tonight, see the video below:
Lasagna is a very rich Italian dish. It is loaded with dairy and protein. Mozzarella cheese is melted to perfection. Béchamel sauce is buttery, creamy, and silky. Meat sauce provides more silkiness to the dish. The unique shape of lasagna noodles makes it unforgettable.
Every ingredient forms a layer on top of one another, making every taste full of flavors and texture. You will be glad you chose it.
I've introduced you to many rich Italian recipes. Now I will go for this light and creamy pasta that will comfort you after a long day. You only need some basic ingredients, such as chicken, butter, salt, and herbs. I can assure you that it is mouth-watering.
The tender and chewy pasta is smothered in the thick and delicious Alfredo sauce. You can use fettuccine or angel hair pasta. Both work well in this recipe.
The beautiful chicken cacciatore dish is comforting and hearty. Veggies and tomato paste make up the rich and creamy sauce. White wine or red wine and herbs add a fantastic aroma to the dish. Chicken breast absorbs the flavor.
Chicken cacciatore tastes best when served warm. The most suitable side dishes are rice and pasta. Good news! You don't have to worry about the leftovers. It will taste good after being frozen for 3 months.
This is also a delicious risotto besides rosemary mushroom risotto. It is even more nutritious because of quinoa. As usual, it is fresh, sweet, nutty, somewhat cheesy, and garlicky. It is aromatic with chives and black pepper.
If you are a vegetarian, feel free to remove cheese from the recipe. This dish can serve perfectly by itself or with some side dishes such as roasted meat and vegetables and bolognese.
This warm and hearty Italian soup will be your next favorite dish. This dish is made with a lot of ingredients. But don't let it discourage you. All of them are basic vegetables and seasonings that you can easily find.
This soup is packed with a bunch of flavors. The freshness of veggies and the herby scent will make you feel relaxed. You can add beef and cheese if you are not vegan. This recipe is way healthier than store-bought. You can easily store and reheat it, too.
Treat yourself with a better-than-take-out minestrone soup. Watch this video to know more:
This Italian appetizer has to be one of the most effortless starters with tomatoes for a refreshing taste. It takes you no time. The baked Tuscan bread is crispy. On top of it are chopped tomatoes that are seasoned and mixed with salt and basil. They are both tangy and savory.
Bruschetta is a must-have side dish in every Italian meal. To get the best taste, serve it hot off the grill.
Up to now, there is something missing from this list. You know what it is. I cannot talk about Italian cuisine without mentioning the universally loved tiramisu. Although there are tons of tiramisu recipes, very few of them capture the original flavor.
Tiramisu has a complex sweetness from egg yolk, sugar, and mascarpone, blended with the bitterness of strong coffee and cocoa powder. It is soft, fluffy, and has a custard-like texture. Need I say more about how mouth-watering it is? It cannot be absent from your Italian parties.
The classic tiramisu is actually easy to make with this amazing recipe.
Besides tiramisu, lemon cakes are also a popular Italian sweet treat that steals the love of many Americans, including mine. This light, grainy, sweet, and lemony cake makes a perfect dessert after a decadent Italian meal.
The key ingredients of this dessert are lemon and ricotta cheese. The procedure is super easy. Just put a little bit more effort into each step, especially the battering phrase. You will get the best Italian lemon cake.
Bolognese is a classic Italian meat sauce. You will often see it when ordering pasta at an Italian restaurant. It is a hearty and comforting sauce that gives you the best taste of pasta. Bolognese seems to be a complicated recipe at first. But it is actually quite easy to make.
The sweet and tangy flavor is brought by tomato paste, red wine, and chicken broth. Parmesan cheese and milk or heavy cream create a rich flavor and velvety texture. Herbs add some aroma to the whole dish. And, the main star, ground beef, livens up the sauce.
This is one of the quickest and easiest pasta recipes to make. You just need some simple ingredients and 10 minutes. It is perfect for a time-poor meal. Yet, it is wonderfully tasty. Sicilian Pesto sauce, made from almonds, basil, pecorino, and tomatoes is the soul of this dish.
Linguine with Sicilian Pesto is fresh, herby, nutty, and slightly cheesy. You can hardly believe how such little ingredients can produce a delectable flavor. But sometimes, the basics shine. This elegant Italian dish will make your dinner more refreshing.
Have I told you what is the easiest Italian pasta to make? It is Cacio e Pepe pasta, which can be understood as cheese and pepper pasta. You just need cheese, peppers, and some olive oil to make a crowd-pleasing pasta side course that takes little time to finish.
Cacio e Pepe pasta has a creamy texture created with just the right amount of melted pecorino romano and parmesan, two classic Italian types of cheese. The sauce covers the noodles, making them taste chewy, cheesy, and aromatic.
This is another pasta that you can make in a matter of minutes. Pesto chicken pasta is vibrantly flavorful and delicate. If you already have basil pesto, you don't need more than 20 minutes to make it. In case you don't, I will give you the recipe to make right after this.
This simple one-pot pasta recipe is salty, herby, and garlicky. The penne pasta fully absorbs the flavor, making the dish more filling and comforting.
Basil pesto is a very popular condiment in Italy. It is the companion of a lot of Italian dishes, ranging from pasta, chicken to meatballs. This sauce has a green, fresh, and herby look that will impress anybody.
This rich, salty, and creamy sauce is originally made from pine nuts, basil leaves, parmesan, and salt. All you have to do is to put everything in a food processor until they're ground to perfection.
Making authentic basil pesto is a lot easier than you think. The video below should be able to help you:
Focaccia is soft, salty, garlicky, and buttery, a perfect choice for your Italian breakfast or dinner party. This homemade recipe promises to bring you its original taste.
When off the oven, focaccia is crispy on the inside and soft and tender on the inside. That's when it tastes best. You can add some herbs to create a more attractive fragrance. It can be served by itself or with sandwiches and soup.
This beautiful bright yellow polenta with parmesan is the perfect Italian sauce to serve with roasted meat and vegetables. It is creamy, soft, and cheesy, which is so rich and comforting.
This polenta is very easy to make. You just have to stir cornmeal, butter, and parmesan cheese with some seasonings. It just takes you only 40 minutes to cook this delicious polenta.
Calzones are made by filling pizza dough with various kinds of cheese and toppings. The dough is then baked until it gets the golden look. Chewy on the outside and flavorful and rich on the inside, you don't have any reason not to love this well-known Italian dish.
You should enjoy calzone while they're still hot. Serve them with salads, dipping sauce, and roasted vegetables.
Is there anything more amazing than a dessert pizza? The beautiful color and various kinds of toppings such as strawberry, Nutella, and some other kinds of nuts.
The pizza dough comes first. The next layer is chocolate. Toppings are well-arranged on the top. It is flavored with various kinds of sweetness from chocolate, almonds, and Nutella. Do you crave this Italian pizza? Try making it today!
Please The Crowd With The Most Satisfying Italian Meal
These 27 Italian recipes are just what you need to prepare for the most fulfilling and authentic Italian party. Add these recipes to your cookbook. You can hardly find anything better than them.
You don't need to be a skilled cook to make these dishes. Everything you need is effort and care. Don't be afraid to cook them. I believe that you can. Don't forget to share with me your Italian dishes in the comment section.
Nutrition Facts
6 servings per container
---
Amount Per ServingCalories253
% Daily Value *
Total Fat 5.7g

9

%
Sodium 808mg

34

%
Potassium 559mg

16

%
Total Carbohydrate 41.2g

14

%

Dietary Fiber 10.6g

43

%
Sugars 8.2g

Protein 10.5g

21

%
---
* The % Daily Value tells you how much a nutrient in a serving of food contributes to a daily diet. 2,000 calories a day is used for general nutrition advice.