Gourmet Italian desserts are known to belong at the top of the world. From rich and creamy panna cotta to delightful, fragrant cookies, sweet Italian treats got it all. But there's more to this food culture that you may have yet to fully discover.
Traditionally, these specialties are quite petite and served as a luscious, sweet note to the end of a meal. What's more, it's not a completed holiday feast around Italian households without a series of sweet delights on the tables.
It's all about the fresh produce, the cheese, and the cream, which gives their desserts a unique identity. If you plan to get a taste of Italy, brace yourself up! Here's a selection of the tastiest Italian desserts from ancient times to satisfy a big sweet tooth.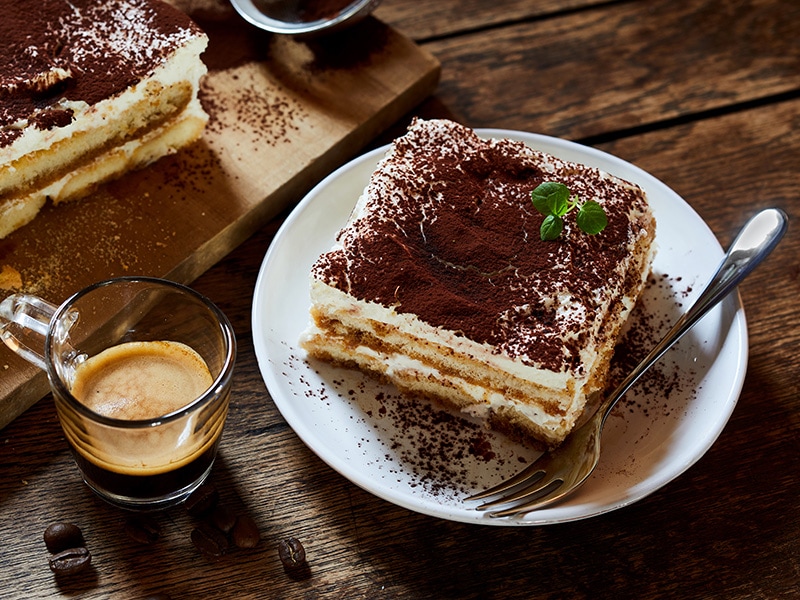 Top 30 Authentic Italian Desserts Not To Be Missed
It's no secret that the Italians hold their sweet treats in high regard. From decadent pastries to creamy custards and gelatos, here're the best Italian desserts that'll make you feel like relaxing under the Tuscany sun.
Italian Pastries
Bomboloni (Italian Donuts)
Cannoli With Vanilla Custard
Castagnole (Italian Carnival Fritter)
Peach Crostata (Italian Peach Tart)
Strudel Di Mele (Italian Apple Strudel)
Italian Cakes
Ciambella (Italian Breakfast Cake)
Italian Love Cake
Tiramisu
Torta Caprese (Italian Flourless Chocolate Cake)
Italian Puddings & Custards
Budino Al Cioccolato (Italian Chocolate Pudding)
Budino Di Riso (Italian Rice Pudding)
Sanguinaccio Dolce (Italian Blood Pudding)
Vanilla Panna Cotta
Zabaglione (Italian Egg Custard)
Baci Di Dama (Italian Hazelnut Cookies)
Biscotti
Pizzelle (Italian Waffle Cookies)
Ricciarelli (Italian Almond Cookies)
Struffoli (Italian Honey Balls)
Torrone (Italian Nougat)
Italian Frozen Desserts
Affogato (Italian Coffee And Gelato Dessert)
Blueberry Semifreddo (Italian Frozen Blueberry Mousse)
Fresh Strawberry Granita
Stracciatella Gelato (Italian Chocolate Chip Ice Cream)
Strawberry Gelato
Italian Holiday Desserts
Anginetti (Italian Lemon Knot Cookies)
Cuccidati (Sicilian Fig Cookies)
Frutta Martorana (Italian Marzipan Sweet)
Panettone (Italian Christmas Bread)
Pastiera Napoletana (Neapolitan Easter Cake)
What Are Some Gourmet Italian Desserts For Your Sweet Tooth?
For the Italians, desserts are a matter of national pride. If you plan to serve some elegant delights to end your dinners on a sweet note, scroll down to find out what authentic Italian desserts are in store for you.
Much-Appreciated Italian Pastries For Your Indulgence
With undeniable charm and exquisite flavors, these authentic Italian pastries are the perfect home-baking projects to kick your skills up a notch.
It's not your regular doughnuts. At first glance, you can tell that bomboloni is good from the visible creamy filling from the top instead of hidden inside like other variations. It's easy to find bomboloni sold by street vendors all across Italy.
Essentially, this sweet treat is a fluffy fried dough coated in sugar and stuffed with a luscious filling. From chocolate and custard to jam, there's a variety of flavors to suit your fancy. Sweet and delightfully soft, each bite feels like a party in your mouth.
Despite being a dessert, this Italian donut is often eaten as a sweet breakfast or a little snack to tie you over until the next meal. It's so delicious, not to mention the recipe requires a few pantry staples and a donut maker to create a quick breakfast.
Arguably one of the most cherished desserts in Italy, cannoli is widely displayed at any sweetshop and café across the country. Legend has it that the origin of this pastry took place in ancient Sicily and was strongly inspired by Arab cuisine.
Essentially, cannoli consists of a fried cylinder pastry filled with a rich custard cream of milk and vanilla seeds. The best way to describe the way it tastes is almost like a passionate kiss. It yields the perfect balance between crunchiness and creaminess.
Sweet, decadent, and rich, cannoli is truly a timeless classic in Italian food culture. In addition to vanilla custards, there are numerous types of fillings to experiment with. Suit your taste with ricotta cheese, citrus, or white chocolate treat.
From the famous Carnival season up until the Easter feast, castagnole is easily a national favorite. These sweet little bites of heaven have a wonderful aroma, and a crunchy texture that melts in your mouth, not to mention they're such a cinch to make.
In a nutshell, castagnole is a sweet dough ball deep-fried and coated in granulated sugar. Some folks love to fill it out with creamy custard or cherry jam, while others choose to opt-out and drizzle it with honey or chocolate spread.
Either way, you can expect a big tray of castagnole to disappear in minutes. Thanks to the honey, these treats are sweet without being cloying. Sure enough, they're on top of your must-try list visiting Italy during the festive season.
Essentially the Italian take on the classic French galette, peach crostata brings out the rustic, aromatic hint of a summer dessert. A mixture of fresh or ripe peaches are tossed in with sugar, nutmegs, and cinnamon makes up the perfect, delicious filling.
The mixture is baked to perfection in a flaky pie crust. There's no right or wrong when it comes to the shape of the pastry, which is why this tart takes so little effort to make yet still turns out a showstopper.
You'll find a wave of peach flavor in this dessert. When combined with the golden, crunchy crust, it's an extra special treat that'll leave everyone talking about it. A big scoop of vanilla ice cream might just be the perfect match for this crostata.
Are you curious about how peach crostata is typically made? Here's how!
While its origin remains debatable, many consider this recipe a classic apple sweet from northern Italian. Traditionally, this dessert is created with strudel dough hand-stretched into a long sheet.
However, lots of folks tend to use a flaky puff pastry to save time. The pastry then encases a delicious filling of cinnamon-spiced apples, raisins, and lemon juice. Some dusting of powdered sugar is the perfect final touch before serving.
The strudel is sweet, tasty, and not overly spiced. All the flavors seem to hit the right spot. Pair a warm slice of this comforting pastry with a bit of whipped cream and a nice cup of tea, and the gloomy fall day will brighten up in no time.
Easy And Decadent Italian Cakes To Soothe Your Soul
The Italians indeed know what's up when it comes to mouth-watering cakes. With these traditional Italian recipes on hand, it's such a breeze to end your meals on a sweet note.
What can be better than starting your day with an Italian treat? You don't want to miss this ciambella, an Italian bundt cake version. This dessert takes minimal effort and only 35 minutes to get ready.
The bounciness and light crust comes together to give the cake a desirable texture that makes each bite a pleasure in your mouth. It's typically infused with unpretentious flavors like lemon, honey, and many kinds of fruits.
Nothing accompanies ciambella quite perfectly like a cup of foamy cappuccino. Take a big slice, dip it in your coffee, and relish the aromatic, buttery taste fresh from the oven.
Why decide between a cheesecake and a chocolate cake when you can have both? This Italian love cake involves three layers of chocolate cake, ricotta cheese, and chocolate frosting stacked nicely on top of each other.
The real magic of this dessert happens in the oven. As the cake bakes up, it switches layers. Yes, you heard that right! The ricotta layer sinks to the bottom due to its denseness, allowing the chocolate to rise to the top.
All this creates a start-of-the-start dessert that totally lives up to its name. Full of flavors, light, creamy, and downright delicious, no wonder it's commonly served in Italian weddings. As the perfect ending to a romantic night, this cake is destined to wow your honey.
Creamy and ethereal, tiramisu is one of the greatest gifts from Italy to the rest of the world. The name quite literally means "pick me up" in Italian, which refers to the energizing effect of coffee infused in it. Indeed, whose mood wouldn't be lifted after a serving of it?
The sharpness of good-quality cocoa powder, the robust kick of espresso or coffee liqueur, and subtle layers of mascarpone and whipped cream give tiramisu its special identity. With its crunchy and silky texture, each bite will send you off to heaven.
Unless you plan to bake your ladyfingers at home, making tiramisu is all about combining the right ingredients. With no cooking needed, this dessert is just right for those steamy days of summer when you simply don't want to heat up the kitchen.
Nailing the perfect tiramisu has never been easier with this tutorial!
As a gourmet flourless dessert, torta caprese is a stunning sweet treat without gluten for any sweet tooth on a diet. This traditional delicacy gets its name from the isle of Capri, where it was invented. With dark chocolate, almonds, eggs, and sugar, it's a doddle to bake from scratch.
The story goes that the creation of torta caprese was actually a chef's mistake to forget to add flour into the cake batter. Yet, it turned out wonderfully with a moist, rich texture. The cake's so full of dark chocolate flavor without being too heavy.
With a total of five main ingredients, this chocolate cake is anything but tricky to make. For another dimension of flavor, you can add a dollop of cream or two on top of it and enjoy it alongside a strong espresso like a true Italian.
Creamy Italian Puddings And Custards For Your Next Tea Party
Classic, creamy, and flavorful, these Italian specialties got it all. Whenever you crave some luscious pudding desserts that don't take all the time in the world to prepare, here's a short selection of the best puddings and custards to try out.
Perfect for a lovely date night meal with your special someone, Italian chocolate pudding is palatable in its simplicity. If you haven't tried it, this old-fashioned dish resembles a super-soft brownie baked in a cup.
Typically, the recipe calls for a handful of pantry ingredients such as chocolate, heavy cream, eggs, and vanilla. A well-kept trick for it to hit the spot is to use some good-quality dark chocolate and avoid overcooking.
At its best, this pudding is soft, fudgy, smooth, and incredibly rich. Every bite almost feels like pure bliss on your taste buds. When you crave some decadent indulgence, this has everything it takes to be your go-to!
11. Budino Di Riso (Italian Rice Pudding)
In a nutshell, authentic Italian rice pudding is a moreish combo of silky-smooth custard and cream. When you crave something starchy, a bowlful of budino di riso will warm your stomach and soothe your soul in the best way.
Locals often whip up this dish with Arborio rice, milk, eggs, sugar, and vanilla extract. The short-grain rice lends itself to a creamy, satisfying texture. Vanilla is the standard in the most basic recipe, but if it's not your type, experiment with a citrus or bourbon flavor.
Let's be real! Though this rice pudding isn't the most gorgeous of all in the look, its heavenly flavor makes up for it all. It takes two hours of cooking to put together this bowlful of goodness.
While the concept may come across as bizarre, sanguinaccio dolce is actually a phenomenal dessert that's worth a try. Sweet, salty, and slightly metallic, the sweet treat tends to resemble a thick hot chocolate when served warm.
In this exotic recipe, pig's blood is made creamy with ingredients like dark chocolate, pine nuts, milk, and sugar. To your surprise, it turns out incredibly elegant and tasty. Not only the spooky season, but this pudding is great for any time of the year.
If you've got some ladyfingers around, don't be shy to dip them into this pudding. It's best enjoyed warm. As it cools down, you'd better give it a light stir before serving.
If you're a true food connoisseur, you're certainly no stranger to panna cotta, a brilliant dessert for BBQ sessions or family gatherings. This Italian classic is one of the most eaten-with-a-spoon desserts in the world. Visually, it's exquisite enough to be the centerpiece of any dinner party.
There's nothing much complicated to a vanilla panna cotta. In this dish, a silky custard is thickened with a touch of gelatin and molded into single-serving portions. It's flavorful, smooth, and velvety that's meant to melt across your tongue.
A berry sauce and some fresh strawberries make the perfect contrast to the silky pudding. When served in a glass dish, it's a beautiful feast for the eyes, not to mention everything can be made ahead with ease.
Here's how you can whip up an exquisite glass of panna cotta in minutes! You can see this video to know more:
No doubt, zabaglione is a true marvel of Italian dessert. This custard is made by whisking together three basic ingredients: egg yolk, wine, and sugar. Yet, it's so delicate, silky, and almost tastes like heaven in your mouth.
When it comes to serving zabaglione, the options are endless. Some folks love to pour it over a slice of cake, pastry, or ice cream, while others lap it up like a foamy beverage. If your children want a taste, simply replace the wine with another non-alcoholic cider.
Cookies certainly occupy a special place in the heart of many Italians. From crumbly and crispy to soft and chewy, here're some must-try Italian cookies if you have a big sweet tooth.
Hailing from the Piemonte region of Italy, baci di dama is often packaged for giving around as gifts on special occasions. The cookie's name merely means "lady's kiss," and you'll understand once you take a bite into it.
Two buttery hazelnut cookies tightly sandwiched together with a layer of chocolate hazelnut spread are the essence of this sweet. Every bite is so delicate, crispy, and rich, all in a sweet flavor embrace that's not cloying at all.
Whether as a sweet breakfast or a snack, baci di dama goes down wonderfully with a hot cup of espresso. These tiny cookies freeze well, so you might want to bake up a few extra batches and keep them handy for later indulgence.
Let's be real! We all appreciate a freshly baked batch of homemade cookies. In Italy, biscotti are especially famous for their texture, which is super crispy yet crumbly and light-textured. Dip some in melted chocolate, and you won't want to eat them any other way.
The rule of thumb for these delightful cookies is double baking. Biscotti are quite simple to make, with no special equipment needed, so you can satisfy your sweet cravings whenever your heart desires.
Like other cookies, these biscuits can be decorated for special occasions. You'll find endless recipes for biscotti, from the classic vanilla and almond to exotic flavors like guava and oranges.
Instantly recognizable for its snowflake appearance, pizzelle is actually an ancient recipe that made its debut back in the 8th century. It's reportedly one of the oldest cookies to date and is such a doddle to whip up.
All you need to recreate this classic sweet is flour, butter, eggs, and vanilla, or anise. Typically, pizzelle are made by pressing the batter between two iron plates, just like a nice pancake griddle. It's totally crunchy, buttery, and the delightful flavor just dances in your mouth.
The secret to mouth-watering pizzelles lies in your bake time, preferably with a reliable kitchen timer, which is approximately 1 minute. Also, don't be shy with the chocolate spread if you'd love the cookies with extra sweetness.
Returning to the 15th century, ricciarelli offers a lovely chewiness and a wonderful fragrance that draws everyone to it while still in the oven. This delish sweet treat for autumn days is created from almonds, egg whites, and sugar and studded with dried cherries.
A drizzle of powdered sugar adds the perfect finishing touch to the cookies. Chewy, exquisite, and bursting in a moreish almond flavor, this treat is indeed to die for. Plus, the beautiful crack on its surface offers a mosaic-like beauty on the platter.
In Italy, ricciarelli is the ideal accompaniment for a nice cup of tea or coffee. If you have a soft spot for chewy biscuits, you know what to make at the next tea party!
Follow this quick guide, and ricciarelli is totally your new favorite go-to!
A popular mini dessert many Italians love, struffoli is pure bliss for sweet lovers. Authentic struffoli consists of small pastry balls deep-fried, then drenched in a generous amount of lemon honey syrup and garnished with colorful sprinkles.
As you take a bite, the crispy exterior reveals a soft, airy, and warm center that's almost irresistible. It's so tempting to pop all these balls of heaven into your mouth until the whole plate is empty.
It's not a completed festive meal in an Italian household without a big platter of struffoli. It can be served freshly made and warm or refrigerated for 2-3 days and slightly reheated before eating.
Having been around for at least 500 years, torrone is a beloved nougat across Italy. This confection has made its way onto many holiday and festival tables. The texture tends to vary from pillowy soft to firm based on the cooking time.
Traditional torrones are served in small squares. When it comes to the flavor, this sweet delight is often studded with tons of pistachios, almonds, and nuts. Exchange these as holiday gifts, and you'll send people home with something to talk about.
It's safe to say that perfecting torrones requires some skill and patience because you'll stand next to the stove and stir for a while. It may take a few trials and errors, but the end result is truly worth it.
Light And Airy Italian Frozen Desserts For Those Dog Days Of Summer
Did you know that there's a whole world of frozen desserts in Italian food culture beyond gelato? These ice-cold, melt-in-your-mouth delights are the silver lining of the hot and steamy summer days.
Affogato translates to "drowned" in Italian, which is quite self-explanatory for what the dish really is. Ready in 10 minutes, this fancy-looking sweet treat is actually so simple yet satisfying; it's become a staple in almost every Italian restaurant.
It takes just three ingredients to bring affogato to life. Pour a shot of hot coffee, preferably espresso, onto some cold vanilla gelatos, and finish with a sprinkling of cinnamon. Silky, bittersweet, and a bit boozy, all the flavors just melt right away.
The true beauty of this coffee-based dessert is that you get the best of both worlds. Served quickly, it yields the perfect balance of hot and cold. The Italians surely know what's up when it comes to soothing a soul!
It's no secret that semifreddo is the epitome of Italian frozen dessert. The best way to describe its unique texture is half cold, half-frozen, which is what its name exactly means. In a way, it resembles ice cream, yet molded and sliced rather than scooped.
Authentic blueberry semifreddo is prepared by combining whipped eggs and whipped cream, then frozen. The end result is airy, light on your palate, and makes a great canvas for the blueberry flavor that your heart desires.
With no ice cream maker needed, semifreddo is just a godsend dessert to cool you off when it's way too hot to heat the oven. Plus, it's super customizable with fresh seasonal flavors all year round, like citrus and berries.
Silver lining to the steamy days of summer? Let's beat the heat with a glass of strawberry granita. With no ice cream machine required, all you need to recreate this refreshing strawberry dessert is a fork to scrape the ice as the frozen strawberry mixture freezes.
In this ice-cold treat, the fresh, sweet strawberry flavor truly shines through. The texture is flaky and coarse, which is why it's considered a close cousin to sorbet. Other than strawberries, you can always try them with other flavors using the same technique.
Is it hot in here? Cool off the heat with this strawberry granita tutorial!
Smooth, creamy, and bursting in intense chocolate goodness, stracciatella gelato is anything but ordinary. This Italian delicatessen is made from milk, cream, sugar, drizzled with tons of chocolate shards.
A special rule of thumb when it comes to nailing the best stracciatella is by using good-quality milk and chocolate. At its best, the smooth texture pairs well with the delicate crunchy of the chocolate.
Fingers crossed, the vanilla snowflakes just melt in your tongue. You can always shake things up with tasty add-ins and turn them into pistachio or heavenly coconut dessert to find out what best suits your fancy.
Nothing pairs better with those dog days of summer than a couple of scoops of gelato. This world-famous frozen treat from Italy is characterized by its rich flavor, soft consistency, and thick, creamy texture.
Typically, gelatos are made from milk, yolks, cream, and a pasteurizing machine. However, if you're whipping up some at home, an electric mixer works in a pinch. Besides the classic strawberries, don't be shy to try other flavors like nuts, chocolates, and pistachios.
When it's good, some refreshing strawberry gelatos will bring an instant smile to your face and mesmerize your taste buds. It'll only take a few hours for you to enjoy summer like you're in Italy.
Beloved Italian Holiday Desserts That Screams Festivity
Before you know it, Christmas is just around the corner. It's the perfect season of the year to bake up some aromatic and delightful Italian holiday desserts. Wrap some up as gifts, and you can send your guests home with something delicious to talk about.
Bursting in a bright citrus flavor, anginetti is a delicious treat that you simply can't eat just one. This pillowy soft and zesty cookie is topped with lemon juice glazing that gives it a wonderful flavor.
Primarily prepared for holidays and special occasions, anginetti can be enjoyed year-round. As with other Italian delicacies, these cookies are never overly sweet. What's more, it's so fun to decorate them with nonpareils and colorful icings of your choice.
From start to finish, a batch of cookies takes only 45 minutes to get ready. These famous show-stopping bites are super easy to cater to your taste just by switching out what you use for the top frosting.
This Christmas, warm up by the fireside with some classic fig cookies from Sicily. With figs, nuts, raisins, lemon zest, and cinnamon being thrown into a mixture of filling wrapped by buttery dough, this delightful recipe is sure to be a hit this holiday season.
Traditionally, these cookies are iced and garnished with colored sprinkles to give them a festive presentation. Each bite brings out a flavorful, moist, and aromatic with a touch of spice from the cinnamon.
Such lovely sweet treats make the perfect holiday gifts for your loved ones. You can enjoy some warm cookies with espresso and stash the rest away for later because you'll likely want to munch on them for days.
Have a taste of Italy with this quick recipe for Sicilian fig cookies right here!
Should you ever find yourself wandering the Sicilian pastry shops in the holiday season, you'll find a wealth of frutta martorana. These little delicacies are marzipan pastries made in the shapes of fruits and vegetables.
These sweets are rarely outside of Sicilian borders, which is why they remain unpopular to many foodies. Thanks to the admirable craftsmanship that's been handed down for decades, frutta martorana looks crazy realistic.
On the flavor side, it's incredibly sweet and tasty to tickle your palate and your wildest fantasy. If you happen to travel to the city when Christmas arrives, this one-of-a-kind dessert is something you won't want to miss.
Perhaps nothing puts you in the holiday spirit better than the scent of various lovely bread varieties in Italy. This panettone is a tall, domed bread studded with loads of raisins, candied fruits, and almonds.
The best way to describe this treat's texture is a wonderful hybrid between bread and a cake. Rich, buttery, light-textured yet with a unique crust on the outside, it's simply too delicate to resist.
In most Italian households, panettone is an indispensable staple served in the holiday feast. One thing I really love about this sweet delight is that there's a lot of room for you to cater the flavors and make it your own way.
If you plan to shake up your Easter meal, pastiera napoletana deserves a firm spot on your table. As its name suggests, this classic hails from Naples, southern Italy. You know the dessert is good when its backstory involves a mermaid and industrious nuns.
Authentically, this Easter pie consists of a shortcrust pastry filled with a mix of ricotta cheese, wheat berries, and candied fruits. The combination of flavors gives it a melt-in-your-mouth texture and a delightful symphony of flavors.
As heavenly as this dessert is, it's almost too good to enjoy on Easter only. To ensure all the ingredients have enough time to bine, locals often make it days in advance. It's not too hard to make, but you can't be in a rush if you want to achieve success with it.
Get The Sweet Pleasure Of La Dolce Vita!
And that was about it! Rich cakes, crunchy cookies, indulgent pastries, and silky puddings, you've got it all in your back pocket. Whether you're a big sweet tooth or not, these heavenly desserts will surely warm your stomach and brighten up the dreariest days ahead.
More than an after-meal recipe, it's no secret that sweet Italian specialties are perfect for any time of the day, from sweet, easy breakfasts to pick-me-up treats to tie you over until the next meal.
If you're in love with Italian cuisine, I'll let you in on a little secret. You can get a taste of "la dolce vita" right in the comfort of your kitchen.
It'll be a great pleasure to know how your culinary journey's going and what's your favorite dish on the list!
Nutrition Facts
9 servings per container
---
Amount Per ServingCalories323
% Daily Value *
Total Fat 22.5g

35

%
Cholesterol 191mg

64

%
Sodium 43mg

2

%
Potassium 84mg

3

%
Total Carbohydrate 26.9g

9

%

Dietary Fiber 1.1g

5

%
Sugars 17.8g

Protein 5.6g

12

%
---
Calcium

55

%
Iron

1

%
Vitamin D

21

%
* The % Daily Value tells you how much a nutrient in a serving of food contributes to a daily diet. 2,000 calories a day is used for general nutrition advice.