Italian appetizers always make a deep impression on my heart. I have had a long time researching, discovering, and experiencing Italian cuisine. Through experience, I have concluded a list of 30+ delicious Italian appetizers.
Until now, Italy has always been a culinary paradise of the world. Besides pizzas, you can find a heritage of fantastic dishes in Italian cuisine. In this article, you will have the opportunity to learn and understand more about Italian appetizers.
This article will help you improve your culinary knowledge, know more delicious appetizer recipes to complement your menu, and understand more about Italian culture. So do not miss any helpful information in this article.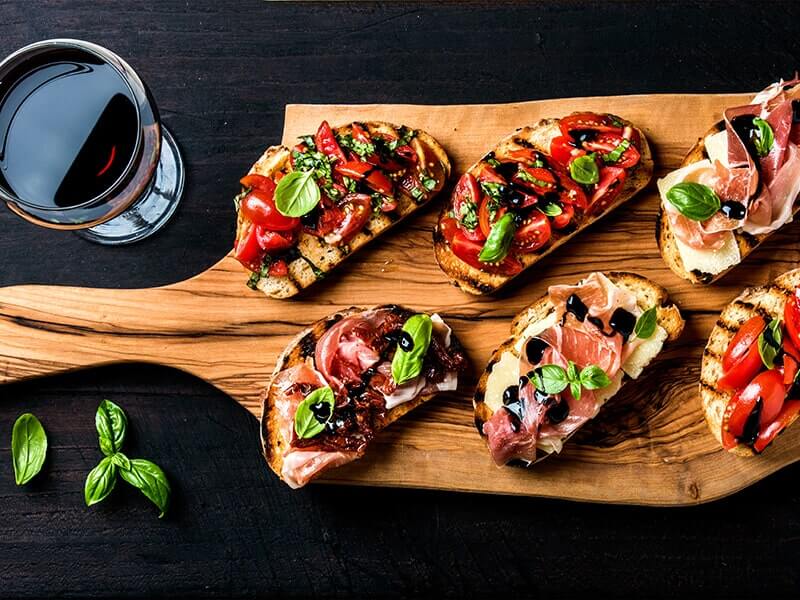 There are many fantastic appetizers to start a hearty party in Italy. Each dish has a different color and flavor. I will divide 33 Italian appetizers into 4 groups containing different ingredients, including meat, vegetables, starch, and others.
Delicious Italian Appetizers With Lots of Meat
Spiedini
Italian Meatballs
Antipasto Platter
Chicken Florentine Pizza
Antipasto Skewers
Excellent Italian Appetizers Containing Lots of Vegetables
Italian salads for starting the party
Italian Tomato Salad
Tomato Panzanella Salad
Antipasto Salad
Caprese Salad
Other Italian Appetizers With Vegetables
Marinated Mozzarella
Eggplant Parmesan Poppers
Caprese Skewers
Marinated Olives
Italian Vegetarian Stuffed Mushroom
Italian Roasted Cauliflower
Roman Fried Artichokes
Eggplant Pizza Bites
Caponata
Fantastic Italian Appetizers With Starch Ingredients
Italian Appetizers With Bread
Crostini
Bruschetta
Focaccia
Margherita Flatbread Pizza
Italian Cheese Pull Apart Bread
Caprese Flatbread
Whip Ricotta Crostini
Other Italian Appetizers With Starch Ingredients
Pasta-and-pesto Croquettes
Calzone Pinwheels
Pizza Sticks
Cheese Twists
Spaghetti Fritters
Other Amazing Italian Appetizers
Arancini Balls
Italian Nachos
Zucchini Garlic Bites
Kick Off Your Party With 33 Fantastic Italian Appetizers
It is time to discover the characteristics of Italian cuisine through these wonderful appetizers. Although there are countless other delicious appetizers, I hope these 33 Italian appetizers will help expand your recipe book.
Adding Protein With These Meaty Italian Appetizers
To start the party with excellent Italian appetizers, I will bring you a list of Italian appetizers that contain a lot of meat in their ingredients. Do not miss any great recipes because there will come a time when you will need them.
1. Spiedini
Spiedini deserves to be a perfect choice to start your party, thanks to the wonderful flavors it brings. It will help you have a great first experience before the main course. Let's try making it to treat your loved ones.
This appetizer is an excellent combination of beef and other vegetables. Seasoned beef pieces are skewered and grilled with slices of onion and fragrant grapes. All these ingredients create a perfect taste for the dish.
Meatballs are a common ingredient in spaghetti plates, but this recipe is often on the list of starting courses with meatballs. Therefore, it will be extremely remiss if you do not mention these Italian meatballs in the list of the article.
You will be hard-pressed to forget the taste of the soft meatballs, evenly soaked in spices. Many people think that placing meatballs next to the main dishes is a mistake because their deliciousness is easy to make you forget to enjoy the main dishes.
Take a trip to Italy to see how Italians make fantastic meatballs to treat your family.
An antipasto platter is another meat-based appetizer that promises to make you remember after enjoying it. This is a popular appetizer in Italy, and it will help you forget your cravings for Italian sausage.
The dish is a harmonious combination of many different ingredients to create a perfect whole. Delicious and soft pieces of salami with the typical Italian flavor combined with the fatty cheese and the natural flavor of olives. Well! That is so incredible!
An appetizer that, when looking at its presentation and appearance, you are already salivating. Chicken florentine flatbread is an impeccable starting course made of chicken and flatbread. This dish will add protein and carbs for you.
The delicious and fragrant pieces of chicken are arranged evenly and reasonably on a slice of bright yellow flatbread. Cut a piece of flatbread that has chicken, vegetables, and other herbs on it, and put it in your mouth. Oh, how can I forget this feeling of joy?
If you are a big fan of cured meat and vegetables, you should not miss antipasto skewers. This is a famous fusion of Italian cuisine. Your taste buds will be awakened after enjoying this appetizer with fresh ingredients.
Various meats skewered with fresh vegetables will bring out an irresistible aroma. When this dish is on the table, I advise you to eat it quickly because you will lose the opportunity to enjoy this dish because of the person next to you.
Experiencing The Amazing Italian Starters With Vegetable Ingredients
If you are a fan of vegetable dishes, this section is for you. Italy has a treasure trove of wonderful appetizers containing vegetables, so you and I will explore this unique treasure together. You will not be disappointed with what appears in this treasure.
Enjoying Some Yummy Italian Salad At The Beginning Of Party
Salad is an appetizer that you can easily find in every cuisine in the world. In Italy, salad is also an indispensable appetizer on the table of Italian people. Let's enjoy the fresh salad together.
If you have ripe tomatoes in your garden, use them to make a delicious starter full of tomatoes. This salad is pretty simple to make and does not take too long. Starting the meal with a plate of fresh tomato salad is so wonderful.
The sour and sweet taste of fresh tomatoes topped with the salad dressing adds flavor to this authentic Italian salad. Add flavor to the dish with basil and onions. Italian tomato salad is an excellent choice for your meal as well as for a picnic.
Another tomato appetizer that you can try at home is tomato Panzanella salad. This is a typical appetizer for summer, and you can enjoy it at brunch or dinner. The dish will bring out the freshness of the fruit and help you kickstart the taste of the main dishes.
It is a wonderful combination of the crispiness of bread crumbs and the freshness, and nutrient richness of tomatoes. With an attractive taste and beautiful appearance, tomato Panzanella salad is always a preferred choice of Italian chefs.
If I mentioned the outstanding Italian salads, I would be remiss if I did not mention the antipasto salad. I am afraid you will be left speechless when enjoying this delicious salad. Antipasto salad is a common name on the menu of Italian appetizers.
Fresh and delicious vegetables bring out the diverse flavor of this salad. Salad dressing helps increase more taste as well as balancing the flavor of different fresh vegetables. You will feel the characteristic flavor of each ingredient when biting.
A plate of antipasto salad will be a perfect choice for your weekend's party.
Caprese salad deserves to be the standard Italian salad to close this perfect salad party. This salad not only has excellent taste but is also very good for your health thanks to the ingredients of the dish. So, please rest assured to enjoy this appetizer.
This salad contains all the flavor a delicious dish needs. The crispiness and tantalizing aroma of toast bread combine with the sweet and sour taste of classic Italian tomatoes, combined with the fatness and sweetness of cow's milk mozzarella.
Indulge In Other Italian Appetizers With Vegetables
In addition to the scrumptious salads mentioned above, Italy still has countless other desserts prepared with vegetables. Take a sip of water to clean your mouth and enjoy the next fantastic appetizers.
Marinated mozzarella balls will not disappoint you before enjoying the mouthwatering main dishes. This is a traditional mozzarella-based appetizer with bold Italian flavors. The ingredients are properly combined to create an irresistible dish.
Rich and fresh mozzarella balls are seasoned with olive and other seasonings. All spices are absorbed into each mozzarella, so you can hardly forget the bold Italian flavor every time you bite. You should eat marinated mozzarella with tomatoes and fresh salad.
It is difficult for you to stop enjoying the standard Italian-style eggplant parmesan poppers when the delicious taste of eggplant parmesan once appears in your mouth. The appearance of this appetizer in the meal will leave a stronger impression on your guests.
You will hardly be able to refuse to enjoy these mouthwatering poppers. The freshness and characteristic flavor of the eggplant will combine with a hint of cheese. It all blends in with the dipping sauce for your first bite.
12. Caprese Skewers
If you are a Caprese salad lover, you can not help but know Caprese skewers. You and I will go to Italy together to enjoy this unique appetizer. But I am afraid that when you go to Italy, you will not want to go back since you have fallen in love with this wonderful dish.
It can be said that Caprese skewers are a variation of Caprese salad to make it more convenient for you to enjoy by skewering the ingredients together. You will go from the fatty and sweet taste of mozzarella to the freshness of tomatoes and the signature taste of basil.
13. Marinated Olives
Accentuate your meal with marinated olives. Olive oil is a popular ingredient for salads, marinades, cooking as well as making attractive appetizers. In Italy, marinated olives are a traditional appetizer with the identity of Italian cuisine.
Olive oil comes with typical and traditional Italian spices that make you unable to resist the attractiveness and deliciousness of this appetizer. Olive oil is also a perfect ingredient for providing fat as well as different types of good carbs for your body.
14. Italian Vegetarian Stuffed Mushrooms
Italian vegetarian stuffed mushrooms are a healthy appetizer for vegetarian diets. This dish is suitable for you if you follow a weight-loss. You will need little time and effort to create this yummy appetizer.
Italian vegetarian stuffed mushroom is a fantastic choice for essential occasions. The sweetness of the mushrooms will make you want to eat the entire plate of Italian vegetarian stuffed mushrooms. Fresh herbs and parmesan cheese will add a variety of flavors to it.
15. Italian Roasted Cauliflower
Italian roasted cauliflower is an appetizer that you should try when you have the chance to travel to Italy, or you can make it yourself at home because it is so easy to prepare. Cauliflower is an ingredient that you can find in every kitchen, and so is your kitchen.
Firm and mildly flavored cauliflowers will be more flavorful when roasted in the oven and seasoned properly and fully. You can not sit still while enjoying this scrumptious dish. Cauliflowers and spices blend together as you much on these delicious grilled cauliflowers.
Listen to the detailed instructions to make Italian roasted cauliflower correctly.
Artichoke is a common ingredient in the preparation of desserts or tea. In addition, in Italy, there is an excellent appetizer with artichokes that is Roman fried artichoke. This is an appetizer that is pretty simple to make and also offers extremely attractive flavors.
Crispy and fragrant artichokes will give you extremely strange and unique sensations when biting them. The secret of this special dish lies in the frying process. To create standard crispy artichokes, you have to fry the artichokes twice.
Italy is considered the cradle of pizza. There are many different fantastic pizzas in this boot-shaped country. Eggplant pizza bites are unique pizzas made from a combination of vegetables and ingredients commonly found in pizza.
Besides the taste of eggplant, you will feel the flavor of other ingredients in this wonderful individual appetizer. The crackling aroma of garlic and the fatty taste of cheese, as well as pizza sauce, covered the surface of eggplant slices.
18. Caponata
Caponata is a traditional and typical Italian appetizer. It is a harmonious combination of taste, color, and presentation of bread, vegetables, and other typical ingredients. If you look for a dish on an Italian restaurant menu, caponata is a name you will come across often.
This is a savory dish with crispy and fragrant bread on top. Tomatoes and eggplants bring out the natural flavors of the dish. The deliciousness of this wonderful appetizer is beyond doubt. This dish is made to satisfy even the most demanding palates.
Fill Your Stomach With Italian Starters Containing Starchy Ingredients
The importance of starchy ingredients in cooking can not be denied. Starchy ingredients help relieve your hunger faster. In this section, a list of starchy Italian appetizers will be provided to you. Let's take advantage of this fantastic list!
Let's Discover How To Use Bread In Italian Appetizers Together
Flour-based ingredients and dishes are extremely popular in Italy. From delicious pizzas to mouthwatering pasta dishes, all create an identity of Italian cuisine. Bread is also an indispensable ingredient in this wonderful cuisine.
19. Crostini
A bread-based appetizer like crostini is a fantastic way to start your dinner. You can combine crostini to serve with any other dishes. Crostini will help you better understand numerous bread varieties in Italy and satisfy your bread cravings instantly.
The crispy and fragrant bread slices combined with the olive oil layer brushed on the surface will stimulate your taste buds to experience great dishes later. Making a traditional Italian crostini is simple, so bring your family to Italy by getting in the kitchen.
20. Bruschetta
Also, the slices of toasted bread are fragrant, colorful, and eye-catching. However, bruschetta will give you a richer flavor, thanks to the other ingredients added. Because it is made from bread, bruschetta is also pretty famous in Italy.
In addition to experiencing the crispiness of toasted bread, you also have the opportunity to taste the sweet and sour flavor of chopped fresh tomatoes. Italians also add a bit of basil to add color and flavor to this appetizer.
21. Focaccia
Another equally interesting bread appetizer is focaccia. Flatbread slices are a perfect start to your family's bread party. Make this dish right away to treat your loved ones because its ingredients are pretty easy to find and the recipe is not complicated.
The focaccia flatbreads are crispy on the outside and soft on the inside as if they want to melt in your mouth every time you chew. You know the aroma from toasted bread is a wonderful and attractive aroma that is hard to resist.
22. Margherita Flatbread Pizza
You can use Margherita flatbread as a perfect pizza-based appetizer or a main dish to fill your hungry stomach. This is a typical and famous flatbread pizza in Italy. The ingredients are appropriately combined to create a dish that touches people's hearts.
The slices of flatbread crispy on the outside and soft on the inside will make you imagine you are eating flatbread pizza at an Italian restaurant. Try it and enjoy it at home. And do not forget to add tomatoes, basil, and cheese for extra flavor.
Create spaghetti flatbread pizza to treat your loved ones with this chef's instructions.
23. Italian Cheese Pulled Apart Bread
Italian cheese pulled apart bread is a delicious appetizer for your family's weekend dinner. Bread will bring out its full value when accompanied by cheese. The two seem to be made for each other; they all create perfect harmony.
Garlic bread brings a unique aroma to the dish as well as you will not be able to refuse to enjoy such crispy bread. This recipe consists of various flavors of traditional Italian spices, the richness of butter and the unmistakable flavor of cheese. I ate all 10 of them because they were so delicious.
Caprese flatbread is a great appetizer for you if you are a carbs lover and want to add carbs to your body. It only takes a few minutes in the kitchen, and you will have an Italian appetizer to share with friends and family.
Crispy flatbreads deserve to be a fantastic start to meals. Not only that, Caprese flatbread also contains many other special things. These come from ripe tomato slices, the characteristic aromatic green basil leaves, or the rich flavor of mozzarella.
This is a great appetizer that you only need to spend a very short time in the kitchen to prepare and treat your friends. Pieces of bread with crispy crust are served with sweet and fragrant whip ricotta cheese.
Besides eating bread with ricotta cheese, you can also add a few toppings to add flavor to the dish and make it less boring to eat. What are you waiting for without adding it to your list of appetizers for this weekend's dinner?
Italian Appetizers With Other Starchy Ingredients Will Blow Your Mind
Besides the appetizers with the main ingredient of bread, Italy still has many appetizers with other starchy ingredients waiting for you to come and discover. You do not have to look any further; they are all about to appear before your eyes in this section.
26. Pasta-And-Pesto Croquettes
Pasta-and-pesto croquette is a dish imbued with Italian cuisine created by Gabriele Bonci – a famous Italian chef. The ingredients to make this unique pasta starting dish are the identity and roots of Italian cuisine.
When you take a bite of the pasta-and pesto croquettes, you will feel the crunchiness of the outer crust. Inside this beautifully and carefully wrapped crust are a pasta filling and creamy stracchino cheese slowly oozing out.
Calzone pinwheels are butterscotch cakes wrapped in a deliciously crunchy and appealing dough layer. The signature calzone filling will awaken your taste buds when your tongue touches this wonderful filling.
Calzone pinwheels are not only delicious, but their appearance is also extremely eye-catching. The bright yellow color of the pies, along with the special spiral shape, will leave a deep impression in your mind.
28. Pizza Sticks
You are fed up with serving big and round pizzas and want to choose a different pizza that you can serve in smaller, more bite-sized portions. You should try the famous Italian pizza sticks. Pizza sticks will give your guests unique rectangular pizzas.
The outer crust of the pizza stick is baked at just the right temperature and time to create just the right amount of crispiness for the pizza. The cheese is wrapped in this crust; when biting into it will melt and blend in your mouth.
A great appetizer made from eggs will bring a breath of fresh air to your meal. Italian deviled eggs are a fairly simple dish with ingredients that are easy to find in your kitchen. Let's jump into the kitchen to create a fantastic dish for your loved ones.
You will feel the characteristic flavor of eggs when you have the first bite. The added fresh basil gives the Italian deviled eggs a variety of flavors. The characteristic aroma of garlic will attract you immediately.
Do not rush to throw away leftover spaghetti noodles in your home! Pan-fried spaghetti fritters are a fantastic suggestion for you to take advantage of leftover spaghetti noodles. Try it now because the results will surprise you.
The strands of spaghetti are crispy with flour to create a colorful and beautiful color. Be careful not to let the spaghetti fritters burn while frying. A piece of spaghetti fritter with dipping sauce makes a great appetizer.
Complete The List With Other Amazing Italian Appetizers
Although appearing last in this list of fantastic Italian appetizers, the quality of these dishes will not be inferior to the ones that came before. I will show you other wonderful Italian appetizers to complete your menu.
31. Arancini Balls
Rice balls stuffed with cheese will make you unable to stop thinking about them after eating. An appetizer is not only beautiful in appearance but also in terms of quality and taste. They deserve to be placed on the party table.
The arancini balls have a bright yellow and crispy outer crust that will make sounds when you bite them. Inside is cheese, just waiting for the crust to break to melt and blend in your mouth. You will be mesmerized by the creaminess of this cheese.
Listen to the directions on how to make fantastic standard-Italian arancini balls for your dinner.
32. Italian Nachos
A change is needed in your appetizer menu. Let Italian nachos do it for you.Crispy is the first thing you feel when enjoying Italian nachos. Its flavor will make you go from surprise to other surprises.
The Italian nachos become more attractive with olive oil and creamy alfredo sauce on top. And of course, cheddar cheese is indispensable to create a highlight for this appetizer. To this today, I still can not forget its magical taste.
Use the zucchini in your garden to create zucchini garlic bites to start your dinner. These zucchini are fantastic for cooking, and you can make numerous delicious dishes out of zucchini and other accompaniments.
It is best to combine chopped zucchini with traditional Italian parmesan cheese as well as other herbs to create a crispy and fragrant dish. The dish will be more wonderful when served with marinara sauce.
To learn all the dishes of such a large and diverse cuisine is a very difficult thing. Therefore, I hope that my little culinary knowledge will help you somewhat in diversifying your menu as well as your recipes.
Have you chosen the right appetizer for your upcoming party? If not, please read carefully the recipes as well as the characteristics of the dishes that I have provided to have a perfect and satisfactory choice.
If you feel this article is helpful for you, please like and share to convey these fantastic cooking recipes to other people. Suppose you have any other amazing Italian appetizer recipes; let's share them in the comments. Thanks for reading!
Nutrition Facts
16 servings per container
---
Amount Per ServingCalories32
% Daily Value *
Total Fat 1.9g

3

%
Sodium 2mg

1

%
Potassium 84mg

3

%
Total Carbohydrate 1.9g

1

%

Dietary Fiber 0.8g

4

%
Sugars 1.1g

Protein 2.5g

5

%
---
* The % Daily Value tells you how much a nutrient in a serving of food contributes to a daily diet. 2,000 calories a day is used for general nutrition advice.