Overall, it is regularly reminded of Saint Patrick's Day menu when it comes to Irish foods. The holiday cooking recipes are incredibly diverse, fabulous, and have proved an exclusive cuisine.
You may find some of these dishes are very famous for their sharp taste. The list has four major categories: appetizers, main courses, side dishes, and desserts.
Also, I have placed some vegetarian dishes on the list as a unique addition to your meals.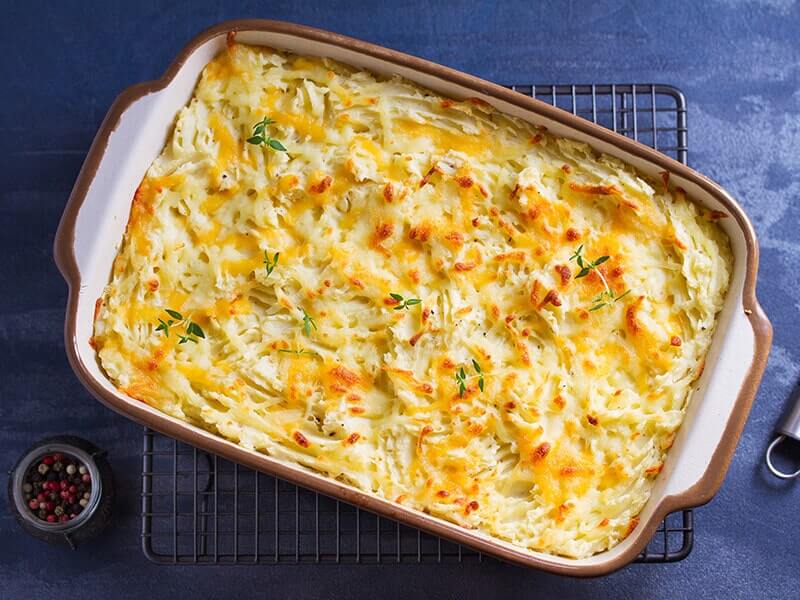 31 Succulent Irish Ideas For Any Home Chef
Let's check out some of my beloved Irish recipe recommendations right away. I do guarantee that a couple of them are helpful for your holiday meals!
Appetizer:
Irish Potato Nachos
Guinness Glazed Meatballs
Beer Cheese Dip
Irish Potato Bites
Irish Hand Pies
Salmon Spread
Main Course:
Shepherd's Pie
Dublin Coddle
Classic Irish Breakfast
One-skillet Irish Chicken
Corned Beef and Cabbage
Veggie Stew with Dumplings
Slow Cooker Vegan Corned Beef
Lemon Parsley Baked Cod
Guinness Braised Short Ribs
Side Dish:
Traditional Irish Boxty
Garlicky Brussels Sprout
Irish Colcannon
Corned Beef Hash
Whole Roasted Cabbage
Air Fryer Potatoes
Dessert:
Sweet Irish Soda Bread
Lucky Bailey's Irish Cream Cupcakes
Irish Tea Cake
Kerry Apple Cake
Irish Bread Pudding with Caramel and Whiskey Sauce
Baileys Cheesecake
Irish Shortbread Cookies
Irish Cheddar Scone with Scallions
Oreo Mint Trifle
Guinness Float
Craving for more details? You can start with the Appetizer section.
Check Out These 7 Appetizer Suggestions For A Great Opening Dish
Take a look at these succulent signature Irish appetizers consisting of savory meat dishes as well as vegetarian editions.
Potato nachos are a perfect appetizer for a traditional Irish dinner. The locals usually cook it on Saint Pattrick's Day, an Irish religion and cultural day.
The dish is made of seasoned, thinly sliced potatoes and baked until it reaches a brilliant crispy texture. You can enjoy these savory nachos with cheddar cheese and bacon as a nice treat for the holiday.
This homemade recipe seems to be a delightful appetizer with meatballs that you can enjoy right in a bowl with a toothpick.
The glazed meatballs are considered a perfect dish that everyone can share and eat together. Additionally, it is even more fascinating to have some mashed potatoes as a side dish. They can perfectly pair with each other.
It is not difficult to find a bowl of warm beer cheese sitting next to a french fries plate in Ireland. The hearty dip using cream cheese has become something special for Irish people.
Brewing has a long history in Ireland, and it is a part of the local. Therefore, it is not a strange thing to see beer retained in their cuisine. Beer cheese dip is effortless to make. You can enjoy it with fries, pretzel bites, baguettes, or even boiled cauliflowers.
Watch this video to know more:
I have one fun fact here, Irish people love potatoes. These lovely vegetables are used in almost the entire local cuisine and eventually have a special day for it.
Well, what can I say? Potatoes are not only tasty but also provide a significant amount of nutrients.
The Irish potato bites are a combination of corned beef stuffed in potato skins. To enhance the flavor of the dish, you can put cheese and bacon as a special bonus.
Let's take a bite of some savory hand pies. It will give the most crunchy and flavorful dish that you may obsess over.
The dish is very convenient so that you can grab some quickly. You can eat these savory hand pies for any meal of the day, even for a party appetizer. The first bite of the pie is engaging with the whole veggie-filled up your mouth, and especially the crunch crust as well.
Salmon Spread is a fantastic cold starting course made of smoked salmon and cream cheese. The salmon has a beautiful cover of a thick and rich sauce on a crisp bagel to enjoy.
The fascinating salmon spread is a combination of many flavorful ingredients. It includes mayo, cream cheese, horseradish, and a bit of lemon juice to balance the mixture.
9 Irish Traditional Main Dishes To Serve Your Beloved Ones.
These beautiful Irish dishes will give you the best local cuisine experience even though you haven't visited the country. They are so delicious, fragrant, and effortless to make so that you can do it yourself at any time!
On St Patrick's day, you can find no difficulty with a massive tray of shepherd's pie on the table. The original Irish dish is usually made on this memorable holiday because it represents the gratitude of the Irish for their God's protector.
Technically, the pie is like a filling casserole with potatoes, minced sheep meat, and vegetables. However, you can add some extra cheese or breadcrumbs on top to enhance the delightful texture.
The idea of this fantastic dish is to use the leftover food entirely for the next meal. It is a comforting dish that can be made quickly and stored in the fridge for the next eating time.
The dish includes bacon, potatoes, onions, some spices, and especially high-quality pork sausage. Moreover, the Dublin coddle is stewed until the whole ingredient tends to be well-cooked and has a fantastic aroma flavor.
A classic Irish breakfast is trendy in the local cuisine. Technically, you can effortlessly get some of these at any restaurant for breakfast. The first impression of the dish is fascinating because it consists of many common ingredients.
The dish is a combination of meats, including sausages, bacon, and black puddings. You can also add some beans, grilled tomatoes, and mushrooms to balance the food. Thus, this dish can provide enough energy for a long day.
The assembled Irish chicken skillet is a fantastic dish to serve for dinner. It is enormous and attractive that will bring everyone to feed right away.
You should cook the Irish chicken until its skin turns to a nice golden color and is crispy. Besides diversifying the dish, some favorite ingredients are provided, like cabbage, potatoes, onion, and bacon.
A classic Irish meal on St. Patrick's Day can't be complete without brisket-based dishes and their accompaniments. For example, a rustic dish combining corned beef brisket and stewed cabbage like this one will be the highlight of the day.
The beloved combo is a great treat when families gather together to share food and bond. Besides, it is a straightforward dish to make and a portion of nutritious food to enjoy.
In my opinion, stewing is one of the most popular cooking methods of the Irish when it comes to local cuisine. This method preserves the number of nutrients so well and even makes the whole dish a fascinating combination.
Dumplings are an excellent substitution for numerous minced vegetables. You can slow-cook the dumplings with simmering heat, then add tomato paste until the sauce is thick enough. You can also add some sliced vegan sausage to delightfully highlight the dish.
If you are both an Irish food lover and a vegan, you should check this out! The dish is so savory, delightful, and can be a refresh for a full meaty meal.
It tastes very "meaty" and juicy but still retains a specific flavor of the original version. This vegan corned beef combines many elements, including tofu, mushroom, beet puree, and supporting ingredients.
This codfish dish is a fantastic seafood dish that can conquer the pickiest meat-only diner. The Irish recipe has successfully made the fish with their style.
It seems like the fascinating lemon sauce is the tipping point of the dish. The sauce tastes a bit sour combined with an earthiness aroma of parsley, mixed to create incredible hearty food. Moreover, the well-cooked codfish is very savory so that you can even taste its juiciness.
Besides the traditional Shepherd's pie, the Irish also possess another mouthwatering beefy dish that will not disappoint you. Guinness braised short ribs are the most exemplary beef chuck or ribs cuts cooked in a unique sauce.
The significant factor that spices up the whole dish is Irish stout, a signature local coffee beer. With a gentle hearty taste of the beer, it raises not only the dish flavor but also the fantastic aroma as well.
Guinness Braised Short Ribs look incredible. You have to try this one soon!
6 Excellent Irish Side Dishes As A Special Addition
Some meals are just not finished without a couple of side dishes. These additional portions will enhance the wealth of the menu and balance everything as well.
If the Americans have their buttery pancakes made of eggs and milk, the Irish have their unique recipe. This special side dish uses potatoes and green onions. Hence, this succulent Irish snack is a fantastic treat for any generation.
The boxty creamy and savory flavors merge, creating an excellent taste that you will not forget. The dish can be a bit oily, so try to absorb the pancakes with napkins to have the best experience.
Let's get a big tray to bake some brussels sprouts. The succulent dish will give a hand to stabilize the main course menu and give a better dining experience.
The dish is so straightforward that you can make it in a couple of minutes. Just place some fresh brussels sprouts on a tray spread olive oil and garlic. Bring the whole thing to bake until it gets a bit shrink and slightly edges burn. And it is ready to serve.
With a long-term history, this succulent dish deserves to be a worthy try. It is an excellent recipe that you can cook on St Patrick's day when everyone sits down and enjoys the traditional meal together.
The combination is made of kale versus mashed potatoes and supported spices. You can probably taste a gently rich flavor of the dish that is perfectly suited with some Irish chicken or Shepherd's pie.
If you want some dishes to use the leftover corned beef in your fridge, why don't you make this savory hash? The dish is effortless to make and takes a few minutes to cook.
Just add some minced corned beef on a skillet, add some sliced potatoes and extra vegetables. Then mix them up with some seasonings and spices until the combination merges so that you have a succulent side dish for dinner.
Would you like some aromatic roasted cabbage? I believe that this supporting dish using cabbage would surprise you.
To be honest, it is a straightforward food, super simple to make in just a short time. If cabbage seems to be plain, then add some extra sliced corned beef or bacon. Trust me, and the result is fantastic.
The Irish seem to love potatoes very much. They like to have some in almost every meal and on every day of the week.
You can easily taste how crispy and savory the potatoes are in just a single bite. Air frying is also a convenient cooking method that you can cook quickly as well.
9 Irish Desserts As Gentle Closure for The Savage Meal
You may find a couple of the traditional Irish pastries, including cakes, puddings, and loaves of bread. They are all fascinating, delicious, and just take a few minutes to make.
Here is a new bread that you can switch to besides the ordinary ones. This Irish soda bread is a unique feature of a gentle, sweet, and crispy texture that you will love.
The upgraded bread is sweeter than the original one, which is mild and floury. Sometimes it is assumed to be like biscuits. The Irish soda bread is a succulent bread that you can enjoy with jam or butter.
Irish cuisine has plenty of adorable desserts that you must try. Cookies, cakes, or puddings are prevalent and they are spongy, creamy, and fascinating.
On Saint Patrick's Day, flavorful pastries are decorated attractively with a feature green color. And these specific cupcakes are beautiful and delicious with a gentle hint of rich Bailey Irish cream.
There is no tea in the ingredient, but the lovely pastry goes fascinating with tea. The cake is eaten the whole year in Ireland; you can quickly purchase some at any bakery store around the country.
The ingredients of the tea cake seem to be available everywhere. These available features include flour, vanilla extract, egg, milk, and sugar in the recipe. So you can consider making the pastry right at your place to enjoy a brilliant Irish tea party.
Such a beautiful traditional recipe. I am so excited for you guys to try it!
Also known as Kerry cake or apple cake at some places, this Irish apple cake is ordinarily made on St' Paddy's day so that everyone can gather and enjoy it together.
I have to say that the cake crust is a tipping point of the dish that gently enhances the full flavor. Plus, the savory applesauce filling is a unique feature that balances the whole thing.
One more feature is that the Irish like to add some extra alcohol into their food, especially dessert. Therefore, the bread pudding is born with a strong hint of whiskey following behind.
One more time, this delicious pudding is a popular dish on St' Patrick's day. The bread pudding uses sliced baguettes as the foundation. It is mixed with the caramel whiskey sauce and baked until it reaches a nice texture.
The unique point of this fabulous cheesecake is from Bailey, the Irish cream liqueur. The alcohol characteristic gives the pastry a fantastic flavor that can not find in any original cakes.
To be honest, the cheesecake brings along a gentle taste of liquor merged with the creamy and buttery flavor. When it is served chilled, the cake texture is a bit hard and dense. You know that it is a sign for the best cheesecake experience to enjoy.
Let's make some sweetened cookies for everyone! These Irish shortbread cookies are a straightforward dessert that can bake on any occasion.
The cookies have been a great treat that the locals like to eat since ancient times. It is a fascinating dessert going well with tea and has numerous variations across the whole country.
Here comes a favorite Irish dessert that many people are craving. The Scone pastry is a name of soda bread, salt, and buttermilk. You can make this fascinating food for special days like St' Paddy's day or New Year's Eve.
Try to make this delicious food for dinner or any family gathering occasion so you can share the food and the joy with your dearest human beings.
Here is another dessert for St. Patrick's day that you can not miss. Oreo mint trifle is an incredible sweet delicacy using Oreo cookies. It has a stunning look with a pastel green cream and some oreo cookies on the top.
The sweetened pastry seems to be a bit sugary and creamy that you should just eat enough of it or indulge with some tea to balance the full flavor.
Regarding Ireland and its cultural signatures, besides the sightseeing or heritage, the fascinating local cooking recipes are also worth mentioning.
The country is famous for its fantastic beer-making method, specifically, the Irish stout, used in people's cuisine. The beer is an excellent beverage that can be enjoyed cold or mixed with ice cream and chocolate sauce to create a hearty drink.
Take Care of Your Dearest Human by A Wonderful Irish-Inspired Meal!
If you want to create a wealthy meal for everyone, consider making these Irish recipes to enhance bonds and relationships for your family and friends.
It feels so wonderful when people sit next to each other and enjoy beautiful meals after a long-hard day. I believe that specific activity is an incredible time to hang out, chill, and even heal a bit. Therefore, try to do it more than once a week to enjoy the time.
These Irish recipes should become a part of your cooking list, and you are free to create savory, fascinating, and beautiful dishes for your beloved people.
Let me know if you like any of these recommendations, and please share this post with your mates if you find it helpful!!
Nutrition Facts
6 servings per container
---
Amount Per ServingCalories445
% Daily Value *
Total Fat 21.7g

34

%
Cholesterol 74mg

25

%
Sodium 721mg

31

%
Potassium 990mg

29

%
Total Carbohydrate 35g

12

%

Dietary Fiber 3.6g

15

%
Sugars 4.8g

Protein 22g

44

%
---
Calcium

110

%
Iron

4

%
Vitamin D

5

%
* The % Daily Value tells you how much a nutrient in a serving of food contributes to a daily diet. 2,000 calories a day is used for general nutrition advice.