Instant pot soup recipes are a fine addition to elevating your meal experience to a new level. If you just purchased an instant pot, you may want to have a peek at these incredible recipes to create at home.
For many people, soup always brings a heart-warming sensation, so you should take advantage of the instant pot versatility to create an easy soup delicacy. You will be in for a surprise as there are various ways to cook up soups using an instant pot.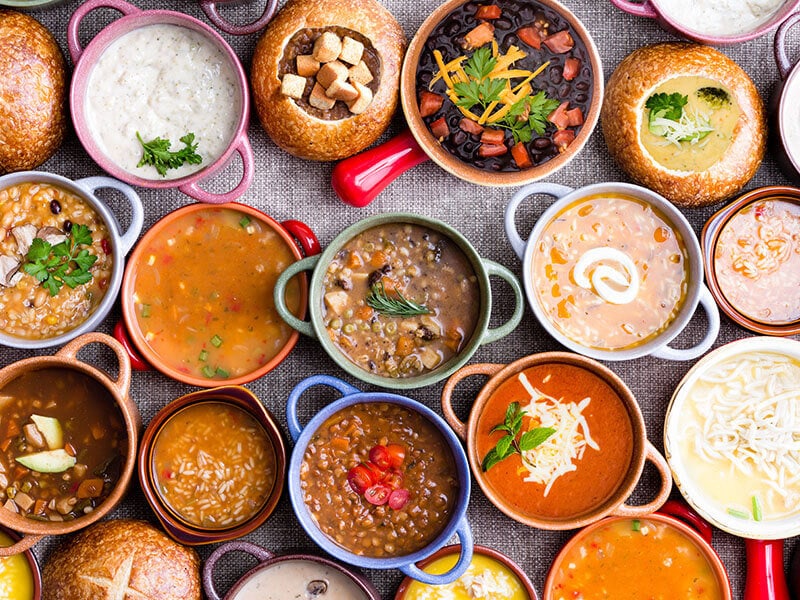 Incredibly Heartwarming Soup Recipes To Create With Your Instant Pot
Regarding soup, you don't have any limit on the ingredients. Let your imagination fly to create unique soup flavors that impress everyone. Here are some of the most iconic representatives for you to learn and develop your recipes.
Total time: 5 minutes.
Ramen is a typical dish in many Asian countries; the delicacy perfectly balances salty and light tastes. The nice thing is that you can create a straightforward ramen soup using your instant pot with little effort.
I recommend grabbing a couple of ramen packs from the store to save time in the kitchen. In addition, you may use vegetable broth for cooking ramen to give it various flavors. For the saltiness, I prefer adding soy sauce and sriracha (chili sauce) to achieve the effect.
Ideally, you should prepare the broth before putting in the ramen packs and frozen peas. Serve the ramen with some hard-boiled eggs, jalapeno (Mexican green chili), or chopped onions to enhance the overall experience.
Total time: 29 minutes.
It's a pleasant feeling to come home on cold days and have a warm bowl of tomato soup to cheer you up for the night. Lucky for you, this tomato soup is compatible with your instant pot for a ready-to-serve soup anytime you need it.
Aside from the diced tomatoes, you should turn to a variety of vegetables like onion, garlic, and basil to complement the sweet and sour flavors of the soup. Remember to switch the instant pot to saute mode to stir fry the ingredients for a fragrant scent.
After pouring in vegetable broth, mix the basil leaves and tomatoes to cook for 7 minutes. Blend the soup to get a smooth texture. Infuse the soup with heavy cream for the final step to achieve a creamy taste.
Enjoy the pure tomato flavor in a soup recipe using an instant pot.
Total time: 40 minutes.
Potato soup has a diverse range of varieties depending on each country. However, I want to bring you a thick and decadent potato soup that will take over your dinner by storm with its incredible flavor profile.
Using a generous amount of cream cheese will provide your soup with a rich and creamy taste. People usually use russet potatoes for their tenderness. As for the liquid content, you should use whole milk with chicken stock to give the specialty a beautiful white color.
To create the signature thickness of the soup, you want to introduce corn starch to the liquid concoction. Don't stop there because you can elevate the recipes with the umami flavor of bacon strips. For extra saltiness, you may sprinkle some cheddar cheese into the mixture.
Total time: 50 minutes.
Mushroom soup provides a creamy and rich taste to enjoy on rainy days. Plus, the earthy note of mushrooms brings an exciting experience to your meal. With the instant pot, it shouldn't take long for you to be slurping away on warm mushroom soup.
For this recipe, you may use whatever mushrooms that fit your taste the most. Saute the mushroom slices before incorporating them with chicken stock, thyme, and sherry. The soup is even better with a splash of Worcestershire sauce for a smoky and sweet note.
Cook on high pressure until you get a soft texture on the mushroom. Pour a blend of flour and heavy cream to create a thickened concoction. Season the dish with salt and pepper for serving.
Total time: 23 minutes.
Chicken soup is a classic, but I have a better solution to elevate the dish's overall experience by bringing noodles to the mix. The soup is an excellent way to enjoy the sweetness of chicken with a starchy note from the noodles.
For the best experience, you should use chicken thigh for a succulent, smooth, and silken texture. Accompany the chicken meat with carrots, celery, and onions. Saute all the ingredients to create a beautiful fragrance.
Cook all the elements with chicken broth on high pressure for at least 7 minutes. Bring the soup to a boil and throw in the noodle eggs. Shred the chicken thighs and serve the dish with some fresh parsley for a refreshing taste.
Total time: 35 minutes.
Butternut squash is a year-round vegetable with an addicting creamy texture to include in a side dish made with an instant pot. This cooking tool makes the process easier as it's quicker to tenderize the butternut squash using the kitchen utility.
I suggest removing the seeds and cutting the vegetables into decent-sized pieces for the squash. Cook the butternut squash pieces in the instant pot under high pressure. Use a knife and run it under the skin of the squash to extract the tenderized flesh.
Incorporate the squash with chicken stock and various seasonings. Blend the squash until you get a smooth consistency. I love infusing the liquid base with maple syrup and coconut milk for a touch of sweetness.
Recreate the creaminess of butternut squash soup with this simple guide.
Total time: 50 minutes.
Black beans have various health benefits to offer to consumers. Furthermore, black beans make for a hearty soup with mesmerizing black color and an addicting rich taste. The best thing is that vegetarians can also have this black bean soup because it's entirely plant-based.
I know black beans alone won't have enough of a punch to satisfy your palate for the night. Therefore, I like to combine tomatoes, celery, and bell pepper into the mixture. Ideally, you want to soften the vegetable mixture before mixing it with the broth and black beans.
Don't forget to introduce an earthy and rich note to the concoction by introducing adobo sauce to the soup. Add a splash of lime juice or vinegar to balance the flavor. Finally, blend all the elements to create a smooth texture for serving.
Total time: 45 minutes.
Split peas add an enjoyable sweetness to many instant pot appetizer recipes in your arsenal. Since split peas are widely available at many grocery stores, it's a shame if you have never tried making a soup with them. I'm sure you will be impressed with the outcome.
Instead of using bacon or ham to give the soup a pleasant smokiness, I suggest grabbing liquid smoke. Make sure you saute the carrots, onions, and celery to build up the initial fragrance. Once you soften the vegetables, continue to pour in the split pea and vegetable broth.
Let the high pressure from the pot work its magic until the elements are soft and tender. Preferably, you should infuse the liquid smoke and grated garlic after finishing the cooking process. Allow the split pea soup to cool off and thicken before serving for the best result.
Total time: 9 minutes.
Miso is an iconic light soup of Japanese cooking that allows you to enjoy the subtle flavors of many ingredients in one sip. If you're looking to bring some Asian taste to your kitchen through a soup dish, you must try Miso soup at home.
When it comes to Asian cooking, you may be thinking about complicated ingredients. However, it's the opposite, as it's easy to lay hands on Miso seasoning at Asian supermarkets. You need to bring the dashi stock (a type of kelp broth) to a boil before introducing seaweed to the mix.
Throw a couple of tofu cubes into the broth. Make sure you dissolve the Miso paste prior to adding it to the soup blend. Bring the liquid to a simmer and serve warm. The Miso mixture provides a pleasant ocean taste from the kelp stock and dried seaweed.
Total time: 19 minutes.
Tortilla is a classic of Mexican cuisine; the dish is a type of flatbread with savory fillings. However, you can also turn this delicious Mexican staple into a soup while retaining its signature spicy and salty profile.
Although you may expect to include tortillas in the soup, they are more of a side option to pair with the filling. Commonly, there's no limit to the type of meat, but I like going for chicken breast as it is easy to find.
Besides the chicken broth, you should also combine diced tomatoes, beans, and corn to diversify the flavors. Remember to cook the chicken whole under high pressure and shred them later to ensure the meat texture is evenly tenderized.
Serve the tortilla soup alongside tortilla chips or a dollop of sour cream for the most authentic Mexican experience.
Bring the atmosphere of Mexican cuisine into your hour with this incredible chicken tortilla soup.
Total time: 30 minutes.
Whatever diet you're on, lentils offer an excellent source of valuable B vitamins and various minerals. In addition, lentils possess a signature soft and rich texture, making them a perfect comfort soup on autumn days.
The lentils alone may not provide you with enough satisfaction in a dish. Therefore, you must dice in some carrot and celery chunks to improve the dish's overall profile. For the lentils, you can use either brown or green varieties.
Combine the vegetable broth with crushed tomatoes and Italian seasonings for an earthy and peppery touch to the soup. Let the pot cook in a pressurized condition for 14 minutes to soften the vegetables. For serving, prepare some crusty bread to serve alongside the lentil.
Total time: 50 minutes.
Everyone loves the savory and saltiness of lasagna, a staple of Italian cuisine with multiple layers of sauce fillings and noodles. If you wish to have lasagna as a soup, I'm here to make your dream come true.
First, saute the ground beef or Italian sausage with onions and garlic for the fragrance. You should remove the excess oil to prevent a greasy soup at the end.
The main star of the lasagna soup version is the marinara sauce, a refreshing tomato gravy that gives the recipe a vibrant red color. Don't forget to include chicken broth and diced tomatoes for a natural touch of sweetness.
Break the lasagna noodles into small pieces to add to the stock mixture. Once the pot finishes cooking, stir in balsamic vinegar, parmesan, and ricotta. Top the surface with mozzarella for an irresistible cheesy taste.
Total time: 25 minutes.
Cauliflower is a versatile vegetable in any cooking idea, including soup. To take your cauliflower to the next level, try having it with a cheesy broth mixture. Despite its creaminess, the delicacy is a great low-carb option for people on a diet.
Like many soup specialties, people tend to saute the onions and garlic with olive oil to create a fragrant base flavor. Throw into the pot chopped cauliflower with simple seasonings for cooking until tender. Don't forget to release the pressure to prevent mushing the cauliflower.
Puree the cauliflower concoction with milk and flour until you get a desirable consistency. Simmer the liquid and top it with shredded cheese to get a mesmerizing thick texture. For serving, sprinkle the soup with extra cheese and chives.
Total time: 30 minutes.
Fans of spicy foods will instantly love a savory chili made in an instant pot. If you're looking to serve this recipe for your kid, adjusting the spiciness with a couple of changes is easy. Plus, the spiciness of chili is perfect on cold days.
To cut some slacks on the cooking process, I recommend grabbing tomato sauce and canned black beans to pair with the sauteed ground beef. I prefer using seeded bell peppers to infuse the dish with a peppery flavor without increasing the spiciness.
However, you should also sprinkle a reasonable amount of chili powder to get the signature kick of heat. Allow the pot to cook the ingredients under high pressure to tenderize all the ingredients. Serve the chili with your favorite toppings.
Experience the exhilarating spiciness of an instant pot chili for your next dinner.
Total time: 35 minutes.
People love sipping away creamy chowder on damp and rainy days. However, I like bringing a new twist to the specialty by adding corn kernels to the mixture. Although the change may be small, it dramatically impacts the overall flavors.
For a thick and creamy soup, people often resolve to a base of half and half (half cream and half cream) to combine with sweet chicken stock later in the cooking process. After that, you should infuse the dish with the smokiness of crispy bacon bits.
Once the bacon bits are ready, drop them in the liquid content along with the corn kernels. Stir constantly to dissolve any remaining clump, and serve with bacon on top. Each bite into the corn kernels gives you an exciting feeling as they release the tasty sweet juice.
Total time: 30 minutes.
Gnocchi is an intriguing Italian dumpling that people often serve as an entree to many courses. You can turn gnocchi into a soup recipe with only a few ingredients and a little time in the kitchen. This delicacy is often available in small lumps, making it ideal for cooking in a soup.
Cook the gnocchi in vegetable stock until they begin to float. Whisk together the corn flour and heavy cream to add to the soup broth. The result should be a murky, slightly white soup with a rich, decadent profile.
Total time: 22 minutes.
Let's head to Thailand for inspiration to recreate a simple yet addicting combination of carrot and sweet potatoes in one instant pot. It's super quick to make because the high pressure helps tenderize the vegetables with little effort.
Layer the bottom with carrots, onions, and sweet potatoes in the pot. Remember to include Thai green curry paste in the chicken stock to create a unique taste in the soup. After cooking under high pressure for 12 minutes, blend the ingredients until you get a silken concoction.
Proceed to introduce coconut milk to the mixture to achieve a shiny and creamy soup. Ideally, the shiny, orange-colored soup should be fit to serve warm or chilled.
Total time: 30 minutes.
Most people think of beer as a beverage to ease off some steam after intense hours of work, but little do they know beer is also an essential component of a soup specialty. Don't be afraid about going tipsy after having this soup, as the alcohol content is neutralized during cooking.
Let's talk about the vegetable; in this case, you want to saute carrots and onions with butter to an aromatic base. Add seasoning like paprika and cayenne for a little spike of heat. Slowly stir the vegetable stock with the Worcestershire sauce for a smoky taste.
Now comes the fun part: choose whatever beer you like to infuse into the soup. For this recipe, Belgian beer is my go-to choice because of its floral scent and edge of sweetness. After cooking the soup, you should blend the vegetables for a smooth consistency.
Finally, mix cream and cheese to add to the silken beer soup. Adjust the taste with some basic seasoning before serving your unique beer soup to everyone.
Level up your beer with a unique soup to your meal.
Total time: 25 minutes.
Stuffed cabbage may sound like a tasty main course for many people, but I prefer enjoying the dish as a savory and spicy soup. Stuffed cabbage soup is perfect for lifting your spirit whenever you hit rock bottom.
Instead of wrapping the meat fillings with the soft cabbage leaves, this soup variation only cooks the ingredients together. Since the cabbage is easily wilted by heat, you want to include it after browning the ground beef.
Continue to combine beef and vegetable stock into the mixture along with diced tomatoes. Adding some rice to the soup helps the liquid thicken and diversify the dish's texture. On average, it takes 15 minutes to cook the ingredients thoroughly.
Total time: 25 minutes.
Pumpkin is another year-round vegetable that you can use to create a charming low-sodium soup whenever you want. Thanks to its rich and creamy nature, people tend to enjoy pumpkin soup by only adding a few ingredients to bring out more flavors from the dish.
All you need is to place the pumpkin pieces with onions, garlic, and leeks into the instant pot. Remember to include the vegetable stock for a light note of flavors. Once cooked, blend the pumpkin to your desired consistency.
Stir in heavy cream, and make sure you don't boil the mixture afterward. Top the surface with roasted pumpkin seeds for a nutty and toasty scent.
Total time: About 40 minutes.
Carrot is not the first choice of many people to enjoy as a rich and creamy soup. However, you may change your mind after giving this cream of carrot soup a shot. You will be captivated by its vibrant orange color at first sight.
Aside from the carrots, you also need some potatoes for the concoction to become creamy. Preferably, you want to use chicken stock for its sweet nature. After releasing the steam from the pot, blend all the elements to your liking texture.
To elevate the soup's creaminess, I prefer pouring in a combination of milk and cream. If you're using a blender, I suggest covering the lid with a towel to prevent any unexpected splash from making a mess in your kitchen.
Total time: 50 minutes.
Summer is upon you, and it's a custom for me to prepare some appetizing summer-themed soups to treat everyone in the family. Since summer is an excellent time for many vegetables to feature in your soup, don't hesitate to whip up this recipe.
Typically, the soup consists of chicken breast with carrots, crushed tomatoes, and celery. There are also zucchini and corn kernels, but I advise you to include them after the high-pressure cooking stage. Cook everything in a generous amount of chicken stock.
If you like thick soup, you should allow the concoction to rest for some time. Top the dish with parmesan, plain yogurt, or a fresh squeeze of lemon juice to enjoy.
Summer is much better to enjoy with these vegetable varieties in one bowl of soup.
Total time: 20 minutes.
You can call this hamburger soup by other names like ground beef vegetable soup, hangover soup, and Bachelor soup. Regardless, it's a healthy and easy soup with ground beef. It's even easier with the help of an instant pot.
As you can probably guess, this version doesn't include the soft bun in the mix. Instead, you enjoy a tasty instant pot dish with savory ground beef. Furthermore, adding baby carrots, potatoes, and tomato sauce make the soup more appetizing.
Ideally, the vegetable should possess a certain tenderness with an excellent red and liquidy stock. To make the soup more diverse regarding vegetables, you want to include peas, beans, or corn kernels.
Total time: 45 minutes.
Chicken soup is not a stranger to many as it's a fantastic remedy to cure a cold and boost your immune system. I want to upgrade your experience by introducing rice to the simple yet sweet broth of the chicken soup.
Set your instant pot to saute mode to stir-fry the carrots and celery with various herbs. Next, throw in the chicken breast for around 5 minutes. Then, pour into the pot the chicken broth and wild rice.
You may be questioning why not use regular rice? It's mainly for the grain's extra nutty and earthy flavors that fit perfectly with the sweet chicken stock. Serve the chicken rice soup with a few slices of crusty bread for the best experience.
Total time: 20 minutes.
People tend to have a love and hate relationship with broccoli because they have yet to know how to enjoy the vegetable correctly. The best way is to create a cheesy and rich concoction to enjoy this healthy green vegetable.
For the base of the broth, you want to combine the chicken stock with melted cream cheese after heating the concoction. You can add broccoli and some spices to adjust the taste at this stage.
Don't stop at cream cheese only because whipping cream and cream of broccoli help elevate the dish's creaminess. Furthermore, shredded cheddar cheese is perfect for enhancing the saltiness of the soup. Gradually add the cheese to prevent any clump from forming.
Total time: 30 minutes.
If you love bringing Italian cuisine into your lovely house, it's time to experiment with minestrone, an iconic soup of the country. Many say the dish resembles a standard vegetable soup, but I promise you will be surprised by the Italian seasonings.
Traditionally, the soup combines carrots with celery, kidney beans, and green beans. As for the broth, people often go for an infusion of chicken broth with crushed tomatoes. Of course, you can't ignore the Italian spices for a signature profile.
After cooking the ingredients, pour the macaroni, grated cheese, and basils to enhance the dish's taste. Do not cook macaroni at the same time with vegetables as the high pressure may result in mushy noodles. The soup should have an appetizing red color.
Bring the flavor of Italian cooking to your soup with this minestrone delicacy.
Total time: 55 minutes.
Onion is usually a great additive to many cooking ideas. However, you may not know that it is also the centerpiece of a French soup specialty. I highly recommend you make this soup at home to enjoy the pure onion flavor with tasty spices.
Since the onions are essential for the dish, you want to coat the cuts with butter. While cooking with an instant pot, you should stir the mixture frequently until the onion starts to turn brown. Continue to pour in beef broth, sherry, and bay leaves.
Cut the baguette into slices and sprinkle them with Gruyere cheese for a buttery taste. Toast the bread slices until you melt the cheese and brown the opposite surface. Serve the bread along with the onion soup for a crunchy toast texture and sweet onion taste.
Total time: 30 minutes.
Zucchini is all around you to provide a touch of grassy note to any delicacy. Interestingly, you can turn it into a smooth and warm soup to enjoy. Furthermore, this zucchini soup is a keto-friendly instant pot option for people on a strict diet.
Put zucchini, garlic, and herbs in your instant pot to cook under high pressure for around 5 minutes. Blend the mixture until you get the desired consistency. I enjoy the zucchini blend with a splash of olive oil to make the zucchini soup more fragrant.
Total time: 14 minutes (instant pot) or 8 hours 10 minutes (crock pot).
The creaminess and tasty sausage of Italian tortellini will soon take your taste buds by storm. The recipe is perfect for whipping out on special times to treat your family to some unique soups from Italy.
Typically, you should utilize canned tomatoes with chicken stock as the base for the tortellini. To give the soup an authentic approach, I suggest laying your hands on some Italian sausages and browning them with some seasonings.
Release the pressure after 3 minutes and stir in baby spinach for extra green to the tortellini. Remember to include some shredded parmesan cheese with whipping cream to bring the soup to a mild creaminess. Make sure your tortellini is bubbling before you kill the pot's heat.
An alternative approach is using a crock pot, which takes a long time to finish. In return, you get to go through a hands-free cooking experience.
Total time: 25 minutes.
Zuppa Toscana is another Italian representative that packs outstanding flavors with only a few required ingredients. The combination of creamy potatoes with umami-packed bacon bits makes for a fantastic Zuppa Toscana profile to try at home.
Besides the two main ingredients, I recommend sauteeing some sausage to provide the soup with extra protein and a light note of smokiness. Continue adding bacon, potatoes, and onions to the mixture and stirring everything around. Don't forget to add the chicken broth.
Let the high pressure of the pot tenderize the elements for around 5 minutes before infusing the broth with heavy cream. Chop up some spinach to the Zuppa Toscana to diversify the nutrient source. Preferably, the soup should taste mild and possess multiple layers of flavors.
Zuppa Toscana is a unique soup specialty that you should give a shot.
Total time: 30 minutes.
Kale offers a ton of vitamin A to help you improve your eye-sight. Although people often make a salad with vegetables, it's also a solid choice to include in a soup recipe.
If you're looking for a healthy vegan option, the base of the soup should be simple vegetable broth to combine with carrots, onion, and celery. Then, bring some potatoes to the mix to cook under high pressure.
To avoid overcooking the vegetable, you must only include the kale after the pressure cooking process. A better way is to puree the soup before adding the kale for the best result. Serve your special kale creation warm with bacon or chives as toppings.
Total time: 28 minutes.
Let's head back to Italy for a special soup during the wedding occasion. At first glance, you may not be impressed by the delicacy, but the broth and meatballs are a game changer to this recipe. So give this Italian wedding soup a go at home to make your dinner feel special again.
Like the kale soup above, this Italian specialty also starts with sauteing onions, carrots, and celery. However, people mainly use chicken broth as the base with simple seasonings. Of course, you must include ditalini (Italian soup noodles) and frozen meatballs.
Because of the high pressure, it should take around 3 minutes to tenderize all the elements. While you wait for the pressure to release gradually from the pot, chop up some kale to add to the soup afterward. Ideally, the broth should be clear and have a pleasant sweetness.
Total time: 1 hour 10 minutes.
For the finale, I'd like to bring you a unique Asian soup experience in the form of Nilagang Baka, a staple Filipino soup that combines beef and vegetables. Any sweet and rich beef flavor fan should experiment with this unique Filipino Nilagang Baka.
Traditionally, people rub the beef short ribs in salt to help the meat to brown evenly during the cooking step. To prevent the peeled potatoes from browning, soak them in water for the best effect. After browning the ribs, crank up the instant pot to soften the meat.
To infuse the broth with an extra beefy taste, throw a cube of beef bouillon and potatoes into the liquid content. Cook until the potato pieces become soft.
Season the dish with fish sauce and add some greens like bok choy and cabbage for serving. Or you may have Nilagang Baka with a warm bowl of rice.
Instant Pot And Soups Are The Ideal Combination For A Hearty Meal
You can produce a surprising number of soup varieties using an instant pot. Therefore, you should let your idea run wild to create unique flavors for your soup. I'm confident your creation will be a blast at the next meal.
If you like the article, share it with everyone you know so they can recreate delicious soup at home too. Let everyone know which soup specialty is your favorite in the comment section so that people may learn more from your experience.