These are the instant pot side dish recipes that I have carefully selected to help you create successful side dishes from the first time with an instant pot. Did you know how the instant pot in your kitchen can revolutionize your cooking? Scroll down to see for yourself!
The instant pot is a multi-functional kitchen appliance that I think housewives should have in their kitchen. These pots will make your life much easier and more comfortable.
Different cooking methods often require you to have different kitchen tools. However, depending on your settings, the instant pot can do all those functions in a short time. Today let's discover what side dishes you can make with the instant pot.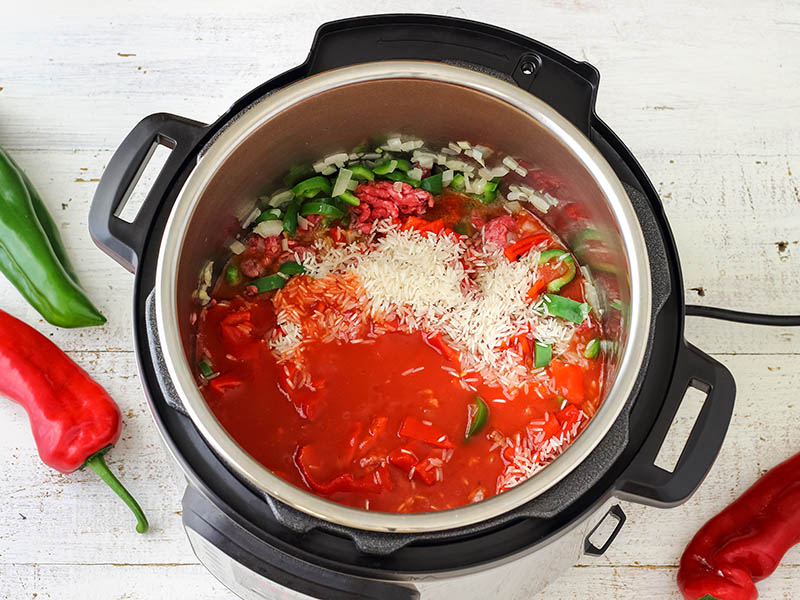 22 Easy Instant Pot Side Dishes You Must Know
The instant pot is versatile, and you can use it for cooking both entrees and desserts, simple and complex dishes. But today, I will focus on delicious side dishes you can make with an instant pot.
Total time: 16 minutes
Parmesan Ranch potato has never been so easy and quick to make like this. With only 10 minutes of prep and 6 minutes of cooking in an instant pot, you now have the perfect potato side dish for your meal.
In this recipe, I love using red potatoes because their skins are pretty delicious. However, you can completely replace it with another type of potato. You also need three more ingredients to make the potato taste better: Parmesan cheese, chicken broth, and ranch seasoning.
If you've made this dish in the oven before, it's time to change the cooking method to a more optimal one. I bet you will forget about your oven soon enough.
Total time: 1 hour 40 minutes
Baked beans with a taste of Southern cuisine can easily appear on your table tonight. You often have to cook them on the stove and wait tiredly for many long hours to turn off the stove when it boils. But now there's no need to do that anymore.
You just put the soaked beans with all the necessary ingredients into the instant pot and close the lid. Now you have 60 minutes to spare to do something else!
In this recipe, you can manually adjust the amount of sugar and vinegar to your taste. The high amount of vinegar helps balance the sweetness of the bean dish, but if you don't want it, you can reduce it from 1/4 cup to 2 tbsp vinegar.
You'll regret it if you don't try pressure cooker baked beans today.
Total time: 30 minutes
I will introduce you to a delicious rice side dish you can easily make at home. This risotto is a combination of arborio rice, sage, unsalted butter, and a few spices.
In just 20 minutes, you have finished the dish without having to stand and stir like when cooking with the stove. The food taste is still great even though it takes less time. The nutty smell of cheese and the fresh, purifying scent of sage will fill your kitchen.
Sometimes, your family will not eat all of such a large risotto pot. The best solution is to put all leftovers in an airtight container and keep them in the fridge. This risotto still tastes excellent when kept in the refrigerator for up to 4 days.
Total time: 27 minutes
Orzo or Risoni is a type of pasta shaped like rice and usually made from white flour, whole grain flour, or wheat semolina. Orzo is rich in carbs, iron, protein, and fiber, with low content of fat. People often eat it with soup or salad.
Orzo can be easily combined with any ingredients in your refrigerator, such as carrots, mushrooms, tomatoes, herbs, and olives. Random ingredient combinations make your side dishes unique and flavorful.
This flavorsome pasta-based side dish is easy to cook and suitable for vegetarians. With just 20 minutes of cooking with an instant pot, you have delicious and healthy dishes right away.
Total time: 57 minutes
This special dish is made from Italian rice called arborio. This type of rice is short, flat in shape, and contains a lot of starch. When cooked, arborio rice releases starch and becomes creamy rice.
Risotto is often a time-consuming and demanding dish because you always have to check the water and refill it during the cooking process. But with the instant pot, you don't need to worry about that anymore because the pot does it itself.
Leftover risotto can be stored in an airtight container in the refrigerator for up to 4 days. Just bring it out and put it in the microwave to reheat when you want to serve it.
Total time: 29 minutes
This rice dish is a famous side dish in Mexican cuisine and can also be used as a filling for burritos. With just one pot, you can do both cooking and stir-frying in a very short time compared to conventional cooking methods.
This is a suitable recipe to change your taste on eating lazy days. The sourness of lemon juice and the coriander aroma can increase your appetite even more.
You can store rice in small ziplock bags or air containers and keep it in the freezer. When you need to eat, you should heat it in the microwave at 30-second intervals; remember to add a tablespoon of water to the rice each time.
Total time: 13 minutes
This recipe is for those who are vegetarian or looking for a new healthy recipe. This recipe is quite easy to make and does not require much time. In just 13 minutes, you have delicious and fragrant jasmine rice.
Jasmine rice is brown or white, fragrant, long grain rice that is often used in the meals of Southeast Asians, especially Thai people. If you can't find Jasmine rice in your area, you can choose other long-grain rice like basmati.
This dish combines jasmine rice with turmeric and pepper. Turmeric is quite healthful because it contains curcumin – an antioxidant and anti-aging agent. Meanwhile, cracked pepper helps increase the body's ability to absorb curcumin.
Here is the fastest and easiest instant pot Turmeric Jasmine rice recipe.
Total time: 25 minutes
This recipe is a combination of arborio rice with spinach, goat cheese, lemon juice, and vegetable broth. This is really a vegetarian recipe! You can leave out the cheese to turn it into a completely vegan-friendly accompaniment.
If you want to add a little more protein to ensure adequate nutrition for the body, you can serve this dish with another meat dish. This way, you will get a complete, simple meal that is still full of nutrients.
Once cooked, the rice is slightly purple in color, sticky and glutinous. You should use it right after cooking to enjoy this healthy dish's most delicious and rich flavor.
Total time: 10 minutes
Consider this recipe if you want to add more vegetables to your diet. Here's a garlicky Brussels sprout recipe that's perfect as a side dish for anyone on a diet, vegan, keto, etc.
Brussels sprouts are a good vegetable for your body. Adding brussels sprouts to your diet will help you supplement the nutrients and vitamins to fight oxidation, be suitable for bones, and strengthen the digestive system.
Usually, people make the cooked Brussels sprouts too soft. After cooking, I guarantee you will have crispy and delicious Brussels sprouts in this recipe.
Total time: 28 minutes
A healthy and delicious side dish recipe is always a priority in family meals. Cabbage and sausage dishes with low carb, calories, and fat will be a great dish every family should try in their healthy meal.
According to this recipe, you can easily mix any ingredients available in your house, like bacon or different vegetables. Flexible customization of ingredients will help your dish have its new flavors.
You should take advantage of the Sauté function of the instant pot to make your dishes not soft but crispy more evenly. If there are leftovers, put the food in an airtight container and store it in the refrigerator, the shelf life of this dish is up to 2 days.
Total time: 11 minutes
Steamed green beans that are both tender and crispy will be a great side dish to serve with rice, chicken, or beef dishes. You can season green beans with basic condiments, such as pepper and salt.
This is a pretty quick and convenient dish that you can make every day. With only 10 minutes of preparation and 1 minute of cooking in an instant pot, you don't seem to have the feeling of waiting for the beans to cook.
You can control the texture of the beans by setting the appropriate pot time. But as I said, you should go for 1 minute to enjoy the beans with moderate softness but still crispy.
Total time: 8 minutes
One creamy side dish that you should try is the Velveeta mac & cheese. This is quite a versatile dish because you can double or triple the recipe to turn it from a delightful side dish to a nourishing main dish.
An instant pot makes cooking both quick and convenient; even your kids can help with the preparation. It only takes you 8 minutes for a side dish for the whole family. In addition, cleaning a pot will also be much simpler than when cooking on the stove.
Total time: 4 minutes
Broccoli is a nutritious vegetable that fits as a simple companion to sloppy joes, fried chicken, and other savory comfort food. You can cook broccoli simply and quickly with the instant pot for the best quality side dish. But how to steam broccoli without leaving them too raw or too soft?
Cooking for 2 minutes is the perfect cooking time for this veggie: you can enjoy crispy and verdant green broccoli pieces. A few more minutes in the pot will turn the broccoli overly mushy. Anyway, salt and pepper are the two perfect seasonings for steamed broccoli.
What are you waiting for without starting now?
Total time: 25 minutes
Try this Southern-style dish right away: you'll be addicted to it! The special feature of this dish is the combination of two delicious side dishes to make a new one that is equally great.
Bacon, green beans, and potatoes have a beguiling appeal that few can resist. You can use the side dish at all parties or just for a normal meal.
The best ingredients you can use in this recipe are Haricot vert, Yukon Gold potatoes, and whatever bacon you have on hand. I believe you will succeed right on the first try.
Total time: 40 minutes
Cabbage is a popular vegetable that you can find in all markets. Its price is also quite low, making it accessible to many people. I will show you how to make a buttered cabbage to serve with the main course.
Butter cabbage is not only delicious and healthy, but you can keep them for a long time in your freezer. Put the leftovers in a zip bag and put it in the freezer, where you can keep it for up to 5 months.
You can enjoy buttered cabbage with bacon or saute it with minced onion and fresh garlic.
Total time: 50 minutes
If you've heard of the famous Italian lasagna soup but haven't had the chance to taste it, I will help you feel the taste of lasagna soup right in your own home. While this is a side dish, there is nothing wrong with including it in the main course.
To make this luscious soup with your instant pot, you'll need beef or turkey, Marinara sauce, diced tomatoes, lasagna noodles, Mozzarella, Balsamic vinegar, and other seasonings.
If you feel the soup is too thick after cooking, you can add a little more water to liquid the soup. Do the same with the leftover soup you keep in the fridge. Since the noodles soak up a lot of liquid, you'll need to add more water before reheating the soup.
Total time: 10 minutes
Ham and cheese are always a golden pair when combined in dishes. And this pasta dish is no exception. Let's discover what's good in this ham and cheese pasta recipe!
Anyone can be surprised with a dish that only takes 10 minutes to prepare. This recipe contains simple ingredients like rotini, hot sauce, ham, cheese, cheddar cheese, and others. You can easily buy these ingredients at any supermarket or grocery store.
You can serve this dish with your favorite vegetables. A little fresh green salad helps you add fiber to your pasta dishes. I hope you have a cheesy and tasty pasta dish.
Total time: 15 minutes
Carrot with honey glaze is an excellent dish for weekend dinners or special occasions. You don't need to spend too much time preparing, but the dish's quality is still great.
With a few ingredients, including carrot, honey, butter, and thyme leaves, you can easily create a delicious side dish with tender carrot flavors that are both sweet and salty. I believe your children will be fans of this delightful dish.
You can also slightly substitute ingredients to fit your vegan diet. Use vegan butter instead of salted butter and maple syrup instead of honey for a delicious side dish, and you will have a perfect vegan dish suitable for everyone and every meal.
There's no way to resist such tasty instant pot carrots.
Total time: 20 minutes
This is a side dish filled with flavors of vegetables. In this recipe, you need carrots, brussels sprouts along with a sauce of garlic, butter, capers, and parsley.
Everyone knows that steaming retains the most nutrients and vitamins in vegetables, but it is one of the most boring methods of cooking them. Therefore, to make a steamed dish more interesting and nutritious, you should add some spices and fat.
With the Mediterranean sauce recipe in this recipe, the bland steamed vegetables will be enriched with a more savory and delicious flavor.
Total time: 4 minutes
Give your home a new flavor with Mexican street food – corn on the cob. With just a small pressure cooker and a few minutes in the kitchen, you will have a hot, fragrant, delicious dish for your dinner.
The highlight of this recipe is the sweet and juicy boiled corn. It is seasoned with a mixture of sour cream, cheese and mayo, paprika, and lime. I believe no one can resist the attractive taste of this dish.
When you're busy and hungry, make this simple dish now! 2 minutes of preparation and 2 minutes of cooking with the instant pot, you and your family have creamy and flavored corn on hand.
Total time: 10 minutes
Zucchini noodles are one of the healthy dishes I recommend in today's list. This dish is completely gluten-free, carb-free, and suitable for vegetarian diets.
You can also omit some ingredients or add others to adjust to suit your diet. For example, do not take Parmesan if you are vegan or vegetarian, or add turkey or bacon if you want to supply protein for your body.
If you are looking for a simple, quick, and healthy dish, try these zucchini noodles. I believe you will not be disappointed with this wonderful dish!
Total time: 45 minutes
Simple ingredients like potatoes, cream, cheese, and spices create a rich and delicious side dish for your lamb chops. Grab your instant pot and follow this recipe!
If you still have ham chunks and bacon in the house, you can use them with this dish to enhance the flavor of the dish. Of course, you can forget about the meat if you're on a diet; the potatoes alone are finger-licking enough.
Scalloped potatoes can be stored for 4 to 5 days in an airtight container in the refrigerator. With only 15 minutes of preparation and 30 minutes of cooking with your instant pot, you are too free to prepare another dish for your family meal. It is convenient!
This scalloped potato will never let you down.
Instant Pot Side Dishes: Mouth-Watering Delights That Take Little Time
I think this list of recipes will be very helpful for those who are too busy but still like to eat at home. The advantage of these recipes is that they are simple to make and have various flavors to choose from.
In addition, the recipes in the post can also be suitable for different diets, with detailed instructions on how to make, substitute ingredients, and nutrition facts.
If you found this article useful, share it with your friends, and don't forget to leave your ideas and thoughts on these recipes. I look forward to reading all your sharing. Thanks very much!