This list of instant pot ground beef recipes brings about just the best dishes to make with beef. Whether you are new to instant pots or have run out of dinner ideas with this kitchen appliance, this article will be a great help.
An instant pot has multiple cooking settings and high pressure, allowing you to cook fast with one pot instead of a bunch of pans and pots. By combining this recipe list, you will no longer have to worry about a messy kitchen every time you cook.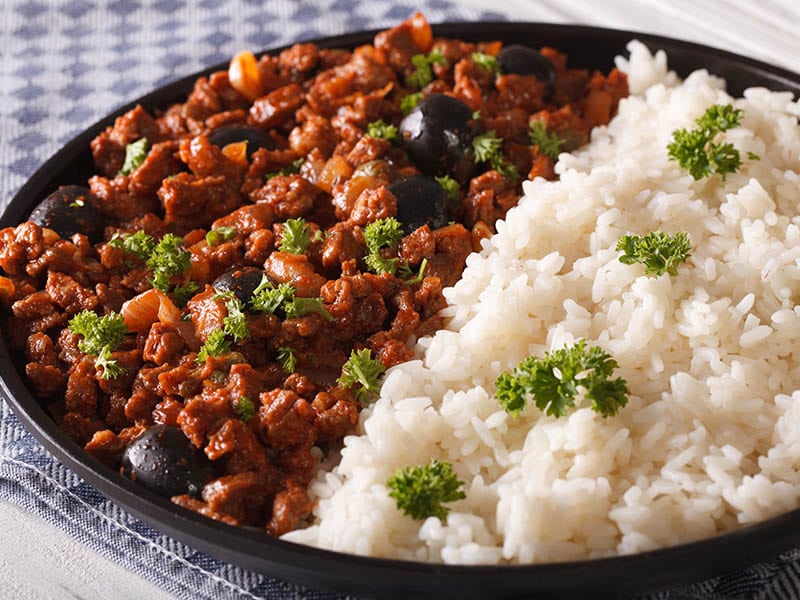 These Instant Pot Ground Beef Recipes Make Your Life Much Simpler
When browsing recipes, make sure you read my notes too. They will help you ensure the best flavor of the dish and a 100% success rate because cooking with an instant pot is generally easy, but you need to get the hang of it first.
Total time: 50 minutes
The most basic chili consists of only meat, tomatoes, and spices simmered in one pot. This recipe enriches the flavors by adding bacon, beans, cheese, and sour cream. These additional ingredients make the dish thicker, heavier, and super tasty.
Conducting this chili recipe with an instant pot is easy because the device already has a dedicated setting for chili and beans. Lastly, depending on your preference, you can serve this dish alone or with any bread.
If you accidentally cook more than you can eat, divide the chili into portions, put it in Ziploc bags, and put them in the freezer.
Total time: 30 minutes
Normally, you must boil the pasta, make the beefy sauce separately, and then mix them. However, when using an instant pot, cook the sauce first, add dry spaghetti, and let the pot do its job.
This method is quicker, easier, and more suitable when you have little time to cook for your family. Plus, the pasta absorbs the seasonings thoroughly from the sauce as it's not filled with water like when you boil it first.
It's worth noting that when you first remove the instant pot lid, the pasta may look soupy, but it will thicken as it cools, so don't freak out. Lastly, sprinkle some cheese on top for additional creaminess and flavors.
If you are unsure how to safely release the lit after cooking Instant Pot Spaghetti, refer to this video.
Total time: 30 minutes
This lasagna version comes with the tenderness of the pasta, creaminess of ricotta cheese, flavor richness of Italian sausage, and fatty taste of mozzarella cheese. It maintains the qualities of slow-cooked lasagna while taking much less time to complete.
The key to achieving this original flavor is chicken broth. You can use water instead, but the broth offers a certain depth to the dish's flavor and makes the pasta taste like it has been in a pot for hours.
This recipe results in eight servings. Keep this in mind and decrease or amplify the amounts of ingredients based on the number of people you're cooking for.
Total time: 55 minutes
If you are on a diet, you can rely on this Keto version of Salisbury steak. Salisbury steak uses ground beef like hamburger steak. However, besides regular seasonings, Salisbury steak has more filters like sauces, breadcrumbs, onions, and eggs.
To make this dish keto, you must use coconut flour and omit the bread crumbs. This change may result in a runny sauce, but you can thicken it by replacing a cup of liquid with half a teaspoon of xanthan gum.
Total time: 30 minutes
Goulash originated in Hungarian cuisine, comprising meat, vegetables, and paprika as the main ingredients. It has since become a national dish and a symbol of the country while gaining popularity in other European nations.
Goulash is similar to beef stew but uses more spices, giving it a much deeper flavor. Not just paprika, it's also seasoned with garlic, salt, tomato sauce, and Worcestershire sauce. At the same time, Cheddar cheese dedicates its creamy, fatty, savory tastes to the treat.
To enhance this instant pot Goulash, add two bay leaves before cooking. A chopped pepper of any color will help enrich the flavor and texture. Lastly, it may sound strange, but a tablespoon of soy sauce makes the dish reach a new level of tastiness.
Total time: 40 minutes
Porcupine meatballs got the name from their appearance. The rice grains poke out from the ground beef, creating a prickly look that resembles the porcupine animal in real life. If not cooked in an instant pot, this dish may take an hour and a half to make.
These delicious appetizers made using an instant pot go well with steamed veggies, such as a mix of peas, corn, and carrots. On the other hand, you can serve them with riced cauliflower or a side salad. Since these meatballs have rice, eating them with veggies makes more sense than with rice.
Total time: 30 minutes
Do you often feel guilty about consuming too much red meat? If you do, these stuffed bell peppers will help you see off that feeling. Each bite is full of beef and cheese but provides greens like bell peppers and tomatoes.
This meaty treat offers a simple, quick way to make dinner for busy weeknights. This is another reason why I include its recipe in this list. I'm sure it will prove useful for everyone at certain times when you have half an hour to prepare dinner.
On top of that, you can prepare these peppers beforehand, freeze them, and take them out to cook whenever you want.
You can make Stuffed Bell Peppers without sauteing beef first by following this instruction.
Total time: 25 minutes
To make sloppy joes with an instant pot, you need to use the saute setting. Within less than half an hour, you will complete a cheesy, yummy, kid-friendly main course.
First, saute ground beef with olive oil in the instant pot, add onion, and use a spoon to break up the beef. Saute these ingredients until the beef turns brown and cooks well. Next, drain the liquid, add garlic, and saute for another minute. Turn off the pot.
After that, add brown sugar, water, and Worcestershire sauce and mix well. Top the mix with ketchup, paprika, tomato paste, salt, chili powder, and hot sauce. Cook at high pressure for 5 minutes, and you're done.
The only thing left is letting the pressure come out through natural release before opening the lid.
Total time: 45 minutes
Congee is a popular dish in Asian countries like China and Korea. This comforting dish is especially helpful and easy to digest when you are under the weather, suffering a cold or flu. It's also versatile because you can add any type of meat or veggie you like.
However, making congee with regular pots often takes a few hours. Meanwhile, an instant pot can get it done in 45 minutes. In this recipe, you will make congee in Korean style with ground beef, sesame oil, chicken broth, zucchini, and carrots.
My only note for this dish and congee, in general, is that you should only make an amount enough for one or two meals. This dish will lose texture when you leave it outside for long, even if you reheat it.
Total time: 30 minutes
For this ground beef stroganoff, make sure you get lean beef with only 7% fat or make sure to drain all the excess fat from the meat. Otherwise, the fatty flavor will take over other ingredients' tastes.
These include mushrooms, which provide a chewy texture in addition to the soft, starchy pasta. At the same time, sour cream offers creaminess and smoothness and blends everything nicely.
Remember not to add sour cream before cooking. It's supposed to come in last after the dish is fully cooked.
Total time: 35 minutes
Most meatloaf recipes call for a long list of ingredients, abundant preparation, and a lot of time to cook. Therefore, it makes perfect sense to try simplifying the process with an instant pot. This instant pot recipe ensures more moisture and flavor than cooking in an oven.
Talking about simplicity, you need only eight ingredients, spices included, for this recipe. Then, all you have to do is mix everything, put it in the instant pot, and let it cook for 25 minutes.
In terms of serving, this meatloaf pairs well with a bunch of side dishes. Some of the best examples are mashed potatoes, honey-glazed baby carrots, lemon garlic broccoli, etc.
Feel free to add veggies to your Instant Pot Meatloaf. This cook will show you how!
Total time: 30 minutes
There are two versions of Enchilada sauce: green and red. The green sauce contains green chilis like serrano and jalapenos, which are very spicy. On the contrary, the red version consists of onions, vinegar, spices, and garlic, tasting like tomato sauce and chili powder.
When you don't serve this dish to children, you can adapt the spicier version by adding seasonings or using the green Enchilada sauce. Plus, if you don't like black beans, feel free to switch to other types like kidney beans or pinto beans.
Total time: 37 minutes
You can call this hamburger soup by other names like ground beef vegetable soup, hangover soup, and Bachelor soup. Regardless, it's a healthy and easy soup with ground beef. It's even easier with the help of an instant pot.
There are many vegetables you can add to this soup. For example, tomatoes offer more flavors, potatoes provide a starchy texture, while carrots are healthy. Or, you can simply follow the recipe and add peas to the pot.
Total time: 25 minutes
Cheesy beef and potato casserole works as a side dish and a main course. I often quickly whip up a portion and scoop it with a spoon for dinner, thanks to its stomach-filling ability.
The treat starts with beef, the star of the show with its tender texture. Then, there are starchy, thick potato bites, which give the dish a tougher structure. Lastly, Cheddar cheese adds a fatty, creamy flavor to the casserole.
It's worth noting that the cheese melts well from the pot's heat, but it's best to put the dish in the oven. This last step will help melt the cheese better and create a roasted surface, making it taste supreme.
Total time: 24 minutes
This cheeseburger macaroni, while being simple to make, turns out to be one of the best instant pot dishes ever. The pot cooks everything to its best textures and flavors. These include tender beef, soft macaroni, and well-melted cheese.
There are no special notes for this recipe, but I want to recommend a few variations you may enjoy. The first is an ultra-creamy pot, which you can easily get by adding 2 oz of cream cheese besides sour cream.
Or, if you want to try the Taco Macaroni version, throw in 2 tablespoons of taco seasoning, and serve the dish with shredded cheese, avocado slices, and salsa.
Can't remember the steps? Check this Instant Pot Hamburger Helper video and follow it.
Total time: 30 minutes
This beef taco soup is not only delicious but also a great choice for people who want to lower the carb in their diet. The recipe doesn't use any high-carb ingredients like flour or potatoes. So, you can happily finish a big bowl without worrying you'll gain much weight.
If you want to enhance this already mouthwatering instant pot soup and make sure it pleases your appetite, use freshly grated cheese. Pre-grated cheese doesn't melt as well and won't produce a good texture for this dish.
Plus, you can add a tiny amount of cayenne pepper or hot sauce to boost the flavor and make it a little spicy. If you don't like spicy foods, just ignore this tip.
Last but not least, make necessary replacements based on your preference. Don't substitute the onions, but you can freely use other veggies like zucchini, squash, and cauliflower.
Total time: 15 minutes
Cabbage rolls are family-friendly treats for any meal. They can also be your savior if you have kids who hate vegetables. They won't be able to resist. They taste the best when served immediately after cooking, meaning you should cook right before a meal.
The recipe for making cabbage rolls is simple, but it requires some effort and crafting from you. Specifically, you need to wrap the cabbage leaves around the beef before putting them in the pot. Be gentle, or you may tear the leaves apart.
Total time: 25 minutes
For those who can't get the hang of "Pasta e Fagioli", you can simply memorize this dish as "pasta and beans". Pasta e Fagioli is a traditional Italian treat, mainly consisting of pasta and several types of beans, such as kidney beans and great northern beans.
Unlike the Italian version, this copycat adds carrots, celery, tomatoes, pork sausage, pasta, and cheese. It means the dish is much richer in both texture and flavor. Served hot right after cooking, the dish brings you to a summer garden in a romantic countryside town.
You must eat the soup immediately, or the pasta will absorb all the liquid and turn mushy, which ruins the texture. In terms of pasta, you can use shell or elbow pasta, but Ditalini is the best for this recipe. If you plan to store the soup for another time, leave out the pasta.
Total time: 15 minutes
There are about 350 different types of pasta, but penne is one of my favorites mostly because of its shape.
Penne pasta comes in a tube-like shape instead of a long shape with a dense texture. You can feel the air pop into your mouth carrying flavors when biting penne. Penne pasta is also short, meaning I can easily eat it with a spoon.
That's probably the most special thing about this recipe for me. Other than that, this instant pot penne bolognese earns a place on this list as a quick, simple dinner dish you can always resort to when you are busy and tired.
The only thing I want you to note down is not to add garlic at the same time with beef, as it can be overcooked and burned.
Total time: 1 hour
Picadillo is a Latin American dish with potatoes, ground beef, and tomato-based sauce as the key ingredients. From there, anyone can modify the recipe and create a unique version. That's why Picadillo has become popular but diverse in multiple countries.
What makes the dish stand out from others with the same core ingredients here is the combination of pimento-stuffed olives and sauce. It offers a sweet and tangy Cuban flavor and makes a great side dish to serve with rice in the main course.
Sprinkling chopped fresh cilantro on top will give you some extra scent and taste and make the serving look beautiful.
You can serve Instant Pot Picadillo with avocado, and rice like this instruction suggests.
Total time: 28 minutes
The cornbread taco pie may sound strange at first. But once you try it, it will certainly become your new favorite dish. Not only is it delicious, but it is also easy to make though it requires another pan apart from the instant pot to process the meat.
To be brief, you need to cook ground beef first, add taco seasoning, and let the mix marinate for a few minutes. Mix up the cornbread in another pan per the manufacturer's instruction, then pour the meat mixture into the instant pot, followed by the cornbread mix.
Let it cook. As soon as it's done, pull the pot out, and flip it over so the pie can fall out. At this point, you get a two-layer pie, top with taco condiments, and it will be ready to serve.
Total time: 29 minutes
As of now, you must have found many instant dinner recipes on this list. I would like to add one more, the egg roll bowl. Yet, don't expect to see any egg in this recipe. It's pure ground beef and rice.
It's worth noting that the recipe involves a salad kit, a quick way to balance the nutritional values for you. However, you can make your own salad if you have more time or omit it if you are not in the mood for veggies.
Total time: 35 minutes
Beef in Korean cuisine has a different flavor than in Western cuisine. Korean-style beef is quite plain and sweeter, giving room for a sauce to complete the flavor. In this recipe, however, you will cook the beef in the sauce.
It would be better to make this dish with Korean beef. It has more sweetness and is highly marbled though it costs a lot more. So, go for regular ground beef if you seek a budget choice; the texture may not be the same, but the flavor remains intact.
Total time: 26 minutes
When shopping for Ravioli soup ingredients, you can buy frozen ravioli, fresh ravioli, or dry tortellini. That said, remember that each option involves a different cooking time and method. It may not take up to 26 minutes to complete the dish.
With frozen ravioli, you need to pressure it with the other ingredients for 6 minutes. If you use fresh ravioli, don't pressure it; add it to the pot after the pressuring step and saute it for 2 to 3 minutes only. For the last option, dry tortellini and pressure it for 3 minutes.
When serving, you can toss in some ricotta cheese or a tablespoon of balsamic vinegar for additional flavor.
Total time: 24 minutes
To make taco pasta, you must use taco seasoning; nothing can replace that. Sour cream and cheese are non-negotiable, as they thicken the texture and provide creaminess for the pasta.
Apart from those, you need shell pasta, ground beef, and several other familiar ingredients you often use to cook pasta like onions, beef broth, and chiles.
It's worth noting that the recipe instructs you to pressure the pasta for 4 minutes. But if you like a softer texture, let it cook for one more minute. Also, you can increase the amount of beef if you want a meatier dish.
Have Your Way With Ground Beef Through These Recipes
All of these recipes promise tender, browned beef in the final result. No matter which recipe you choose, the instant pot's pressure will ensure your meat is well cooked along with rice, potatoes, and other ingredients.
Which one is your favorite recipe? Share your choice and this article with other instant pot owners, and you may even invent new tips to achieve incomparable results. Have fun making the best of your instant pot!