Have you ever thought about whipping up some easy Instant Pot desserts?
There are many reasons to love the Instant Pot: It's safe, it's versatile, it makes cooking a lot faster, and it's a snap to clean. That's why more and more people are relying on this magical kitchen appliance for their weeknight meals.
But hey, if you never use your Instant Pot to make your favorite sweets, you are wasting its potential! This handy multi-cooker can actually yield satisfying results for delicious cakes, puddings, pies, crème brûlée, and any delectable dessert you can name.
With the help of an Instant Pot, you can satisfy your sugar cravings with minimal effort and minimal time. Don't believe me? Read on, and I will take you up on a tour of simple sweet treats created in the beloved kitchen gadget!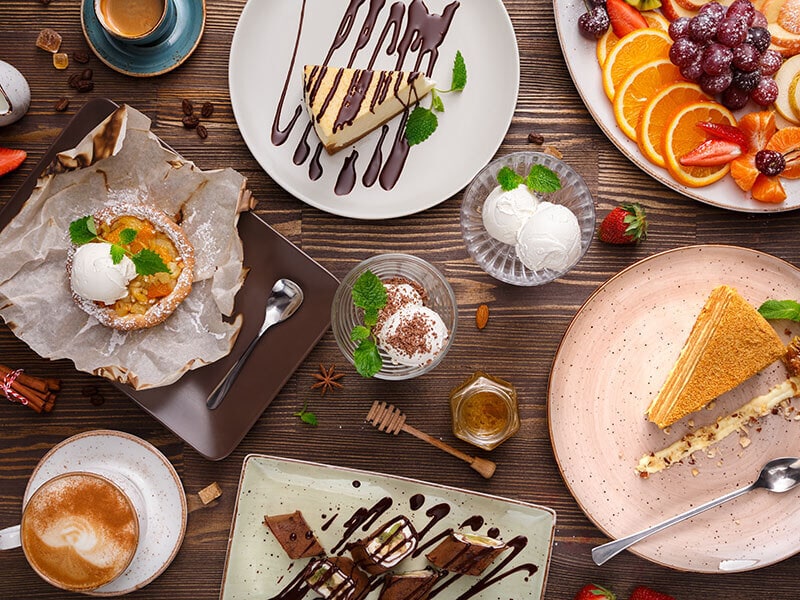 Making Desserts Is Never Easier With The Help Of The Convenient Instant Pot
From the following list, you will find all kinds of sweet treats that you can imagine. What's more, these Instant Pot desserts are so easy to prepare that even a home cook with zero baking experience can whip them up in no time!
Total time: 40 minutes.
Let's start with a truly comforting Mexican rice pudding. What sets this Hispanic version of pudding apart from others is the use of long-grain white rice, which makes it taste like loose oatmeal meets custard.
With only a few simple ingredients you can find in almost every household (white rice, condensed milk, sea salt, and vanilla), this creamy dessert is one of the simplest sweet treats.
But here is a surprise for you: It can be even simpler with an Instant Pot! In my recipe, this kitchen hero will do all the steps for you. All you have to do is add some nuts, seeds, honey, or cinnamon on top, and enjoy!
Total time: 17 minutes.
You might think soups and stews made with an Instant Pot are the most heart-warming things you have ever tasted. Well, wait until you try these Instant Pot-baked apples.
In this recipe, you will stuff the apples with raisins and walnuts, then flavor them with some cinnamon. Raisins and walnuts turn the dish into a truly hearty treat, while cinnamon adds a warm and woody flavor that makes it ideal for a cozy autumn evening.
But don't forget that baked apples are really versatile. You can adjust the filling according to your preference, and no matter how you stuff them, they are going to be a huge hit.
With the help of your Instant Pot, both the preparation and the cooking can be done in less than 20 minutes. Oven-baked apples often take up to 2 hours, so this electric multi-cooker is a lifesaver, really!
These juicy baked apples highlight fall's favorite fruits.
Total time: 60 minutes.
You have some overly-ripe bananas and don't know what to do with them, right? Using this recipe, you can use them to "bake" yourself some awesome bread with a sweet taste.
All you have to do is mash up your bananas and mix them with eggs, vanilla, melted butter, baking powder, flour, sugar, and salt. Make sure you stir the mixture well… then toss them in the Instant Pot.
Set your Instant Pot to the "Pressure" setting and let it cook for 50 minutes. Now, you are free to go read a book or do your usual house chores without having to watch over the bread. The Instant Pot won't heat up your whole kitchen the way an oven does.
Come back later, and you will be greeted with a perfectly moist and delicious banana loaf. Savor slowly with a good cup of coffee and a cold glass of milk!
Total time: 1 hour 25 minutes (including 30 minutes of resting time).
This time-honored sweet from the South is the way to go if you want to incorporate fruits into your desserts. It features an addictive combination of sweetness and freshness from frozen blueberries and lemon juice.
Just like any Instant Pot recipe, the making process is simple. However, remember not to leave out the cornstarch while preparing the blueberry mixture. The cornstarch serves as a thickener, so if you forget it, the moisture in blueberries will make your cobbler runny.
For being delicious and quick to prepare, this Instant Pot blueberry cobbler is suitable for both a special occasion or just a family dinner. Serve the dessert with ice cream or whipping cream, and it will surely please every taste bud.
Total time: 75 minutes.
Pecan pie can start a cult for itself: It's a mix of sweet, buttery crunch with a savory nutty aftertaste that will make you crave more. The bourbon is optional, but its mild taste of vanilla can take the dish to the next level.
Do note that, if you want to make pie in an Instant Pot, avoid using traditional pie crust. Since butter adds extra moisture to the crust, you can't achieve the ideal flaky texture using the pressure cooker. Instead, you should go with a crust made of cookies or graham crackers.
Once you have done with the crust, the remaining should be easy. Using this recipe, the pecan nuts will stay surprisingly crispy thanks to the short time under pressure. That's the key to the flavor of pecan pie!
Total time: 1 hour 15 minutes.
Just like French toast, bread pudding is one of the classic holiday desserts. What if I say you can now enjoy it every day without spending hours in the kitchen baking and cleaning?
Simply dump the ingredients in the pot and let them cook in "high pressure" mode, you will have the tastiest, most festive sweet ever. Crispy on the outside, soft and moist inside, soaked in a rich and creamy custard sauce, this bread pudding is truly the ultimate dessert!
As for the seasonings and dried fruits, feel free to add more or less according to your taste. Having more fruits will make this dish a suitable Instant Pot recipe for breakfast. After all, it is very adaptable, so you will have plenty of room to experiment and have fun with flavors.
This decadent, luscious bread pudding is something you will want to eat any time of the day
Total time: 33 minutes.
A humble cherry dump cake is a staple sweet treat with cherry tastes that is perfect for potlucks or BBQ parties. It has a terrible name, but I love the idea behind it: You just dump everything in and bake it all.
In this recipe, the Instant Pot does most of the work, but I love how it gets even simpler with the use of yellow cake mix. Even your kids can make this classic dessert since it doesn't require any cooking at all.
Yes, the making process is really simple. Still, the outcome is not: The cherry pie filling doesn't only contribute to the sensational sweet/tart combination but also gives the cake a delightful color that's nice for the holidays.
Another point in this cherry dump cake's favor is that you can top it with anything you love! All of them will pair well with the cake.
Total time: 1 hour 20 minutes.
Who's up for some chocolatey goodness? Let the Instant Pot brownies satisfy your cravings. They can be made within an hour of total baking time, and you don't even need any flour at all!
These brownies taste as good as the ones an oven can make: They are moist and dense, sweet yet bitter, a bit malty, and slightly earthy. I prefer to add more salt after discovering that a salty kick will make the brownies more flavorful, but you can adjust it according to your taste.
This recipe is ideal for those hot summer days, when you want to get yourself some sweet treats but the weather is too hot to cook!
Total time: 1 hour 5 minutes.
Can I take a moment to honor the union of sweet and salty? Yes, I'm referring to this chocolate cake with salted caramel and pretzels!
This decadent sweet treat is gooey, creamy, and thick, with a touch of sweet toasty vanilla that will make any sweet tooth out there feel like heaven on earth. Then, that beautiful zip of salt kicks in, creating a flavor combination that's nothing short of divine.
But you are not stopping there: Salt-coated pretzel snacks will make the best topping for this cake. If you prepare this for a gathering, breaking these pretzels would be a little fun game!
Total time: 30 minutes.
Though being such a simple dessert to make, chocolate-covered strawberries are still a fancy, bite-sized sweet treat everyone adores. These strawberries are not only tasty but also aesthetically pleasing.
Because of that, they will make the best gifts for your loved ones on any special occasion. Why spend dollars on a box of chocolate-dipped strawberries when you can make your own at home – super fresh and in just 30 minutes?
Since this recipe only requires two ingredients, the quality of the chocolate is crucial. I use baking chocolate instead of some cheap chocolate chips since they taste better, melt easier, and will give the fruits a delicate coat after dipping.
Choosing strawberries is important, too. For the nicest look, look for the jumbo ones with stems.
Total time: 30 minutes.
A classic French favorite since the 17th century, a love affair with chocolate is incomplete without Pots de Crème. For chocolate richness, this sweet treat is unmatched.
Traditionally, this dessert is made with premium chocolate, sugar, cream, and eggs. Making chocolate Pots de Crème the old-fashioned way is a bit time-consuming, requiring you to heat, whisk, strain, and water bath the mixture.
But don't worry. With this Instant Pot recipe, you can whip it up within 30 minutes and still get to enjoy all the creaminess and delicacy of the treat. Top them with sweet-and-tangy strawberry sauce or candy decorations, and they are ready to be served at any party.
You can effortlessly make these restaurant-grade Pots de Crème at home.
Total time: 33 minutes (excluding chilling time).
In case you have never heard of it before, the chocolate terrine is a flourless French dessert. It has a very smooth and delicate texture, softer than fudge but firmer than mousse.
Shaped like a loaf cake, this amazingly luscious sweet can be made with either milk, white, or dark chocolate. I'd say it is one of the richest chocolate treats out there, with most of the flavors coming from chocolate. Hence, don't hesitate to make it with your favorite bar!
Terrine is equally delicious and served with fresh fruits, caramel, or cream. Personally, I'd like to keep it simple since the slice is already so flavorful on its own.
But if you are preparing an intimate dinner for your date, a rich, smooth white chocolate terrine with strawberries on top will be a splendid end to the meal!
Total time: 1 day.
Yogurt that's packed with the nutty, floral, sweet flavor of coconut milk – does it sound wonderful? To make it even better, this simple recipe is quick to prepare and absolutely dairy-free. With a few tweaks to reduce the carb content, you can turn it into a keto-friendly Instant Pot treat as well.
This yummy yogurt is an easy way to provide probiotics to your immune system. Furthermore, it's a rich source of nourishing fats like medium chain triglycerides, which are beneficial for your metabolism.
What sets my recipe apart from other recipes you can find on the internet? Using an Instant Pot, you can make this delicious treat effortlessly. Also, gelatin makes it a go-to for anyone who prefers their yogurt to be rich and creamy.
It takes 24 hours in the Instant Pot for your coconut milk yogurt to be fermented, so you have to be a bit patient. However, the outcome is definitely worth the wait!
Total time: 55 minutes.
Cookies are lovable in every form, but I always have a soft spot for deep dish cookies, especially if they are chewy, ooey gooey, and served warm with a scoop of ice cream on the side.
That's why this recipe is my favorite. With only 8 ingredients for a huge version of cookies, these chocolate chip cookies are the ultimate in sweetness and simplicity.
The step of mixing everything together requires a bit of technique, but once you are done, you can leave the rest to the Instant Pot.
Buttery, crispy edges with a melty center, this can be enjoyed alone or used as a foundation for a sundae. Yummy!
Total time: 16 minutes.
Chocolate is often the obvious choice for lava cake filling. But, wait until you try this Dulce le Leche version.
"Dulce le Leche" means "caramelized milk" or "milk jam". Imagine cutting through a lava cake and seeing the rich caramel goodness flow out, begging for you to savor it. Just like love, it's sweet, mellow, toffee-like, and highly addictive.
It's mind-blowing that something as impressive as this Dulce le Leche lava cake can be so easy to prep. With only 4 ingredients and an Instant Pot, you can whip up this culinary magic in less than 20 minutes!
Total time: 30 minutes.
Sure, eggs and bacon are great. On a cozy autumn morning, though, you might want something warmer, more comforting, and more indulgent for breakfast. Think of a French toast casserole, for example.
The humble French bread will be dipped in an egg custard that's spiked with vanilla and cinnamon. Then, you load it with brown sugar, nutty pecans, and a lot of butter.
If that isn't enough to satisfy you, some maple syrup on top will add a dash of sweetness in the morning. Oh, don't forget that it all comes together in just 30 minutes. So, yes, the perfect fall recipe does exist!
The holiday breakfast both you and I will be head-over-heels obsessed with!
Total time: 45 minutes (excluding chilling time).
Speaking of autumn, I got another treat for you: A lovely cinnamon roll. The softness and gooey center of this dessert, the irresistible scent of cinnamon, and the sweetness of vanilla will warm up your heart.
The cake consists of two parts: The cheesecake foundation and the cinnamon crumble. For the crust, you can combine graham crackers, butter, sugar, and salt. If you want the cinnamon-based treat to be creamy, you can swap graham crackers for golden Oreo cookies.
Making the filling is easy: Simply mix cream cheese with sugar, flour, sour cream, vanilla, eggs, and cinnamon. Then, whip them well until combined and fluffy. Remember not to whisk the mixture too much, or you will end up with a runny batter instead of a thick one.
Assemble the two parts, and you will get yourself a cinnamon roll full of flavors. You can top it with fresh fruit or any kind of topping you like, but a touch of powdered sugar glaze is the best for me. Simplicity is the ultimate sophistication!
Total time: 45 minutes (including additional time).
For years, Krispie treats have been creating memories for both children and adults alike. Now, with an Instant Pot, you can enjoy this good old snack with your family, friends, or even co-workers whenever you want.
If you have tried making Krispie treats using a microwave, you will notice one thing: The marshmallows often puff up and even bubble over when heated. However, in an Instant Pot, they can be melted down gently, making it much easier to clean.
In the mood for some twists or just want to surprise the kids? Add some candies or mini M&M on top! You might also take the classic treats to the next level by melting chocolate chips along with marshmallows and butter to create your own chocolate Krispies.
Total time: 1 hour.
As one of the most outstanding lemon desserts out there, this moist lemon cake is zesty, fluffy, and simple to whip up from scratch. Lemony flavor infuses every bite of this incredibly moist pound cake, and the lemon glaze on top will make you fall in love right away.
That's because this batter is made with fresh lemon juice and grated lemon zest. Most people tend to forget the zest, but I think it's what gives the cake the extra tangy kick that everyone will gladly savor.
It's also a nice make-ahead dessert for special occasions since you can store this lemon cake at room temperature for up to 4 days.
Total time: 39 minutes (plus 20 minutes of additional time).
Here comes another recipe for lemon lovers. This rich topping is incredibly versatile: You can use it on anything you would use jam on, from bagels, toasts, and sweet bread, to scones. Countless finger-licking lemon curd-filled treats are waiting for your divine touch!
Following this recipe, you will have a jar of creamy, buttery lemon curd in no time. Simply whisk together sugar, butter, eggs, and grated lemon peel. Use the Instant Pot to cook the mixture for 9 minutes at a manual high temperature.
Grated lemon peel will give the outcome an intensely tart citrusy flavor. This smooth and silky condiment would make the ideal topping for your lemon cake!
Total time: 5 minutes.
You can use the Instant Pot to make compote – a delightful sweet mixture of sugar and fresh fruit that makes for a vibrant topping or a treat by itself.
In this recipe, I use only 3 ingredients: Blueberries, raspberries, and honey. These ingredients just remind me of a lovely summer day filled with porch swings, iced tea, and of course, berries picking. However, you can always use this recipe with the fruits of your choosing.
So, what should you do? Smash the berries, stir them with honey, and let the Instant Pot cook the mixture. After 3 minutes of cooking time, a sweet blend of mixed berries is ready. Spend more time with your family and serve up a delicious dessert!
Total time: 40 minutes.
What a weird name for a dessert! The name "monkey bread" is inspired by the way in which it's eaten: You use your fingers to pick off chunks of buttery, gooey dough, much like how a monkey would groom its buddy.
"I would never do that", you might think, but wait until you see a fresh-baked loaf: Brown butter contributes to a nutty aroma, while crispy turbinado sugar melts into the dough, giving it a caramel-like flavor.
With a lot of butter and sugar, this sinful treat is not for those who worry about their weight. But hey, it's irresistible, and a few more calories won't hurt!
Total time: 40 minutes.
Here is a festive cranberry treat that will be a hit no matter the season you serve it. Its magical combination of refreshing cranberries, nutty pecans, and toasty almonds makes it a special treat.
In fact, this recipe is slightly more creative: There's no pie filling or even pie crust. The outcome is closer to a cranberry cake, which means each bite will be denser than the typical pie.
Is it a pie-like cake or a cake-like pie? I don't know, but it's simply divine: Soft, sweet shortbread dotted with juicy cranberries and crispy pecans. More than a Christmas pie, you will want it again and again, even for a casual breakfast.
Total time: 1 hour 22 minutes (excluding chilling time).
There are many types of cheesecakes, but the New York style is undoubtedly the most loved: It steps up a notch with extra cream cheese, resulting in one of the most famous creamy desserts. Does it sound like perfection to you?
Yes, this dessert is all about the texture: It should be smooth and rich, with the right blend of softness and firmness. If you use an oven, your delicious cheesecake might get those not-very-cute cracks on the surface. That's why this Instant Pot recipe is awesome!
There will be no fuss, no mess, and no water bath situation to fix those cracks. None at all. All you have is a creamy, rich, and velvety New York cheesecake that's even more flawless than a traditional oven-baked one.
This is going to be the best cheesecake you've ever tasted in your life!
Total time: 43 minutes.
These cute little Nutella bites can be whipped up with only 3 ingredients you can easily find in the kitchen: Nutella, eggs, and sugar. What's better? They are gluten-free, so you can savor them without feeling guilty.
There is only one caveat: you need silicone egg molds made specifically for an Instant Pot to prepare this treat. They can be found on Amazon or just any kitchen store. I think that it is a worthwhile investment because you can use those molds to make great Instant Pot appetizers as well.
The outcome is worthy, though: These 3-ingredient Instant Pot Nutella bites are soft, luscious, and flavorful. Great to finish your dinner or enjoy as a snack after a long and tiring day!
Total time: 50 minutes (plus 15 minutes of additional time).
If there is anything better than regular cheesecake, it's these oreo cheesecake bites: The combination of creamy cream cheese filling and Oreo cookie crust will blow you away.
This is such a delicious yet simple Oreo dessert to make, requiring only a few ingredients and some simple steps. To make things even easier for you, this recipe uses whole Oreo cookies for the crust instead of crumbled ones.
Top the treat with fresh whipped cream, and these mini Oreo cheesecakes will capture both children and adults alike.
Total time: 28 minutes.
If you are a fan of the classic peach cobbler, this dessert is a must-try! Made with fresh, juicy peaches and crunchier than a cobbler, peach crisp is a wonderful summertime sweet treat.
To prepare this treat, you will start by arranging sliced peaches in the bowl of the Instant Pot. Next, combine flour, sugar, salt, and cinnamon and stir to combine.
Incorporate oats into the mixture before setting it to pressure cook for 8 minutes. Finally, let the sauce simmer for another 5 – 10 minutes until the crisp turns golden brown, and the whole thing begins to thicken.
While this peach crisp is an outstanding canned peach recipe, it'll taste equally delicious if you make it with fresh peach. You can use canned peaches to make this treat all year round, while fresh peaches are bursting with flavor when they are in season.
Total time: 57 minutes (plus 10 minutes of additional time).
You don't have to be a talented cake decorator to make this stunning pineapple dessert, whose magnificent beauty will grace your party table for any special occasion.
The key to its enchantment is, to begin with, the pineapple on the bottom of the cake pan. You arrange each slice, use maraschino cherries to design the cake, and then sprinkle it with brown sugar.
Instead of a cake mix, in this recipe, you will prepare your own cake batter. It might be a bit time-consuming, but the outcome is worth the effort: A soft and buttery, incredibly flavorful cake with a tender crumb.
This recipe will turn your world upside down in the sweetest way possible!
Total time: 50 minutes.
A vintage British dessert, sticky toffee pudding is made with sweet, chewy dates and drizzled in caramel-toffee sauce. When it's cold outside, this rich, gooey treat is the most appropriate food to curl up with.
But that doesn't mean you can't enjoy sticky toffee pudding in the summer: Topped with a scoop of ice cream, and you've already got yourself a heaven on the plate.
When you steam it in an Instant Pot, you can rest assured that your pudding will be fantastically moist.
Total time: 26 minutes.
Crème brûlée is one of those fancy desserts that require a lot of time and skill – that's what most people think. Indeed, its complex combination of airy vanilla custard and nutty caramelized sugar makes for a true delicacy.
But what if I tell you that anyone can enjoy this luxurious treat with less than 30 minutes of cooking? It is now possible! The traditional oven method will challenge you with the fussy "water bath" step, but an Instant Pot already creates the perfect moist environment for making crème brûlée.
Not only does this recipe cut down on cooking time, but it also adds more flavor to your dessert by using a real vanilla bean. You will be surprised by how the custard sings with strong aromatic and floral notes. Vanilla might be boring… until you taste the real deal!
Make one of the most luxurious indulgences around in less than 30 minutes!
Delight In Every Bite!
Life is not worth living without dessert, that's what I always believe. For many people, sweet treats are often an afterthought since they don't have spare time to cook. But now, this list of easy Instant Pot desserts will surely be a game changer for them.
Whether you are craving chocolate or cheesecake, I hope you find your easy favorite here. If you find this article useful, let us know by hitting the "Like" button. You can also share it on social media so others can save some time in the kitchen.
Thank you, and enjoy your treat!