These easy instant pot appetizers are the solution for your hors d'oeuvre rut. You already know how chaotic the preparation can be before every party. As a host, you hope the guests enjoy the appetizers. But at the same time, you don't want to spend too much time on this part.
Therefore, these instant pot appetizers came into the scene as problem solvers. The instant pot does a magic job of making things ready in no time and ensures that your food will taste fantastic.
Whether you want delicious cocktail meatballs, refreshing salsa, or a tasty dip to match your tortilla chips, I have more than 20 instant pot appetizer ideas that are perfect for your next party.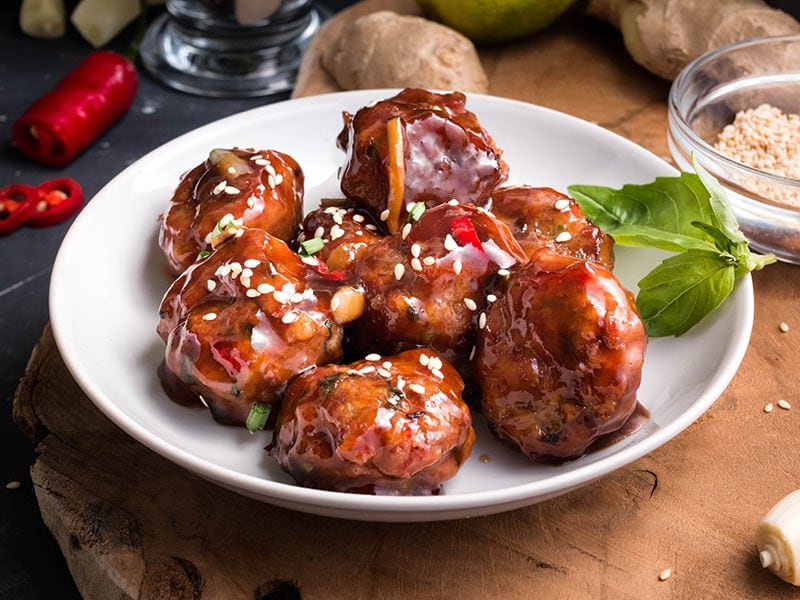 Try These Easy Instant Pot Appetizer At Your Next Party
If you've not decided what to serve at your next party, scroll down and check the recipes below. These ideas are all tried and tested, so there is no need to worry about the taste.
Total time: 20 minutes (including 10 minutes of natural release time)
Regarding instant pot appetizers, there are no ways I forget about this spinach artichoke dip. Easy and convenient, this delectable sauce may become your new dip favorite. All you have to do is get and dump the ingredients and let the cooker do the rest.
This spinach-based appetizer recipe is super customizable and adaptable. Water-packed or oil-packed canned artichokes are both acceptable. Instead of sour cream, choose Greek yogurt. Also, customize other ingredients such as mayonnaise, cheese, and spinach according to your taste.
Tangy, sweet, nutty, and a light tart, this sauce is a combination of all the fantastic flavors. The ideal finished texture should be creamy and soft.
However, feel free to adjust the dip consistency. Add extra Jack cheese or mozzarella for a more stretchy texture, or pour excess artichoke brine for a thinner consistency.
Be the star at the next potluck by bringing this instant pot spinach artichoke dip.
Total time: 15 minutes
Look at these beautiful golden brown crab cakes. Who can turn them down? These instant pot crab cakes deserve to be on the menu of a fancy seafood restaurant. I won't be surprised when they become your guests' new addictive crab appetizers.
The cakes have balanced flavors and textures with crab meat, garlic powder, onions, and others. They taste well with any sauces and dips. While the sweetness is hard to forget, you can feel the crunch in every bite, thanks to the onions and bell peppers.
Making the crab cakes in advance is possible. When you're ready to cook, put the prepared crab mixture in the instant pot and do the remaining steps as usual. In case you have frozen the cakes, no need to thaw them but cook directly in the instant pot.
Total time: 15 minutes
Don't pass this queso dip if you have an instant pot pressure cooker. Prepare this delectable dip for gatherings and watch how it puts your guest under a delicious spell. The key to the irresistible taste is the taco seasoning and Chili Fixin Rotel (canned diced tomatoes with chilies).
With the instant pot, there's not much to do. To begin, stir the ground beef with taco seasoning and the Chili Fixin' Rotel. Then add the cheese and cook for a few minutes. Mix until the cheese is melted and the sauce has an even consistency. And voila, your cheese dip is ready to devour.
The ingredient's order matters, so remember to place the Velveeta on top and avoid putting it at the bottom. Otherwise, your pot will get burnt. Seal the leftover dip tightly and refrigerate it for the next three days. Rewarm in the microwave when wanting to use it.
Total time: 9 minutes
Bring these instant pot little smokies to a game day and amaze everyone there. Every bite will burst with a sweet, savory, and smoky flavor. These yummy sausage starter treats are a lifesaver for the hungry stomach.
To make this recipe, you'll need cocktail sausages, barbecue sauce, and grape jelly. That's the basics, but it doesn't hurt to add more twists. For spicier little smokies, a tablespoon of chili sauce will help.
Start by tossing all the ingredients into the inner pot and stir. Cook the mixture for about 3 – 4 minutes and stir before serving. If the sausage mixture becomes watery, set your instant pod to saute mode. Keep stirring until the sauce thickens, and you'll be fine.
Total time: 20 minutes (including 10 minutes of natural release time)
Have you tried these instant pot deviled eggs? This version will leave you nothing but good surprises with creamy mayonnaise, tangy Dijon mustard, and refreshing pickle juice. What's more, you will learn a trick to peel the hard-boiled eggs easier.
The 5-5-5 method is the key to dealing with any hard-boiled eggs. Cook your eggs for 5 minutes, allow the pressure to release naturally for 5 minutes more, and dip the eggs in cold water in the last 5 minutes. Use this method in this appetizer and other dishes with boiled eggs.
Your finished eggs will be a piquant golden color with a creamy texture. A pinch of paprika adds more colors and heat to the dish. I'm sure a little sweet and a little sour are perfect to kick start any party.
Use an instant pot to make this version of deviled eggs and see how delicious they turn out.
Total time: 13 minutes
Instant pot steamed artichokes will be your new go-to appetizer. The flavors of artichokes are unique and worth a try. With a few more ingredients, such as chicken broth and garlic powder, this artichoke appetizer is ready in no time.
What makes this appetizer stand out is the sweet, bitter, and nutty tastes of artichokes. The final results are tender and soft, while the leaves are easy to pull apart. Remember that only the white fleshy end is edible. Dunk them in garlic butter dip, mayonnaise, or your preferred sauce.
This appetizer will boost your guests' health as artichokes are an ideal source of antioxidants and vitamins. Their healing properties have received high praise for thousands of years.
Total time: 23 minutes (including 10 minutes of natural release time)
Regarding instant pot hors d'oeuvre, this sweet and spicy meatballs recipe is a prominent name. This delicious meatball appetizer is fast and super easy to make with your instant pot.
This recipe requires minimal prep work. Most ingredients are pantry items, such as chili sauce, garlic powder, or grape jelly. If you prefer a thicker sauce, a pinch of cornstarch will do. In addition, frozen meatballs are the main ingredients in this recipe.
As its name suggests, this dish is a perfect appetizer. The pleasantly sweet and spicy taste will awaken your taste buds as soon as you take the first bite. Your guests might ask for more, so prepare a double batch with more ingredients.
Total time: 1 hour and 35 minutes (including 1 hour of refrigerating time)
Who says stove stop is the only way to prepare delicious homemade popcorn desserts? This instant pot caramel popcorn will prove the opposite. This classic sweet-meet-salty dessert is an ideal appetizer or snack to satisfy any craving.
Aside from corn kernel, you'll need coconut oil, butter, milk, and sugar. The outer caramelization gives this fragrant and flavored popcorn a nice brown color and a pleasant sweetness. Plus, the caramel will melt in your mouth as soon as you pop in a kernel.
It's hard to believe that you'll have leftovers. But if you do, seal them tightly in a ziplock bag and leave them in the pantry for 4 – 5 days. A tip to bring your soggy caramel popcorn back to life is to rewarm them in the oven at 250°F for about 5 minutes.
Total time: 30 minutes
The instant pot hummus is a fun twist on the classic dish with a new cooking method and canned chickpeas. If you are a hummus fan but are short on time, this recipe is for you. This treat is for health-conscious people because it's gluten-free and vegan-friendly.
Instead of taking a whole day, this hummus version will be ready in half an hour. The canned chickpeas are a great shortcut. In addition, this recipe also includes tahini, olive oil, garlic, and more. Don't forget to add paprika to complete the Mediterranean combo.
The final hummus should be sweet, savory, and garlicky. Note that the high-quality tahini and olive oil don't cost a fortune, so buy a good one. Otherwise, the taste will be greatly impacted.
Heat canned chickpeas for a lusciously creamy and fluffy hummus because cooked chickpeas will be soft enough to blend with other ingredients.
This instant pot hummus is tastier than the one you bought at stores.
Total time: 25 minutes
Undoubtedly, these instant pot buffalo chicken sliders are certified crowd-pleasers. If you're in an appetizer's rut, they may be your solution. Spicy, tangy, and savory, this dish is everything you're looking for in a perfect chicken appetizer.
Instant pot is all about the "dump-and-set" method. Therefore, toss chicken breast, broth, buffalo sauce, and other ingredients in the instant pot.
Turn on the cooking mode and come back after about 15 minutes. Shred your chicken and serve it with slider rolls and other desired ingredients.
The spicy buffalo sauce makes the flavor deep and delicious, while butter adds a smooth richness to the chicken. When done, your chicken should be flavorful and super tender. The result's heat is acceptable for most people, but adjust the spicy sauce to suit your taste.
Total time: 25 minutes
In this easy mushroom starter dish recipe, you can create a masterpiece with several simple ingredients. There is something irresistible about the combination of earthy mushrooms, nutty Parmesan cheese, and tangy Ranch seasoning.
Be creative with the ingredients. To make changes, switch the Ranch dressing to another dry salad dressing mix. Choose olive oil instead of butter. Likewise, green beans, broccoli, or snap peas are great substitutes for mushrooms.
This dish is delectable with many health benefits due to mushrooms. They are high in fiber, protein, and vitamins, with almost zero calories. Accordingly, mushroom consumption helps prevent Alzheimer's, cancer, diabetes, and other diseases.
Total time: 45 minutes (including 5 minutes of natural release time)
Whether it's a friend gathering or a casual weeknight, I'm always down for the instant pot chicken wings with honey garlic sauce. Less fuss and delicious, these wings will be a lifesaver at last-minute parties. Plus, using fresh or frozen chicken wings is possible with this recipe.
Apart from chicken wings, the sauce is a crucial element as well. Follow the instructions and make the honey garlic sauce from scratch. Or, for more convenience, use store-bought sauces.
Cook them directly with your favorite sauce. Make sure to check the wings regularly for even browning and avoid burnt outcomes.
Cooking in the instant pot leads to a super tender and juicy result. Your friends will be totally taken with this mouth-watering starter for potlucks, friendly get-togethers, family meals, etc. But remember to handle the cooked wings carefully so that their skins and bones won't fall off.
Total time: 1 hour and 50 minutes (including additional 15 minutes)
This appetizer, instant pot Cajun boiled peanuts, is too easy to skip. Don't worry about the boiled peanut bland tastes because the Cajun sauce will spice things up. This savory and spicy appetizer will get lots of attention at your party.
Feel free to customize the seasonings. Creole seasoning, hot sauce, or a mix of both are all great options. This recipe produces mildly spiced results. Therefore, increase the heat factor according to your spicy tolerance. Besides, opt for raw peanuts with shells.
The instant pot Cajun boiled peanuts take 90 minutes to get done. An additional 10 – 20 minutes of cook time will do for extra softness. The more the peanuts soak in the seasonings, the more flavorful they become. Therefore, you should store the leftovers in the brine too.
Making Cajun boiled peanuts is never this easy with the instant pot.
Total time: 25 minutes
If you love French fries as I do, add this instant pot version to your must-make list. This recipe uses a rich batch of paprika, salt, and pepper to create super crispy French fries everyone will love. Serve your favorite fries with ketchup, mayonnaise, or gravy.
Sizes don't matter in this recipe, so you're welcome to adapt the sizes and shapes of potato strips. However, the cooking time may vary a bit. In addition, although regular potatoes are my go-to ingredients, sweet potatoes would be equally delicious.
You'll use the air fry mode of the instant pot for 20 minutes to cook the fries. Flipping the potatoes halfway during the cooking process is essential to have crispiness evenly. One last thing to note is to keep your cooked fried potatoes warm in the oven to avoid sogginess.
Total time: 25 minutes
Here comes another heavenly appetizer for you: instant pot bacon maple Brie. Your guests will never know how easy this elegant bacon hors d'oeuvre is. It only needs several ingredients, such as bacon, pecans, and Brie cheese. Be ready to surprise the crowd with this irresistible delicacy.
I believe keeping the rind on Brie cheese gives the dish a distinctive taste, but cut it off if desired. Also, replace puff pastry with crescent rolls. As for the bacon, plain or regular ones will do the trick.
This bacon dish is a party of flavors. The marriage of salty bacon, buttery Brie cheese, and the caramel-like taste of maple syrup is out of this world. Reheating is not ideal for this dish because this Brie appetizer tastes best fresh off the instant pot.
Total time: 20 minutes
In less than 30 minutes, you're ready to feed the crowd with this showstopper dip. The instant pot buffalo chicken dip is perfect party food with its tangy taste, creaminess, and subtle heat. A big bonus point is that this one-pot recipe doesn't have much to clean up.
Its primary ingredients focus on the hot sauce and Ranch dressing. Any hot sauce is suitable, but I recommend Frank's Red. Otherwise, Tabasco or Cholula will provide the same results. The hot sauce adds a kick of spiciness while the Ranch dressing delivers a zesty and herby taste.
Cream cheese, cheddar, and mozzarella all contribute to the dish's deliciousness. But note that they have different melting behaviors.
Cheddar cheese acts as a thickening agent in this recipe, so use it to adjust the sauce consistency. If the cheese doesn't melt, turn the cooking mode to saute. This extra step will ensure the cheese melts evenly and entirely.
Total time: 25 minutes
It is no exaggeration to say that instant pot is a match made with dipping sauce. Let's welcome a personal favorite: instant pot crab dip. Unbelievably creamy and highly addictive, this crab dip will win over your guests, even the pickiest ones.
To make the crab dip, prepare cream cheese, mayonnaise, Worcestershire sauce, and a few more. Opt for the fresh lump crab meat for the best flavor, and avoid canned crab meat. Old Bay Seasoning is also a crucial element of this dip.
This incredible recipe for cream cheese-based appetizers is enough to feed the big crowd with 12 servings. However, feel free to cut short the ingredients or freeze the leftovers if you want. Great pairings with the crab dips include crackers, sliced baguettes, or raw vegetables.
Total time: 35 minutes (including 10 minutes of pressure and release time)
Though meant as a convenient pizza appetizer, this recipe can easily double as the main dish for your weekend dinner when you need something quick yet flavorful to munch on. It is always fun to watch a movie or play a game with your friends while stuffing yourself with this finger food.
You don't need to make the pizza dough from scratch. Go for refrigerated crust or mini ready-made pizza dough, whichever fits the 7-inch baking fan. Be creative with your pizza topping. Anything from sliced sauteed mushrooms and red onions to pepperoni is fine.
Follow the instructions and prepare two pizzas simultaneously if preferred. Make your instant pot pizza even more enjoyable by changing it to the chicken Alfredo version or Hawaiian style with the right ingredients.
These mini instant pot pizzas will be a new trend among your friends. Try now!
Total time: 1 hour (including 10 minutes of cooling time)
Eggplant may cause some hesitation but give this instant pot Baba Ganoush a try. This version is thick, flavorful, and perfect to be on the appetizer table at your party. It also goes by the name eggplant dip, a dish you may encounter at many Mediterranean restaurants.
This Mediterranean dip is nutty from tahini, zesty from lemon juice, and light sour from whole-milk yogurt. All the flavors work together to accentuate the eggplant. Its silky and creamy texture helps the dip go great with pita bread or raw vegetables.
Baba ganoush is a healthier choice than hummus, another Mediterranean classic. The calories in one or two eggplants are equal to one cup of chickpeas. Moreover, eggplants are rich in fiber and vitamin C. Not to mention, olive oil and tahini are all nutrient-dense.
Total time: 55 minutes (including 10 minutes of natural release time)
This instant pot black bean dip is a treat for vegetarian readers. You will take this healthy sauce to another level with dried black beans, jalapenos, onions, and more. It's a fun dip to serve with your tortilla chips.
From this recipe, you can make two dips. The first is black bean sauce, and the other has extra baked cheese. They are both delicious, nutritious, and packed with flavors.
The two share the same ingredients, but the cheese version will have an addition of cream cheese and grated pepper Jack. Plus, the cheese-baked dip takes an extra 15 minutes.
This recipe is for 24 servings, perfect for a big party. If you don't use up the sauce, freeze it and save it for the next day. Using the leftover sauce for tacos or quesadillas is also a great idea. Besides, you're free to make it ahead for less party stress.
Total time: 1 hour and 10 minutes (including 10 minutes of natural release time)
If you haven't tried these instant pot Cuban sliders, now is the time for a change. These sliders with authentic Cuban flavors are game-day food perfection. The combination of tender pork shoulder, salty ham, creamy Swiss cheese, and sour pickles works fantastic in a small bun.
But instead of roasting the pork, this recipe uses the instant pot to prepare your meat cut. Combine the pork with marinade and cook over high pressure for 40 minutes.
The sliders provide a delightful savory taste with a perfect hit of sweet and sour from seasoned pork, ham, and pickles. In addition, the spices and herbs enhance the flavors, while yellow mustard adds a mild heat to the buns.
Total time: 25 minutes
Cocktail meatballs are always a safe bet regarding party food. The bite-sized meatballs are smothered in blackberry jalapeno jam and BBQ sauce, giving them a perfect flavor. Nothing can beat these blackberry jalapeno BBQ meatballs in the instant pot version.
Remember that the highlight of this dish is its sweet and spicy taste. If you don't have blackberry jalapeno jam, replace it with something of equal spiciness. Try strawberry jalapeno, raspberry jalapeno, or pepper jelly.
As a starter, these meatballs do a great job. The strong flavors of this appetizer will awake your taste buds immediately. In addition, this recipe yields a lot of sauce. So add more meatballs or freeze the sauce for later uses.
Total time: 35 minutes (including 10 minutes of natural release time)
Irresistible, buttery, and spicy, this instant pot chicken dip with jalapeno poppers will melt in your mouth. Featured with chicken breasts, jalapeno peppers, cream cheese, and more, this smooth and creamy dip is a perfect dish before a heavy meal.
To start, set the pressure cooking mode for your instant pot to cook the chicken. Add diced jalapeno for more flavor if you like. Then shred the chicken and combine it with cream cheese and sour cream.
The last step is to pour your favorite cheese and peppers into the mixture. Then, take it to the oven and cook at 400°F.
The recipe is mayo-free because sour cream gives a better tangy taste and thick creaminess. The triple cream cheese, mozzarella, and cheddar add a wide range of flavors, from sweet and milky to earthy. Garnish with crumbled bacon for extra saltiness.
If you have already got the shredded chicken, making this instant pot jalapeno popper chicken dip is even easier.
Total time: 20 minutes
Are you looking for a healthy appetizer? Why don't you start your China-theme diner night with these instant pot steamed dumplings? I'm sure they will be a crowd pleaser at any party or get-together. The dumplings are best to enjoy with soy sauce or soy ginger sauce.
The dumplings are sure to be vegan-friendly with 100% plant-based ingredients, such as cabbage, shiitake mushrooms, carrots, or soy sauce. However, if you're a meat lover, feel free to change the vegetables to chicken, shrimp, or pork.
Don't press too many fillings into the wrappers because the outer layer can be ripped during cooking. Also, to prevent sticking, coat the bottom of the dumplings with a thin layer of oil.
Total time: 25 minutes (including 5 minutes of natural release time)
The instant pot salsa is perfect for bringing those Mexican flavors to your party. This restaurant-style salsa will add a fancier touch to your appetizer tray. With crispy tomatoes, tangy lemon juice, and spicy jalapeno, your salsa is a must for a taco party.
This red sauce combines sweet, zesty, and savory flavors. However, you can customize the ingredients according to your taste.
Build up your spicy food tolerance by adding more jalapenos, habaneros, or chilis. To keep things kid-friendly, only put jalapenos in the finished salsa for less spicy flavors.
Salsa is a new superfood with numerous beneficial nutrients. This recipe is already ideal for vegan, vegetarian, and gluten-sensitivity diners. Not to mention, the triple tomato, onion, and jalapeno are a rich source of vitamin C. They protect your cells and repair the body tissues.
Have A Fun Party With These Convenient Appetizers!
Partying is a time to enjoy with your family and friends, not to put yourself through extra stress. Thankfully, those ideas above are sure to ease your nerves. When preparing the appetizers is cut short, you will have more time to take care of the main dishes or relax.
Therefore, make the most of these easy instant pot appetizers to have more fun at your party. They are so easy that you don't need to be a chef to succeed. Ask your kids for help to strengthen your family bond.
Thank you for reading until here! If you have anything to share with me or other readers, write it down in the comment section. Also, introduce this article to your friends or anyone stuck in the party food rut. I'm sure they will be very thankful.