Have you tried all Indonesian foods? And by "all", I mean all the culinary wonders that this Southeast Asian country of more than 273 million people divided into more than 1300 ethnic groups has to offer. Does that sound like a mission impossible to you?
If so, let's just discover the best of them in this post. Indonesian cuisine is so varied that merely the tip of the iceberg, a very delicious iceberg, is sufficient to overwhelm you. So it will be a fantastic trip to find out the most toothsome dishes from the "Emerald of the Equator".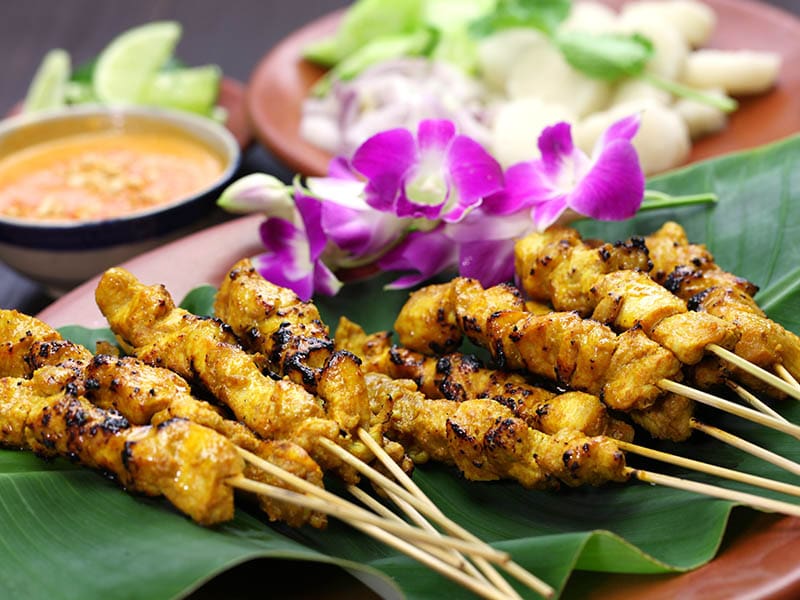 See These Superb Sumatran Dishes For Yourself
Sumatran cuisine is strongly different from the rest of Indonesia since it displays Middle Eastern and Indian influences. Read on to see how the following delicious dishes can fit into your menu.
1. Nasi Padang – Steamed Rice With Assorted Dishes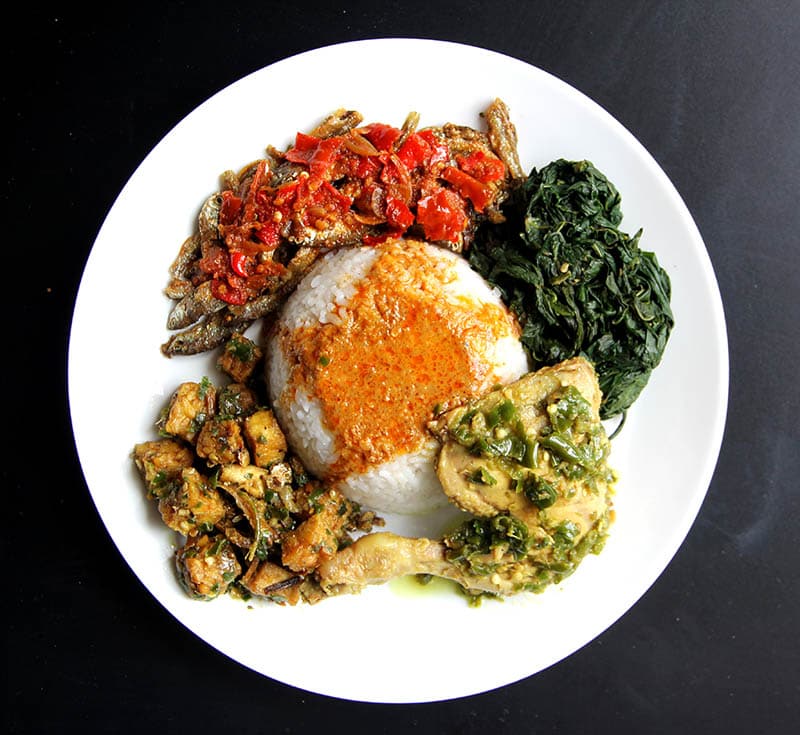 The city of Padang, the capital of West Sumatra province, witnessed the creation of this toothsome delight around the 19th century. "Nasi" means "rice" in the local Minangkabau language, while "Padang" is a reminder of its birthplace.
The most predictable thing about Nasi Padang is its unpredictability. It isn't a single dish but rather a full meal consisting of steamed rice and all types of foods. Spicy curries, rubbery cow's feet, succulent seafood, etc., are several preferred options to choose from.
If you are looking for a fulfilling Indonesian lunch recipe, Nasi Padang is your friend. Countless urbanites in the region, as well as in far-flung Singapore, have it for lunch breaks, too. Remember to follow the local custom of enjoying the meal with your clean hands and iced tea.
How hard could it be to find the perfect Nasi Padang in Jakarta?
2. Otak-Otak – Spicy Fish Cakes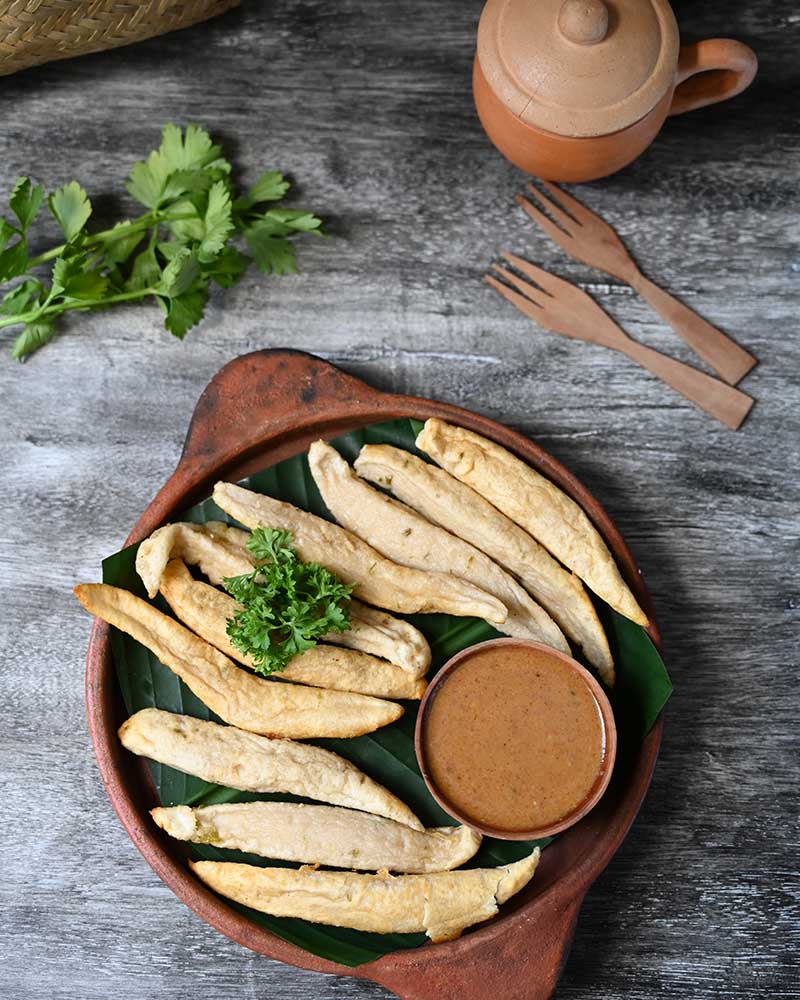 The Chinese population in Indonesia has a long history with this nation. Therefore, Chinese influence is noticeable in many aspects of Indonesian life. One obvious example lies with Otak-Otak, a traditional delicacy from Palembang that has a Chinese name.
While the literal translation is "brain", Otat-Otak is actually made from ground fish, tapioca, and spices. The name perhaps refers to the whitish color of this dish. Like other local delicacies, Otat-Otak is a sought-after dish in Malaysia, Singapore, and several nearby countries.
Palembangese people complete Otak-Otak by wrapping the savory paste in banana leaf before steaming or grilling it. They serve the dish with fermented soy sauce as a snack or with steamed rice.
Different variations of Otak-Otak exist in the rest of Indonesia as well as other Southeast Asian countries. For example, Jakarta inhabitants eat it with peanut sauce, while Malaysians and Singaporeans add turmeric or curry powder to the paste to get an orange appearance.
3. Gulai – Indonesian Curry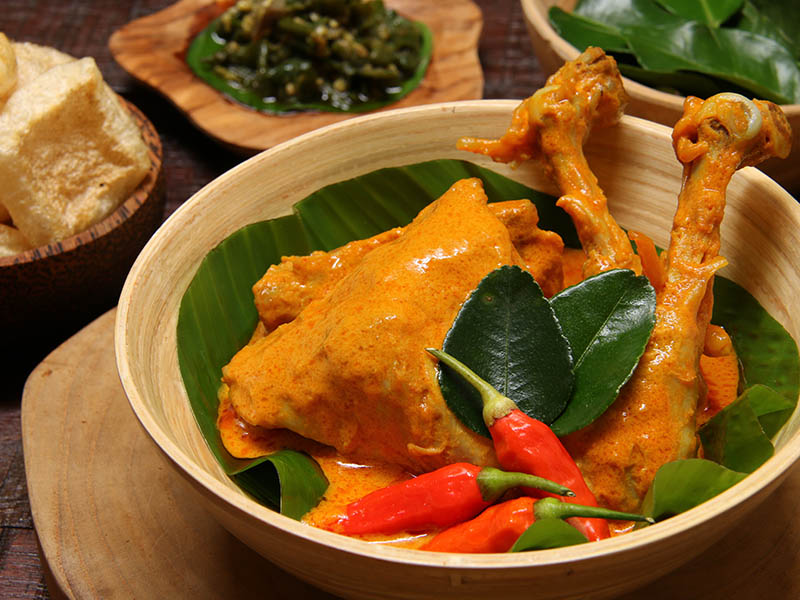 If South Asian cuisine has its signature curry, Indonesia is proud to boast Gulai. It is a long-established spicy and hearty dish from North Sumatra. Also popular in neighboring Malaysia and Singapore, Gulai is possibly a local adaptation of Indian curry.
Soon after its birth, this type of curry took hold of other Indonesian localities and changed into numerous versions. But they all consist of meat/ fish, coconut milk, and a host of ground spices. Gulai's colors range from yellow to orange, while the Sumatran version has a reddish tone.
There are countless varieties of Gulai that you can find easily at local restaurants and enjoy with steamed rice. Some notable names are Gulai Ayam (chicken Gulai), Gulai Kepala Ikan (fish head Gulai), or Gulai Otak (brain Gulai) for daredevils.
Be the first of your friends to bring home the Gulai with this guide.
4. Pempek – Savory Fish Cake
Otak-Otak isn't the only fish specialty that Palembang has to offer. Another local star is Pempek (alternatively called Mpek-mpek or Empek-empek). This signature fish cake displays the palpable Chinese influence.
Legend has it that an old Chinese immigrant came up with the shelf-stable recipe upon seeing that local people didn't do a good job of preserving the bountiful fish they caught. Another theory suggests that Pempek was an adaptation of the Southern Chinese stew Ngo Hiang.
The primary ingredients for the fish cake are fish paste, spices, and tapioca. The last one was the key to the durability of Pempek that the mysterious Chinese man utilized. The savory fish cakes are boiled before being fried and served with a sugar- and vinegar-containing sauce.
5. Balado Terong – Eggplants With Chili Pepper Sauce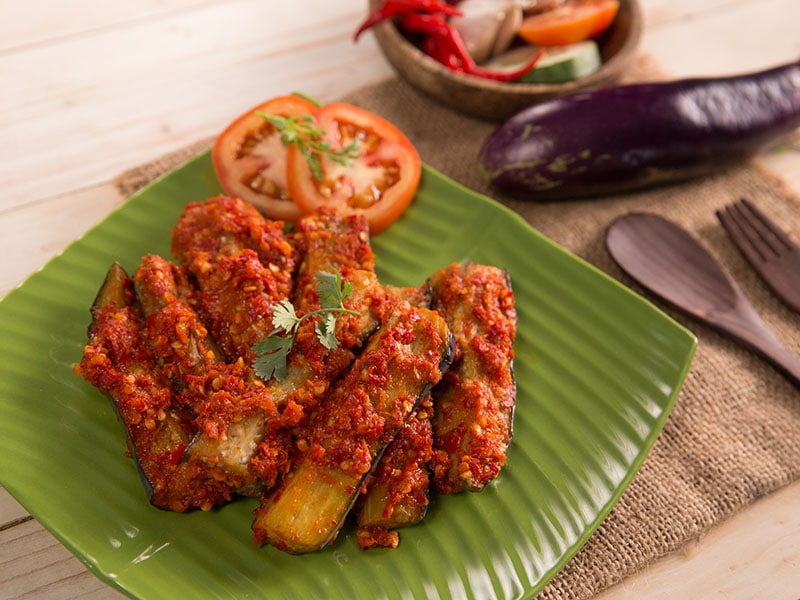 If you're a veggie fan this eggplant-based delight will please you considerably. In case you're not, it will make a convincing introduction to the flavorful world of Indonesian dishes with vegetables.
"Terong" is "eggplant" in Bahasa Indonesian, while "Balado" is a type of sambal. Here is a useful piece of information for foodies interested in Southeast Asian cuisine: Sambal is a spicy sauce or pastes made from chili peppers mixed with other spices, lime juice, or shrimp paste.
Back to the main topic, small eggplants are best for Balado Terong because they are sweeter. Cooks will cut them into small pieces before boiling or steaming them.
The last step is to stir-fry the eggplants with Balado and, afterward, prepare lots of steamed rice to serve with those spongy, flavor-packed veggies.
6. Rendang – Spicy Braised Beef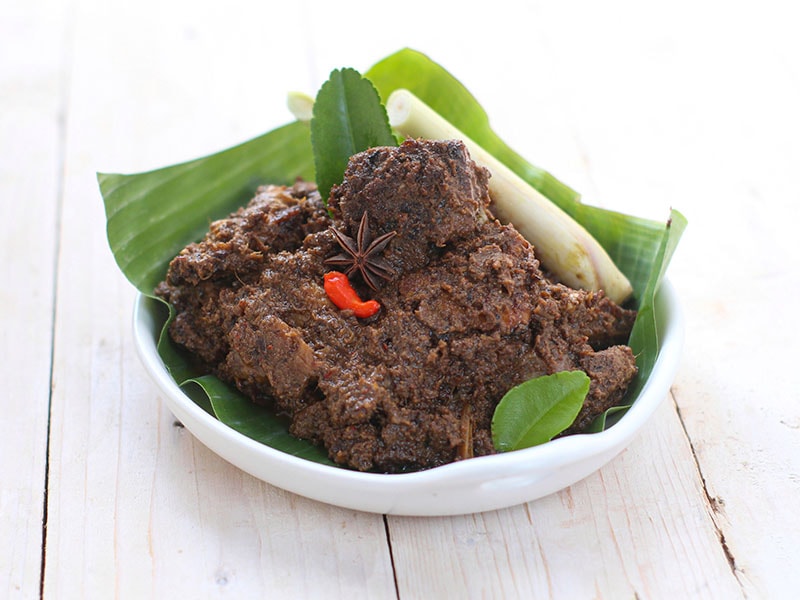 In 2011, a CNN Travel poll concluded that Rendang was one of the most delicious dishes in the world. What is so special about this braised meat from the Minangkabau region in West Sumatra?
The first thing is its historical and cultural significance. Created in the 15rh century, Rendang reached the zenith of its stature in the 1940s when it became an informal symbol of the new Indonesian state's solidarity. Today, it is one of the most popular dishes in the archipelago.
The second thing is its unbelievable deliciousness. Rendang is made from beef slowly cooked in a mixture of potent spices and coconut milk. The braising occurs for many hours until the liquids are all gone, leaving behind chunks of tender, flavorful meat that no one can resist biting.
Rendang is widely available on special occasions, such as weddings or Islam festivals such as Eid al-Fitr and Eid al-Adha. Its merits even transcend the boundary of foods. The Indonesian recognizes several forms of preparing Rendang as the country's intangible cultural heritage.
Discover this innovative recipe that reinvents Rendang.
7. Ayam Pop – Fried Chicken Dish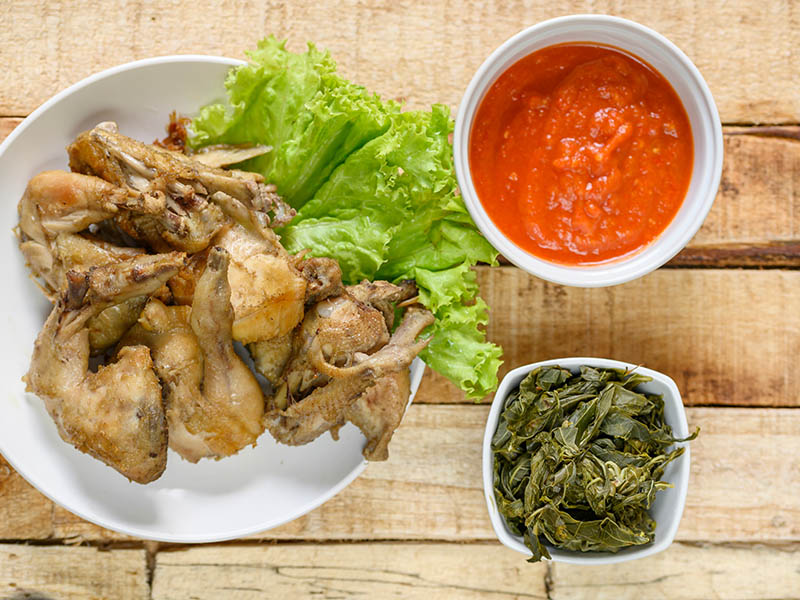 Chicken dishes are a mainstay of many restaurants' menus throughout Indonesia. In Padang, you will more likely come across a crispy variation that happily delights your teeth and taste buds: Ayam Pop.
Before moving on, you shouldn't confuse this one with a similar-looking chicken dish called Ayam Goreng. The difference between the two is that Ayam Pop involves boiling or steaming skinless chicken pieces and then frying them in oil.
The color of Ayam Pop is rather light and isn't as golden as you might expect. But the dish is scrumptious, especially when accompanied by sweet and peppery chili sambal.
Enjoy The Best Dishes Of Balinese Cuisine
Everyone knows that there are splendid white sand beaches in Bali. But are you aware that the local Balinese foods are just as alluring as Balinese blue seas in the balmy weather? These dishes will give you another reason to visit the island.
8. Babi Guling – Balinese Roasted Suckling Pig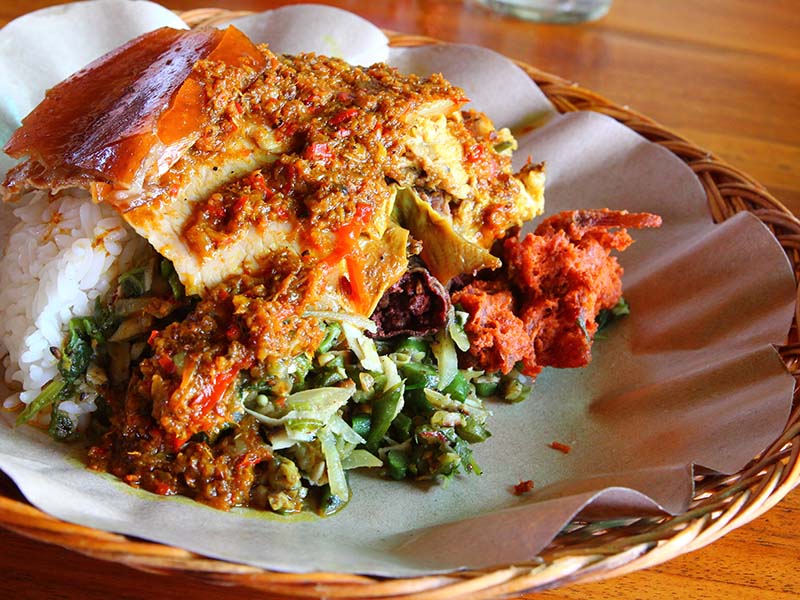 What is the most exciting Indonesian dinner recipe out there? How about finding the answer on the beautiful island of Bali? All the rage here is an exotic dish that all non-vegetarian foodies should try once in their life: Babi Guling (roast suckling pig).
This delicacy takes a long time to cook and prepare, but the result is worth the wait. Just picture a juicy, succulent suckling pig that is stuffed with spices from the inside to the outside. Imagine the meaty enchanting smell it emits when roasted over a dancing fire in the twilight.
Now move your focus to the point when the pig is cut into small pieces and you hold a plate of fragrant pork with some crispy, amber-colored skin attached. Babi Guling usually goes with steamed rice and veggie, but it's no crime to eat the meat alone with spicy sambal.
While Indonesia is a predominantly Muslim country, a sizable part of the population follows other faiths. In Bali, the main religion is Hindu, hence the allowance of pork. A trip to any restaurant on the island will welcome you to the irresistible scent of Babi Guling.
It is always memorable to try Babi Guling for the first time.
9. Lawar – Traditional Balinese Meat Dish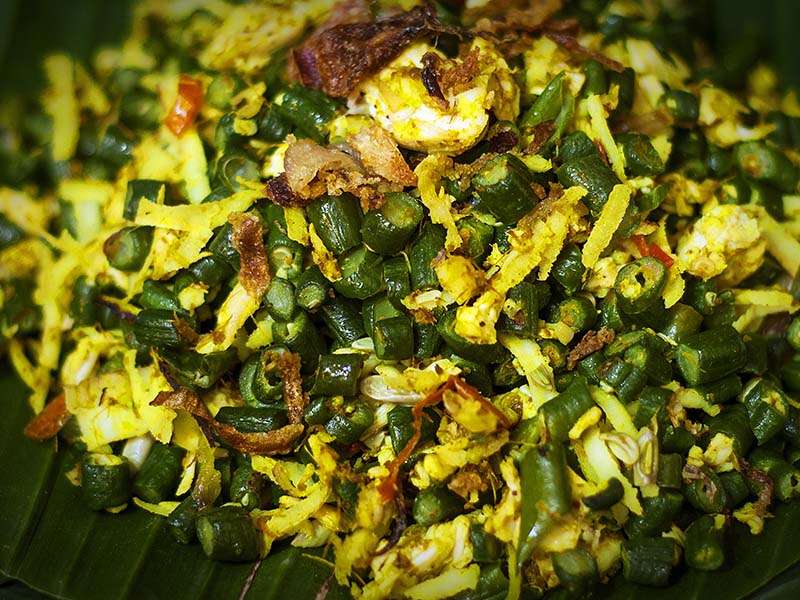 Have you ever tried blood sausage? It is one way to cook nutrient-rich pig blood into tasty food. But the Balinese people have a different method that is no less exciting used in Lawar, a popular local specialty.
The dish is a protein-packed mixture of vegetables, eggs, grated coconut, minced meat, and herbs. Everything is stir-fried with spices in coconut oil. Sometimes, locals enhance the flavor by adding, wait for it, the blood of butchered animals (usually pig blood).
Lawar is available at many local restaurants and warungs (Indonesian family-owned businesses). If you can't stand the taste of blood, ask the vendor for the bloodless Lawar Putih (white Lawar). Otherwise, trying Lawar Merah (red Lawar) should be on your to-do list.
10. Bebek Betutu – Balinese Roast Duck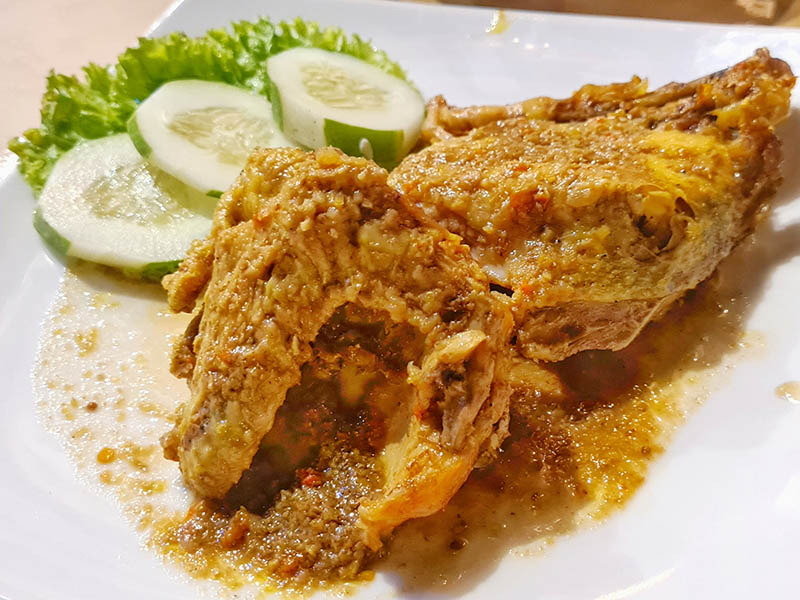 The highlight of any trip to Bali is experiencing the fresh, reinvigorating local cuisine. It can't be complete without a wide range of spicy poultry dishes, such as the superb duck-based Bebek Betutu.
The "Betubu" term refers to a combination of indigenous spices such as chili peppers, shallots, turmeric, etc. They are finely mashed with shrimp paste, sauteed in coconut oil, and generously applied to meat. Bebek Betutu (or Ayam Betutu) is a roast duck brushed with the mixture.
The exact methods of preparation vary between Balinese regions. But they all produce strips of rich and aromatic duck meat begging for the feel of your teeth. Local inhabitants usually arrange Bebek Betutu with rice on pieces of plantain leaves; you should try it sometimes.
Witness how Indonesians serve Bebek Betutu here.
11. Serombotan – Balinese Boiled Vegetable Dish
Vegans will have a whale of a time at the Klungkung regency (a regency is an Indonesian administrative unit under a province). I can say this with confidence because the land boasts a wonderful plant-based dish, Serombotan.
Locals whip it up from half-boiled veggies and bean toppings. Sprouts, eggplants, spinach, etc., are a few common ingredients for this salad-like delight. They provide a veritable mine of vitamins and fiber.
Besides vegetables, the sambals to go with Serombotan must be of the strongest flavors as well. They usually come in the form of spicy sauces filled with nutty coconut, protein-rich peanut, or tangy lime juice. Serombotan is both a perfect on-the-go snack and a healthy side dish.
12. Nasi Jinggo – Banana Leaf-Wrapped Steamed Rice Dish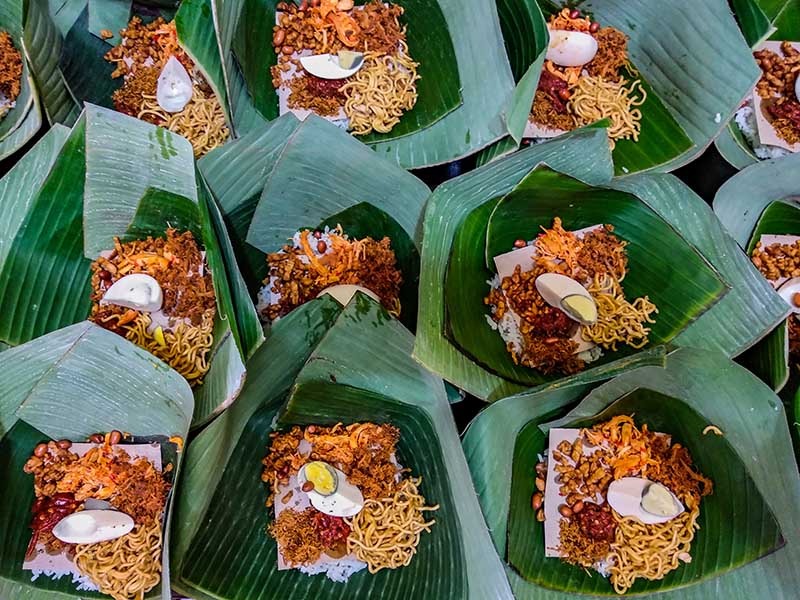 As plastic wraps are seriously polluting the environment, humans turn to more eco-friendly options. One of the desirable alternatives is the banana leaf, a material the people from Bali have used to wrap their foods for eons. Nasi Jinggo is such a green Balinese street food.
In essence, the dish is a combination of white (or yellow) rice, sambal-infused foods, sauteed grated coconut, and shredded meat. Each hand-sized serving is packed in pieces of fresh banana leaves with chili sauce as the most suitable condiment.
The first Nasi Jinggo appeared in the 1980s as a late-night snack. It quickly became a favorite with both the Balinese populace and Indonesians. Even though the dish is a recent creation, there are many conflicting theories about how the name came about.
What does it feel like to taste Nasi Jinggo for the first time?
13. Laklak – Traditional Balinese Cake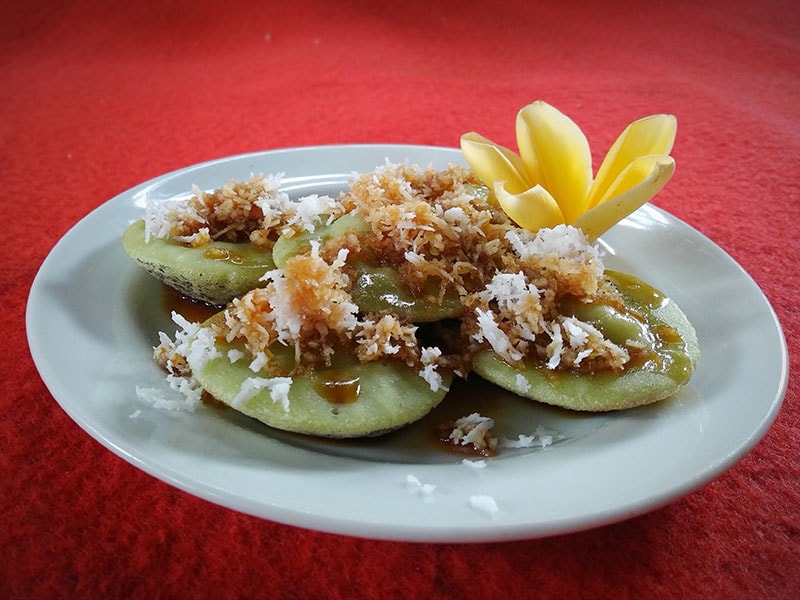 What is the best feature of Balinese spectacular beaches? For many people, it is the ubiquitous coconut trees that adorn the landscape with their slender palm leaves. In addition to their beauty, the trees also provide local inhabitants with fatty ingredients to make mouth-watering snacks.
The traditional Balinese cake Laklak is a testament to such usefulness. It is made from rice flour, coconut milk, grated coconut, and coconut-smelling suji leaf extract. A special hole pan is necessary to cook those sweet, fruity cakes that come with beautiful emerald color.
Treat Yourself To These Flavorful Javanese Specialties
The island of Java, featuring the Indonesian capital Jakarta, can dwarf countless countries in the world when it comes to culinary depth. Over the long course of history, local people have devised and perfected enough recipes for you to try for a lifetime.
14. Rawon – Black Beef Soup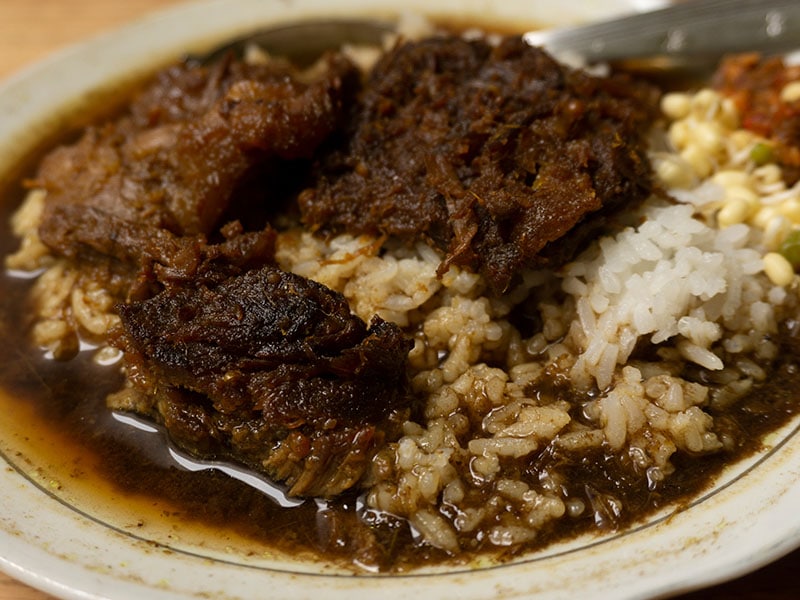 Black isn't a common color for good food. But the East Javanese specialty Rawon flies in the face of that perceived tendency. A sip of this ebony flavorsome beef soup will stimulate your taste buds in the most pleasurable ways imaginable.
Rawon consists of diced beef and a mixture of sauteed spices. Its most important ingredient is keluak, a dark and nutty spice made from fermenting the seeds of indigenous keluak trees. The soup with its keluak-derived black hue goes best with rice, salted eggs, and cracker-like krupuk.
An ancient part of Javanese cuisine, Rawon first appeared in the early 10th century. For the best experience, you should head to Surabaya, the capital city of the East Java province, where plenty of roadside stalls and restaurants have tasty Rawon to offer.
Surabaya will readily supply you with the best Rawon.
15. Opor Ayam – Chicken Cooked In Coconut Milk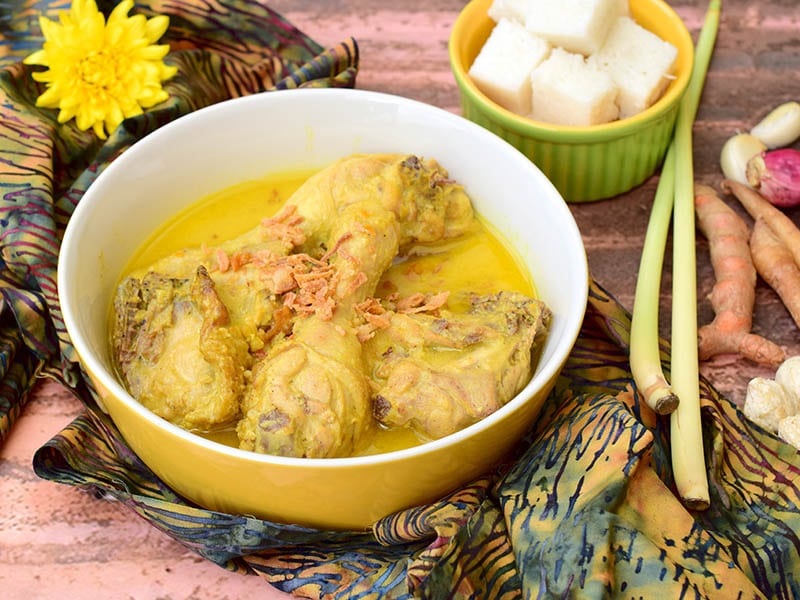 As Muslims account for the majority of the Javanese population, Islamic festivals such as Eid al-Fitr, which marks the end of Ramadan, are extremely important. Locals spare no effort to prepare yummy dishes for the occasion, with Opor Ayam as one of the most popular choices.
"Ayam" is an Indonesian word for "chicken", while "Opor" represents a category of dishes braised in coconut milk, especially from Central Java. That's basically what Opor Ayam is all about: chicken pieces enriched with nutty coconut milk and aromatic spices.
While Opor Ayam is a well-liked festive dish in many parts of Indonesia, heading to its birthplace in Java is a good idea. Usual accompaniments are the rice cakes Ketupat and Lontong, or beef liver cooked in sambal. Eid al-Fitr usually falls in May, the best time to try the chicken stew.
16. Nasi Uduk – Coconut Milk Rice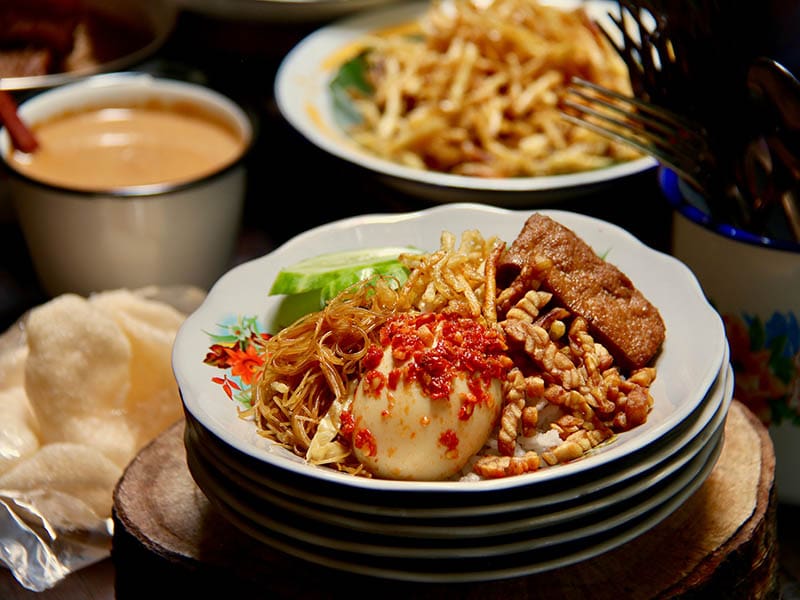 What do Indonesian breakfast recipes taste like? The answer varies wildly, depending on who you ask in the 11 million-strong capital city of Indonesia. But an inexpensive, flavor-packed option for many people is the aromatic rice dish Nasi Uduk.
There are multiple variants, but they all revolve around cooking rice in coconut milk and spices such as lemongrass, bay leaves, or lime leaves. Nasi Uduk alone doesn't make a good meal. It has to go with sambal and anything from fried eggs to Tempeh (fermented soybean) or meat.
Nasi Uduk appeared in the 17th century thanks to a Javanese sultan. At that time, Arabic-style rice dishes were very popular but also expensive, so the sultan created this local version. The dish went through many names before sticking to its now-renowned name Nasi Uduk.
17. Pecel Lele – Fried Catfish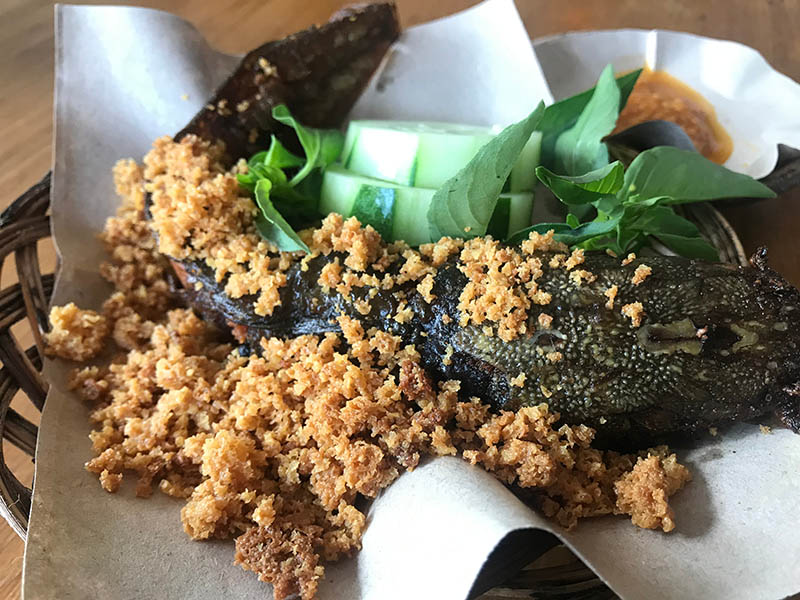 While catfish is low in calories and full of much-needed nutrients, it usually has a musty taste that is easy to hate. But you can find a perfect workaround from Indonesian cuisine in the form of a beloved delicacy called Pecel Lele.
The making of Pecel Lele is quite straightforward: deep-frying some catfish, garnishing with spicy sambal, and serving with rice and/ or fresh vegetables. The simplicity, plus its affordability, makes the snack extremely appealing. The fish tastes good, too, with no mustiness whatsoever.
Although you can find fried catfish all over Java, the Lamongan town in East Java is the most recommended place to try it. Its street food scene is particularly busy at night, with Pecel Lele all over the place inviting guests to try their goods.
Don't believe that catfish can be so tasty? Find out the truth here.
18. Perkedel – Vegetable Fritter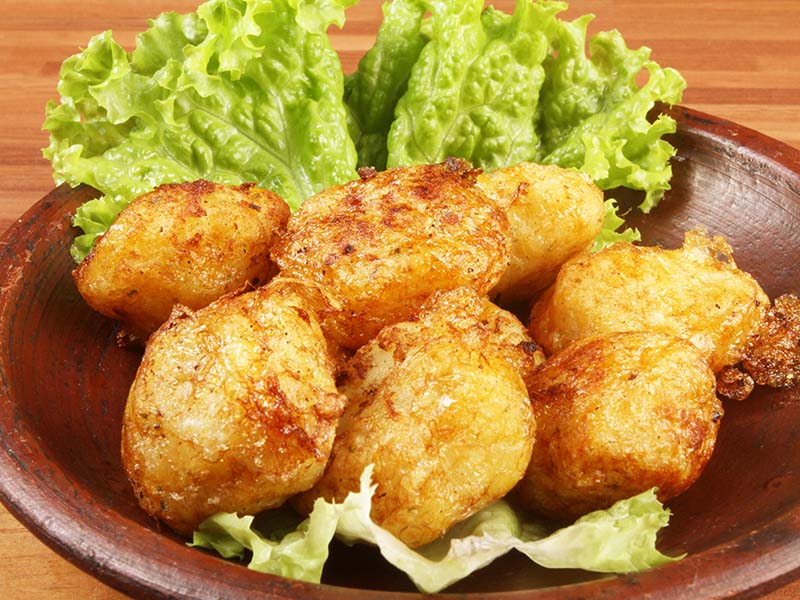 The diversity of Indonesian dishes guarantees the country to be heaven for vegetarians. Those pursuing a meatless lifestyle will discover plenty of plant-based treats to satisfy their hunger. If they want to enjoy crispy vegan snacks in Java, Perkedel is there to serve.
While it was inspired by the Dutch meatball Frikadeller, Perkedel usually doesn't contain meat. Its main ingredients are a flour batter, mashed potatoes, corn, and carrot. Each fritter is well seasoned with spices before being deep-fried in oil.
However, sometimes people dip the patties in egg yolk before frying. So if you follow a strictly vegan diet, ask the vendor to skip that step. If you can eat meat, know that Perkedel can also function as a tasty appetizer with various Indonesian meaty stews and soups.
19. Sayur Asem – Vegetable Tamarind Soup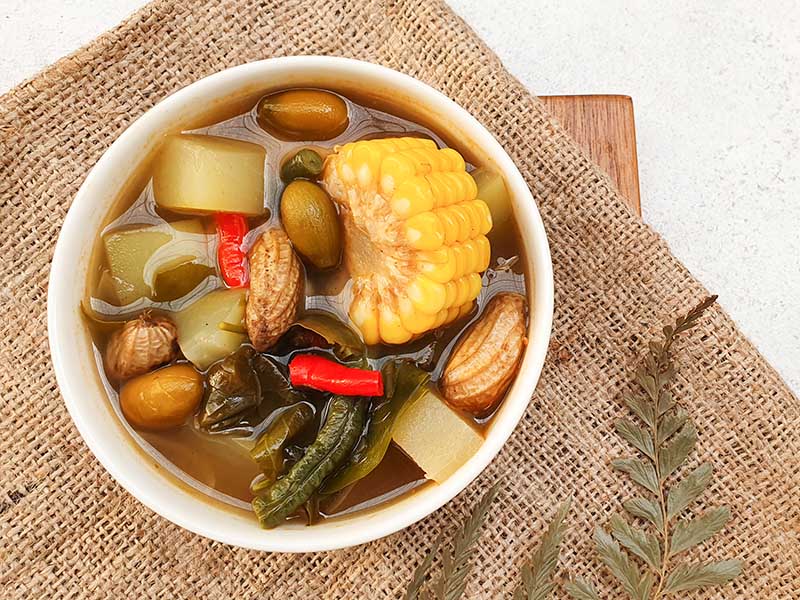 Sayur Asem is an incredibly sour yet refreshing soup from Java. In the mists of time, the Sundanese people invented the soup which, through trade and other contacts, took hold of many Southeast Asian countries.
The soup is prepared from jackfruits, corn, beans, and peanuts. Enriching it are many spices, namely tamarind which gives the dish its much-loved tangy taste. Beef stock and salted fish can be added to the pot for more richness to counteract the sourness.
Malaysia, Thailand, Singapore, etc. can likewise offer mouth-watering Sayur Asem. But don't forget that the cradle of this dish lies in West Java. Another thing is not to enjoy it alone; instead, serve it with rice and meaty dishes to which tanginess will make a welcoming addition.
20. Gudeg – Young Jackfruit Stew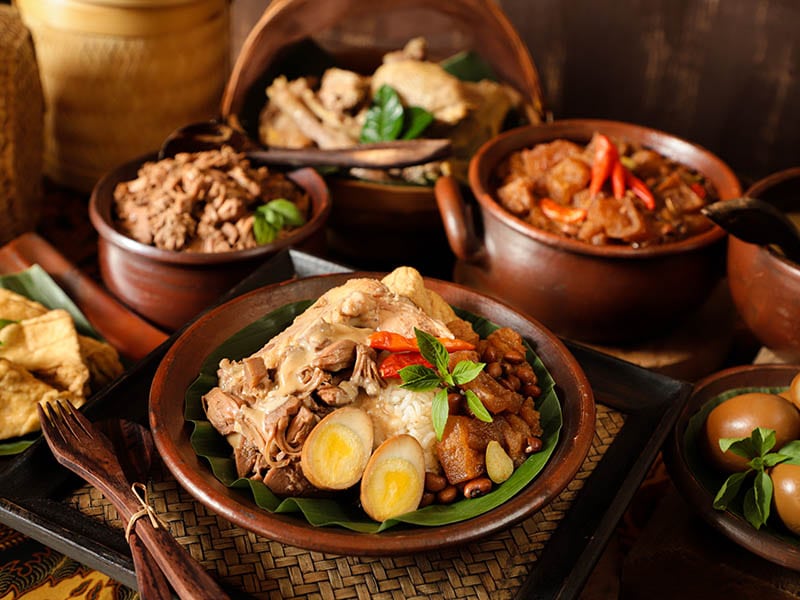 Many things draw international travelers to the Javanese city of Yogyakarta, from its rich cultural heritage, sublime batik textiles, or shiny silver handicraft. If you have a soft spot for exotic foods, there is another reason to visit Yogyakarta: Gudeg.
What distinguishes Gudeg from ordinary stews is the use of young, sweet jackfruit. You probably know the tropical fruit in its ripe, fragrant form. But have you experienced the delight of tasting creamy jackfruit that melts in your mouth thanks to being cooked for hours in coconut milk?
Each Japanese region has its own variety of Gudeg. The Yogyakarta one has a reddish appearance and a slightly dry texture accompanied by extreme sweetness. You can counterbalance the taste by serving the stew with rice, hard-boiled eggs, or chicken.
Gudeg vs. Nasi Rawon, which one will prevail?
21. Ketoprak – Bean Sprout Salad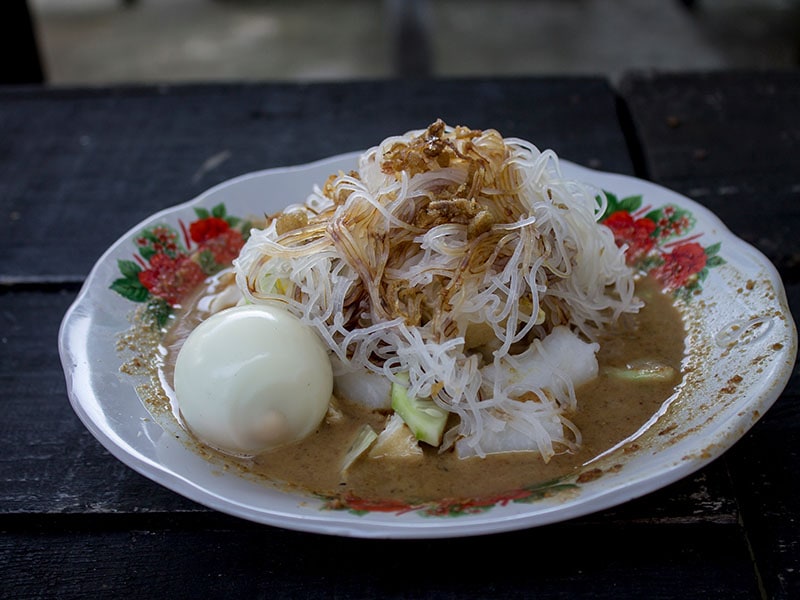 Deciding which is the best specimen of street foods in Jakarta is an impractical task. So let's choose the most accessible one. For many people, it is the unsophisticated dish of rice cakes and vegetables called Ketoprak.
Strolling through the bustling streets of Indonesia's capital, it is difficult not to bump into a Ketoprak cart. When the enticing aroma of fried foods impels you to make an order, the vendor will hastily prepare fried tofu, steamed rice cakes, bean sprouts, and bihun (thin rice vermicelli).
He will then fry them together in a sweet soy sauce and hand over a plate of steaming Ketoprak to you, possibly with hard-boiled eggs as a garnish. No one knows for sure when Ktoprak first arrived or what its name means exactly. But all that matters right now is enjoying your food.
22. Asinan Sayur – Salty Pickled Vegetables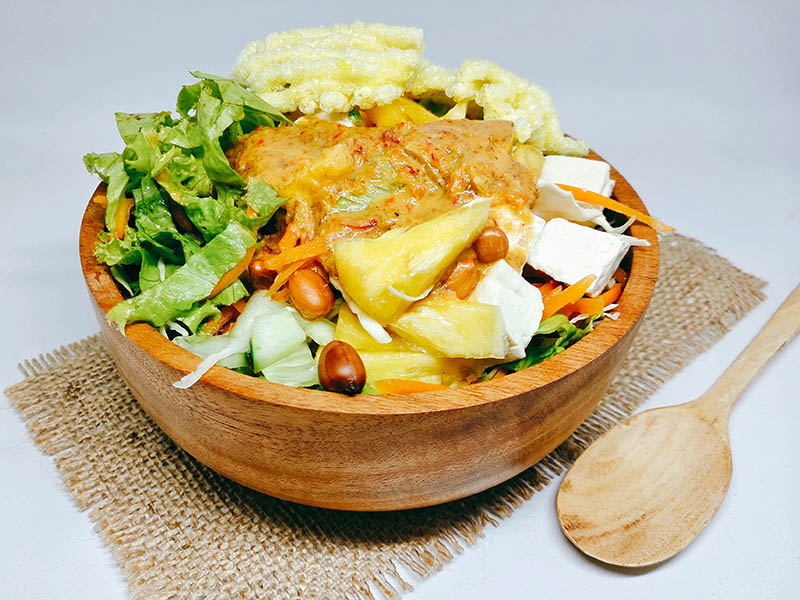 The term Asinan encompasses various kinds of pickled foods in Indonesia, usually vegetables or fruit. But Asinan Sayur refers exclusively to salted vegetables from Java. This salad-like dish is a common side dish to complement the rich and sweet Javanese foods you tend to run into.
Carrots, cabbage, cucumbers, etc. are the optimal ingredients to process into briny, chewy Asinan Sayur. The veggies are soaked in a mixture of lime juice and potent spices for hours. After that, they are often served with a dollop of palm sugar-sweetened peanut sauce.
Try Out These Tasty Indonesian Dishes Across The Country
Indonesia may be vast, but its foods are even more so. I'm going to introduce to you wonderful dishes that you can enjoy no matter what corner of the country you plan to visit.
23. Bubur Ayam – Rice Porridge With Chicken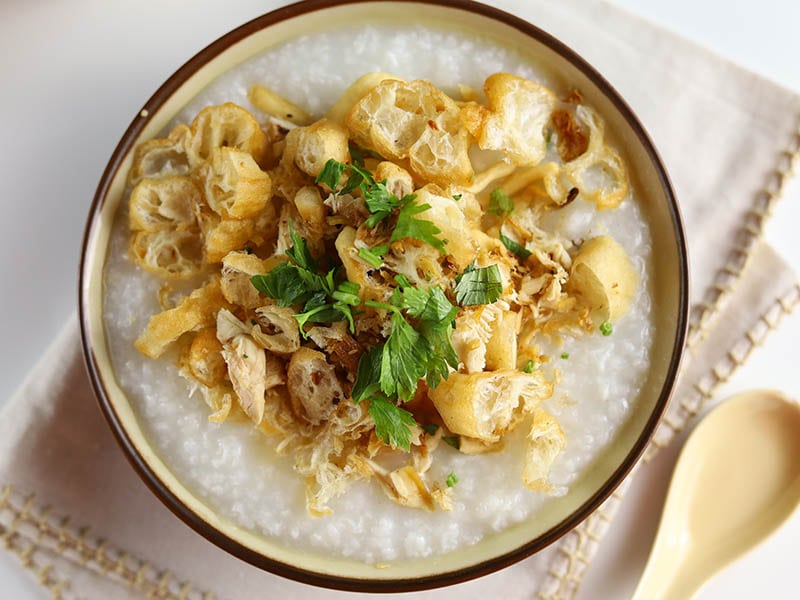 When you wake up in the morning in Indonesia, one of the first sounds to reach your ears is possibly the street cries of Bubur Ayam vendors passing by outside. The delicious smell of this chicken congee (the exact translation of "Bubur Ayam") will soon follow.
If you don't like Indonesian spicy foods, this dish will happily soothe your taste buds. It consists of rice congee, shredded chicken, flavorful soy sauce, and some herbs. Occasionally, people add Chinese cullers, strips of dried soybean, and chicken broth to the pot.
As you can guess, Bubur Ayam is a Chinese – Indonesian contribution. It is a hearty and warm dish to enjoy on a chilly morning. The porridge is so popular that many fast-food chains in Indonesia feel compelled to include it in their menu, although it is no greasy fried food at all.
See how the morning in Jakarta starts with Bubur Ayam here.
24. Mie Ayam – Season Wheat Noodles With Diced Chicken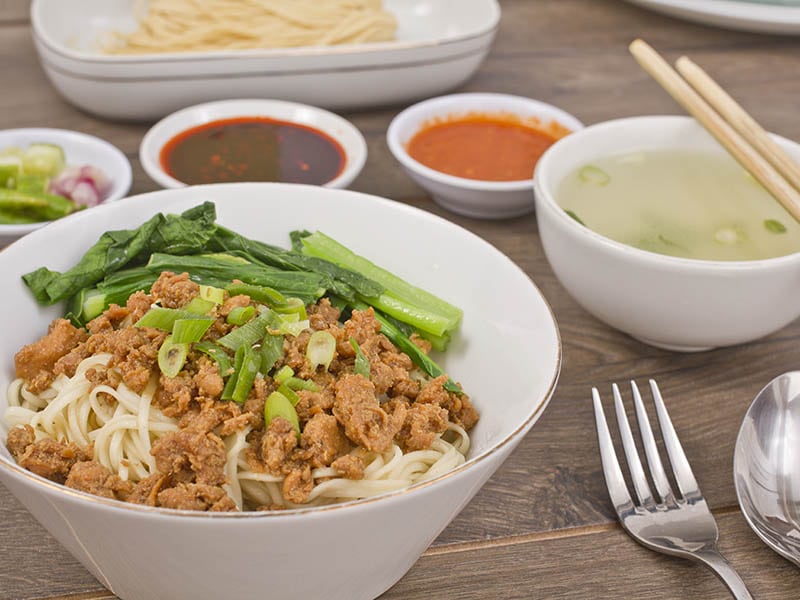 Bubur Ayam isn't the only trick that Indonesian street vendors have up their sleeves. Another Chinese-influenced, heart-warming delight they employ to attract hearty eaters is Mie Ayam (or Bakmi Ayam). The name means "chicken noodle" in Indonesian.
The dish simply involves stir-frying boiled wheat noodles with vegetable oil (or chicken lard), diced chicken, and seasonings. While it sounds simple, there are countless ways to innovate Mie Ayam. For example, the noodles can be dyed into multiple colors, such as green or purple.
In addition, the condiments that you eat the stir-fried noodles with will give you different flavors. Salty soy sauce and tomato ketchup will give you a savory fare. On the contrary, sweet sambals will make the dish brownish and kind of sugary.
25. Satay – Grilled Marinated Meat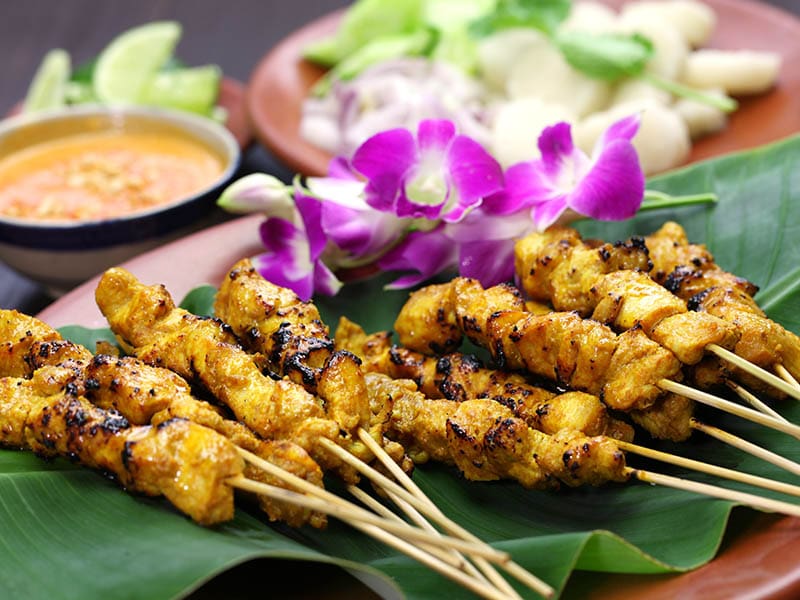 Alternatively known as Sate, this highly addictive grilled dish plays an indispensable role in Indonesian life. If you fail to taste it during your visit to the country, then your trip is sadly in vain. The popularity of Satay is evident in its status as one of Indonesia's six national dishes.
Making Satay merely means seasoning pieces of meat with spices before skewering them with bamboo sticks and grilling over coals. The exact makeup and method is a guarded secret that the livelihood of numerous street vendors depends on.
There are many varieties of Satay according to what type of meat they use. The most common one is Satay Ayam (chicken), along with chicken offal-derived Satay like Satay Ati (liver). Locals also enjoy Satay Kambing (lamb) and Satay Daging (beef).
All kinds of Stay need to be doused in spicy seasonings, preferably peanut sauce, before serving. As such, "Satay sauce" is usually synonymous with peanut sauce. Anyhow, holding a Satay stick with your hand and biting off the juicy meat is a pleasure you should experience.
Is Satay in West Java any different from the rest of Indonesia?
26. Nasi Goreng – Indonesian Stir-Fried Rice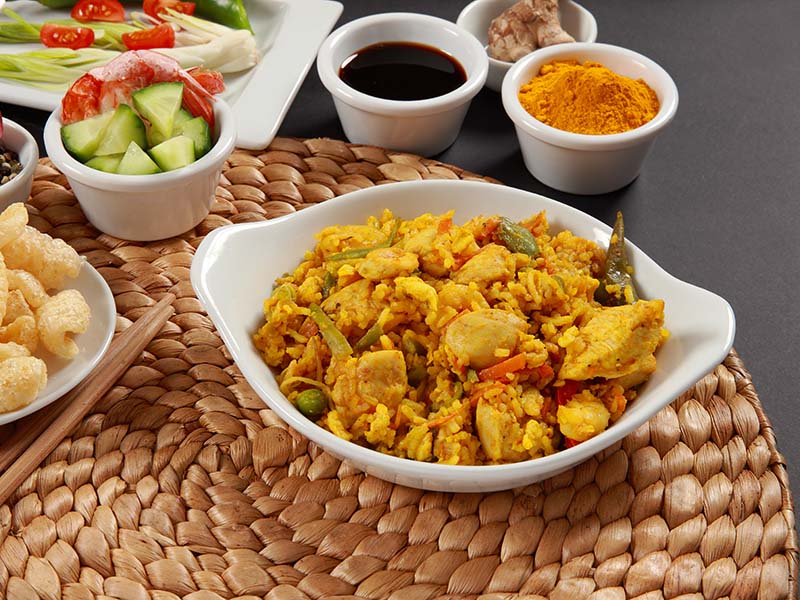 This one is a widely-eaten Indonesian recipe falling under the category of Goreng (fried food). While Nasi Goreng is extremely popular in neighboring countries, the Indonesian government recognized it as one of the country's six national dishes in 2018.
Fried rice is an integral and ancient part of Chinese cuisine, and Nasi Goreng probably drew inspiration from Chinese immigrants. What is less clear is when Indonesians started to adopt this type of dish. The first local recipes appeared rather late, around the early 20th century.
History notwithstanding, there is no dispute about how yummy and economical Nasi Goreng is. The best ingredient for it is surprisingly leftover rice which has less moisture than freshly steamed rice. The old rice is cooked in oil with meat, veggies, and spices to create a new dish.
Nasi Goreng represents a tasty way not to waste food. Just top it with fried eggs or sliced chili peppers, no one can ever guess it contains yesterday's leftovers.
27. Sop Kambing – Indonesian Mutton Soup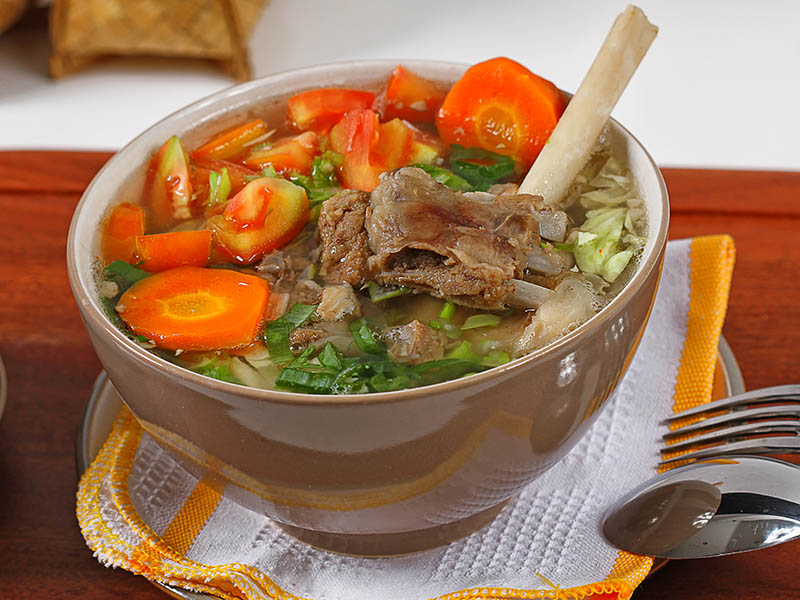 Mutton is a primary ingredient in the foods of many Muslim-majority nations, and Indonesia is no exception. The country has a mutton soup called Sop Kambing so delish that you will lick the broth to the last drop.
Indonesians seem to have learned the recipe from Arab immigrants settling in Sumatra and Java around the 18th and 19th centuries. However, locals also enriched the soup with potatoes and tomatoes acquired from European colonists active in the region at the same time.
While Sop Kambing is a mutton soup, you can come across goat meat-based variations in many parts of Indonesia. Anyway, the soup always consists of meat, veggies, spices, and herbs. Good Sop Kambing has a yellowish broth and a rich, tangy flavor.
28. Bakso – Indonesian Meatball Soup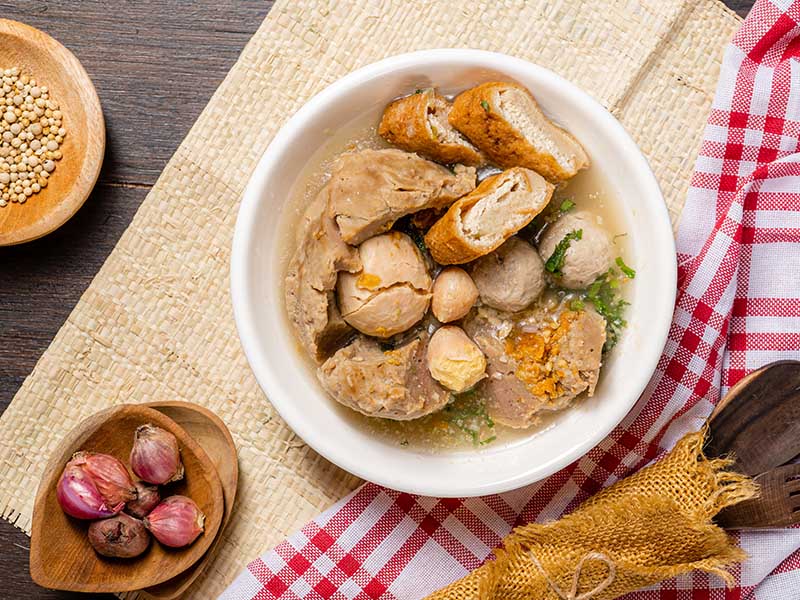 Basko, the Indonesian version of meatball soup, is one of the most prevalent street foods you will find in the country. Traveling Basko vendors on bikes is a common sight in many towns as well as Indonesian cyberspace which is teeming with Basko memes.
The making of this soup starts with mixing ground meat, tapioca, and spices together. Beef is the preferred choice of meat, followed by chicken, pork, fish, and shrimp. The next step is to cook the meatballs and serve them with noodles, veggies, and eggs.
This is just a crude description because Basko is as diverse as the land it thrives on. Learning it from the Chinese at first, Indonesians have now come up with various variations. Some of them are Bakso Telur (boiled eggs), Bakso Keju (with cheese), or Bakso Bakar (skewered Basko).
Check out what it feels like to enjoy the tasty Bakso of Yogyakarta.
29. Soto – Traditional Indonesian Soup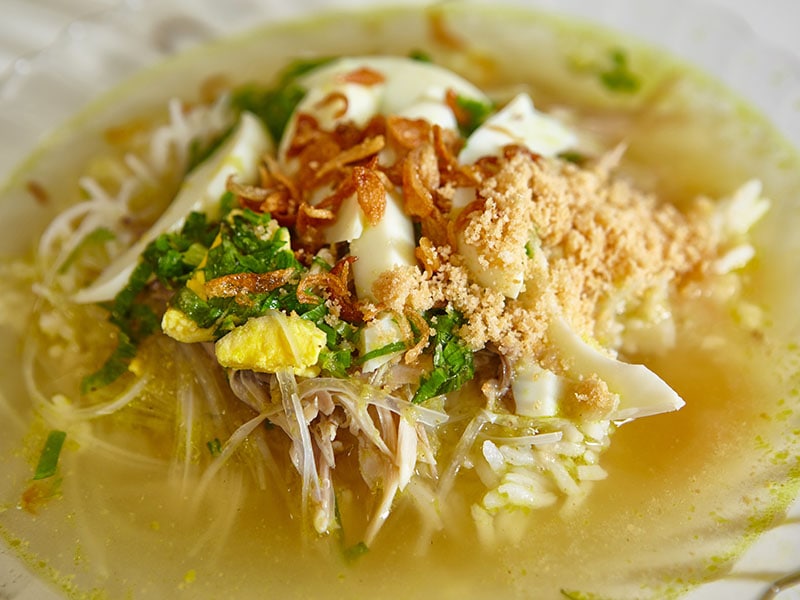 Diving into Indonesian cuisine means exploring the country's ever-changing, ever-expanding repertoire of foods. However, if you have a taste of the traditional soup Soto, you will find a constant in the endless stream of Indonesian foods.
At its core, it is an appetizing combination of meat, broth, veggies, and spices. Different variations may add a unique ingredient or two to their Soto. Ambon Soto uses chicken, while Banjar Soto requires star anise, cloves, and potato cakes as a side dish.
If you visit Makassar in South Sulawesi, try the local Soto version with beef offal. The more you go on, the longer the list becomes. Soto is like a reflection of Indonesia, of how diversity can be found in solidarity.
30. Bakmi Goreng – Indonesian Stir-Fried Noodle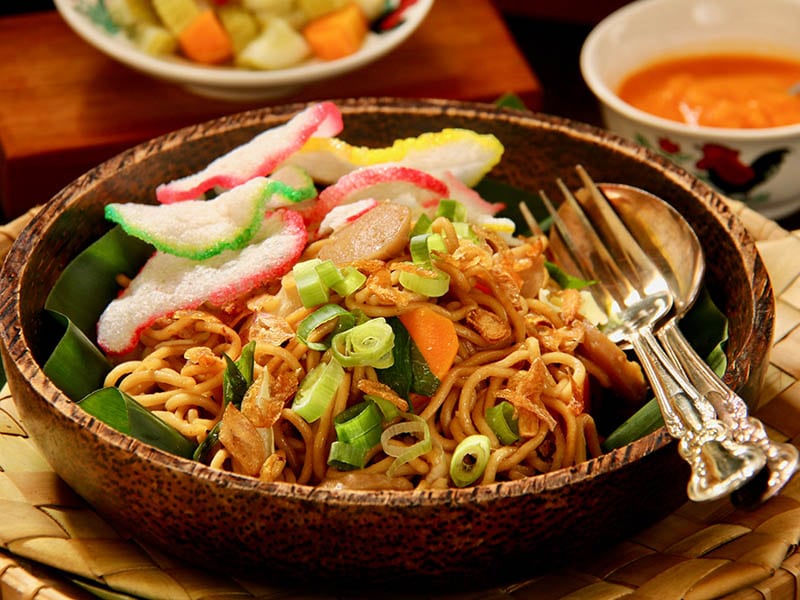 A derivation of the Chinese classic Chow Mein, the stir-fried noodle dish Bakmi Goreng provides a quick energy boost for many Indonesians. Simply stop by any warung or food cart, you can fill your stomach with this tender, savory treat.
Besides yellow wheat noodles (or instant noodles), Bakmi Goreng also includes chicken, vegetables, and sauteed spices. Everything is cooked in a pan with soy sauce until fragrant. A fried egg on the top will complete this easy yet finger-licking dish.
31. Gado-Gado – Salad With Peanut Sauce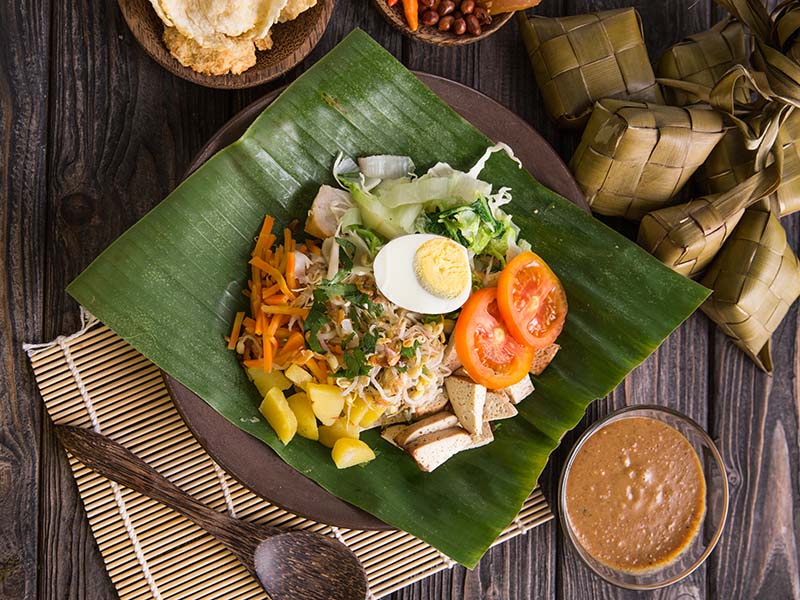 What do you use to dress your salad? Let's compare with Indonesians who incorporate peanut sauce into their iconic salad dish: Gado-Gado. Disparate theories fail to answer convincingly when or where it came about.
One thing is certain, though: it is absolutely delicious and ranks as an Indonesian pride. What is so special about this "mix-mix", the exact translation of "Gado-Gado"? Is it the wide array of fresh, vitamin-packed veggies like spinach, cucumbers, and bean sprouts?
Perhaps it is the chewy fried tofu and the creamy halved hard-cooked eggs on top? Or is it the rich peanut sauce made even butterier with spices and dried shrimp paste? Who knows, and who cares? All that matters is to quickly savor your salad lest someone else beats you to it.
See how this German vlogger falls in love with Gado-Gado at first bite.
32. Es Teler – Indonesian Fruit Cocktail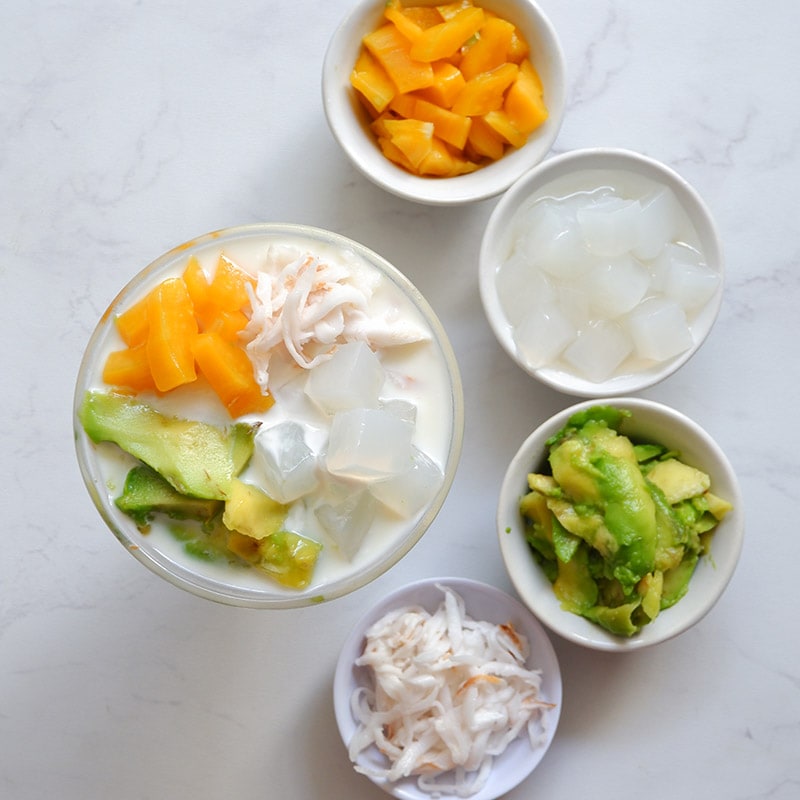 One of the best delicacy you should round off your meal with is Es Teler. Created in 1982, it is usually regarded as an authentic Indonesian drink by local inhabitants. But after one sip, or rather one bite, you will find that Es Teler is more than that.
To make the cocktail, people mix condensed milk and coconut milk with diced seasonal Indonesian fruits (avocado, jackfruit, etc.). Depending on the amount of liquids, it can either resemble a real drink or just pieces of fruits brushed with milk.
Regardless of how it is prepared, the cocktail is always served in a bowl with a spoon. Needless to say, it offers a sublime summertime relief.
33. Gorengan – Indonesian Deep-fried Snack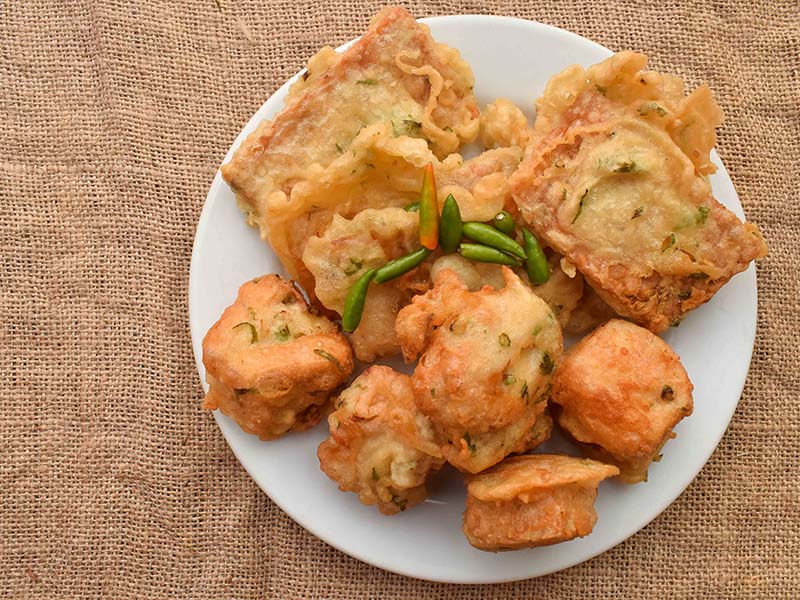 Are you familiar with South Korean world-renowned deep-fried snacks Twigim? Indonesia has a worthy counterpart called Gorengan. Like Twigim, it is a broad term that comprises all kinds of foods fried in oil until crispy.
Gorengan includes everything from veggies and fruit to eggs or tofu. You name it, and Indonesian street vendors stationed at every corner will be more than happy to supply it. The foods can be coated in batter or not and usually go with spicy condiments.
34. Lontong Sayur – Vegetable Rice Cake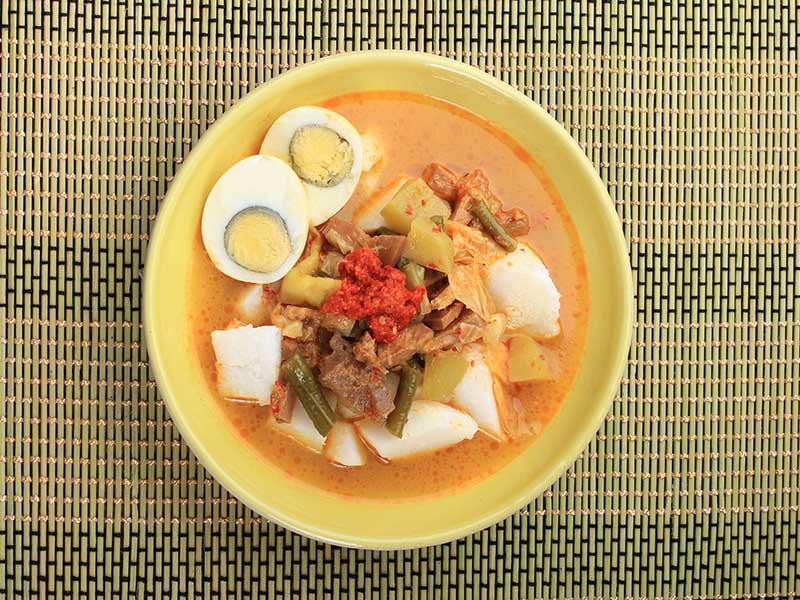 You're probably familiar with Lontong, the cylindrical rice cake that goes well with many Indonesian traditional dishes. But how about the toothsome snack Lontong Sayur?
This upgraded version requires the rice cake to be cooked in a coconut milk soup with various tasty and protein-rich ingredients. For example, the dish must have chayote, tofu, and hard-cooked eggs. No less interesting is Krupuk, a cracker processed from animal skin.
In the end, Lontong Sayur is strongly similar to a stew and can make a wonderful item for the main course. You should eat it slowly to enjoy the starchy goodness as well as the umami-packed flavors of soybean-derived ingredients.
Even when served in the United States, Lontong Sayur still keeps its killer edge.
35. Kue Lumpur – Mud Cake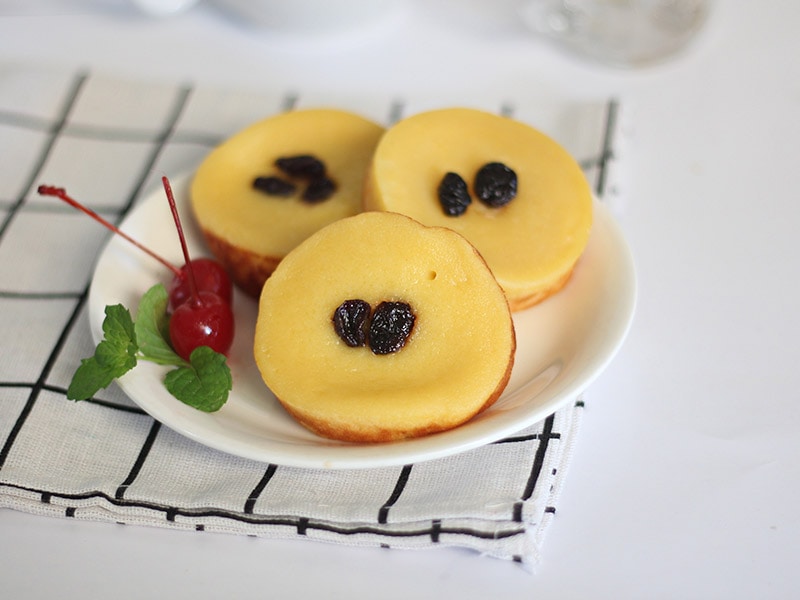 When Portuguese colonists arrived in Southeast Asia, they brought a delectable Portuguese treat called Pastel de Nata (egg custard) with them. Indonesians learned the recipe and created their own. Then, they named their newfound delight "mud cake", Kue Lumpur.
This sweet dessert is composed of wheat flour, coconut milk, condensed milk, and fermented cassava. The last one is a fascinating departure from the European precursor, providing Kue Lumpur with a distinct sweet and sour taste.
The cake needs some raisins on top of its soft texture to be complete. It is much more savory and scrumptious than any "mud" you can find. Traditionally an East Javanese dessert, Kue Lumpur is now a must-try on many Indonesian islands.
Never Run Out Of Exciting Dishes To Try In Indonesia
Indonesia is a land of many wonders, from rich wildlife to tropical paradise islands. But it would be a capital crime to omit its diverse cuisine with all kinds of dishes you can imagine. The country's abundance of spices, seafood, and fresh produce is a force to be reckoned with.
When you travel from one Indonesian island to the next, a new window into the country's culinary richness will open to you. Sumatran dishes are vastly different from Balinese ones, and those from Javan are even more divergent. Never worry about losing your interest in local foods!
I have a small favor to ask: please share the post with your friends and loved ones if you like it. Leaving a comment behind would be nice, too. Many thanks and see you soon!