These Indian soup recipes won't let you down if you are in the mood for something smooth, hot, and satisfying. There is nothing better than a simmering hot pot of soup to devour after a long working day, and you should give all of my suggestions below a go right away.
You may think soups are time-consuming to accomplish, which is not true. Besides all the dishes that require a bit more time to make, you can find other recommendations for nearly-instant soup recipes from India in today's article. Let's see what they are!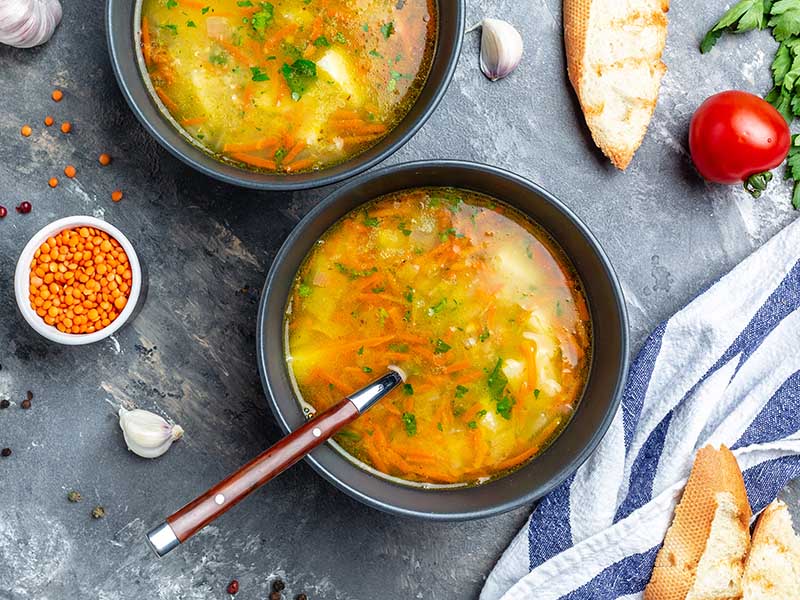 20 Indian Saucy And Soupy Dishes To Try Once In A Lifetime
Forget the instant food boxes option since nothing beats these make-from-scratch Indian recipes. Trust me they are all lovely treats for your body and soul, so you shouldn't miss out on them!
Total time: Up to 1 hour 5 minutes.
A favorite for a reason, this delicious curry soup tastes refreshing and hearty at the same time because of the existence of apples, chicken stock, and rice inside the pot. The secret to having the best Mulligatawny soup is the tartness of the apples used.
You can choose from the "legendary" Granny Smith, Winesap, or Cripps Pink. Their firm texture and unique taste will surely elevate the spices-filled and rich (from heavy whipping cream or coconut milk) gravy.
In case you want to make your Mulligatawny soup vegan or more vegetarian-friendly, you can omit the stock and use chickpeas or lentils instead of chicken. The chewy texture and legume-y flavor of the yummy peas can offer you a satisfying feeling when eating.
Are you ready to try making this Mulligatawny soup?
Total time: Around 25 minutes.
Once you mention Indian cuisine, you might immediately think of how versatile their vegetarian delicacies are, and here is one of the most suggested dishes for you. The consistency of this soup is pretty creamy, so you'll love it if you prefer rich dishes.
Mushrooms, which are rich in fibers and completely cholesterol-free, are great ingredients for ones who follow a weight-loss diet.
Don't worry about the use of milk/cream or butter/Ghee inside this treat; they only add a balanced milk note to the delight and won't affect much on the total health benefits. This mushroom soup is also quick to make so that you can prepare some of it on busy nights.
Total time: Up to 40 minutes.
You might want nothing for weeknight dinners but this flavorsome and easy Indian dish, Patta Gobi soup. This simple Indian cabbage dish is loaded with spices (such as black pepper) and vegetables.
Some things like carrots or tomatoes are optional, and you can add them if you wish. Since the cabbage is the must-have in the recipe, you should choose the ones with the best condition so that it won't affect the quality of your food. Those with crisp and shiny looks are preferable.
Total time: From 20 minutes (with instant pot) to 35 minutes (with regular stovetop method).
Palak Kadhi, or Indian spinach yogurt soup, may sound a bit unusual at first time hearing, but this mild dish delivers a big-time flavor. There are various ways to accomplish this delight in India; however, gram/chickpea flour (besan) is always included.
Besan and turmeric powder can quickly become lumpy if you add it directly to the hot mixture; therefore, you must whisk it finely with yogurt, water, and salt before cooking.
Although you won't have to spend up to an hour to cook this soup, you can still prepare this Indian dish in an instant pot to make it an even shorter amount of time. I guarantee that the results are luscious no matter which kitchenware you opt for.
Believe it or not, this favorable Palak Kadhi is more effortless to make than you think.
Total time: Approximately 25 minutes.
This vibrant cream of broccoli soup is absolutely satisfying and packed with tons of flavors! As broccoli is a superfood, this delight is also loaded with vitamins and encases many health benefits that you should try to discover.
Cream and milk are the crucial ingredients for this soup since they'll help the soup offer a silkier consistency. I suggest using light spices to add more highlights to the soup. Some things like pepper, nutmeg, or oregano powders (of choice) are great ideas.
On the other hand, if you want to add this Indian-represented vegetarian-friendly dish to your weight-loss menu, you can change the regular milk/cream into skimmed milk. The richness might be less, but it is undoubtedly more healthy.
Total time: Up to 1 hour 55 minutes (including 1 hour 30 minutes to simmering on low heat).
Cream of carrot soup is another fuss-free saucy, and soupy option for you here. Aside from the main ingredient of carrot, you should consider some other additional components like celery stalk, tomatoes, or potatoes.
They all contribute distinctive notes to the rich base of the dish (which consists of milk). Besides this soup, crackers/crispy toasted bread are all acceptable as the soup's companions.
The lovely milky and velvety consistency can never go wrong with the crumbly/crunchy texture. Although it might take a long time to simmer, the result indeed pays off all the effort.
Total time: From 30 minutes to 1 hour.
Spiced with cayenne pepper and Garam Masala, this delectable Chicken Tikka Masala soup is ideal for keeping warm on a wintertime dinner or other meals. Besides, crushed tomatoes and chicken bone soup are also essential inside the recipe.
Denser texture and deeper base are the most significant benefits of the mentioned ingredients to the soup. Furthermore, you can sense a mild, lovely richness in this chicken Tikka Masala.
That flavor layer is often from dairy-based products (heavy cream) or plant-based milk (coconut milk/almond milk). Chicken breasts are most suggested for proteins since they are meatier and leaner, making this treat ideal for weight loss or other healthy diets.
Total time: Approximately 20 minutes.
The following recommendation for vegetable soup is this Lauki or Dudhi Halwa. The term "lauki" means "bottle gourd" in the Indian language, and this kind of vegetable delivers a mild sweetness and a relatively firm texture.
Once tasting this Lauki Halwa, the overall taste of the bottle gourd harmonizes well with the other components, such as chopped onions or black pepper powders. In case you want to make it with a pressure cooker, you can increase the number of veggies for this treat.
Although the soup has a light, creamy-dreamy color, it consists of no milk or heavy cream. Instead, you'll use butter/oil or wheat flour (of choices). The tip for you is to prefer using the smaller-sized laukis. They are much tender and sweeter than the older/bigger ones.
Have some bottle gourd and try to whip up a delicacy? You must try this Lauki Halwa.
Total time: Around 30 minutes to 45 minutes.
This sweet corn soup is something worthy to become one of your comfort foods. It is a freezer-friendly dish and can be stored frozen for up to 1 month or in the fridge for around 4 days so that you can make a big batch of it and use it many times later.
With sweet corn kernels included, you have already had a lovely yellowish hue for your soup. But, if you want to make your homemade soup more colorful, try adding other veggies like carrots (for a reddish tint) and leafy herbs (spring onions/scallions, for a bright green).
I highly recommend you keep your soup simple with less pungent spices. I promise it won't make this delight less luscious. Furthermore, you can also use the instant pot for cooking this sweet corn soup and shortening the preparation time.
Total time: Approximately 45 minutes.
If you love lentils, you definitely should go for this Indian-originated curry consisting mainly of lentils. Besides masoor dal (red lentils), you can utilize various other kinds of lentils to assemble this authentic treat.
In this dish, you also need to use some kinds of spices/herbs like onions, garlic, etc. To ensure having a batch of clear Dal in the cooking process, you should notice to skim off any excess foam existing. To flavor Dal, some salt works ideally already.
When serving, remember to garnish the bowl of Dal with chopped fresh cilantro for more flavors and a more appealing appearance.
This is the best way to accomplish Dal soup.
Total time: About 30 minutes.
Believe me; you can expect this Palak soup is something that would become your new favorite Indian food. The lovely green color and a mild sweetness from this Palak soup are from spinach blended with milk (dairy or coconut-based).
Garlic, black pepper, and ginger contribute astounding warmth and pungency that effortlessly accentuate the overall base of this delight. After finishing all the cooking steps, you can add some fresh cream to the bowl as a topping.
The secret to preventing the spinach's light green hue from turning darker is to put in some sugar. If this is the wanted answer to your question, try it and thank me later.
Total time: At most 45 minutes.
You might forget about your onion pickiness when tasting this spring onion and potato soup. If you are looking for an Indian-originated lunch idea, you must opt for this spring onion and potato soup once.
Although the cooking time for potatoes and scallions is distinguished, you still need to cook them simultaneously. Detailedly, simmer them with vegetable stock until the root veggie (potatoes) is softened.
Don't blend the cooked mixture with a blender before everything is fantastic. You can blend the whole batch into smooth soup or take some cooked potato chunks out to use as toppings later. Want your soup to be creamier? Adding some cheddar cheese is fine.
Total time: Up to 35 minutes.
In case you don't know which kind of vegetables to go for first, then you can choose this vegetable soup. This recipe calls for many different types of veggies mentioned above (such as corns, onions, potatoes, cabbages, or else) to easily add in your own twist.
One fact about this dish is that all the subtle sweetness comes from veggies, making it perfectly present in your next quick breakfast in the Indian way. There are almost no spices used in the soup; therefore, you can enjoy this food in its own glory.
This delicacy offers toothsome, butter-coated notes that you can hardly find elsewhere by sauteing onion with all the processed veggies beforehand.
Want another way to make a Cream Of Vegetable Soup? Here you go!
Total time: Around 35 minutes.
This delectable Manchow soup is not an authentic Indian recipe; it is actually an Indians' beloved Chinese-originated recipe. When chewing the crispy noodle strands together with a sip of thick and toothsome broth, the effect might effortlessly amaze you.
Creating this soup is much easier than you think, and you can do every step in a snap. Thanks to that, Manchow soup is a good appetizer for your next Indian-infused meals. You can decorate it with your choice of chopped coriander or cabbage.
Total time: 20 to 40 minutes.
Similar to the previously mentioned Manchow soup, this humble Hot and Sour soup is a Chinese-infused food that is highly popular in India. As it is a vegan-friendly food (with a twist in chicken broth used), you can make some if you are on a particular diet.
Even though Manchow and Hot and Sour soup have various similarities in appearances and origins, they are not the same. The mix of vinegar and chili (or chili garlic) sauce is the main reason for the sourness and hotness of this delicacy. It also helps boost the food's popularity.
The vegetarian variations of this Indian-Chinese delicacy are pretty versatile. You can go for almost everything you have on hand (carrots, mushrooms, etc.) at that time, and feel free to form your new version of this dish.
This guide might make you want to make a bowl of Hot and Sour soup right away.
Total time: Up to 40 minutes.
One of the most beautiful things about Indian cuisine is its diversity, with many regions boasting unique delicacies. For example, you'll find the dishes in South India differ from the North.
Thakkali Rasam is a prevalent South Indian dish, and locals usually have it on the side of a steaming hot white rice bowl. When cooking, you should divide the tomatoes into 2 parts, one for the sauce and one for the filling.
The seasonings for this soup are pretty persistent since you should always include mustard/cumin seeds, curry leaves, and some tamarind (pulp or water). These components add a hint of sour, nutty, warm, and earthy flavors to the background of this delight.
Hing/asafoetida, also known as Indian natural MSG, always appears on the ingredients list of this Rasam. This unique spice lends a mild leek or garlic-like scent that you cannot find elsewhere.
Total time: From 50 minutes to around 1 hour 40 minutes.
Pumpkins are a true superfood and a frequently used ingredient in various families' meals. If you are bored with regular pumpkin-based dishes, let's try this Indian-style pumpkin soup. It is sorted as a side dish, and this Indian-style side delicacy is relatively versatile.
Crusty breads, Naan or Roti (authentic Indian breads), this paste-like soup can pair well with all of them. There are many variations of this delight, and you can find plenty of recipes calling for different condiments or spices.
Yet, no matter what, you have to roast the pumpkin before cooking, and chili powder for a spicy note is always a must! Drizzle some orange juice on each portion when serving to make your soup even tastier with some rejuvenating, citrusy notes.
Within 2 minutes, you will know how to make this Spiced Roasted Pumpkin soup.
Total time: Around 35 minutes.
Going along quite well with several types of Indian bread such as Rotis or Papadums and rice, this humble Aloo Curry is always a must-try Indian plant-based treat. At first sight, you might think this dish consists of almost nothing, but it actually requires various spices.
Within a plate of Aloo Curry, you can find warmth from mustard seeds, heat from chili powder, and a light earthy note from turmeric. There are many other spices/condiments and fresh herbs you can add to your food based on your preferences.
Traditionally, local people enjoy having this delight with Puri (Indian puffed flatbread) as a traditional Indian breakfast together with a cup of Lassi (yogurt-based Indian-style beverage). Imagine having it for the next weekday's brunch makes me drool already.
Total time: Up to 25 minutes.
The moment you dig into this hot and aromatic soup, your taste buds are awakened by the richness of full-fat coconut milk and the heat from the signature Garam Masala. The lovely orange-ish hue of this soup comes from the natural color of carrots and turmeric.
Although the root vegetable (carrots) is already loaded with vitamins and fiber, you can put some twists into this food by including beans or other veggies like potatoes. As long as you remember to blend them up to a smooth, dense consistency, this soup is good.
For garnishing, you can add in a scoop of plain yogurt or some fresh herbs. This step is optional, but your food does taste much better with additional sourness and freshness from these toppings.
Total time: Up to 30 minutes.
Tomatoes also take the central role in this dish; however, the skills required to process it make this Tamatar Dhaniya Shorba different from the South Indian Rasam. As illustrated, this Shorba has a much smoother consistency, unlike the chunky tomato Rasam with clear broth.
The spices for this Tamatar Dhaniya Shorba are also unique. The use of coriander stems, ginger, garlic, and chili boosts the spiciness and pungency of this soup to another level. But the overall taste of this soup is not overwhelming; every sip into it will still be fragrant.
The best time to enjoy this Tamatar Dhaniya Shorba is during the wintertime or whenever the weather is cool. Taking a sip of the spiced tomato soup and the delicacy can warm you up from inside out.
These Foolproof Soup Delights From India Won't Let You Down!
From the quick-preparing to the more time-consuming soup recipes, you can find them all in my humble article today. Since there are many options to choose from, you won't need to worry about your following weekdays' meals or weekend's comfort soup.
Furthermore, these palatable dishes are also easy to accomplish, so you barely have any problem cooking them.
Do you have any other recommendations for delicious soups standing for Indian gastronomy? Please leave a comment below and let me know. Loving is sharing!
Nutrition Facts
4 servings per container
---
Amount Per ServingCalories291
% Daily Value *
Total Fat 22g

34

%
Sodium 108mg

5

%
Potassium 868mg

25

%
Total Carbohydrate 23.3g

8

%

Dietary Fiber 4.6g

19

%
Sugars 15.3g

Protein 5.4g

11

%
---
* The % Daily Value tells you how much a nutrient in a serving of food contributes to a daily diet. 2,000 calories a day is used for general nutrition advice.