Indian fruits are some of the most exotic worldwide that you have never seen before. Therefore, you should explore more than just Indian delicacies by broadening your knowledge of the fruit varieties.
Some fruits are native to a few regions in India and have a unique taste. So buckle up your seat belt and let the exciting adventure begin. Furthermore, I also include valuable nutrition facts for each fruit in the article.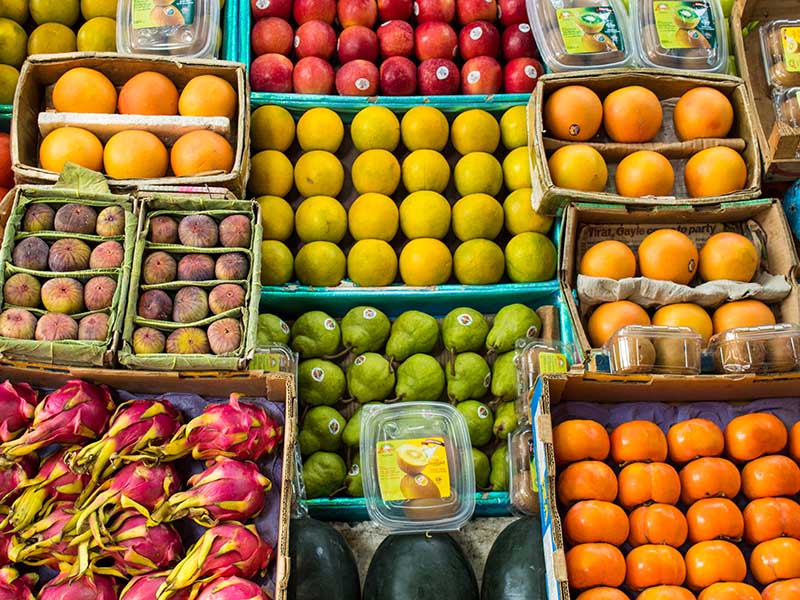 6 Drupe Fruits Of India To Tingle Your Taste Buds
Here are some drupe fruits you can find in India. They are common across the country and have an enjoyable taste. If you ever encounter these fruits, you should give them a try.
1. Dasheri Mango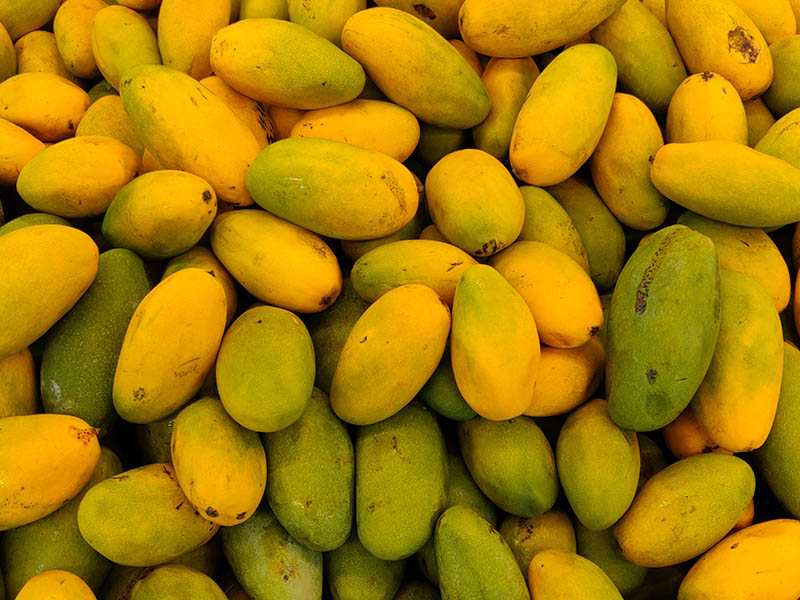 Dasheri mango originates from the Lucknow district in Northern India in the 18th century. The fruit is especially popular with its sweet flavor and soft flesh. The Indian state of Uttar Pradesh produces the largest number of Dasheri mangoes in the country.
Locals usually feature ripe Dasheri mango as a sweet snack or dessert. Dasheri mango is similar to the regular variety with green and yellow peel. The meat is often crunchy and tastes a bit sour when unripe.
Aside from consuming the mango fresh, people also put it in smoothies or other Indian beverages. Dasheri mango is also among India's agricultural export products to countries like Singapore, Malaysia, and Hong Kong.
Nutrients: The fruit contains vitamins A, C, and plenty of iron.
Season: Ranging from June to July.
How to eat: Simply peel off the skin and consume fresh. Another way is to incorporate the fruit into drinks.
2. Pulasan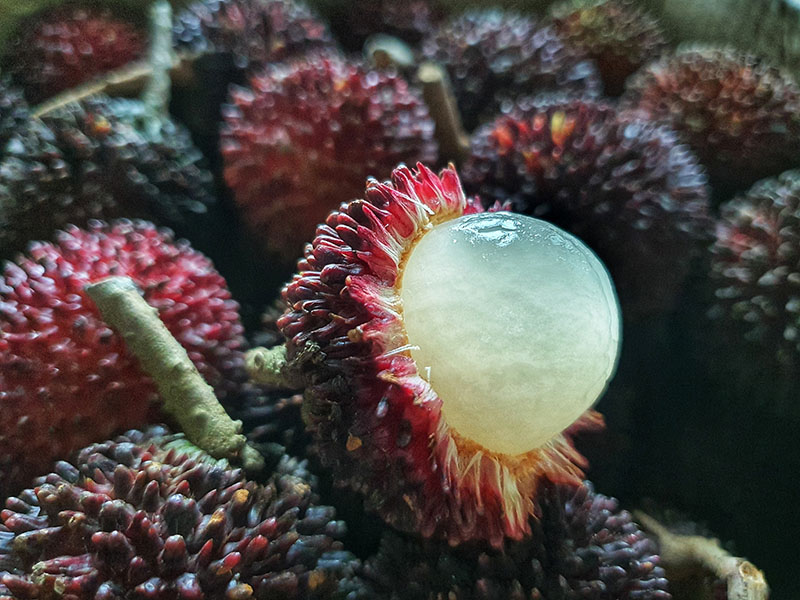 At first glance, many people will say that this fruit is a rambutan. However, you may be surprised to know Pulasan is a close cousin to the rambutan. The fruit is red or sometimes dark red with numerous hairs, similar to the rambutan.
The biggest difference lies in the Pulasan hair strands, which are thicker and grow closer together on the peel. The origin of Pulasa can be traced back to Malaysia, where the trees appear in lowland areas.
In terms of flavor, Pulasan is sweeter than its rambutan cousin. Typically, the peel of Pulasan is relatively thick and has a leathery texture. The flesh is white and encases an inedible seed in the middle.
Nutrients: Pulasan provides a decent amount of carbs, proteins, and vitamin C.
Season: The main harvest usually takes place from July to September.
How to eat: Split the peel to enjoy the fleshy white meat and spit out the seed.
Discover more secret features about the Pulasan in comparison to the rambutan.
3. Rambutan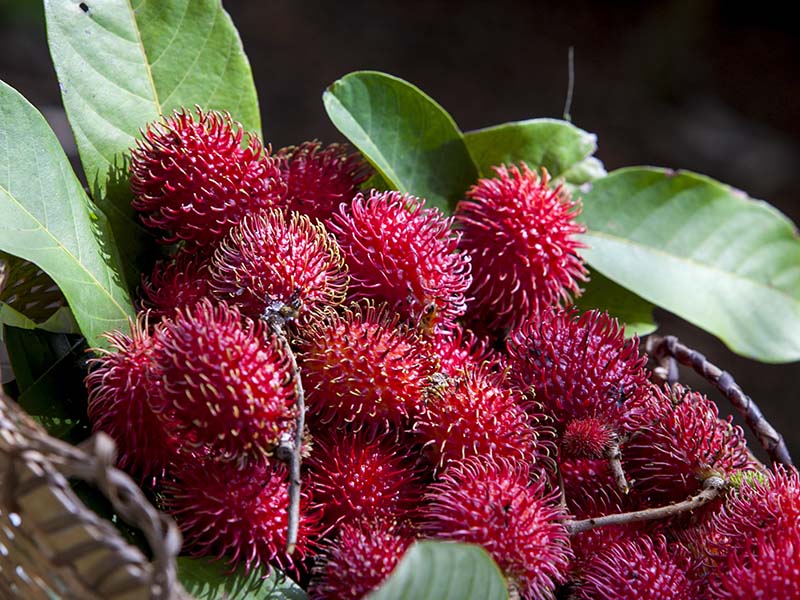 Rambutan is a popular fruit of the Malaysian – Indonesia region, with Thailand being the biggest exporter. In India, the rambutan appears in the Kerala and Karnataka states on the Western coast of India.
Interestingly, the name rambutan comes from the word "rambut," meaning hair. This fruit has a similar shape and size to the Pulasan but with smaller hair. Rambutan has sweet white meat with a hint of acidity.
In Southeast Asian countries, rambutan can produce fruit twice a year. But there is only one season in India.
Nutrients: A good source of vitamin C, fatty acids, and calories.
Season: Spanning from May to September.
How to eat: Peel off the skin by hand and enjoy the sweet flesh.
4. Jamun (Black Plum)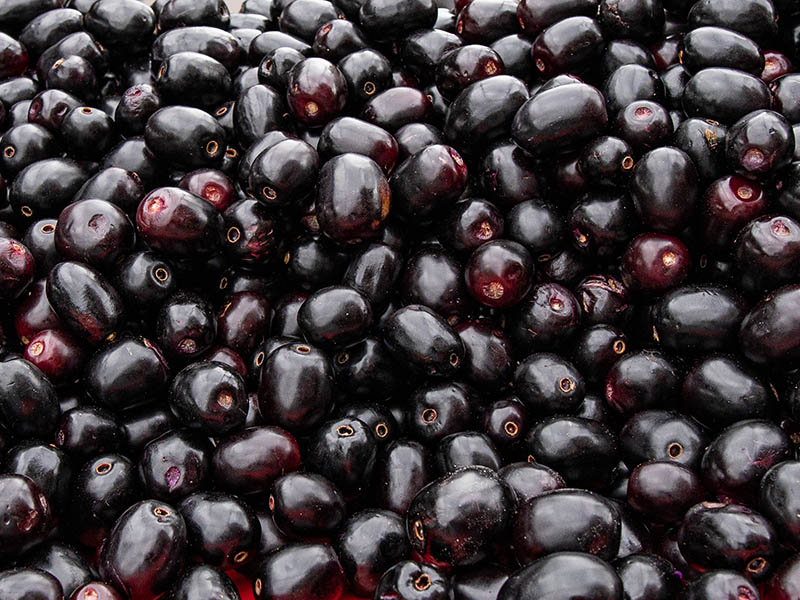 Jamun or Java plum is a native species of the Indian subcontinent. The fruit has made its way to many Asian regions. Because of the high amount of iron, Jamun is great for purifying blood and enhancing the amount of hemoglobin.
The state of Maharashtra is one of the biggest producers of Jamun in India. On average, the plum has an oval shape with the size of a regular grape. In America, the black plum made its appearance around 1911.
Jamun is ideal for anyone who enjoys sweet and juicy fruit. The plum only turns black when ripe, while young Jamun usually has a green appearance. Indian locals eat Jamun fresh or use it to make jam, ice cream, and syrup.
Nutrients: Rich in iron, vitamins A and C. Improve digestion and prevent infection.
Season: Jamun ripens around June and July.
How to eat: Enjoy fresh or incorporate into other products.
5. Phalsa/Falsa (Indian Sherbet Berry)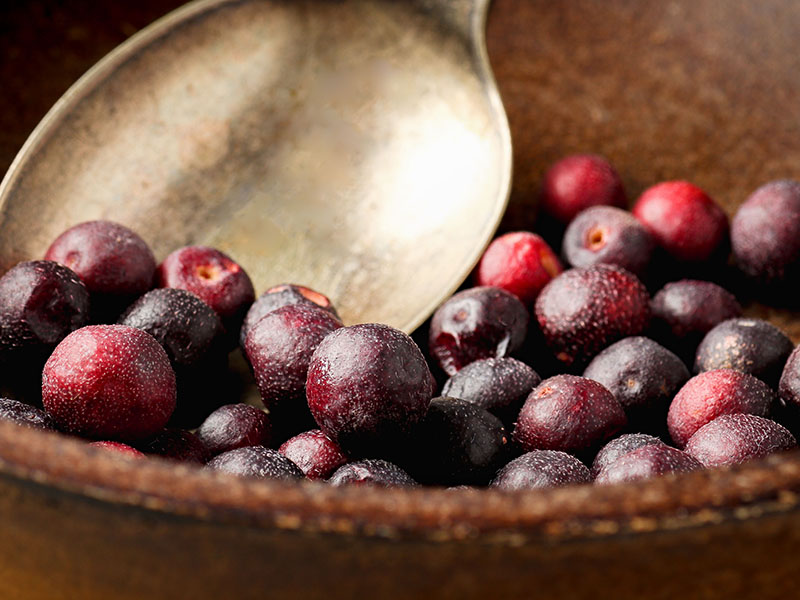 Originating in the Varanasi state of India, Phalsa is one of the oldest native plants of India. People cultivate Phalsa across the country to serve many culinary purposes. The plant usually bears small fruits the size of a blueberry.
Despite people calling Phalsa a berry, its fruits belong to the drupe category. The outside reddish flesh is soft with a sweet and tart flavor. You can find Phalsa at almost any Indian market across the country.
One simple way to enjoy Phalsa by the locals is to mix the berries with some sugar for a straightforward sherbet. If you're looking to enjoy fresh Phalsa, eat the flesh and throw away the seeds.
Nutrients: Phalsa has a good amount of phosphorus, calcium, and carbs.
Season: March to April (South India) and May to June (North India)
How to eat: Eat the meat around the seed or extract it for making sherbet. Phalsa is also good for making juice.
If you're looking to cultivate Phalsa outside India, take a peek at this guide.
6. Karonda (Carandas Cherry)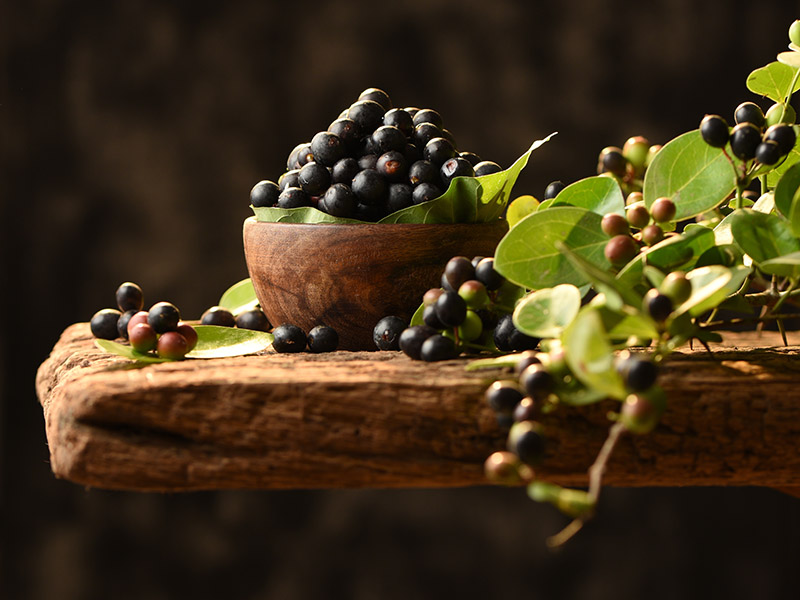 Karonda or Carandas cherry is a flowering shrub from the Apocynaceae family, which Indians widely cultivated across the country. However, the best condition to grow Karonda is in high-temperature regions like Goa, West Bengal, and Maharashtra in India.
When unripe, Karonda fruit has a pink color, while the ripe version possesses a dark purple color. In India, locals tend to feature Karonda's flavor in pickles, condiments, and spices.
When consumed fresh, this type of cherry will instantly hit you with a tart taste and some herbal sweetness.
Nutrients: Rich in vitamin C and various minerals.
Season: From August to the end of October.
How to eat: Consume Karonda fresh or combine it with salt to enhance the experience.
5 Berry Fruits In India To Satisfy Your Curiosity
When it comes to berry category fruits, you can expect small fleshy fruits that assault your taste with delightful sweet and sour tastes. Here are a few iconic representatives of the berry category that you can easily find in India.
7. Amarphal (Persimmon)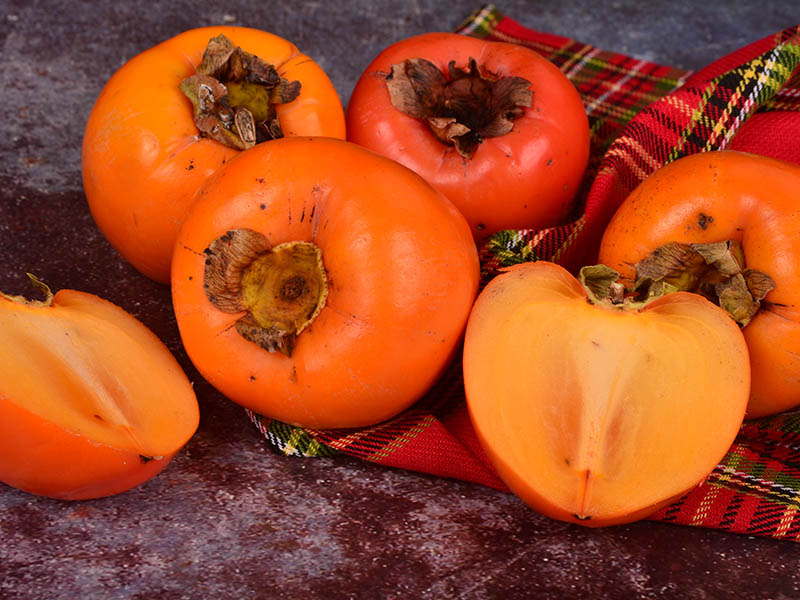 Persimmon is an orange fruit that originates from China. Many believe persimmon made its way to India through European settlers in the 20th century. From the look, persimmon resembles an orange version of the tomato.
In India, persimmon is mainly cultivated in subtropical climate regions like Himachal Pradesh and Uttarakhand. Typically, persimmon displays a flavor and texture similar to cantaloupe with a hint of honey. The orange color of persimmon dominates both inside and outside the fruit.
Nutrients: A decent source of vitamin A, B, and C. In addition, persimmons are rich in potassium and manganese.
Season: Spanning from September to December.
How to eat: Simply cut the persimmon in half and enjoy the flesh (along with the peel if you want extra vitamins).
8. Mangostaan (Mangosteen)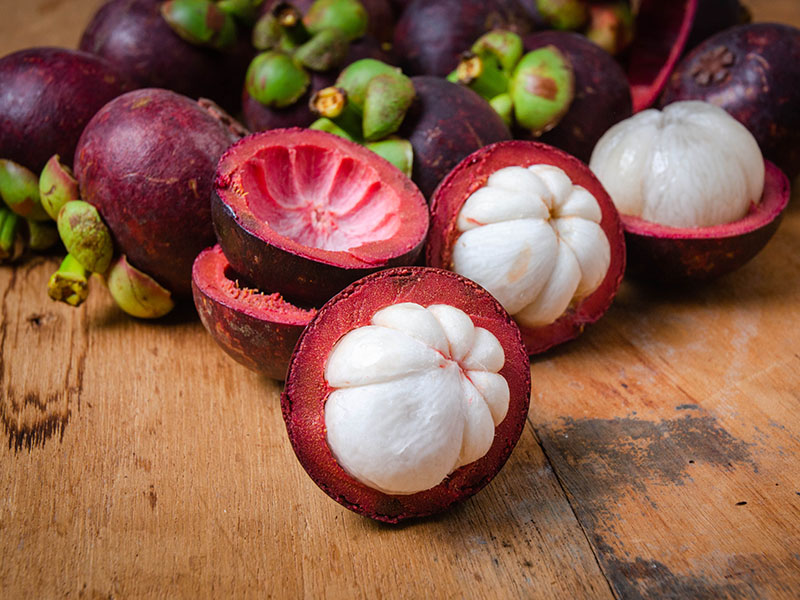 Mangosteen origin stems from Indonesia, with many considering the fruit one of the best options for experiencing Asian natural flavor. The mangosteen spread widely in Southeast Asia, India, and some tropical countries.
Typically, mangosteen has thick purple skin when ripe. The meat is white with a sweet and chewy texture around the seeds. Each mangosteen has a different number of meat segments that you can tell by looking at the pedals at the bottom of the fruit.
In India, people mainly cultivate mangosteen in Kerala, Tamil Nadu, and Karnataka. As a reminder, some mangosteen meat segments may contain no seeds and have an intriguing chewy texture.
Nutrients: Mangosteen is great at providing vitamin B, C, calcium, and calories.
Season: From April to June and July to October (the monsoon season).
How to eat: Use a knife to cut off the skin and enjoy the sweet white meat.
Explore the incredible cultivation techniques of mangosteen in Kerala.
9. Langsat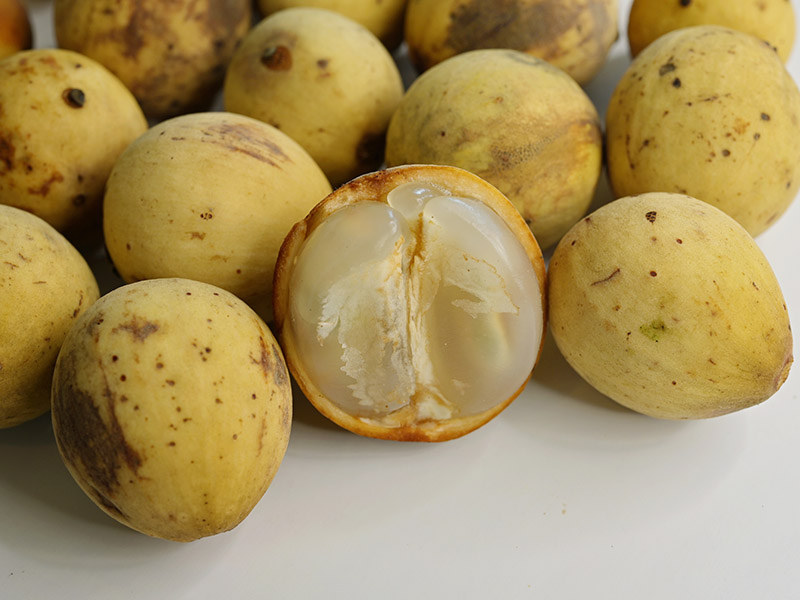 Langsat is a must-try fruit whenever you're in India. You can easily find them in South India. In addition, some areas in the north and Nilgiri Hills in the south also have this type of fruit.
Although you may think Langsat is a native Indian species, the plant originates from the Southeast Asian region. The fruit has yellowy skin with thin hair around the surface. Most often, the interior of langsat possesses segmented translucent meat with a sweet and sour taste.
When langsat is in season, you may encounter Southern Indian vendors selling Langsat across the street. Sometimes, the production of Langsat could hardly meet the demand of local Southerners.
Nutrients: Langsat provides a good amount of vitamin A and C.
Season: From April to September.
How to eat: Peel off the skin and eat the translucent meat.
10. Khirni/Rayan (Mimusops)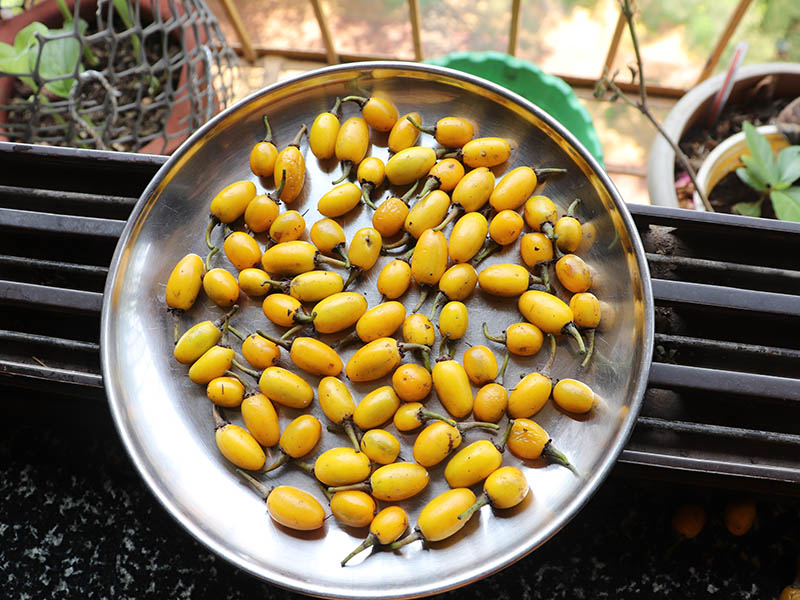 Mimusop often appears in China, Southeast Asia, and India as a small yellow fruit with incredible sweetness. Locals usually cultivate Khirni (local Indian name for mimusops) around the Deccan Peninsula and Central areas of India.
Most often, Mimusop illustrates bright golden skin with a smooth feeling when ripe. I suggest you be careful biting into mimusops as they contain inedible seeds. As for the flesh, it possesses a nice milky flavor with a soft texture.
Nutrients: Khirni is rich in proteins, vitamins A, C, and various antioxidant substances.
Season: Khirni trees produce ripe fruits from April to June.
How to eat: Wash the Khirni and consume the flesh while spitting out the seeds.
11. Sabeda/Chikoo (Sapodilla)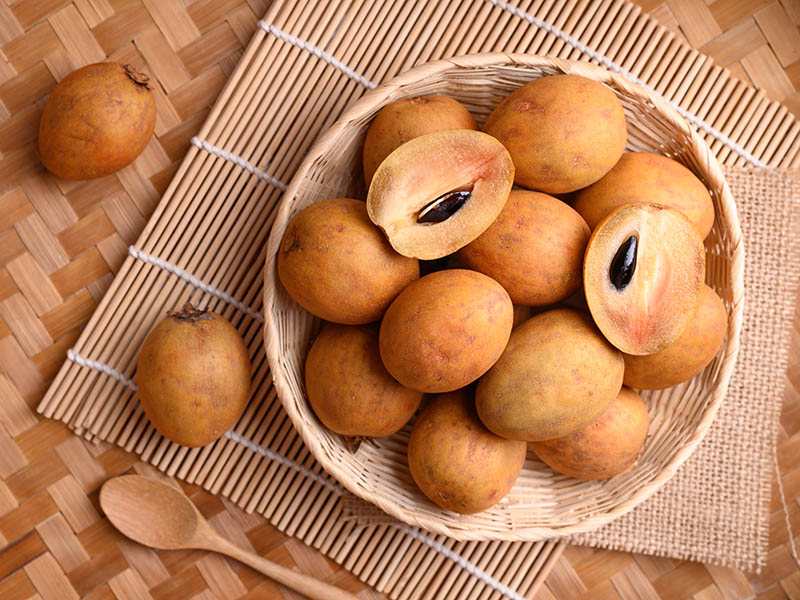 Sabeda is the local Indian name of chikoo or sapodilla, a type of soft brown fruit originating from Central America, the Caribbean, and Mexico. In India, the cultivation of sapodilla mainly happens in West Bengal, Gujarat, Tamil Nadu, and Maharashtra.
The meat of sapodilla is usually soft and can be mushy if you pick overripe ones. Overall, sapodilla commonly displays a sweet and caramel-like color. As for the skin, the fruit has tiny hair on the surface, making it feel a little rough to touch.
Remember to spit out the black seeds of sapodilla as they are inedible. Another thing to note about sapodilla is not to consume unripe fruits. The high astringent level may leave your mouth dry after eating.
Nutrients: Sapodilla provides your body with carbs, proteins, and necessary minerals.
Season: Spanning from December to March.
How to eat: Cut the sapodilla in half, remove the seeds, and enjoy the caramel-flavored flesh.
Take a look at how you can properly eat sapodillas.
Other Indian Fruits To Discover While Exploring The Country
Of course, some fruit varieties may fall into different categories. Therefore, I'd like to bring you some fruits that often appear in Indian markets. Furthermore, some Indian fruits are a rarity because locals cultivate them in some particular areas in the country.
12. Nagpur Orange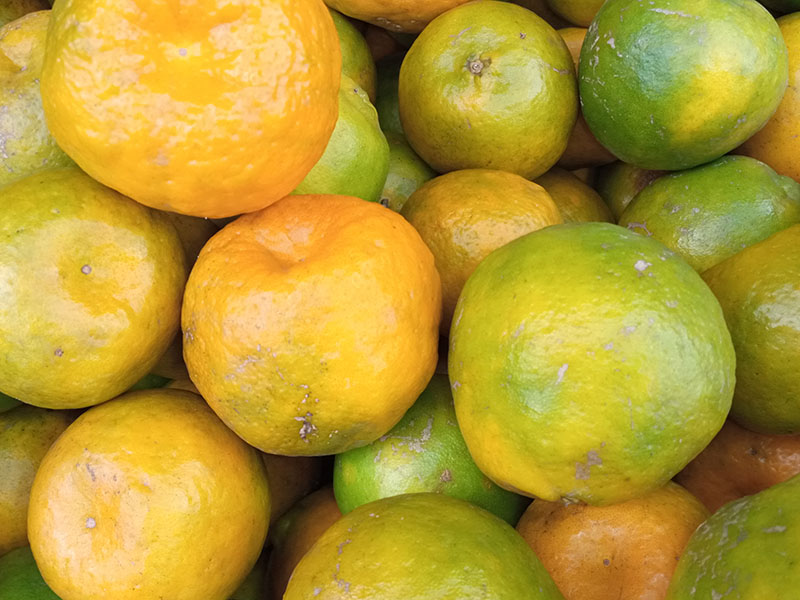 Whenever you have a trip to India, there's a high chance you will encounter these lovely Nagpur oranges at street food carts. The Nagpur oranges usually possess either a light orange or green color. They are relatively juicy and often served as a fresh beverage with Indian spices.
Indian locals cultivate Nagpur orange in Nagpur, a city in Maharashtra (central India). Aside from the sweetness, Nagpur orange has a standout sourness that is unprecedented in other orange varieties. The standout flavor is mainly the result of a unique acid-sugar blend.
Nutrients: Provides your body with a good amount of vitamin C.
Season: Starting from September to December.
How to eat: Peel off the skin and squeeze for the juice. Alternatively, you can enjoy the orange pulp fresh.
13. Ambarella (Indian Hog Plum)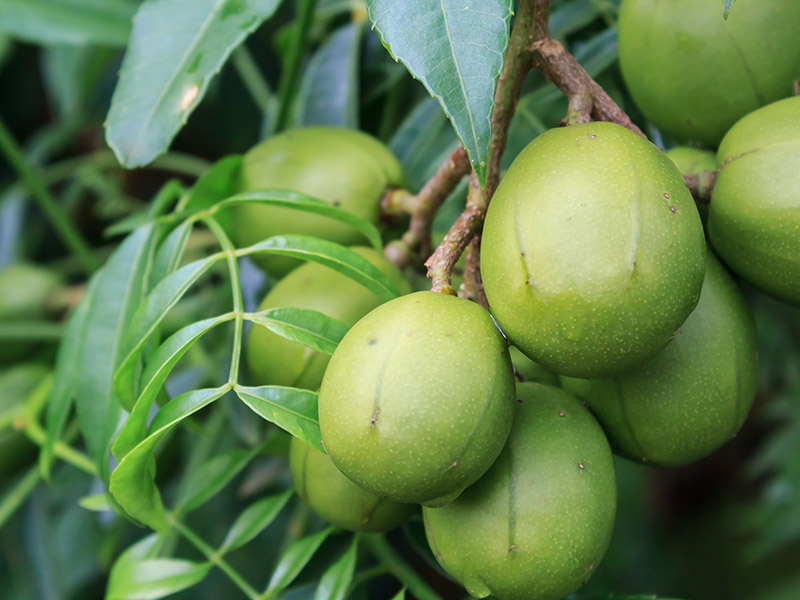 Ambarella or June plum is a common plant that bears green fruits in Southeast Asia, the Americas, and India. The plum is usually the size of an average adult first or smaller. When ripe, ambarella often turns to yellow skin and becomes slightly soft.
This type of plum is mainly a specialty of Goa, Maharashtra, Karnataka, and Tamil Nadu in India. Locals like to squeeze ambarella for its juice to incorporate in many juice, pickle, and cocktail recipes. Typically, many ambarella plums have an oval shape.
In terms of flavor, the June plum combines sweet tastes from mango and the sourness of pineapple. In addition, the fruit also treats your taste bud with a tangy flavor when consumed. One of the best ways to eat ambarella is to dip the plum with chili salt or shrimp paste.
Nutrients: A solid choice for vitamin C, A, iron, and fiber.
Season: During fall or winter.
How to eat: Slice the ambarella into bite-size pieces and dip it with condiments to enjoy.
14. Jungli Jalebi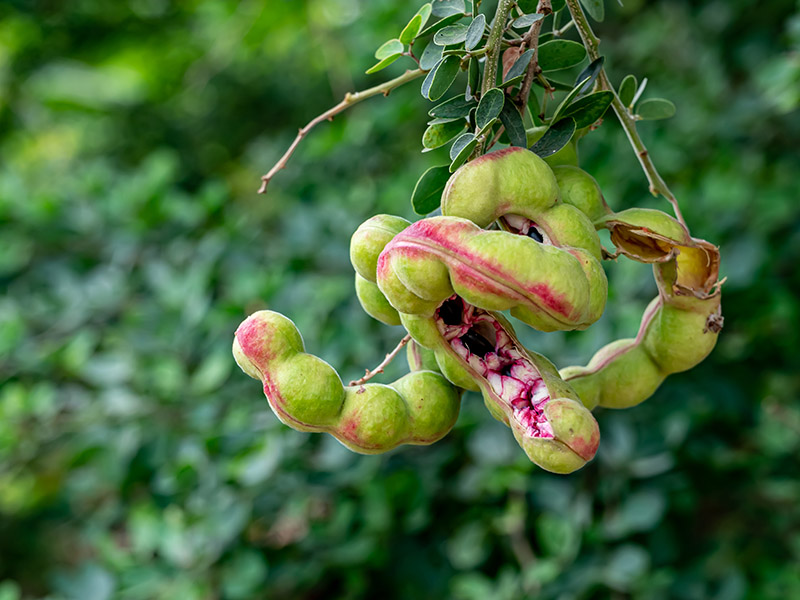 Another name for this fruit from Mexico, South America, and Pacific Coast is Manila Tamarind. You can encounter Camachile in Kerala, Maharashtra, and Tamil Nadu states of India. The fruit tends to have many segmented pods.
Different regions may have various names for Camachile: Kodukka Puli (in Tamil), Seema Chintakaya (in Telugu), and Seema Hunase (in Kannada). You may know other English names like Monkey Pod and Madras Thorn.
When ripe, the outer skin of Camachile displays a light pinkish color. As for the interior, it has pink or white pulps with a sweet flavor. On average, each Camachile contains around 5-6 seeds. Indian locals often feature Camachile in many treats thanks to the sweet and tangy taste.
In some areas, Camachile even works well as a remedy to cure illnesses. Furthermore, the seeds also go wonderfully as an additive to curry dishes.
Nutrients: Camachile provides an outstanding amount of vitamin C, B, and potassium.
Season: From February to May.
How to eat: Remove the peel and seed to enjoy the sweet flesh.
Discover the wonderful health benefits of Jungli Jalebi.
15. Chalta (Elephant Apple)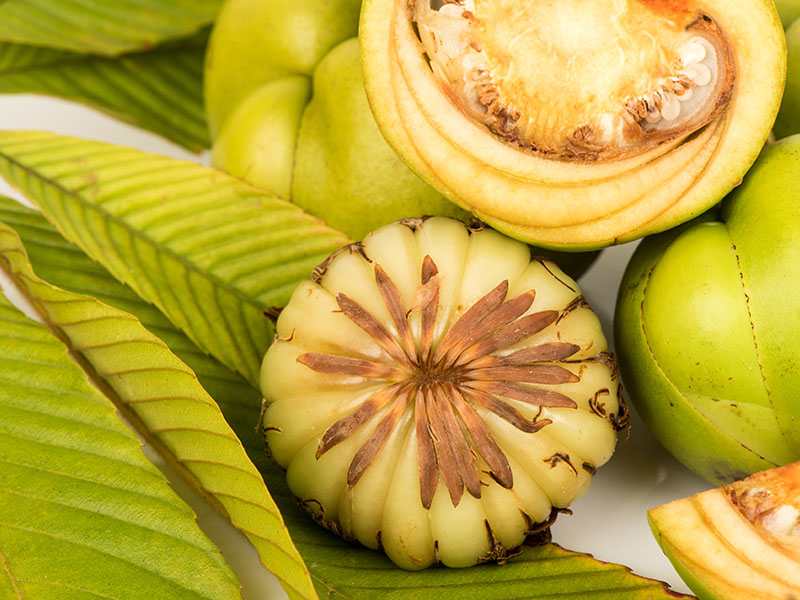 At first sight, it's hard to know what people use Chalta or elephant apples for daily life. The fruit is about the size of a grapefruit and has green skin. Chalta's origin stems back to tropical Asia, including some areas in South Asia.
When ripe, Chalta's skin turns brown and has a leathery texture. The fruit is a favorite food source for wild animals like monkeys, deers, or elephants. For human consumption, locals prefer turning Chalta into pickles or chutney to enjoy.
Furthermore, the fruit also appears in Indian jam, jellies, or curries recipes. Each Chalta usually has around five seeds encompassed in a fibrous pulp. The fruit displays a sweet flavor and tartness with a crunchy texture.
Nutrients: Chalta provides a good amount of vitamin E, B, and protein sources.
Season: Spanning from October to February.
How to eat: Simply peel off Chalta's skin and enjoy it with sugar or honey.
16. Bael (Wood Apple)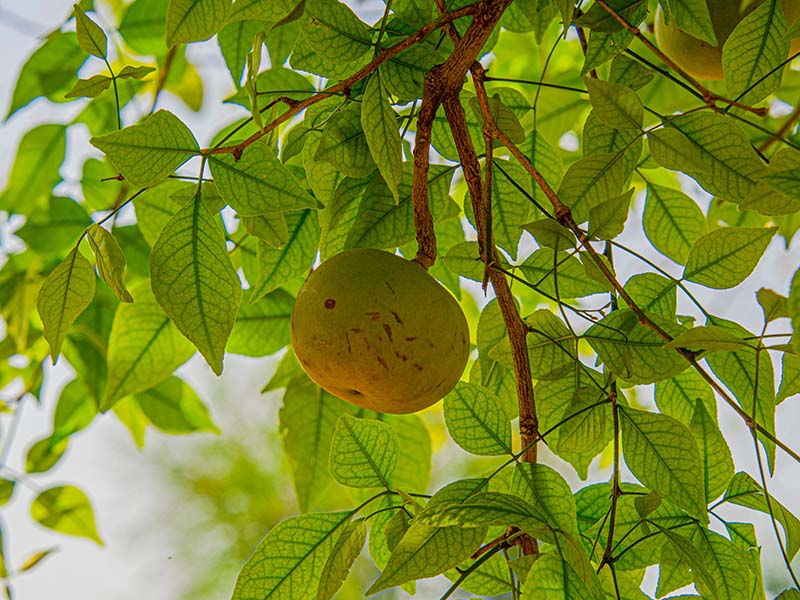 Bael is a fruit that plays a significant role in Indian and Southeast Asian cooking. Many dishes often utilize dried Bael or wood apple as an additive to enhance the tartness. Bael is a native species of India and is often cultivated in the foothills of the Himalayas and other states.
The wood apple is slightly bigger than a regular lime and has smooth outer skin. People harvest Bael when they are ripe with a beautiful golden color. Besides the tartness, Bael also boasts an incredible cheese-like aroma and intriguing sweetness.
The inner of Bael consists of 8 – 15 pulps that possess an orange hue color. Furthermore, you can include Bael in many Indian delicacies to improve the nutrient intake of each meal.
Nutrients: Bael is excellent at providing a decent amount of proteins, vitamin C, and fiber
Season: Bael season typically lasts from February to May in India.
How to eat: Slice the Bael in half and scoop out its content to enjoy.
Discover the main features that make Bael fruit unique.
17. Apple Ber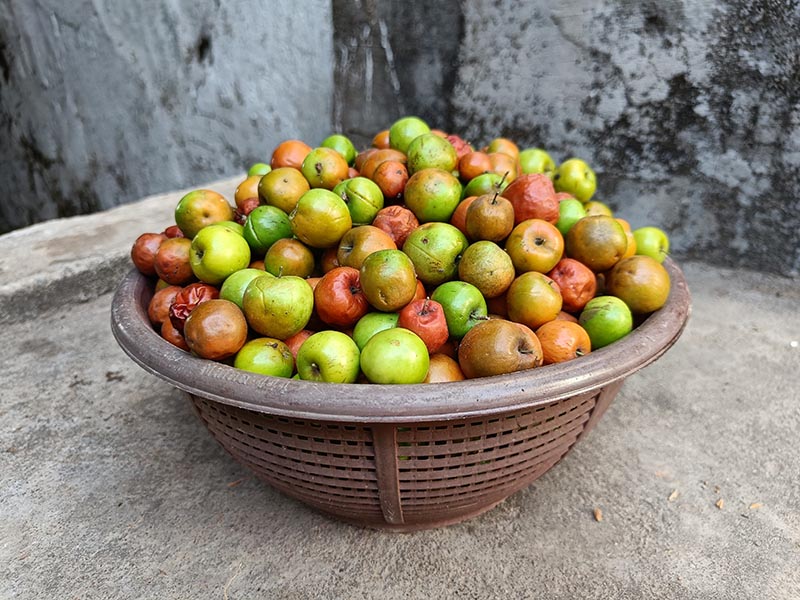 Indian plum, Chinese apple, or apple ber is a type of apple of Chinese origin. The apple has various sizes and colors, spanning from yellow to red when ripe. Apple ber comes in oval or round shapes.
The name "apple ber" is from the Urdu language, while English speakers usually refer to the fruit as Chinese dates or Indian Jujube.
Indian locals tend to cultivate apple bers in the states of Karnataka and Maharashtra. The fruit has a sweet and juicy taste with a lovely soft texture. In cuisine, many Indian locals incorporate apple ber into stew recipes or grind it into a powder to use as a condiment.
Nutrients: Vitamin C, fiber, and carbs.
Season: From June to August and December to March.
How to eat: Wash the fruit and enjoy it fresh.
18. Chapakka (Rose Apple)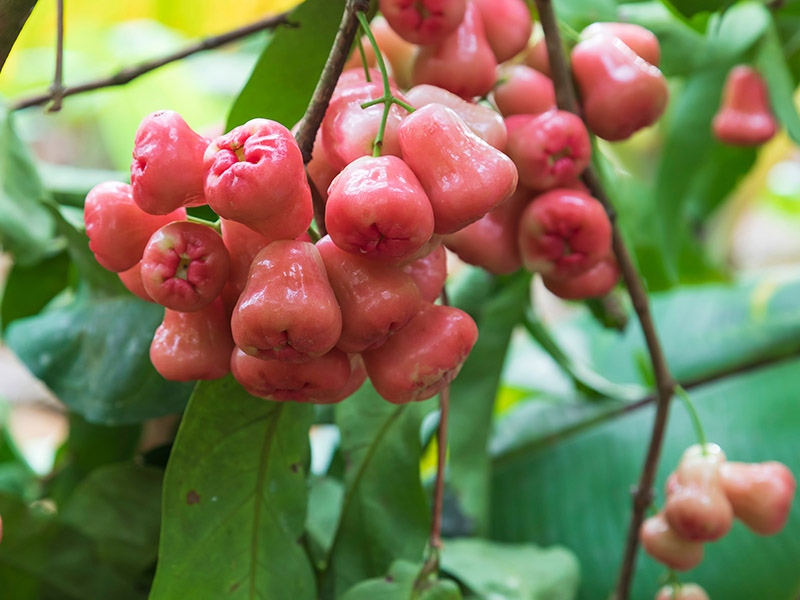 I highly recommend giving Chapakka a try whenever you're traveling in India. The fruit is a native plant of the Malay peninsula, the Nicobar Island, and the Greater Sunda Islands. In India, Chapakka appears in the states of Kerala and Andhra Pradesh.
Chapakka or rose apples tend to have a bell shape with a hue-pink or red when ripe. The fruit has around 2-3 seeds in the middle. Aside from the sweet flavor, Chapakka has an intriguing spongy texture with white meat.
As the name suggests, rose apples tend to have a light note of rose flavor to accompany the sweetness. Besides enjoying ripe rose apple fresh, you can put unripe versions in curries for a traditional Indian cooking experience.
Nutrients: A good source of fiber, vitamin C, and A.
Season: From June to July.
How to eat: Wash the outside peel and enjoy the rose apple.
19. Chakotra (Pomelo)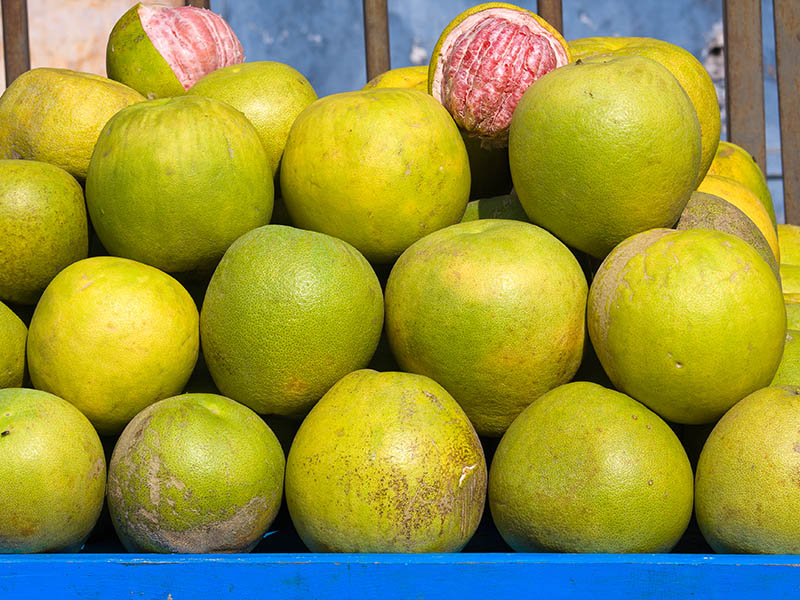 Chakotra, commonly known as pomelo, is a citrus fruit with juicy pulps and a refreshing flavor. Regarding origin, pomelo originates from the Southeast Asian region with diverse species.
Commonly, pomelo pulps have a yellowy color, but some may also display a vibrant red. Generally, an average pomelo can be the size of an adult's head.
Pomelo possesses relatively thick skin with a soft interior covering the pulps. People usually enjoy the pomelo, both ripe or unripe; sometimes, the pulps even work as an ingredient for a salad dish in Southeast Asian countries.
Interestingly, Indians exclusively plant pomelo around the Devanahalli area of the Bangalore rural district. Aside from the sweet and sour taste, some pomelos may have a slightly bitter note.
Nutrients: Rich in vitamin C and fiber.
Season: From November to December.
How to eat: Remove the skin and enjoy the fresh pulps.
Take a look at how Indian vendors turn pomelo into a delicious salad.
20. Carambola (Star Fruit)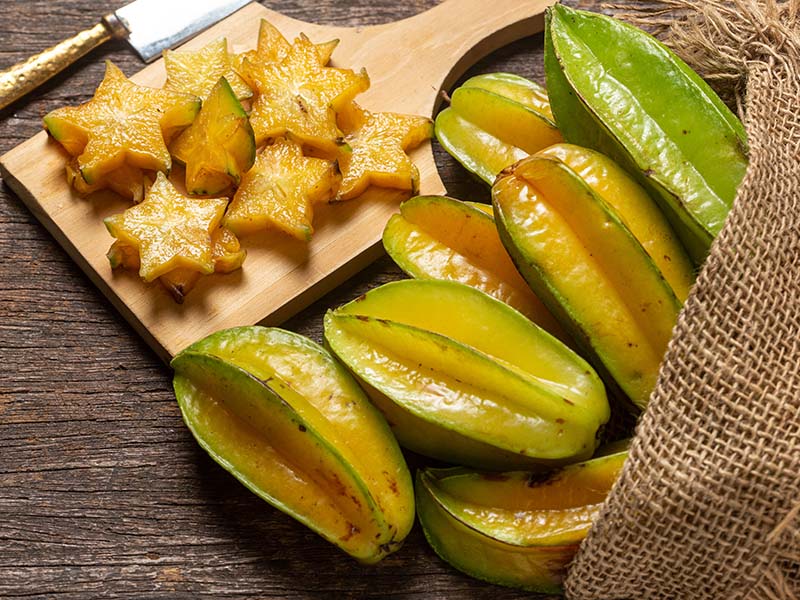 Carambola, renowned for the common name star fruit, is an exotic fruit in Asia with a strange shape. The fruit mainly appears in South India with a yellowy pale green when ripe. At first sight, the Carambola is shiny thanks to a thin layer of wax on the skin surface.
The name star fruit is because of the signature star shapes when cutting the fruit horizontally. The flavor combines sweet and sour with a slight note of tartness. Some people refer to the star fruit taste as a mix of grape, apple, and pear flavors.
Carambola is especially popular in many Indian specialties like jams or salads. Interestingly, star fruit makes for a solid juice option with your favorite sweeteners to improve the overall flavor.
Nutrients: Star fruit has a great deal of vitamin A and C and is rich in fiber.
Season: All-year-round.
How to eat: Wash the star fruit to remove the thin wax layer and eat the fresh fruit. Cut the star fruit into slices to enjoy.
21. Mahabaleshwar Strawberry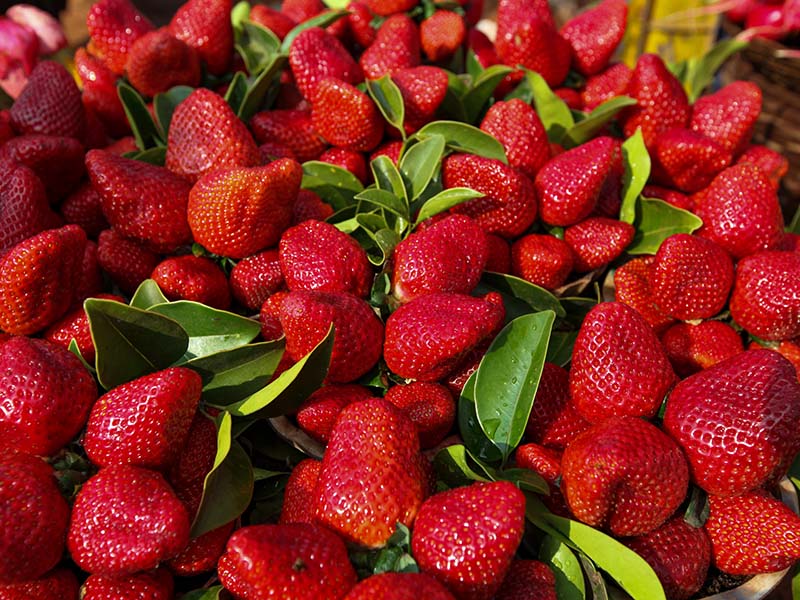 If you want to uncover strawberries in India, you need to travel to the slopes of Mahabaleshwar, a small town in the Maharashtra state, Western India. The area is responsible for most of the strawberry production in India.
Mahabaleshwar strawberries have vibrant red color with unique flavors for each plantation. Interestingly, the strawberries originate from Australia during the age of British colonialism. Locals often feature Mahabaleshwar strawberries in drinks, ice cream, jam, and wine.
Commonly, the Mahabaleshwar strawberry has six varieties: Camarosa, Sweet Charlie, Selva, Festival, Winter Down, and Chandler. The most cultivated strawberry is the Sweet Charlie type.
Nutrients: Rich in vitamin C, manganese, and carbohydrates.
Season: Spanning from October to November and April to May.
How to eat: You can enjoy them fresh or incorporated into jam, drinks, wine, cooking recipes, and ice cream.
22. Bilimbi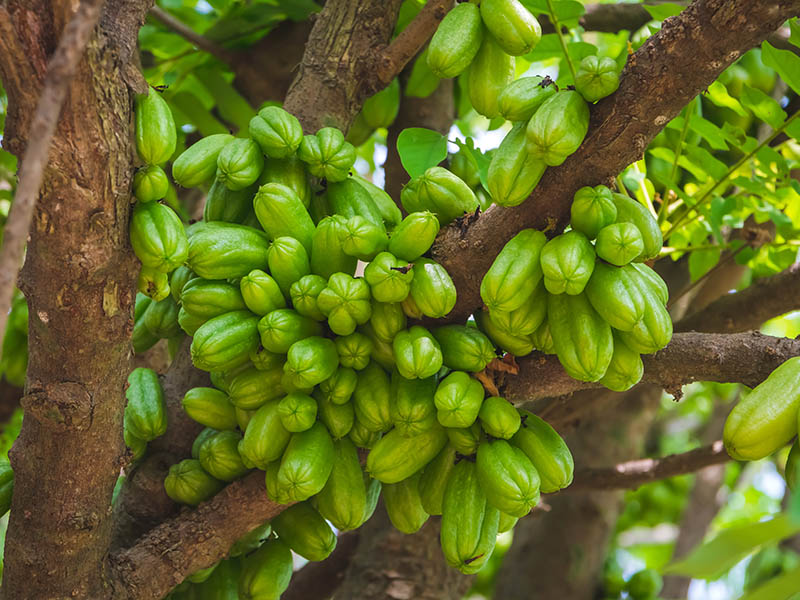 Bilimbi is a species that mainly appears in tropical regions around the world. The fruits have green skin the size of a cucumber that often grows clumped together. Commonly, bilimbi tends to distribute around warm areas of India and is a native plant of the country.
The fruit possesses a crunchy texture with an incredible sourness. When ripe, bilimbi has a light yellow color. Because of the high acidity that creates the sourness, Indians don't usually eat raw bilimbi.
Instead, locals usually incorporate bilimbi into beverage recipes. In addition, people in Maharashtra state dip bilimbi with chili and salt to enjoy an addicting sour and spicy snack.
Nutrients: Bilimbi has a high amount of vitamin C, iron, and calcium.
Season: In India, bilimbi flowers begin to bloom in February and bear fruit until December.
How to eat: Rinse the skin and consume the bilimbi raw. Alternatively, you can use bilimbi to pickle or add it to jam.
23. Buddha's Hand (Fingered Citron)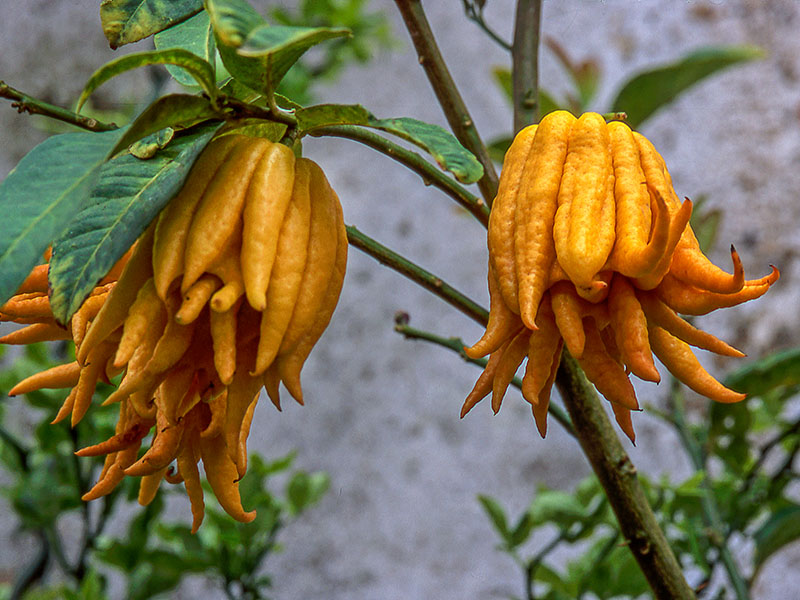 Finally, I'd like to wrap up this list with the Buddha's hand, a weird-looking fruit with numerous small fingers. This type of citron is a native plant of India, which happens to be the home of Buddhism. People cultivate fingered citron around the lower region of the Himalayas.
The fruit has an alternate name of fingered citron; it has a color ranging from yellow to bright orange when ripe. Fingered citron tends to have no seeds, but the inner contents are just pure white pulps.
The common consumption method of Buddha's hand is to mix the pulp with salad to get a beautiful fragrant aroma. Some locals don't eat the fruit but use it as a decoration and allow the citrus fragrance to spread around the house.
Nutrients: Buddha's hand has vitamin C, protein, and fiber.
Season: Spanning from October to January.
How to eat: Cut the fingers and extract the oil to use as a fragrant additive in baking recipes, alcohol infusion, salads, or preserves. Another way is to scoop out the white pulp and enjoy.
India Offers A Variety Of Intriguing Fruits
What do you think about this Indian fruit compilation? I hope you find this article helpful as a guide to help you understand more about Indian fruit specialties. Many plant species are also a rarity in India as only a few regions cultivate them.
If you like this post, please share it with your close ones, so they know more about your favorite fruit variety. Furthermore, let me know about your experience with these fruits and which one is your go-to option for a healthy snack.