When it comes to Indian foods, there's no doubt that people are attracted because of the harmonious combination of seasonings and spices. As the country giving birth to curry, it's not surprising to see people usually relate curry dishes to Indian cuisine.
However, the country also has some dishes rooted in Pakistani delicacies. That's why you should keep reading to uncover more about the specialties of each Indian region. I promise it's a very exciting adventure to look through Indian delicacies.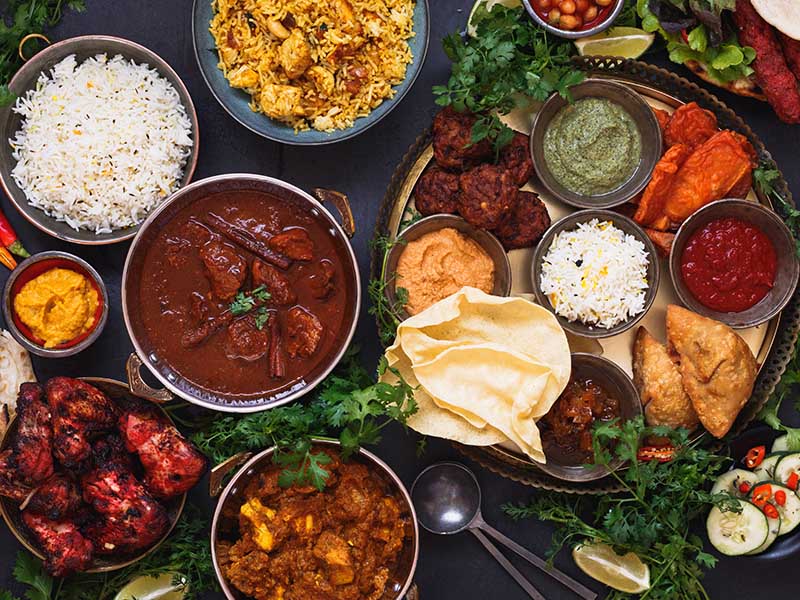 North Indian Specialties For Your Next Meal
Let's jump into North India first, an area popular with aromatic delicacies and thick gravy. The region is also famous for many meat dishes with surprisingly tender and moist slow-cooked meat.
The region also receives many comparisons between Indian and Pakistani cuisine. It's easy to understand because North India shares its border with Pakistan.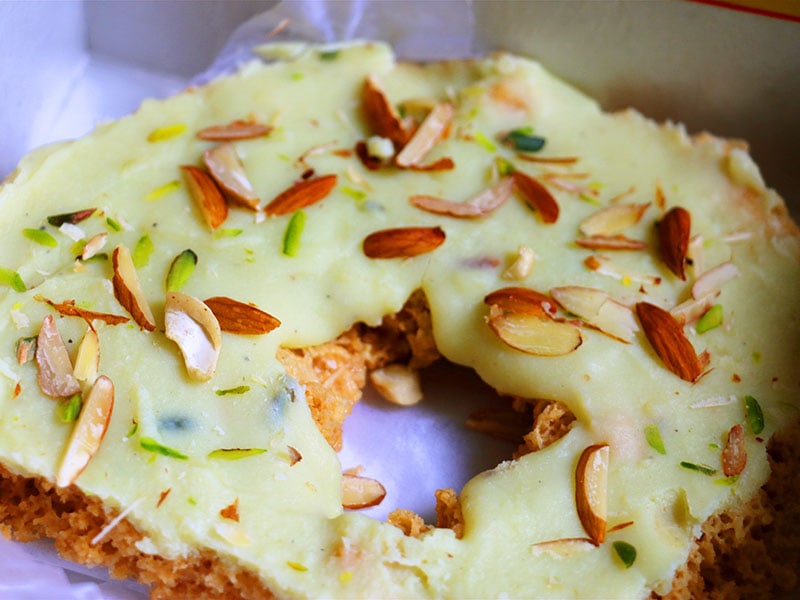 Ghewar or Gheva is a one-of-a-kind bread of Rajasthani cuisine. The bread is characterized by a circular shape with a generous spread of sugar syrup. Ghevar is a popular treat during the Holi festival in the North of India.
The Ghewar dough is a concoction of plain flour with chickpea flour, ghee, lemon juice, and water. People throw in a couple of ice cubes, so it's easier to incorporate the ghee with the batter. While frying the Ghewar dough, people poke a hole in the middle for the signature look.
The sugar syrup is straightforward as you only have to boil water with sugar, cardamom powder, and saffron stars to enhance the flavor. After frying, let the Ghewar rest to drain off some oil. Top the bread with the sugar syrup and a sprinkle of pistachio nuts.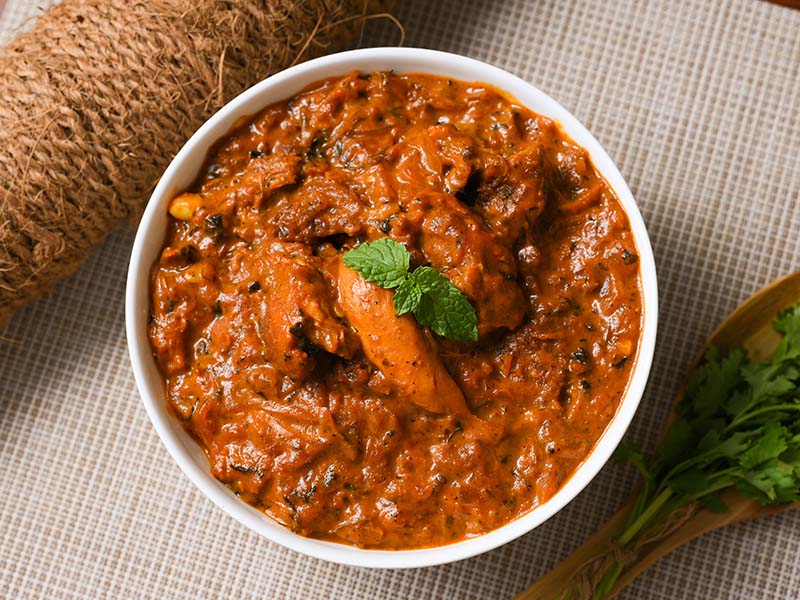 If you're coming to Delhi, one of the main cities of India, you have to try Murgh Makhani. The dish is everyone's favorite butter chicken with an extra thick and flavorful sauce. Many speculate that the dish first came together in around the 1950s.
Surprisingly, the creation of Murgh Makhani was an accident when locals combined Tandoori chicken with butter-rich tomato gravy. Locals tend to marinate chicken with yogurt, turmeric, and garam masala (Indian blend spices) to give a hint of cinnamon and peppercorn flavors.
As for the gravy, the best option is a crushed tomato, garlic, and ginger base with heavy cream to thicken up the concoction. Of course, you have to include various condiments to bring out the authentic Murgh Makhani taste.
Ideally, the gravy should have a beautiful orange color with an addicting curry taste. The chicken is usually super tender and possesses all the goodness from the copious amount of ingredients and seasonings.
Take a look at the easy steps to bring Murgh Makhani into your kitchen.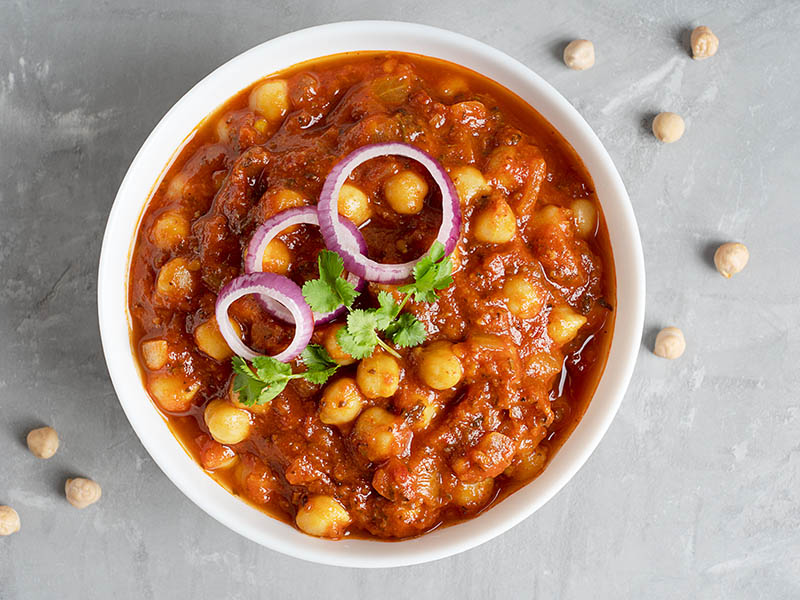 India is famous for its curry, and Chana Masala is one of the highly recommended curries you should recreate at home. The curry is a popular street food option that vendors often serve as a main course or snack.
The main focus of any Chana Masala lies in the chickpea (Chole in India) and the spicy stock. Typically, the combination of ginger, chilies, and cilantro together into a rough paste significantly enhances the flavor.
Chana Masala also has a stew-like consistency thanks to chickpea and tomatoes. The dish is fantastic to pair with flatbread.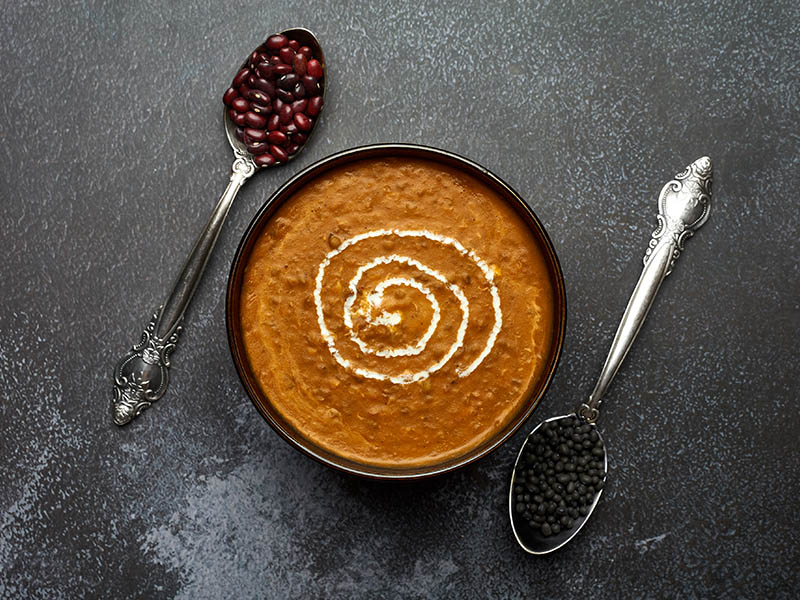 After the invention of Murgh Makhani, Indian locals were looking for a new vegetable dish to accompany the chicken. This creamy and smoky lentil dish originates in New Delhi, the capital of India, situated in the central North. People believe the dish is a creation of a local restaurant.
Dal Makhani is a staple of Punjabi cuisine. Locals usually soak the black gram (lentils) and kidney beans in water for 8 – 9 hours before transferring the mixture to a pressure cooker. Additionally, Indians also fix a tomato puree mixture to combine with cinnamon, cardamom, and nutmeg.
The dish possesses a decadent creamy flavor from the addition of cream. Traditionally, locals place charcoal in a metal bowl and place it in the middle of the gravy to keep it warm throughout the serving process.
Learn how you can quickly materialize an authentic Dal Makhani in your kitchen.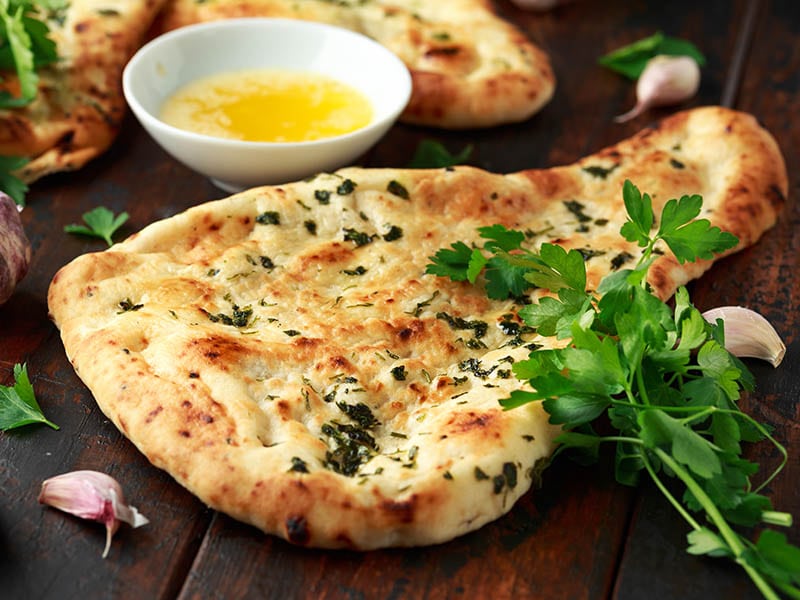 Naan is a type of flatbread that appears in many countries worldwide. Typically, people use the stove to blister the dough with some char marks. Although people may say Naan looks like a distorted pizza crust, this type of flatbread possesses a unique soft and chewy texture.
Generally, Naan has a hint of tangy taste from the yeast. A standard Naan recipe calls for yeast with Maida flour (wheat flour), oil, and sugar. Locals often cook Naan using a tandoor oven, a big fire pit where you need to stick the dough to the side for cooking.
Naan is perfect for accompanying many Indian dishes like curries or yogurt for a sweet snack in the North of India. Furthermore, each region can have different takes on Naan, giving you a one-of-a-kind experience.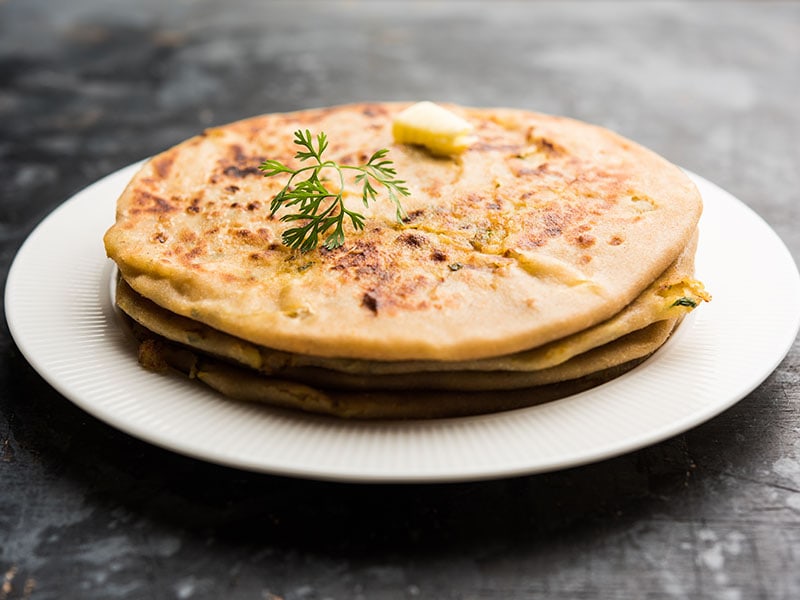 Here's another fascinating flatbread from North India; Aloo Paratha is a traditional Punjabi dish that frequently appears as breakfast for many locals. The flatbread is different from Naan because it has a layer of creamy potato stuffing.
Thanks to the addition of Garam Masala, the bread is bursting with wonderful flavors of Indian seasonings. The most common method of cooking the Paratha is to roast the outer dough until it has some char marks.
Depending on the region, Indian locals tend to serve Aloo Paratha with pickles, buttermilk, chutney, or curd.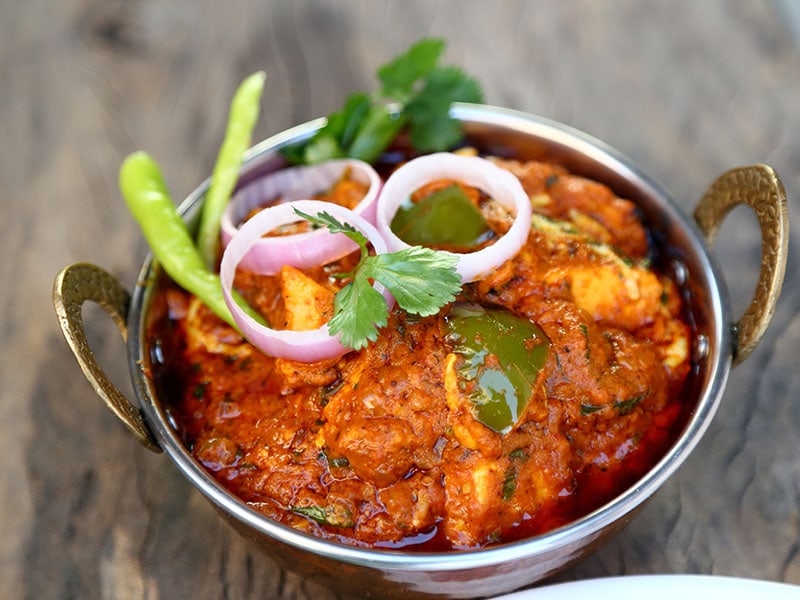 There's nothing to hate about Indian curry when many dishes have an addicting thick gravy, perfect for pairing with rice or flatbread. In Hindi, people often use the word "Kadai" to refer to a type of shallow pan similar to the Chinese wok but with steeper sides.
Kadai Paneer is unique because locals serve it in Kadai. The curry tastes best when combined with fresh masala consisting of dried peppercorn with coriander, cumin, and fennel. Plus, you may consider adding dried chilies to give the masala an extra kick.
Traditionally, the gravy version of Kadai Paneer is more prevalent in North India. Ideally, you need a tomato puree base with garlic paste, ginger, and Kasoori methi (Indian dried fenugreek leaves). Of course, you will also need to include Paneer (Indian cottage cheese) to thicken the curry.
Kadai Paneer is ideal for anyone looking to diversify their vegetarian diet.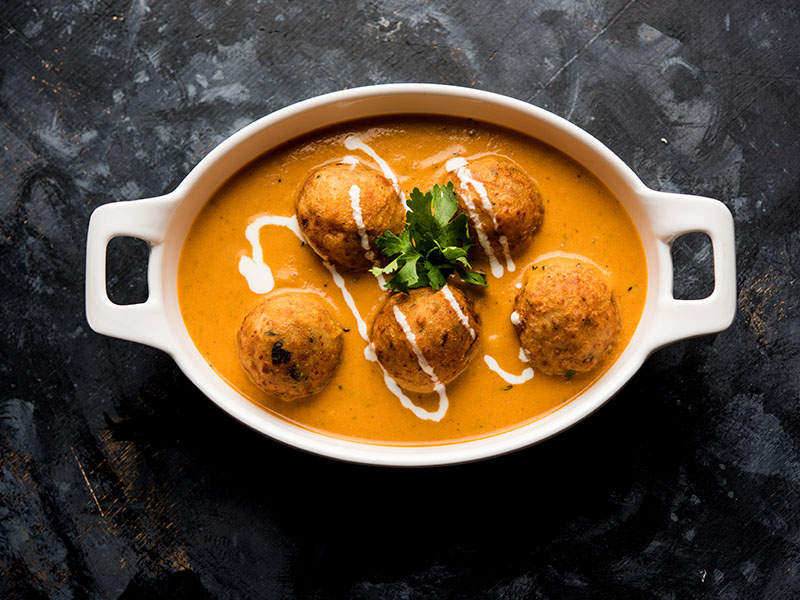 Kofta is a meatball or meatloaf that appears in the early Arabian cookbook. However, Indian cuisine levels up the concept by soaking the balls in creamy curry. Instead of using meat to form the Kofta balls, Indians utilize mashed potatoes.
These balls have decent size compared to regular meatballs. People usually deep-fry the Malai Kofta balls to get a beautiful golden brown color with a crunchy exterior.
Indian Northerners use a tomato puree base to mix various condiments to make the gravy. The key point to making the curry delicious is the inclusion of heavy cream that helps thicken up the concoction significantly. Pour the curry gravy over the Kofta, and you're good to go.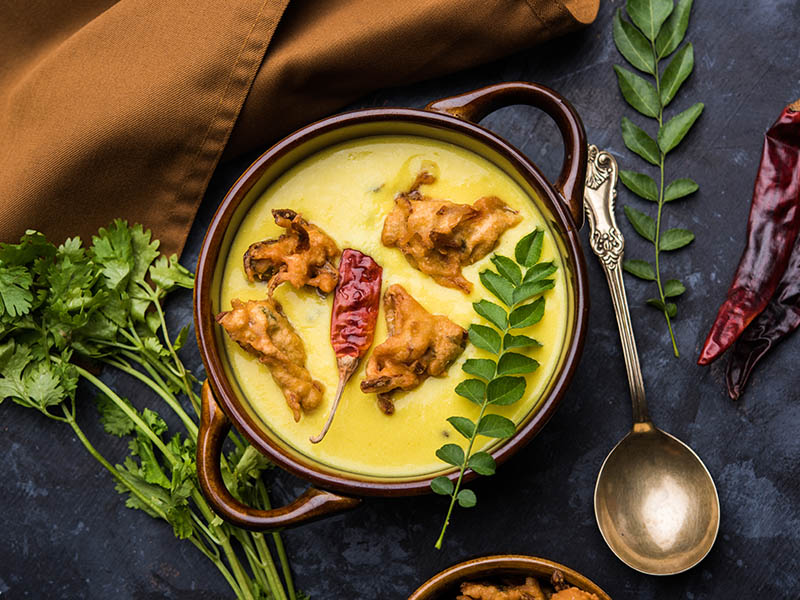 Kadhi alone is a type of lentil curry of India; however, the Punjabi area also adopts this recipe with a little twist. The Punjabi residents usually introduce Pakoras (Indian spiced fritter) into the mix of gram flour and sour yogurt.
Typically, Punjabi Kadhi has a nice bright yellow gravy with a relatively thick consistency. Aside from the mentioned yogurt and gram flour, the recipe calls for turmeric powder, fenugreek seeds, and dried chilies for an authentic flavor.
As for the Pakora, it's a crunchy fritter exploded with flavors from wonder Indian spices. In addition, the fritter also has an incredible onion taste. For your information, the dish still works without having Pakora.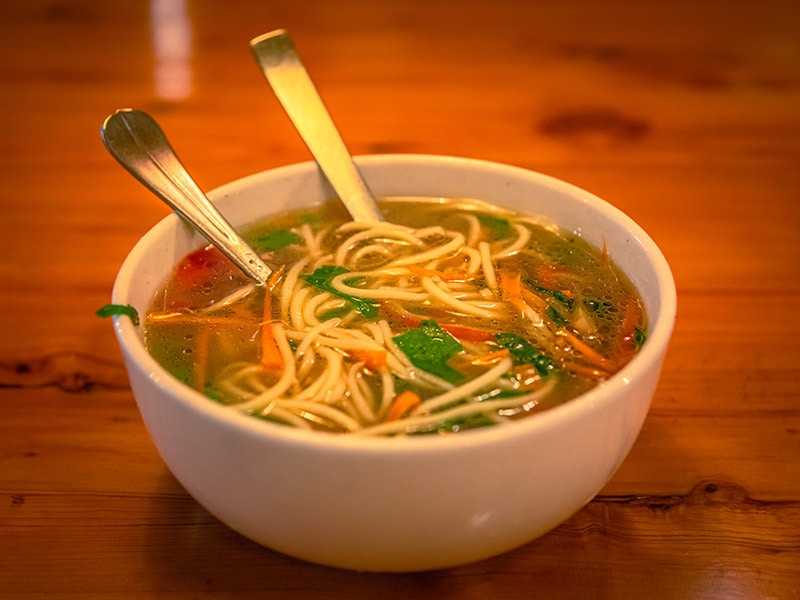 Some people may be wondering why a Tibetan dish appears in an Indian food compilation. Allow me to explain; Thukpa is indeed a vegetable soup of Tibet cuisine, but it's also a favorite dish of Sikkim state in India.
Instead of an explosive flavor, Thukpa tries to accommodate all the vegetable flavors into one bowl. Typically, people use a combination of bamboo shoots, cabbage, and carrots. The vegetables have a mesmerizing tenderness.
Traditionally, Indians serve Thukpa with noodles for a healthy and light meal. Depending on the types of noodles, Thukpa may have different names.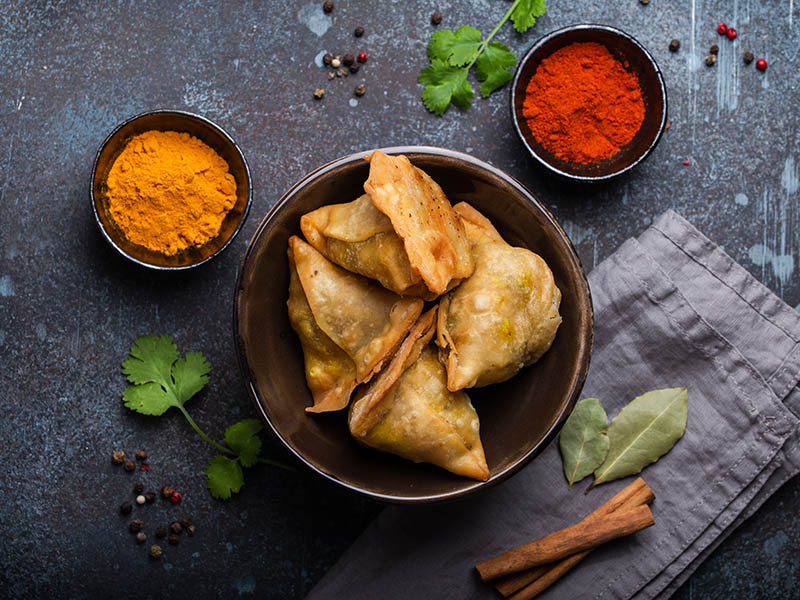 Samosa, a well-loved food in Doha and Qatar and other Middle Eastern countries, came to India through merchants. The dish later became a part of Punjabi cuisine. Most often, Samosa has a unique triangular shape with savory fillings.
For starters, the Samosa batter is a simple combination of all-purpose flour with carom seeds, oil, and water. People usually knead the dough until it becomes stiff to hold the shape by itself. Typically, the filling of Samosa consists of sauteed ginger, green bean, and potatoes.
After assembling the Samosa, people often deep-fry the pastry to get a beautiful golden brown and crispy Samosa. An alternative way of cooking Samosa is to utilize the oven for a simplified cooking process.
Discover the fascinating history of Samosa.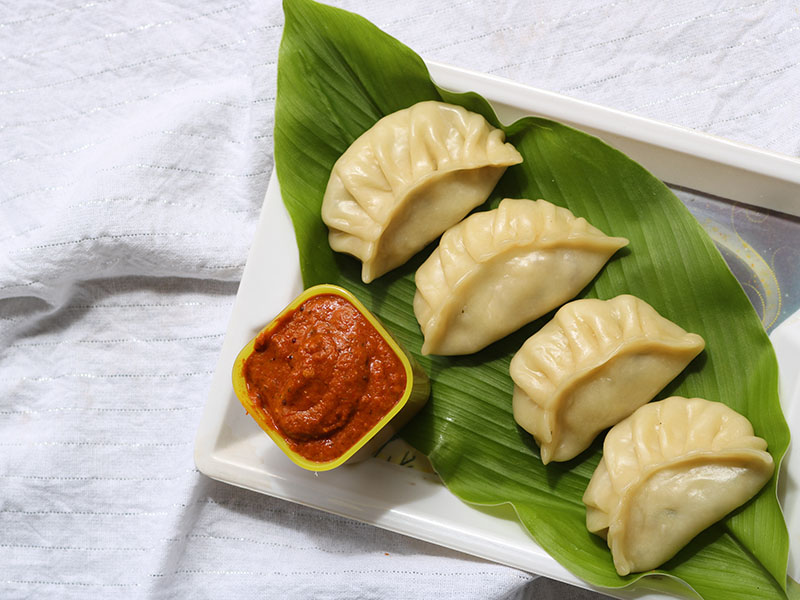 Momo is a staple starter in India. Although Momo is another Tibet and Nepal delicacy, the Indians still adopt the dish as part of their cuisine. The recipe is a simple idea of wrapping meat fillings with a soft bun to enjoy.
The dumpling's dough is a straightforward mix of all-purpose flour with water and a pinch of salt. The batter should be smooth before adding the sauteed filling of onion, minced pork, and sauces.
Locals usually dap a bit of water over the edge of the dough, so it's easier to seal the dumpling. Steamed Momos possess a soft dough texture with a splash of sweetness from the meat filling.
Uncover the secret of nailing Momos on your first take.
South Indian Dish You Have To Know
The south is one of the most prominent cuisines of India. The area offers diverse food options ranging from savory dishes to desserts.
Several things separate Northern and Southern Indian foods, so you can expect many unique dishes from this region. Some states in South India usually characterize a tangy and hot profile. Without further ado, let's discover what South India has to offer.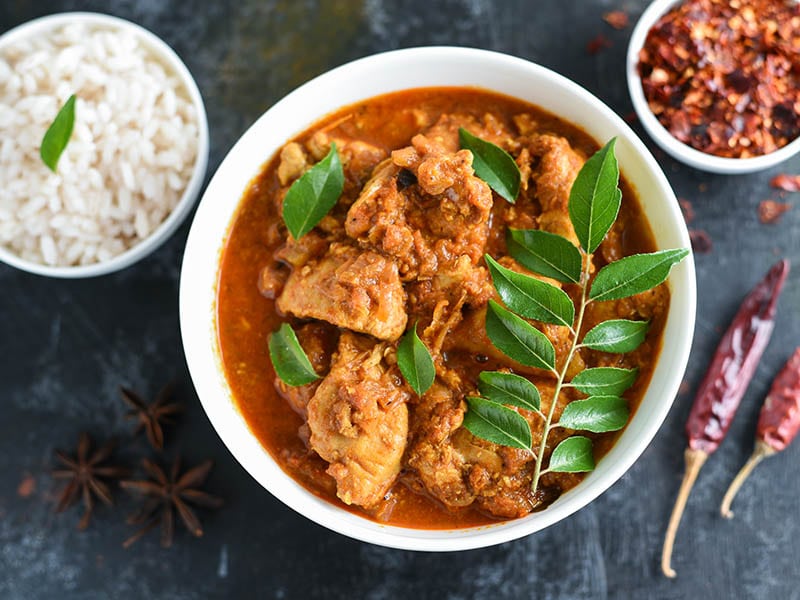 In South India, locals also enjoy curry but with a twist of adding Chettinad paste to the recipe. The curry possesses a thick gravy consistency, making it an ideal option to pair with rice. Chicken Chettinad also belongs to Chettinad cuisine, renowned for many oily and fried dishes.
The Chettinad paste is a combination of coriander seeds with cinnamon, star anise, and cloves. In addition, people even dry roast the spices to bring out more flavors. Furthermore, locals often feature shredded coconut to roast until golden brown for an extra coconut flavor blast.
Paratha or cooked rice is the familiar accompaniment for this curry. Chicken Chettinad is a must-try when you're visiting the Tamil Nadu state.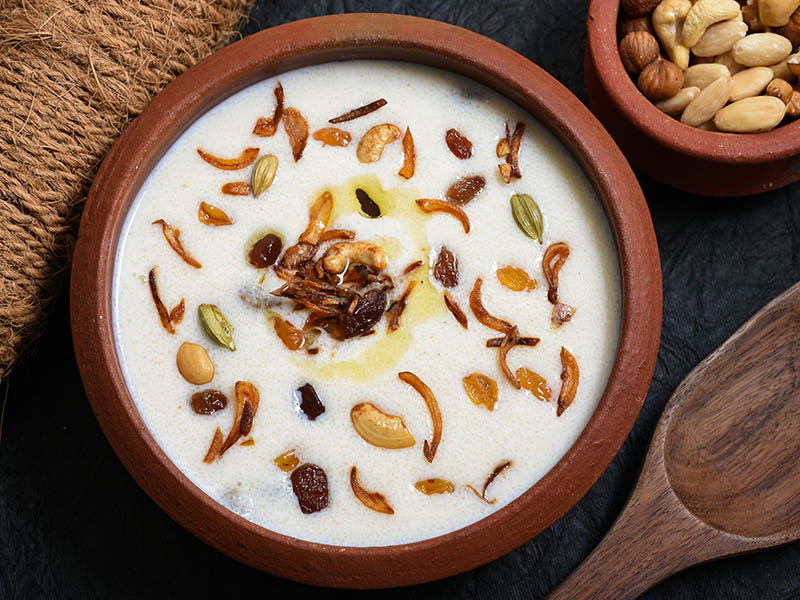 It's time to take a light break with a sweet treat; Paal Payasam is an unskippable dessert from Indian cuisine. The recipe takes rice as the center of attention to bring out a treat with three simple elements.
The Indians believe that Payasam has been around for thousands of years. There's even a legend called "The Legend Of Chessboard" from Kerala that depicts the origin of this famous South Indian delicacy.
The North also has its version of Payasam. However, people often refer to the dessert as Kheer, deriving from "ksheer," a Sanskrit word for milk. Instead of using jaggery and coconut milk like the South, Northern Indians prefer sticking with sugar and milk for the Payasam.
The recipe works with various rice grains. Simply wash the rice and let it dry gradually. The Payasam mixture usually has a creamy texture. People tend to throw in some raisins or nuts to make Paal Payasam more flavorful.
Discover the exciting history and method of creating Paal Payasam.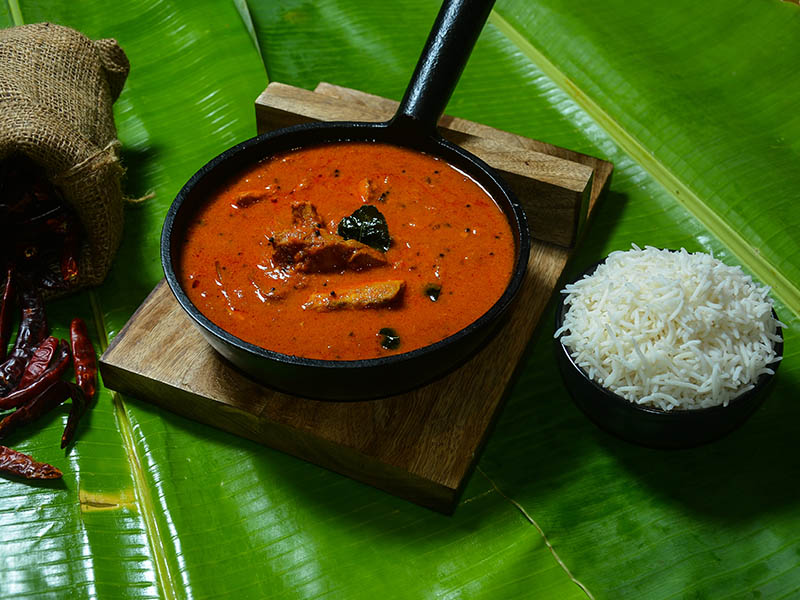 Fish curry is not a new concept for many people; however, the South cuisine of India takes it to another notch with this Meen Kuzhambu. The recipe takes drumstick trees as the main focus to accompany juicy fish meat.
While many countries are beginning to recognize drumsticks as healthy food, the plant has long been a part of Indian Southern cuisine. One popular method to make Kuzhambu by the locals is to include a Masala mix to set the curry's tone.
Interestingly, the drumstick plant packs various nutrients like vitamins A, B, and C. In addition, the plant also provides your body with the necessary calcium and magnesium.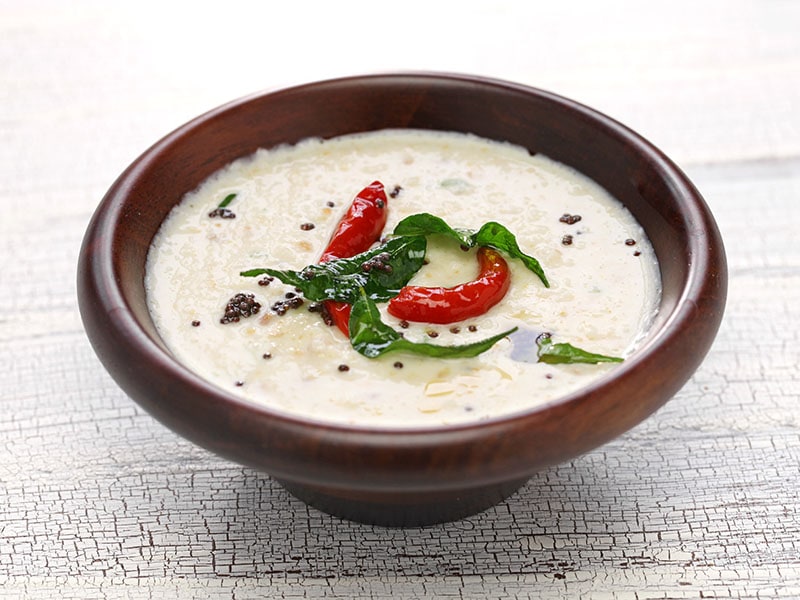 Coconut dip is a strange idea to many people; however, it's one of the most renowned dips to accompany Southern Indian dishes. The dip is super creamy and explodes with coconut and curry flavors.
However, just the coconut meat alone is not enough to create the signature coconut chutney flavor. Locals even incorporate lentils for an extra earthy and nutty taste. The chutney typically illustrates a smooth consistency as the final result.
Furthermore, locals even bring out more fragrance to coconut chutney by introducing a hot oil mixture. The sizzling sound is exciting to listen to while the dip emits an irresistible scent. Indians most often serve coconut chutney as a side dish.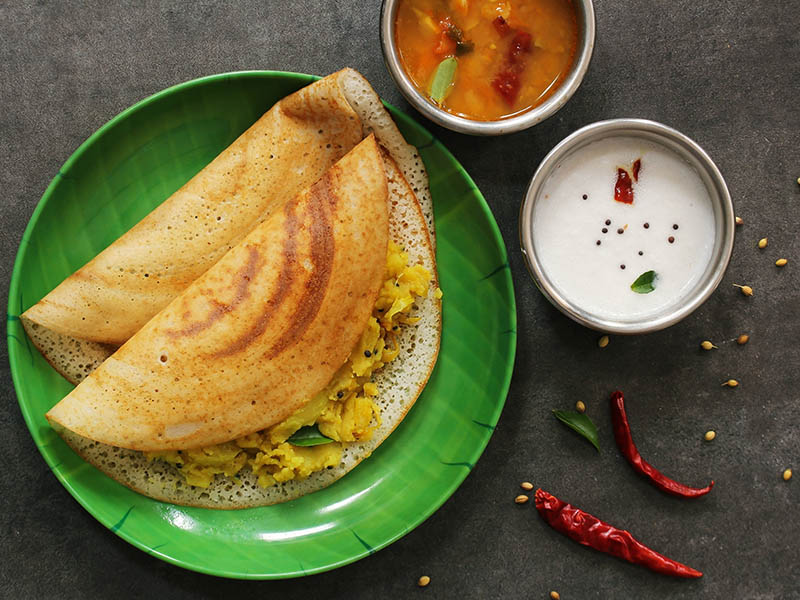 Masala Dosa is a popular way of starting the morning in India. The dish is a simple concept when people combine crispy crepe with flavorful potato fillings. Masala seasoning is the key component in making up the traditional flavor.
The dosa batter is a special concoction that requires fermentation of the rice and urad dal (black lentils). Ideally, the batter should have a consistency similar to the pancake mixture.
Locals roast mustard seeds first for the filling with chana dal (Indian dried, split pulses) until the ingredients become golden brown. Next, people add curry leaves, turmeric powder, and chilies to the pan for extra roasting before combining the spice blend with potato chunks.
The traditional method of making masala dosa requires people to shape the dough into a thin circular shape. The edge of Masala Dosa tends to become crispy first. Therefore, people usually check the treat's edge carefully before lifting it to avoid breaking the Masala Dosa.
Uncover the secret of making Masala Dosa from Indian street food vendors.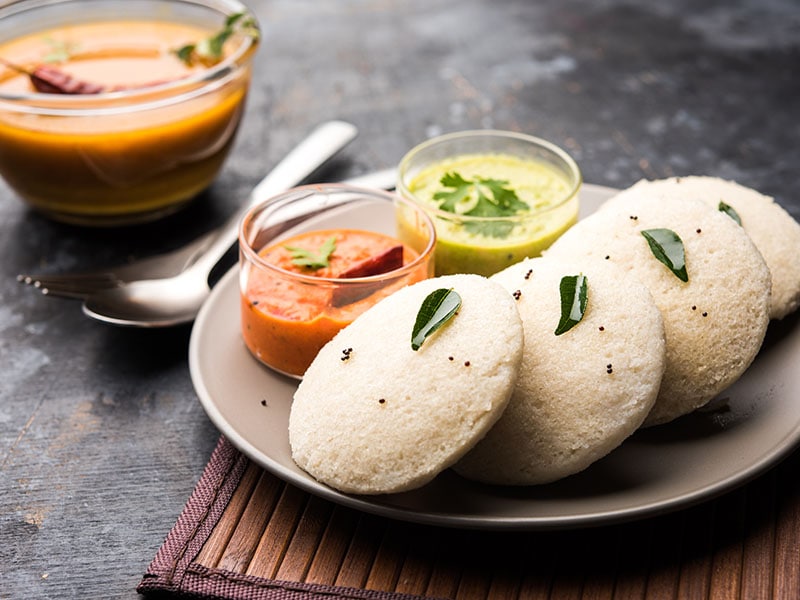 Although Idli is a specialty of South and East Indian cuisine, many people speculate the dish originated from Indonesia. The treat is essentially a savory or sweet rice cake that Indians often feature in their breakfast meals.
Idli also has its variation; one popular option is the wheat version of the cake, which people call Rava Idli. Many believe the rice cake originates from the Southern parts of India during the 10th and 12th centuries, thanks to the Saurashtrian textile merchants.
Typically, Idlis alone have a bland flavor, but this sweet version has a sweet and fragrant taste. This steamed rice cake often has a smooth dough consistency using Idli flour (rice flour). The filling of Idlis consists of roasted yellow moong dal (split yellow gram) for an extra fragrance.
Instead of regular sugar, Indian locals add the jaggery (Indian cane sugar) to adjust the filling sweetness with cardamom powder and grated coconut to enhance the overall taste.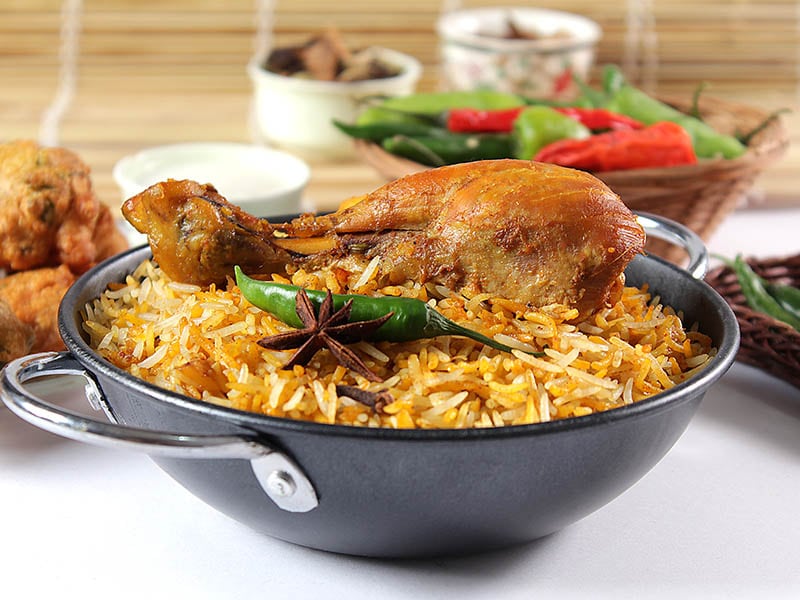 Biryani is one of the most iconic dishes of North Indian cuisine. Interestingly, Biryani originates from Persia, where people primarily practice Muslim. If you're looking for a new way to handle your rice, Biryani is worth the shot.
The signature feature of Biryani lies in the beautiful golden color rice grain you can achieve from the marinating mixture of shahi jeera (caraway seeds/ cumin also work), turmeric, and masala (Indian condiment). The best rice to use is the basmati variety for a traditional approach.
Indian locals usually layer the bottom of the pot with marinated chicken slices and follow it with soaked basmati rice. Cover the pot and cook until the rice is longer grainy. Once cooked, you need to mix the chicken Biryani so the marinated sauce may coat the rice evenly.
Chicken Biryani is super simple to recreate at home.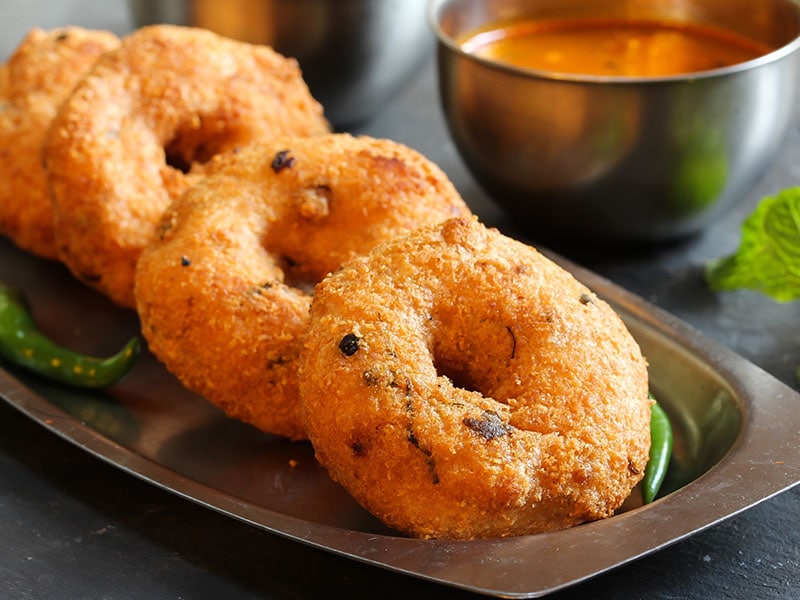 Sometimes you look at doughnuts and wonder if this snack can be healthy? Allow me to introduce you to Medu Vada, a healthy lentil doughnut from the South of India. When paired with Idli, the locals usually have Medu Vada as a snack or breakfast.
The centerpiece of Medu Vada lies in the black lentils, but people also feature the white variety as a substitution. The lentil is usually in a fine powder state before incorporating other batter ingredients. Commonly, Medu Vada bursts with curry flavor from the infusion of curry leaves.
The doughnut has a beautiful golden brown color after deep-frying with fragrant essence from the lentil dough. For an authentic experience of Medu Vada, locals pair the doughnut with coconut chutney, yogurt, or sambar (lentil-based vegetable stew).
East Indian Cuisine For You To Discover
East India is famous for Bengali and Assamese styles of cuisine. The area usually features mustard seeds, poppy seeds, and mustard oil to bring an aromatic fragrance to many dishes. You can easily find these specialties in East India.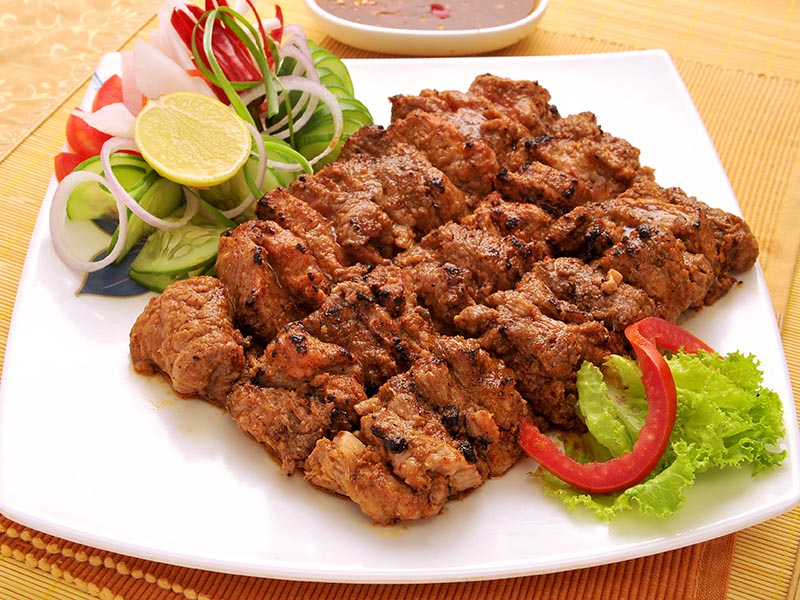 Bihari Kabab is a specialty of Pakistani cuisine; however, the dish is also a fan favorite of Indian people. The recipe first originated in the Bihar district of India. Bihari Kabab possesses tenderized beef strips with an addicting flavor from the marinating sauce.
Aside from the beef, the sauce of Bihari Kabab is the major star with its signature fragrance from roasted condiments. Thanks to the addition of garam masala, the meat has a hint of peppercorn, cloves, and cinnamon flavor.
If you want to experience a decadent Pakistani kabab, try pairing this recipe with some Pakistani beverages for the best result.
Typically, locals tend to skewer the marinated meat for grilling. Furthermore, each region of India adopts this recipe by using a different type of meat.
Bihari Kabab is an easy grilled dish of Indian cuisine.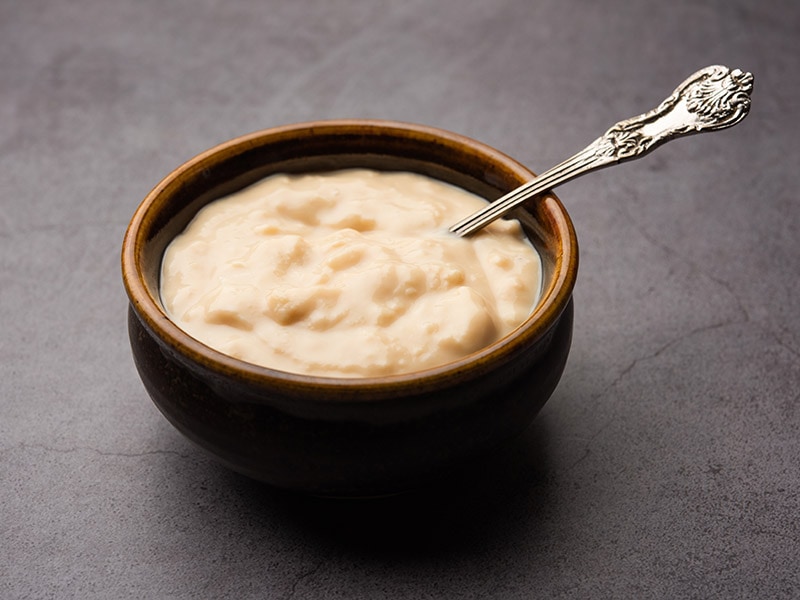 India is a country famous for its wide range of dairy products. Therefore, it's uncommon to encounter Mishti Doi, a popular fermented yogurt treat from the east of India. Despite being a popular pick in India, it is a dish originating in Bangladesh.
Mishti Doi utilizes curd as its base to set a creamy tone to the dessert. Although the dessert is easy regarding ingredients, locals usually have to put a lot of effort into whisking and adjusting the temperature to achieve the desired consistency.
The dessert uses fermentation to attain a distinctly sour taste of dairy products. Furthermore, locals enjoy Mishti Doi with a layer of caramelized sugar for that extra touch of sweetness. Ideally, Mishty Doi should have a similar taste to custard.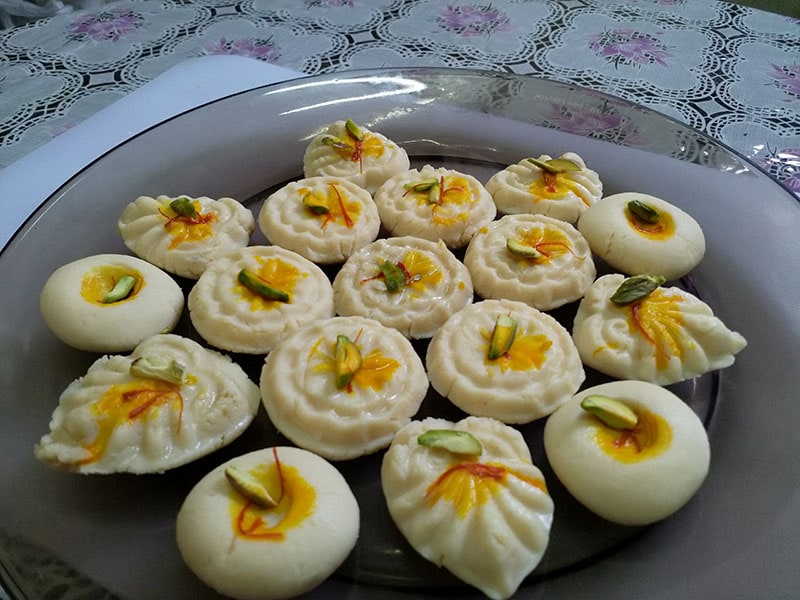 The Bengal region of eastern India is the home of Sandesh, a type of sweet treat that looks like cookies. The dessert usually centers around the flavor of milk. Furthermore, Indian locals often feature Sandesh during the Durga Puja festival.
Any good Sandesh starts with preparing the Chenna, a method of processing milk using heat and lemon juice to extract the curds. In addition, people often rinse the curd to remove any sour flavor.
Commonly, locals infuse Chenna with sugar and jaggery to sweeten the flavor. The Sandesh usually has a brown color with a soft texture. The treat often has almond nuts or raisins to enhance the overall taste.
Traditionally, locals tend to add almond or raisin to each Sandesh. Ideally, this sweet treat should have a soft and moist texture.
Although Sandesh is simple to make, these treats are surprisingly tasty for a homemade recipe.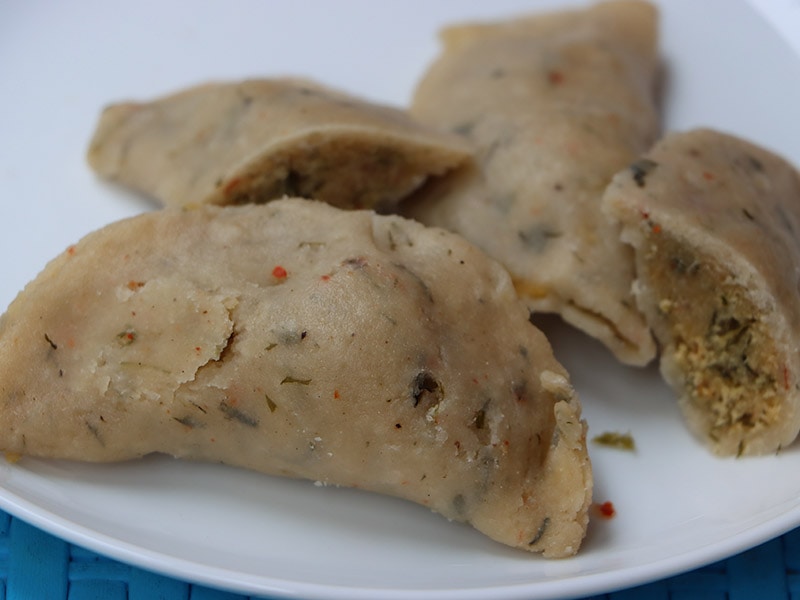 At first glance, you may think Bihari Dal Pitha is a dumpling, but it's much more different because of its fantastic lentil filling. The recipe has a wide range of varieties with minor tweaks to adjust the flavor. However, the most recognizable feature of any Pitha lies in the rice flour.
The dish provides you with a high amount of protein thanks to a filling of Chan Dal (Bengal chickpeas) with numerous seasonings. As for the outer shell, people combine rice flour with salt, oil, and water. Most often, the dough should have a soft consistency.
The dumpling instantly impresses anyone with its spongy texture and bursting curry flavor. Locals tend to steam the Bihari Dal Pitha for a quick-cooking process.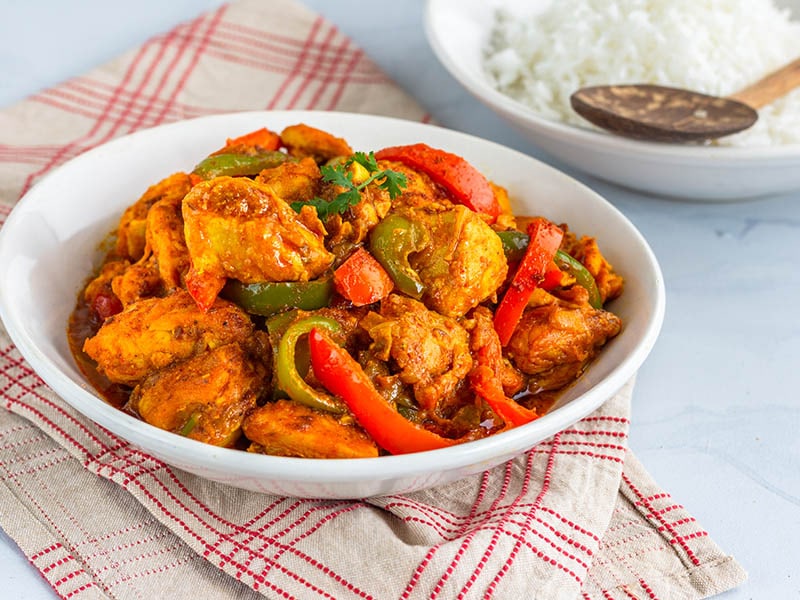 In terms of meaning, Jalfrezi refers to a cooking method where Indians use high heat to prepare curry with marinated meat, paneer, or vegetables. This stir-fried curry originates in India's Bengal state.
Typically, Indians take advantage of leftovers to prepare Jalfrezi. Commonly, Jalfrezi usually has green peppers, onion, and tomatoes in the mix. Interestingly, the stir-frying techniques of Jalfrezi originate from Chinese cuisine.
Chicken is usually the most common choice to make with Jalfrezi. The curry possesses a hot flavorsome taste with amazing use of fresh chilies. Traditionally, people serve Jalfrezi with rice, Naan, or pickle.
Jalfrezi is not just any Indian dish, but it's also a healthy recipe.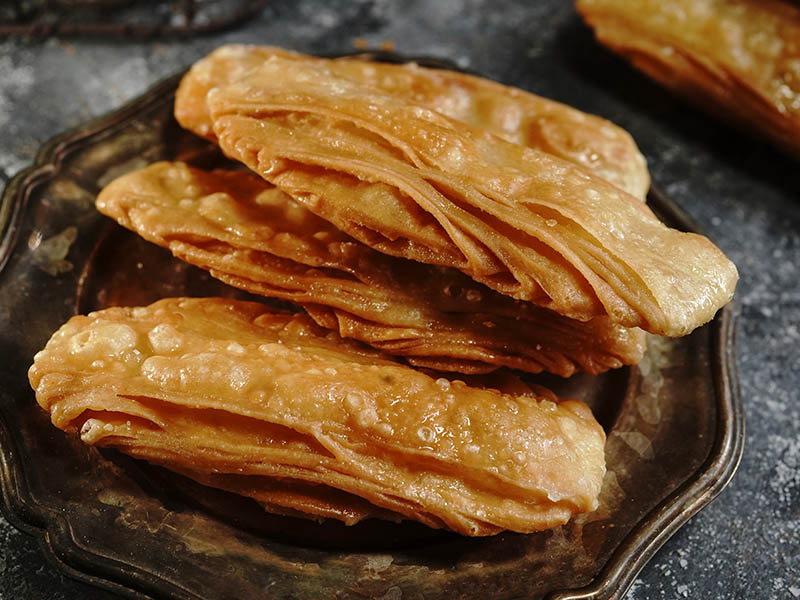 Here's another iconic eastern Indian dessert with a crunchy texture for you to try, the Khaja. The pastry has a mesmerizing golden brown color with a ghee-based batter. Locals usually stuff the Khaja with fruit or soak the pastry with sugar syrup.
The Khaja has an oval shape with a beautiful golden brown color after deep-frying. In addition, people even infuse fruit into the paste for the filling layer. However, Indian locals even use other ingredients as filling for Khaja.
The treat often appears as an offering in Jagannath temple in Puri. Khaja also has a deep connection with the culture of the Odia people.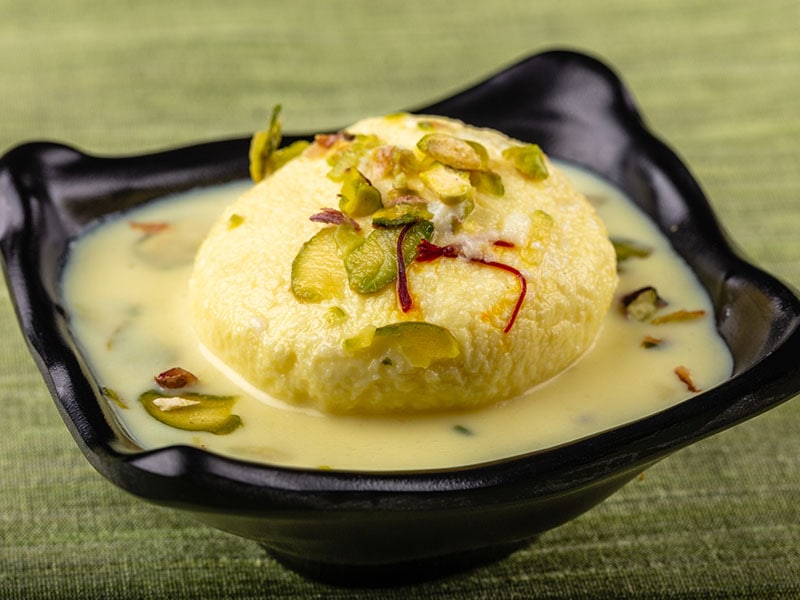 Rasmalai is a special eastern Indian treat heavy on the dairy taste. In Bengali, people refer to Rasmalai as Rossomalai or Roshmolai. The recipe essentially dunks the paneer cheese ball in a creamy milk mixture.
A standard Rasmalai consists of three parts: the Ras (sweetened milk), Paneer, and sugar syrup. The Ras is a concoction of creamy and fatty milk with a touch of saffron flavor. Because of the saffron, the Ras has a light yellow color.
To create the Paneer ball, Indian locals use vinegar or lemon juice to form the curd. Traditionally, people utilize a muslin cloth to squeeze out all the liquid from the curd. Commonly, the curd has a crumbly texture at this stage.
Once served, Rasmalai has a spongy soft cheese ball to accompany sweet caramelized sugar. Interestingly, Bangladesh also adopts this cheese ball delicacy as a sweet dessert.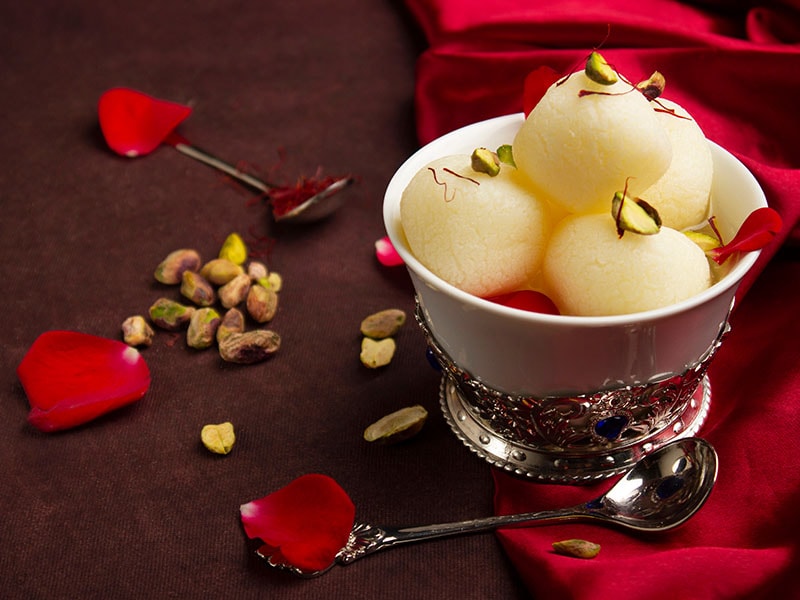 I know the Rasgulla looks exactly like Rasmalai because of the Paneer balls. But the critical difference between these two treats lies in the type of liquid. While Rasmalai has a milk-based stock, Rasgulla is simpler when utilizing a sugar and water syrup mixture.
In the Odisha, West Bengal, and Bangladesh states of India, each region claims to have a distinct variety of Rasgulla. People say the individual state has differences in the type of liquid, texture, and flavor of the cheese ball.
The Paneer balls often go through the same process of curd-forming, similar to how people create Rasmalai. Instead of using milk, Indian locals serve Rasgulla in a sugar syrup mixture. The Paneer possesses a creamy texture and is accompanied by a delightfully sweet flavor.
Although Rasgulla may lack the milky flavor of Rasmalai, Indians prefer making Rasgulla because of its simplicity. Better yet, Rasgulla is ideal for consumption at any time of the day, either hot or cold.
Rasgulla is a simple sweet to whip up in the kitchen.
West Indian Recipes To Whip Up At Home
West India mainly receives influences from the state of Maharashtra, Gujarat, and Rajasthan. The region has various desserts that have become Indian national delicacies. Here are a few representatives of West Indian cuisine.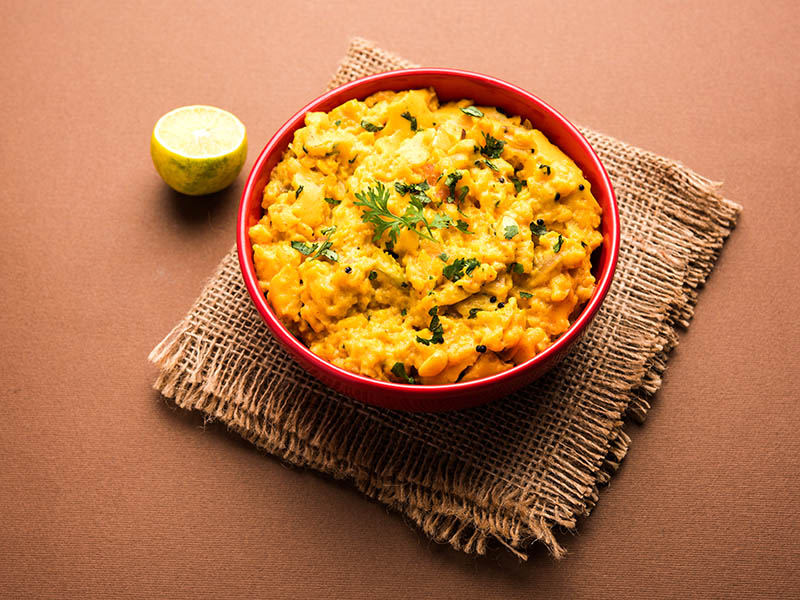 Zunka Bhakri is a traditional Indian specialty usually served as a side dish to accompany Bajra Chapatis, an Indian flatbread. Zunka Bhakri consists of a chickpea flour base with fried onions.
Traditionally, locals often sauteed the condiments first before throwing in the onions. Mix the chickpea flour with water until there's no lump to combine with the onion mixture. Simmer the concoction until it reaches a desirable consistency.
To make the Bhakri, people use Finger Millet flour as the base for the dish. The dish has some char marks from the baking process. Serve the Bhakri with the Zunka (onion mix) for a nutritious meal.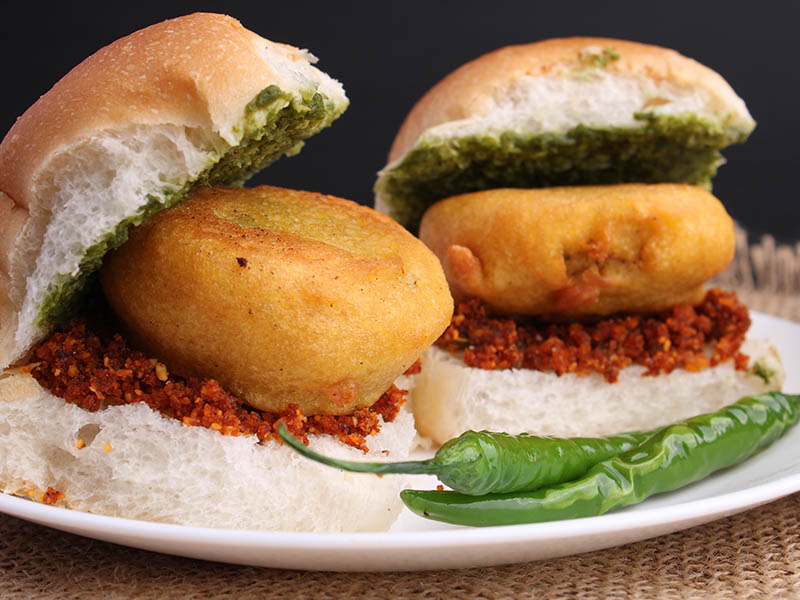 If you think a sandwich is a rarity in India, allow this Vada Pav to enlighten you with its meatless filling. The recipe materialized in 1966 when people filled Pav (Indian soft bread) with a flavorful potato stuffing.
The Batata Vadas is the main focus of any Vada Pav recipe. The crunchy ball is seasoned mashed potato coated with Besan (Chicken flour) batter. As for the bread, the most common method is to spread it with a chutney mix of garlic, grated coconut, and sesame seeds.
In addition, you want to include tamarind and green chutney to bring out more flavors to the Pav. Sandwich the potato ball between the Pav and enjoy the explosion of flavorful ingredients.
Learn more about Vada Pav while following this simple instruction.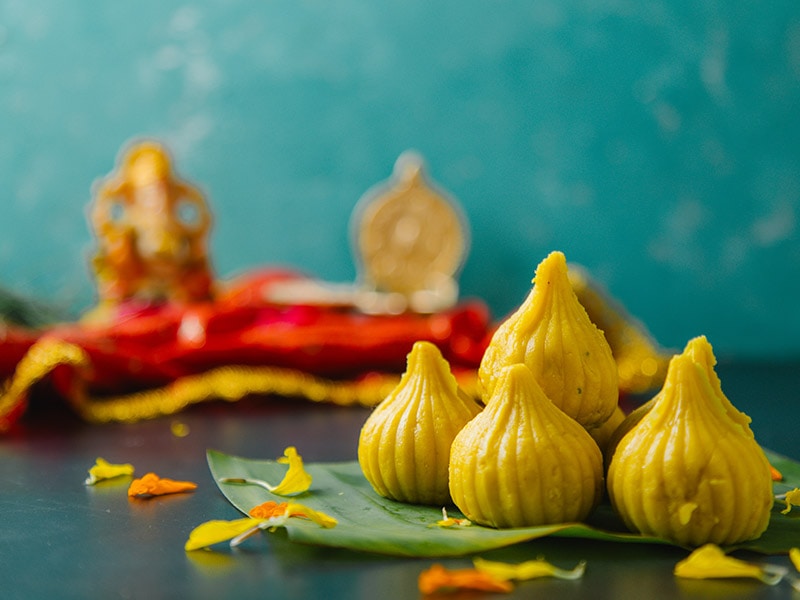 On the first day of the Ganesh Chaturthi festival (August 31st /celebrating the arrival of the Ganesh god), it's a custom for many Hindi households to whip up Modak. It is a sweet dumpling treat that people usually make to serve their god.
Traditionally, Modak has a rice flour base with a sweet coconut filling. The Western locals often infuse the coconut meat with jaggery as a sweetener for a flavor similar to sugarcane juice or maple syrup.
Typically, locals use a special mold to create a unique decoration pattern on the Modak. Interestingly, Modak is also a favorite treat in Japanese and Thai cuisines.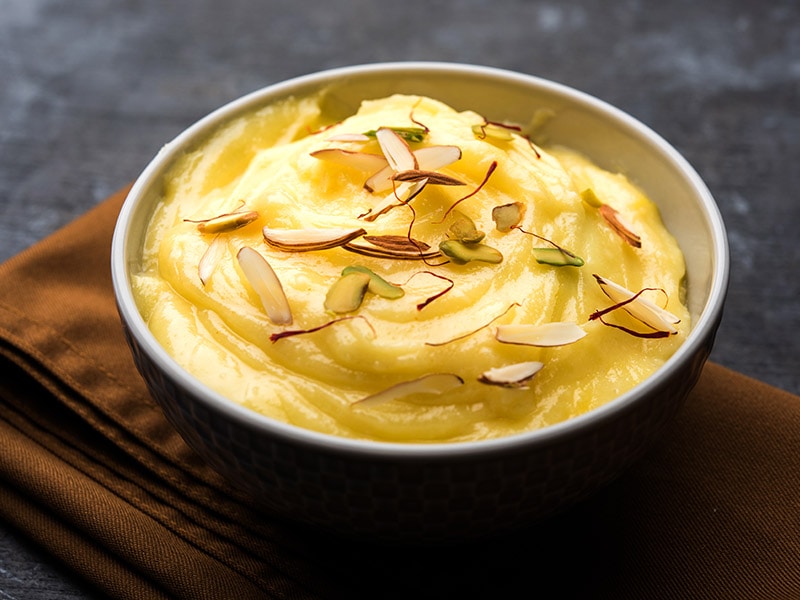 Shrikhand is a unique creation of West Indian cuisine; it often appears in the Maharashtra and Gujarat states. Many believe traveling herders invented Shrikhand by extracting the whey from milk. People often mix in sugar and nuts to improve the sour taste of the milk.
This yogurt specialty mainly relies on thick curds to create a creamy and milky flavor. Once people get their hands on curds, Indians usually hang them using a muslin cloth to extract the whey and excess moisture.
While at it, people stir the saffron into the milk concoction until it completely dissolves. Proceed to work the curd to incorporate it with saffron milk, cardamom, and sugar. Furthermore, you can garnish Shrikhand with almonds and pistachio for extra nuttiness.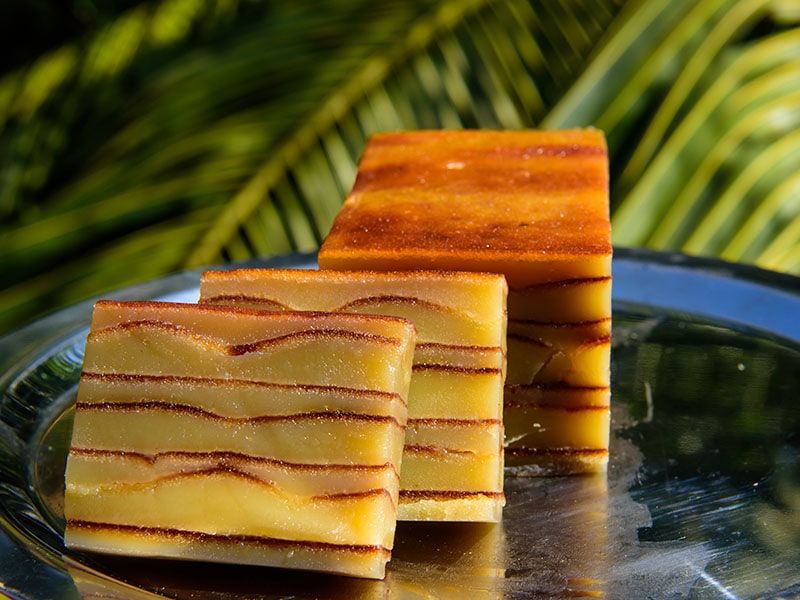 At first glance, the Bebinca may look like a bland treat, but the cake packs a heavy punch of coconut flavors. In Goa, a state on India's West Coast, Bebinca is a regional delicacy for many people, including tourists.
Goan Bebinca often possesses alternative layers of brown and light brown cake. On average, the cake has 7 – 16 layers representing the seven hills of Lisbon and old Goa. Many suggest that Goan Bebinca was first invented by a nun who goes by the name of Bebiana.
Interestingly, the cake received a lot of influences from European cuisine, especially Portuguese cuisine. Goan Bebinca is a fun and appealing cake experience for any tourist.
Bebinca is a straightforward recipe when you understand the necessary steps.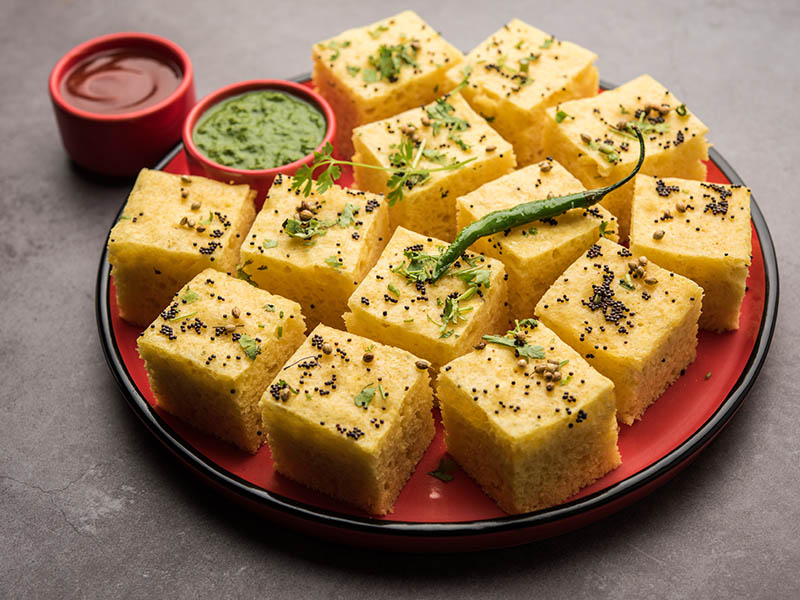 Originating from the Gujarat state, Khaman Dhokla is a staple in many Hindi households' breakfast menus. The batter of Khaman Dhokla is relatively unique as it utilizes the fermentation of chickpea flour as the primary focus.
Better yet, Khaman Dhokla is an ideal vegetarian recipe. Since people tend to steam the treat, it has a lovely fluffiness and softness. An alternative way is to fry the pieces of Khaman Dhokla for a unique texture. Khaman Dhokla is best served alongside chutney for an extra creamy taste.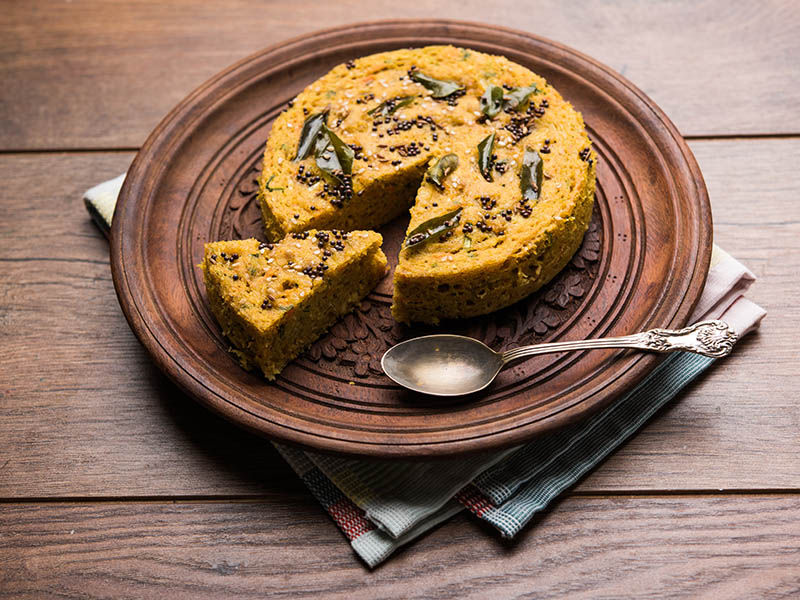 The final candidate for West Indian cuisine is Handvo, a savory cake from the Gujarat state in India. The cake is a treat that utilizes lentils and rice as the center of attention. The locals incorporate a wide variety of cabbage, carrots, and bottle gourd to diversify the texture.
A traditional Handvo-making process requires you to soak the rice and lentils before grounding them into a dough for fermentation. Then, people mix the batter with the ingredients and transfer the mixture into a pan for baking.
Handvo usually comes with a tempering concoction of curry leaves with mustard, cumin, and sesame seeds. Drizzle the aromatic blend of oil and spices over the surface of Handvo to serve it.
Indian Foods Are Endless For You To Discover
With a huge population and diverse cuisine in each region, it's easy to see why you can never run out of options for Indian foods. All you have to do is figure out your favorite dishes and pick one recipe to whip up in your kitchen. I'm sure your creation will come out perfectly.
Are there any more Indian dishes you want to recommend to everyone? Let people know more about your experience with Indian delicacies in the comment. A share will help this post reach people who need an Indian spark for their next meal.