Indian desserts have a distinct characteristic, and my suggestions today can verify my words. Not only tempting thanks to the appealing sweetness, but these favorable delights can also capture your eyesight by their enchanting appearance.
Although the sweet delights in India are pretty rustic, you can still see a delicate beauty when experiencing them. From the mild sweetness to the gorgeous richness, you can expect nothing less than the best. It is time to scroll down for more information.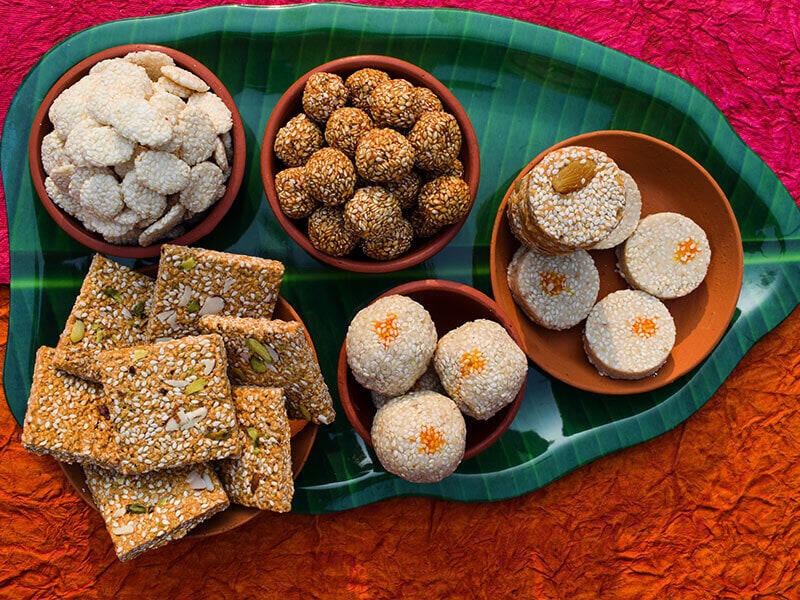 These 26 Authentic Desserts Of Indians Can Blow Your Mind
Referring to the well-received Indian cuisine, most people will only think of curries and other spicy stews, but Indians also have many other sweet and attractive desserts. Do you wonder what you can get from this article? Check here now!
Estimated cooking time: About no more than 2 hours.
Rasmalai is a sweet, fruity ice cream made by cooking a traditional Indian curd mixture (called Chenna/Chena), consisting of full cream/whole milk with many garnishing ingredients, such as saffron, nuts, and dried fruits.
As I have introduced, the dish is a long-favored treat with cottage cheese in India, and now you can cook it at home. Since it only requires basic components, you can quickly master it by looking at my preferable recipes.
Following Mumbai's authentic sweet treat can surely capture your taste buds and offer a relaxing experience.
Let's learn how to make Rasmalai now!
Estimated cooking time: 15 minutes.
Bengali people will definitely recommend some Sandesh if you ask them for a sweet treat recommendation since people there love milky/creamy treats.
A portion of Sandesh needs Ghee, cardamom, and some other condiments, so if you want to prepare it more frequently, you might want to have them ready inside your fridge every time.
One notable suggestion is to consume the freshly-made Sandesh as the sweet treat can quickly turn dry after a while.
Estimated cooking time: 15 to 30 minutes to cook + 6 hours or 3 days in the fridge to cool.
Rasgulla is another Indian delight having its origin in Bengali, and its English name tells you a bit about its ingredients and how to process the food. Since Rasgulla and Rasmalai have the same root, they have the same main ingredient, pure Chenna.
The Chenna in Rasgulla shouldn't be too watery, so you should follow the instructions and knead it carefully. The spongy and soft milk/cheese balls then go to the sugar syrup pot with some condiments (or not) that can help to enhance your food's palatableness.
There are several tips and techniques for preparing the perfect instant pot-compatible dessert. You can even personalize it by adding your own twists in flavors or colors. Just let your imagination soar!
Is making Rasgulla that easy? Follow this instruction to know more!
Estimated cooking time: About 1 hour and 5 (or 50) minutes.
Because Phirni includes both dairy and carbohydrates, it can turn sour after a time, so you should enjoy it quickly. Knowing how tasty it is, that shouldn't be a big problem. Although Phirni is pretty similar to the upcoming Kheer, they are just "cousins".
To create Phirni, you should prepare some basmati rice (for an intoxicating aroma), whole fat milk (for extra rich taste), and some kinds of crunchy nuts. Almonds and pistachios are the most prevalent nominees for that.
Estimated cooking time: 30 to 50 minutes.
Kheer is a milky rice pudding made from rice and sugar with additional saffron, cardamom, and dried fruit. This dish also has other variations with different names depending on the region in India, such as Payasam or Phirni.
Even though Kheer is called Indian rice pudding, it is not the same thing as an American sweet delight. The Indian one will generally call for basmati rice (or regular ones) and more herbs/spices, so your food tastes more robust and balanced.
Estimated cooking time: 45 minutes to prepare and a few hours to freeze.
This is a traditional summertime delicacy, and creating your own is a wonderful way to connect with friends/family. Kulfi was formerly a "luxury" dish that the nobles could only consume until refrigerators became more common. Now, you can easily make it at home.
Your standard Kulfi should taste lightly sweet, a bit fat with a flavor of condiments/spices and nuts. You should cook the ice cream mixture for a long period on low heat when making it. This step is essential because it'll help your treat's liquid base be extra smooth.
Since the consistency of Kulfi is generally dense, the freezing time might take a bit longer, yet the wait will surely pay off.
Preparing some Kulfi at home has never been this easy!
Estimated cooking time: Around 1 hour.
Imported to Indian land as a sweet Persia treat, Gulab Jamun quickly became an essential part of Indian culture over the years.
These sweet dessert milk balls are made with traditional Indian dairy products, and you need to make a mixture of sugar, cardamom powder, semolina, and some other things. The balls are easy to burn, so you should cook them gradually on medium heat.
These balls will then be fried in a hot pan until golden crisp, and you should prepare some sugar syrup. Adding a little Semolina and rose water into the sugar syrup (to flavor it) and serving the portion of Gulab Jamun together with a scoop of vanilla on top is also a great idea.
Estimated cooking time: About 45 minutes to 1,5 hours.
Have you ever tried carrot pudding? In North India, Gajar Halwa is a popular dessert with carrots for religious occasions like Diwali or other festivals. However, finding Gajar Halwa's components is not hard, so people now make it more in their daily life.
Even if you have no experience making Indian food before, you can still perfectly prepare this whole treat for your family. Carrot, milk, Ghee, and nuts are all you need for Gajar Halwa. The no-flour dessert seems a bit simple, but sometimes the actual allurement lies in the simplicity.
On the side of Gajar Halwa, you can serve some Masala Chai/Chai tea as their flavor combination is palatable.
Estimated cooking time: About 15 minutes to 50 minutes.
It is not wrong if you think Seviyan Kheer is the same as the previous "Kheer" (or Rice Pudding), as they all have the base of Kheer. The most significant discrepancy is the vermicelli (seviyan) inside it.
It might look like a hearty dinner recipe for Indians, but it is indeed an exciting dessert. A unique feature about Seviyan Kheer is its central sweetness actually comes from dates (khajur), not sugar.
Thanks to that, together with the existence of rose petals and mixed nuts, this pudding delicacy is healthy and tastes luscious.
If you don't know where to start, this Seviyan Kheer instruction will show you how.
Estimated cooking time: About 35 minutes.
In the Hindi language, "aamras/amras" means mango, and "ras" means juice. The name has already told you about this food's main ingredient: pureed ripe mango. This specialty with an attractive golden color is the local favorite since mango is one of the most loved Indian fruits.
The main idea to assemble a portion of this food is simple, and you just need to combine crispy Poori with sweet/spiced Mango Puré. The luscious taste of the spiced mango paste mixed with the crisp and straightforward exterior helps your bite full of flavor.
You can have this treat for other meals of the day; for example, an Indian-style breakfast treat is a creative way to go. Ready to make your own Aamras Puri? Try these recipes.
Estimated cooking time: Under 30 minutes.
If you're a fan of the multiple kinds of Indian-style puddings, here's another one worth checking out. Sooji Halwa, or Indian Semolina pudding, calls for Rava (Semolina) as its main starch rather than rice.
This enticing pudding dessert might make you constantly remember its deliciousness after first trying it. Ghee/nuts offer a particular richness for Sooji Halwa, while the supporting condiments (like the piney/nutty cardamom) elevate the dish's palatableness.
You can adjust the consistency of your sooji Halwa based on your preferences. Lumpier or smoother, it relies on you.
Estimated cooking time: Around 25 minutes.
Modak is a long-standing Indian dumpling made from flour (rice or semolina), Ghee, and jaggery/sugar. It might sound simple, but this signature combination has appealed to this dish. Typically, you should use the mold to make the in-shape Modak.
However, my suggested recipes show you both ways (with mold/no mold). When you take the first try of this sweet treat, the Modak piece can quickly melt on your tip tongue and express an alluring sweetness. That is why Modak has been a staple in India for so long.
Estimated cooking time: Around 30 to 40 minutes.
Looking at this luscious Indian drink's color, you might think of Chai tea (or Indian milk tea), but Thandai is more than that. Thandai has its English translation as "flavored spiced drink" since whole milk and nuts are used inside it.
The other name of Thandai is Sardai, and local Indian people will remember it more as almond-flavored milk because it is the most frequently utilized nut in this drink.
However, you can have more options than just almonds. You can try making your own twists with this drink by adding some other kinds of nuts (for example, cashews).
You'll never regret following this Thandai tutorial for your first time trying.
Estimated cooking time: Approximately 10 to 15 minutes.
Laddu or Ladoo is basically a term meaning "sweet balls" in India, and I would love to introduce you to a scrumptious coconut dessert recipe first.
My preferred recipes require only 2 main ingredients, coconut desiccated and condensed milk, making it the most convenient dessert you have ever made. You can even make a big batch and store it to use in the next 3 or 4 days.
The other additional components (rose essence/groundnuts/ dried fruits) are not as essential, and you are free to choose anything based on your preferences. Are you curious about its authentic taste? It is time to make some Nariyal Ladoo balls and devour them!
Estimated cooking time: 30 to 40 minutes to cook and a few hours to prepare.
If you have decided to experience some easy Indian recipes for sweets, Boondi Ladoo is a must-try. The word "Boondi" in the food's name refers to "fried chickpea flour", which is also the main ingredient for this delicacy.
In India, local people have Boondi Ladoo for special occasions like Diwali, but you can freely make it in your kitchen every day. The tastes of this delicious food are a bit nutty, rich, and sweet. Even the lumpy consistency of the balls helps amplify the delight's deliciousness.
My tip for you to prevent your sugar syrup from crystallizing after time is to put in some lemon juice while processing it. The citrusy juice can also help reduce the overly sugary feeling of your sweet liquid base.
Estimated cooking time: Under 30 minutes.
Urad Dal Laddu is a rich protein treat that has numerous nutrients, and various kinds of vitamins. It makes for a "less guilty" no-bake dessert for you if you are on a diet.
Because this lovely crunchy and delicious snack consists of only roasted lentils, Ghee, and some sugar/jaggery to taste, Urad Dal Laddu is absolutely an Indian healthy and vegetarian-friendly recipe.
Besides, this recipe is also beginner-compatible, so you don't need any particular skill to accomplish it.
Estimated cooking time: About 35 minutes.
Loaded with Ghee/sugar, this Mysore Pak is incredibly rich/buttery and sweet in flavor, which can easily tempt one with a sweet tooth. This dish will have a soothing and lovely melting effect on your tongue.
Aside from the Ghee, sugar, and gram flour, this Southern Indian-originated delight requires only some oil. Since there are just a few components, this Gram Flour Sweet takes little time to process.
Notably, you should cook Mysore Pak on medium heat/flame to ensure that your delicacy does not burn uncontrollably.
The best Mysore Pak-making tutorial you can find is right here!
Estimated cooking time: About 15 to 25 minutes.
Doodh Peda is always a crowd-pleaser, and you can see it is not much different from the definition of milk candy/sweet. The main ingredients for a batch of Doodh Peda are only cardamom powder, milk powder, some Ghee, and some nut products.
No matter what, the taste of Doodh Peda is not monotonous at all you can feel that after having the first bite into this delicacy. Not only does adding the rich and milky flavor, but the condensed milk also offers an enticing depth.
Don't forget the huge contribution of cardamom; the lovely fruity and piney flavors add a unique point to your treat.
Estimated cooking time: About 15 to 17 minutes.
Peanuts are synonymous with the rich, crunchy, and lovely nutty taste, and they are so versatile that countless sweet treats call for this ingredient. Indian cuisine also offers a peanut-made sweet, Mùngali Ki Chikki (or just Chikki). Trust me; you'll be a fan.
Actually, peanut brittle is an American-originated recipe, but the Indian variation tastes somewhat more addictive. The main ingredients for Indian Chikki are only peanuts, jaggery, and some other condiments, yet you can taste a reasonable depth in it.
Estimated cooking time: 5 minutes to cook and about 8 hours to ferment.
This West Bengal specialty comprises only 3 ingredients: milk(whole or evaporated), jaggery, and plain yogurt. When preparing this recipe, boil the milk and add sugar to taste before allowing the entire concoction to ferment overnight (with plain yogurt).
Indians typically eat Mishti Doi in a clay bowl, but you can eat it any way you like at home. Feel free to decorate/garnish this adaptable yogurt dessert with whichever toppings you desire.
Waiting for the yogurt mixture to ferment is the most prolonged phase, but you can certainly make a large batch and enjoy it many more times.
Not 1 but 2 ways to make your Mishti Doi at home, don't miss out!
Estimated cooking time: 5 to under 15 minutes.
Just as its name mentioned, unlike the above Mishti Doi, my recommended Shrikhand recipes utilize a Greek sweet treat, yogurt. Compared to the other variations of Indian yogurt treats, making Shrikhand is much quicker since you won't have to make it from scratch.
The plain Greek yogurt typically has denser consistency than the regular ones, so your sweet treat looks paste-like. In case you have only plain yogurt on hand, you can try taking the whey out of it by hanging your milk-based treat up in a muslin cloth overnight (or 4 to 5 hours).
The additional warm milk with spices and saffron helps your Shrikhand bowl deliver a lovely yellowish color and more nutrition. At last, you should add some mixed nuts as crunchy toppings. So simple yet so alluring, it's an ideal instant dessert!
Estimated cooking time: About 1 hour to cook and 8 hours for preparation.
Holi (Festival of Spring), Bail Pola (farmers' carnival), or Diwali (Festival of Light) is the most recommended occasions to find Puran Poli in India. In case you miss the authentic flavor of that treat a lot (or just want to try it once), you should refer to my suggested recipes!
This treat combines basically 2 parts, the Poli (whole wheat/maida flatbread) and Puranam (the stuffings with dals, jaggery, Ghee, and spices).
To amp up the flavor, you can add your own twists (for example, nutmeg powder or grated coconuts) to this Puran Poli. Believe me; it's flavor magic.
Estimated cooking time: About 25 to 30 minutes.
Although there are many controversies around the true origin of Jalebi, I have to admit that this appealing Indian delicacy has its own distinction. People in India also serve Jalebi as street food.
Local people especially prepare these delights on important occasions, showing how much love they give it. Generally, a Jalebi has a lovely spiral shape, so you should "draw" the fried cake meticulously onto hot oil so that the treat won't fail.
Before accomplishing other steps, you must prepare the Jalebi batter (consisting of gram/all-purpose flour, baking powder, etc.). The sugar syrup can be made simply with sugar, water, and additional spices.
Jalebi is easy to make, but this instruction helps you make it easier!
Estimated cooking time: Around 40 to 75 minutes.
Because of its sweetness and ease of preparation, Basundi is a common dessert with condensed milk in most Indian households during festive occasions. Basundi's original recipe calls for primarily simple ingredients like saffron, milk, nuts, and a few condiments.
The milk used for Basundi is pretty versatile, so you can opt for mostly any kind you love the most. After cooking, this complimentary Indian drink will offer you a bit denser consistency and a distinguished fragrance from cardamom powder.
Furthermore, Basundi also has various health benefits since it includes multiple nutritious products like saffron.
Estimated cooking time: About 50 minutes.
Bread is a popular starch dish worldwide, and this Shahi Tukra'll show you how to make leftover bread more favorable. Actually, you should use slightly stale bread for Shai Tukra instead of the freshly baked ones since it helps you cut the bread in slices easier.
Originally Shahi Tukra was a bread pudding with crusty bread and toppings of nuts to serve the nobility. However, as time goes on, this luxury dessert gradually becomes more popular, and you can quickly prepare the ingredients (bread/milk/sugar) at home.
Shahi Tukra is pretty simple to make if you follow the recipe I have shown, and it'll be a wonderful sweet dessert with thickened milk for you on busy days.
Estimated cooking time: About 55 minutes.
To be short, Ghevar is a traditional dessert from India and has a cute disc shape, which reminds me of donuts. There are many ways to make Ghevar, and Malai Ghevar is typically a way of serving this dish's special milk sauce (Malai) and sugar syrup.
The first step to making this favorable Malai Ghevar is to prepare some basic ingredients such as Ghee, flour (plain/Garam) for the Ghevar, and saffron or nuts for the toppings.
After frying the main part and cutting it in halves, the surface of this treat has a honeycomb-like appearance, which helps this delicacy absorb the syrup/sauce even better.
Make These Favorable Desserts At Home ASAP!
Get a taste of India with these yummy dessert recipes! From fried treats to mellowy puddings, you can easily find everything you have in mind here.
If you have tried making some homemade variations above and have some experience to share, feel free to leave your thoughts in the comment section.
After a long week of work, it's okay to indulge in something a little sweet and fun, and these Indian sweet delights are an idea for things to do with your loved ones.
Nutrition Facts
5 servings per container
---
Amount Per ServingCalories239
% Daily Value *
Total Fat 9.9g

16

%
Cholesterol 21mg

8

%
Sodium 131mg

6

%
Potassium 255mg

8

%
Total Carbohydrate 28.3g

10

%

Dietary Fiber 1.3g

6

%
Sugars 25.8g

Protein 10.9g

22

%
---
* The % Daily Value tells you how much a nutrient in a serving of food contributes to a daily diet. 2,000 calories a day is used for general nutrition advice.