If you are a fan of seafood, then you don't want to miss these imitation crab recipes. Fresh crab, or seafood in general, can be costly. Therefore, imitation crab makes for a good cheaper alternative.
Compared to real crab, imitation crab is also easier to cook as it is ready for consumption once taken out of the package. It may not have equal amounts of nutrients like vitamins or minerals as the real thing, but the calorie count is similar.
Nonetheless, imitation crab remains one of the cheaper and more delicious things you want to put into your dishes. Read more, and you'll find out the best ways to cook and eat this seafood substitute without much effort.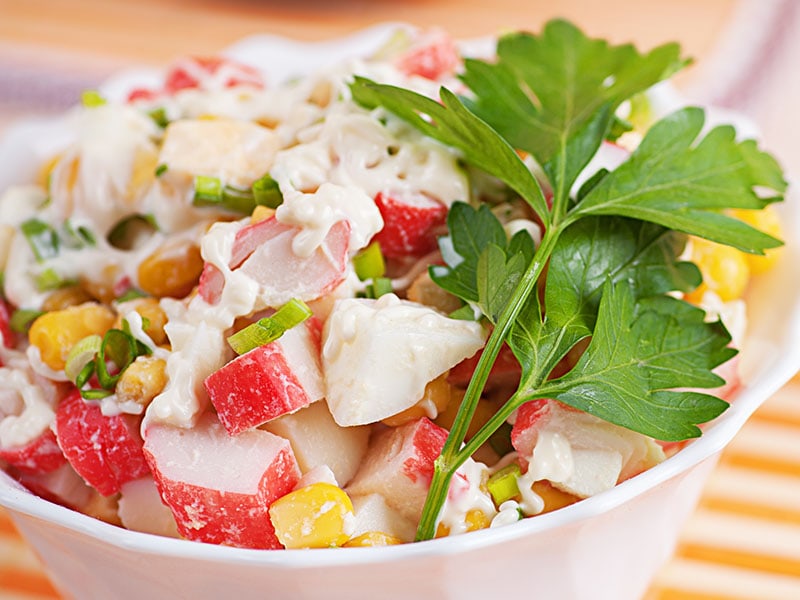 You Can Recreate These Imitation Crab Recipes Effortlessly
Imitation crab consists of a paste called surumi and a potion of real crab meat. It is often fully cooked and ready to eat right from the package. However, there are many inspirations to elevate or incorporate this food into other meals.
Total time: 10 minutes
My first start on the list today is a perfect appetizer. Imitation crab dip is hearty and fulfilling; you can eat it with any kind of crackers, bread, or veggies. The recipe works for any occasion, special or not.
This hot imitation crab dip calls for whole mayo, hot pepper sauce, and whole cream cheese as the main ingredients. How can anyone say no to the creaminess the mayo and cream cheese bring? Plus, you also get a nice kick of spiciness from the pepper sauce.
It's best to serve this dish warm to keep all the cheese ooey and gooey. If you want to amp up the heat, then either put in more pepper sauce or choose one spicier sauce. The same goes for those who prefer something milder, put less pepper sauce or pick a milder brand.
You can recreate the imitation crab dip in a snap with this guide here.
Total time: 40 minutes
Now let's take a look at something more Korean-style. Korean crab Jeon is egg omelets with imitation crab meat. It has a soft outside with a savory and sweet inside. Therefore, this is a great recipe for the young and old alike.
True to its Korean roots, the recipe pairs well with some kimchi and rice. The blank nature of the rice and the acidic nature of the kimchi provide a much-need complement to the sweet and savory crab Jeon.
The main ingredients are imitation crab, eggs, flour, and veggies. All you need to do is just combine them all until well-mixed.
Then cook the mixture in oil over low-medium heat. When the batter turns golden brown, it's time to dig in. Besides rice and kimchi, you can serve this dish with chopped chives and sesame seeds.
Total time: 15 minutes
Do you want an affordable and easy-to-make snack or party appetizer? Then these fried crab sticks are just the right choice.
This is not your average recipe where you just fry everything in oil and call it a day. Instead, you dip the crab sticks in a light tempura batter, then fry and season them with Old Bay seasoning. The results are a tender texture with a satisfying flavor that makes you keep wanting more.
What's more, you only need 3 ingredients: imitation crab sticks, Old Bay seasoning, and tempura batter. For the last one, you can either buy premade or make your own using flour, egg, and ice water.
Explore how to whip up the crispiest fried crab sticks here.
Total time: 15 minutes
Lobster rolls are a delicacy and delicious. But let's face it: they are not cheap, especially if you live in a place without direct ocean access. Then you should opt for this imitation crab roll recipe, which won't hurt your wallet and is pretty close to the lobster counterpart.
Within 10 minutes, you can get this dish ready on the plate to taste its creamy and fresh deliciousness. Simply throw and mix all the ingredients. Allow them to rest for 5-15 minutes. Then load the combination into buns and serve them.
Since it costs way less than the traditional lobster roll, you can incorporate a large amount of imitation crab roll into various dishes and feed more people. You will surely make an impression without breaking the bank at all.
Total time: 35 minutes
If you have ever gone to a Chinese buffet restaurant, chances are you have already tasted this yummy crab meat casserole. So you may call this a copycat version, but it is still tasty and cheesy compared to the real thing.
Crab meat casserole makes use of imitation crab meat, sweet onions, and cheese. The highlight here is the cheese sauce from combining cream cheese, sour cream, and shredded swiss cheese. The sauce is so delightful that it takes the meal to the next level.
Anyone can enjoy the Chinese buffet crab meat casserole at home with this cooking guide.
Total time: 10 minutes
Making a salad out of imitation crab is a great way to make this food healthier. The crab adds a nice flavor to the everyday salad. It's best to serve this surprising imitation crab salad with potato bread or buttery crackers.
Before doing any cooking, there are a few meal preps you need to do. First, shred the imitation crab and chop the green onions and herbs. Add all the ingredients into a bowl with dressing and mix well.
What's special about this dish is that it requires no mayo. Instead, you use Greek yogurt and sour cream. So it's healthy all the way. Plus, when you add fresh herbs and lemon juice, everything has a nice touch of bright and tangy taste.
Total time: 20 minutes
There's hardly anything flavorful and refreshing as a light meal on a hot summer day than a serving of cocktail. Mexican crab cocktail is up there with the best crowd-pleaser appetizers.
The regular Mexican seafood cocktail can get a bit costly, not to mention all the shrimp peeling. For those who want to avoid what I just mentioned, this Mexican crab cocktail may sound appealing to you.
There's no cooking that you need to do here; simply throw all the ingredients in one place and mix them all. However, I recommend you drizzle the lemon juice, salt, and pepper on the crab and let them stand for 3-5 minutes.
Total time: 35 minutes
Here's another cream and affordable recipe on your list of must-try imitation crab recipes. Baked imitation crab Chimichanga is a great way to explore the Mex-Tex cuisine.
So what is Chimichanga? It is a deep-fried burrito. Chimichanga consists of rice, beans, cheese, and meat filling wrapped in a flour tortilla. If you come to any Mexican, Southwestern, and Tex-Mex restaurant in the US, there's a high chance you'll find this dish on the menu.
This homemade version is a baked Chimichanga, not deep-fried. Thus, you can say that it's healthier but still retains the crispness that everyone loves. The refried beans in the ingredient list add a nice touch, balancing the richness and creaminess with fiber.
Total time: 40 minutes
This is a nice change-of-page recipe. This seafood Enchiladas with imitation crab follow the style of the Chi-Chi Mexican restaurant chain. It's not a 100% copycat, but very close.
To sum it up, this is a flour tortilla with cheese and hot fillings and topped with Enchilada sauce. The creaminess of the sauce combined with the rich crab taste makes for a heavenly experience.
As you can see, there are three main parts of this dish: the seafood filling, the sauce, and the flour. This recipe calls for burrito wraps or corn wraps. But you can try whipping up burritos or corn tortillas from flour by yourself.
When it's all done, you want to garnish the dish with sour cream and green onions. I recommend you serve this imitation crab Enchilada with rice or black beans.
Learn how to cook the ultimate crab Enchiladas here.
Total time: 30 minutes
A simple crab sandwich is not only a delicious dish but also a versatile one. It's so handy that anyone can eat it for lunch, brunch, or on a picnic.
The sandwich is perfect for when you prefer a light and hot meal. It works best when you use toasted bread. Once you have a bite of this, the buttery cheese and the mild flavor of crab will melt in your mouth.
The yellow mustard and lemon juice add some more tang and sour undertones that elevate the whole sandwich you are holding to a new level.
Total time: 15 minutes
Here's another recipe that anyone can make in a snap. You can make these easy imitation crab cakes in a pinch, and they still make for a delicious serving for your busy weekdays.
To make these little cakes of heaven, you need a few main ingredients: panko crumbs, Worcestershire sauce, beaten egg, and flake imitation crab. Then you mix all of the ingredients until well done. Lastly, you fry them in oil for 3 minutes for each side.
That's it! Within less than 20 minutes, the cakes are ready to be eaten. Being a fried dish, they are crispy with a hint of sourness from the spices, giving you a mouth-watering, lemony, and flavorful little thing of wonder.
Total time: 30 minutes
This is a US-and Canada-inspired dish. People believe that it was first invented in the 1960s by chef Ichiro Mashita at a restaurant in Los Angeles. The story goes that he used avocado and crab in an attempt to replace tuna in the off-season.
This dish consists of crab and avocado. Since their acronyms are C.A, which coincidentally is the same as that of California. So you can see where the name came from. The Japanese call it California Maki.
California rolls are unique since the filling is wrapped with the nori (seaweed) sheet and rolled inside out before being surrounded by sushi rice.
The seasoned creamy avocado, crunchy cucumber, and sweet mayo crab make for a mouth-watering taste when combined. Plus, you top everything with toasted sesame seeds so the flavor has even more depth.
Try recreating the California roll without much effort by following this guide.
Total time: 20 minutes
Sometimes you just need that chilled and light seafood salad for the day. Then this imitation crab ceviche fit the bill. It makes for a wonderful appetizer or a light meal. The best way to serve this low-fat salad is to eat it with tostadas or tortilla chips.
Ceviche is a traditional Latin American dish which originated in modern-day Peru. Typically, it consists of raw fresh seafood cooked and marinated in fresh citrus juices like lemon. You also mix the dish with chili, coriander, and other flavorings.
This budget-friendly ceviche calls for imitation crab, Roma tomatoes, avocado, and small red onion. Ceviche is often spicy since this dish uses Serrano peppers, which are 5 times spicier than Jalapenos. If you can't handle the heat, remove this ingredient.
Total time: About 10 minutes
This chowder recipe is a warm and hearty soup that will make you calm on the winter days. Nothing beats the combination of a fragrant hint of lime and the peppy Cajun seasoning.
Once finished, you will have a decadent bowl of chowder with a nice brown-like color. The milk may curdle slightly, this is because you add lime to the chowder, but it's ok to consume nonetheless.
One thing to note about this recipe is that it uses less salty Cajun seasonings. So if you opt for brinier ones, it's recommended to remove the salt. This chowder is enough to be a meal in itself. However, you can pair the dish with crusty garlic bread for dipping.
Total time: 25 minutes
I will introduce you to another Chinese restaurant meal that you can make at home without much effort. The best way to describe this dish is it's a takeout item with crispy fried wonton shells and a combination of crab, cream cheese, and seasonings filling.
The gooey cream cheese flavor provides a creamy flavor that will leave you wanting more. The best thing about making a homemade dish is that you can control the fillings. Thus, it's possible to put in more crab meat (and other ingredients) to fill your belly.
Whipping this up is easy and fast. First, you make the filling by mixing the ingredients well. Then you spoon the mixture into each wonton. Next, brush the whole thing with egg white. Lastly, fry everything in oil at 350℉ or until the rangoon turns all brown and golden.
Total time: 30 minutes
From the name, you can tell that this is not your average salad. This is one of the Russian traditional New Year dishes. Unlike most other crab salads, it features rice and corn together.
All of the other ingredients, like boiled eggs and mozzarella cheese, balance out each other perfectly. Together, they are a good mix of everything. You can taste the crab meat, corn, cheese, and rice while they don't overwhelm each other.
Here's a tip: Cook the rice ahead to save time. Use any kind of rice in any way you like; just make sure that they are not overcooked.
This salad keeps well in the refrigerator for up to 2 days. Like many salads, this dish is best served cold, so you should consider refrigerating it for 2 hours before consumption.
Total time: 10 minutes
Here comes another fresh and crunchy salad you don't want to miss. Kani salad is a popular side dish you often see served at sushi restaurants. Today you can make one yourself at home.
Kani means "crab" in Japanese. In sushi cuisine, this often refers to imitation crab sticks. The Kani is popular among people who frown upon raw foods. The Kani salad is simple, with a short list of ingredients: cucumber, mayo, mirin, sriracha, and Panko breadcrumbs.
All you need to do is stir and combine all the items in a bowl. In case you can't find any mirin, feel free to substitute it with rice vinegar. When all the contrasting tastes and colors come nicely together, you can taste the sweet, juicy, and crunchy goodness.
Learn how to make Kani salad the Japanese way here.
Total time: 45 minutes (Including 20 minutes of bake time)
This recipe is the real deal for seafood lovers. Within 50 minutes, anyone can taste restaurant-quality servings of crab-stuffed salmon filets. Typical salmon recipes can be tricky, but not this one.
The cooking steps are plain and simple. First, you make the fillings by combining all the items. Next, you crave a hole in the filets and pour the mixture in. Lastly, season the whole thing and put it into the oven.
After 18-22 minutes of baking at 400°F, the final products emerge from the oven. You can enjoy them alongside roasted asparagus and rice pilaf or anything that goes well with salmon.
Total time: 10 minutes
Poke bowls are one of the classic Hawaiian dishes. They usually incorporate cubed raw fish (mostly ahi tuna or salmon) with a soy or sesame dressing on top of a white rice bed and served alongside veggies and/or fruits.
They are so vertisale that you can change the toppings and the sauce however you like and create a whole new variant. This homemade California poke bowl has imitation crab as the central ingredients.
In this recipe, you pair the crab with cool and fresh English cucumber, spicy mayo, creamy avocado, and nutty sesame seeds.
You can already tell that this is not your average poke bowl. With each and every bite into these finely diced items, everyone can feel and love the flavors they bring to each other. Everything tastes fresh and delicious!
Have You Found Your Favorite Imitation Crab Recipes Yet?
Eating imitation crab is the most affordable way to enjoy seafood without breaking your bank. Plus, it looks, smells, and tastes just like the real thing! Imitation crab is a must for those who don't favor raw foods, especially at a Japanese restaurant.
You've made it to the end of the list. I believe now you can tell at least 17+ imitation crab recipes that are easy and budget-friendly. Further, you also know about the tidbits of cooking these sticks.
Please share this article should you find the information it provides helpful. Out of all the recipes I listed above, which one is your favorite? Don't shy away from leaving comments below to tell me and others about your preferred way of cooking and consuming the imitation crab.