The best ice cream desserts are one of the world's most recognizable and beloved foods, especially in summer. The sinful taste and remarkable properties of what I'm about to cover will brighten your days.
There's nothing quite like indulging in this sweet and refreshing frozen food under the relentless heat. You can eat the ice cream as it is, but sometimes you want something more, such as using it to prepare wonderful whipped cream-decorated desserts.
That's when these recipes come in handy. Do you know there are various ways to make an ice cream dessert? Scroll down to find out the full list of these recipes and how to fix them yourself.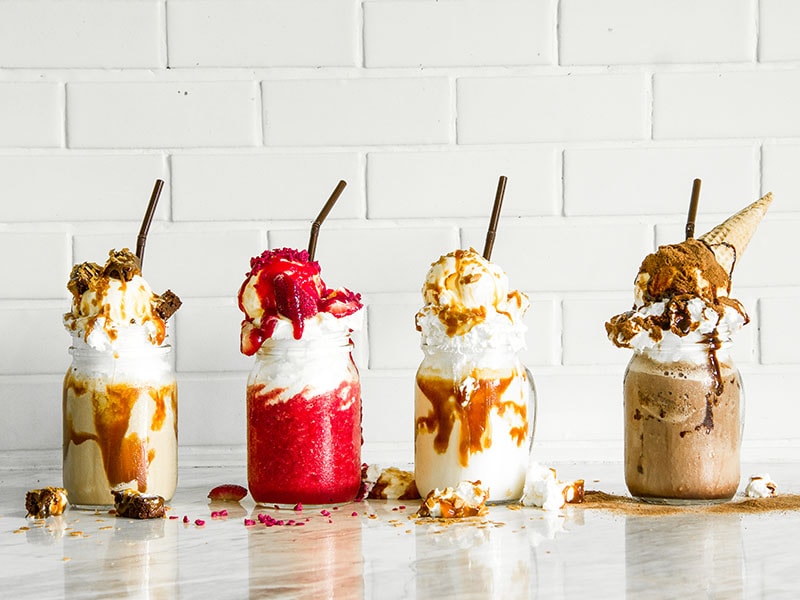 The Best Ice Cream Desserts That Will Shake Your World
The ice cream has numerous variants depending on the flavors and ingredients used. So it's no wonder there are also many ways to whip up this delicious treat. Anyhows, let's dive in and explore the best desserts you can make with ice cream.
Total time: 10 minutes (Excluding 2 hours of freezing time)
Don't be intimidated by the seemingly long cooking time. Like any ice cream recipe, most of the time is dedicated to cooling or freezing the ice cream department. In fact, this ice cream sandwich cake takes just about 10 minutes of meal prep.
What's more, you don't need to have baking skills as this recipe requires none of that. You see, all you need to do is gently stack the premade layer slices of cream sandwiches on top of one another.
Then just let the cake freeze for 2 hours or overnight for best results. When serving, drizzle the whole thing with chocolate syrup and caramel syrups. The last step is to add any toppings of your choice.
If what I just said sounds way too easy, that's because it is. Plus, there's no hard restriction about what kind of ice cream sandwiches you should use since it's up to you to pick up any flavors of your choice. This ice cream sandwich cake is so highly customizable!
You can make this ice cream sandwich cake effortlessly.
Total time: 5 minutes (Excluding 6 hours of freezing time)
Stracciatella Gelato is a kind of chocolate chip ice cream. This recipe requires you to fold tiny pieces and some larger chunks of dark chocolate into the Gelato mixture. So it is slightly different from the traditional Stracciatella Gelato, which has a fine stream of melted chocolate.
Just look at the ingredients: dark chocolates, vanilla extract/bean paste, heavy cream, and condensed milk, you can tell that this is one delicate and creamy recipe, even without the presence of eggs.
The best part about this recipe is that you can make it without an ice cream machine. All it asks is to stir all ingredients together (preferably with an electric mixer). Even with this method, you can achieve the desired smooth and thick texture.
Total time: 5 minutes (Excluding 3-4 hours of freezing time)
I bet that you didn't think this was possible, right? Neither do I until I stumble upon this amazing recipe. You can make one of the sweetest pizzas to date without much effort.
There are 3 main parts: the pizza crust, filling, and toppings. The recipes tell you to use ½ pint of salted caramel brownie ice cream as filling. But you can use any ice cream of your choice.
The toppings are also highly customizable. As it is, this recipe calls for toffee bits, mint chip bites, etc. But you can add the following items as toppings: whipped cream, M&M's, peanut butter cups, etc. The sky's the limit, experimenting is the key here.
One thing to remember is that ice cream melts easily and quickly. So you should warm the caramel and hot fudge sauce before taking the pizza out of the freezer. Make sure to warm them up slowly, so they don't get overheated and melt the ice cream.
Making an ice cream dessert pizza is no distant dream with this guide.
Total time: 15 minutes (Excluding 5 hours of chilling time)
The tablet is a hard and sugary candy similar to fudge but with a more crumbly texture. It's a popular sweet treat in Scotland that you often see people serve and give out to take home at weddings.
In these recipes, you incorporate 2 cups of these tablets into ice cream. Chunks of tablets crumbled on the creamy ice cream give a satisfying experience unlike anything else.
This recipe requires you to make ice cream from scratch. It is always a good chance to learn to make things by yourself. You can whip up ice cream even if you don't have much time because this non-churn one takes only about 5 minutes to prepare.
Total time: 1 hour (Excluding 2 hours of freezing time)
What are S'mores? It's a tasty treat known to all Canadian and US campers. Traditionally, they consist of toasted marshmallows and a layer of chocolate between graham crackers.
This recipe is more about mixing the marshmallows and crackers into the ice cream to get that vanilla-marshmallow taste. What's nice is that the marshmallow fluff keeps the ice cream all nice and smooth.
The tools you need for whipping up this S'mores ice cream are an ice cream maker and a spatula. First, combine cream, milk, sugar, salt, and marshmallow fluff. Then use the ice cream maker to have a smoother full blend completely well into the ice cream.
Then add graham cracker crumbs and chocolate chunks while the maker is working. Lastly, you freeze the finished product until it reaches the desired consistency.
Total time: 10 minutes (Excluding 6 hours of freezing time)
Here is another 6-ingredients simple recipe anyone can prepare in as little as 10 minutes. No-churn ice cream does not contain eggs. Instead, you use sweetened condensed milk and whipping cream as replacements.
You also don't need any ice cream machine or any cooking skills to be able to make this no-churn banana pudding ice cream. Once done, you can taste the banana flavor incorporated into the sweet milk and whip cream. The crushed vanilla wafers enhance the taste even more.
You can recreate this no-churn banana pudding ice cream too.
Total time:10 minutes (Excluding 4 hours of freezing time)
This is a good recipe for peppermint lovers. The Oreo crust and peppermint ice cream fillings make for a great combination. This is a frozen treat you want at every fun party or holiday gathering.
This recipe calls for Oreos, peppermint ice cream, and crushed candy canes. All you need to do is combine and mix the Oreo crumbs and butter. Next, spread ice cream over the crust mixture and top it off with whipped topping. Then freeze for at least 6 hours and enjoy!
When you want to transport this dessert a short distance, you are fine since you can just put it in the freezer immediately at your destination. If it's somewhere far, you should keep it in a cooler with blocks of dry ice.
Total time: 10 minutes
If you prefer something similar to a drink-based dessert, I got you covered. Shamrock shake is one of the easiest and effortless recipes you can make in a snap.
It's a delicious combination of pure peppermint extract, vanilla ice cream, whole milk, and green food coloring to make it appealing.
You don't have to spend too much effort on this easy recipe with a Ninja blender or other brands. Add all the ingredients along with coloring dye to this machine and let it work its magic until you reach the desired smooth consistency.
To serve, simply top the shake off with whipped cream, mint leaves, white chocolate drizzle, or a maraschino cherry.
Here are some tips: Replace peppermint extract with mint for authentic flavoring. If you want to make many servings, but your blender can't handle it, then make one serving at one time with cool-down intervals to avoid overheating.
Anyone can whip up a Shamrock shake to celebrate St. Patrick's Day.
Total time: 23 minutes (Excluding 6 hours of cooling time)
These American homemade candies are easy to make and can please anyone that eats them. Its flavor has a hint of chocolate with the tart and sweet taste of raspberry. This dessert is handy as it doesn't take much time to make, and you can even give it as a gift to people.
What sets these ice cream truffles apart is they use melted ice cream instead of chocolate and heavy whipping cream like other chocolate truffles.
It's also possible to use any ice cream brands you like, as long as there are no chunks in them. This is because the ice cream can melt while the chunky items like nuts do not.
To melt the ice cream, put it into a microwave for about 20 seconds. Then get it out and stir. Boil it and add the ingredients afterward. Next, let it cool until it thickens, and then let it cool for either 6 hours outside or 1 hour in the fridge.
Total time: 20 minutes (Excluding 6 hours of freezing time)
The flavorsome and colorful pistachio dessert got its name from the "icebox" – a compact, non-mechanical refrigerator that has gone obsolete. This 20th-century cake outlived the thing that it is named after!
Icebox cake has layers of frozen cream, nuts, and fruits. If you know how to whip cream, consider that's half the work done. This recipe is not exactly an icebox cake in the traditional sense since it uses ice cream instead of cream.
The nuttiness of pistachio, brightness of raspberry jam, and more added flavors from pistachio ice cream and Biscoff cookies come together and make for an unforgettable blend of tastes you don't want to miss.
You can make this pistachio and raspberry ice cream cake with homemade ice cream by following this detailed guide.
Total time: 20 minutes (Excluding 40 minutes of freezing time)
Adding ice cream is a nice spin on everyone's favorite Mexican-style food. The special thing about this summer treat is that it's not your savory tacos. Instead, churro ice cream tacos are a nice blend of butteriness, creaminess, and richness from all of their ingredients.
For instance, the cinnamon sugar taco shells provide a mildly sweet spice. The filling made from ice cream is where all the cool, sweet flavor comes from. To top it all off, the chocolate coating combined with drizzles of sprinkles elevate it all.
Total time: About 10 minutes (Excluding 4 hours of freezing time)
Reading the name of this dish, I know some of you may have fallen in love with it already. Yes, the Oreos are a key ingredient in this Oreo ice cream cake. The Oreos are everywhere in this cake, from the filling to the crust and toppings.
The one pairing with Oreos, in this case, is vanilla ice cream. Toss in some butter, and you can get a serving of this Oreos-focused cake without much effort. Did I mention that you don't need to do any baking at all?
Tips: Just like any cakes, be sure to thaw the cakes before serving so they can get soft with no frozen layers. Ideally, transfer them from the freezer to the refrigerator and let them sit for about 30 minutes, or leave them on the countertop for about 15 minutes.
Explore how to make the most delicious Oreo ice cream cake with this cooking guide here.
Total time: 50 minutes (Excluding 4 hours of freezing time)
Matcha is one of the most popular flavors of all ice cream. Whether you are a fan of this finely ground powder, you should not pass the chance to try this recipe. Let's turn up a notch in your matcha game with this coconut matcha ice cream with black sesame brittle chips.
Shhh… don't tell anyone that this frozen dessert is vegan. It's so creamy and earthy that hardly anyone can guess it! The main items are matcha, coconut milk, turbinado sugar, vanilla bean, and black sesame brittle. There are no eggs involved at all!
Total time: 30 minutes (Excluding 20 minutes of freezing time)
And now it's time for something colorful. This is the recipe for those who want not only a tasty treat but also an appealing one.
The color change depends on the ingredients you use. In this case, it's brown with salted caramel. But you can choose any flavors that suit your liking. There's no hard restriction about this at all.
Within less than an hour, you can make a batch of 12 servings of 3-inch ice cream macaron. The active meal prep steps are simple and won't take much time. All you need to do is scoop the soft ice cream onto the macarons and press the sandwiches together.
You should start your beautiful day by making these ice cream macarons.
Total time: 10 minutes (Excluding 1 hour 30 minutes of chilling time)
In this recipe, you use stroopwafel, a thin, round waffle cookie from the Netherlands. The smooth and creamy vanilla ice cream filling is heavenly when you sandwich it with two sheets of sweet and maple-flavored caramel waffles.
But that's not all, there are still the toppings. This recipe does not specify a particular topping, so you can choose any that is more to your personal preferences. Having said that, you can try topping the sandwiches off with pistachios, chopped peanuts, coconut flakes, etc.
The assembling of this dish couldn't be easier. I said assembling because there's almost no cooking involved. All you need to do is spread and scoop the ice cream onto the waffles, then freeze the whole thing. Lastly, dip them into chocolate melts and serve with toppings.
Total time: 30 minutes (Excluding 9 hours and 20 minutes of freezing time)
Cheesecakes are not cakes, despite having "cake" in their name. Technically, they lack ingredients like flour, baking soda, baking powder, etc., which make a dessert a cake. Plus, cheesecakes do not have a bread-like property and often come with cheese-based toppings.
This Nutella chocolate chip cheesecake has a gluten-free chocolate hazelnut crust that will charm anyone who comes into contact with it. You also top that off with no-churn ice cream and chocolate ganache.
The results? You get a wonderful mix of all things nice: the delight of ice cream cheesecake, the chocolate heaven that is Nutella ganache, and a gluten-free crust. The whipped cream topping you add in the last step completes it all.
Total time: 14 minutes (Excluding 5 hours of freezing time)
If you ever went to Thailand or any local Thai street food vendor, chances are you've encountered this frozen dessert. Rolled ice cream is rolled tubes of ice cream in a cup with toppings. People also address it by another name: stir-fried ice cream.
The rolling process is easy to do. First, you make the ice cream base by mixing heavy cream and sweetened condensed milk and pour your ice cream mixture onto the metal baking sheet. For the next steps, there are 3 variants of this recipe with different ingredients.
Choose whatever you fancy: Strawberry cheesecake (diced strawberry and graham crackers), Nutella, or cookies and cream (Oreo cookies). Whichever you go with, the taste will still be phenomenal with a distinct texture.
Then combine your ingredients of choice into the ice cream using an offset spatula. Lastly, put the whole thing into a freezer and let it sit there for at least 5 hours or overnight.
Explore the best way to make this Thai treat, the rolled ice cream, at home now.
Total time: 5 minutes
Are you a coffee and ice cream lover but want a new take on this combination? Then look no more for this Affogato is your answer. Just find some Gelato or ice cream and a shot of hot Espresso, anyone can whip up this delicious Italian dessert.
Affogato means "drowned in coffee" in Italian. You can see how the name makes sense when you pour the hot Espresso over the cold Gelato/ice cream. The slow dripping of the former to the latter is a spectacular view.
Alternatively, you can "drown" the scoops of very cold Gelato/ice cream in the hot coffee and watch how they melt and blend nicely into each other. Once you experience it, you will come to love the contrast between hot and cold, vanilla and Espresso.
Total time: 1 hour (Excluding 8 hours of chilling time)
These caramel cashew ice cream bars are similar to Snickers bars but vegan and dairy-free. In short, these make for a homemade and healthier option. Let's dig in to see what sets them apart.
There are 4 layers to discover here, each with its unique offering. First is vanilla ice cream. It's very creamy with the presence of cashews, maple syrup, coconut milk, and vanilla.
Then comes the tahini date caramel, which uses Medjool dates. It's a good layer of natural caramel flavor without refined sugar. The last two are roasted cashews and dark chocolate coating. They add some crunch and sweetness that binds everything all together.
Total time: About 10 minutes
To sum it up, this recipe is a cupcake with ice cream as frosting. Kids, and even adults, will love being served this sweet treat in summer. I mean, it's ice cream and cupcakes, who doesn't love them, more so when the two of them are being together?
The buttercream, also known as icing or frosting, is one part that can make or break a cupcake. You make it by combining butter with sugar. The common flavors of buttercream are vanilla, chocolate, fruits, and extracts.
The frosting of this recipe also involves butter and sugar. What makes it special is you add melted ice cream to the mix. The results are a nice twist to the icing, making it taste like vanilla ice cream.
Now, take your buttercream frosting to the next level with ice cream.
Total time: 30 minutes (Excluding 30 minutes of freezing time)
If you are craving that fluffy sponge cake goodness, then I have great news for you. This recipe is exactly what you need, plus it comes with ice cream. You can't ask for more than that. This British ice cream cake is known as ice cream cake roll in the US.
For this recipe, you can use any ice cream of your choice. The sponge acts as a blanket that wraps around the ice cream. First, you make the cake by baking egg yolks, milk, vanilla, and sugar mixture.
To put the ice cream filling inside the sponge, simply layer the former evenly onto the latter. Then you just roll the cake around the ice cream to an enclosure. The last step is to freeze the roll cake for at least 30 minutes or until ready to serve (up to 1 month).
Total time: About 45 minutes
Are you looking for something unique? Then you should take a look at Baklava ice cream cups, these sweet treats will surely capture your heart. The Baklava cups are the trademark of this recipe. They are phyllo pastry cups filled with nuts and drizzled with honey syrup.
Compared to puff pastry, phyllo dough has flour, water, vinegar, and some oil. Its origin is still in debate, some said it originated from Greek, while some claims it came from Turkey.
Nonetheless, it is a prominent ingredient in any Baklava recipe, a treat whose roots are from Turkey, Greece, and the Middle East.
The cooking process consists of just 2 main steps: making the Baklava cups and putting on ice cream topping. Once you've finished making the former, simply scoop up one or two spoons of any ice cream of your choice onto the cups.
Any ice cream flavor can go well with the nutty Baklava cups. If you are allergic to nuts, replace those items with fruits or chocolate.
Total time: 5 minutes
If you need a shark-themed ice cream-based drink in a pinch, I've got you covered. This luscious food provides a fun element to every party while being one of the more delicious desserts out there.
Just go to the closest store and buy these 2 things: vanilla bean ice cream and Fanta blue soda. If you can't find any Fanta, Sprite with blue food coloring works fine too. Nonetheless, the results should be a glass of ocean-like blue with fun flavors.
Whipping up Fanta shark ice cream floats is a simple and thoughtless process. First, you pour the Fanta drinks into about ¾ of a glass. Then slowly and steadily scoop the ice cream into the soda. For even more fun elements, top it off with the gummy sharks of your choice.
Celebrate the next shark week with these shark ice cream floats.
Total time: 21 minutes
If you are a fan of raspberry, then I have just the recipe for you. These sandwiches with lemon shortbread cookies and raspberries are quick to make and quick to disappear, too. The fresh berries combined with creamy vanilla ice cream make for a heavenly duo.
The lemon shortbread cookies are another nice touch to the whole package. They bundle the berries and ice cream together in a sandwich fashion. It takes about 6 minutes of baking time to make these cookies.
The making process is pretty fool-proof. Use a round cookie cutter or biscuit cutter to form cookies from the mixture of lemon juice, sugar, salt, flour, and butter.
Then simply mix the fresh berries and vanilla ice cream and use the aforementioned tools to shape them into cookies. Lastly, assemble and enjoy!
Total time: About 5 minutes
One sip of this, and you feel like you are sitting at the Grand Hall of Hogwarts. This magical drink is a nice blend of cream soda, vanilla bean, and caramel flavors.
Harry Potter-inspired butterbeer float is not only a way to transport yourself to the wizarding world but also a great dessert to enjoy on any occasion.
Unlike the one described in the original work, it contains no booze, so it's safe for your children to enjoy, especially when you introduce them to the movies or books for the first time.
Making this is a breeze, too. All you need to do is add all the ingredients into a glass and top the mixture with whipped topping and caramel syrup. If you want to make it buttery, simply add extra butter or buttered flavored syrup while mixing everything.
Total time: 5 minutes
If the above Fanta shark ice cream float doesn't sound appealing to you, then how about something more traditional like this old-fashioned ice cream soda? You can bring your favorite soda from the local lunch counter to your home kitchen countertop.
Soda and syrup are the key items that determine the flavor of this recipe. Most sodas offer a slightly bitter taste.
When you combine that with chocolate syrup and vanilla ice cream, the taste busts in your mouth. The toppings like whip cream and sprinkles add a nice touch to the whole glass.
Total time: 10 minutes (Excluding 4 hours of freezing time)
Here I give you another tasty idea for a dinner party dessert. Tiramisu is an Italian-inspired coffee-based dish. In this recipe, you use Espresso powder to achieve the right coffee flavor Tiramisu is known for. Feel free to substitute it with instant coffee powder.
This Tiramisu ice cream requires you to make no-churn ice cream from scratch. That sounds like hard work, but don't worry, because it isn't. You just put all the ingredients into one large mixing bowl and stir them. Then pour the finished product onto a tray and freeze it.
If you are not big on coffee, there are plenty of alternative options. You could opt for Pero, milk, matcha, or orange and lemon juice for a fruit Tiramisu.
Learn how to make a delicious serving of Tiramisu ice cream without much effort.
Total time: 1 hour 30 minutes (Excluding 8 hours of freezing time)
Baked Alaska was first supposedly introduced at a restaurant in New Orleans to celebrate the purchase of Alaska in 1867. It's a dessert with layers of ice cream and cake topped with brown torched Swiss meringue.
One may think this dish is a fuss to make based on its appearance alone. But it's easier to make than one assumes. "Never judge a book by its cover" rings true here, or in this case, never judge a fluffy meringue and sponge cake by its luxurious appearance.
Beware that the baking layers are pretty firm when frozen, so when you first slice it with a knife, be sure to put in more effort. Once you successfully slice into it, you can taste the lovely flavors of mixed ice cream and vanilla extract.
Total time: 1 hour 30 minutes
This recipe ticks many people's boxes with two layers of Oreos and Snickers, as well as the use of chocolate and vanilla ice cream. If you don't fancy Snickers, then feel free to replace them with any candy bars of your choice.
I can't say that this cake is 100% healthy. But I can say for certain that it's 120% full of indulgence and satisfaction (the 20% extra comes from the caramel sauce and magic shell). With this recipe, you will need help from a food processor to get that delicious goodness.
Total time: 40 minutes (Excluding 9 hours of chilling time)
This is one of those recipes that make you wonder "how?". The secret here is to dip the ice cream into egg whites and cornflake crumbs, then fry the coated frozen balls in oil. Then serve right away in the cinnamon sugar tortilla cups.
By coating the ice cream, you have the crispiness and buttery goodness. The best way to serve this fried ice cream is with whipped cream, sprinkles, and cherry toppings. Drizzles of chocolate syrup and caramel sauce work fine, too.
Explore how to deep-fry ice cream, which is not as complex as you think.
Total time: 25 minutes
How can I forget about sundae, the famous ice cream-based dessert? This is a recipe you have to try, a perfect mix of juicy and crunchy textures and unique flavors.
This recipe provides a perfect blend of 3 ingredients: roasted strawberries, chocolate shell, and ice cream. Each of these provides a unique take on this sweet dessert.
For this chocolate-covered strawberry sundae, you should use fresh strawberries and roast them for that bust of juicy flavors and crunchiness.
The chocolate shell and its sauce provide a good crunch of chocolate. You should use refined coconut oil to make sure that the chocolate shell flavor is neutral.
Total time: 25 minutes (Excluding 6 hours of freezing time)
If you ever feel nostalgic about these strawberry shortcake ice cream bars, you can make them at home. Strawberry shortcake ice cream bars have a vanilla ice cream layer with a strawberry and cookie crumb topping.
It's easy to make these pink ice cream bars, just toss all the ingredients into a blender and start whirling. Next, pour the mixture into the mold and put it in a refrigerator for 6-8 hours. After that, take the bars out, thaw for a few minutes, and coat the whole thing with crumbs.
Explore how you can make these strawberry shortcake ice cream bars most people growing up fond of.
Fulfill Your Hearts And Belly With The Best Ice Cream Desserts
That was a handful of the best ice cream desserts. Now you know what to whip up during the national ice cream month, which takes place in July each year. Having at least 30+ recipes at hand, you have everything you need.
Furthermore, you should share this article so that more people can learn about these awesome ice cream desserts and how to make them. Plus, I have included the time it takes to fix each of these frozen treats so you and everyone can plan ahead when making them.
Please don't forget to speak your thoughts about the listed recipes and what you would do differently to improve or change them in the comment section below. Now you should roll your sleeves and get to work to have the chance to taste these delicious offerings.