Hot sandwich recipes are the top of the most untroublesome cooking ideas to feed the family. You can serve them as breakfast, lunch, dinner, or perfect finger food to please the party goers. So there is no limit to making excellent use of these delicacies.
As always, you can find a lot of helpful information in my article. The detailed instructions and tips are must-have things. Besides, you will also discover about their tastes from my eating experience. Read on to experience these incredible delights!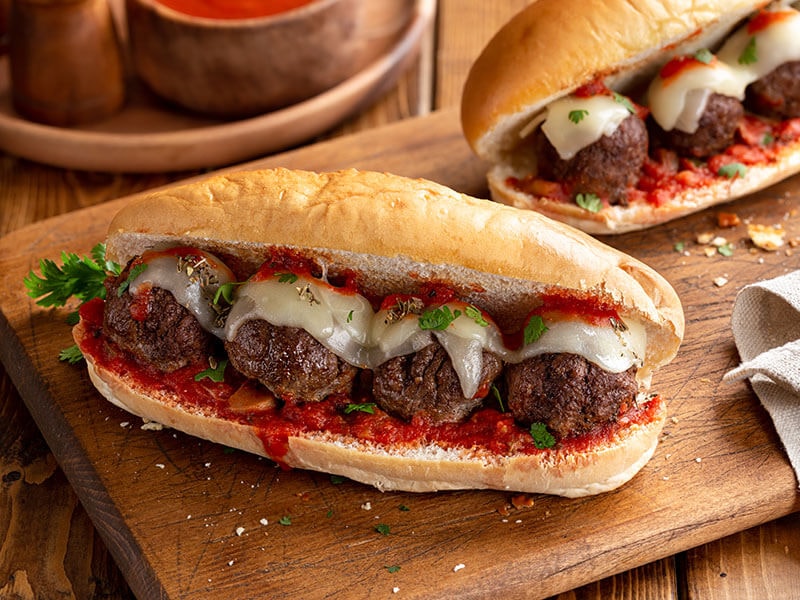 From Easy To Fancy Hot Sandwiches For Game Days
I know the cold sandwiches are the quickest and most convenient but do not let a few minutes of heating time make you miss the opportunity to eat delicious foods. Read on to gain more ideas for dinner!
Total Time: 40 minutes
Starting off the list is my go-to meal for any time of day, a Nashville hot chicken sandwich. This delicious sandwich recipe is an ideal marriage of fried chicken and mayonnaise-seasoned vegetables.
The secret component of your chicken crisp, in addition to flour, is cornstarch. Buttermilk, on the other hand, gives your coating a sour flavor. But if you do not have any, whole milk and an additional egg will also work.
The prominent flavor of the dish comes from its spices: the sweetness of brown sugar, the heat of cayenne and peppery, and the intensity of garlic powder. These aromatics work to offer your chicken the best taste when served with tangy lettuce, creating a satisfying sandwich.
Since everyone prefers a hot, fresh sandwich, you should not prepare it too far in advance, ideally 30 minutes or so. When the serving time comes, you can reheat the chicken in the oven and assemble things.
Everyone will send you many compliments for this Nashville hot chicken sandwich!
Total Time: 30 minutes
This homemade Philadelphia cheesesteak sandwich could sate your cravings. It is quick and easy to prepare due to simple ingredients and cooking techniques.
While the shaved steak contributes a salty bite, the sautéed onions, peppers, and mushrooms offer your sandwich a blend of sweet, spicy, and earthy flavors. Add some cheese on top, and nobody can resist your delicate goodness.
And do not skip my special sauce made from horseradish, mayonnaise, and black pepper. These ingredients will transform your buns into an explosion of heat that balances out the richness of the sandwich.
Total Time: 45 minutes
The roasted beef lends the entire dish a deep flavor that perfectly complements the sweetness and sourness of the shallots and onion. Meanwhile, the vegetables brighten your meal with fragrant olive oil and sharp salt, but it does not end there.
Mayo, cream cheese, and sour cream come for the ideal creamy sauce. Worcestershire sauce, horseradish, and pepper lend a spicy undertone. Finally, the perfect finishing touch of herbs, provided by basil and shallots, rounds off this culinary delight.
Thanks to all these fantastic elements, the wonderful flavor of this dish will still linger in your mouth even after eating. Here is a quick hint: The creamy sauce is great for other types of roasted meat besides beef. They go great with chicken and ham, too, so give them a try!
Total Time: 20 minutes
Though a grilled cheese sandwich is already delightful when the gooey cheese melts in your mouth, what if there are some apple slices inside these cheesy sandwiches? Honestly, their pleasant tartness will upgrade your delicacy to the next level.
Though it looks simple to prepare, making the perfect grilled cheese is an art. The bread slice should not be too thick, or the heat cannot melt the cheese inside. Besides, you should cook the sandwich under medium heat to prevent burnt toast.
This decadent is delicious enough to enjoy alone, but if you need a fancy meal, there are some suggestions. Serve it with a bowl of fresh salad for a light meal. Or, you can treat it as a hearty lunch or dinner alongside any veggie soup.
Total Time: 50 minutes (including 20 minutes of marinating time)
You can make your Popeyes chicken sandwich right at home! You make your homemade sandwiches so crisp and delectable that your family will never ask for a long trip to Popeyes.
All you need to do is assemble radish, fried chicken, and mayo inside buns to complete. However, the secret to the dish's excellence is the flavorful chicken from marinade and an outer crust.
The baking soda, seasoned salt, and vinegar help clean and tenderize your chicken breasts. On the other hand, the crispy coating gives it the flavor of bold spice, thanks to garlic, cayenne, and paprika.
Here is a bonus tip: Remember to drizzle wet ingredients into the breading flour. That way, your dredged chicken will become flakier and crispier. Dip your chicken sandwich into buttermilk ranch or tartar is undeniably delicious.
Let's enjoy the yummiest Popeyes chicken sandwich in your kitchen!
Total Time: 30 minutes
Prepare yourself because when you see this tasty delicacy from France, you won't be able to stop your mouth from watering. It is a grilled sandwich combining melted cheese, salty ham, and rich, creamy bechamel (French white sauce).
Butter and flour give your sauce a dense texture, whereas milk and butter are a must to enhance its richness. Also, the recipe calls for nutmeg and pepper, which provides your sauce with a nutty and spicy touch.
These ingredients come together flawlessly to create a tasty French-style lunch with fries and salads. However, you are welcome to have it for brunch or breakfast. Its calories will fuel your whole day!
Total Time: 1 hour 15 minutes (including 10 minutes of resting time)
Choose this BBQ pulled pork sandwich if you need a hit to bring to a potluck party. It is delicious and simple to make. This is an instant pot recipe, so there is no need to watch it all the time. Instead, you can do other things.
To start, use paprika, pepper, cinnamon, and salt to rub pork. This extra step will help flavor your meat chunks before tossing them in BBQ sauce. Remember to turn the meat around so the sauce coats evenly, and then cook them.
Once the preparation is finished, it is time to put everything together in buns and eat. Your final meat should be tender enough to shred and full of smoky flavors, the prominent taste you will find in this sandwich.
Though my recipe asks for coleslaw and red onions as toppings, you can always let your creativity fly and choose other options to your liking. Jalapenos or dill pickles should be ideal for extra spiciness and sourness.
Total Time: 30 minutes (including 10 minutes of sitting time)
Are you struggling to convince your child to eat more vegetables every meal? You do not have to do so anymore since this grilled vegetable burrata sandwich is here to help.
In addition to the crispy bread, the sandwich also derives its terrific texture from grilled vegetables. Zucchini and bell peppers give your dish a fresh taste and a double dose of smokiness.
The dressing, which gives your sandwich acidic, lemony, and herby flavors all at once, should surprise you the most. It is a flavor-packed combination of various aromatic herbs, honey, and mustard, providing a balance of sweetness and heat.
Of course, how could I forget about the cheese? Provolone and burrata cheese are on the bread to add extra herby flavor and richness.
Total Time: 25 minutes
A small amount of mustard, vinegar, and ketchup combine to make a sweet and tangy sauce. The sauce provides the primary taste and glossy appearance to this delicious combo of soft buns and beef mince. The stunning red-brown color will make your meal stand out on the dining table.
Don't hesitate to enrich this version of Sloppy Joe with more garnishes. The very first option should be cheddar or coleslaw. Additionally, some pickles are a great way to add fiber and a slight acidity to your dish.
Let's take a beer bottle to improve your homemade Sloppy Joe!
Total Time: 25 minutes
A sandwich with spicy roasted shrimp comes next. The chipotle avocado mayonnaise gives it a fleeting rush of heat that will leave an exciting sensation in your mouth.
The avocado, Greek yogurt, mayonnaise, and lime juice produce superb creaminess and tanginess. While a sprinkle of salt creates a well-balanced flavor, a little heat from chipotle peppers will stimulate your taste buds tremendously.
Spread the delicious mayonnaise on the baguette, add shrimp topping along with lettuce and avocado, and you will have a hot sandwich that is nothing but delicious and enticing.
Total Time: 20 minutes
Cheese and heat are fantastic additions to the recipe if you are sick of the regular fishy sandwich. Let's reinvent your cold tuna sandwich and turn it into the talk of the town.
The layer of rich tuna infused in the melting cheddar cheese produces an ultra fatty and sweet note on the tongue. Mayonnaise balances out the flavor without overpowering it. Together, they deliver to each bite a delightful creaminess.
Aside from that, eggs and milk also offer you a nice mouthfeel. The butter provides your crust with a golden brown color and some buttery flavor, making this dish both gorgeous and delicious to serve as an elegant meal.
Total Time: 40 minutes
Next up is a vegetarian Reuben sandwich filled with cheese and mushrooms. Believe it or not, you will never notice the absence of the beef since the mushrooms are good enough. Moreover, this recipe is quite easy to follow, so it is worth trying.
Roast the mushrooms in the oven until they are golden and crisp. In the meantime, make a tasty sauce by combining horseradish, tomato paste, and soy sauce. It is the key to the savory, sweet, and spicy flavors of the sandwich.
The final step is to put everything together and cook on the skillet until the crust turns crisp and golden. Don't forget to keep the sides with mayonnaise facing up.
Total Time: 1 hour 45 minutes (including 15 minutes of resting time)
This sandwich is ideal if you're looking for something extravagant to amaze your guests. It has roasted tomato and flank steak between two thin slices of bread. Together, they deliver a powerfully sweet and meaty flavor.
The caramelized onion, however, steals the show. It offers your food a fantastic depth in flavor, thanks to being cooked in butter and olive oil.
The acidity of balsamic vinegar also enhances the taste of the sweet onions. As a result, the sandwich has a balance of sweet and sour flavors when you sink your teeth into it.
For the ultimate eating experience, you should prepare extra toppings. The leftover onion and tomato can stay for a week in the refrigerator or for three months in the freezer.
The ultimate steak, tomato, and caramelized onion sandwiches are here!
Total Time: 15 minutes
As the title implies, the main ingredients in this filling dish are chicken sausage and salsa. Sausage needs to be grilled to perfection, while salsa only requires a few simple ingredients to create. Then, in a flash, your Spanish-inspired supper is ready!
You can prepare salsa in advance to cut down on preparation time. The vinegar's sourness will complement the delicious goodness of chili pepper and chickpea. In addition, spices give your food a little kick emphasizing its Spanish flavor.
Once you have a bite, all the saltiness, sweetness, and sourness will blend beautifully with each other in your mouth, leaving a delicious aftertaste that will linger for a while.
Total Time: 30 minutes
Meatball sandwiches are my favorite every time I'm tight on money. They require only meat, marinara sauce, and cheese to turn a submarine sandwich into a filling and affordable meal.
You only need to combine meat, cheese, and breadcrumbs into balls and bake. The simmering marinara sauce will lend your meatballs a velvety coating full of fresh tomato flavor, making every bite sweet and savory.
Add a slice of cheese alongside saucy meatballs, and your sandwich will be out-of-this-world. Feel free to double or triple the batch if you need to feed a big crowd. To save time, you can prepare these decadent treats a day before.
Total Time: 10 minutes
These grilled sandwiches combine the two tastiest foods: sandwiches and pizza. If you want to wow your youngsters in just a few minutes with a delicious late-night snack, here is your guy!
Toast the bread with butter for a crisp, golden crust. Mozzarella slices are layered twice for extra richness. On the other hand, pepperoni exhibits bold, spicy notes and a hint of smokiness. A sprinkle of salt adds a nice finishing touch to balance the flavor.
Serve these delicacies alongside pizza or spaghetti sauce for the best dinner. Your food will taste even better because of the herbs and spices in the tomato-based sauce.
Total Time: 20 minutes
Try this paneer sandwich if you need a hot and delectable recipe for lunch. The creamy cheese and spice powders give out a robust taste of Indian cuisine.
Lemon and tomato chili sauce are crucial to blending these two ingredients. While the latter provides sweetness, the former gives a delightful tanginess. Together, they ensure the chaat masala does not overpower the flavor of a dish.
Additionally, you can spruce up your dinner by adding some extra ingredients. Paneer and tikka (grilled meat chunks) sound like a delicious combination. You may also serve soy sauce on the side, too.
Learn how to prepare a Paneer sandwich properly the Indian way from this detailed guide!
Total Time: 1 hour 10 minutes (including 30 minutes of marinating and 10 minutes of standing time)
Coming up on the list are the fried catfish sandwiches! Catfish is not the only ingredient in the dish, though; cumin coleslaw and chopped pickles also contribute to the overall deliciousness.
Garlic and pepper add flavors to mild catfish, whereas panko crumbs and eggs offer a crunchy mouthfeel to its dense and moist texture. Plus some tanginess from coleslaw and pickles, your delicacy is perfect for a piping-hot and fresh dinner.
Making coleslaw the day before can help absorb the spices more evenly and taste twice as good. You can put your prepared slaw in the refrigerator in an airtight container for up to three days.
Total Time: 30 minutes
The deliciousness of this Iowa loose meat sandwich comes from ground beef. Though it sounds like Sloppy Joe, this delicacy tastes simpler. Therefore, it is the perfect choice for a meal if you prefer the natural taste.
Beef and onions always work well together because they produce a sweet and savory flavor. Before adding broth, season a few seasonings to the food to taste. The additional beef juice adds to the meat's moisture and richness, refining the tastiness of every bite.
Total Time: 25 minutes
You should say hello to this Dahi sandwich if you're eager for a delicious treat from Indian diverse cuisine during the heat. The delicacy delivers you two things: creaminess and freshness.
Hung curd (yogurt) is the star of the dish. To prepare it, put the curd into a strainer and store it overnight in the refrigerator over a large bowl. The drained curd will show you a thick and delicious dairy product.
Create a rich filling for a crispy sandwich by combining it with chopped vegetables and seasonings. Be aware that too much spice will make your dish too heated to enjoy in the summer. Serve coconut chutney on the side if you find an authentic Indian breakfast.
Total Time: 15 minutes
Do you know what BLT stands for? It represents three well-known ingredients: bacon, lettuce, and tomato. Plus eggs on top, it becomes a perfect sandwich for a full breakfast or lunch.
A runny egg is the first thing you taste when sinking your teeth into the crumbly toasted bread, which brings a sweet and nutty flavor to the layered sandwich. If the gooey mouthfeel bothers you, feel free to fry a firm egg or use a hard-boiled one.
Next to the egg come layers of lettuce, bacon, and tomato slices. While tomato and lettuce add brightness to the taste, bacon contributes a salty flavor.
For more texture and flavor, you can add some avocado slices. They will offer an extra creaminess to every bite. Also, swap bacon for turkey bacon if you find a lighter and healthier meal.
Check out this delicious BLT and egg sandwich, plus an extra guacamole spread!
Total Time: 35 minutes
Here is another delectable sandwich from India. This grilled corn capsicum (bell pepper) sandwich features beautiful charred marks on the surface with numerous sweet corn inside.
To recreate this delight, saute onion, garlic, and green chilies in butter for aromatics. These ingredients will turn your capsicum and sweet corn into a flavorful filling. Sandwich them together and serve next to tomato ketchup to complete the dish.
You can cook sweet corn in a pressure cooker for a quick handle. That is not only to keep the corn moist but also to retain the most nutrients in it. To freshen up the filling, use dried Italian herbs for a fusion of European and Asian flavors.
Total Time: 1 hour 10 minutes (including 15 minutes of resting time)
To make excellent use of any leftover turkey, here is another sandwich for you. Unlike other sandwich recipes, this one needs to be dipped in rich gravy to bring out its full deliciousness.
Rub the turkey with herbs, garlic, and butter. Once you bake these slices of juicy meat, put them on the rolls along with some melted provolone cheese.
The highlight of this delicacy is buttery and umami gravy made from chicken stock, flour, and butter. When you dip the sandwich into the sauce, its dense texture adds a glossy coating outside, elevating more flavor to every bite.
Total Time: 25 minutes
If you want to have fantastic finger food to treat at potlucks, these open-faced oven-baked sandwiches are the best in town. They are toothsome in taste and inviting in appearance due to their open-faced quality.
For these delicacies, there are four must-have elements: bread, meat, cheese, and condiments. Freely choose any of your favorite ingredients.
But if you have no idea, it is nice to start with my recipe. The mustard, mayo, and avocado provide a tangy, creamy, and spicy spread on toast. Meanwhile, meats and cheese add some textures and flavors to create a proper sandwich.
Once baked, this treat reveals a gooey cheese and fatty meat on the surface. Top with some tomatoes and greens, and your hearty meal is ready to go.
Total Time: 28 minutes (including 10 minutes of resting time)
Even the pickiest vegetarian will enjoy these grilled eggplant sandwiches. Each bite of them features sweet eggplant and fresh tomato among lettuce layers. The addition of pickled onions also adds a nice tartness.
Creamy sriracha mayo is the soul of this recipe. Honey complements its sweetness, and a spoonful of black pepper gives it a spicy kick.
But if you want to make this sandwich truly free from animal-derived products, replace regular mayo and honey with vegan mayo and honey, respectively. To save time, make a condiment in advance and keep it in an airtight jar for two weeks at most.
Total Time: 20 minutes
This delicious panini dish will blow your mind with a mix of sweetness and saltiness. Unlike other sandwiches, the sweetness comes from a cranberry relish, which offers an extra floral taste.
However, the deliciousness of this flavorsome croissant sandwich dish does not stop there. There is also the richness of sliced Brie. A few arugula leaves, on the contrary, add a peppery undertone.
To serve your sandwich hot, grill it on the stovetop or in an electric panini press. This equipment will result in the crispiest panini possible.
Let's discover how to cook the elegant turkey croissant panini with extra flavors from cranberry sauce in minutes!
Total Time: 15 minutes
The last treat is the loveliest one on the list. Although an avocado and kimchi combo sounds weird, its taste is perfect from the first bite to the last.
The avocado and cheese lend an ultra creaminess to the sandwich, while the deliciousness of kimchi adds to each mouthful a pleasant sourness.
Gochujang (Korean red chili paste) and honey are the real secrets. These additions help balance out the sourness kimchi may bring, offering the best sweet aftertaste on the tongue.
If you are bored of the buttery flavor, swap it for olive oil. This other option will give your sandwich a fruity and fresh taste rather than adding more grease.
Nothing Is Better Than A Hot Sandwich For Dinner
Now you see that not any hot sandwiches are sophisticated to make. These recipes above are a perfect exception to try on the upcoming dinner. They are handy, accessible, and still retain the yummy taste everyone desires. So decide on one and start making it immediately!
I guarantee people will love your sandwich from the first bite, but tell me what folks think of your feast anytime. I would love to hear more people's thoughts to improve my post every time.
Also, do not skip the like and share part if you want to support me. That will greatly inspire my diligent work. Thank you, and have a delicious sandwich dinner!