Let's sweeten up your day with these simple homemade candy recipes that you can whip up in no time. From candy bars, marshmallows, fudges, to various gummies, there isn't a single type of candy that wouldn't taste better when homemade with love.
You may think that it's a lot quicker to just run to the store, but the beauty of homemade candy is all in the process and how good everything tastes when it finally comes together. So take a closer look at this list and jump right into the kitchen to create your own versions of popular candies.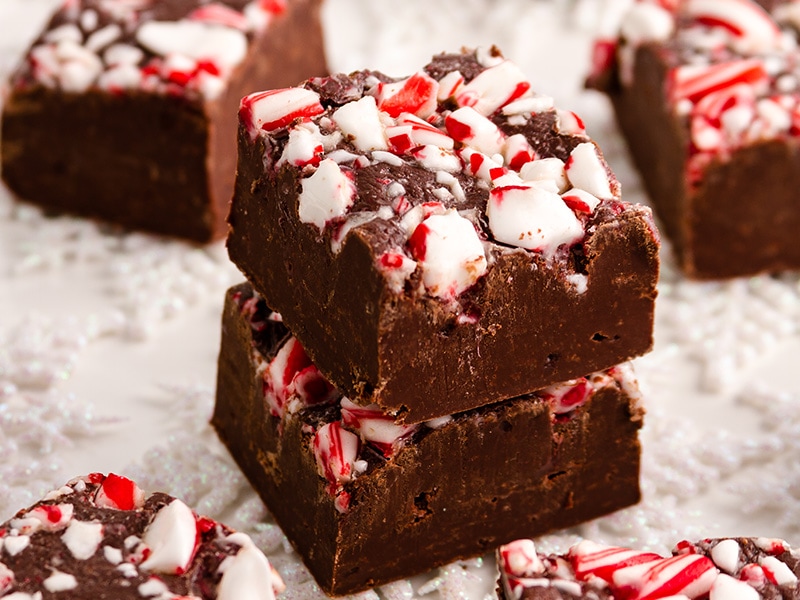 34 Simple Homemade Candy Recipes To Treat Yourself And Your Loved Ones
No matter who you are, there surely is a type of candy you just can't get enough of. Save some money and make them right at home with the following recipes. They are categorized into common types like candy bars, marshmallows, fudges, barks, hard candies, and other types.
Homemade Candy Bars
Homemade Almond Joys
Cookies 'n' Creme Candy Bars
Homemade Butterfinger Candy Bars
Homemade Snickers Bars
Homemade Chocolate Bars
Homemade Marshmallows
Rose Water Marshmallows
Apple Cider Marshmallows
Espresso Marshmallows
Caramel Dipped Marshmallows
Matcha Marshmallows
Homemade Fudges
Chocolate-Peppermint Fudge
Vanilla Bean Fudge
Strawberry Swirl Fudge
Pumpkin Spice Fudge
Cotton Candy Fudge
Homemade Candy Barks
Raspberry Bark
Unicorn Bark
Peanut Butter Cup Bark
Mint Oreo Bark
Cranberry White Chocolate Bark
Homemade Hard Candies
Stained Glass Candy
Easy Honey Lollipops
Homemade Rock Candy
Caramel Apple Lollipops
Other Simple Homemade Candies
Raspberry Meringue Kisses
Homemade Junior Mints
Gummy Fruit Snacks
4th of July Truffles
Homemade Gumdrops
Lokum (Turkish Delight)
Homemade Caramel Candy
Peanut Brittle
Chocolate-Covered Cherries
Divinity Candy
5 Energizing And Delicious Candy Bars You Can Make Right At Home
You will be shocked to learn just how easy it is to make some of your favorite store-bought candy bars. With healthier ingredients and a bigger batch, there's no reason why you shouldn't consider checking out these recipes.
Get a familiar taste of your childhood with this copycat recipe of the infamous Almond Joy candy bar. It's still just as rich and addicting with the coconut fillings and chocolate cover, only made to be much healthier.
You won't believe the simplicity of this candy bar. It only consists of a few simple ingredients, and you can totally customize it to fit your diet. Spend one hour in the kitchen with some kitchen staples, and you can have a whole big batch for everyone to enjoy.
Indulge yourself in some phenomenal sweetness with this copycat version of Hershey's Cookies 'n' Cream. It's basically a white chocolate bar filled with crumbly bits of chocolate cookies. This gives it layers of sweetness and a unique mixed texture that everybody loves so much.
Homemaking these candy bars is much easier than you think as they only require some very basic ingredients and a little bit of baking. Once done, you can have a massive batch of chocolatey goodness not only to eat on its own but also use as a topping for other desserts.
Make the best of your Halloween leftovers by transforming them into another delicious sweet treat. These chocolate-covered bars are filled with candy corn and peanut butter, a surprisingly good mixture that will leave you hooked for days.
These candy bars are extremely easy to make. The steps are just as simple as blending the ingredients together, folding the hardened mixture, and dipping it in melted dark chocolate. That's all you need to do to create these magical and addicting candy bars.
Enjoy Snickers in your own healthy way with this homemade recipe. These bars still consist of chocolate-covered layers of nuts and marshmallows, but you can tailor the ingredients to suit your preference and diet. So even if you are vegan or gluten-free, you are still able to eat them.
Don't let the fillings scare you, though; these candy bars are surprisingly easy to make. You mostly only need to blend the ingredients and let them chill; thus, even though there are many steps, they are all very doable.
Make your own version of snickers based on this easy instruction
You will skip store-bought chocolate bars altogether once you learn how easy it is to home make them. Simply mix the ingredients together and let the mixture chill in the fridge for an hour or two.
Unlike the ones you buy at the store, there's no limit to what you can add to these homemade bars. Fill them up with anything you like, such as flower petals, nuts, dried fruits, cereals, and more. Get into the DIY spirit and cook up some truly great treats for yourself and your loved ones.
5 Dreamy And Soft Homemade Marshmallows You Won't Be Able To Stop Eating
Homemade marshmallows are just inexplicably a lot softer and more tasteful than any kind you could buy at the store. Not to mention the endless flavor options that you can customize yourself. Check out this list for some suggestions on what you can make.
Rosewater is a very well-loved ingredient in many Middle Eastern treats because of its flagrant sweetness. Infusing it into marshmallows will give you a uniquely delicate sweet treat that is just as beautiful as it is delicious.
These homemade marshmallows are what dreams are made of. They are as fluffy as little pillows while carrying a floral taste that you can rarely find in candies. They can also be topped off with some extra rose petals for a more eye-catching appearance.
These soft and heart-warming marshmallows are one of the sweetest ways to celebrate fall. Infused with apple cider and sweetened with honey, they carry a light caramel and tart taste that is perfect for enjoying in the cold seasons.
These marshmallows are wickedly good and can be eaten entirely on their own as snacks. However, their soft sweetness also pairs marvelously with any beverage, from a bubbling apple cider, hot coffee to a cup of dark cocoa. Just add a few cubes to instantly transform your drinks.
This marshmallow recipe is so good that you will absolutely adore it whether you love coffee or not. Even though it is infused with espresso, it's not too strongly flavored or caffeinated, just enough for the soft bitterness to melt through.
These heavenly marshmallows are best paired with dark chocolate. You can drizzle some over the whole batch or just dip them into a bowl of melted chocolate. Their contrasting flavors complement each other perfectly, giving you some truly irresistible sweet treats.
Your holiday parties are about to get so much more exciting with these marshmallows. Covered in a rich layer of salted caramel, they will blow your guests away because of how refreshingly good they are.
This recipe offers you a brand new way to eat marshmallows by giving them a crispy exterior that completely contrasts the interior softness. To enhance the taste even further, you can add an extra sprinkle of your favorite topping, like graham crackers or crushed peppermint.
Recently, everybody has loved making desserts with matcha powder. Its uniquely bright and grassy taste seems to balance out with anything, and these marshmallows are no exception.
It's love at first bite with these soft and fluffy marshmallows. They are tenderly sweet but also quite rich with an aromatic, earthy undertone. On top of that, matcha also comes with a lot of antioxidants, so they are significantly more healthy than a lot of other sweet treats.
Put a batch of fluffy matcha marshmallows together in just a few simple steps. You can see this video to know more:
Warm Up Your Heart With These 5 Homemade Fudge Recipes
It's hard to go through the cold seasons without at least eating one or two fudges. These recipes are here to accompany you with their delectable sweetness and addicting crunchiness. See all the ways to sweeten your chilly days in just a few simple steps.
When winter rolls around, don't forget to make this beautiful sweet treat with your favorite chocolate for your loved ones. This recipe just screams holiday goodness with the heavenly combination of chocolate and peppermint, topped by a sprinkle of crushed candy canes.
As flavorful and delicious as fudge is, you don't need a lot to whip up a rich and creamy batch. It requires no more than a few essentials and thirty minutes at most. You can make so many in a short amount of time for all purposes, from holiday gifting, party snacks to personal enjoyment.
Want to enjoy fudge but don't like dark chocolate? Try this recipe out, then. It uses white chocolate, which is a lot more subtle and delicate in sweetness. Its floral undertone pairs marvelously with the fresh and aromatic vanilla beans.
Made with white chocolate but this fudge is still as creamy and rich as it can possibly get. It is also so sweet and soft that it just melts right into your mouth upon biting, leaving you with an aftertaste you won't be able to forget.
Heart-meltingly delicious and drop-dead gorgeous, you can not only eat this fudge but also use it as a gift for all special occasions. From Valentine's Day to birthdays, a bag full of these colorful fudges will be enough to bring a smile on your loved ones.
Made with a mixture of strawberry extract, vanilla extract, and white chocolate, this fudge is loaded with a bright sweetness you'll be tasting on your tongue for days. It also contains marshmallow cream, which makes every bite addictingly smooth and slightly chewy.
While you may normally find pumpkin spice in beverages and pies, it could definitely fit right into a fall fudge recipe. What better way to kick off the cool season than with a spicy-sweet batch of pumpkin spice fudge to munch on?
A majority of the ingredients are actually spices, like nutmeg and cinnamon, so you can expect this fudge to be a lot warmer in flavors than other kinds. Adding some pumpkin purée to the mix, it becomes so velvety smooth and soft that it will just melt right into your mouth.
Give yourself some comfort and warmth with this fudge recipe.
Here's a brand new party snack recipe for you. This fudge is unlike any kind you have ever seen before. It looks almost magical with the vibrant swirls of colors coming together in tiny square cubes. Put a plateful of this fudge out and your party table will immediately attract attention.
More than just looks, this fascinating candy will have everyone smitten with its taste too. It tastes just as sugary and sweet as actual cotton candy, but with the signature creamy fudge texture that you love so much.
Top 5 Homemade Candy Barks That You Can Make Without Breaking A Sweat
Chocolate bark is as simple as it can get. Just melt the chocolate mixture, spread it out, and wait for it to harden. It takes minimum effort but ends up tasting so delicious and irresistible. Don't hesitate to whip a few batches together to bring some sweetness to your holidays.
Dried fruit and chocolate are truly an underrated combination. So I bring an irresistibly sweet recipe using raspberries and dark chocolate. It's quick, easy, and can easily be made to fit a variety of diets.
The hardest part about making this chocolate bark is probably waiting for it to harden. But even then you don't need to wait for too long, only around one to two hours. Other steps just involve microwaving and stirring the ingredients. It's so simple that you can do it with your eyes closed.
Step out of the box for a bit and make something that will impress all your party guests. This colorful and magical white chocolate bark will steal everyone's hearts before they even taste it because of how gorgeous and whimsical it is.
This recipe uses candy melt instead of regular food colorings, which is why the bark's colors are so vibrant. You can play around and use any color, topping combo you like to fit your party's theme. This is a wonderful opportunity for you to get creative in the kitchen.
This recipe is for all the peanut butter lovers out there. This bark is a hardened mixture of peanut butter, peanuts, and chocolate. It's surprisingly rich and flavorful for something that only contains a couple of ingredients.
The messiness of this bark is one of its greatest qualities. Each piece is a chaotic blend of crunchy peanut butter cups and firm chocolate while their sweet and salty flavors melt into one another. It's so good you will find yourself licking your fingers over and over again once you are done.
Grab your candy thermometer and get ready to make an addicting peanut butter bark. You can see this video to know more:
While peppermint oreo is something you can enjoy all year round, there's no better time to make it than during the holiday. There's something about the sweet chocolate with a cooling mint undertone that really reminds you of all the upcoming Christmas festivities.
Not only is this recipe stress-free with how easily you can assemble it, but it also looks incredibly appetizing thanks to the vibrant green shade and chunky cookie crumbs. Whether you're serving it as a holiday snack or gifting it to friends and family, it's sure to be a hit regardless.
Covered in shades of white, red, and green, this bark makes the perfect addition to all your holiday gifts. Not only is it pretty, but it's also addictingly good. The dried nuts and berries truly add an interesting texture and flavor to the overall piece, bringing you joy with every small bite.
The cool thing about this recipe is it's entirely customizable. The white chocolate base is pretty flexible, so almost anything could go with it. You can add other foods like mini marshmallows, raisins, orange zest, M&Ms, almonds, and many more to fit your personal preference.
4 Homemade Hard Candy Recipes That Are Both Fun To Make And Enjoy
Compared to the other types on this list, hard candy certainly takes longer and a bit more effort to come together. But the steps are still relatively simple, and the results are so colorful and exciting that you will find that every minute was worthwhile.
True to its name, this candy looks like beautiful and colorful shards of broken glass. It's made of sugar, corn syrup, water, and a variety of food colorings. Depending on what you like, it could come in a rainbow of colors with any fruit flavor imaginable.
Making this glass candy can seem intimidating at first. It requires time and attention, but the experience and result make all the effort very worthwhile. Once you have mastered the technique, you'll be making several batches a month because of how good it is.
These honey lollipops are not only deliciously sweet, but they also make a lovely sore throat cure for both children and adults. Consisting of simple foods like honey, sugar, and lemon oil, you can make these any time you want with already available ingredients.
If you are afraid that honey alone might be too plain, there are always add-ons you can use to keep it interesting. Citrus and lemon zest are also great sore throat remedies, plus they bring along a delightful sweet and sour undertone.
You can easily buy rock candy in the nearest grocery store, but what you can't buy is the fun experience you could get from making it yourself. It requires a bit of time and patience but also gives you the unique opportunity to learn the science behind how sugar crystals grow.
Making rock candy yourself will also allow you to customize the colors and flavors as wildly as you prefer. There is no limit to what exciting combinations you can come up with, so don't hesitate to jump into the kitchen and let your creativity run free.
DIY your own rock candy for an unforgettable experience with these instructions
Let's make a sweet treat from the all-time favorite caramel apples to enjoy regardless of the season. These lollipops have the tart taste of green apples while being coated with a layer of rich and sweet caramel.sweet treat from the all-time favorite caramel apples
You can have a lot of fun making these lollipops too. There's no rule to how they can look. Use different molds to give them fun shapes that kids will adore while adding any additional sprinkles on top. The colors are already quite exciting, so you will have a relaxing time for decorating.
Take A Look At These 10 Other Simple Homemade Candy Recipes
Candy is a world of wonder with how many varieties there are. It's always fun to explore and discover all the different types, how you can make them, and how they taste. Here are a few more to consider making when you want to try something new.
Meringue kisses seem a lot more complex than they actually are because of their colors and shape. In actuality, they couldn't be simpler as most of the steps just involve mixing and baking. You can easily whip up a large bag of these tiny babies for any occasion.
Raspberry meringues will capture everybody's attention immediately because of their gorgeous red swirls. Then the crispy outer texture and delicate raspberry taste will steal their hearts completely. Good looks and delicious flavor, these candies have it all!
These adorable bite-sized sweet treats are perfect to casually pop in your mouth throughout the day or add to your hot cocoa for an extra cooling taste. They taste much more vibrant than the store-bought version, and you can even make them vegan if you like.
These candies are the perfect proof of why dark chocolate and mint are such a beloved combo. The creamy mint is covered in a thick and crunchy layer of chocolate, giving you a heavenly winter taste with each bite. It's so simple, yet so undeniably good.
Say goodbye to artificial flavors and overly sweet gummies; you can now make your own healthy version using fruit juice or real fruits and other simple ingredients. You can freely customize them to any flavor you like and even try out different combinations.
Since the fruity ingredients are already naturally sweet, you can skip out on the sugar if you like. They make a great snack time treat for both kids and adults. Anyone can chew on these as much as they want without having to worry about consuming unhealthy foods.
Create a colorful batch of fruit snacks with these four recipes.
Whether you're having a 4th of July party or not, these colorful truffles are great to have around either way. Covered in shades of red, blue, and white, they are an instant eye-catcher at any party they appear in. The best part of all is they are super easy to put together.
With an exterior made of cream cheese and an oreo filling, it's no doubt that you'll have the time of your life eating these truffles. They are deliciously creamy with an unreal level of sweetness. Top them off with some candy melts or sprinkles, and they'll look just as good as they taste.
Take a trip down memory lane with your favorite childhood candy. These adorable gumdrops are not only super tasty but also incredibly easy to make. They take a little bit of waiting around for the mixture to set, but other than that, everything else is quite simple.
The fun thing about making your own candy is how creative you can get. Buy different molds to give them the shape you want, and don't be afraid to experiment with the flavors. You can use various extracts and food colorings depending on the holidays or even just the mood you're in.
Delicately sweet and soft to the touch, these classic Turkey candies will make all your sweet treat dreams come true. Traditional Turkish delights do not contain gelatin, so it's perfect for those who are vegan. They do require some time and patience, but it's all worth it in the end.
The classic flavor of these squishy candies is a subtle floral sweetness from being infused with rosewater, but you are free to make anything you want. Any fruit extract can be used, like raspberry, citrus, pineapple, and more. You can even match the colorings with the flavors.
I hope you don't mind another holiday candy recipe because this is a classic one that's impossible to not talk about. You can find these caramel candies all year round, especially during the winter when everybody just wants a familiar sweet-salty treat to munch on.
Caramel candies are made from very simple ingredients like butter, corn syrup, sugar, sea salt, and heavy cream. The process is also just as easy as it mainly involves stirring and waiting for the mixture to set. Make as many as you want to treat your loved ones and yourself.
This crunchy homemade candy is made with a hot mixture of corn syrup, sugar, roasted peanuts, and butter that gets hardened and pressed into pieces. It's an old-fashioned sweet that many like to enjoy from time to time for its rugged, crispy texture and salty-sweet taste.
Peanut brittle is quite multi-purpose. You can eat it as it is, wrap a handful in cellophane and a pretty bow to give away, or serve it as a side treat for your afternoon tea. It can also last for several weeks in the fridge, so you can just make some in advance for all of these things.
Blow everyone away at your next holiday gathering when they take a bite into these tiny chocolate balls. Featuring dark chocolate shells and deeply sweet cherry cores, these bite-sized snacks will bring about some unbelievable flavorful explosions.
These cherries are full of delight and pleasure. They are solid on the outside but melt right into your mouth the minute you eat them. You can make some in advance and leave them in the fridge to let the coldness intensify both the flavors and the textures.
This cloud-like candy is originally from the South and is usually made as a holiday treat, but it's just as good as any other time of the year. It's unique not just in appearance, but also in texture. As expected, it is quite soft and fluffy, but also surprisingly chewy and a bit crunchy as well.
The traditional flavor for this candy is vanilla with some pecan in the center. However, you can be as flexible as you want with the recipe. Peppermint extract can be used to give a cooling undertone. Many also like to add shredded coconut to make it a bit more filling and subtly sweet.
Bring The Sweetness Back Into Your Life
It's time to enjoy candy in a better and healthier way. Homemade candy can taste just like the ones you buy at the store, if not better. The difference is there's no preservative or unknown ingredients, just precisely what you want to and can eat.
You will be surprised by how much fun you can have while making your own candy. Feeling the sweetness move through the entire kitchen is an experience you'll want to recreate over and over again.
Try these recipes out, and don't forget to tell me all about your little sugary adventures.
Nutrition Facts
40 servings per container
---
Amount Per ServingCalories184
% Daily Value *
Total Fat 10g

16

%
Cholesterol 5mg

2

%
Sodium 34mg

2

%
Potassium 72mg

3

%
Total Carbohydrate 24.5g

9

%

Dietary Fiber 2.2g

9

%
Sugars 14.1g

Protein 2.4g

5

%
---
* The % Daily Value tells you how much a nutrient in a serving of food contributes to a daily diet. 2,000 calories a day is used for general nutrition advice.