Like you, I have spent a lot of time searching for high-protein breakfast recipes because I want to give myself and my family enough energy to start a day. And today it's your lucky day. I saved a list of the best dishes for a nutritious breakfast, which I will share with you.
It took me a while and many trials to finally narrow down to these amazing dishes. Most of them are easy and quick to make. It's important since no one has all the time in the world to make a big breakfast before going to work.
On the other hand, I still include some other recipes requiring more time and effort. You may give them a try when you are free on weekends.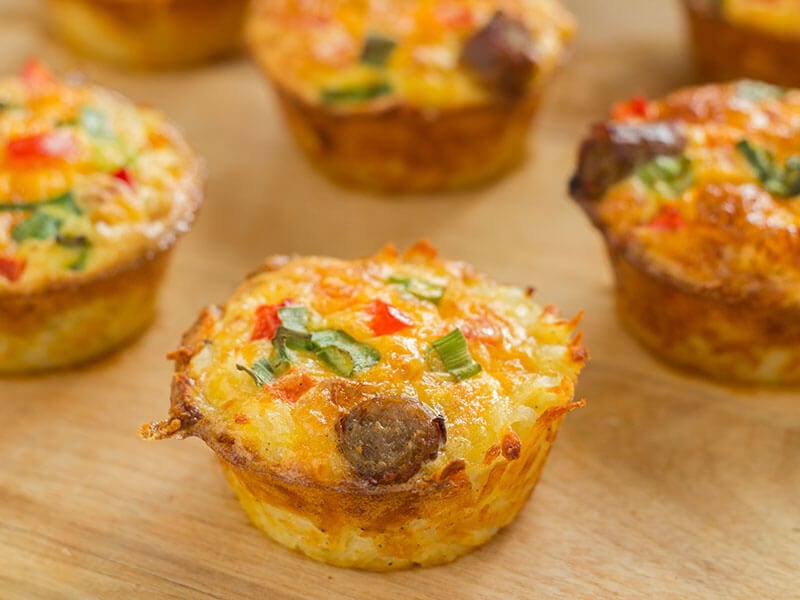 Fill Your Stomach, Energize Yourself With These Nutritious Dishes
Each of these dishes has one or two main ingredients as the protein sources, but you can replace the ingredients to fit your diet if you are on a gluten-free or vegan diet. Remember to read my notes for this information.
Total time: 47 minutes
The quesadilla is a Mexican treat that comprises a tortilla wrapping cheese, meat, and other ingredients. Traditionally, Quesadillas use corn tortillas, but flour tortillas are good, too. As this dish is flexible about fillings, here's a breakfast version with eggs and sausage.
When baking, you need two sheet pans. Place the quesadilla on one pan and put the other on top of the quesadilla. This way, the quesadilla will be wrapped firmly. My recommended partners for your quesadilla are sour cream, salsa, or other toppings.
While it takes nearly an hour to complete this breakfast, you can take advantage of the 25 minutes of baking time to get dressed and prepare for work.
You can use chicken instead of sausage and serve sheet pan breakfast quesadilla with avocado as this chef does.
Total time: 10 minutes
There are no downsides to these pancakes. They are full of protein, instantly fast to make, super easy, tasty, and lovely. You will also use maple syrup as a sweetener, giving the pancakes a depth in flavor.
Best of all, they are completely vegan, requiring no eggs or milk. If you want to take a step further and make these pancakes sugar-free, just replace maple syrup with stevia powder or other substitute sweeteners.
One special note about this recipe is the water amount. Depending on the protein powder, the same amount of water can result in a thick or runny batter. My advice is to start with one cup of water, then slowly add more if you find the mix too thick for you.
Total time: 1 hour
You can prepare this dish the night before and bake it the next morning for breakfast, or prepare and bake it in the morning if you have time. This is a super nutritious dish with chicken sausage, 6 eggs, and other healthy ingredients.
In this recipe, the eggs play an important role in keeping all the other ingredients together as a firm block. Meanwhile, the cheese offers creamy and savory flavors. I like to bake the casserole for an extra 5 minutes with only the upper heat to make the surface a little crispy.
It's fine to replace the sausage with bacon and use any type of cheese of your choice. Plus, other than spinach, swiss chard, or kale works.
Total time: 5 minutes (excluding chilling time)
This recipe gives you no excuses to skip your breakfast no matter how busy you are. While it takes at least 4 hours to chill before serving, you need only 5 minutes to make peanut butter Greek yogurt overnight oats.
It can't be any simpler: mix all the ingredients in a bowl or jar, seal the container, and put it in the fridge. When you have it in the morning, top the dish with a peanut butter drizzle and start scooping.
I often treat myself to a small bowl in the summer, especially on the hottest days when I prefer a light, painless breakfast.
Add banana and chia seeds to your Peanut Butter Greek Yogurt Overnight Oats for a more chewy texture.
Total time: 2 hours (including chilling time)
This breakfast recipe is refreshing, creamy, nutty, fruity, rich in protein, and takes little effort to make. It comprises multiple layers, including two players of yogurt-chia seed mix, one player of strawberries, two or three layers of granola, and mixed toppings.
This recipe yields four glasses of this parfait. If you are eating alone and cannot finish everything, you can keep the rest in the fridge for dessert or snacks. Otherwise, divide the recipe to get one serving.
Total time: 15 minutes (excluding chilling time)
This breakfast is also an overnight oat recipe. However, you will use blueberry instead of Greek yogurt and peanut butter to flavor the dish. In addition, it's vegan-friendly with vegan yogurt and almond milk rather than their regular counterparts.
I think any parent with small children will appreciate this recipe. Why, you ask? It's absolutely a delicious, fun, but nutritious, protein-rich breakfast that no kids can resist. These blueberry pie overnight oats are also quick enough to make that you won't feel tortured in the kitchen.
Almond milk is the ingredient with the highest protein content here, giving the dish a unique flavor compared with regular milk. So, ensure you don't replace it with other types of milk.
Total time: 10 minutes
These energy bites double work as a healthy breakfast or a snack. Rolled oats, peanut butter, and flaxseed meal are all great protein sources. Meanwhile, honey gives these treats sweetness, and cinnamon elevates their scent.
To make chocolate peanut butter energy balls, you need first to mix dry ingredients in a bowl and whisk the other ingredients in another bowl. Then, blend the mixtures and put the result in the fridge for half an hour. Lastly, roll it into bite-sized balls.
It's a piece of cake, isn't it? You can store the energy bites in the fridge for seven days.
Total time: 5 minutes
The egg is one of the most versatile ingredients ever, which can contribute to any type of meal or dish you can think of. That's why I always have a few dozen eggs in the fridge so I can quickly put together a 5-minute breakfast, such as Strapatsada.
You don't see egg and tomato cooked together daily, but I assure you this will change now that you have seen this Greek recipe. With only 4 ingredients, including eggs, cheese, tomatoes, and Greek olive oil, a sweet, salty, cheesy, nutritious meal awaits.
This Strapatsada brings about a soft, creamy, and flavorful dish. It's worth noting that grating tomatoes can produce a lot of liquid; you must cook until the excess liquid drains completely, leaving a tomato paste in the pan.
Total time: 40 minutes
Sweet potato sausage frittata is suitable for a big family. It's healthy, unchallenging to make, not very time-consuming, and yields a big pan for several people.
That said, I believe you can benefit from a few cooking tips for this recipe. Firstly, be careful not to overcook the frittata. Bake until the eggs are puffed, and golden brown or they will burn. Secondly, precook the sausage and veggies before the eggs.
Lastly, it's best to cook this frittata in a seasoned cast iron skillet. Cast iron skillets are naturally anti-sticking if you use them correctly, and they make high-quality dishes.
If you want a vegetarian version of Sweet Potato Sausage Frittata, omit the sausage and add ground nutmeg.
Total time: 5 minutes
Cottage cheese is extremely high in protein, providing 25 grams per cup. It has a subtle flavor, featuring a slightly salty taste. A cottage cheese bowl is a creamy, refreshing breakfast that surely offers you high nutritional value.
To make this cottage cheese-based dish, you can chop pistachios and veggies the night before, chill them in the fridge, and assemble the dish the next morning. If you have more time, you can conduct the whole process in the morning. It's dependent on your schedule.
From this recipe, you can make tweaks to create different variations. For example, use any type of cucumber instead of Persian cucumbers. You can also use peppers of other colors rather than red, and topping the bowl with bagel seasoning can be yummy, too.
Total time: 10 minutes
Poached eggs are the type of dish that takes several practices as it depends on several factors, such as the cooking time, heat, etc. However, one tip may help: adding a little vinegar to the boiling water will prevent the egg from breaking.
While poached eggs have a thick, creamy, runny texture, the toast is crispy, and avocado offers nice smoothness. Don't forget to season your breakfast with salt and pepper to enhance the flavor.
Total time: 20 minutes
While vegetarian, this breakfast provides protein for you and your kids from Greek yogurt and whole wheat flour. They are painless to make and taste so amazing that the last pancake will disappear sooner than you can imagine.
These treats don't have to be overly sweet if you use Greek yogurt as the sole sweetener. On the other hand, you can make them sweeter by adding sugar to the recipe. Serving them with syrup will increase the dish's sweetness and enhance the smell.
It's best to serve pancakes warm. In case your family can't finish all of them at once, store them in the fridge and microwave them for 20 to 30 seconds when you want to eat them.
To make Fluffy Greek Yogurt Pancakes, you can mix all-purpose flour with wholewheat flour.
Total time: 25 minutes
Have you ever tried savory oats? This article has so far introduced some sweet oat recipes to you, so I would love to add a savory one to the list. It has only six ingredients: eggs, tomatoes, oatmeal, avocado, Turkey bacon, and onion.
It takes only three steps to generate this savory oatmeal bowl. Step one, cook turkey, bacon, and onion in a saucepan, then add oats and water to cook over medium heat. Step two, you fry an egg to your favorite doneness. I like the egg yolk to be runny.
Step three, assemble your breakfast by putting oatmeal in the bowl and topping it with egg, avocado, and tomato. The entire process ends in less than 30 minutes.
Total time: 5 minutes
In the summer, we all look for a breezy, chill recipe, whether it's breakfast, lunch, or dinner. For the sake of this topic, though, I'm bringing the ultimate breakfast bowl for hot days, the peanut butter banana smoothie bowl.
This dish is nutty, creamy, tastes like soft ice cream, and is super cool. It wakes you up without shocking you, promotes your mood, and supplies a lot of protein, among other nutrients. The best part is you need only 5 minutes to whip up a bowl.
Please note that the total time for this recipe doesn't include the freezing time of bananas, which you must do the night before. If you forget to prepare frozen bananas, you can blend the ingredients with some ice, but it will be colder and runny when the ice melts.
Total time: 25 minutes
Black bean burritos look simple to create, but they require a lot of ingredients. So, I only opt for this recipe at the weekend when I have extra free time in the morning. Preparing these burritos on weekdays is crazy for me.
The filling comprises black beans, carrots, cilantro, fresh tomatoes, avocado, and seasonings. You need to cook the beans and tomato, while the avocado needs mashing too. Once you're done preparing the filling, place the ingredients along one another and start rolling.
Total time: 15 minutes
You can try a bunch of scrambled tofu recipes on the internet, but this will be the best ever. This dish is full of umami and savory flavors. It's complete with spinach and juicy tomatoes. This is the perfect alternative to regular scrambled eggs if you are going vegan.
The secret to a mouthwatering scrambled tofu dish is nutritional yeast, Tahini, and lemon. These ingredients behind the unique flavor make you crave one spoon after another.
For those unfamiliar with Tahini, it's a Middle Eastern condiment made from sesame seeds. It's present in many cuisines from North Africa to South Caucasus and Eastern Mediterranean.
Total time: 1 hour and 30 minutes
The Moroccans use the tagine for cooking their most popular dishes. A tagine dish is basically every meal you can cook and serve in this cooking vessel. Meanwhile, kefta is spiced ground meat, very common in Morocco as a type of street food.
This dish is a fun recipe to use when you need a touch of change in your daily routine. These meatballs are seasoned with cinnamon, paprika, turmeric, and cumin rather than American-style seasonings.
The tomato sauce is a crucial part of this dish as it complements the meatballs' flavor. It brings even more paprika and cumin and adds texture to the mix.
See how Moroccan Kefta Tagine With Eggs comes together in this instruction video.
Total time: 15 minutes
This dish is super light and breezy but packed with protein, mostly from the nutritious egg whites. Not just that, it involves poaching berries, which softens their texture to replace the crispiness of fresh fruits. In the end, you get a super tender breakfast.
In this recipe, you start by bringing juice, vanilla, and cinnamon to boil over high heat. Wait until the liquid thickens, reduce to low heat, and add the berries. Poach them for 2 minutes, then remove the saucepan from heat.
In the meantime, turn on the grill to medium heat, and beat egg whites with icing sugar and vanilla until you get soft peaks. Next, divide the egg white mixture into two halves, and grill each over medium-high heat to get a light golden tone.
Transfer the result to a plate, and top it with berries and sauce. It's best to eat immediately after that.
Total time: 25 minutes
Shakshuka is a Maghrebi dish. Its main ingredient is poached eggs with sauce. This green version also includes avocado, baby spinach, cheese, and cilantro, among other seasonings and ingredients.
Following instructions, you will obtain a lovely green breakfast featuring silky eggs, super soft avocado, creamy cheese, and chewy veggies. This recipe uses five large eggs, so you can share with the whole family or reduce the ingredients to serve yourself only.
Green Shakshuka is a delicious, low-key, and healthy dish for any morning in the year. If you have never heard of this dish, try it today!
Total time: 25 minutes
You now know what type of dish frittata is and tips to make it successfully. However, did you figure out how to tell when your frittata is cooked just by looking at it through the oven's glass door? If the dish raises and gets fluffy, it's well done.
Spinach bacon cheese frittata makes a perfect breakfast. However, in case you want to make it for brunch instead, here are some side dish ideas. Pair the dish with tossed salad with Italian salad dressing, cucumber salad, or biscuits.
Total time: 20 minutes
Adding cheese to pancakes gives you a completely new texture and flavor. Regarding texture, your pancakes are crispy on the outside and soft and chewy on the inside. Meanwhile, the flavor is now a combination of sweetness and salty taste.
You can serve these lovely pancakes with simple syrup, maple syrup, or any other syrup you see fit. Topping them with some berries will also enhance the look and add a fruity hint. If you can't finish all the pancakes, store them in the fridge.
This recipe uses all-purpose flour, but you can replace it with whole wheat flour to increase the protein content.
Looking for an even simpler recipe? Try these 3-ingredient Cottage Cheese Pancakes.
Total time: 55 minutes
Congress, or rice porridge, is a well-loved dish in Asian countries, especially China. It's quite easy to make, comforting to eat, contains many nutrients, and gives you a full stomach to work all morning.
Normally, congee has meaty ingredients. But I want to introduce a vegetarian recipe because it's equally tasty. If you want to make it completely vegan, you can omit the egg too.
You can cook congee with any type of rice. Yet, long-grain rice and short-grain rice may result in a slightly different texture. Using long-grain rice will give you something to chew, but short-grain rice will break down completely, and you can sip the congee.
Total time: 18 minutes
Scrambled eggs and smoked salmon are a combination I recently discovered, and it has become my new breakfast recipe. Scrambled egg is as fluffy and soft as usual, but smoked salmon has an exquisite salty flavor to the dish.
At the same time, coconut milk gives the dish a creaminess and great smell and ensures tenderness for your egg. Last but not least, this recipe is packed with protein as eggs and salmon are incredible natural sources of this nutrient.
You can serve scrambled eggs with smoked salmon alongside a simple fruit salad or roasted veggies with balsamic vinegar.
Total time: 13 minutes
This breakfast recipe is straightforward, not fancy, but it's so yummy and nutritious. Since ham and cheese have certain saltiness, you can consider leaving out the salt in this recipe, which is how I do.
This flavorful omelet recipe is quite easy to make, but a few pocket tips can help you achieve the best outcome. First of all, always use a non-stick skillet. Secondly, pre-heating the skillet well will produce the perfect outer crust for your omelet.
Thirdly, as a skillet retains heat very well, you should transfer the omelet to a plate a bit sooner than you would do with other types of pan. It will give you a soft, somewhat runny texture on the inside.
Total time: 25 minutes
This is another and simpler version of black bean burritos that packs a lot of flavors and protein for you to start your day. Instead of carrot and cheese, you will now use sweet potato and onion with salsa. The result is a starchier breakfast with a much thicker texture.
Spinach is present here for a veggie touch and a nutritional balance. If you plan to bring your meal to work, wrap the burritos in parchment paper. Otherwise, you can still roll and serve your breakfast without it.
For people on a gluten-free diet, you should switch to GF-certified wraps or replace them with collard green leaves.
If you don't know how to process sweet potatoes to make Sweet Potato And Black Bean Burritos, refer to this instruction clip.
Total time: 35 minutes
Mini egg muffins allow you to prepare a day-starter meal for your big family without burying yourself in the kitchen or creating a mess. These cute little bites are easy enough for your children to help. And they can double as brunch.
If you have small children, consider halving the batter for each serving. This way, the muffins will be shorter, take less time to cool down, and your kids won't bite into an overly hot center.
On a side note, feel free to tweak the filling ingredients as you please. My suggestions are bacon, ham, green onion, sweet potato, baby spinach, green pepper, tomato, and cheese.
Total time: 55 minutes
This dish is easy to make, but its mouthfeel is far from simple. It starts with a crispy grilled cheese layer. Next is a milky, creamy layer comprising tender ground pork. The dish becomes a full package with a pinch of cilantro to enhance the smell.
To make the best Bisquick breakfast casserole, you must saute the veggies first. This step helps bring out veggies' sweetness and mellow flavor to balance the bitterness. Plus, apart from the ingredients listed in the recipe, add mushrooms or ham as you like.
Total time: 15 minutes
Huevos Rancheros is an iconic morning meal from Mexican cuisine. It consists of lightly fried tortillas, refried beans, runny fried eggs, and ranchero salsa. If you ever seek a breakfast recipe from another culture, this one is the answer.
When assembling huevos rancheros, place the crispy tortillas on a plate, then a layer of creamy refried beans. On the top is the fried egg, and finish it with spicy salsa. Keep in mind that serrano pepper is hot, so don't serve this breakfast for small children.
Total time: 1 hour and 5 minutes (including chilling time)
What's amazing about this delectable chia seeds recipe is that seeds are soaked in peanut butter, milk, and maple syrup. Hence, it absorbs all the milkiness and creaminess, resulting in an amazing flavor for the dish.
After one night, you get a mixture thick like pudding. The only thing left to do is take a mason jar, put a peanut butter layer in it, then a layer of chia pudding, followed by a layer of jelly and another chia pudding layer. Drizzle a little peanut butter, and it's ready to serve.
Peanut butter and jelly chia pudding is a chill, fun breakfast anyone can rely on to beat the heat on hot days.
Total time: 15 minutes
On a cold day, or when you're under the weather, you can't go wrong with this apple-cinnamon scented porridge. The dish is nourishing, warm, and satisfying, which will quickly chase away any discomfort you have in the morning.
If you are not a fan of apples, you can replace this ingredient with two bananas. To increase the protein content of the porridge, mix one tablespoon of protein powder with water and add it to the dish after cooking.
For gluten-free eaters, you should skip the LSA and use organic rolled oats.
Let's Make Each Breakfast Both Delectable And Nutritious
Protein provides you with energy without giving you any belly fat. Protein also helps build muscles. That's why these dishes are optimal breakfast options for everyone. Whether you seek a big meal for your family or an instant bite, there's a recipe here you can use.
I hope you will get the most delicious result from these recipes so that you can fully enjoy your day-starter treat. If you found this article useful, share it with your fellow cooking enthusiasts. Maybe they will find their favorite high-protein dishes, too.