These Hanukkah desserts are perfect for serving at your festival. From traditional to remarkable sweet treats, this post includes the most impressive recipes. There is nothing to worry about. I'll give you all the tips to prepare these yummy desserts effortlessly.
The Festival of Lights is incomplete if there is a lack of sweet treats. Just like the best Hanukkah appetizers, these desserts are ideally made for the occasion, with distinctive and toothsome flavors. I'm sure they will make your holy days the most amazing holidays ever!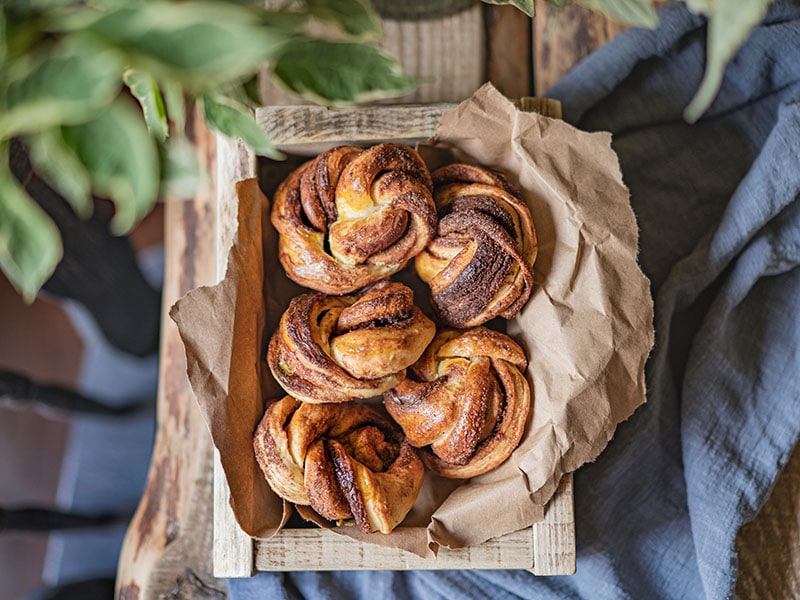 Delightsome Desserts That Make Your Hanukkah Fun-Filled
When Hanukkah is coming around the corner, it's time to exchange gifts, light the menorah, sing traditional songs, and enjoy amazing food, including desserts. This Hanukkah dessert list won't upset you with a wide range of outstanding sweet treats.
Total time: 1 hour
Hanukkah or Chanukah gelt is an essential sweet treat on this holiday. The gelt symbolizes real coins and is typically given as a present to children. Traditional gelt is made from chocolate and wrapped in gold foil. But, this version of the Hanukkah gelt will become a hit.
Instead of chocolate coins, I will show you how to turn the gelt into a warm ginger dessert. You will need margarine, plain flour, and bicarbonate of soda to make the ginger dough. As for the icing, it includes icing sugar, xanthan gum, and water.
You can decorate the gelt by drawing featured symbols of Hanukkah like menorahs, dreidels, the Star of David, currency symbols, etc.
Total time: 1 hour 35 minutes
A dense, rich, and moist treat like honey cake never goes wrong with any holiday. You'll love the flavor of the cake after the first bite. There is the pleasant sweetness of the honey glaze, the nuttiness of almonds, and the juiciness of grated apples.
Despite lacking grain, the texture is still perfect, thanks to the nutrient-rich almond flour. Moreover, this recipe substitutes dairy ingredients with almond milk to lower the calories. Now, nothing is holding you back from comfortably enjoying desserts on Hanukkah.
Granny Smith apples are suitable for this honey dessert. Also, you can make the cake spread with the glaze one day ahead.
Total time: 2 hours 20 minutes (including 30 minutes of the rising time)
No matter what it is, fried doughnuts are an essential part of Hanukkah to represent the miracle of the oil. These delicious doughnuts and doughnut holes are tender, fluffy, and dusted with sugar.
Due to a high smoke point, vegetable oil like canola, peanut, or safflower is the best option for deep-fry doughnuts. If you want to spice up the treats, you can add nutmeg or ground cinnamon to the ingredient list.
Leftover desserts can last for 2 or 3 days when stored in zipper storage bags. When you are about to serve the desserts, microwave them for several seconds.
Total time: 4 hours 35 minutes (including 3 hours of rising time)
The doughnuts are filled with luscious jelly and coated with a golden brown crust. They are the best traditional desserts for the Jewish festival. Some of the other components of the sweets are jelly, unsalted butter, and granulated and powdered sugar.
Preparing the yeast is very important because it decides whether your doughnuts are yummy. If you can see the bubbles appear after whisking the yeast with warm milk, it's perfectly made. If not, you should go back to the first step and make it again.
Gluten-free jelly donuts are fluffy and loaded with flavors.
Total time: 1 hour 15 minutes
Hanukkah is incomplete without doughnuts, but have you ever tried tahini coffee doughnuts? The combination of yeast-raised cakes, the nutty and savory tahini, and the nice-smelling cold brew coffee is fantastic. These sweets can also be served as delicious morning treats.
For the best results, you should use a thermometer for deep-frying to ensure the oil isn't too hot while cooking the sufganiyot. For decorating the treats, drizzle with some tahini, sesame seeds, rainbow sprinkles, or whatever you want.
Total time: 1 hour 5 minutes (not including the chilling time)
Besides being served on Hanukkah, rugelach is famous worldwide in bakeries and coffee shops. Traditional rugelach cookies are a crescent roll-based sweet treat filled with nuts, raisins, poppy seed paste, or jam.
This version of rugelach is the cream cheese pastry rolled in the sweet, aromatic, and nutty walnut filling. The main ingredient of the filling is black fig preserves, which bring out the pleasant taste of the treats. Also, you can use your favorite jam as a substitute.
Total time: 2 hours 50 minutes (including 2 hours of chilling time)
Cinnamon rugelach cookies will remind you of your childhood reminiscences. That's due to the combination of the sweet flavors of golden raisins, the cinnamon aroma, and the flaky, tender pastries. Everyone will love these delicious swirled cookies.
You can follow this guide when forming the dough into spiral logs. Start rolling from the wider side. Gently and tightly roll the dough, then let the seam face down. Repeat with the other rugelach dough and place all the logs on a baking sheet to prepare for the next steps.
Assembling these beautiful holiday cookies may take some time, but it's completely worthwhile. To create a flaky texture for rugelach, remember to chill the butter before combining it with the other ingredients.
Cinnamon rugelach cookies are a popular dessert on the Hanukkah holiday.
Total time: 15 minutes
No one can say no to something as crunchy, candied, and nutty as sesame brittle. The pleasing sweet takes a few minutes and simple steps to whip up. All you will do is stir everything over medium heat until caramelizing, pour the mixture out, and break it into pieces.
The key to making flaky brittle, more porous, and easier to chew is to add a little baking soda to the hot sesame seed mixture before removing it from the heat. Don't worry if it causes the mixture to bubble; this is the natural reaction between baking soda and melted sugar.
Total time: 1 hour 20 minutes (including 1 hour of chilling time)
Chanukah trifle is an incredible combo of sponge fingers, raspberries, liqueur, and vanilla custard. The layered trifle will satisfy your sweet tooth with its moist, creamy texture and flavorful taste.
Because this is an alcoholic sweet course, it's best not to let children consume the trifle. The recipe is versatile, so feel free to substitute or add many of your favorite ingredients to meet your taste. If you don't prefer liqueur, replace it with some fruit cordial.
It's optional, but you can place Hanukkah coins on top of the trifle to bring out the festive spirit. Before serving, keep the treat refrigerated for at least one hour or overnight for the best flavor.
Total time: 1 hour 50 minutes (including 1 hour of chilling time)
There are many creative dessert ideas to serve at the Festival of Lights. These bite-sized chocolate shortbread tarts can be the center of attention with their lovable appearance and delightful flavor.
The tart includes a golden crust, a gooey ganache filling, and some cute toppings. To make the crust, you need to mix crushed shortbread with butter. Divide the mixture into the muffin tin, let it chill for half an hour, and bake for 5–6 minutes.
The highlight of the tarts is the toppings. Pipe a star-shaped cookie on top, place a chocolate coin and sprinkle it with cocoa powder.
Total time: 2 hours (including 1 hour and 20 minutes of chilling time)
A fun Festival of Lights celebration is never complete without hamantash. Old-fashioned hamantaschen are made with dough and have a triangular shape. Hamantaschen gives a crunchy and cookie-like texture.
It's not difficult to make these incredible cookies. However, the hamantaschen corners are usually open and leak the filling out after baking. Relax! These tricks will help you fix the problem.
The thicker the dough, the harder it is for the cookies to break. So, the best thickness for your dough should be around ⅙ inch. A too thin and juicy filling also leads to overflowing. The thick filling such as prune, poppy seed, and jam are brilliant choices in this case.
Traditional homemade hamantaschen is so yummy that no one can stop eating.
Total time: 55 minutes
Hanukkah gelt cookie cake will make all the kids obsessed with it. This wonderful recipe allows you to create a chewy and chocolatey dessert in less than an hour. Besides familiar baking ingredients, you'll need chocolate chips, gelt, sprinkles, and frosting.
Let's save these tips for an eye-catching cookie cake. Remember to arrange the chocolate gelt when the cake is still warm. Homemade or store-bought frosting is totally great. Place the frosting in a piping bag and decorate as you wish. Once finished, add some colorful sprinkles on top.
Total time: 1 hour 50 minutes (including 45 minutes of freezing time)
Nobody can take their eyes off this pretty blue Hanukkah cake. Made with different layers and coated in vanilla buttercream frosting, this sweet course is as stunning and delicious as premium store-bought cakes.
The Hanukkah cake is heavenly sweet, rich, creamy, and melt-in-your-mouth. More importantly, this treat holds a secret inside that wows your visitors. There are colorful sprinkles and gelt filled in the center cavity of the cake.
Keep in mind these small notes when assembling this festive cake. Gel food coloring is the best option here. It can create a vivid color without affecting the texture of the cake. The cake can last for several days in the refrigerator, so you can prepare it in advance for a few days.
Total time: 1 hour 30 minutes (including 1 hour of chilling time)
Hanukkah cut-out cookies can create more fun for this special occasion. Not only are they attractive, but these beautiful Hanukkah treats are also pleasantly sweet and buttery. About the texture, the tasty cookies are crumbly and have light brown edges.
When making the icing, if the mixture is too thick, add a bit of hot water to fix the problem. You can combine it with some drops of food coloring for an alluring look. Don't forget to place the icing in a container and wrap it with damp paper towels until ready to use.
Total time: 8 hours 5 minutes (including 4 hours of rising time)
This cinnamon babka will steal the show on your Hanukkah. Swirled with a buttery filling, the yummy sweet bread is rich, yeasty, and gooey. The key to creating the best babka is to let the dough rise slowly overnight in the refrigerator.
For those who may not know, babka, or a loaf of sweet braided bread, was found by Jewish communities. It is a yeast-leavened dough rolled up with a flavorful filling, then braided and baked.
You'll be busy during the holiday, so my advice for you is to prepare the cinnamon babka ahead of time. Store the cake in an airtight container. It can last for 3 days on your countertop. For long-term storage, the frozen treats can last for 1 month in the freezer.
Everyone will fall for the deliciousness of this cinnamon babka.
Total time: 50 minutes
This sweet braided bread is so appetizing that you won't stop eating it on the Hanukkah holiday. The moist and fluffy babka is rolled with a rich and chocolatey filling. Chocolate babka is an unbeatable dessert for those who have a sweet tooth.
Let's talk about the star of this recipe, the filling. It's the melted mixture of dark chocolate, cocoa powder, butter, and powdered sugar. In addition to chocolate, you can vary the filling flavor with sweet cheese, raisins, seasonal fruits, or whatever you desire.
Total time: 45 minutes
Besides classic desserts, serving modern sweet treats can make the festival more delightful. Try these chocolate Chanukah gelt cupcakes. All your guests will fall for their lusciousness and their yummy looks.
There are four steps to producing these lovely treats: making the cakes, preparing the chocolate frosting, and decorating with coin gelt. The cupcakes all include plant-based products.
Hence, you can buy dairy-free chocolate coins to serve as vegan desserts or simply use regular gelt. If you want to uncover the wrap of chocolate gelt, brush it with some edible gold dust to enhance the appearance.
Total time: 1 hour 15 minutes (not including the freezing time)
Serving ice cream on holidays? It sounds strange, but it is definitely luscious. Manischewitz ice cream will satisfy your sweet cravings with a slightly sweet and boozy flavor. Besides Hanukkah, this frozen dessert is ideal for serving on the Jewish New Year holiday.
For those who still wonder what Manischewitz is, this is a brand of cherry-concentrated wine that you can easily find in every supermarket. The wine is well-known for its high-quality flavor and affordable price tag.
It should take at least 2 hours to freeze the addictive creamy treat in the ice cream maker before serving. You can garnish the cream with some honey, pomegranate seeds, or fruits to evaluate the taste.
Total time: 15 minutes (not including the freezing time)
A dessert resembling a spinning toy? What a brilliant idea! The treats are effortless to whip up and directly connected to the festival's spirit. These fun dreidels are marshmallowy and crunchy at the same time.
The ingredient list for the treats includes marshmallows, pretzel sticks, Hershey's kisses, and blue candy melts. To assemble the dreidels, let's start by pressing a pretzel stick into a marshmallow and topping it with a Hershey kiss. Melted chocolate can help them stick together.
While waiting for the dreidels to set, you can follow the instructions to produce DIY symbols for the marshmallow treats. I'm sure this will be an enjoyable experience if you let your kids lend you a hand.
Marshmallow dreidels are so addictive for their lovable shapes and sweet taste.
Hanukkah Desserts Will Lift Your Holiday Spirit
From doughnuts to hamantaschen, I hope this post helps you to have the best dessert ideas for the upcoming season of miracles and light. Nothing is merrier than having a great time with your family and friends on this special occasion. Happy Hanukkah!
Let's try the recipes that you find the most outstanding, and write down your thoughts in the comments below. By sharing these wonderful dessert ideas on your social media, you can help many people that are unsure what to serve for this holiday.