Fun Halloween appetizers are indispensable in a successful and memorable Halloween party. They deliver the first impression on your diners and make them cannot forget this particular moment of the year in your house.
Furthermore, the Halloween starters' preparations are straightforward, so I am sure you can finish them quickly whether you are a newbie or a professional chef in the kitchen. And to do it, you must read this post thoroughly.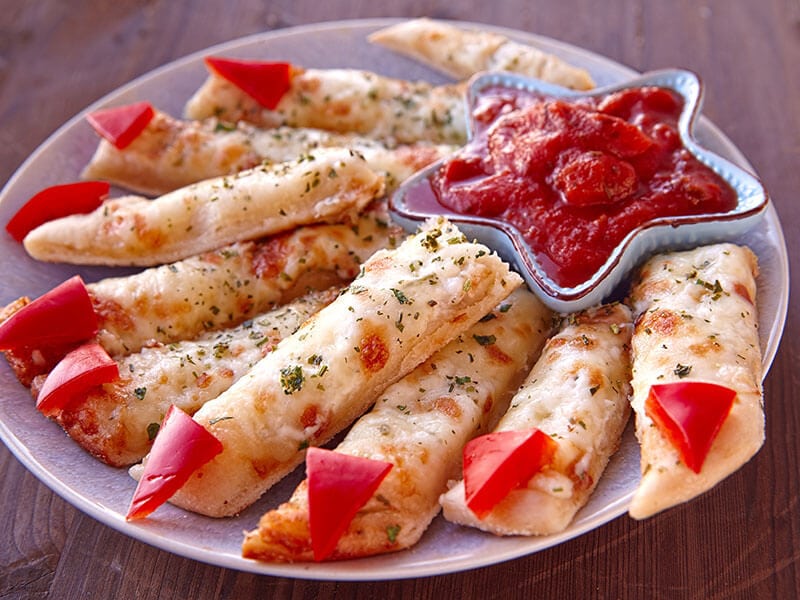 This significant part is valuable for those finding tasty finger food to start the Halloween gathering. Please read and keep the needed information in your mind.
Total time: About 5 minutes
This delicious and silky dip takes about 5 minutes to finish with some popular ingredients and straightforward steps. The dip tastes good in both warm and cold, so feel free to serve it on Halloween, Christmas, summer, or game day, depending on your preference.
You can add many types of beer to the dish, but your selection will depend on the flavor you want. To enjoy the food with a deeper taste, you can refer to darker ale. You should use lite or pale beer for a lighter and sweeter dip.
Can you make it without beer? Yes, just choose apple cider instead of beer to complete the dip. Typically, beer cheese bread, crackers, and pretzel bites are the best candidates you can mix with this dip to start a party.
Listen to the tutorials to make smooth beer cheese dip right now.
Total time: About 54 minutes
The fantastic way to spread fear to your friends on Halloween is to serve creepy burrito skulls. It's a nice option to use leftover taco meat besides tortilla dough, black beans, cheddar cheese, and tomatoes.
Furthermore, you can switch to chicken, cheese, rice, or hot sauce in these skulls. When you bite the dish, the rich, savory, and spicy filling blend with the dough's softness and subtle taste. This fusion brings a pleasant sensation at the beginning of the meal.
It is possible to use homemade or store-bought tortilla dough for this beautiful recipe. Even better, pizza dough and crescent roll dough are other options you can choose to create edible and delectable skulls.
Total time: About 30 minutes
The terrifying appearance of graveyard taco cups is suitable for the gloomy atmosphere of the Halloween party. So let's make this savory appetizer to serve your family members right now. Its flavor will not disappoint you.
Gather black beans, green onions, black olives, and guacamole in a small cup. It's time to increase the horror of the dish with the presence of tombstones and creepy trees on top. Of course, you can eat them since they are created by pizza crust.
Total time: About 10 minutes
The edible spider web and spider made from black beans is one of the healthy foods you must try on Halloween. Besides black beans, this delicious dish will not be complete without tahini, cumin, and unsweetened soy yogurt.
To garnish and shape the spider web for this dish, I will take advantage of the remaining soy yogurt or tahini sauce. In terms of flavor, the citrus and spicy taste of lemon juice and pepper are also other factors that make me addicted to this delicacy.
Discover the right tutorials to make the best black bean hummus.
Total time: About 20 minutes
Why don't you try making tender and rich spooky pizza appetizer recipes to kick off the Halloween party? Everything you need to finish this finger food includes English muffins, green bell pepper, pizza sauce, and cheddar cheese.
According to your preference, you can make it thinner or thicker. From my point of view, I love to eat thick pizza because it seems more pillowy and chewier. When making this dish, you can ask your kids to help due to its simplicity.
You can unleash your creativity by creating a different appearance for this pizza. It is simple to get a web spider on pizza with string cheese and olives. Also, you can create the Jack-O-Lantern spooky pizza if you like.
Total time: About 1 hour 35 minutes
This fantastic food is an excellent creation for Halloween. It satisfies the requirements of terror, simplicity, and deliciousness that many people need in a Halloween treat. This yummy dish has 2 main parts: the tart crust and filling.
The crust comprises gluten-free components such as sweet rice flour, millet flour, cornstarch, and unsalted butter. Meanwhile, the filling is an excellent collection of black olives, sun-dried tomatoes, cheese, and spices.
Combining the above elements creates a beautiful starter with a cheesy, savory, and rich taste. Typically, restaurants will serve this dish as soon as it is cooked.
Total time: About 1 hour 30 minutes
One of my best-loved Halloween recipes is a savory and fluffy saucy spider with hairy leg sticks. Pizza dough is the indispensable element in this recipe. You can make this food with frozen dough, but remember to defrost it before using it.
To make the spider more eye-catching, you should sprinkle poppy seeds and Parmesan on the legs. Let's begin forming the spider body, legs, and head with the dough. Stick 2 olive slices on the head to create the eyes.
You can bake the spider after adding Parmesan cheese and brushing it with egg. You'll use the remaining dough and cheese to make the spider leg sticks. Remember that this food tastes better when served with warm marinara sauce.
Total time: About 2 hours 5 minutes (including 2 hours for chilling)
I love serving the salty and tasty brain dip at the Halloween gathering. Typically, I serve this treat cold to deliver my guests the best and most memorable experiences. Therefore, you can make it ahead of time and eat it after filling it with jelly.
With the support of brain mold, you can be assured of the shape of the dish. It is more similar to an actual brain than you imagined. The highlight of the dip lies in the red and spicy jelly. It makes your smooth dip more prominent and appealing with typical shade and taste.
Total time: About 22 minutes
The rich and delicious meatballs will bring extraordinary value to your Halloween meals. This wonderful recipe requires 4 essential ingredients: crescent dough, meatballs, cheese sticks, and black olives.
The soft dough will embrace the meaty meatballs to create a unique appearance. To accentuate this recipe, I put my faith in black olives. Place 2 slices on your meatballs, and you'll have 2 round eyes.
After baking, the meatballs have a nice red-brown color. Meanwhile, the golden-brown shade of dough outside will bring a harmonious look.
Let's prepare the delectable Halloween meatballs for the appetizers menu right away.
Total time: About 5 minutes
I believe that this is a perfect appetizer for your kids. The edible and cheesy witch brooms are a fantastic and unique gift for them on a creepy Halloween night. Apart from serving as a starter, kids can consume this one as a yummy snack.
The inexpensive brooms result from a mix of cheese, pretzels, and chives. Choosing the suitable cheese can directly affect the quality of the dish. For the best texture and flavor, you should prioritize soft options like mozzarella, Swiss, or muenster.
The things you must have are carefulness and a little time. Cut the cheese slices into bristles. After wrapping the cheese around the pretzels, you must tie a chive around each bundle to keep them together. Let's serve the dish immediately or chill for a bit of time before serving.
Total time: About 23 minutes
I cannot keep my mouth water when looking at the gorgeous golden-brown shade of the corn dogs. Both kids and adults love this starter. Its simplicity allows you to make it to consume at any time of the year.
You just need to bake the corn dogs on a baking sheet. When they are cooked, let's create the legs or other parts by pressing the chow mein noodles into the corn dogs. The decorative ideas depend on the animals you want to create, like caterpillars or centipedes.
Do not forget to accentuate the corn dogs with red eyes made from ketchup. To store the corn dogs, you can keep them in the freezer for later uses.
Total time: About 10 minutes
Pumpkin hummus brings forth the relaxed atmosphere of fall. The creamy and savory flavor can give you an excellent mouthfeel when enjoying Halloween. Chickpeas, olive oil, pumpkin puree, and tahini are the must-have components in this tasty pumpkin appetizer recipe.
Furthermore, you cannot call it a pumpkin hummus if it lacks the warm and spicy touch of cumin, cinnamon, paprika, and garlic. I guarantee you cannot refuse the smooth, creamy consistency and characteristic pumpkin aroma of the yummy hummus.
You will be surprised by the versatility of this treat. In addition to the starter, it often appears as a snack, dressing, dip, or spread.
If you love beauty and want to eliminate the monotonousness of this dip, let's garnish it with sesame seeds, roasted chickpeas, or paprika.
Total time: About 50 minutes
An effective way to wake your guest's taste buds is to treat them with an appetizing delicacy with brie cheese: This delicacy is a blend of tender pastry, sweet jam, crunchy pine nuts, and sage. The buttery, earthy, and rich taste of brie cheese is the perfect addition to the dish.
In case you encounter difficulty in purchasing apricot jam, you can make this food with raspberry or orange marmalade instead. Moreover, do not worry as you cannot find toasted pine nuts in your house. Toasted pecans can help you solve this problem.
Total time: About 10 minutes
It is time to gather spinach wraps, cheddar cheese, sandwich filling, and cornichon pickles. And I will teach you how to prepare fabulous and mouth watering spinach appetizers to treat your loved ones on Halloween night.
Make the monster's body by adding the sandwich filling to the wrap and rolling it up. To make the hair, I dice the sliced cheese and nori into triangle shapes. The eyebrows and nose are made of cornichons. Finally, give the monster the eyes with the addition of olive slices.
Total time: About 27 minutes
The creepy appearance of these spider mini pizza bites is suitable for the vibe of your Halloween gathering. You can imagine the image of a giant black spider lying on the golden-brown pizza when you see this fantastic starter.
Chefs take advantage of black olives to shape the spider. Wow, it looks like a real spider. Meanwhile, the pizza is a combination of crescent dough, mozzarella cheese, and pizza sauce. They bring an appetizer with a softness, cheesy, and rich flavor.
Total time: About 40 minutes
The dark yellow shade of the sweet potato puffs can grab your attention in no time. It's difficult to resist the excellent puffs with a savory and lightly sweet flavor.
Of course, you will fall in love with this crunchy and fluffy fried dish. Also, you can bake the puffs if you want. In case you do not know how to elevate these puffs' taste, you should try eating them with vegan ranch dressing.
The high-quality sweet potatoes bring the most delicious appetizer. So, please pay attention to selecting good potatoes. You should choose the ones with smooth, firm, and even-toned skin.
Explore how to create excellent sweet potato puffs properly.
Total time: About 1 hour 20 minutes (excluding 24 hours for refrigerating)
It is excellent to enjoy super appetizing chicken appetizers at a Halloween party. The meat gets a spicy and sweet taste from the chili paste and orange marmalade. The superb taste makes it compatible for eating with rice or noodles.
If you are a professional at spicy foods, you should not ignore this amazing dish since it contains 3 heat sauces, including chili paste, white pepper, and Chinese mustard.
Aside from chicken wings, you can utilize the leftover chicken thighs, breasts, or other parts in your kitchen to prepare this fantastic finger food. To get the best texture, I highly recommend refrigerating the chicken wings overnight.
Total time: About 25 minutes
Every Halloween, the kids always ask me to make mummy-wrapped brie. I am always ready since I also love it, and the preparation is pretty simple. I just need to bake the pastry dough, cheese, and raspberry jam to have a golden-brown appetizer for my family's meal.
The dish is a harmonious fusion of savory and sweet tastes. The jam's soft texture and fruity touch can captivate you in no time. I love serving it with sliced fruit, bread, and pita crackers.
In particular, do not forget to beautify the recipe by placing candy eyeballs on the dish. This idea adds a Halloween twist to the dish.
Total time: About 20 minutes
Halloween night will become scarier and more awesome with Jack-O-Lantern quesadillas. You'll have a tasty starter for the party with just 3 simple ingredients like flour tortillas, Mexican cheese, and refried beans and a little time in the kitchen.
Create the Jack-O-Lantern face with a sharp knife from the tortilla half. Let it cook in a pan for about 3 to 5 minutes. Next, fill uncut tortillas with refried beans and shredded cheese. Put the tortilla face on top of the cheese and cook it.
Sour cream, salsa, and dipping sauce are the best companions to quesadillas. Also, many chefs prefer serving them warm for better flavor.
Total time: About 1 hour
Nothing is better than serving a skeleton on the dining table on Halloween. Do be scared! I mean an edible skeleton-shaped platter with your best-loved vegetables like green bell peppers, carrots, cucumber, and cherry tomatoes.
This fantastic keto-friendly appetizer will certainly be the highlight of your party. You can enjoy it with a ranch vegetable dip to enhance the experience, though I'm sure its look alone is enough to give you a good time.
Total time: About 15 minutes
When mentioning the delicious dishes of Mexican cuisine, you cannot skip queso. It was born in the 19th century, and people in many parts of the world gradually know and love it.
The savory and creamy flavor will steal your heart from the first try. You may confuse this dip with white cheese sauce because these two tastes are quite similar. However, the queso's silky consistency will give you a greater mouthfeel.
It is a familiar choice for Halloween and Taco Tuesday. The mix of this food and salsa or refried bean dip is an undeniable combo. To thin this excellent dip, I often fill it with about ¼ cup of milk.
Save the instructions to make queso dip for a Halloween gathering.
Total time: About 40 minutes
The mummy jalapeno popper recipe is one of my preferred dishes on Halloween, Thanksgiving, and Christmas. The softness of crescent roll dough will make you want to enjoy this yummy food again and again.
Furthermore, the spicy and cheesy touch of jalapenos and cheeses will take you to heaven. In terms of aesthetics, this tasty crescent roll appetizer is so cute with candy eyes on top. This addition makes the jalapeno peppers look like cartoon characters.
You can use black olives if you do not find any candy. It is possible to finish this fantastic dish with green or red peppers for variations. Serving these mummies with raspberry jam can surprise your diners.
Total time: About 50 minutes
The bacon-wrapped little smokies' sweet, spicy, and salty taste will wake up your taste buds before enjoying yummy main courses. It results from wrapping the little smokies in bacon, sprinkling brown sugar and cayenne mix, and baking for about 30 to 35 minutes.
That's wonderful, isn't it? You can get yummy and beautiful bacon starter treats with a few common components and simple operations. If you want to eat spicier food, increasing the amount of cayenne pepper is the most effective way.
Surprisingly, you can make this dish beforehand and bake it in the oven when the party starts. Before baking the recipe, remember to spread a layer of aluminum foil or parchment paper.
Total time: About 10 minutes
You can feel the cheesy and creamy touch of guacamole, salsa, sour cream, and Greek yogurt from this recipe. Its success also comes from olives, black beans, and lemon juice.
This delicious dip looks amazing and unique in the spider web appearance. It's simple to create the web with the sour cream as you just need to pour the cream into a plastic bag and create a small hole in the corner to push the cream out.
In case your cream is excessively dense, you can add a bit of water to thin it out. For another optional idea, place some cherry tomatoes to make the dish more gorgeous.
Total time: About 2 hours 30 minutes
I like serving the smooth and creamy spinach dip in soft, fluffy bread with skeletons nestled inside to accentuate the special Halloween dinner. This amazing dish can act as an appetizer or snack on the dining table.
If you want to make this delicious dish for the Halloween party, I recommend that you prepare it beforehand. To increase the creepiness, you can decorate it with mini tombstones. In addition, instead of serving the dip in the bread, you can fill it in a bowl and serve.
Total time: About 20 minutes
The low-carb and yummy finger breadsticks will satisfy the hunger of Halloween fans. They are a healthy recipe since they contain only about 1.5 net carbs.
The name indicates all about their appearance. These breadsticks look like the thin fingers of evil witches. When eating the bread, you'll be addicted to the softness, cheesy taste, and charming aroma of basil and garlic.
Do you have any questions about how I create fingernails? I recommend utilizing pumpkin seeds or sliced almonds for this part. For better performance, you should eat the bread with marinara sauce.
Do not miss the tutorials to make delicious witch finger breadsticks.
Total time: About 17 minutes
If you plan to organize a Halloween-themed party for the family, let delicious witch hat garlic bread kick off your gathering. Its appearance satisfies the criteria of Halloween food, and the softness and garlicky taste will bring a high-quality meal.
Crescent roll dough is the star ingredient of this beautiful dish. To flavor this recipe, I'll add a bit of butter and garlic powder to the surface of the hats. Do not forget to adorn them with black olives and cheese.
My guests always want to consume the tasty bread with marinara sauce to enhance and diversify the edible hat's taste.
Total time: About 45 minutes
If you are a massive fan of Mexican foods, nachos should have a unique position in your heart. Traditionally, it comprises fried tortilla chips, cheese sauce, melted cheese, and various toppings like veggies, meat, and salsa.
In this recipe, I will use pita bread instead of tortillas and cooked bacon, black beans, and cheddar cheese to add extra flavor to the crispy bread. Nevertheless, you can replace bacon with pork, beef, or chicken to bring new experiences.
Total time: About 20 minutes
My usual way to please the kids on Halloween is to make pizza rolls. This versatile and mouthwatering food can work well as an excellent appetizer or snack. I usually cut it into bite-sized pieces to serve better.
After preparing the pizza dough, you will roll it out in a rectangular shape. Next, please fill the crust with pizza sauce, Italian seasoning, garlic, cheese, and pepperoni. Finally, roll the dough up, cut it into small pieces, and bake for about 10 to 12 minutes.
Instead of these mentioned toppings, you can use other ingredients to change the flavor. Typically, I bake the dish in the oven, but it is acceptable to use an air fryer for this step.
Total time: About 10 minutes
Pumpkin is a familiar image on Halloween, so people often form their favorite food in this veggie's shape. Making pumpkin-shaped cheese balls with bell pepper, cream cheese, jalapenos, and shallot is always my hobby on every Night Fright.
It's difficult to find the difference between the appearance of this dish and a real pumpkin with its distinctive yellow color. This seductive appetizer with cream cheese is sure to satisfy your innermost desires if you are a fan of smooth and creamy dishes.
The subtle sweetness and spiciness of bell pepper and jalapenos will awake your taste buds. In case you would like to create a perfect round pumpkin, you should use plastic wrap.
Total time: About 30 minutes
I often make deviled egg eyeballs to deliver a feeling of mystery on Halloween. I only need hard-boiled eggs, mayonnaise, black olives, and colorful food coloring to prepare to make these eyeballs.
It's not too difficult to create these unique eyeballs. I will slice each egg into 2 parts and separate the egg yolk. After mixing egg yolk with mayonnaise, mustard, and green food coloring, you will have a smooth and gorgeous mixture.
Add the mix to the egg halves and place an olive slice on top. Create the veins with red food coloring and a toothpick.
Total time: About 2 hours 30 minutes (including 2 hours for chilling)
If you have tortilla chips, crackers, and veggie sticks on hand on Halloween, you should go to the kitchen and make this guacamole dip to consume with them. This spicy and creamy recipe will make your holiday more fabulous and memorable.
The scary witch's face is created by ripe avocado, onions, cream cheese, salsa verde (green chili and tomatillo based-spicy sauce), and chopped cilantro. I will use carrot sticks and bell peppers to make hair, eyes, and mouth. I also take advantage of tortilla chips to make a hat for the face.
Keep your eyes on the directions to make guacamole dip for Halloween.
Check The Flavor Of The Appetizers Right Away!
Are you pleased with these yummy starters I have listed in this article? It is time to give your mouth new experiences with the flavorful appetizers, so let's turn the words in the recipes into actual and yummy dishes to enjoy right now.
If you know other ideas I have missed in this post, please list them via comments. In addition, many people want to see the helpful list to diversify their menu for Halloween meals, so do not skip the sharing step after reading this post. Thanks a lot!
Nutrition Facts
12 servings per container
---
Amount Per ServingCalories95
% Daily Value *
Total Fat 6.7g

11

%
Cholesterol 21mg

8

%
Sodium 214mg

9

%
Potassium 36mg

2

%
Total Carbohydrate 2.3g

1

%

Dietary Fiber 0.1g

1

%
Sugars 1.6g

Protein 5.5g

11

%
---
* The % Daily Value tells you how much a nutrient in a serving of food contributes to a daily diet. 2,000 calories a day is used for general nutrition advice.