The beautiful diversity of Guatemalan foods comes from a host of cultures. From the influence of Spanish and Mayan cuisine, Guatemalan dishes can range anywhere from soups and stews to rice and meat-based main dishes.
You will notice that there are several ingredients that Guatemalans frequently use in their foods. Such ingredients are beans, corn, and chilies. Each dish has a different flavorful twist on these ingredients so that you can pair them with some tasty authentic Guatemalan drinks.
So, if you are as ready as I am, let's get into the world of exotic Guatemalan cuisines with some dishes. You will find that besides their infamous Hass avocados and the prodigious invention of chocolate, there is so much more awaiting you and me.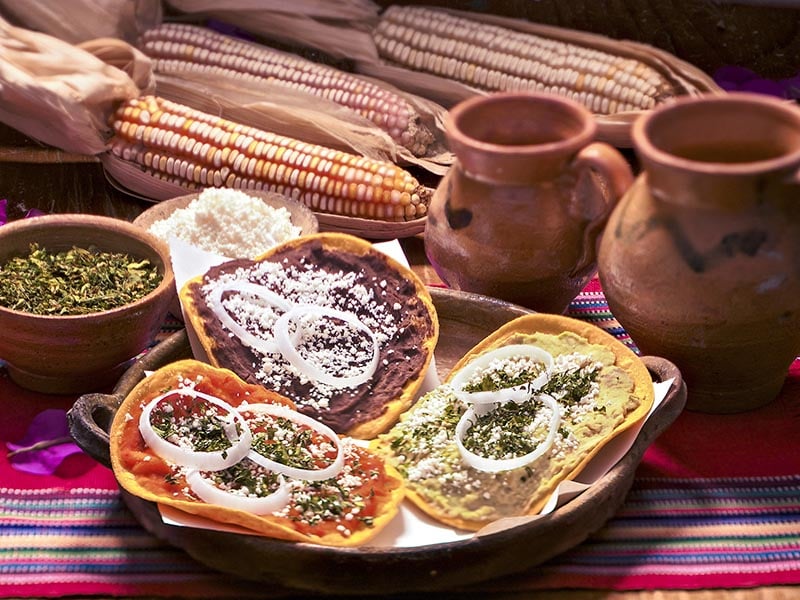 5 Soups And Salads From Guatemala For You To Eat As A Pleasant Starter Meal
Soup is a kind of food that is very versatile. You can have it for any meal to fill your stomach while also warming your body. These are some hearty soup dishes along with some fresh salads Guatemalans enjoy the most, which I'm sure you will too.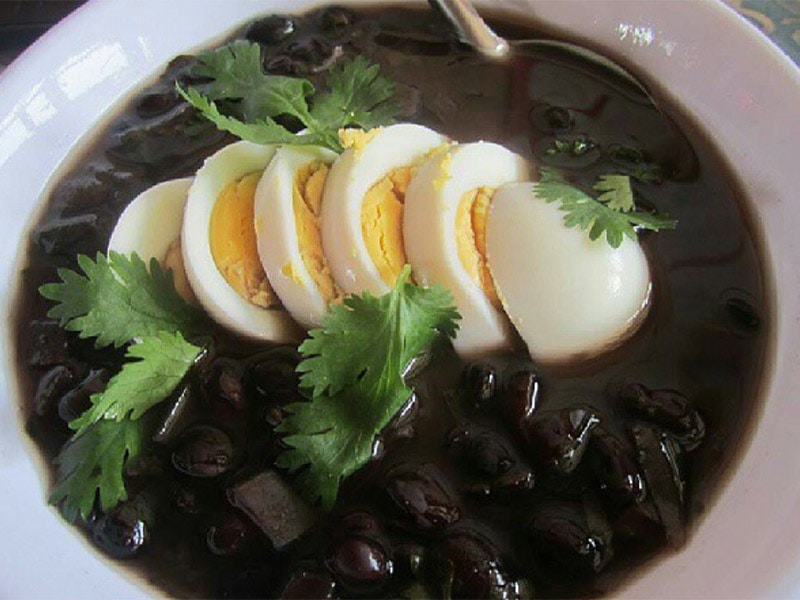 Black beans are a staple for the people of Guatemala. There are many foods Guatemalan people have created with this nutritious type of beans. One of them is the hearty black bean soup or Sopa De Frijoles Negros.
Black bean soup is a popular lunch and dinner menu in many Guatemalan households. A portion of black bean soup usually goes with sliced hard-boiled eggs and sour cream. Sopa De Frijoles Negros is a highly nutritious menu as black beans contain fiber and vitamin B6.
While black bean soup can also be on the breakfast menu, Guatemalan people have another way to turn black beans into a dish they can enjoy. They normally refry the beans with some oil, garlic, and onions, although the latter two ingredients are optional.
Black bean soup is an enjoyable creamy dish that Guatemalans have regularly. The taste is simple yet so pleasant. Its low cholesterol content makes it extra healthy.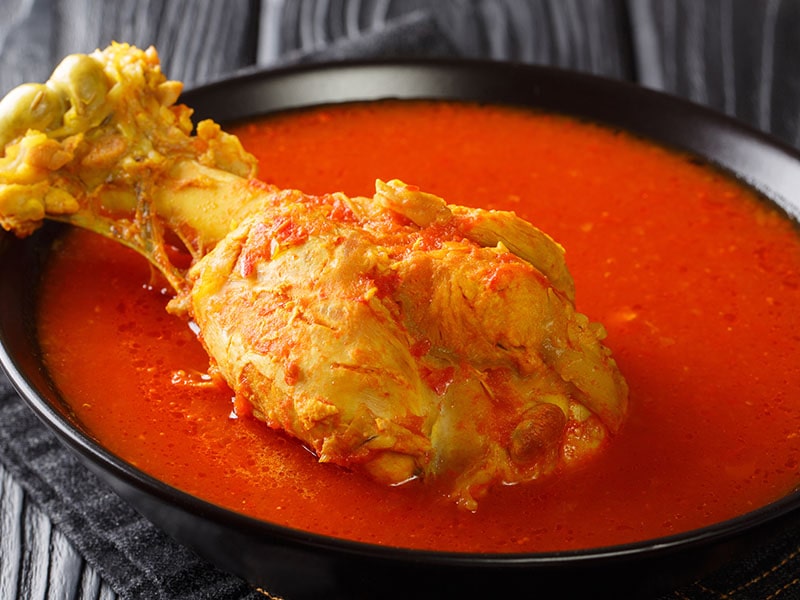 This pre-Hispanic soup, whose name is Mayan, makes a perfect meal for anyone who prefers their food with extra spices. The soup is Kak'ik, which is a turkey soup that's very famous among Guatemalans.
Kak'ik is a classic dish on chilly days. Traditionally, the Guatemalans use "chompipe," a type of turkey, as the main ingredient for Kak'ik. Along with that are other spices like garlic, onion, pepper, zamat leaf, or long coriander.
At first sight, you might be captivated by the bright red color of this soup. This color comes from tomato purée and a unique condiment called Annatto., which is a food coloring agent from the seeds of Achiote trees.
People produce Annatto by grinding these seeds into a kind of powder. Another way to make Annatto is to fry the seeds in oil and use the same oil as Annatto. This condiment will give Kak'ik a peppery and nutty flavor, making it a delightful dish.
Kak'ik, unlike black bean soup, is a dish people serve on special occasions in Guatemala. It isn't a daily menu since turkeys are more pricey than regular chicken or hen. This soup is a favorite for many Guatemalans and foreign visitors for its savory flavor and exotic color.
This is how you can recreate Guatemalan Kaq Ik at home.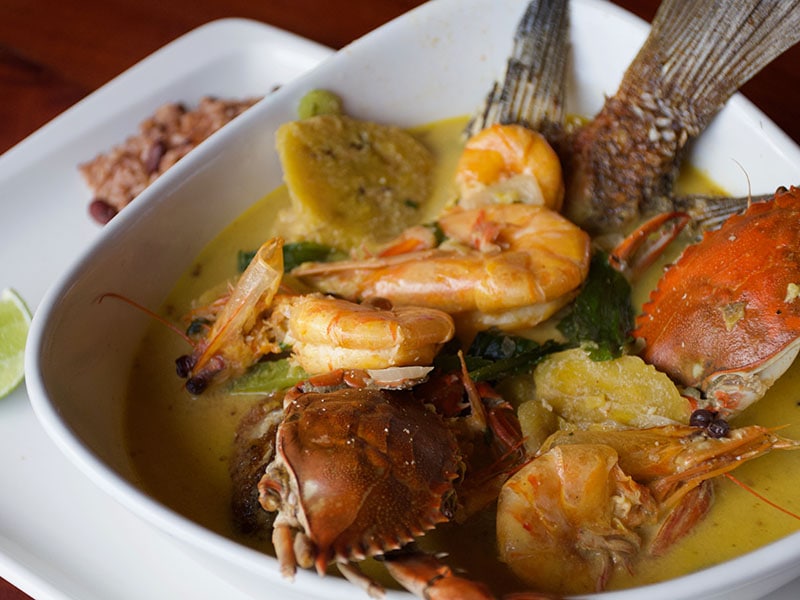 When talking about Tapado, Guatemalans will immediately think of the community of Gafurina people. It is a group of mixed African and indigenous people who originally resided in the Caribbean.
Their cuisine mainly consists of seafood, coconut, plantain, and pepper sauces. And Tapado, by no coincidence, is one of the tastiest combinations of such ingredients. When visiting Guatemala, you will see that a typical serving of Tapado comes with a whole fried fish.
Guatemalans usually go for white fish instead of other types, as the flesh of white fish is firm enough not to fall apart. Another interesting ingredient in this dish is plantain. Plantain is a variety of bananas that is starchier and should not be eaten raw as they're less tasty.
Tapado is another recipe that uses Annatto to attain a vibrant color in the soup. And another factor that adds depth to this soup is Sofrito, a base paste from tomatoes, peppers, cilantro, and a few other ingredients.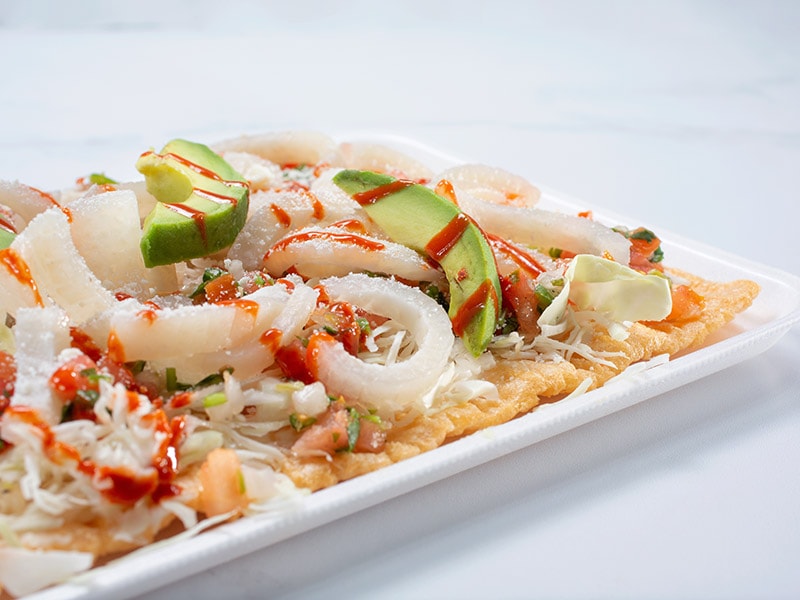 Guatemala is one of the countries that have an abundance of radish available all year round. And, they have come up with a brilliant dish that brings out the best features of radish, with a crunch factor coming from the pork rinds. Such a dish is called Chojín.
Just when you think a salad is already great with just some radishes, the Guatemalans elevate it to another level by adding some flavorful pork rinds or crispy pork skins. Imagine how the zesty taste of radish and the salty pork rinds altogether would create such a fun party in your mouth.
This salad is another refreshing side dish Guatemalan people like to pair with either tacos or tostadas. They also serve Chojín with grilled meat and beans. Chojín is especially delicious on summer days, thanks to the lingering cool sensation of the mint leaves in the salad.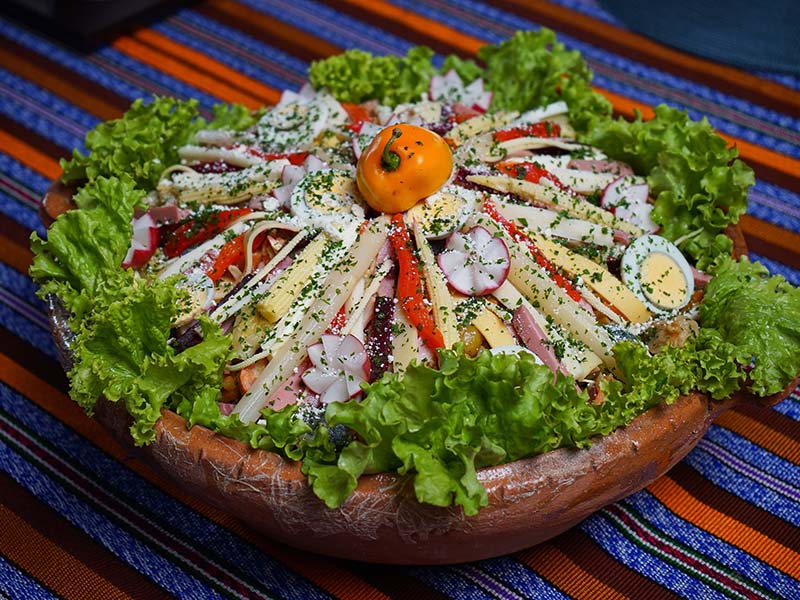 This traditional Guatemalan salad is a dish people usually eat to celebrate Día de los Muertos (Day of the Dead) and Día de Todos los Santos (All Saints Day). Fiambre is usually a combination of numerous different ingredients with an interesting origin story.
This specialty owes its existence to the custom of bringing food to the cemeteries to celebrate Día de los Muertos. At some point in the past, families started mixing all their foods with others' into what is today's Fiambre.
8 Main Dishes To Fill Your Stomach The Guatemalan Way
Main dishes in Guatemala can provide you with a variety of proteins like fish, chicken, and beef. Each dish is cooked in a unique way that will leave you craving for more. So, after you have prepared your palate with scrumptious soup and salad dishes, let's hop right into the main meal!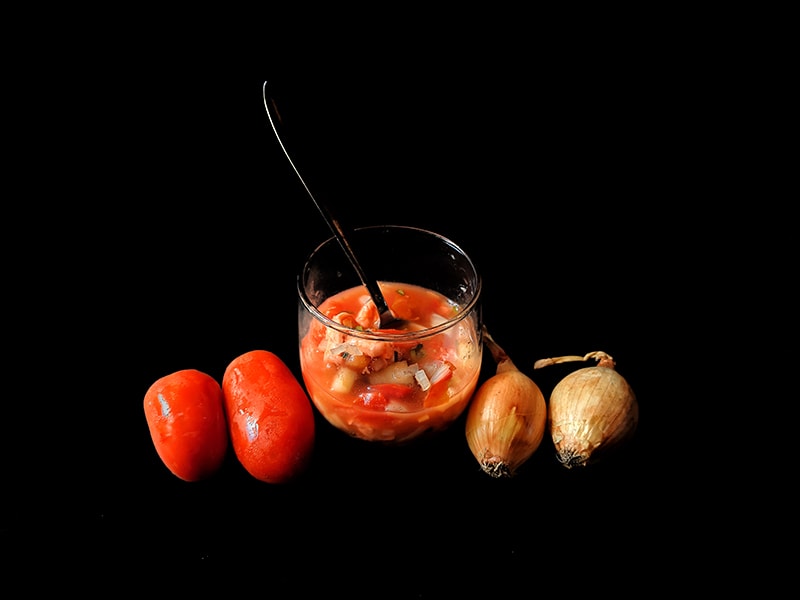 Originally a Peruvian dish, Ceviche is a famous refreshing salad that is present in many countries throughout America. This salad usually contains raw seafood, lime juice, red onions, and chili peppers.
Dating back to around 2000 years ago, the Moche civilization was the community that founded Ceviche. The name Ceviche comes from the word siwichi in Quechuan, meaning fresh and tender fish.
Although there are varied recipes for Ceviche, the dish always has a dressing from citrus fruits like lemon or lime. These particular citrus fruits have significant benefits on Ceviche, as they add flavors as well as marinate the fresh seafood, making them seem less raw.
The Guatemalan take on Ceviche includes shrimps, salt, lime, and onions. This salad makes a great appetizer for its fresh and tropical taste. Tomatoes and coriander are also present in Guatemalan Ceviche, which adds a hint of freshness to this enjoyable dish.
Make yourself a delightful bowl of Ceviche with this instruction.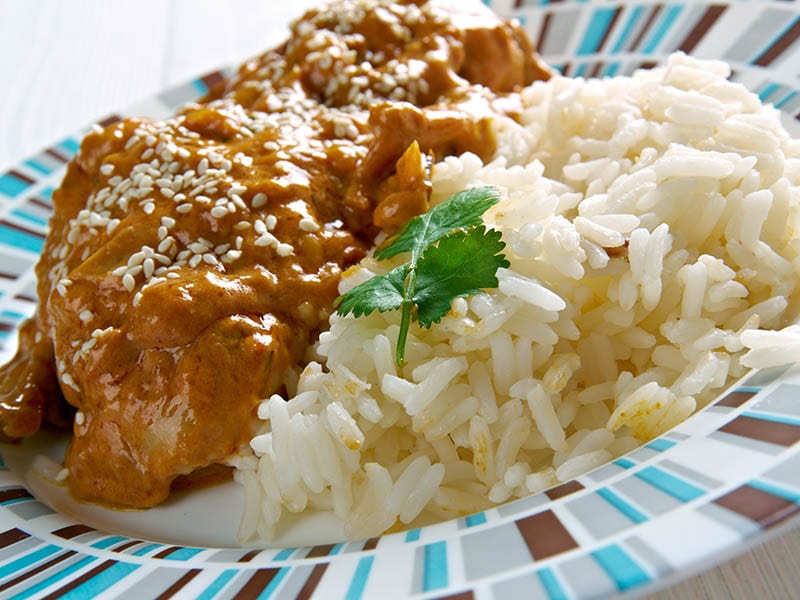 Pepian is a long-established Guatemalan stew you would often find on the street at the vendors and food carts. Guatemalans also make this dish at home and serve it at lunch or dinner. This meaty and spicy thick stew goes exceptionally well with warm rice and hot sauce.
This dish is a creation from a mix of Spanish and Mayan cuisines. The paste for this dish, Pepián, consists of chili, tomatoes, and pepitoria (ground roasted squash seeds).
Back in the pre-Hispanic period, Pepián was an essential menu item at important religious and political events. It originated in the region of Chimaltenango, which is famous as an indigenous art (and food) center.
Guatemalan cuisine uses corn in many dishes, and this dish is no exception. Together with corn, there are also squash, carrots, and potatoes. Authentic Pepián De Pollo also has a special ingredient: pears. I highly recommend adding this to the recipe for extra sweet and fruity flavors.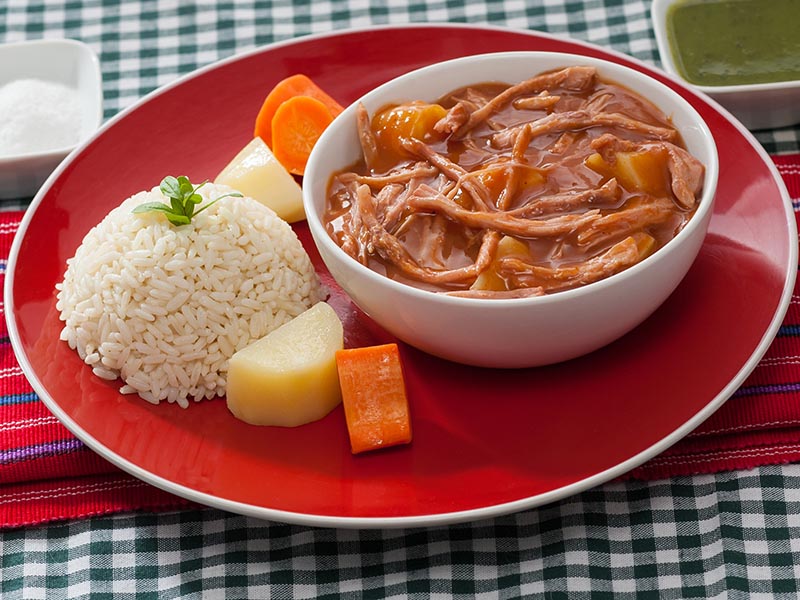 Hilachas is one of the best Guatemalan comfort foods. The base for this stew is tomato sauce and beef, with some vegetables. Making Hilachas often takes a while, but the result always comes out worthwhile.
Hilachas means "threads" in Spanish, And as you may have already guessed, "threads" here stand for the strips of shredded beef. This stew is a specialty from Sacatepéquez, Guatemala. You may find different versions of Hilachas with some changes in the ingredients.
While the original recipe of Hilachas uses mainly beef and potato slices, other recipes use carrots, green beans, or carrots. These versions of Hilachas vary depending on each person's preference. But the stew is always smooth and flavorful no matter what recipe people use.
Hilachas carry a smooth texture and tons of flavors thanks to bold spices like chile, bay leaves, and thyme. Cooking up a pot of Hilachas may require extra effort, especially in cooking the stock and shredding the beef. But of course, it will all be worth it in the end.
Did you know you can make Hilachas right in your kitchen with this tutorial?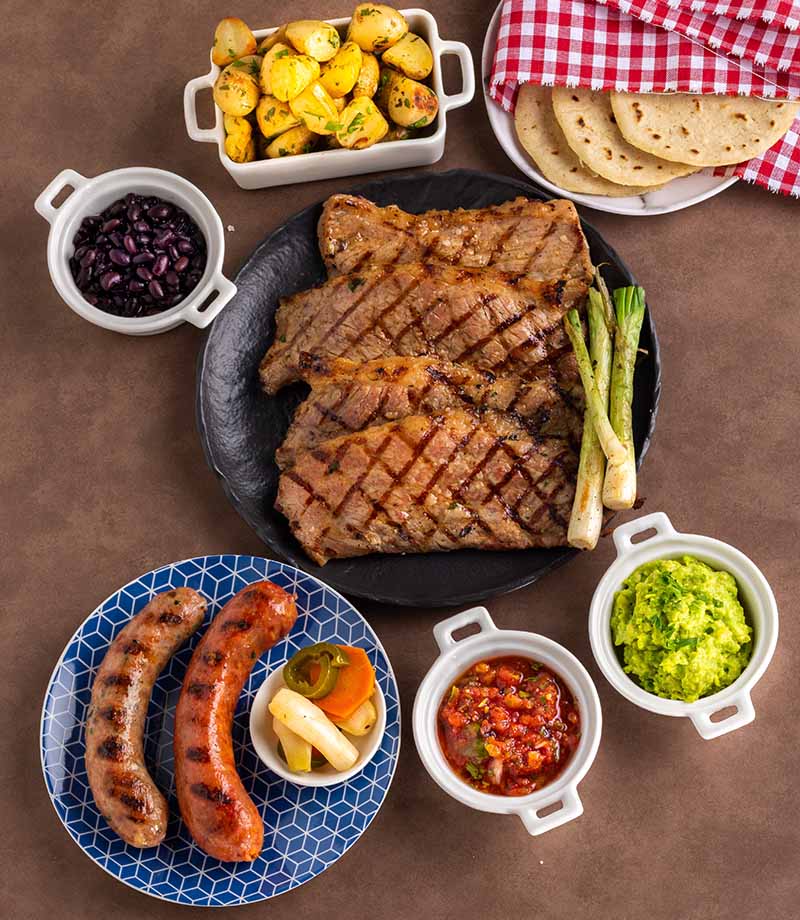 Carne Asada is a BBQ dish of sliced beef in Central American countries, including Guatemala. The type of meat that people use for it is usually a skirt steak or a flank steak. The name Carne Asada directly translates to "grilled meat" in English.
An original recipe of Carne Asada always uses marinated steaks. The marinade consists of cilantro, salt and pepper, oil, and vinegar. However, there's more to this marinade. Guatemalan people also add the juice of lime and orange to the marinade for extra flavors.
Adding citrus juice to the marinade also helps tenderize the meat, as the enzyme in orange juice will break through the protein bonds in the steak. As a result, the steak will come out juicy and tender.
In Guatemala, it's common for meat vendors to sell both marinated and plain meat for Carne Asada. The latter helps busy folks prepare Carne Asada much faster, while the latter allows people to season the meat to their liking.
Aside from being a dish, Carne Asada is also a name for a social BBQ party in countries in Central America.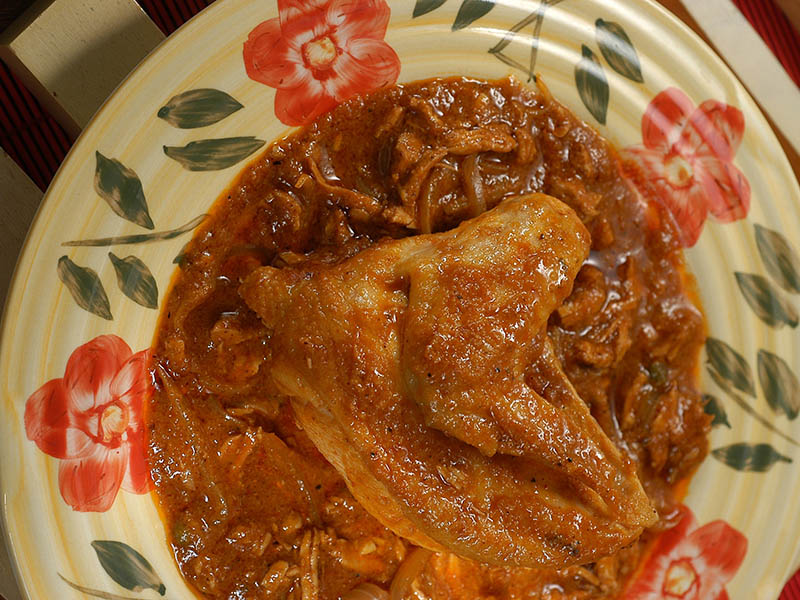 On special occasions in Guatemala and other Central American countries, it's common to serve Gallo En Chicha. This dish is another flavorful and fragrant stew. Some may say this is a dish similar to Coq Au Vin because of the corn drink used in its recipe.
Gallo En Chicha is a stew of rooster together with Chicha, a type of alcoholic beverage from corn or maize. People everywhere in Guatemala love this dish, no matter the cities or the rural areas.
Similar to Kak'ik, this dish requires effort in the cooking process. Thus, people usually serve it on important occasions, especially when a child is born. Usually, it takes around eight hours to marinate the rooster. This amount of time ensures that the rooster is full of flavor.
You might be curious about the special ingredient of Chicha. This fermented corn drink Is a crucial ingredient in many Central American countries. Chicha De Jora (corn beer) and Chicha Morada (a non-alcoholic corn beverage) are the two other variations of Chicha.
Chicha is what gives this stew a slightly tangy taste. Along with other powerful spices like mustard seeds, bay leaves, and cinnamon, Gallo En Chicha is a symphony of tastes with many layers of flavors. Make sure to try some when you get to visit Guatemala.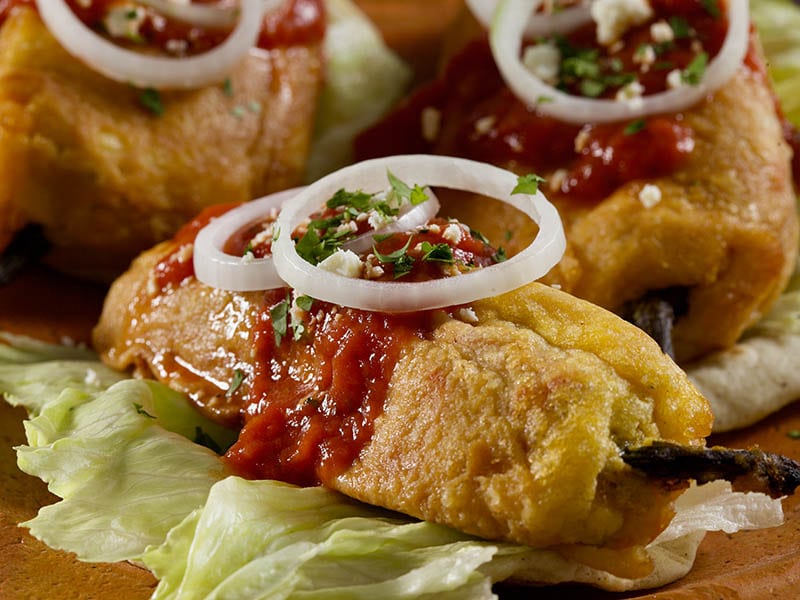 Chile Relleno is a fried chile treat with a filling inside. This filling usually varies from region to region. As for the Guatemalans, they prefer stuffing their chiles with pork.
This dish was created in the early 19th century. Specifically, the original Chile Relleno uses poblano chiles, and poblano is also a term for people from Puebla. Thus, people believe Chile Relleno is from the city of Puebla.
Interestingly, Chile Relleno is a combination of indigenous and Western ingredients. To be specific, it uses native vegetables and Western ingredients like cheese, and picadillo, a mix of raisins, meat, and tomatoes.
Across America, there are several variations of this menu. For instance, in some Mexican regions and Guatemala, people use dried chiles to make Chile Relleno and stuff them with pork. By contrast, in the United States, Chile Relleno usually has a filling of Monterey Jack cheese.
Now, you can make a perfect batch of Chile Rellenos in your home kitchen.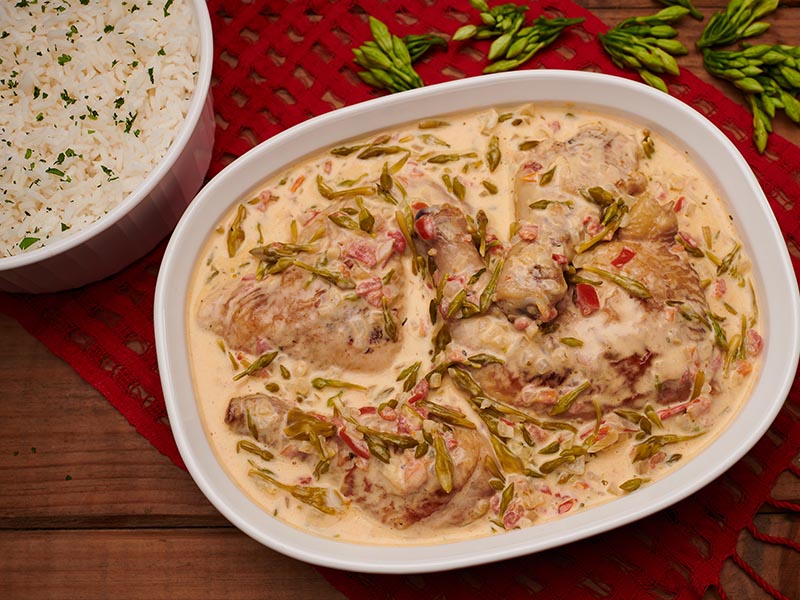 At first sight, you may think that this is just another chicken creamy stew. But Pollo En Crema Y Loroco is much more than just a stew, thanks to the special ingredient, Loroco.
Loroco is a green bud that works as one of the essential ingredients in Guatemala cuisine. It gives off an earthy taste and a mild floral aroma. Not only Guatemalans but people in other Central American countries also use Loroco as a seasoning agent.
This chicken stew is usually a dish Guatemalans cook at special family gatherings or celebrations. Another variation of this stew is Pollo En Crema (chicken in cream without Loroco).
This is also a hearty and tasty stew. However, Loroco buds add extra depth and flavor to this dish, making it much more enjoyable.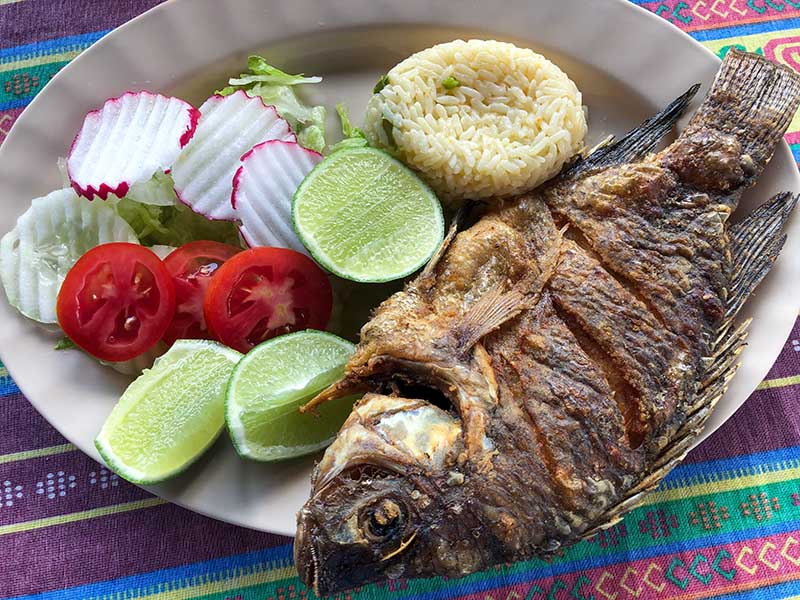 Mojarra frita, or fried mojarra, is a dish of whole fried fish with a side of rice and some vegetables. This dish is popular among people living in the coastal regions of Guatemala.
Guatemalans have a tradition of eating fried Mojarra during Lent and Good Friday. This fish always has a light seasoning and a crispy breaded outer layer that's appealing to taste. A typical serving of Mojarra Frita usually comes with rice, some orange, cucumbers, and salsa.
Mojarra, or Tilapia, is a kind of firm fish. So I'm sure you will love how the flesh feels when you take a bite. Moreover, you will feel the natural sweetness and the tempting flavor once you cut through the fish.
9 Snacks And Side Dishes For Some Extra Guatemalan Flavor
Besides the hearty stew and filling soup, Guatemalans also have a variety of side dishes. Whether it's tortillas, dips, or salads, they are all flavorful and are compatible with the majority of main dishes. Let's take a closer look at what these amazing dishes are about.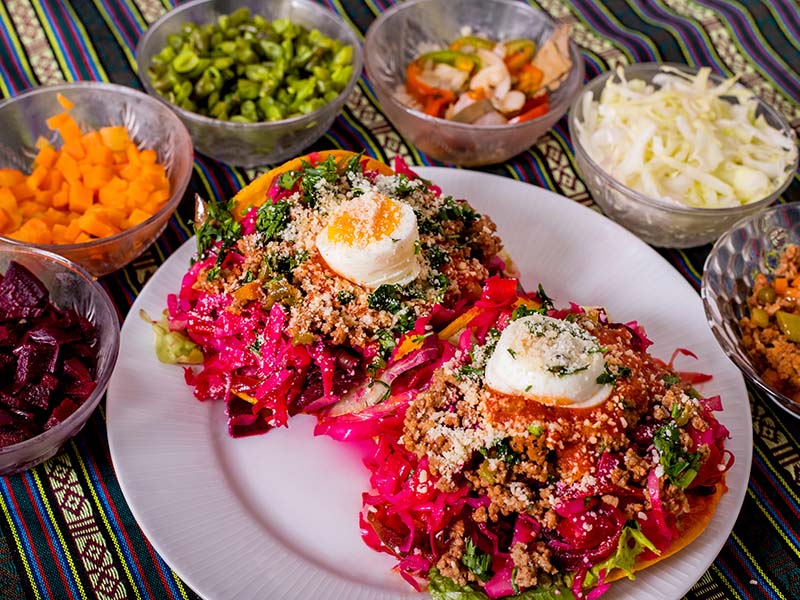 When talking about Enchiladas, you might be thinking of a casserole of rolled tortillas. However, Guatemalan Enchiladas, or Jardineras, is a completely different dish consisting of vegetables and beef.
Jardineras is one of the healthiest dishes coming from Guatemala. What you would get from a serving of Guatemalan Enchiladas is a pile of beef and vegetables on top of some crispy corn tortillas.
The components of Guatemalan Enchiladas are all special. But the flavor mostly comes from the vegetable salad or Escabeche. It's a beet salad with some carrots, peas, and green beans. People normally season this salad with salt and pepper, vinegar, olive oil, and some thyme.
Unlike the Mexican Enchiladas, which tend to be cheesy and a bit richer, Guatemalan Enchiladas are somewhat lighter in taste and crunchier in texture.
Fiambre usually consists of a wide variety of ingredients, ranging from cold cuts, sausages, and chicken to vegetables like olives, beet, pickled baby corn, and onions. It also comes with cheese, Pacaya flowers, and Brussel sprouts.
It's a long-established tradition in Guatemala to share your family's Fiambre with other families and relatives during the Day of the Dead.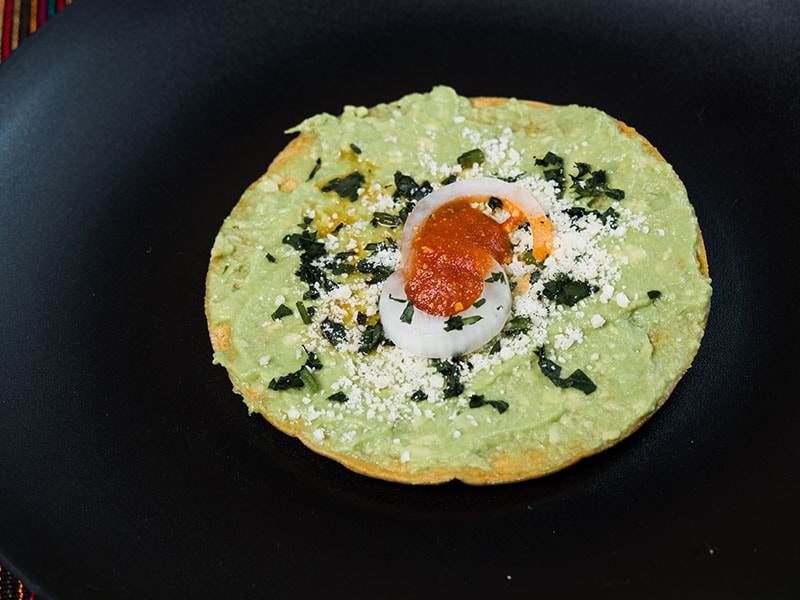 Guacamole is a worldwide famous dip with a rich and long history. This delicious treat is a creamy and savory dip of avocados with some fresh tomatoes and tangy chiles. Many countries, including Guatemala, adore dipping their tortillas in this delightful treat.
The history of Guacamole goes back to the 1500s in the Aztec Empire in Central America. The Aztec residents then found a way to utilize the abundance of avocados by mashing and seasoning them with spices.
Originally, Guacamole only had tomatoes and chilies. But as time went by, people started fixing their Guacamole up with ingredients like onions, cilantro, and lime juice. The name Guacamole isn't original. The first-ever name of this dish is Ahuacamulli (literally "avocado sauce").
Guacamole is a delicious and healthy side dish as it is rich in healthy fat, vitamin B, and vitamin K. You can enjoy Guacamole with some tortillas or tostadas.
Amp up the taste of your Guacamole with this recipe.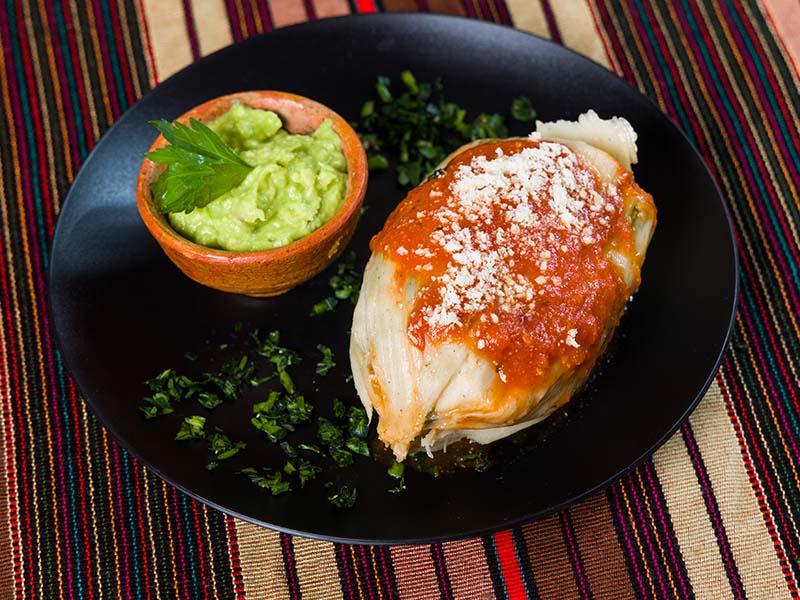 When visiting Guatemala, especially Guatemala city, you will often see vendors all over the streets who sell Chuchitos. These are warm dough treats with a filling of either pork or chicken and chili sauce. This is a warm and luscious treat that will surely get anyone hooked at first bite.
Chuchito is a variation of the famous Tamales. The difference lies in its size and texture. Chuchito dough, or masa, is thicker than that of Tamales. Additionally, people use corn husks to wrap these Chuchitos. And they are often smaller than regular Tamales.
These small Tamales are yet another festive menu item on special occasions. Such occasions involve a fun activity of women from different families gathering together to make Chuchitos.
Another interesting anecdote about the name of this dough treat is that it comes from a Guatemalan slang word "Chucho" meaning "dog" and the suffix "ito" signifying "small". So Chuchito roughly translates into a small dog or a puppy.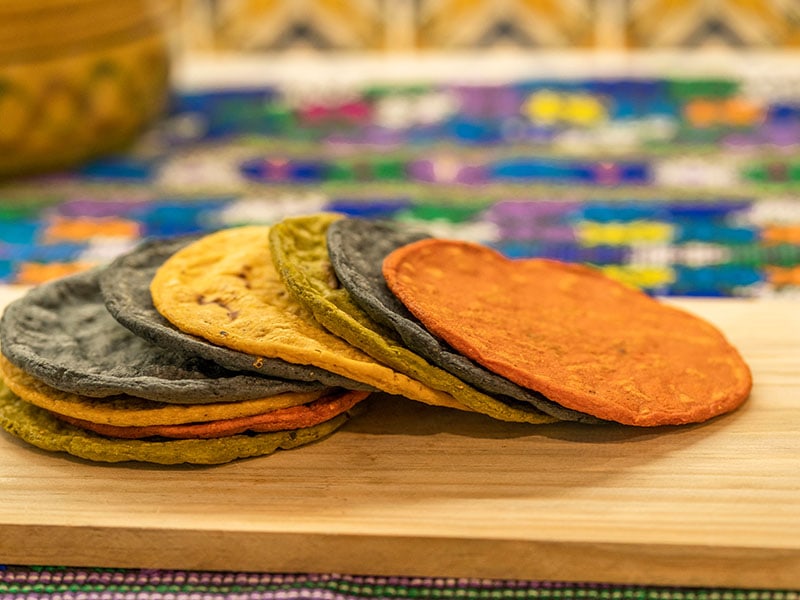 Authentic Guatemalan corn tortillas are exceptionally tasty. What makes them so flavorful and delectable is the craftwork that Guatemalan people put into making them. Fresh handmade corn tortillas are one of the side dishes Guatemalans enjoy the most.
Although the tortilla press produces these treats in a much shorter amount of time, you can never deny the appeal of fresh tortillas that the talented Guatemalan vendors have just kneaded with their own hands.
These tortillas may seem plain in taste. But because of that very reason, they act as a superb side dish to all kinds of stew, seafood, or meat-based dishes in Guatemalan cuisine. They also come in many colors like blue from blue corn, black from black beans, etc.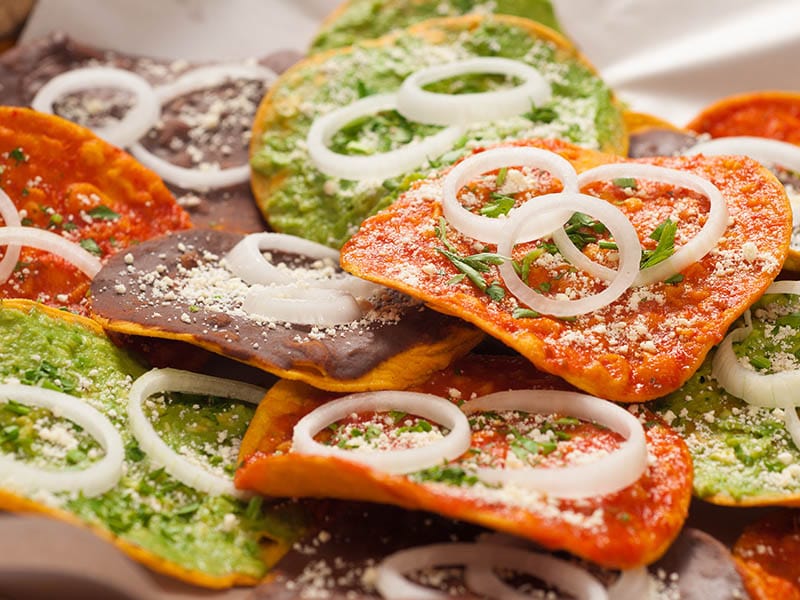 Tostadas are another form of corn Tortillas. Specifically, Guatemalans would deep fry or toast their Tortillas to make Tostadas. Nowadays, you can easily find ready-to-eat tostadas in Hispanic markets and supermarkets.
In Guatemala, people usually serve tostadas with a layer of different spreading pastes on top. The common types of spread are black bean paste, Guacamole, or grated radish. What finally goes on top is a generous sprinkle of cheese.
Crispy Tostadas are a great snack that always leaves you wanting more. Moreover, coming with a variety of toppings are diverse flavors that you will want to explore, as each topping has its delightful deliciousness.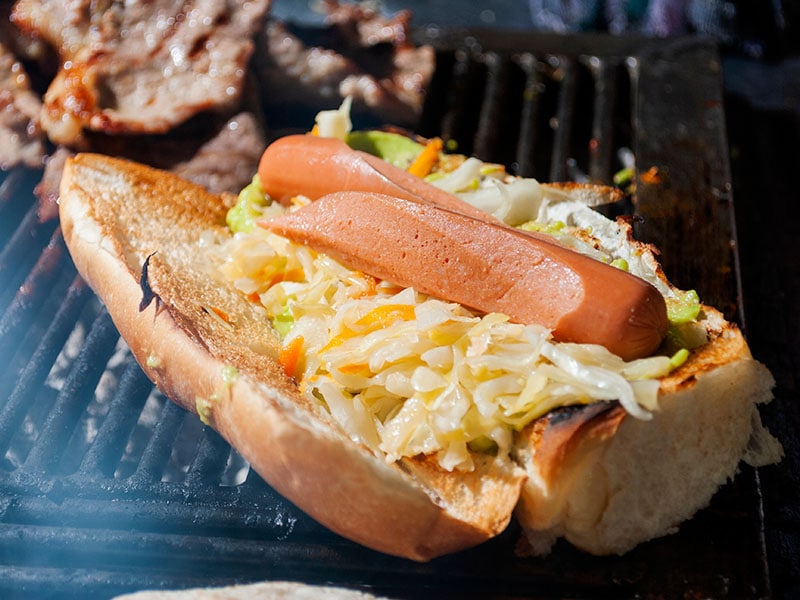 Along with Tostadas and Chuchitos, Shucos are another famous menu item on the streets of Guatemala. What sets Shucos from the regular American hot dogs is the toasted bread and Guacamole that goes on top of the bread.
The name Shucos is a derivation of the word surico, which means "dirty". This concept started with how unhygienic the way vendors prepared these treats was. But people in Guatemala started picking up on it and naming the dish "Shuco".
Guatemalans from many regions have their way of making this dish, which can be sticking with the original wieners or adding grilled meat and sausages like chorizo or salami to the bun. But it's always the guacamole that gives Shucos their creamy texture and rich flavors.
Try this recipe if you want to make Shucos at home the easiest way.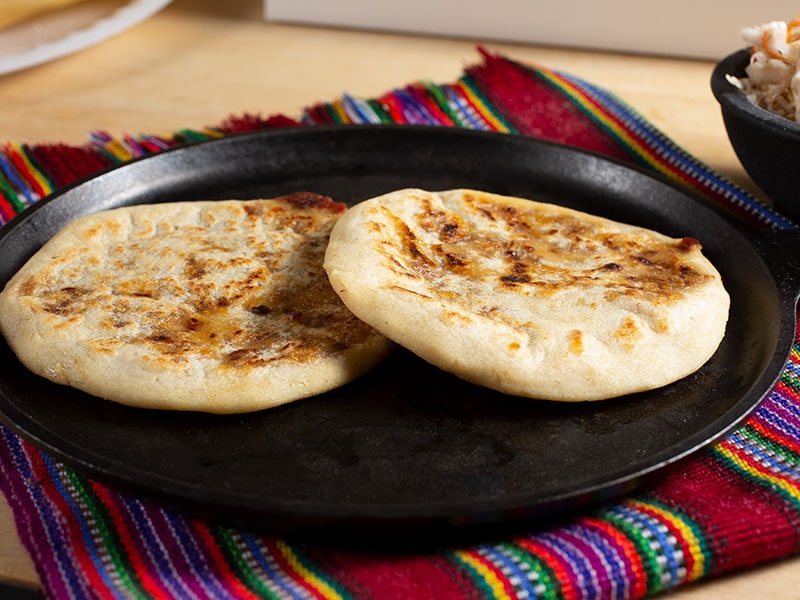 Let's get back to the ever-so-incredible Tortillas. This time, it's the people from El Salvador (though some sources say Honduras) that invented this doughy treat. Respectively, they decided to fill their Tortillas with some pork or cheese and call them Pupusas.
This dish got so famous that it eventually became a favorite for many Guatemalans. The fillings are very versatile as it consists of cheese, pork or fish, vegetables, and beans. Before, Pupusas only came in a half-moon shape, which is different from their circular shape nowadays.
Originally, Pupusas from the pre-colonial period were vegetarian, and they were filled with squash flowers, herbs (like chipilin and mora), mushrooms, and some salt. It is also a custom to eat Pupusas with hands and not with cutleries.
A piece of Pupusas is always pleasant to enjoy, as it oozes with cheese when you first take a bite. Moreover, Pupusas usually come with Curtido, a spicy slaw made of shredded cabbage, carrots, tangy vinegar, and some chili peppers.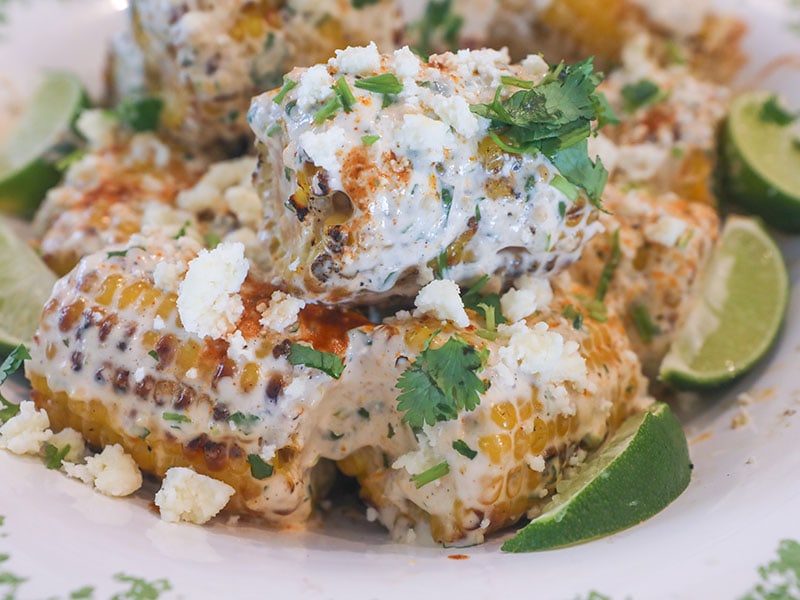 Elotes are such a famous street food gem that there's no need for an introduction anymore. Imagine a bite full of charred kernels of corn flooding your palate. Chasing the kernel's smoky flavor are the silky and creamy mayonnaise and cheese with a bold hint of lime juice.
The name Elote derives from the Nahuatl word Elotitutl, meaning "tender cob". But this dish is more than just the tender cobs. It's a special experience for everyone in countries in Central America to enjoy this menu.
For some regions, what goes on top of Elotes are butter, mayonnaise, and cotija cheese, a tangy and tough-textured cheese. However, the most common variation of Elotes is still the ones with butter, mayo, chili peppers, cheese, and lime juice on top.
Take a look at how Guatemalans prepare their Elotes.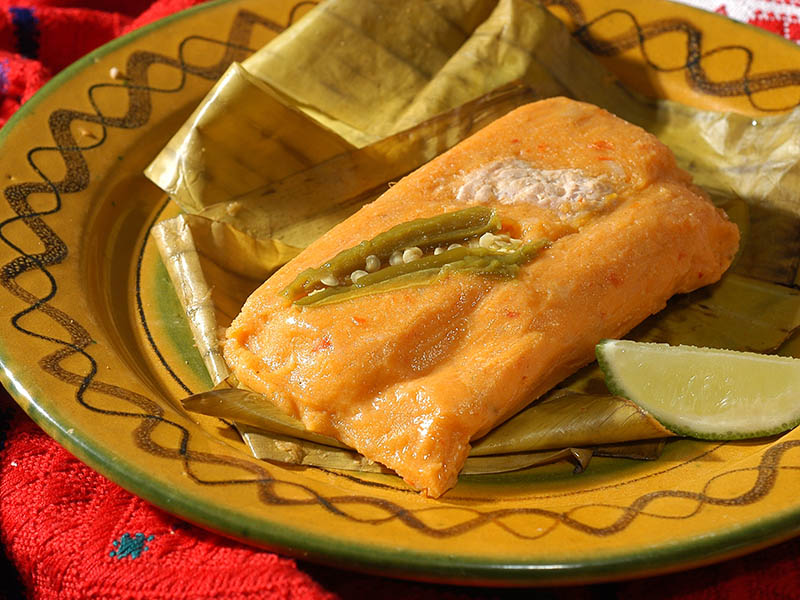 I'm pretty sure the Mesoamerican culture fanatics have already tasted and grown an unspoken love for Tamales. But what if I told you the Guatemalans also make a version of Tamales with mashed potatoes?
This special treat is another traditional staple in Guatemala. Guatemalans make it by mixing mashed potatoes with bread or breadcrumbs and some special sauces. Then they wrap these Paches in banana leaves and steam them.
Paches originated in Quetzaltenango city, or Xela as the locals would call it. This region has access to high-quality potatoes, which contributed to the creation of the specialty.
Paches from Xela, or Paches de Xela, use dough from mashed potatoes, while a different variation from Guatemala City (the country's capital) includes a combination of mashed potatoes, bread crumbs, and corn flour.
The texture of Paches is less doughy and chewy as they're from mashed potatoes. Moreover, Paches only go through the steaming process once while people usually steam Tamales twice, making Paches a bit firmer.
8 Gorgeous Guatemalan Desserts As A Final Sweet Treat
Guatemalan desserts, in my opinion, are the true definition of the word "indulgence." They never hesitate to turn simple ingredients, like flour, milk, and corn, into such heavenly treats. Below are some of the most fulfilling sweet bites from the country of Guatemala.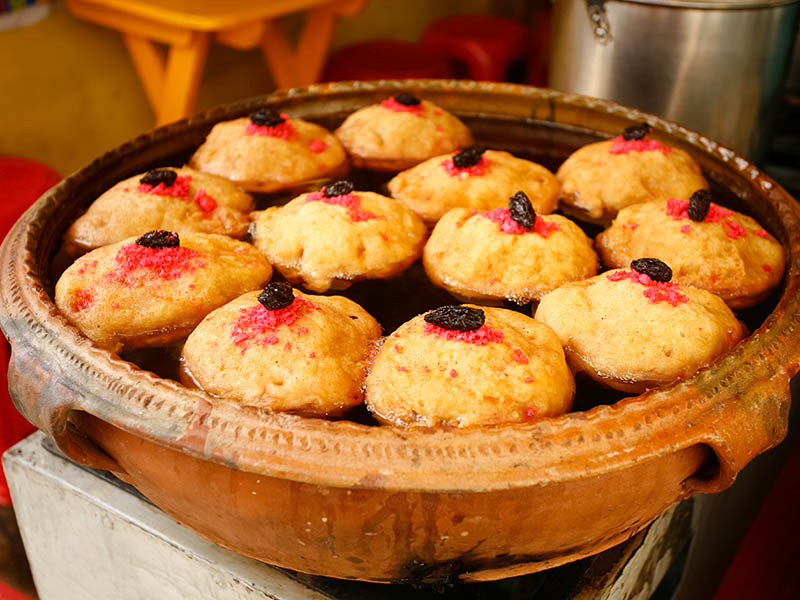 Guatemalan Torrejas are a very famous item during the Easter season every year. It is different from Torrijas, a Spanish-style French toast menu. These Torrejas are sweet bread that goes into a coating of batter and then into a deep frying pan.
Guatemalans make the best Torrejas when the bread is at least a day old. While deep frying the dough, they also simmer a pot of syrup with cinnamon and orange. After the frying process is done, people would transfer the bread to another pan and pour the syrup on top continuously.
As the fresh Torrejas are crispy, they take very little time to absorb the syrup. Therefore, Guatemalans usually make a generous batch of syrup so that every single Torrejas can fully soak itself in the aromatic syrup.
This dessert is very similar to bread pudding, but it's more liquid due to the syrup. And Guatemalan people don't eat their Torrejas with vanilla sauce as people do with bread pudding. Still, these warm and sweet sweetbreads are still very comforting to savor on a chilly day.
Learn how to make Torrejas with this authentic recipe.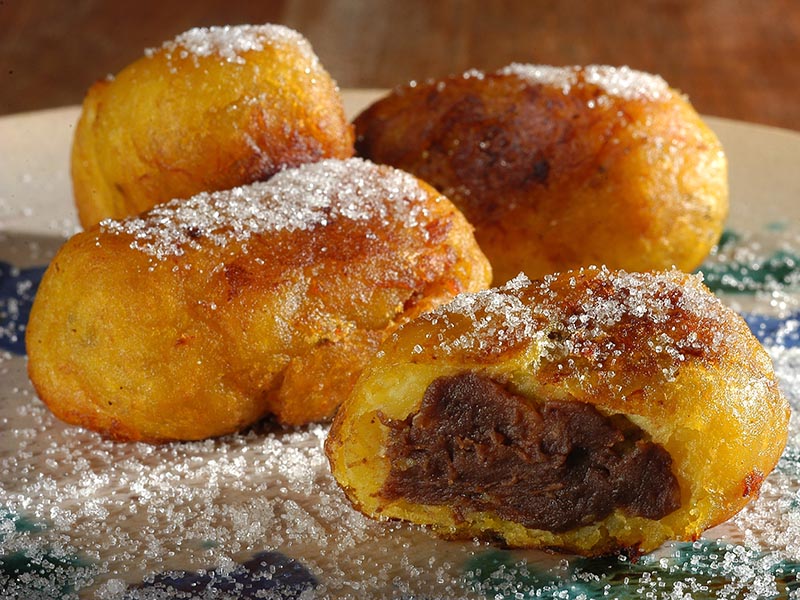 It is common to see plantains in savory Guatemalan dishes. This ingredient has a slightly similar taste to potatoes. But not many people know that plantains can be an excellent ingredient in making a dessert dish.
Rellenitos De Plátano are fried plantains filled with refried black beans, spices, and sugar. Originally, they also included chocolate, which made the taste much richer. Usually, people boil the plantains with cinnamon until they get tender enough for people to mash into a dough.
When serving Rellenitos De Plátano, people will dust a bit of sugar or drizzle some honey on top. These are available all year round as it's a staple dessert for a lot of Guatemalans.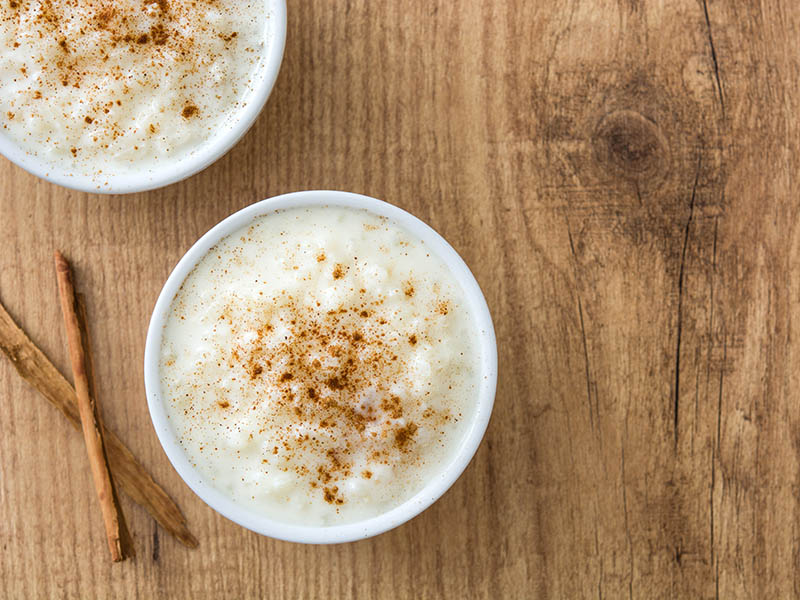 Arroz Con Leche is a rice pudding dish made fragrant by the cinnamon and nutmeg in the recipe. Unlike American rice pudding, Guatemalan rice pudding is thicker in consistency. This is because people only use uncooked rice and milk for cooking Arroz Con Leche, making it starchier.
Arroz Con Leche started as a Spanish dish. But it was the Arabic people that brought the treat of rice and cinnamon Spanish cuisine in the early Middle Ages.
Some variations of Arroz Con Leche call for raisins as well. This addition, in my opinion, is an excellent one. The rice pudding is creamy and slightly sweet, while the raisins are fruity and light, which altogether creates a beautiful balance of a pleasant sweetness for this dish.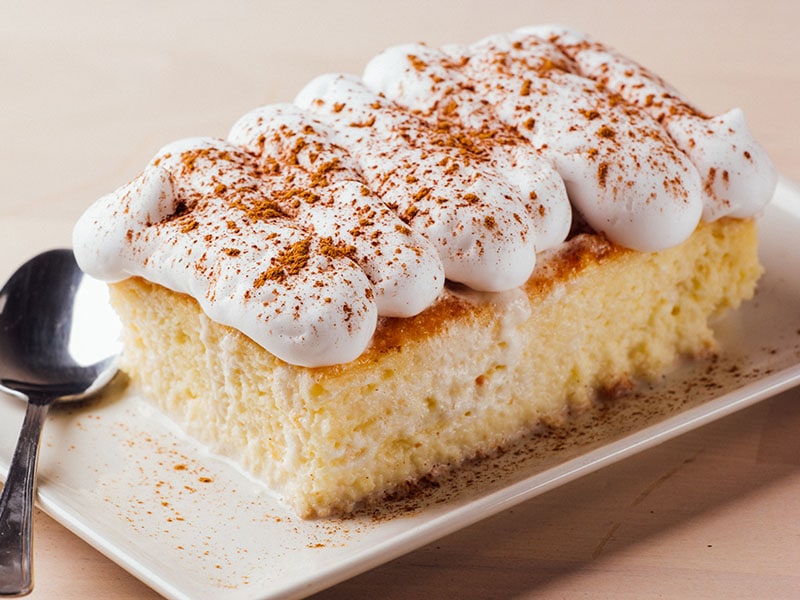 Tres Leches in Spanish means three kinds of milk, which explains the process of making this cake. Tres Leches Cake is a type of sponge cake that people soak through three types of milk, which are evaporated milk, condensed milk, and heavy cream.
This recipe doesn't use butter. It derives its fluffy texture from the milk. But the best part about Tres Leches is that the cake never gets soggy from bathing itself in the milk mixture. No matter how long the cake has been sitting in the milk, it can still come out as enjoyable.
The milk mixture may sound a little heavy, but it's the opposite. As condensed milk already carries a sweet taste, there's no need to add sugar. So the milk mixture is a creamy and smooth liquid that marinades the sponge cake with a delicate sweetness.
On top of the cake are some whipped cream and strawberries, which are the perfect combination for any kind of dessert. First appearing in 19th-century Mexico, the cake is now a gem of Latin American cuisine, including Guatemalan one.
Make some delicious Tres Leches for your next celebration with this amazing tutorial.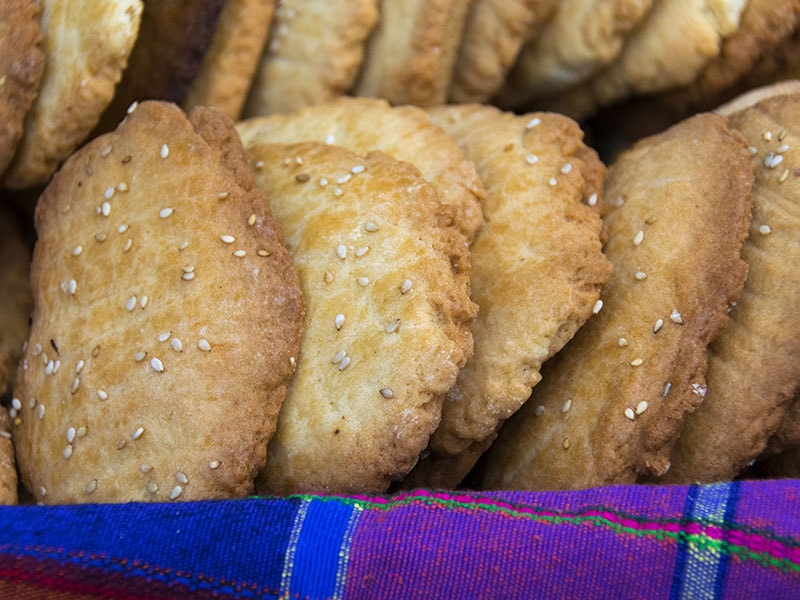 These crispy Guatemalan sesame cookies are the perfect accompaniment to a cup of coffee or tea you're going to have this afternoon. They are similar to ỏidnảy sugar cookies in texture, though a bit tougher.
Champurradas are cookies from a simple Guatemalan recipe consisting of basic baking ingredients like flour, sugar, eggs, butter, etc. However, you cannot forget sesame, an ingredient that makes this menu what it is.
Besides serving these as a dessert, Guatemalan people also have a habit of dipping these sesame cookies in their hot coffee as part of their breakfast meal. This creates a smooth texture for the cookies on your palate with a hint of coffee, which is a perfect sensation.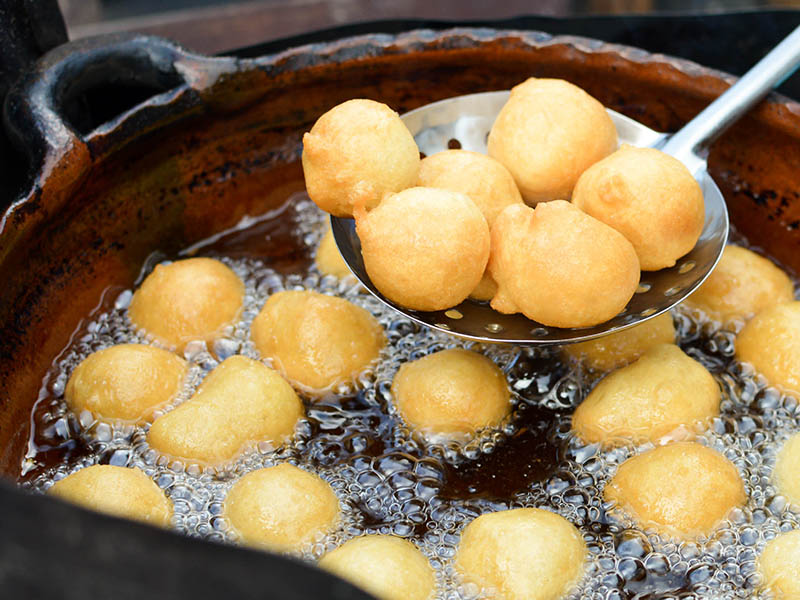 Buñuelos are dough disks with a few sprinkles of cinnamon sugar. People in Guatemala usually eat these at Christmas and on the New Year holidays. The dough fritters are light, crispy, sweet, and full of that cinnamon flavor.
Mediterranean cuisine was the first to make dough fritters. Cato the Elder, a Roman historian, mentioned a recipe called "balloon" in his book, which describes fried flour and cheese balls with a honey and poppy seeds spread.
There are many variations for this recipe, as well as occasions on which these are famous menu items. In Guatemala and other Latin American countries, Buñuelos can be made with flour tortillas and covered in sugar and cinnamon.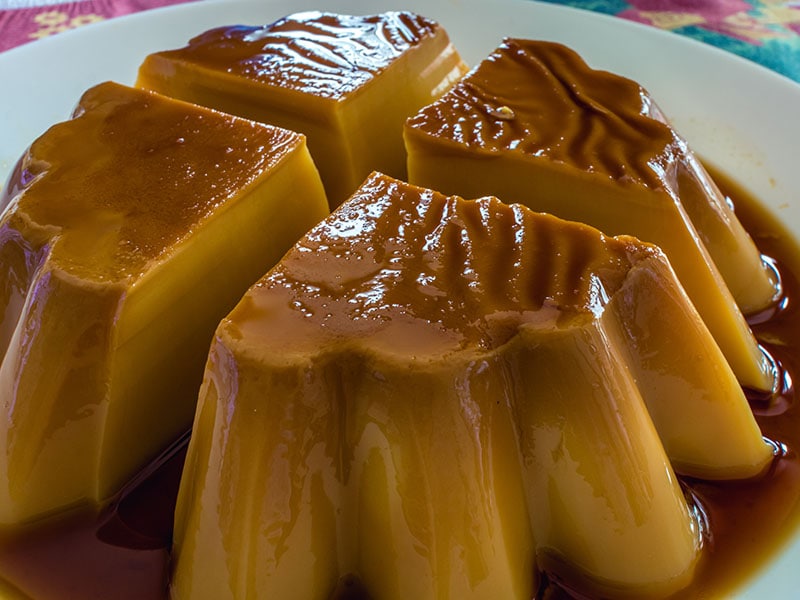 Flan is a renowned Latin American dessert dish that everyone in the world loves. Famous for its silky and smooth texture with a caramel taste, people of all ages enjoy eating flan. However, not a lot of people know where this pudding came from: the Roman Empire.
Back in the olden days, ingenious Roman people came up with new ways to use their chicken eggs. And flan was one of their inventions, though it was originally a savory dish called Flado. Then the Spanish started making some changes to Flado, like adding sugar to the custard.
The dessert eventually took its present form: a silky loaf of egg custard pudding in caramel syrup with a garnish of almonds and citrus peels. The Spanish brought it to Latin American countries, including Guatemala, around the 16th century.
A goof-proof instruction on how to make flan you should try immediately.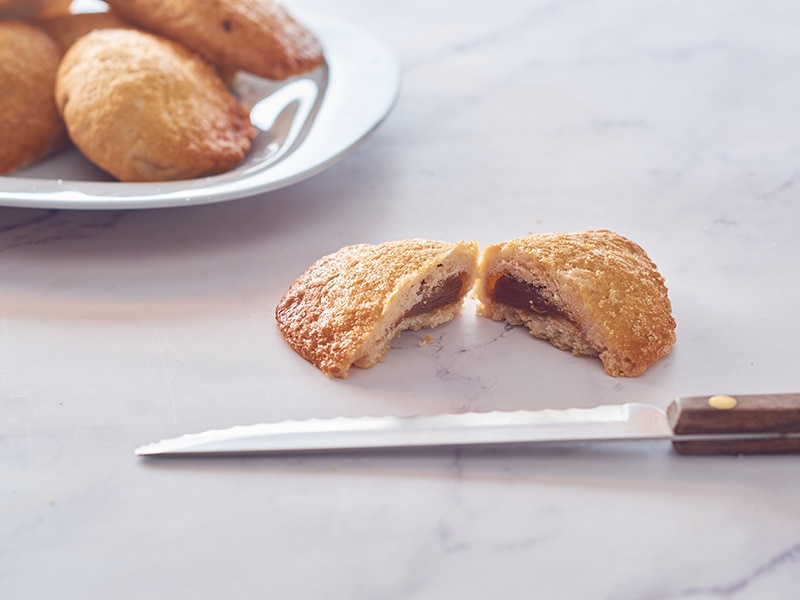 Dulce de Leche is a sugary paste from milk and sugar. It's thick, sweet, and dark in color. This paste then goes into the famous turnover Empanadas, giving birth to the dessert of Dulce de Leche Empanadas.
This is a food that pairs well with coffee, especially black coffee. It's also a famous street food item that Guatemalans of all ages seem to love. Vendors usually sell them in baskets on the streets, and these are something you must try while in Guatemala.
Dulce de Leche Empanadas are so soft and full of caramel goodness that I'm sure you won't be able to resist but go for a second one after the first.
What Are Your Final Thoughts About These Exotic Dishes?
I hope I have given you a brief picture of what qualities Guatemalan foods have to offer. From the hot stews to the crispy treats, countless luscious dishes here in the country of Guatemala await you.
If you don't plan on traveling any time soon, why not pick some recipes from this post and make some mouth-watering stew for your family and friends. That might also help recreate an atmosphere similar to taking a trip to Guatemala.
Nevertheless, I would love to hear how these recipes turn out for you. Anything that you especially enjoy making as well as tasting? Any suggestions to these recipes here that you think will bring a different twist to them? Let me know in the comments!
What about your friends, do you think they would love these dishes as you do? Share this article with them, and feel free to discuss in the comment section. Until next time!