Ground pork is one of the primary ingredients, and there are thousands of recipes you can do with it. Since pork is a versatile component, it appears in various cuisines with different cooking methods.
Thus, I'll show you all the most exciting recipes with ground pork as the main ingredient in this article. I believe you won't have any trouble preparing your dinner meal with ground pork with this list.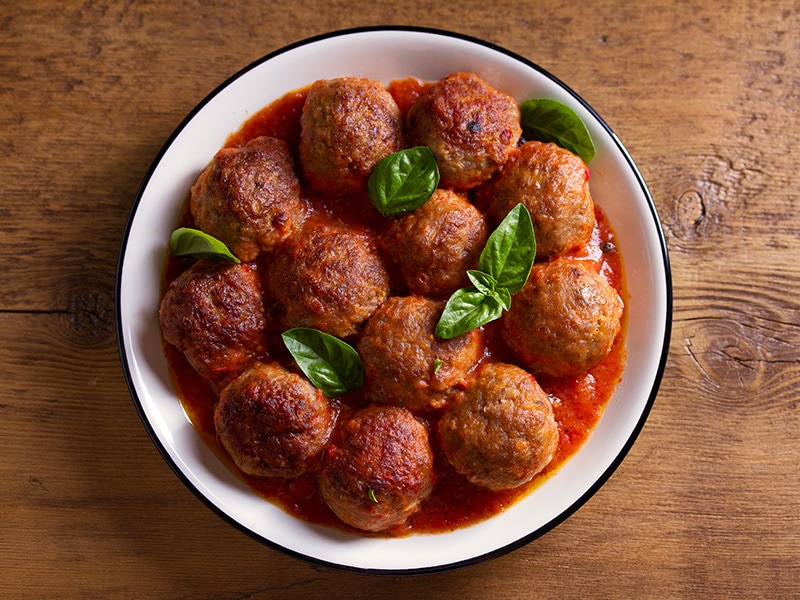 Can You Guess All Of My Ground Pork Recipes?
Like I've said above, these ground pork recipes have various cooking methods. Some take a longer time, while others are more suitable for busy days.
Soups And Stews
Wonton Soup
Italian Wedding Soup
Lasagna Soup
Ground Pork Chili
Pozole (Mexican Pork and Hominy Stew)
Fried Dishes
Sheng Jian Bao (Shanghai Pan-Fried Pork Buns)
Pork Egg Rolls
Pork Korokke (Japanese Potato And Ground Meat Croquettes)
Pork Fried Rice
Scotch Eggs
Baking Dishes
Baked Pork Meatballs
Pork Meatloaf
Pork Picadillo Empanadas
Wrapping Dishes
Pork Dumplings
Cabbage Rolls
Ground Pork Tacos
Pork Lettuce Wraps
Others
Pork Burgers
Pork Sloppy Joes
Pork Nachos
Pork Bolognese
Egg Roll Bowl
Nam Sod (Thai Pork Salad)
Mapo Tofu
Bun Cha (Vietnamese Rice Vermicelli Noodles With Grilled Pork Meatballs)
Dan Dan Noodles (Spicy Sichuan Noodles)
Ground Pork Stir-Fry
Are you ready to know more about them? Keep reading to find out!
6 Comforting Soups And Stews With Ground Pork
On freezing days, you must want something to warm yourself up. At that time, don't forget these soups and stews. Not only are they simple, but these recipes are also super satisfying, with ground pork as one of their ingredients.
On cold days, I always crave some warm soup. And though I know tons of soups already, I always search for new ones. And recently, wonton soup has caught my eyes with its flavorful broth and juicy wontons.
While you can use frozen wontons for this soup, I still recommend you make them yourself, so you can fill them with more ground pork and shrimps instead of artificial additives. And don't forget to make chicken stock to emphasize the flavor of these wontons.
This wonton soup is one of the best things you've tasted! You can see this video to know more:
Though it's called "Italian wedding soup," don't expect to see it at any weddings. I know I sound like I'm contracting myself. But the truth is, this soup often appears in events like Christmas or Easter.
To explain its name, I think it represents the beautiful harmony between meat and vegetables in this soup. Also, compared to other recipes with only ground pork, this dish needs beef as well for more richness.
This Italian wedding soup will be a beautiful appetizer for your party. You can see this video to know more:
For me, lasagna is a perfect dish with cheese, pasta, and meat combined together, save for only one drawback: It takes lots of time to bake one.
However, I've known about this lasagna soup, so I can enjoy the full lasagna flavor in just 30 minutes. And it still tastes just like the standard baked lasagna.
Also, after cooking in the soup, all the ingredients have turned soft, making this dish more digestible even for elders or kids.
Everyone loves chili stew, but it uses ground beef as the main ingredient most of the time. However, have you ever tried the pork version? It's the same stew with kidney beans and chili peppers with pork as the only difference.
So, do you think how this chili would taste? Some may say it will taste weaker and blander as pork doesn't have a strong taste like beef. However, this isn't true since ground pork will absorb all the flavor from the broth and become so beautiful that your family will fall head over heels with it.
If chili is too familiar for you, pozole will be a fun change for your meal. Made with ground pork, hominy, and other spices, this stew can attract anyone with its aroma and flavor.
While you may see red pozole more as the red broth is more appealing, this stew has other two versions: One has green color from cilantro and jalapeno, and the other is called "white" as it doesn't have any signature color.
Let's Use Ground Pork To Make These Yummy Fried Dishes!
No matter where they come from, these fried dishes can always charm people with their crunchy exterior and the juicy filling of ground pork.
You'll be surprised when eating these pork buns! Inside this bite-sized bun lies three different textures. First, you'll get a crispy bottom as this side is fried in a skillet until golden.
Then, opposite to this crunchy skin is chewy and fluffy texture. You can only find this wrapping in the authentic Shanghai version since other variants use thicker wrappings, making these buns more bread-like.
This is the secret to these perfect pan-fried pork buns!
If you often come to American Chinese restaurants, you must have seen these egg rolls once or twice. They seem similar to Asian spring rolls, but these rolls are actually American creations.
They have different wrappings made of flour and eggs, making them thicker and firmer than other rolls. Also, egg rolls often include ground pork in the filling, so you'll feel more satisfying eating them.
Based on French croquettes, this korokke is much tastier than the original recipe. In Japan, people use panko, their own version of breadcrumbs, for the coating. Thus, their korokke is crunchier than when coated with regular crumbs.
Also, besides ground pork, this korokke includes Japanese potato salad in the filling, slightly sweeter than American standard ones. That makes this dish suitable as both a side dish and a midday snack.
A relaxing night can't lack this pork fried rice as it's quick to make and delicious no matter what ingredients you use. The only required component in this dish is cold-cooked rice. But if you don't have it, you can cook some and cool them in the fridge.
From there, you just need to stir-fry the rice with ground pork, eggs, and other veggies. Don't forget soy sauce if you want your fried rice to taste like an authentic Asian dish. Other than that, you can add tamari or Hoisin sauce for more flavors.
Make this pork fried rice for a convenient dinner meal! You can see this video to know more:
Whenever my family goes on a picnic, Scotch eggs are an indispensable dish. Not only are they portable, but these eggs also taste delicious even when served cold, making them 100% suitable for outdoor meals.
Typically, Scotch eggs require wrapping eggs with sausage mixture. However, I find that it is a bit soggy for my likings, so I switch it to ground pork or mix both of them together. Ground pork doesn't contain much fat, so it provides me with the ideal texture.
You Won't Believe This Is Ground Pork In These Luscious Baked Dishes
While these baked recipes often include ground beef, pork is also a decent choice if you want to save your budget. Though it's not as rich as beef, pork can combine better with various flavor mixtures, making it easier for you to change these dishes' taste.
When it comes to ground pork, the first thing coming to my mind is always meatballs. Then, who can I blame besides myself?
Making meatballs is the quickest way to handle ground pork. Not to mention, they'll turn out delicious no matter what seasoning mixture you use.
And while many recipes suggest pan-frying meatballs, I prefer the baking method more because I don't have to stand inside the kitchen all the time to watch the pan.
These baked pork meatballs will fill your house with their fragrance! You can see this video to know more:
I bet almost any American grew up with meatloaf as their childhood meal. This dish is so simple with just ground meat mixed with other ingredients and baked in a loaf shape. Yet, it is still the favorite food of many people.
The reason for its popularity lies in the seasoning mixture with the ground meat. Each family has its own recipes, and all taste delicious. That's also why I often pick pork to make meatloaf, as it can go well with any spices.
Before you get confused about this name, let me explain them to you one by one. First off, empanadas are a familiar pastry dish in the Latin American community. They can appear in both sweet and savory styles.
And this recipe obviously belongs to the latter category with pork picadillo as its filling. While it looks rather bland, this ground meat has a unique taste as it's stir-fried with raisins, almonds, and other seasonings.
No One Can Refuse These Ground Pork Wrapping Dishes
If you don't have enough time to prepare those recipes above, these wrapping dishes can be your hero as they aren't so time-consuming.
Though they require lots of effort and time, these dumplings are really worth all your hard work! And because of that reason, traditionally, making dumplings is often a chance for friends to gather and cook them together.
However, nowadays, it's much easier to make them as you can find ready-made dumpling skin in Asian grocery stores. Just fill them with ground pork, ginger, and tons of onions, and you are good to go!
You'll never fail to make pork dumplings with this recipe!
Just like its name indicates, this dish includes cabbage leaves filled with different ingredients and rolled. Each country has its special recipe for cabbage rolls. But most of the time, the filling will contain ground pork and chopped vegetables.
Then, depending on your circumstances, you can steam, bake, or simmer these rolls. My preferred choice is usually cooking them in tomato sauce so that all the flavor from the sauce can soak in the filling.
If you want to open a taco party, nothing is more suitable than making them with ground pork. Not only does it have a lower cost than other proteins, but it also goes well with all flavors.
You can place your pre-cooked ground pork and other filling components on the table, so your guests can freely make their own combinations. In my opinion, ground pork is a perfect match with tropical fruits like pineapple or mango, so don't leave them out!
If you are looking for something healthy, then this dish is your correct answer. As these lettuce wraps are packed with vegetables, you can eat as many as you like without worrying about your weight.
Also, they have ground pork in the filling, so you'll feel much more satisfying than just eating the vegetable rolls. Not to mention other unique flavor enhancers like fish sauce and lemongrass paste, making this dish more flavorful.
What can be healthier than these pork lettuce wraps? You can see this video to know more:
You'll Love These Dishes With Ground Pork!
These recipes don't belong to any groups above, but they can still capture many people's hearts. Some are created based on familiar dishes like burgers or Sloppy Joes, whereas others are entirely original recipes.
While beef is everyone's choice for burgers, I personally favor ground pork more. The reason is apparent. Pork is much cheaper than beef, so I can make as many burgers as I want without worrying too much about my budget.
Also, pork is a better choice if you aren't used to making burgers since it won't get dried quickly like beef. Moreover, pork patties go well with almost any seasoning mixture, from a simple one with just salt and pepper to Tuscan ones with lots of herbs.
Don't confuse Sloppy Joes with the previous burgers! While burgers make ground pork into patties and grill them, the filling for the latter is some sort of thick stew with ground meat and Worcestershire sauce as the main ingredients.
Original Sloppy Joes use ground beef, but I choose pork instead in this recipe as it can match perfectly with all kinds of seasonings. My family favorite is Sloppy Joes in the Cuban version, with pork flavored with citrus seasonings, swiss cheese, and pickles as a topping.
In their simplest form, nachos are just an appetizer with tortilla chips covered with melted cheese. However, this recipe will turn them into the star of your party meal as all of your guests will start devouring these nachos right when they appear.
And I can't blame them. Honestly, who can refuse tons of ground pork and tortilla chips all drenched in cheese? And forget about forks and knives! You just need to scoop all these ingredients with tortilla chips.
If you intend to have pasta for dinner tonight, make sure you make some Bolognese sauce to serve with it. For me, nothing goes better with pasta than a sauce full of ground meat and tomato sauce.
However, if standard Bolognese sauce with beef is too robust for you, you can replace it with ground pork for a lighter flavor. Aside from it, other ingredients in this sauce stay the same, including milk and wine to provide Bolognese a complex taste.
No pasta is complete without this pork bolognese! You can see this video to know more:
Egg rolls are an excellent appetizer or side dish for your dinner. However, frying all of them and cleaning them afterward can be pretty troublesome, especially when you want to enjoy them in summer.
That's why I found out about this egg roll bowl recipe. No more wrapping mountains of rolls and sweating over frying them. You just need to take all the ingredients for the filling and mix them up in a bowl for a quick appetizer.
You can't find any dish more flavorful than this Thai pork salad! One spoon of this dish can blow your mind away with its flavor. Imagine sour lime juice, a little kick from chili garlic sauce, and sweet umami from ground pork, all harmonizing perfectly with each other in this dish.
And while this recipe is already perfect for me, you can always alter the taste to your likings. For example, use fresh chilis for extra spiciness or a sprinkle of mint leaves to bring out a refreshing feeling.
Here is another Asian dish with ground pork as its main ingredient. And this time, it comes from the Sichuan region, China, famous for spicy food. That means you can't look down on the heat from this mapo tofu.
However, it's that spiciness that makes people keep coming back to this dish. Once you are used to the heat, you won't be able to stop devouring it. Also, mapo tofu is believed to have various health benefits as it's packed with nutritious ingredients like tofu, Sichuan peppercorns, etc.
While pho is globally well-known, in Northern Vietnam, when summer comes, people prefer this bun cha more as it doesn't have hot broth, thus easier to enjoy.
Making bun cha is pretty time-consuming for those who aren't familiar with it, as you need to prepare grilled pork meatballs and their dipping sauce. Also, in some traditional meals, bun cha includes grilled marinated meat and spring rolls.
However, the result is so worth your effort. Smooth vermicelli noodles with smoky meatballs dipped in sweet-and-sour sauce that's what I call a perfect meal for summer.
You can't talk about Chinese cuisine, or Sichuan cuisine in particular, without mentioning this Dan Dan noodle dish. Today, you can find it in various Chinese restaurants in other countries in a sweeter version.
The reason for outside-Sichuan Dan Dan noodles to get sweetened is because the authentic recipes are too hot for non-Chinese people. However, if you love spicy food, you must try this dish in its homeland to get a whole experience of its signature numbness and heat.
When you are too tired, this stir-fried will be your hero! Don't require any marinating or shaping! You just need to toss your ground pork with other vegetables into your skillet and stir-fry them until the meat turns brown.
Seasonings are super simple, too. A quick drizzle of soy sauce and other flavor enhancers are enough. As for the vegetables, you can use any available in your area or season. My regular choices are often green beans or broccoli.
Which Recipes Will You Make Tonight With Ground Pork?
Now, have you seen the charm in ground pork? And don't just stop at following exactly these recipes. Cooking is about improving, so you should enhance their flavor by switching in and out various ingredients to your liking.
Also, if you have other relatives that love ground pork, feel free to share this article with them, so you guys can have a pork party together. And don't hesitate to write down your thoughts in the comment section below.