Many ground chicken recipes are adaptable to a variety of ingredients that you have at home. People like featuring chicken because it's a reliable and easy-to-manipulate component in many cooking situations.
These recipes are ideal for making your meal better than before. Furthermore, you may materialize these ground chicken specialties with a little twist to create your uniqueness to the dish. Let your imagination fly when it comes to cooking.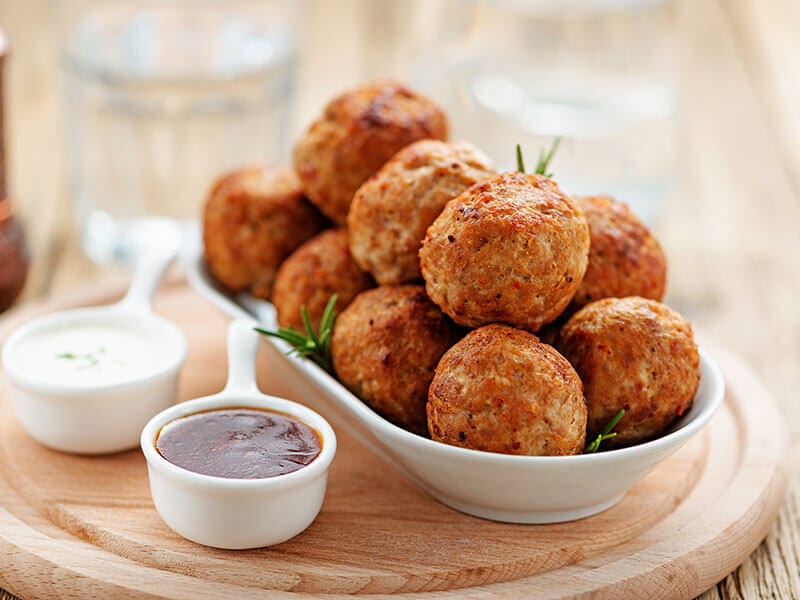 Savory Ground Chicken Delicacies For Your Lovely Home
Here are some of the best cooking ideas to handle your ground chicken. If you love one of these recipes, give it a go to practice various ways of dealing with your ingredients.
Total time: 20 minutes.
A burger patty with soft and savory ground chicken is perfect for a convenient meal. Better yet, you can use an air fryer for cooking the chicken patties, making them less greasy and healthier for your meal.
To make the patty, you want to mix ground chicken with canned water chestnuts, chopped scallion, and sweet chili sauce. Spray the inside of the air fryer with nonstick spray and cook the patties for around 12 minutes.
Another way is to use the oven for beautiful golden brown patties. Assemble the patties between burger buns and whatever ingredients you like.
Total time: 1 hour 35 minutes.
Meatloaf is a delicacy packed with incredible flavors in one bite. The recipe is an easy one that you can whip up in the kitchen for a wholesome meal. In some cases, you may make meatloaf for holiday occasions.
Typically, people combine the ground chicken with almond flour, egg, and onion. Season the mixture with Worcestershire sauce for a sweet and smoky note to the meatloaf. Spread the meat blend over a pan to bake in the oven.
After 30 minutes of baking, spread the loaf surface with ketchup and return to the oven for an extra 35 minutes. The meatloaf should be soft and juicy. Preferably, you should rest the loaf for at least 10 minutes to stabilize the structure.
Check out the simple way of making meatloaf with ground chicken.
Total time: 17 minutes.
Nuggets are crunchy pieces of meat with a crunchy flour coating to excite your taste buds. With this recipe, you no longer have to buy chicken nuggets from the store; instead, you can create them at home for your kids.
For your dough blend, it's best to combine chili powder, garlic paste, and bread crumbs. Dip the ground chicken through the seasoning and egg mixture before flattening your nugget balls. Fry both sides until golden brown.
Serve these crunchy nuggets with ketchup for a sweet and sour taste. If you want to experience spicy nuggets, sprinkle some pepper and chili powder into the seasoning mix.
Total time: 30 minutes.
Here's another meatball idea for you to experiment with at home. If you're a fan of Buffalo chicken wings, these meatballs covered in a thick and savory sauce will trigger your appetite for the upcoming meal.
Aside from the ground chicken, you should use almond flour with eggs, carrots, and onions to bond the ingredients. Don't miss the Buffalo sauce for a mildly sweet and spicy profile. Use your hands to work the meat mixture into round balls.
Let the meatballs sit in the oven until the surface turns golden brown. Toss the meatballs with hot sauce and serve with blue cheese. Better yet, you can prepare a ranch dipping sauce to pair with the spicy meatballs.
Total time: 20 minutes.
Fritters are a crunchy creation to start your meal with a blast of flavor. Instead of making this recipe with vegetables, I prefer picking ground chicken for a new twist on a familiar yet never out-of-date ingredient.
For the fritter, ground chicken is your must-have ingredient to combine with almond flour, cheese, and various seasonings. I usually love to sprinkle some dills into the concoction for a herbal and grassy taste.
Fry each side for 3 – 4 minutes for a golden brown color. Serve these delicious keto chicken fritters with your favorite greens.
Total time: 1 hour 10 minutes.
These bell peppers are perfect for an energetic night by delivering an intriguing Italian flavor to your meal. You will be in for a surprise to know that it takes only a handful of ingredients to make bell peppers more enjoyable than ever.
After picking decent-sized peppers, I suggest cutting them in halves and carving out the membrane to make room for the meat filling. Usually, you cook ground chicken with zucchini, onions, and Italian spices. Next, incorporate the mixture with tomatoes, cheese, and white rice.
Transfer the filling to your peppers and place them into the baking pan. Don't forget to fill the pan with a bit of water to keep the bell pepper moisturized during the baking process. For a cheesy taste, top the peppers with cheese at the final 10 minutes of cooking.
Stuff your bell pepper with ground chicken for a savory and tasty filling.
Total time: 1 hour 15 minutes.
Italian wedding soup is light yet decadent delicacy that often appears during special occasions. Although the long list of ingredients may intimidate many people initially, the soup is surprisingly easy to materialize at home.
People handle the meatballs by combining the ground chicken with sausage, bread crumbs, and milk. Remember to add some cheese to the mixture for a buttery taste. In addition, the various herbs help add another layer of flavor to the meatballs. Bake the meatballs to cook.
As for the soup, chicken stock is your most reliable bet to pair with vegetables and dry white wine. Commonly, I like dropping spinach into the soup for extra greens. Serve the soup with the meatballs and extra grated cheese for the best experience.
Total time: 50 minutes.
A casserole is ideal for encompassing multiple layers of flavors into one bite. Better yet, this recipe is perfect for people on a keto diet. The crunchy and umami profile of bacon will bring a big surprise for you.
The casserole is best when you saute the onion and garlic with oil for the initial aromatic scent. Throw in the minced chicken to brown and combine with the bacon. Transfer the mix to a casserole pan, don't forget to top the surface with tasty cheddar cheese.
Whisk the heavy cream with sour cream, egg, and spices to pour over the chicken casserole blend. The surface should spend around 20 – 30 minutes in the oven to get a nice golden brown color. Serve the casserole with some green beans to balance the nutritional value of the course.
Total time: 35 minutes.
Ground chicken for pizza crust may sound ridiculous, but it makes for an impressive dish on your dinner table. Therefore, you should level up the ground chicken by infusing the ingredient with the savory profile of Buffalo chicken crust pizza.
Instead of dough, this pizza calls for a mushy combination of ground chicken, Buffalo sauce, cheese, and eggs. Flatten the chicken mixture into a circular shape similar to a pizza. Bake in the oven for 25 minutes to cook the components to a golden brown.
Once your crust is ready, spread your favorite toppings and Buffalo sauce over the pizza. Return the meaty pizza to the oven to melt all the cheese and serve while it's warm. The recipe allows you to work with whatever toppings to create a unique pizza design.
Total time: 25 minutes.
People love to enjoy the refreshing taste of lettuce with the savory profile of minced meat. To help you achieve the perfect entree for any meal, I suggest trying these incredible chicken wraps for the ultimate experience.
When you have already dried the lettuce leaves, set them over your station to wait for the fillings. Typically, you want to stir-fry the mushrooms before incorporating the ground chicken with savory condiments to enhance the flavors.
Reduce the mixture's liquid and include the Teriyaki sauce in the blend for a sweet and tangy profile. Turn off the heat, then transfer the meat filling to the lettuce leaves. You can also use minced turkey or beef to make this delicacy.
Teriyaki chicken lettuce wrap is an excellent way of leveling up your appetizer experience.
Total time: 30 minutes.
For many, a burger is the top of their guilty pleasure because of the convenience and complicated flavor combinations. However, you may want to experiment with a healthy version burger, which replaces the buns with tomatoes.
These bunless Bruschetta burgers are the cross-combination of Italian and American cuisine in one bite. The patties usually consist of ground chicken with balsamic vinegar, parmesan, and basils. Depending on the tomatoes, you want to shape the patty into a reasonable size.
Sear both sides of the patty and finish cooking them with a sprinkle of mozzarella for a cheesy note. Grab your fresh tomatoes and slice them in half to sandwich the tasty patties. Enjoy your new Bruschetta burger with a splash of balsamic vinegar for a rich and mesmerizing sweetness.
Total time: 30 minutes.
Meatballs are a staple choice in many cooking cuisines; the dish comes in various types of meat, but ground chicken provides a more convenient option. Furthermore, I suggest adding a touch of Thai profile to these meatballs for a bit of Asian cuisine to your dinner.
Aside from the ground chicken, you should infuse the meat with lime zest, egg, and panko bread crumbs. Roll the meat into average-sized balls and transfer them to the baking sheet. Let the oven cook the meatballs for 10 minutes and cover them in sweet chili sauce.
Return the meatballs to the oven until the sauce thickens and becomes sticky. Serve these slightly tangy meatballs with extra sweet chili sauce for the best experience.
Total time: 50 minutes.
Japanese cuisine has a long history of development that produces incredible specialties involving ground chicken. Chanko Nabe, or Japanese sumo stew, is one of the iconic representatives of the country's culture and cooking ideas.
The soup is full of protein, thanks to the miso mixed ground chicken meatballs. For the best flavor and texture, I recommend adding a combination of scallion, miso paste, and salt to the meatballs before shaping them into whatever size you want.
The stock of Chanko Nabe utilizes a kombu base to deliver a rich and complex taste. Add carrots and potatoes to diversify the overall flavors. Grab your udon noodles pack and cook according to instructions to serve along with the soup.
Total time: 20 minutes.
Sloppy Joe is a versatile burger dish to serve whenever you're in a rush or too busy to stay in the kitchen for a long time. The mild spiciness of hot sauce and the tasty filling convince anyone from the first take.
Typically, any Sloppy Joe starts by stir-frying the chicken with onion, carrots, and celery to build up the initial fragrance. Proceed to stir in tomato, Worcestershire, and hot sauce to infuse the meat filling with a sweet and savory flavor.
Spoon the delicious Sloppy Joe meat onto a bun for serving. I love to sprinkle some blue cheese on the Sloppy Joe to enjoy a rich and buttery note.
Enjoy the savory ground chicken with this tasty Sloppy Joe specialty.
Total time: 35 minutes.
Chili is a lovely addition to your great list of cooking ideas. Furthermore, I prefer tweaking the dish by making a green version of chili. Moreover, this chili variation is ideal for impressing everyone at the dinner table.
For authentic Mexican spiciness, you should broil the Jalapeno peppers for a fragrant smokiness. Ideally, the Jalapeno skin should display some char marks. Finely chop the peppers when you are making the broth.
To handle the chicken, you want to saute it until there's no more pink color. Next, add onions and garlic to create the signature aromatic scent. For the broth, you can utilize chicken broth, beans, Jalapeno, and apple cider vinegar for an authentic flavor.
Combine the chicken with the broth and simmer for an extra 20 minutes. Since chicken contains less oil than beef, you may want to add extra oil to prevent drying the meat.
Total time: 50 minutes.
Although the article is not mainly about keto options, it's always nice to have various options for you to make at home. This keto-friendly chicken parmesan zucchini is a simple healthy snack to treat everyone.
For starters, people tend to cut the zucchini in half lengthwise and scoop out the inners. Cook the ground chicken with onion, garlic, and diced tomatoes. Transfer the filling to the carved zucchini and top them with shredded cheese.
To melt the cheese evenly in the oven, remember to wrap the zucchini boats with foil. On average, you need around 10 minutes for the cheese to melt.
Total time: 30 minutes.
Chicken and apples are an uncommon combination, but these two components are what you need to freshen up your meal. Most often, people combine the two ingredients to make an excellent chicken sausage dish and enjoy it with other recipes.
After browning the apple pieces, introduce the minced chicken to the mix and cook until softened. Season a mixture of sage, salt, and pepper for an earthy note to the chicken apple sausage blend. Divide the sausage portion into equal balls.
Flatten the patties over a heated pan until both sides become brown. These sausage patties have an intriguing apple flavor in each bite with savory, smoky chicken.
Total time: 30 minutes.
Unlike the sausage patties above, these regular pan-fried chicken patties are lean and full of protein to give you the necessary energy. Plus, the beautiful crispy texture will surely take your enjoyment of the dish to a new level.
You should aim for a combination of ground chicken, mayonnaise, and bread crumbs in your mixing bowl. In addition, adding spices and herbs at this stage is brilliant to infuse the mixture with aromatic scents.
Divide the patties into balls and roll them through dry flour. Flatten the coated chicken balls afterward and fry them in the pan until golden brown on both sides. Serve these basic patties with your favorite dipping sauce.
Chicken patties are your simple go-to choice for a smoky meal.
Total time: 25 minutes.
If you want rice for your meal, you should create ground orange chicken for a hearty meal experience. Instead of batter fried chicken like regular fast food chain restaurants, this orange chicken utilizes soft ground meat with a savory sauce.
Once the ground chicken is browned, combine it with BBQ sauce, orange marmalade, and pepper flakes. Ideally, the sauce should coat the chicken in vibrant orange color. Simmer until the sauce becomes thickened.
Stir in some sesame seeds for a nutty taste. While the orange chicken is hot, transfer it over warm rice for serving.
Total time: 20 minutes.
It's time to spice up your burger by infusing it with delicious Italian seasonings. This simple twist allows you to enjoy a creamier burger with melty mozzarella oozing out after every bite. In addition, these burgers are ideal for a quick and convenient dinner.
Typically, you should go for the lean ground chicken to make the patties with parmesan cheese, Italian seasonings, and sun-dried tomatoes. Cook the patties on a heated pan for roughly 5 – 6 minutes to infuse a slightly smoky aroma.
Add a slice of mozzarella over each patty and cook until you melt the cheese. Don't forget to rest the patties so the juice is locked in place. Serve these Italian-flavored patties with your burger bun and favorite toppings.
Total time: 45 minutes.
Chicken Bolognese is another Italian specialty that people usually pair with traditional pasta. Little that you know, Bolognese is extremely easy to recreate at home with only a handful of ingredients to gather.
To make it easy, I suggest softening the carrots and celery before incorporating the minced chicken. Stir-fry the seasoned ground chicken with tomato paste and wine to infuse a tangy, sweet profile. After adding the milk and tomatoes, simmer the concoction until thickened.
As for the pasta, you want to go for tagliatelle, a yellow and flattened pasta variety. Boil the pasta but reserve some water to mix with the Bolognese sauce afterward. Sprinkle the Bolognese with more cheese if desired.
Total time: 1 hour 50 minutes.
Dumplings are a fan-favorite food around the world. These Chinese-originated treats come in different shapes and sizes with a wide range of filling to satisfy your mouth. Chicken is perfect for making a filling for these incredible potstickers.
To create the wrapper dough, you should prioritize flour and hot water concoctions. Sprinkle the dough with cornstarch afterward to help flatten the wrappers easier. As for the filling, the ground chicken should mix well with components like carrots, soy sauce, and leek.
Fill the wrappers with the meat blend and pinch the edge to seal them. While you steam or fry these potstickers, whip up a sweet and sour sauce consisting of soy sauce, rice vinegar, and brown sugar. Freezing these potstickers should be your safest bet if you want to store them.
Dumplings with ground chicken are a must whenever you want to have Asian food.
Total time: 35 minutes.
Trigger your kid's curiosity about food by serving them this colorful chicken meatball noodle soup. The recipe is easy to follow and provides a balanced meal for your children to enjoy. Even adults can try this tasty meatball noodle soup.
The main star of the noodle delicacy is the meatballs consisting of ground chicken mixed with panko, parmesan cheese, and various herbs. Make sure you fry until the outer layer of the meatballs becomes golden brown.
As for the soup, chicken broth is your go-to option to soften the carrots and onions. Include orzo (short-cut pasta) in the broth to enhance the soup's texture. Add the chicken meatballs and bay leaves to the soup to wrap up your cooking process.
Total time: 22 minutes.
Since this article has numerous meatball variations, let's go with the flow with an addicting Kung Pao chicken meatball recipe for a blast of flavors at the dinner table. These Kung Pao meatballs are also perfect to kick-start a party with many people.
The meatballs are the easy part of this specialty as you only need to bring together ground chicken, ginger, and bread crumbs. Bake these meatballs for around 16 – 18 minutes to cook thoroughly.
Prepare the Kung Pao sauce using tamari as your base to infuse with chicken broth, rice vinegar, and chili garlic sauce. Drizzle in flour and water to thicken the sauce blend. Stir the meatballs around with the sauce for coating, and serve with chopped peanuts or sesame seeds.
Total time: 32 minutes.
Dan Dan noodles are a staple spicy dish of the Sichuan province in China. The noodles have various adaptations with different types of meat but mainly retain the signature red and spicy broth.
You often want to create the sauce by combining the soy sauce with tangy rice vinegar, tahini, and chicken stock. After boiling the noodles, transfer them to cold water to stop the cooking process and preserve the texture.
Stir the marinated chicken with sauce to coat evenly. When the sauce thickens, transfer the Dan Dan concoction over the cooked noodles. Improve the noodle spiciness by adding chili oil according to your tolerance.
Total time: 20 minutes.
Illuminate your meal with a fantastic bowl of firecracker ground chicken. The ground chicken of this recipe is an addicting combination of hot sauce with savory condiments and brown sugar.
Usually, I prefer preparing the firecracker sauce before moving to the main component of the bowl. That way, the condiments get more time to mix properly. For your bowl of deliciousness, you should pair the ground chicken with onion for an additional fragrance.
Add the sauce and stir to work the mixture evenly when the chicken is crumbled and mixed well. Don't forget to simmer the sauce for a thick firecracker gravy. Serve the ground chicken with extra green onion for garnish.
Bring the explosive flavor to your dinner with this firecracker ground chicken.
Total time: 10 minutes.
Gai Pad Krapow is a Thai stir-fry dish that utilizes a wok and combines aromatic basils with fragrant condiments to spice up the ground chicken. People in Thailand consider Gai Pad Krapow a convenient snack for pairing with rice.
Bring your wok (deep frying pan) or regular pan to a high temperature to saute the minced chicken in shallot, garlic, and oil. Next, season the smoke-infused chicken with soy sauce, sugar, and fish sauce for a savory touch.
Because of the high heat, you should only include the basil in the final step. Ideally, the chicken should possess a refreshing aroma with a peppery note. Proceed to cook some warm rice to serve along with your authentic Gai Pad Krapow.
Total time: 25 minutes.
To save yourself from a hectic morning, I recommend preparing a simple cilantro lime chicken burger from the night before. Your morning will always be full of energy when you have burgers ready to serve with delicious soft buns.
Commonly, you should use chicken breast to get the most of the meat. Season the chicken with cilantro and lime zest for the citrus flavor. Don't forget to sprinkle a generous amount of blackening seasonings to give the patties a savory and spicy profile.
While you fry the burger patties, prepare the sauce by mashing creamy avocado with fresh lime juice and cilantro. Spread the green sauce over the hot patties to enjoy.
Total time: 45 minutes.
Shepherd's pie packs everything you love about savory specialties in one round dish. The recipe may look intimidating for many people with a wide range of ingredients to cover, but you can manage to pull it off when you know the secret.
The pie comes in two parts: the mashed sweet potatoes and the filling. Usually, people boil the sweet potatoes until tender to combine with rich Greek yogurt and basic aromatic condiments. As for the filling, the minced chicken is your priority focus.
Combine tomato paste with Worcestershire sauce and chicken broth to simmer the browned chicken. Continue to add pea and spinach to bring more texture to the pie. Top the surface with your mashed sweet potato and bake in the oven for extra crispiness.
Total time: 25 minutes.
Khua Kling Gai is a straightforward Thai specialty that you can quickly materialize at home with only a few elements. As expected from an Asian dish, Khua Kling Gai has a multi-layers complexity in terms of flavors with an intense herbal aroma.
Instead of using chicken breast, you should use the thigh part to make the minced meat. The resulting meat will be more succulent. Make sure you crank the fire to high heat to stir-fry the chicken.
Work vigorously to mix the meat with lemongrass, curry paste, and lime leaves. Once the chicken begins to dry up, remove your Khua Kling Gai from heat for serving over rice and omelet.
Kua Kling Gai is a simple spicy minced chicken dish from Thai cuisine for you to try.
Total time: 40 minutes.
Crunchy fried spring rolls are a delicious entree or accompaniment for many meal courses worldwide. Therefore, you shouldn't miss out on an opportunity to recreate them at home. Your family and guests will surely adore this famous side dish from the Philippines.
If you can't access minced chicken, this recipe works wonders with pork. Combine the minced chicken with water chestnuts, carrots, and soy sauce for the filling. As for the wrapper, I suggest using a store-bought item to save you time in the kitchen.
While it may take a couple of tries and errors to perfect your rolling skill, you should get the hang of the process in no time. The spring rolls should be wrapped tightly to prevent filling from bursting. Fry until golden brown and crunchy to serve your Lumpiang Shanghai.
Total time: 25 minutes.
Seekh kebab is a popular street food option for many Indian natives. The delicacy essentially calls for a mixture of minced meat wrapped around a skewer to grill over an open fire. Thanks to the various condiments, the kebab possesses different taste layers.
The spice mix is the critical point to succeeding in this recipe. People use Garam Masala (a native Indian spice) to mix with paprika, olive oil, and lime juice. In addition, the inclusion of a blended ginger concoction helps bring a herbal profile to the kebab.
Wrap the meat around the skewers and place them into the fryer if you don't want to use a grill. Flip both sides to cook evenly and rest for 5 minutes to lock in the flavors. Serve these Seekh kebabs with a sprinkle of cilantro chutney.
Ground Chicken Is Perfect For Any Tasty Delicacy
With these incredible cooking ideas, you will never run dry of dishes to whip up for your upcoming dinner. These specialties are highly customizable to create different flavors with the slightest change. Let your mind run wild to make your best ground chicken recipe.
If you have other ideas to create at home, share them with everyone in the comment section so everyone can learn about them. In addition, you may share this article with people looking for a new approach to ground chicken. I'm sure you will feel happy with what you cook.