If you are fed up with regular ground meat dishes, these best ground bison recipes may be perfect to be the new faces on your daily menu. I think bison has a more tender and delicate taste than beef. Furthermore, bison is loaded with many beneficial nutrients.
Bison and ground beef share an almost similar taste. Therefore anything that goes great with beef will probably taste good with the bison. In the list below, bison make many new changes to the classic ground meat dishes.
Simple and delicious, anybody can whip off these bison recipes. From bolognese and burgers to chilis, these are some of the best ways to cook your ground bison.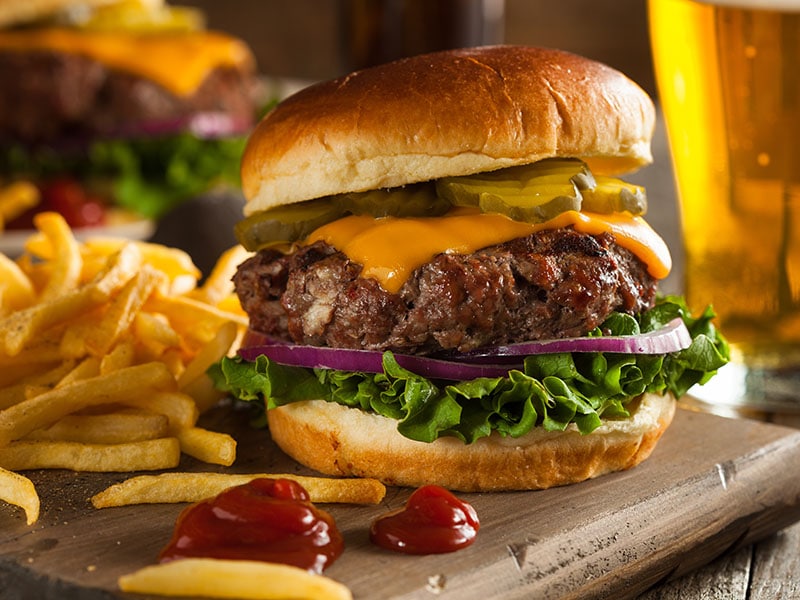 The Best Recipes To Cook Ground Bison Are All Here
Once you have tried these bison recipes, I'm sure you will immediately fall in love with this lean meat. Try them all, and see what new flavors are offering you.
Total time: 3 hours and 15 minutes
For your next gathering, give this bison bolognese a try. Bolognese is a classic Italian sauce with ground meat, tomatoes, milk, and many spices. Unlike regular tomato sauce, bolognese takes longer to simmer, resulting in a thick, rich, and meaty sauce with deep flavors.
Bison is a lighter choice for this classic Italian dish because it is low in fat and high in protein, but you can still make this superb dish with venison, elk, moose, or other ground meat.
Some of the best side dishes to serve with bison bolognese are caesar salad or toasted garlic bread. Also, you can save the unused sauce for later meals. Don't worry. The flavor will stay amazing.
Treat your family with this bison bolognese, also known as bison ragu.
Total time: 1 hour and 10 minutes
Here comes another comfort dish for you: bison and mushroom stuffed peppers. Find all the wonders in this pepper stuffing with mushrooms, bison, carrots, and other wholesome ingredients. The last touch with a cheesy crust and aromatic minced parsley is a bonus point.
Along with bison and other veggies, farro is also one of the keys to your healthy diet due to its high protein and fiber content. However, change to bulgur wheat, quinoa, or any rice to fit your preference. Plus, remember to choose tomato sauce with low sodium.
For a quick work of veggie prep, use a food processor/blender to grate the onion, garlic, and carrot. Make sure the peppers are soft and cooked enough, and the filling remains moist.
Total time: 26 minutes
Enjoy your taco night without worrying about your waistline with these bison tacos. These versions have the same texture and flavor as beef tacos but are on a healthier track. Plus, mushrooms, beans, tomato, and bell peppers add more fiber and nutrition.
Any beans are great in this recipe, so go with your favorites. But remember to choose the no-salt-added or low sodium type if you use canned beans. Also, give the diced mushrooms a try even if you aren't a fan of mushrooms because they fit this recipe perfectly.
Cold tortillas are more likely to break once filled, so warm up your tortillas in the oven before loading with the filling. Top your tacos with extra cilantro, tomatoes, and bell peppers for even more enjoyment.
Total time: 1 hour 15 minutes
Look at those gorgeous bison meatloaf wrapped in baked bacon. When you break the loaf down, the texture inside should be tender enough to slice with a fork but firm enough not to fall apart. A bacon outer will add a nice savory flavor to every bite.
Meatloaf appears to be a classic food from Germany, Scandinavia, and Belgium. This comfort dish often combines ground meat, cornmeal, and other ingredients in a loaf shape. Today's recipe will breathe a new air on the classic dish with the cover layer of salty bacon.
The meatloaf retains its moisture and juiciness thanks to the outer bacon layer. And do not worry about the taste because it's seasoned perfectly with thyme, salt, and pepper. Coating the bacon meatloaves with ketchup at the last 5 minutes of cooking will add more flavor.
Surprise everyone on the dinner table with this bacon wrapped bison meatloaf.
Total time: 8 hours and 20 minutes
This slow-cooker bison stew is a perfect dinner for busy Monday nights. Made in eight hours in a slow cooker, the bison stew is an ideal dump-and-forget-about-it meal you can set in the morning and serve for dinner.
With only 20 minutes of prep time, all you have to do is put the prepared ingredients in the pot and let the slow cooker do the rest. You often see beef stew, but today's recipe adds a healthier twist to this dinner favorite with bison.
Other great additions besides essential ingredients are minced red chile, rosemary sprigs, thyme, and medium potatoes. Besides, though this recipe utilizes the slow cooker, you can prepare the bison stew by using an instant pot or stovetop.
Total time: 10 minutes
Bring these bison burgers to the next potluck or backyard BBQ and surprise everyone there. These meaty buns are a fun twist on classic ground beef burgers that adults and children adore.
Bison put a healthy twist on the classic burger as it is lower in calories and saturated fat than beef. Packed with more nutrition and fresh flavors, you can enjoy this healthy burger without guilt.
Although cooking in a skillet is preferred, other great options are grilling and air frying. Choose the method that suits you the best.
In addition, meat tenderness is vital to a burger's quality. According to PDA, the ideal internal temperature for ground meat is 160°F. Yet, for the best taste, I recommend cooking your bison between medium rare and medium (about 145°F) for a tender result.
Try this healthy bison burger at your next BBQ party on the grill.
Total time: 1 hour and 5 minutes
This sweet potato bison is a welcome change from the classic shepherd's pie. Bison brings a fun twist to the traditional pie, which typically uses ground lamb. Bonus point? This dish provides a lot of lean protein.
The bison and veggie mixture is hidden underneath the pie, and you will top it with the peeled sweet potatoes. The sweet and savory flavor of every bite will dance on your palate.
You will get a yummy and healthier dish thanks to the ground bison. Besides being low in calories with only 310 kcal, this pie also adds a lot of heart-healthy fats.
Total time: 25 minutes
Take good care of your health by adding this ground bison and cauliflower bowl to your diet. Cauliflowers are low in calories and a good source of vitamin C, whereas ground bison has a high content of iron, vitamin B12, and zinc, and kale is rich in vitamin C.
This recipe depends on cauliflower rice for a grain-free and keto-friendly meal. Switch to pre-cooked rice if you are not on a paleo diet. Ground bison is the ultimate choice, but lean ground beef is an acceptable substitution. Likewise, any neutral flavored oil will work instead of olive oil.
Ensure not to overcook the cauliflower rice because cauliflower can get mushy and crumbly if it is on the heat for too long. Cover the leftovers tightly and refrigerate them to retain the flavor for the next four days. Don't forget to rewarm the dish before eating.
Total time: 1 hour and 20 minutes
The combo of bison and spaghetti squash is a match made in heaven due to the compatibility in flavor and healthy aspect.
Choose any variety of spices, herbs, and veggies you like, but this one calls for ground bison with paprika, spinach, garlic, and rosemary. For a boost of nutrition, add an extra ground beef heart or chicken livers to your base meat.
This recipe is easy to pull off. Start with roasting the spaghetti squash for 45 – 50 minutes. Cook bison with herbs, then add other ingredients. And the last step is putting the meat mixture into the halved spaghetti squash and serving.
The best part is you can use a fork to scrape the squash into spaghetti strands and make a nest.
Total time: 2 hours
Look at the orange color of the sauce over these meatballs. Isn't it beautiful? You won't be disappointed with the flavorful deep-fried meatballs soaked in spicy coconut sauce. The combination of ground bison and West Indian flavorings creates excellent Asian-style meatballs.
These juicy Asian-style bison meatballs are deliciously coated with tomato and coconut sauce infused with Garam Masala, cinnamon, cayenne pepper, and more. Make sure to choose the unsweetened coconut milk so it won't affect the overall flavor.
The heat comes from the spicy onion puree, which you will use in the meatball mixture and tomato-coconut sauce. After sauteeing the ingredients, make sure to season the spicy mixture again with salt. Finally, blend the onion mixture in the food processor/blender until smooth.
Total time: 55 minutes
Sneak more green to the dining table with this bison vegetable soup. This veggie dish is the fastest way to access a nutrition package since it is made from healthy ingredients. What's more, double or triple the recipe and freeze the unused soup for more weeknights.
If ground bison is not your thing, substitute with ground beef. However, give bison a go because it contains numerous nutrients and has an excellent, savory flavor profile. You are free to use fresh or frozen corn kernels and green peas.
As a bonus, this soup is low in calories and high in protein. A great option when you want to lose weight because protein will keep you full. The taste is so unique that you will keep coming back for more.
Total time: 40 minutes
Spice up the cold weather with this bison chili. A hot bowl of flavorful and lean bison, diced tomatoes, and chili beans will warm up your night.
Bison is a lighter and sweeter alternative to beef and chicken used in chili. Moreover, there is not much prep work when most of the ingredients are pantry staples, such as crushed tomatoes or diced tomatoes with green chiles.
Cook the bison with garlic and onions, and drain excess grease. Then add canned veggies, beans, and Pisces to the pot. Simmer for 25 – 30 minutes before removing from the heat. For the toppings, try sliced avocados, shredded cheese or Greek yogurt.
Bison brings a unique flavor to the chili, while the diced tomatoes and green chiles add a hint of spice to the dish. To enjoy the dish to the fullest, serve it with cornbread or chips.
You can make this delicious bison chili with some easy steps.
Total time: 40 minutes
You already got the adult version of chili with the "bison chili" recipe above, so let's do something friendlier for the kids with the bison and chocolate chili. This dish is a great excuse to bring more chocolate to the table; your children will go crazy about it.
The chocolate won't overly sweeten your chili and turn it into a dessert. In contrast, it will help balance and add more dimension to the overall flavors. Note that you have to use unsweetened chocolate and avoid sweet and milk chocolate.
Additionally, this recipe calls for an alcoholic beverage (stout beer). I promise no one will get tipsy while enjoying this chocolate chili. However, if you are uncomfortable using the alcohol, consider broth or water substitutions.
Total time: 1 hour and 15 minutes
When the temperature drops, it's time to make this bison-stuffed squash with hot honey glaze. This side dish contains autumn flavors and ingredients, such as wild rice, apricots, pears, and more. Not to mention, a sweet and spicy honey glaze will tie everything together.
Be flexible with any ingredient you have on hand. Change or add more elements based on your liking. Don't have enough bison? Feel free to switch to ground beef.
FDA advises cooking ground bison to an internal temperature of 160°F. If you don't have a meat thermometer, ensure that the meat is evenly browned and there is no sign of pink. Add the finishing touch to the squashes with sunflower seeds and thyme sprigs.
Total time: About 20 minutes
Bring more Asian flavors to your dinner table with these Korean sloppy joes. Unlike standard sloppy joes, you will use ground bison instead of beef. And don't miss the Asian elements with rice wine vinegar, sesame oil, red pepper flakes, and more.
If you are still unfamiliar with sloppy joes, it is a sandwich made of ground meat, onions, and tomato sauces. This delicacy first appeared in the US in the early 20th century and went by many names such as Sloppy Janes, Tavern Sandwiches, and Slushburgers.
Apart from similar tastes, ground beef and bison have different textures. Thus, they will have different servings at the same weight.
If you don't like smaller bison sloppy joes, add beans to the meat mixture. Blend the beans in a food processor or mash them before filling them into the meat.
Total time: 40 minutes
Get a new makeover for the classic tortillas with these lettuce bison wraps. The change of wrapping doesn't take a toll on this dish's deliciousness. You may even prefer this recipe over the traditional tortilla because the lettuce adds extra crispness and freshness.
Besides being low in fat, these wraps are also high in minerals and nutrients, thanks to the ground bison and lettuce. Not to mention, the filling is anything but tasteless due to the perfect seasoning from cumin, chili powder, sugar, and more.
As its name implies, these low-fat wraps are suitable for your weight loss. Moreover, with 30 grams of protein per serving, this dish will make a fabulous post-workout dinner.
If you are a bison fan, don't miss these mouth-watering lettuce bison wraps.
Total time: 50 minutes
You may want to eat something nice and warm when it's freezing outside. Therefore, this bison tortilla soup will do the trick.
Start by sauteing the onion and bison with oil. Then stir and combine with garlic, drained beans, diced tomatoes, and other ingredients. Add salt to taste and set the cooking mode. Take your time doing other tasks and come back to a hearty soup.
If there is no instant pot in your kitchen, make this beany soup on the stove. Apart from bison, you can also go for other ground meat such as beef, chicken, or turkey. Also, feel free to cook with any type of broth to your liking.
Give These Ground Bison Recipes A Go
Like beef, bison is a versatile ingredient. Therefore, be creative with the ingredients you have on hand. Perhaps some hidden flavors are waiting for you to discover. You can always rest assured that your food is healthier than usual due to the high nutrient of bison.
What are you waiting for? Open the fridge and grab all the ingredients you need to make the ground bison dishes above. Which recipe is your favorite? Please tell me your thoughts in the comments. Don't forget to like and share my article so that it can spread to more bison fans.
Nutrition Facts
12 servings per container
---
Amount Per ServingCalories292
% Daily Value *
Total Fat 11.7g

18

%
Cholesterol 33mg

11

%
Sodium 625mg

27

%
Potassium 368mg

11

%
Total Carbohydrate 23.6g

8

%

Dietary Fiber 8.4g

34

%
Sugars 15g

Protein 19.6g

40

%
---
* The % Daily Value tells you how much a nutrient in a serving of food contributes to a daily diet. 2,000 calories a day is used for general nutrition advice.