These best ground beef soup recipes are not exclusively reserved for winter months. They're so good that you'll want to make them any time of year. With ground beef for tons of meaty flavors, most recipes on this list won't ask from you much to pull them together.
Simple ingredients such as tomato-based sauce or meat broth would form a savory base. Throw in some forms of carbs (such as pasta or rice), veggies, and spices, and you're all set.
Without further ado, here are the soup representatives from the best ground beef recipes you should try when it's snowing outside or simply in the mood for something piping hot and slurpable!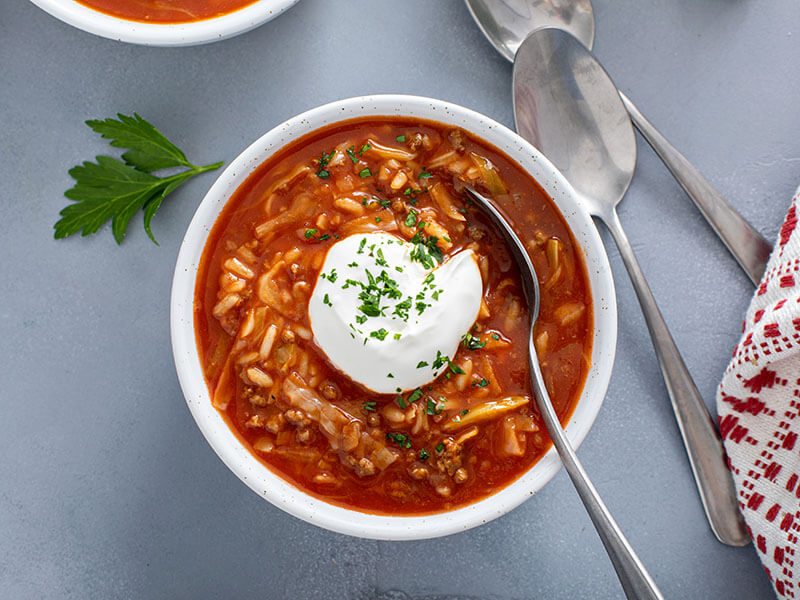 23 Best Ground Beef Soup Recipes That No One Can Resist
Warm yourself up and kick back with these beef ground beef soup. You can choose familiar American flavors such as cheeseburger soup, Italian tastes like Lasagna soup, or go Mexican with Albondigas Soup and everything in between. The choice is yours!
Total time: 35 minutes
This simple soup comprises ground beef, tender veggies, diced tomatoes, elbow macaroni, and a handful of spices and herbs. It's true comfort in a bowl that is full of flavors.
The best part is the prepping takes only a few minutes of hands-on time. The rest is to cook all the ingredients nicely so their flavors can combine. You'll love the genius idea of adding spaghetti sauce, which lends this soup a nice tomato flavor.
Serve this hearty soup with dinner rolls, green salads, and slices of bread for a complete dinner meal.
This warming ground beef and macaroni tomato soup should be your go-to in the winter months!
Total time: 40 minutes
Ward off all the winter blues with this heart-warming Italian soup. This soup is brimming with tender meatballs, lovingly intertwined with toothsome pasta in a rich tomato base.
Plenty of garlic, onions, and spices also go into the bowl for an extra flavor boost to the simple key ingredients.
For this meatball soup, you'll need to make the meatballs from scratch. The extra steps of rolling and browning the meat will take some elbow grease. However, you'll know it pays off well once you take the first bite of the meat.
Total time: 40 minutes
This beef and lentil soup is proof that a dish that is high in nutrients doesn't necessarily mean low on flavors. It's packed with a healthy dose of fiber from the lentils, vitamins from green beans, and antioxidants from zucchini.
The ground beef and lentils are cooked together in beef stock for a burst of hearty and beefy taste at the end. Onions, garlic, and exotic Moroccan spices help infuse a greater depth to the flavor.
Of course, lentils – the spotlight of the soup – not only lend distinctive flavors but also thicken the soup further. Use dried lentils for this soup when possible, as they have a better flavor than their canned counterparts.
Total time: 45 minutes
Soup lovers and stuffed pepper fans, rejoice: here's the winning combination of the two. Filling and hearty, this stuffed pepper soup is loaded with ground beef and red bell peppers in a tomato-based broth.
Add the brown rice on top if you want a heartier dish, or skip it if you're sticking to a paleo or low-carb diet. The key to nailing this comforting soup is to use lean ground beef. If you use 80/20 beef, you should get rid of the excess fat so the soup won't get greasy at the end.
This easy and comforting stuffed pepper soup offers all the flavors of stuffed bell pepper.
Total time: 35 minutes
It's hard to list all the best ground beef soup recipes and not include this one. You can enjoy all the savoriness of your favorite cheeseburger in a bowl – minus the cheese and bun. This would make a fun way to revive your leftover ground beef.
Make sure to brown the beef until deep brown perfection. There's no rocket science here, but browning triggers the Maillard reaction and gives the beef a rich, deep, meaty flavor.
Like many soups, this cheeseburger soup is ideal for making ahead. It can last up to 4 days when refrigerated and a month when frozen.
Total time: 20 minutes
You only need a few ingredients lying the kitchen to whip up this hearty soup with a creamy texture. There's no need to add many elements, as the black beans are already hearty and full of flavors on their own.
The ground beef is cooked in the bone broth, which creates a double dose of savoriness for the soup. Not much goes into the pot aside from onions for a flavor boost and plenty of salsa for a more filling dish.
For this soup, feel free to go wild with the toppings. Extra salsa, cilantro, guac, or sliced avocado are a welcome addition to make the soup look more gourmet.
Total time: 45 minutes
Ground beef Lasagna soup is the ultimate comfort food. Everything you fancy about the classic Lasagna, including the noodles, cheese, sausage, and Italian spices, all come together in a pot.
The ground beef is browned in the same pot, which means that all the beefy goodness goes directly into the base of the soup. Adding tomatoes, onions, spices, and chicken broth further gives the soup base a boost of flavors.
Here's the top cooking secret: Add the noodles straight into the pot after you have cooked the base of the soup for 10 minutes. This requires breaking them into smaller chunks to cook through in the soup. Yet, the noodles will be infused with tons of flavors this way.
Serve this Lasagna soup in a chilly weeknight meal to warm everyone up.
Total time: 40 minutes
In this recipe, the mixture of browned ground beef, veggies, fire-roasted tomatoes, and fusilli pasta is simmered in beef broth and infused with lots of Italian flavors. The end result is a comforting and full-bodied soup that will fill your bellies and warm you right up.
To streamline the process, frozen veggies are a nice option. When mingled with other ingredients, they can deliver the same amazing flavors as fresh veggies.
Not only is this soup easy to make, but it creates great leftovers that last. You can keep the noodle soup in the fridge for several days as sturdy fusilli pasta won't turn mushy as easily as other pasta dishes.
Total time: 1 hour
This cabbage roll soup is just as tasty as it looks. Another good news is it's much less fussy to make than the classic cabbage rolls. Simply throw everything into the pot in the right order: ground beef, aromatics, veggies, cook and serve! It couldn't be simpler.
This soup is a harmonious blend of flavors from ground beef, herb, cabbage, and veggies, all simmered in a tomato broth. You'll need this flavorful and satisfying soup in the fall or winter!
Fill your stomach and warm yourself up with this delicious cabbage roll soup.
Total time: 20 minutes
When you come home from work with no dinner plan in mind, make this easy and quick ground beef delicacy with your instant pot.
Packed with fresh vegetables, ground beef, hearty beans, and Southwest flavors, this is the kind of wholesome soup you'll need to keep both your belly and soul satisfied.
With just the right thick consistency from the broth and vegetable juice, there's no need to use any sort of thickener. Yet, you can always blend some puree and some beans and return them to the soup to make it thicker.
Total time: 50 minutes
You don't have to be Italian to fledge a lifetime of loyalty to this wedding soup. In this soup, homemade meatballs, fresh spinach, grain-free orzo, and herbs all come together in a light and scrumptious soup.
It is how all the flavors above marry well with one another that gives this soup its name. In other words, the Italian phrase "minestra maritata" indicates the "marriage" of the meat and greens, with nothing related to the wedding celebration.
The only tip for this soup: Bown the flavored meatballs in small batches first so the meaty flavor can develop better. Finish with some chopped fresh parsley on top for a perfect celebratory soup.
Learn how to make one of the Italian classics – Italian wedding soup with this detailed guide!
Total time: 50 minutes
High in protein and low in carbs, this Wendy's chili is a popular keto dish using ground beef. This rich and meaty copycat of the classic Wendy's chili tastes just as amazing as the official version and will surely please the crowd.
The soup bowl is brimming with flavors of green chilies, tomatoes, beans, and of course, the flavorful beef broth. Wendy's chili soup freezes well, making a favorite Sunday meal prep if you're looking to get ahead for Monday's lunch and the week beyond.
Total time: 35 minutes
The wild rice makes this soup a bit heartier than many recipes on this list. So, it would be a nice choice if you want to feed a crowd. Rest assured if you are concerned about gluten, as wild rice is not a type of rice. It's a seed of semi-aquatic grass with high fiber content.
The rich nutty flavors from this seed give this soup a distinguishable flavor – somewhat warm and comforting – that makes this soup a perfect dish for winter months.
The wild rice and ground beef are cooked in a savory broth until tender perfection. In the end, the soup reaches a thick texture, making it ideal for serving with slices of bread.
Total time: 40 minutes
Bacon-lovers would call this soup the awesome upgrade of the cheeseburger soup. The cashew cheese sauce takes this cheeseburger soup to a whole new level. It's tangy, creamy, and cheesy all at the same time.
Simmer the ground beef, tomatoes, potatoes, and spices simmering in this sauce and broth. The flavors will nicely infuse into the meat and veggies; you'll get a cheeseburger soup to impress the crowd.
Don't forget to soak your cashew in hot water for 10 minutes before whipping up the sauce. This not only gives it a creamier texture but also boosts the nutrients.
Trust me; you don't want to wait for cold months to make this savory Bacon Cheeseburger Soup!
Total time: 50 minutes
There's always something for everyone in a bowl of comforting Minestrone. This classic Minestrone combines meatballs, fresh vegetables, and chewy ditalini in one irresistible pasta soup bowl of tastiness.
Everything goes straight in one pot (even the pasta), so there's less mess for your after-dinner cleanup.
Zucchini and kidney beans are also a nice addition here, which help diversify the flavor and texture of the dish. Serve your soup alongside warm slices of bread or a light side salad.
Total time: 1 hour
If you both love soup and Mexican cuisine, this traditional Mexican meatball soup should be your pack-pocket recipe. The Mexican word "albondigas" in the name means "meatball", so the protein is really the spotlight here.
To get a fluffy texture and avoid drying your meatballs, you should not over-mix the mixture. They should turn out tender and juicy when cooked in the broth.
This soup is highly customizable, so feel free to toss your favorite mix-ins into the soup. Corn, zucchini, squash, or peas are all lovely additions.
Personally, I never skip the mint for this recipe, as it makes the whole thing taste like albondigas soup to me. Yet, depending on what you have on hand, you can substitute it with fresh parsley or cilantro.
If you are a fan of Mexican-inspired food, you'll love this deliciously simple Albondigas soup.
Total time: 50 minutes
A perfect weeknight meal is a wholesome soup that is completed with protein, carbs, and veggies. This Caribbean-inspired soup definitely has what it takes!
Ground beef and starchy potatoes team up in this soup; as always, they're a winning combination. Yet, coconut milk gives the soup creaminess and a unique taste. The addition of cilantro and thyme also adds a great flavor profile to the soup.
For a nice touch and more texture, you can add your homemade dumplings. Yet, if you're sticking to a Whole30 diet, exclude it from the recipe.
Total time: 2 hours and 5 minutes
Serve this healthy comfort food on a chilly winter night, and everyone will be right back for a second helping! This barley soup should have a thick consistency; that's why it takes quite a while to simmer in the pan. The longer the cooking time, the better the flavors.
The tasty pearl barley has such a nutty flavor and chewy texture that it sets the soup worlds apart from regular hamburger soups.
This whole grain also adds more nutrients to the soup. Another plus is that there's no need to pre-cook pearl barley; add it halfway through the cooking (about 30 minutes before the soup is done). Enjoy this hearty soup when it's still piping hot with either bread and butter or salad.
Total time: 6 hours and 15 minutes
Olive Garden Pasta e Fagioli is everyone's favorite restaurant soup. Pasta e Fagioli is an Italian word that means "pasta and beans". It's obvious that pasta and beans are co-stars in this ground beef dish cooked by a crockpot.
This copycat of the famous Italian-style soup is full of ground beef, tender pasta, creamy beans, and plenty of aromatics. Kidney beans and cannellini beans are a great duo for this soup, but feel free to swap in your fav beans if you prefer their texture.
If you want to make it ahead, you should cook pasta in a separate pot and only add it to the soup once ready to reheat. The soup itself can last up to one week when refrigerated.
If pasta and beans are your favorite duo, this Olive Garden Pasta e Fagioli is for you.
Total time: 50 minutes
Serve this award-winning soup cooked in an instant pot to your guests, and it won't be long before the compliments begin pouring in. There are many things to love about it: the bacon, bell peppers, fire-roasted tomatoes, and the harmonious blend of spices.
Another huge plus is that you will only need to cook everything in one pot, which means there's less hassle for the cleaning.
Also, there's not much expertise required here: sautee the bacon first, take it out to make way for the beef, and then toss all ingredients into the pot. Finally, let your magical kitchen appliance do its job.
Dress up your soup with chopped cilantro, sour cream, or shredded cheese for a nice touch. Serve with dinner rolls or pieces of bread to round out your meal.
Total time: 55 minutes
This recipe is for those who want to enjoy the enchilada with less effort! You won't have to wait longer than an hour for a soul-satisfying supper. Black beans, corn, green chiles, enchilada sauce, and more all work very well together in this cozy bowl to bring out the most Mexican flavors.
As with many recipes on this list, always begin with browning the ground beef to intensify the flavor. Next, throw in all the ingredients and allow the soup to simmer nicely.
Beef Enchilada soup is hearty enough to be a rightful main dish. Yet, you'll find it more enjoyable to eat with some chips or crackers on the side.
Total time: 45 minutes
You've probably heard of shepherd's pie, but have you ever heard of shepherd's pie soup? It seems that many amazing dishes, such as a cheeseburger, taco, and, this time, shepherd's pie, are no less tasty when in the slurpable version.
This soup has lean ground beef, carrots, peas, and onions simmered in a flavorful and creamy broth. I would say the broth is everything when you whip up this soup, so you need to put your heart into it.
Besides the tomato paste, a mixture of thyme, bay leaves, and rosemary is also added to enhance the flavors of the broth. Potatoes appear twice in this soup: mashed potatoes help thicken the broth, whereas diced potatoes add texture.
This scrumptious shepherd's pie soup is a nice addition to your winter/fall rotation.
Total time: 45 minutes
Sometimes, simplicity is the best option, and this quick-to-make soup is proof. With a handful of ingredients lying around, you can effortlessly pull together this warming soup within 45 minutes.
Ground beef and potatoes are a tried and true combination. When mixed with other familiar ingredients, such as carrots, corn, and green beans, they create a crowd-pleasing dish. This veggie beef soup is highly customizable, so feel free to swap in your favorite veggies.
There Are Various Ways To Put Ground Beef In Soup!
Such inexpensive and common ingredients as ground beef can go into a hearty soup in various ways. The best thing is that these recipes won't take you all day long to make. A hot bowl of comforting, flavorsome soup can be ready in under 1 hour.
These soups are so delicious that you won't need to wait for a chilly night to whip them up. So, try these ideas out, and let me know how they turn out by leaving your comment. Share this collection with your loved ones so they can put their leftover ground beef to good use.