Ground beef crockpot recipes are here to turn every meal into a hearty one. You no longer have to worry about a hectic time in the kitchen as you can leave everything to the slow cooker to handle. Aside from the long cooking time, the slow cooker frees up a lot of time for you.
For many, ground beef is a solid choice for any recipe as it is highly adaptable to any kind of seasonings and ingredients. The only drawback of ground beef is that everyone will keep asking you for more after serving a few portions.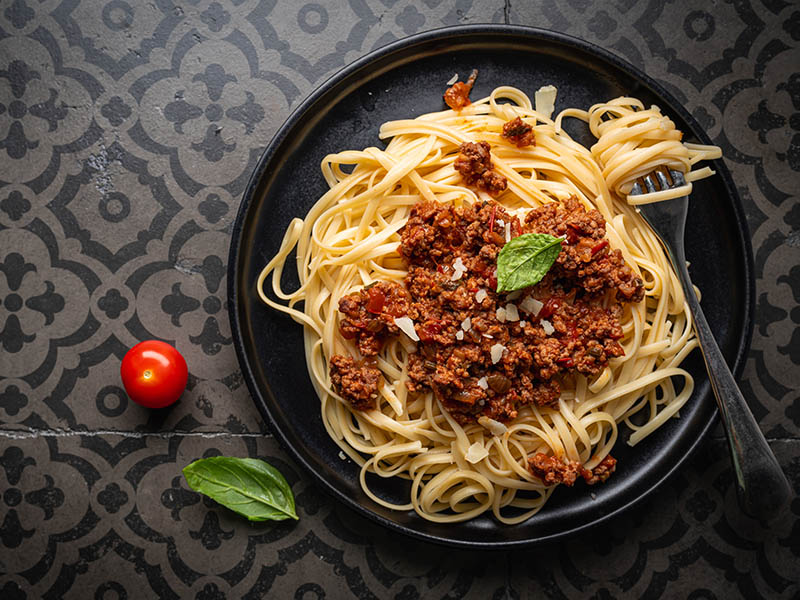 Impressive Ground Beef Delicacies To Cook In A Crockpot
Commonly, these ground beef recipes take a long time to finish using a crockpot. Therefore, they are ideal for people to plan ahead for their meals. Better yet, the crockpot helps keep dishes warm for an extended time.
Total time: 6 hours.
Cheeseburger soup is my favorite to start this compilation. This flavorful soup with ground beef can keep you warm throughout winter and fall with its addicting creamy flavors. With the help of a crockpot, you will always have warm soup ready whenever you want.
Before you go ahead and throw a bunch of ingredients into the slow cooker, you should brown the ground beef on a skillet with flour and milk. Once the mixture thickens, transfer it to the slow cooker that has already softened vegetables with chicken broth.
Don't forget to accompany the beef with some cheese cubes to create a creamy taste. Ideally, I advise you to stir the concoction once in a while, so all the elements are incorporated thoroughly. Serve the soup warm in a bread bowl for the best experience during cold weather.
Total time: 2 hours 30 minutes.
Surprisingly, you can make pizza with a slow cooker. More specifically, it's a casserole with an array of pizza fillings. This fan-favorite casserole using a slow cooker can please a hungry crowd at the dinner table.
Unlike traditional pizza, this casserole version utilizes cooked pasta combined with ground beef to be the cornerstone of the dish. Before layering the pasta concoction, pour some pizza sauce at the bottom of the pot.
Next, follow the pasta with cheese and pepperoni. Keep repeating the layering process until you run out of ingredients. The casserole usually has a soft texture with the sweet and sour tastes of pizza sauce.
Enjoy the pizza flavor whenever you want with this casserole recipe.
Total time: 7 hours 30 minutes.
Cabbage rolls are nothing new; they possess a sweet flavor from the minced meat with decadent seasoning. The rolls tend to have a soft texture with beautiful red tomato sauce to enhance the appealing aspect and overall profile.
People often boil the cabbage leaves, making it easier to work with the meat filling. Instead of using minced beef solely, combining it with ground pork is best to diversify the flavor. In addition to the filling, you want to introduce uncooked rice and various seasonings to the mixture.
I suggest crackling in some eggs to help bind the ingredients better. When the rolls are ready, smother them in a tomato sauce concoction with paprika and Worcestershire sauce. The sauce should keep the cabbage rolls moist throughout the cooking process.
Total time: 8 hours 40 minutes.
Sometimes a simple pie is enough to encompass everything I love about ground beef. The crunchy pastry with savory beef is the selling point of this recipe. Interestingly, this ground beef pie is a big hit for many Australian households.
The pie's shell is a simple puff pastry with egg brushes for a beautiful color after baking. As for the filling, ground beef is the star of the show, with Worcestershire sauce for a sour, spicy flavor and beef stock to bring out a more decadent taste.
You want to include some corn starch in the mix to thicken up the filling significantly. Remember, you only cook the meat concoction with the slow cooker, while the oven should handle the final baking phase of the pastry with the ground beef filling.
Total time: 8 hours 30 minutes.
No matter the occasion, a simple chili recipe is bursting with intense spiciness. With its potent red color, the chili mixture is highly addicting, which keeps everyone coming back for multiple rounds.
Aside from the chili, I suggest combining a wide range of beans to bring an earthy note to the dish. Furthermore, tomato sauce's sweet and sour profile makes a fine addition to complement the rich beef stock.
Of course, you can't leave the spice blend of paprika and chili powder to level up the spiciness. Don't forget to cook the ground beef before incorporating all the ingredients into the slow cooker. Sometimes, this chili recipe is relatively mild for people who can tolerate spicy foods.
Total time: 6 hours 15 minutes.
Shepherd's or Cottage pie refers to cooked minced meat with mashed potatoes as a topping. Although there are many debates about the differences between Shepherd's pie and cottage pie, many still use the two terms interchangeably.
Traditionally, this British and French specialty utilizes lamb as the primary source of protein; however, you can also use minced beef. To fit cottage pie into a slow cooker, you want to use browned beef with a liquid content of the beef stock, tomato paste, and cornstarch.
Peas and carrots add a diverse range of textures to the cottage pie mixture. I recommend whipping up creamy mashed potatoes to enjoy alongside the dish for an authentic cottage pie experience.
Try out this crockpot Shepherd's pie to diversify your options for the next meal.
Total time: 4 hours 5 minutes.
Taco meat is an excellent choice for a Mexican dinner with only a few ingredients. The beef usually comes out a little bit moist, but it's perfect for serving with Tacos (fried tortilla), Burritos, or any topping you like.
The ground beef only requires a simple combination of Salsa (Mexican tomato sauce) with simple spices of garlic powder and Taco seasoning. Stir the ingredients around and let the slow cooking process begin.
Total time: 6 hours 30 minutes.
Sloppy Joes or loose meat sandwiches are a specialty of Iowa state in America. The sandwich appeared around the 1940s and has become everyone's favorite comfort food. While you may complain about the long list of ingredients, you have the crockpot to cover all the cooking steps.
Simply brown the minced beef to transfer it to the slow cooker with tomato sauce, Worcestershire, and spices. Thanks for the inclusion of a few cheese slices, the Sloppy Joes filling is slightly oozy and creamy.
Choosing the setting is also important when you want to serve Sloppy Joes. The high configuration will finish cooking after 3 hours, while the low setting takes up to 6 hours. When served, don't forget to prepare a couple of burger buns to accompany the savory filling.
Total time: 3 hours 20 minutes.
Everyone loves a flavor-packed meatloaf to remind them about a great time with family during the holiday season. Despite the long cooking time, the meatloaf retains the signature moist and tender texture. In addition, the recipe is highly customizable with whatever ingredients you have.
Of course, the main star of the loaf is ground beef with onion, breadcrumbs, and milk. If the meat is too dry, you may include eggs to incorporate the elements better. To prevent causing any mess in the slow cooker, I recommend placing a thin foil at the bottom of the pot.
After cooking the meatloaf, give it a generous brush of shiny and orange glaze. The sauce adds a sweet and smoky taste from the Worcestershire sauce with ketchup. Broil the loaf once again for around 4 minutes to infuse the glaze flavor into the dish.
Total time: 5 hours 15 minutes.
Enchilada is a staple of Mexican cuisine involving smothering tortilla rolls in a delicious sauce. However, I like adapting this Mexican specialty into a casserole version, so it fits cooking in a slow cooker. Enchilada casserole also works for a hearty dinner for many people.
For this enchilada, you want to handle the filling separately until the beef and onions become soft. Add seasonings with Salsa to the cooked beef mixture and pour it over a layer of tortillas. Top the filling with shredded cheese to complete the first layer.
Repeat the process with the remaining ingredients. After cooking, the result should be a stack of rich beef filled with creamy melted cheese. I usually enjoy enchilada casserole with sour cream or hot sauce to complement the multi-layers of flavors.
Enchilada casserole in a crockpot is a ready-to-go meal with a touch of Mexican seasoning.
Total time: 10 hours 20 minutes.
Even though a meatball sandwich is something you often grab to enjoy on the go, you can still prepare it the night before with the help of a crockpot. Simply cook the ingredients and let the slow cooker keep the meatballs warm in a thick and savory gravy.
Ground beef is the cornerstone to forming meatballs, with eggs to aid in binding breadcrumbs and cheese. The fun part of this recipe is that you get to play with the meatballs as you roll them around to form a circular shape.
Crank up the crockpot to cook meatballs in pasta sauce. The liquid red tomato sauce helps keep the meat moist throughout the long cooking process. Plus, the sweet and sour profile of the pasta sauce slowly works its way deep inside the meatballs.
For serving, you only need a hotdog bun and place a couple of meatballs with a drizzle of sauce to enjoy. The meat is surprisingly tender and flavorful, thanks to the pasta sauce.
Total time: 6 hours.
While Chili Con Carne is undoubtedly a mesmerizing spicy creation, I have the perfect way to elevate your experience by combining the dish with Frito pie. To provide you with more information, Frito is a chip snack with a crunchy texture and corn flavor.
The Frito pie combines spicy Chili Con Carne with Frito chips and a wide range of toppings. Since you only need to cook the Chili Con Carne, you want to incorporate browned minced beef with onion, cayenne, and garlic.
Let the slow cooker handle the beef concoction with tomato sauce addition. Once cooked, people mix the spicy beef with the corn chips to enjoy. Furthermore, you may include Jalapeno (Mexican green chili), cheese, and sour cream to enhance the dish experience.
The centerpiece of Frito pie lies in the harmonious combination of spiciness and the corn flavor of the chip. In addition, the creamy texture of sour cream or cheese helps simultaneously lower the Chili Con Carne's heat.
Total time: 8 hours 15 minutes.
Taco soup is another Mexican representative of this slow cooker compilation. I know a lot of people love having Mexican food but don't have the time to spend making it. Therefore, you should take advantage of your free time to prepare this soup for later consumption.
Like many recipes, this Taco soup requires you to handle the beef separately with seasoning before transferring it to the crockpot. Since you have a slow cooker, you no longer have to soak the beans to soften them.
I love using black and kidney beans to infuse the soup with an earthy note. Furthermore, the tomato sauce with beef broth sets the soup with a beautiful dark red color. For a fully immersed Mexican experience, I suggest serving the dish with crushed tortilla chips or sour cream.
Total time: 6 hours 20 minutes.
Let's face it; you guarantee an incredible experience with spaghetti if you know how to recreate delicious Bolognese sauce at home. For your information, Bolognese is an authentic Italian meat sauce that goes well with various types of pasta.
To have a ready-to-go Bolognese, I suggest using a slow cooker so you may keep the sauce warm after cooking. Most often, Bolognese has a vibrant red color from the tomato paste. People commonly tenderize the vegetables with tomato sauce before adding ground beef.
Once transferred into the slow cooker, you want to include a splash of dry red wine for an earthy and herby note. The long cooking time helps the goodness from the sauce penetrate every strain of beef thoroughly.
If you plan to serve spaghetti, you must feature this wonderful Bolognese sauce.
Total time: 4 hours 30 minutes.
You're missing out on a delicious Italian delicacy if you're not making lasagna with your crockpot. The dish's concept is to cook meat with savory sauce and lasagna noodles in multiple layers. Lasagna tends to come in a deep baking tray, but you can serve it right in the crockpot.
In some ways, the lasagna is similar to a casserole as it utilizes tomato sauce with browned beef to go between the noodles and cheese topping. During the slow-cooking procedure, the taste of each layer gets infused together to create a harmonious lasagna creation.
Typically, lasagna layers are soft and rich with beautiful fillings. The cheese is like a final touch to give the dish a creamy taste.
Total time: 5 hours 10 minutes.
American Chop Suey is a staple of the New England region of America. Commonly, locals stir-fry meat and vegetables with a thick sauce to accompany a hot rice bowl. Chop Suey is usually a hearty meal for weeknight occasions.
For this Chop Suey, people tend to grab ground chuck (minced beef shoulder) for its tender nature when cooked. After browning the chuck, combine Worcestershire sauce, tomato paste, and garlic powder.
Sit back and relax while the slow cooker gradually finishes cooking Chop Suey. In the final step, you want to throw in cooked macaroni and give the Chop Suey a good stir. Wait until the crockpot heats all the ingredients and serves.
Total time: 7 hours 15 minutes.
Although poor man's stew may sound unappetizing, the dish is surprisingly addicting. The stew is perfect for preparing during cold days, so you always have warm soup to comfort yourself. Commonly, poor man's stew provides a decent hearty with decadent broth.
For the best stew, I suggest draining the fat after browning the ground beef to prevent a greasy broth. Since the stew relies on a tomato paste base with dried spices, the broth has a light flavor of sweet and sour.
To diversify the texture, you should think about a combination of soft carrots and potatoes. The long cooking time helps the flavors penetrate inside every vegetable piece. The poor man's stew is especially good with a few slices of buttered sandwich bread.
Total time: 4 hours 30 minutes.
Stuffed peppers are full of great ingredients and easy to whip up whenever possible. Better yet, the various vibrant colors of bell peppers make the dish appealing at first glance. If that's not enough, the creamy cheese with flavorful ground beef will leave you speechless.
The idea is to use whole bell peppers as a container for various elements like ground beef, cheese, and brown rice. To achieve this, people cut off the top of bell peppers and scrape off the inner to make room for the filling.
Most often, you must add a decent amount of water to prevent the bell peppers from burning. Ideally, the peppers have a soft texture both outside and inside to accompany the decadent beef filling.
Stuffed pepper contains everyone's favorite filling options for a flavorful dish.
Total time: 8 hours 15 minutes.
Stroganoff is a staple of Russian cuisine with thick cream and rich beef flavor. Traditionally, Russians often infuse beef stroganoff with mustard as the main spice. However, people have different takes on beef Stroganoff to suit their taste buds.
Preparing beef Stroganoff for cold days is perfect for keeping yourself warm while enjoying decadent food simultaneously. To keep everything simple, you want to combine minced beef with onion, mushroom soup, and Worcestershire sauce.
As for the cream cheese, it should come in at the final 30-minute mark before serving. Stir the concoction until you get a thick and creamy consistency. Beef stroganoff is best to pair alongside cooked pasta for a traditional approach.
Total time: 4 hours 15 minutes.
Ziti is a type of Italian casserole that utilizes Ziti pasta as the cornerstone. This slow-cooked pasta version of the casserole is less messy as you can cook everything using the crockpot. If you love cheesy food, Ziti is a must-try dish.
Aside from browning ground beef, I suggest making a cheese sauce from Ricotta, parsley, and egg. Commonly, the first layer should combine the sauce and beef. Follow it up with more Ricotta cheese and a layer of Ziti pasta.
The pasta is often ideal for pairing with thick sauce and gravy recipes. The Ziti casserole usually has a smooth texture with a buttery flavor from the cheese. Plus, the rich taste of ground beef makes Ziti a hearty meal for the family.
Total time: 2 hours 15 minutes.
The delicious Taco meat filling is excellent for combining with Italian spaghetti. This crossed combination of two cuisines is unique and will leave everyone speechless once you serve it in a slow cooker.
The main focus of this dish is the Taco filling, as you want a flavorful mixture to pair with cooked pasta. Similar to regular Taco filling, people often use tenderized ground beef with onion, cheese, and tomatoes. Furthermore, I like to sprinkle in Taco seasoning for an authentic taste.
Thanks to adding cheese, the meat mixture becomes thick and rich with flavors. When you finish cooking the Taco meat, boil some pasta to serve along with the filling.
Total time: 2 hours 30 minutes.
The Taco casserole will satisfy your craving for the ultimate Mexican food. The casserole has various ingredients making for a multi flavors experience. Furthermore, the meat and vegetables pack with tremendous energy to help you through the day.
For this recipe, people tend to use rice as the base layer. As for the filling, I prioritize beef with Salsa, bell pepper, and beans. Top the casserole with cheddar cheese before firing up the slow cooker. Finally, pick your favorite topping to serve with Taco casserole.
Enjoy the authentic Mexican taste with this incredible slow cooker Taco casserole.
Total time: 4 hours 25 minutes.
What makes for a perfect combination with ground beef? Let me suggest potatoes as the soft and creamy textures are perfect for pairing with rich beef meat. People usually refer to this combo as Au Gratin, a creamy French specialty.
Au Gratin mainly relies on potato slices at the base of the crockpot. People tend to proceed to add various fragrant spices with juicy ground beef. Top the Au Gratin with a generous sprinkle of cheese for the best experience.
I prefer using chicken broth to keep the Au Gratin moist and soft. In addition, the stock adds a slight sweetness to the potato slices. Preferably, the potatoes should soak up all the flavors from the seasonings and ingredients during the long cooking time.
Total time: 4 hours 15 minutes.
Picadillo has been a staple of Latin American cuisine since the 19th century. The dish is essentially a combination of minced meat with tomato to create a thick brown sauce. Commonly, Picadillo often goes excellent with rice.
This Picadillo is a Cuban version that includes bell pepper in the recipe. To prevent a watery Picadillo, I recommend draining the beef to remove excess grease and fat. In addition, you also need to add tomato paste for a thickened mixture.
Depending on your liking, Picadillo can go with a variety of toppings. Better yet, you may customize the final taste using your choices of condiments.
Total time: 3 hours 10 minutes.
A baked bean concoction with smoky bacon and rich beef is everyone's dream of a hearty meal. Despite the long list of ingredients, preparing the dish is worth the effort, so you may serve cowboy-baked beans whenever possible.
Let's handle the meat first, as you have to deal with frying crispy bacon and browning ground beef. As for the beans, people tend to incorporate kidney and black beans as these two varieties have a similar grainy texture with a slight sweetness.
Of course, you must keep these elements moist in apple cider vinegar, ketchup, and brown sugar liquid. The result is a brown concoction of baked beans full of smoky taste. Many often sprinkle a pinch of cayenne powder on the baked beans for an extra heat kick.
Taste the wild flavors of various ingredients in a tasty crockpot cowboy-baked bean recipe.
Total time: 3 hours 25 minutes.
To finish up this compilation, I like to offer you a healthy lettuce wrap to satisfy everyone's taste buds. Instead of wrapping the ground beef with flour tortilla, I turn to lettuce leaves for a light and refreshing take on the dish.
Commonly, I like to call this recipe Moo Shu lettuce wrap. For this Moo Shu, stir-fry the ground beef with garlic, onion, and ginger to build up the fragrance. In addition, I love adding mushrooms, celery, and carrots to the slow cooker to combine with a savory sauce blend.
Typically, the sweetness of honey helps balance out the saltiness of the soy sauce, making for a harmonious meat filling. Once your filling is ready, place a couple of lettuce on the table and scoop a decent amount of meat over the individual leaves.
Ground Beef Is Highly Adaptable For Any Crockpot Recipes
Ground beef is always a solid option to start any delicious meal. Thanks to the meat's versatility, you can interpret various combinations to create your unique specialty. The crockpot should be your go-to choice whenever you feel lazy to handle all the cooking.
This compilation is super helpful for people who like preparing their meals ahead. If you know anyone who loves doing this, share this article with them so they may spark new ideas. In the comment section, you should also tell everyone about your favorite ground beef recipe.