I want to keep easy green tomato recipes in mind throughout the tomato season because from beginning to end, there are always some tomatoes that don't ripen on time with the others. These recipes allow me to make great food out of them.
However, it doesn't mean you can only cook leftover green tomatoes. Feel free to go out, and buy some green tomatoes if you're in the mood for cooking this tangy ingredient. From a simple salad to an elegant chutney, the possibilities are endless.
Are you ready for your next culinary journey? Read on and prepare to get lost in a sea of good food with heavenly flavors and textures.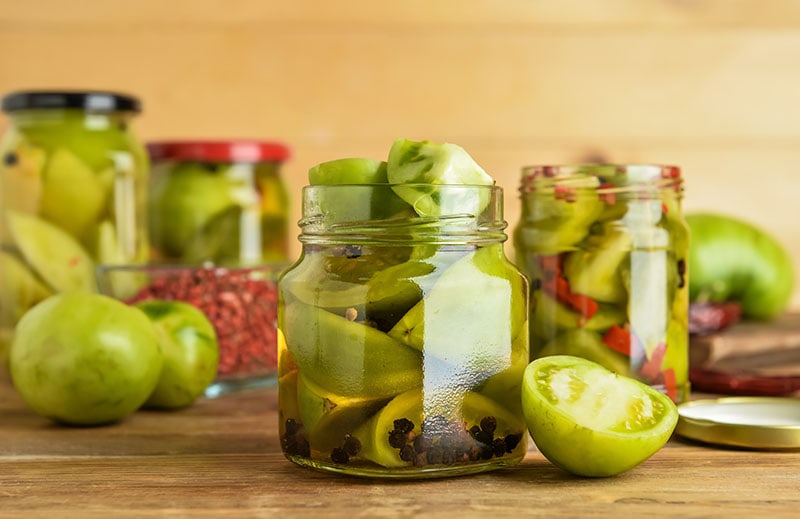 These Fool-Proof Green Tomato Recipes Make Cooking More Fun
At first, I wasn't confident about cooking green tomatoes as I doubted they would taste good, especially for desserts like cakes and quick bread. But I'm happy with the following recipes; now it's your turn.
Total time: 50 minutes (excluding cooling time)
This green salsa is perfect for beginners to work with green tomatoes. It has a lumpy texture, a pale green hue with a subtle tang and a hint of lime. Green tomato salsa verde works amazingly on a taco, grilled fish or meat, or for dipping chips.
The condiment is suitable for adults and children as long as you keep the flavor mild and don't add a spicy taste to the recipe. You can make it with leftover green tomatoes at the end of the season, and the quality is still superb.
The tip to peeling green tomatoes is the same as working with ripe tomatoes. Simply score their bottoms, drop them in boiling water and wait for the skin to release itself.
Total time: 2 hours and 20 minutes (excluding 12 hours of resting)
Don't let the lengthy instructions scare you off. Green tomato chutney turns out to be another easy recipe for people with little to zero cooking experience. With this chutney, the key to a perfect result is carefulness.
Firstly, you must sterilize your jar carefully, and the lid must be intact without cracks, holes, or any defect that may let the air in. Unless your jar is completely clean, the chutney will be contaminated or won't last long.
Secondly, remember to stir regularly as you cook the chutney for two hours. Otherwise, it may stick to the bottom or even burn as it's reduced.
Follow the steps closely, and you will end up with a beautiful, thick, glossy chutney to enjoy with biscuits, sandwiches, or cold meats.
You can make old-fashioned green tomato chutney for your family or as holiday gifts!
Total time: 1 hour and 55 minutes (including cooling time)
Relish is similar to chutney because they both consist of chopped veggies and vinegar. However, while the chutney looks like a jam, this green tomato relish features tiny cubes of tomatoes, onions, and bell peppers mixed in a jar.
The veggies are cooked until tender, but you can still see the piece individually. You can include this recipe to your burger list of side dishes for the tomatoes provide a refreshing take to any course. Green tomato relish has moderate sweetness, acidity, and a savory taste.
The condiment can last in the refrigerator for only two weeks, so adjust the quantities of ingredients to avoid wastage.
Total time: 3 hours and 10 minutes (including cooling time)
Yes, you read it right. It's completely plausible to make a dessert with green tomatoes, whether they are unripe ones at the beginning of the season or leftover at the end.
This lovely sweet treat comes in an apple pie-like appearance with a pie crust and a filling. The green, tart tomatoes soften when cooked like real fruit with an irresistible smell. Let it cool completely so that it can settle before serving.
If you don't believe you can whip up a pie out of this veggie, this recipe will change your mind. Don't forget to add a scoop of vanilla ice cream or a drizzle of caramel sauce on top.
The mock apple green tomato pie is so easy that even beginners can master it.
Total time: 1 hour and 10 minutes (excluding cooling time)
Once I learned that green tomato pies are a thing, I continued to discover more desserts with this ingredient. A green tomato cake is a regular cake with grated tomatoes added to the batter for extra flavor and texture.
In the end, the cake comes out with a sweet, moist, dense sponge featuring green, tangy tomato strings. Meanwhile, the cream cheese frosting gives the treat utmost creaminess and balances the sweetness with its tang and thick texture.
A delectable green tomato cake is a superb addition to your summer cookbook. Whether it's a daily dessert or a small party in the garden, your guests will love it.
Total time: 25 minutes (excluding pickling time)
Quick pickling is when you let vegetables sit in a brine in the refrigerator. It can be served after 24 hours but tastes the best after five to seven days. This method of processing green tomatoes is also extremely easy and is complete in less than 30 minutes.
In this recipe, the brine results in the best crispness for the veggie and a flavor complex of salty, sweet, and spiciness. On the other hand, the garlic and herbs infuse the tomatoes with a heavenly scent.
Pickled green tomatoes can make delicious salads or become part of a sandwich, depending on how you want to enjoy them.
Total time: 45 minutes (excluding refrigerating time)
Gazpacho is a very popular cold soup in Spain, where the dish originated. This green tomato gazpacho is wonderfully creamy and smooth and boasts a bright green hue. It's also light, refreshing, and healthy.
On top of that, making this soup from scratch is breezy. Firstly, mix the veggies, herbs, and garlic in a bowl and let them sit for half an hour. Secondly, add the other ingredients and process the mixture in a blender until smooth.
At this point, the soup is mostly done. You can serve it right away or chill for a day. Top it with cilantro leaves, a drizzle of yogurt, and jalapenos before eating.
Total time: 1 hour and 15 minutes (including marinating time)
Those who love grilled veggies must not miss out on this recipe. Grilled green tomatoes carry the signature tangy flavor of the vegetable while adding the perfect sweetness thanks to the balsamic marinade.
Best of all, each slice is slightly charred and smoky, which elevates the whole thing. Pair it with mozzarella and basil leaves; you will have a great tomato starter idea by adding this recipe to your menu.
Marinating is crucial for flavoring the tomatoes, so don't skip this step at any price.
Searching for a different marinade for grilled green tomatoes? Try this recipe!
Total time: 1 hour and 15 minutes
Green tomato is a highly versatile ingredient, meaning you can fit it into different meals and courses. As of now, you have seen it in the dessert, appetizer, condiment, and side dishes. The next recipe, green tomato quick bread, can be breakfast or dessert.
This lovely loaf is moist and delicious. It has a golden-brown, lumpy surface. Meanwhile, the center features a light green hue of unripe tomatoes. The raisins added to the batter give the quick bread an extra chewy texture and sweet-tart flavor.
The cream cheese frosting in this recipe contributes its creaminess, scent, and sweet-tangy taste to the dish. However, you can skip it if you want because the treat is already amazing on its own.
Total time: 1 hour and 15 minutes
The unique thing about this recipe is combining bacon and green tomatoes to form a meaty jam. Apart from that, the ingredient list is simpler than several other dishes in this post, so it's easy to work on.
Green tomato bacon jam contains onion, offering a natural sweetness to balance the tang of green tomato. Besides, the bacon brings its crispness and something to chew to the jam. Regarding seasoning, you should follow the recipe but adjust it to your liking for the best taste.
To make the best use of this treat, mix it with ground meat, like beef or turkey, and assemble your burgers as usual. You can also spread the jam on a baguette or dip crackers in it.
Total time: 20 minutes
If you try the fried green tomato recipe I introduced earlier in this post and have some leftover slices, you can quickly fix a BLT sandwich from them. In less than half an hour, you will obtain a couple of yummy sandwiches for two.
Instead of mayonnaise, this recipe calls for aioli, which has a stronger flavor. It's creamy and fatty and enriches your sandwich overall. At the same time, the fried egg with a runny yolk adds a sunshine color and blends all the filling ingredients.
Furthermore, the crispy bacon brings a savory flavor, while the fresh, crunchy veggies fulfill the sandwich's nutritional values.
Total time: 15 minutes
A salad must be one of the very first things to think of when you have veggies on hand, and green tomatoes are no exception. The next recipe I want to present on this list is a light, refreshing, flavorful salad made of only fresh ingredients.
The only cooking involved is toasting the gram flour. This step will help make it fragrant and bring it to a nice golden color. A sprinkle of toasted gram flour is what you need to complete this salad.
Khayan Chin Thi Thoke is a great appetizer that doubles as a side dish. To enjoy it as a side dish, serve the salad alongside curry or noodles.
This book introduces a different way to season Burmese green tomato salad.
Total time: 15 minutes
Throughout this article, you will learn that there are various cuisines you can touch by using green tomatoes. From Spanish to Burmese cuisines, this ingredient is the base for so many delicious yet simple dishes. And now, to continue the list, you will come to India.
To make Indian green tomato curry, you first need to saute mustard seeds and green chiles in hot oil. Then, add chopped green tomatoes and continue cooking. Lastly, stir salt and turmeric powder, and it's done!
The dish is completely vegan, dairy-free, and gluten-free, so anyone can enjoy it. Serve the curry with white rice in case you want to make a meal out of it.
Total time: 50 minutes
Here's a yummy, effortless, vegetarian pizza recipe for you. The hardest part of making a pizza is eliminated by using store-bought pizza dough. All left to do is assemble the treat and bake it.
This special pizza features grilled tomatoes until charred, providing a smoky flavor. Cheddar cheese is not stringy like mozzarella when melted, but it has a much stronger taste and pairs well with green tomatoes.
The recipe recommends over two cups of cheese, but feel free to adjust the amount to your liking. Between you and me, I often sprinkle much more cheese than suggested because I love it.
Total time: 15 minutes
The name of this dish comes from its look. While the class Caprese uses ripe tomatoes, this version uses green tomatoes with slices of mozzarella cheese. They create green and white stripes like a zebra's stripes, while the basil leaves are cut into ribbons sprinkled on top.
This modified Italian salad is healthy, tasty, and extremely easy for beginners. It comes together in 15 minutes, producing an amount enough for a four-member family. You can also easily scale up the recipe whenever you need to serve a larger crowd.
Total time: 30 minutes
Okra adds a mild, grassy taste and a green color to these fritters. It also contributes a slight crunch to make the dish richer. At the same time, the green tomatoes soften, and the batter hardens as they are cooked over heat.
However, in contrast to the center, the outside of the cakes obtain a brown color and an excellent crisp thanks to being fried in hot oil. You can form the fritters into bite-size or larger pieces, depending on how you want to serve them.
Fritters are typically an appetizer, but they double as a side dish. And like other dishes on this list, the recipe is too easy to fail, even with zero-experience cooks.
Total time: 50 minutes
This fried green tomato burrito brings a diverse mix of texture and flavor. The filling comprises crunchy, sour tomato strips, tender rice, and spicy, starchy black beans. It's elaborated with salty Cotija cheese.
Don't forget to toast the burrito to crisp the bottom. If you skip this step, the tortilla will remain soft and may even get soggy due to the hot filling. Plus, toasting adds extra charred flavor, making the burrito a lot better.
This healthy burrito offers a great option for a quick lunch or dinner on weekdays. Make sure you save this recipe.
Total time: 55 minutes
Green tomato hot sauce is suitable to make when you have leftover green tomatoes on hand. The reason is that you can use any tomato regardless of the size, so you don't have to sort out the veggies before working on the recipe.
For the hot flavor, you will need ten green chilies. Feel free to increase or reduce the quantity to obtain your desired level of spiciness. You can use this hot sauce in various ways, such as spreading it on burgers, steaks, grilled meat, etc.
Total time: 37 minutes
Even with zero cooking skills, you can still pull off a potluck-worthy side dish in the form of fried green tomatoes on the first try. Not only is it easy, but this fried veggie is also tasty.
On the outside, there's a layer of golden, crispy case consisting of cornmeal and breadcrumbs. The sound and texture of this layer are incomparable, and you cannot replace cornmeal with all-purpose flour for this reason.
On the inside, the green tomato becomes tender but not mushy like cooked ripe tomatoes. At the same time, the signature tang of unripe tomatoes remains the center flavor of this dish.
You can serve these fried green tomatoes as a side dish to pair with a meaty dish like fried chicken, Mac & Cheese, or BLT sandwiches.
This fried green tomatoes guide shows you everything, including how to slice the green tomatoes properly.
Total time: 45 minutes
Gratin is not a type of dish but rather a culinary technique in which you top an ingredient with a browned crust. This topping adds extra crispness to a dish and is mixed with it in each spoonful you scoop up.
Another crucial part of this dish is the mornay sauce. It contains heavy cream, which offers creaminess and thickness. Besides, the cheese is added last to thicken the sauce further, add flavor, and produce a stringy texture.
As for this green tomato gratin, you only have to make the sauce, then quickly assemble the dish. After that, the oven will do the rest of the work for you. The treat is beautiful, painless, and fail-proof.
Total time: 10 minutes
Here are a few things to bear in mind for the best green tomato toast with goat cheese.
First of all, whole grain bread is the best choice for this toast. It comes with a chewy crust and a lot of seeds that enhances the experience of eating the dish. Secondly, the cheese should be at room temperature to spread better.
Furthermore, you can replace fresh oregano with any fresh herb you like. It depends on your preference. Last but not least, choose red onion over white or yellow onion as it's milder and more suitable to use fresh.
Total time: 1 hour and 30 minutes
Though it requires more cooking time, green tomato caponata bruschetta is still a dish with utmost ease to make for beginners.
Bruschetta is an Italian dish consisting of grilled bread rubbed with garlic and served with toppings. And the topping used here is caponata, a stew made with aubergine and other veggies.
The dish takes an hour and a half to complete because you need to cook each vegetable for a while before adding another to the pot. In the end, you get a mushy topping on crispy toasted sourdough bread.
The result looks like a country dish with ingredients from your garden. The veggies and the slice of bread compliment each other in texture and flavor to create the perfect lunch for you.
Open The Door To More Great Food With Green Tomatoes
As you can see, unripe tomatoes, which seem not ready for cooking yet, turn out to be a wonderful ingredient for all types of dishes. From this recipe list only, you can whip up an entire meal with green tomatoes to serve yourself and your beloved ones.
Whether you need help with the recipes or want to show off your cooking results, leave a comment below. I'd love to hear from you and discuss your culinary experience.
Don't forget to share the recipes with others. I'm sure they will appreciate these useful cooking suggestions.