There is a fairly endless list of the best goat cheese recipes for you to try. So be prepared, as goat cheese will effortlessly become your new go-to cooking ingredient.
Creamy, tangy goat cheese (also known as chevre) still does not get the attention it deserves. Its creaminess and tang can easily transform a hum-drum dish into something wow-inspiring. Meanwhile, a fabulous dish will only get better with some quality chevre mixed in.
If you have some goat cheese lying around or attempt to sneak this type of cheese into your meal, there is an abundance of great ideas to experiment with. This collection is a great way to start!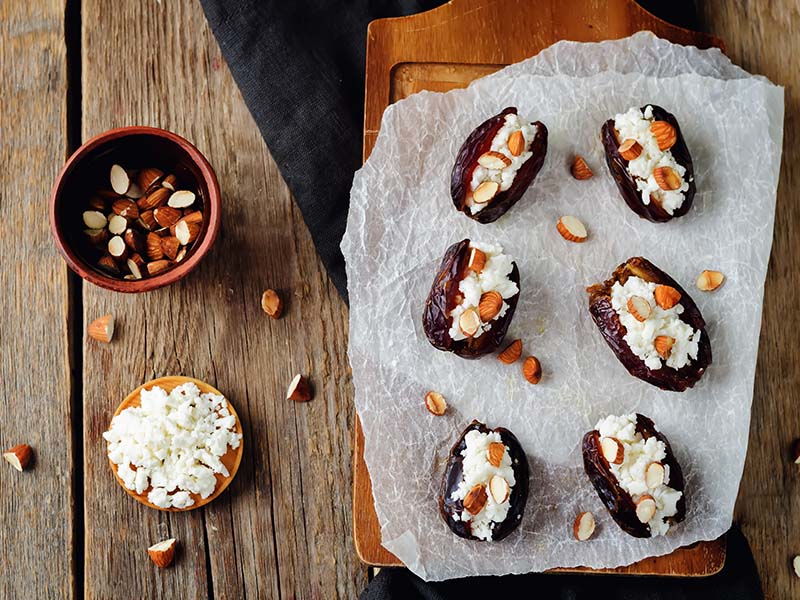 23 Best Goat Cheese Recipes That You Shouldn't Miss
Goat cheese works like a charm in a wealth of sweet and savory dishes. Whether fried with pasta, spread over the crostini, or oozing out of the pies, goat cheese is always amazing to savor.
Total time: 15 minutes
This apple spinach salad is not only a feast for the eyes but also for the palates. It's got the savory crispness from the apples, tenderness from leafy spinach, and extra sweet, chewy bite from the berries.
The sweet-and-tangy apple cider vinaigrette remarkably plays up the cranberries and apples. Last but not least, the tanginess from the crumbled goat cheese takes the whole thing over the top.
Serve this salad as a light and refreshing side dish, or transform it into a rightful entree by simply adding farro, grilled chicken, or rotisserie chicken on top.
Goat cheese adds a nice tang and creaminess that this light and refreshing salad badly needs.
Total time: 40 minutes + 30-60 minutes of marinating time
The refreshing salad is a nice combination of chicken infused with aromatic balsamic, juicy strawberries, and crumbles of fresh and tangy goat cheese. The toasted almonds on top add the extra crunch to this flavorful medley.
Make the homemade maple vinaigrette by whisking vinegar, maple syrup, olive oil, dijon, etc. Then, toss the salad nicely in this vinaigrette to bind them together.
It's important to allow the chicken to sit in the marinade for at least half an hour. This way, the flavors of balsamic, olive oils, and spices can seep well into the meat.
Total time: 10 minutes
This humble sandwich will make for a super quick, healthy, and delicious lunch or dinner on busy weekdays. It consists of layers of avocado, cucumber, sprouts, and smooth and creamy herbed goat cheese.
Don't feel off-putting when you see no meat in sight, as this combination is already amazing on its own. The goat cheese works like a charm to elevate the taste of the veggies in the bowl.
This cheesy sandwich gets ready in a matter of minutes. It is healthy, vegetarian-friendly, and packed with goat cheese flavors. You'll find no excuse not to give it a spot in your breakfast rotation.
Total time: 45 minutes
This recipe puts a refreshing spin on the classic French souffle. The beaten egg whites are folded into a rich cheese mixture of Parmesan and goat cheese for flavor and stability. Chives are a welcoming addition as they offer a slight garlicky note to the souffle.
As always, serve this airy souffle straight out of the oven to enjoy the best flavor and texture. They are perfect for serving any meal of the day, from breakfast and lunch to dinner. Light, airy, and gourmet-worthy, this single-serving souffle is also a nice way to kickstart any party.
This airy goat cheese souffle, infused with rosemary and onions, is hard to beat at your next party.
Total time: 55 minutes
Four elements come together for the topping of this pizza: Mozzarella cheese, tangy goat cheese, salty-sweet caramelized onions, and crispy marinated kale.
Packed with salty, sweet, and savory flavors, these slices of pizza are so irresistibly delicious that no one can turn them down.
Yet, to elevate the flavor to even a notch, spend some minutes whipping up the balsamic drizzle. I promise the flavor boost you'll get is definitely worth the extra time!
Aside from goat cheese, kale makes an unexpected appearance in the pizza. Surprisingly, this superfood turns out insanely delicious when baked to crispy perfection and layered between the melting cheese. So, don't give a pass to this veggie for this pizza.
Total time: 20 minutes
Figs and goat cheese are always a perfect match, whether they meet up in a stuffing, crostini, or galette. And this flavor-packed salad is another good example!
In this heaping bowl, the sweetness of the fresh figs goes exceedingly well with the creamy and savory goat cheese, while the balsamic vinaigrette adds a bit of tang. Meanwhile, arugula lends a peppery bite and toasted pecans for extra crunch.
Fresh figs are the obvious spotlight here. Therefore, it's best to whip up this salad while they're in their peak season.
Total time: 15 minutes + 20 minutes of chilling time
Goat cheese also works so fantastically in these festive cheeseballs. With only a few pantry ingredients, a good quality log of goat cheese, and 35 minutes, you can put together a finger-licking-good appetizer that everyone keeps returning for more.
These cheeseballs have a light golden-brown crust that, once cracked open, reveals an amazingly creaming cheese filling inside. But to achieve this textural wonderfulness, you should proceed in small batches and do not let the cheeseballs hang out any longer than 20 seconds in the oil.
Simple toppings such as truffle honey drizzle and crushed pistachios are nice ways to spruce up these fried cheeseballs.
These nice brown fried goat cheese balls flavored with honey drizzles will be your new favorite snack.
Total time: 2 hours and 30 minutes + 6 hours of refrigerating
Like many types of cheese, chevre can do exceptionally well in a sweet setting, and this cheesecake is no exception.
Goat cheese effortlessly gives a twist to the classic cheesecake with its signature tangy, tart, and slightly goaty flavors. Meanwhile, the honey and juicy blackberries enrich the cheesy and nutty flavor of the cake and also balance out the creaminess of the cheese.
Texture-wise, goat cheese also plays an important role in this cheesecake. The soft, unripened goat cheese nails just the right texture and profile.
Therefore, when blended with sour cream, cream cheese, and other ingredients, it can bring out a creamy and dreamy cheesecake you've ever dreamt of.
Total time: 1 hour and 15 minutes
This incredible beetroot tart is just as delicious as it looks and will undoubtedly add a wow factor to any holiday spread.
For this puff pastry tart, beetroots are baked or roasted to bring out their natural sweetness. The Valencay cheese then comes in, only to perfectly compliment the sweet roasted veggie.
Apart from the flavor, it's also truly amazing how the delicate texture of this cheese perks up the savory tart. For a peppery and spicy kick, you can add some rocket salad on top.
While this tart takes a while to put together, the process is fairly easy. Plus, you can always take a shortcut by using store-bought pastry to minimize the hassle.
This gourmet goat's cheese and beetroot tart is the only thing you need to impress the crowd.
Total time: 1 hour
The tangy goat cheese seems to have an affinity for sweet fruits or veggies. This time, it pairs insanely well with the sweetness of butternut squash to bring out this elegant, comforting, and savory risotto.
For the best result, you'll need to roast the butternut squash instead of boiling it. Roasted butternut squash gives the risotto more depth in flavors and a smoother, creamier texture. In addition, no heavy cream or any cream is involved in this process, which is always a huge bonus.
Total time: 35 minutes
These little crostini are the perfect holiday snack or appetizers that will have your guests coming back for a second helping!
Flavorwise, honey and goat cheese complement each other pretty well, and that's why you might see them meet up in various recipes. A drizzle of sweet honey, once again, balances the richness, creaminess, and tang from the chevre on the crostini.
And together with the crunchy walnuts and crusty baguette fresh out of the oven, they create heavenly bites that no one can't resist.
Total time: 30 minutes
Here comes an easy lunch that you can whip up in only half an hour. There are many things to love about this dish: bacon, chicken, goat cheese, and balsamic drizzle. All come together to create a flavorful harmony that surely pleases your taste buds.
Wrapping chicken breast in bacon slices takes the meat to a whole new level. This way, you can keep the chicken inside moist and tender, whereas the bacon becomes perfectly crispy as they bake.
The filling also deserves attention here. It's packed with summer flavors of red peppers and tangy goat cheese, with a bright note of lemon zest. Each bite of this savory dish will hands down give your taste buds an exciting ride of flavors and textures.
This straightforward guide will show you exactly how to wrap the bacon slices around chicken breasts perfectly.
Total time: 16 minutes (excluding marinating time)
This easy and savory spread is the perfect appetizer when guests unexpectedly come knocking on your door. It comes together in a snap, and the process couldn't be simpler.
The tangy and velvety goat cheese spread is flavored with a from-scratch dressing and then left to stand for a while in the fridge so the flavors can penetrate deep into the spread. As simple as that!
Smear this marinated spread into crispy crackers or toast slices of baguette for a bite nothing short of heaven.
Total time: 27 minutes
These gorgeous bites are a perfect hors d'oeuvre with phyllo cups for any holiday feast. They carry a lot of exquisite flavors coming from pecorino romano, pesto, sun-dried tomatoes, Greek yogurt, and goat cheese.
The best part is that making these bite-size appetizers is a breeze. Start by whisking the filling ingredients well and flavoring them with a bit of salt and pepper if necessary. Then, evenly scoop the filling into the phyllo shells before sending them to the oven.
For a fancier presentation, you may want to put aside some sun-dried tomatoes to place on top of the bites later. Basil and pine nuts are also lovely garnishes.
These crowd-pleasing bites are also great to make ahead. You can prepare the filling 1-2 days before the party and then load it up onto the phyllo cells once ready to bake.
Put together these simple yet delicious sun-dried tomato goat cheese bites in no time for your unexpected guests.
Total time: 1 hour and 40 minutes
Put a refreshing, delicious spin on the classic potato gratin by substituting goat cheese for the commonly-used Gruyere cheese. Soft goat cheese contributes to the rich and creamy texture of the gratin and also pairs beautifully with garlic.
This au gratin might take a bit of time, the majority of which is for the baking. All you need to do is prepare the milk mixture before building up the creamy potato goodness.
The layering starts with thinly sliced potatoes, followed by the milk mixture, and then continues with a few more new rounds. Serve this elegant dish alongside roasted chicken, steaks, or baked fork for a hearty and comforting dinner meal.
Total time: 20 minutes
Sweet dates stuffed with tangy goat cheese make for quick and easy finger food. The sweet and savory combination of these two ingredients is nothing short of divine.
Medjool dates are known for their sweet caramel chewiness, which pairs incredibly well with the fluffy, tangy goat cheese. Add some pistachios and a drizzle of honey on top for a flavor boost, and then some fresh thyme for a finishing touch.
Be mindful while drizzling the honey; you don't want to go overboard, as its sweetness can eclipse other key flavors.
Total time: 20 minutes
This pasta combines juicy cherry tomatoes, kale, and goat cheese to create a rich, creamy, and absolutely delicious sauce. The addition of coriander seed helps balance the tang from the cheese, whereas red pepper flakes add a slightly spicy kick to the whole dish.
To make the most out of this creamy sauce, you should use small-shaped pasta such as Cavatelli or Gemelli. They are wonderful vessels to hold the sauce perfectly, so each bite can be as flavorful as possible.
With a handful of familiar ingredients and 20 minutes, you can finally sit down and enjoy a gourmet meal to end your hectic day.
The sun-dried tomatoes and soft goat cheese look and taste so good together in this summertime pasta.
Total time: 35 minutes + 30 minutes of chilling time
Have you ever thought of goat cheese in scones? Spoiler alert: it's simply a game changer! Goat cheese somewhat has a liking for berries, as evidenced in the grilled chicken salad with strawberries and blackberry cheesecake above.
This time, blueberries are in the game. The plump bites of blueberries are perfectly accented by the tang and creamy finish of the cheese.
These fluffy goat cheese scones are already fabulous per se. Yet, they are even more irresistible with the blueberry glaze on top. Spend a few minutes to whip up this simple glaze for the scones, and I bet that they'll effortlessly become your new go-to breakfast.
Total: 25 minutes
Scrambled eggs always top the lists of the easiest breakfast to make, and they're far from boring with some creative twists.
The goat cheese in this recipe adds an extra dose of creaminess to this scramble. Also, sun-dried tomatoes, spinach, and green onions go into the mix and make it taste even better.
Scrambled eggs are super adaptable, and you can just add your favorite veggies and greens to your heart's content. If you feel like you have never nailed the perfect egg scramble before, try this quick and scrumptious version, and you'll want to make it again and again.
The creamy goat cheese is so good when cooked with eggs. Even when the eggs are overdone, the creaminess from the cheese still helps balance things out.
These creamy scrambled eggs stuffed with goat cheese and rocket leaves make for a perfect summertime brunch.
Total time: 45 minutes
When the butternut squash is bountiful in fall and winter, roast it nicely in the oven and sneak in some goat cheese for a sensational harmony of sweet and savory flavors. Also, add some pomegranate arils and crunchy walnuts on top to diversify the texture of the whole dish.
The steps in this recipe are quite foolproof to follow. However, try to slice the butternut squash into even, uniform chunks so that they can be evenly cooked simultaneously.
This hearty roasted squash makes perfect sides for the Thanksgiving feast, holiday dinners, or even casual weeknight meals. It can pair awesomely with any number of mains, from chicken, turkey, beef, to salmon.
Total time: 25 minutes + 20 minutes of chilling time
Both goat cheese and fig work incredibly well in sweet dishes. In this recipe, three layers of vanilla cake are bound together by the sweet fig butter and creamy goat cheese frosting. There are also fresh figs on top for the extra texture and Instagram-worthy presentation.
The fig butter helps perk up these honey vanilla layers to a great extent. Yet, the goat cheese frosting is what makes this cake rise well above other vanilla cakes. It adds a tantalizing tang and extra depth of flavors to the desert.
Total time: 25 minutes
If you haven't figured out a go-to recipe for this hearty fall veggie, this recipe is worth considering. Goat cheese and honey again meet up in these crispy roasted brussels sprouts. They go on top of the thoroughly cooked, crispy veggies fresh out of the oven.
The lingering heat enables the cheese crumbles to melt a bit and, together with the honey drizzle, seep into the veggies to boost the flavor.
The only trick to perfect roasted Brussels sprouts is to cook them twice. First, fry them until they get crispy edges before baking. This ensures that the brussels sprouts are crispy and tender in the end.
These crispy roasted brussels sprouts with goat cheese will surely be your new favorite way to eat the veggie.
Total time: 50 minutes
This tart might look fancy, but it's super easy to assemble since the store-bought tart shell helps streamline the process. You can get a flaky, buttery crust without the fuss of making the crust from scratch.
Sitting atop this savory tart base is plenty of balsamic caramelized onions, tangy and creamy chevre, and fresh thyme leaves.
Richly caramelized onions, infused with a splash of tangy balsamic vinegar, manage to capture much of the attention here. Yet, it is the fresh goat cheese that complements their flavor and helps them shine perfectly in this tart.
When incorporated into tart and paired with aromatic onions, the goat cheese flavor is not as pronounced as when it's on its own. Thus, this tart can be a gateway preparation for those who try goat cheese for the first time in their life. They'll get hooked with every bite. Promise!
Grab Some Tangy Goat Cheese, And Start Cooking!
It's time for goat cheese to get a little spotlight, and these recipes are great ways to start. Whether you go sweet or savory, this compilation will have you covered.
Great matches such as butternut squash, figs, berries, and honey will complement the signature flavors and aromas of the cheese. Goat cheese, when paired right, can graciously turn a simple, monotonous dish into something exceptionally good to devour.
I'd like to hear about what you have whipped up using goat cheese. So, leave a comment below to share your experience. Spread the love of goat cheese to others by hitting the like and share button. Thank you!