The best gluten-free desserts are numerous and varied. There are many ways to indulge the sumptuous treats before your eyes without worrying about long-term health impacts. The benefits of gluten-free foods are truly the best.
Why purchase store-made products when you can make ones yourself? In this article, you can learn how to whip up many excellent desserts in your home kitchen. The best part is you can wow everyone with how great they are.
All recipes below provide step-by-step guides with tidbits about the dish they covered. I believe anyone will find them pleasant to read and more so when enjoying the final products you got from following the cooking instructions.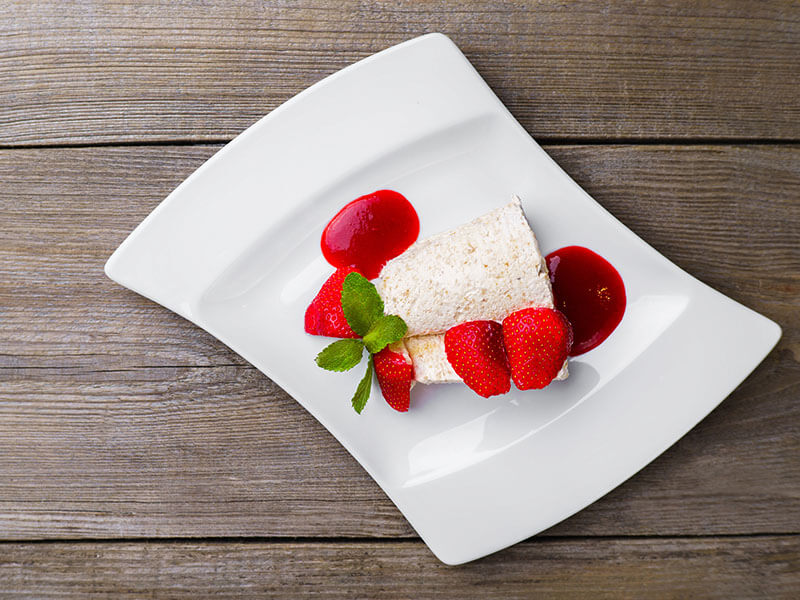 Let's Start Making The Best Gluten-Free Desserts In Your Life
Some recipes may look intimidating with how many steps they have and how long they take to make. Don't be discouraged; they are all worth it in the end. When you dig into the delicious product of your making, you may consider fixing them again.
Total time: 1 hour 5 minutes
The birthday cake is multi-layered with many different flavors. You'll have the time of your life exploring every ingredient in the whole cake. The flavorful, creamy strawberry filling and buttercream frosting are other great parts you have to dig in.
Compared to cakes that are made from gluten flour, there's no batter-beating hard work involved (yay!). Such a benefit from a gluten-free recipe! Having said that, you still have to do some mixing and stirring. But with a good mixer, things couldn't be easier.
What's more, there are multiple ways to make the cake ahead: make the layers and the jam a day before, whip up the frosting on the day of making, and store a fully assembled cake in the fridge for a few days.
Liven your parties with the fun and healthy layer birthday cake now.
Total time: 1 hour 15 minutes (Excluding about 12 hours of resting and yeasting time)
Colomba Pasquale is an Italian-originated dish with a dove-like shape. People make it with dough and top the bread with pearl sugar and almonds before baking. This version's toppings are a little more complicated with various items. In exchange, the dish offers more flavors as a whole.
Like other Italian bread, you start by making a pre-dough called Biga, which adds so much depth and flavors to the final product. For gluten-free bread, you should opt for a blend with less than 25% nut flour.
As for shaping the dish into a dove shape, you can make the whole process easier using Colomba dove bread paper baking molds. You can make them by hand, too. It takes a little more time and effort, but it's possible.
The Colomba Pasquale is a traditional Easter food of this beautiful Mediterranean country. You can eat it plain, toasted, along with coffee, or served with butter and honey. Nonetheless, it is still a delicious meal with a memorable sweetness.
Total time: 50 minutes
Finding a suitable cherry pie recipe while you are following a gluten-free diet is no easy work. With these bars, you can enjoy the tart and sweet flavor of cherry pie. Plus, it's an easy-as-pie cherry dessert recipe that you can make in less than an hour.
Many cherry-pie filling brands are gluten-free. You can refer to some recommended brands in the guide. You should also check the labels before buying to make sure they are gluten-friendly.
Besides the delicious bars, this recipe also features a glaze made from cream cheese, milk, vanilla extract, and powdered sugar. Once the final products are cooled, you top them off with the glaze for an extra burst of flavors.
Cherry pie bars are also highly customizable. Feel free to substitute the cherry filling with any stuffing of your choice. For instance, you may consider making peach pie, peach pie, or blueberry fillings.
Total time: 1 hour 15 minutes
Are you looking for a gluten-free fudge with a crisp top, gooey inside, and taste just like the real thing? This recipe ticks all of those boxes, and the final products are easy to make. Moreover, you can whip them up in just a bowl and a microwave-safe tin.
The dark appearance provides an appealing look to the fudges. The taste is also rich with dark cocoa powder, sweet vanilla extract, and dark chocolate chips. One bite will make you keep coming back for more.
You can surprise everyone with extraordinary and rich gluten-free brownies.
Total time: 15 minutes
Here's another easy-peasy dessert to make in a ramekin for your next meal. Also, it's a special St. Patrick's Day meal. Having said that, you can enjoy mini Irish cream chocolate mousse pies on any special occasion. The recipe is a perfectly balanced blend of lightness and fluffiness.
The pies have 4 main components: crust, Irish cream fudge, mousse, and whipped cream. Don't worry because each layer is very easy to make. With a hand mixer, everything will be a breeze. You also need stainless steel bowls, ramekins, and mini dessert cups for containing and serving.
The Irish cream brand in the guide is claimed to be "gluten-free" by the makers. To be sure, you can swap it out for Irish cream non-dairy coffee creamers for a 100% gluten-free and alcohol-free ingredient.
Total time: 35 minutes
If you want something crunchy to munch on in your mouth, then you should look at these magic bars. People also call them 7-layer bars because of the seven delicious layers. The preparation is hassle-free since you just need to layer the ingredients and put them into an oven.
Magic bars are also known as Hello Dolly bars. You can trace this name to the "Hello, Dolly!" show, a popular Broadway musical in the 1960s – when this dish was first introduced. All in all, they are a great traditional meal that people love to this day.
The bars have a toasted, nutty flavor with a decadent combination of butterscotch chips, graham crackers, and chocolate chips. The shredded coconut and sweetened condensed milk also add extra tastiness to the whole thing.
Explore how you can make the awesome gluten-free magic bars with a fail-proof method.
Total time: About 50 minutes
Almond flour banana cake is a gluten-free and paleo-friendly dish and a tasty one at that. Within an hour, your family can enjoy the light, fluffy texture and sweet cake with mouth-watering chocolate ganache on top.
The ingredients list is not long, consisting of widely available items: ripe bananas, eggs, pure maple syrup, baking soda, etc. All the kitchen tools you need are one bowl, saucepan, and a food processor or blender.
Plus, it's possible to turn this scrumptious banana sweet treat into smaller cupcakes. To do so, simply separate the batter into a dozen muffin cups and bake them for about 17-20 minutes.
One important thing is to choose the correct type of almond flour. You should opt for finely ground blanched variants instead of coarsely ground ones. Almond meal is also not recommended due to its gritty texture. It isn't good at rising, either.
Total time: 35 minutes
When you host or attend any party, you will want a small and no-fuss entertainment, one you can eat without a spoon or fork. These carrot-based sweet delights fit the bill. They are filled with cinnamon, ginger, and nutmeg and make for a warm and comforting food in any season.
As you can guess, carrots are the highlight and most important part of a carrot cake recipe. You need to shred them thoroughly, so they can be incorporated properly into the cupcakes. You can use a box grater, basic food processor, or food processor with a grater attachment.
The sweet and tangy cream cheese frosting is what upstage the carrots cake cupcake. But if cream cheese frosting isn't your jam, you can substitute it with brown butter buttercream, maple buttercream, or cinnamon buttercream.
You can recreate the gluten-free cupcake version of classic carrot cake.
Total time: 1 hour 30 minutes
Profiteroles, or choux à la crème, are hollow French-inspired choux pastry balls filled with custard or cream and topped with chocolate. The light and airy taste combined with the small size turn them into one of the fastest disappearing desserts.
The dish looks fancy and luxurious, but it's very easy to make. You need to prepare 2 parts: French Choux pastry and the pastry cream. All you need to do is stuff the latter into the former. Then top them off with chocolate sauce or powdered sugar, and you are golden!
You can fix these Profiteroles with any gluten-free flour mix. For best results, you should make a gluten-free flour blend by mixing xanthan gum, sweet rice flour, tapioca flour, and white and brown rice flour.
Total time: 50 minutes
Tiramisu is a well-known Italian dessert. It's a coffee-flavored treat made with ladyfingers biscuits. The name means "picks me up" or "cheer me up" in Italian, referring to how it makes for a happy end of the meal.
The recipe is a healthier variant using homemade ladyfingers from an eggless vanilla cake. If you want to create a dairy-free or tofu-based dessert, you can use plain dairy-free yogurt, soft tofu, or coconut cream from the can. Remember to put maple syrup into the cream if you are going this route.
Another customization is removing coffee liqueur and pouring in more coffee for an alcohol-free experience. However you make it, the final result is going to be a delicious serving of dark, rich Tiramisu.
Now you can help any Coeliacs enjoying the delicious wonder of Tiramisu with this gluten-free variant.
Total time: 40 minutes
Do you want a thick and delicious ice cream dessert that is also gluten-free, vegan, and dairy-free? If the answer is yes, then you should take a look at the following coconut espresso ice cream. Within 20 minutes, you can put together an appetizing sweet treat using 5 simple ingredients.
You need to purchase coconut milk and cream, honey, espresso powder, and chocolate chips. For ease of convenience, feel free to use the canned and packaged products. One essential tool is the ice cream maker; don't forget it.
Another great thing is you can use the base coconut ice cream for other taste mixtures. First, remove the espresso powder. Then add any flavor combination of your choice: vanilla, cocoa powder, or a fruit puree.
Total time: 25 minutes
Whoever came up with the idea of deep-frying Oreos is a genius. The fried Oreos can capture the hearts of many thanks to their sweet and greasy taste with a crispy outer skin. Dusting the final products with powdered sugar will give them an extra neutral-sweet flavor.
To make the gluten-free batter, whisk the flour, baking powder, sugar, egg, milk, vanilla, and vegetable oil. You should let it sit for around 10 minutes so that the flour can soak the milk completely. Alternatively, gluten-free deep-fried cookie dough works fine, too.
Then you dip the chocolate sandwich cookies into the above batter and fry them in hot oil. Lastly, remove from the oil and drain the cooked cookies on a paper towel-covered plate or a cooling rack. If you want the dish to be vegan, use dairy-free milk and egg substitutes.
This unique Oreo sweet course is already good to eat. But you should also consider serving them with whipped cream, ice cream, homemade chocolate syrup, or fudge sauce.
Total time: About 35 minutes (Excluding 10-24 hours of fermenting time)
This probiotic-rich, creamy recipe is a nutritious, friendly, and easy-to-digest meal. A homemade bowl of tasty yogurt dessert is an inexpensive, healthy, and fast way to enjoy oak milk yogurt. Not only is it gluten-free but the dish is also paleo-friendly and vegan.
What's more, this oat milk yogurt recipe is also refined sugar-free. If you like the yogurt sweetened, consider using natural sweeteners like dates, maple syrup, or honey. Eating it unsweetened is also another choice.
Total time: 1 hour 50 minutes (Excluding 8 hours of chilling time)
The dish has it all: lactose-free, FODMAP-friendly, and gluten-free. This recipe is not exactly dairy-free since New York-style cheesecakes are rich and filled with dairy by nature. However, it is still very low in lactose.
The best way to enjoy the rich and creamy cake is cooled. Therefore, you should put them overnight in a fridge until chilled but firm enough to slice through.
One good way to cut the cake is as follows: run the knife under hot water, shake it dry, and use it to cut. Wipe the knife clean and repeat.
Explore how to make a gluten-free and vegan-friendly New York-style cheesecake with this cooking guide.
Total time: 1 hour 25 minutes (Excluding 1 hour of baking time)
Anyone you serve this decadent chocolaty dessert will love it and ask you for more (or how to make it). Make sure to keep the cooking guide at hand so that you can whip up the delicious bread pudding at any time.
The eye-catching color of red strawberries and dark espresso in the pudding alone is enough to make everyone have a scoop of the dish. Even better, this delicacy doesn't take much time and effort to prepare.
The bread pudding has excellent layers of semi-sweet dark chocolate chips, hearty white bread, fresh strawberries, and more. I won't say too much and leave more for you to dig in and explore yourself.
To summarize, you make a mixture of the required ingredients. Then pour the mixture into the baking dish while incorporating the strawberries, chocolate chips, and coconut into it as well. All that is left is popping everything into the oven and waiting for 50-60 minutes.
Total time: 30 minutes
Vegan cinnamon sugar donuts are one of the best examples of how a warm and fluffy baked good can make or break your cozy meal. The warm cinnamon coating provides a punch of sweet and woody flavor to the light and tenderness of the whole cake.
The recipe is also highly customizable. For instance, you can use plant-based milk like soy milk, coconut milk, or almond milk for the donuts to be vegan. If you want a strictly oil-free dish, skip the melted vegan butter and dip the donuts in cinnamon sugar after baking.
Furthermore, the recipe can turn into muffins if you use muffin tins instead of a donut pan. However, you may have to pay more attention to the baking time. Those donuts are best enjoyed fresh, though you can keep them at room temperature for up to 2 days.
You can whip up cinnamon coconut sugar donuts without breaking a sweat.
Total time: About 45 minutes
Here's another recipe to add to your fruit desserts arsenal. Apple crisp is ideal when you don't want to make an apple crust but still want to make use of the fruits. It consists of cinnamon-spiced apples topped with a delicious topping of brown sugar and cold butter.
One important item in this dish is the purity protocol oats, which are grown and harvested in a gluten-free facility. Thus, they are perfect for people who suffer from celiac disease, gluten intolerance, wheat allergies, or who just want a gluten-free diet.
Whipping up the nice orange and golden brown apple crisp is no hard work. First, make a combination of chopped apples, sugar, flour, and cinnamon. Then pour the whole mixture into a prepared baking dish and adorn it with a crisp topping. Finally, start baking, and enjoy!
Total time: 45 minutes (Excluding 3 hours of chilling time)
Fancy a cheesecake to satisfy your need for sweets? Try a cream pie instead! It is a showstopping raspberry delight with its bright crimson color and sweet-acid taste. Once you start digging in, you will find the nutty graham cracker crust, creamy filling, and fresh raspberry topping irresistible.
You can use fresh or frozen raspberries for the dish. If you want, save some so you can top the pie off with leftover berries. The filling is much thinner than that of a cheesecake, while the cream cheese flavor is also not as strong.
Total time: 1 hour
If you are a fan of traditional Victoria sponge cake, chances are you will also love these cupcakes. With a jammy middle and a creamy buttercream topping, the soft and fluffy cupcakes are delicious to the last bite.
The recipe features a revised buttercream for both filling and decoration purposes. If you prefer something close to the original version, feel free to make a portion of it with salted butter, icing sugar, and vanilla bean paste.
As for the last finish, you can be a little extravagant and have fun with it. The standard way is to top the finished cupcakes with a fresh strawberry or raspberry. However, why stop there? You can add a lot of fresh berries to the topping for extra fruitiness.
Total time: 45 minutes
Cassava flour chocolate chip muffins are perfect for gluten-free and grain-free folks. It is made from cassava flour, a naturally grain-free and gluten-free ingredient. The item is made from the ground root of the cassava plant, which is native to South America.
You can use almond flour instead, but it won't be as light and neutral-tasting as cassava flour. On the other hand, it's impossible to use tapioca flour since it just contains the starch from the cassava plant, not the whole like cassava flour.
Within less than an hour, you can get 12 delicious servings of these muffins on your plates. The dish is a combination of mild banana flavor and sweetness from ghee, maple syrup, and vanilla extract. Everything blends nicely together when you bake them to perfection.
Learn the best method and way to make good cassava flour chocolate cupcakes.
Total time: 55 minutes
What is a dump cake? It's an American-style dessert that is very similar to the cobblers as they both have a crust with baked fruit topping. The latter is all about mixing all the ingredients separately, while the latter requires you to dump all the items into a pan with no mixing involved.
Traditionally, the cake is not gluten-free. However, you can make it so by using a gluten-free cake mix instead of a traditional cake mix. It is still a rich and creamy dessert for your enjoyment on a summer day.
You can also customize this top-notch dessert using strawberry to your liking. For instance, top the dump cake with ice cream or whipped cream for an extra layer of flavor. You can also change the fruit topping freely: feel free to replace the coconut with sliced almonds or gluten-free oats.
Total time: 43 minutes
I've already covered the dark and rich brownies above. However, if you prefer something chewier and softer with lemon flavor, how about making the mesmerizing lemon brownies? The bright and tangy taste from the lemon's zest and juice will provide a powerful feel-good factor.
In case you are not fond of lemon, other citrus flavors work great too. For instance, lime or oranges are great options. Just make sure you get plenty of juice and zest from the fruit. If you are corn-allergic, feel free to swap out the cornstarch for arrowroot or potato starch.
Let your friends and family experience the tangy lemon brownies teeming with health benefits now.
Total time: 45 minutes (Excluding 2 hours of chilling time)
The components you need to make the recipe are easy to find: gluten-free cake mix, almonds, instant pudding, and chocolate candy. When you throw them together, the result is flavorful and succulent layers for your trifle.
The making is straightforward. First, you prepare the cake mix and pudding (as instructed on the box). You then make the former a base before layering it with the latter and chopped candy bars. Next, top it off with unsweetened flaked coconut. Repeat until the trifle is complete.
For the final touch, garnish the whole thing with whipped topping, chopped almonds, coconut, and candy bars. You should put it in a glass cup so that everyone can see the beautiful layers of the desert. Remember to freeze the trifle in the fridge for at least 2 hours, preferably overnight.
Total time: 1 hour
You can trace back the origin of pound cake to Northern Europe in the 1700s. The name refers to how people typically make this cake with a pound of each ingredient: flour, butter, eggs, and sugar.
The original pound cake featured in American Cookery, a 1795 cookbook, tells you to bake it for 15 minutes. The variant here, however, requires 1 hour of baking time. The good news is that the increased cooking time corresponds with how delicious this cake may turn out.
What's special about this pound cake is the use of almond flour with a bit of coconut flour and tapioca flour to make it gluten-free. Thanks to these ingredients, the cake is also moist yet dense with the right balance of richness.
There is more than one way to cook the best gluten-free pound cake.
Total time: 1 hour 15 minutes
Pavlova is a meringue-based dessert topped with fruit and whipped cream. There are different stories about how or why people named this dessert after the famous Russian ballerina Anna Pavlova. Regardless, the dish is closely associated with her for its lightness and elegance.
The white and graceful berry almond pavlova is more vibrant with red raspberries, darkish blueberries, and yellow lemon curd. These items also add so much depth to the overall flavor of the luscious lemon curd-filled dessert. A flavorful and gluten-free delight; what more could you ask for?
Total time: About 45 minutes
Semifreddo makes for a good frozen dessert alternative to ice cream. It has a lighter feel thanks to the higher air content. This half-frozen Italian dish resembles creamy frozen mousse more than ice cream.
The recipe is easy to make as it requires no ice cream maker, but you still need a blender. There are 2 components you need to make: the vanilla cream and berry drizzle. The flavor combination of vanilla cream and berries will be your new favorite combo.
Total time: 45 minutes
The pumpkin is a signature of fall. What's a better way to celebrate this season than eating gluten-free pumpkin bars? They are like fall itself: soft to the touch yet sturdy and full of warming spices with pumpkin spice flavor.
If you want this riveting recipe for fall desserts to be also dairy-free, just swap out some of the ingredients for the following items: almond milk, buttery sticks, and almond cream cheese.
The bars are best served chilled, so you should chill them at least 30 minutes before eating and store them in a fridge.
The dish calls for a 10x15x1 inch jelly roll pan. If you can't find one, a 9×13 pan is also a good alternative. Just remember to bake the bars for an additional 5 minutes on top of the regular 25-30 minutes of cooking time.
Let's get into the kitchen and start making Pumpkin Bars, the go-to fall recipe for every household.
Total time: 15 minutes (Excluding 3 hours of freezing time)
Strawberry-beet popsicles are fruity frozen goodness loaded with vitamins, minerals, and sweetness. They are the perfect handy treat for summer. It's time to give yourself an immunity boost in a tasty way.
All the tools required for this recipe are a high-powered blender, popsicle mold, and popsicle sticks. It doesn't take much effort to make these pretty pink-colored treats. With a little patience, you can taste the sweet and strawberry-tasting popsicles enriched with beet and coconut milk.
Total time: 50 minutes
If anyone wants another sweet and tangy dessert, check out this vegan lemon posset with berries and biscuits. The recipe is a modern take on the classic British dessert consisting of double cream and lemon syrup.
The creamy posset can become vegan, dairy-free, and sugar-free. You need to soak and blend the cholesterol-free cashew nuts to make a vegan cream. The maple syrup and digestive biscuits help lower the sugar and calorie content, respectively.
Not only do those ingredients make the meal healthier, but they also bring extra flavors and help you feel full for longer. Unlike lemon curd, lemon posset doesn't contain eggs, so it is also naturally dairy-free.
Total time: About 10 minutes
Rainbow fruit kebabs are among the most fun and festive ways to enjoy summer. They are refreshing with an impressive arrangement, yet simple to make in a snap. How many things can make your summer sing as much as these rainbow fruit kebabs?
Simply put, this dish is a collection of fresh fruits put on skewers. The making is as easy as it sounds. You just need to finely chop the fruits into similar bite-sized cubes. Then impale them onto the skewers in any pattern of your choice.
Here are some tips: you can place some berries or apples in the end to secure the items in place. For a more appealing and eye-pleasing look, try to arrange the kebabs into one plate. And now you can enjoy the hydrating, fruity, colorful confetti off the skewers!
Total time: 30 minutes
Crescent cookies are a classic holiday recipe. They don't look much, but I'm sure anyone can appreciate the crispy texture and the sweet-fluffy powdered sugar coating. Plus, the buttery and nutty taste is another major selling point.
With as little time as 30 minutes, you can whip up about 18 servings to serve yourself and close ones. There are basically 4 major cooking steps: mixing the dough, scooping it, baking, and rolling them in powdered sugar.
After letting them cool, you can store the finished cookies in the fridge for up to 1 week. Once chilled, the cookies retain their crispy texture without soaking the powdered sugar. Freezing them is also a good idea. They can last in a sealable freezer-safe container in a freezer for about a month.
You should enrich your healthy diet with these amazing almond crescent cookies.
Total time: 30 minutes
I bet this is one recipe most people have never heard of – veganized yogurt cake pops. It's all fun and wholesome in one small package. They are truffle-like cakes on a popsicle stick coated in melted chocolate. The recipe is a free-guilt and healthier version of junk food.
It's best to enjoy yogurt cake pops at the moment of making, but you can store them in the freezer to enjoy on a later date. If you prefer a stickless version, that's fine. Just coat your cake balls in melted chocolate using a fork.
This dish doesn't call for any specific box cake. So, feel free to choose any flavor that you like. Whatever you choose, it will complement the dark, bitter chocolate melt and moisture vegan yogurt. Remember that you may have to adjust the amount of yogurt for perfect consistency.
These Desserts Can Change Your Relationships With Gluten-Free Dishes Forever
Sometimes it's a matter of enjoying the best gluten-free desserts while keeping an eye on your health. It makes sense that you should follow this kind of diet. By doing so, you gain so many supercharged health benefits like improved energy levels, bone health, mental state, etc.
With so many incredible benefits, you should consider sharing this guide so that many more people have access to such wonderful recipes. Furthermore, they can enjoy the benefits and tastiness of these dishes, too.
And that's all I have to say about the best gluten-free desserts. Do you want to ask anything? Or is there any suggestion you want to share? Then don't hesitate and voice your options and thoughts in the comment section. I'm all ears, and so are others.