The idea of gluten-free appetizers baffles some because you may feel your creativity is limited by what ingredients you can and cannot use for this diet. However, today's your lucky day. I'm here to help with a list of the best options.
I have used these recipes many times and got a lot of compliments from my gluten-sensitive friends. So, you can rest assured they will please yours, too. On top of that, you don't need pro cooking skills to succeed right away. Now, let's get to work.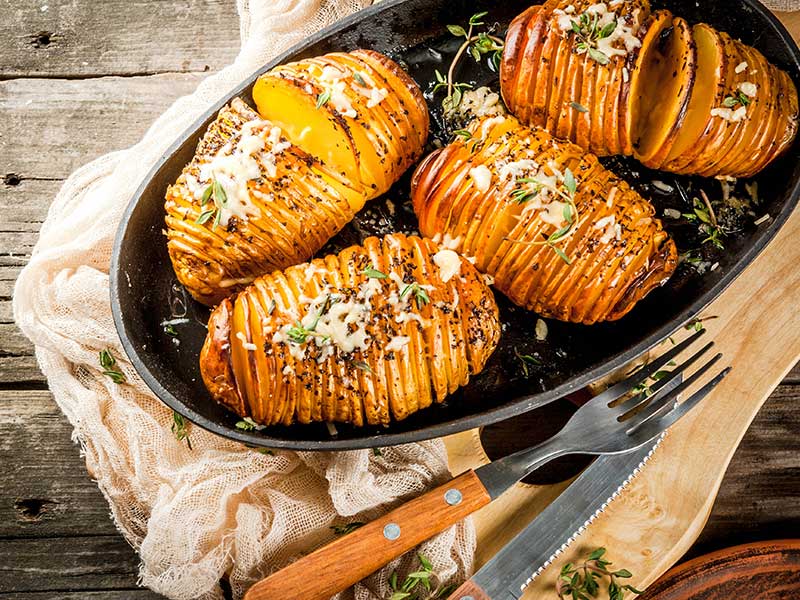 Treat Yourself To The Best Gluten-Free Food With These Recipes
Some of these recipes are naturally gluten-free dishes, and others are modified from the original versions using gluten-free ingredients. The cooking time also varies from a few minutes to multiple hours, so pick the ones suitable for your capability.
Total time: 25 minutes
Whipped feta dip is arguably one of the quickest ways to make an appetizer for a crowd. But the short prep time doesn't compromise its quality at all: milky-white feta cheese gives it a salty, tangy flavor, while olive oil imparts a bright yellow shade and a grassy aroma to the dip.
You can serve this velvety cream cheese-based appetizer with gluten-free bread or chips of your choice. Fresh thyme and garlic make its flavor richer, while the lemon offers a refreshing touch to the whole thing.
Whipped feta dip is really easy, with no hidden tips to success. However, if you want to prepare it ahead, don't add the olive oil until serving.
Total time: 10 minutes
A deviled egg looks simple but fancy. It has a smooth, firm white, while the hard-boiled yolk is extremely soft and creamy with mayonnaise and seasonings. This recipe even uses a star tip to pipe the filling, resulting in a beautiful decoration for the dish.
Apart from the seasonings, feel free to use other add-ins for the filling, such as avocado, ham, peppers, and salmon. Use your imagination and refer to your interest to create a filling you will happily enjoy.
Classic deviled eggs are a great appetizer for any day and any weather. For a healthier version, try replacing mayonnaise with greek yogurt or swapping some yolks for cheese.
To make deviled eggs, you need to slice boiled eggs in half lengthwise like in this recipe guide.
Total time: 20 minutes
This appetizer combines a Caprese skewer with balsamic chicken to create delectable food on a stick. A Caprese skewer consists of mozzarella cheese, tomato, and fresh basil. It offers something meaty, something veggie, and something herby.
Balsamic vinegar is a black condiment with a rich, complex sweetness exploding in your mouth. When reduced, the vinegar becomes a thick sauce to drizzle on your food for extra flavor and garnish.
As an added bonus, these spectacular skewer appetizers are quick to make. Their fancy look makes them suitable for pool parties, but you can make them on any occasion.
Total time: 24 minutes
Feta is among the more common types of cheese used for salads and appetizers. In this recipe, you will pair this heavenly ingredient with mushrooms, baby Bella or white mushrooms. Almond flour is used in place of bread crumbs to ensure a gluten-free dish.
After baking, the mushrooms become chewy with a bit of crunch. Meanwhile, the feta cube also softens without spilling out of the mushroom. The almond flour mixture is golden, adding some crispness to the whole thing, and the rosemary gives it an extra scent.
Remember to serve this appetizer warm, as the cheese is still soft. This dish doesn't taste as good at room temperature.
Total time: 40 minutes
These pizza bites provide a delicious option to start a meal without containing any gluten that may be harmful to you. They are made of gluten-free flour, butter, and mozzarella cheese. The dried oregano adds the signature scent of the typical pizza.
The recipe produces about 15 bite-sized pieces, which should be enough for the whole family. The dish doubles as a snack, so you can make and serve your children after school. You can even add pepperoni, sausage, or bacon for enriched flavor and texture.
These savory pizza starters contain cheese like feta-stuffed mushrooms, so it's best to serve them hot or warm when the cheese is still stringy. However, let them sit on the tray for 10 minutes after baking before serving.
Refer to this recipe to make gluten-free pizza bites without gluten-free flour.
Total time: 1 hour (including chilling time)
I highly recommend this gluten-free crab cake recipe if you ever need an entree dish for a seafood meal. These golden, slightly crispy cakes are real crab meat, so you can taste the tender, slightly chewy seafood in your mouth.
A little butter is added right before baking or frying, infusing the cake with a buttery taste. For extra creaminess, you can dip it in remoulade sauce when eating. It's worth noting that the crab meat already has salt, so you may consider reducing or leaving out the salt completely.
Also, don't skip the refrigerating step. It will help the toothsome crab appetizers form and stay in shape during cooking. Otherwise, immediate baking or frying may cause them to break quickly.
Total time: 30 minutes
Onion rings are one of the classic sides to burgers for a unique crunchy texture, depending on when you serve them. These gluten-free rings have a beautiful golden brown color with a lot of crispness and natural sweetness.
Making onion rings is so easy and fun that you can ask your kids for help. Just keep in mind that you should always arrange the onion rings into a single layer when frying. If you pack too many of them in one batch, they won't cook evenly.
The batter tends to absorb a lot of oil during frying. Therefore, when you remove the onion rings from the pan, place them on a paper towel so that the excess oil will drain. This way, your onion rings will be perfectly dry and crispy.
Total time: 20 minutes
Traditional spring rolls contain meat as one of the key ingredients, but I personally prefer vegetable spring rolls. Their filling is crunchier due to the veggies and much lighter than the meat filling. Vegetable spring rolls are also healthy.
To put together these tasty Asian-style rolls, you must prepare several vegetables. But don't let this scare you because the process is actually faster than you imagine. And wrapping the spring rolls will only get easier.
The conventional cooking method for this dish is pan frying, but this recipe switches to baking in the oven. It's faster and easier, and you can use the hands-free time for other work.
Total time: 25 minutes
Naan bread is a well-loved flatbread treat in several Asian countries like India, Central Asia, Malaysia, etc. It's soft, fluffy, and chewy with a slightly tangy flavor. Each piece of naan bread is bright yellow, with parts turning golden after being cooked over heat.
This gluten-free version offers an incredible appetizer option with Greek yogurt. It's tastier and healthier than regular yogurt, adding extra creaminess to your bread. A sprinkle of salt and parsley on top elevates the flavor and scent of the dish.
To start a big meal, you can enjoy naan bread on its own by tearing it with your hands.
Here's how to make gluten-free naan bread with the ingredients available in your house.
Total time: 35 minutes
I have served these charming sausage appetizers at multiple dinner parties, and all of my guests love them, especially those who cannot digest gluten food. I have to get used to people asking for this recipe, and I now love to share it with you.
Gluten-free sausage balls are rich, delicious bite-sized treats made of pork sausage, cheese, and pancake mix. The egg adds liquids and helps everything stick, while the seasonings give the dish flavor. Don't use more cheese than required, or your balls may fall apart easily.
Once you have lined the sausage balls in a tray, your work is done. Baking is hands-free while cooking your food evenly.
Total time: 40 minutes
A corndog is crispy on the outside and meaty on the inside. The light brown outer layer results from deep-frying. This popular treat tastes sweet, salty, and savory at the same time. It is a superb appetizer to serve children, but adults will also love it.
To ensure these savory chicken appetizers are safe for your guests, pay attention to the gluten-free all-purpose flour and gluten-free cornmeal product you use. Don't forget to double-check before making the batter.
The process of putting these corndogs is also fun. You can prepare the batter, then ask your kids to help dip the corndogs in. It will allow the kids to have a good time and help out at the same time.
Total time: 1 hour and 15 minutes (including freezing time)
I cannot stress how much I love mozzarella cheese sticks. They are one of my all-time favorite treats with mozzarella. Each bite starts with a wonderfully crispy texture, and then the stringy melted cheese runs into your mouth with a flavor boom.
Mozzarella cheese is delicious and easily pleases the crowd because it's mildly salty, fragrant, and extremely stringy when cooked. Another reason to put this delicious mozzarella-based appetizer down on your menu is its simplicity.
The most important thing to remember is to freeze the sticks before cooking. It will give the outer case enough time to crisp up before the cheese melts. Also, serve it right after cooking because it doesn't taste good when cooled.
Total time: 30 minutes
The dough to make pretzel bites consists of only three ingredients: flour, Greek yogurt, and baking powder. The baking powder helps the dough rise while baked, and the yogurt is behind the nice tang and creamy flavor.
After baking, pretzel bites are soft and a little airy in the center. Meanwhile, the surface is golden brown, there are salt crystals, and butter results in a glossy finish.
Kneading is a vital step in making pretzel bites. It's important that your dough not be overly dry or wet. In case you run into these problems, adding yogurt may help with the dryness, and extra flour will solve a wet dough.
You can make small gluten-free soft pretzel bites or form full-sized ones. This cook will help.
Total time: 1 hour and 20 minutes
There are different versions of dumplings around the world because each country adapts the food to its culture and cuisine. In Poland, the dish is traditionally made with wheat flour, cream, and eggs, called pierogies.
However, it contains gluten and is not vegan-friendly, hence this recipe. The dough uses gluten-free flour, while the filling is 100% veggies. The cabbage and mushrooms are soft, chewy, and slightly crunchy when cooked. Seasoning with only salt and pepper is enough.
You can enjoy pierogies right after boiling, but searing them for a few minutes adds extra flavor and crispness. Don't forget the right foods to serve with pierogies. These little dumplings taste even better with ranch sauce, mushroom sauce, sour cream, and many other condiments.
Total time: 10 minutes
Smoked cucumber bites are on this list, so when you have little time to prepare appetizers, there's always a safe recipe to resort to. These four-ingredient pieces require almost no work, just slicing and assembling.
Each bite comprises two main parts: a cucumber slice and a salmon slice. The capers and dill are added for extra flavor and garnish. Simple as they are, these tiny appetizer servings boast a fancy appearance and are a super tasty cucumber starter dish.
A little creme fraiche, sour cream, or Greek yogurt are some of the best options to further enrich the flavor. They will offer creaminess to pair with the refreshing veggie and smoky fish.
Total time: 35 minutes
As soon as I came across this recipe, I knew it would be a blast for my family. And I was right! These gluten-free garlic knots offer an incomparable flavor complex from garlic, olive oil, Parmesan cheese, and many more.
Garlic knots are so good that you may even feature them as a side course alongside steak to add more profiles to your fantastic creation. They also look cute, shaped like a knot, featuring a beautifully browned shade with a little shiny finish thanks to the butter.
When enjoying this dish, dip the knots in marinara sauce. Otherwise, they taste amazing on their own, so that you can serve them right from the pan.
Total time: 55 minutes
The next gluten-free appetizer I want to introduce to you comes from Sweden. Named after a restaurant in the country, it's basically baked potatoes with a gorgeous look. Every dish that pairs well with baked potatoes will do an even more amazing job with Hasselback potatoes.
This recipe bakes the entire potato but makes deep cups to create spaces between the slices. It allows the seasonings to penetrate the potatoes better, ensuring they are absorbed thoroughly to produce the best flavor.
At the same time, the potato skin remains, which crisps up a little in the air fryer, while the center is tender, creating a texture contrast.
Making crispy Hasselback potatoes is effortless by following this guide.
Total time: 35 minutes
Some dishes are suitable for a certain time of the year, such as zucchini fritters. They are a unique zucchini starter that will instantly switch on your guests' food mood. Each pan features soft cooked eggs mixed with crunchy zucchini strings.
The cakes also contain coconut flour, contributing a mild sweetness making the recipe an ideal accompaniment for pairing with fish to create a distinctive flavor. Coconut also has a milky taste to make your dish richer. It's a nice addition to a vegetarian appetizer.
To prevent zucchini fritters from getting soggy, place them on a rack after pan-frying. It will help release the steam, keeping the crisp for fritters.
Total time: 2 hours and 5 minutes (including resting time)
Empanadas are common in Spanish-speaking countries. They are pastry turnovers with meat fillings, taking over two hours to prepare, but the result will make you happy.
These lovely small treats come in a pillow-like shape and have a special case. It's flaky, slightly crunchy on the outside, and chewy on the inside. When you take a bite, it feels like the case has multiple layers that break in your mouth one by one.
Meanwhile, the filling is made of beef, cheese, and many other ingredients to form a flavorful mixture. You can use cheddar cheese, Colby Jack cheese, or any type of cheese you like.
Total time: 45 minutes (including refrigerating time)
If you like pastry with savory filling for an appetizer but don't have much time in the kitchen, why not try these samosas? Unlike empanadas, they are shaped differently and are more common in India and Middle East countries. They provide a nice entree to your Indian-style party.
The sweet-tart tamarind sauce paired very well with these gluten-free samosas. It doesn't ruin the crispy texture of the treat and balances the flavor to make a perfect dish. Reducing the sauce over heat by simmering it for a few minutes will help it stick to samosas better.
For a different filling version, you can use cauliflower instead of chickpea. You can also replace the dough with gluten-free rice paper or corn tortillas.
Total time: 1 hour and 5 minutes
Beef stuffed peppers are among the safest appetizer recipes I know. Not only is it gluten-free, but it's also nut-free, dairy-free, soy-free, and peanut-free. I'm sure people with several allergies will appreciate such a friendly dish.
This lovely treat comes in individual servings with separated bell peppers. They're ideal appetizers for celebrating Halloween, but feel free to put them together any time of the year.
The process is quite easy. You need to first cook the filling, including beef and other ingredients. Then stuff the filling in the bell peppers and bake them for half an hour. The peppers should come out hot and tender.
Total time: 4 hours and 10 minutes
A gluten-free dip served with gluten-free bread, chips, or veggies is always an amazing way to start your meal. Many dips are smooth and creamy, but this crockpot buffalo chicken dip is rich in texture and flavor.
Chunks of chicken become very tender after 4 hours of cooking in a crockpot. The long cooking time also melds every ingredient effectively, creating a rich, luscious, thick blend. At the same time, the buffalo sauce gives the dip its color and outstanding taste.
This recipe produces a big tray enough for ten people, but I can never maintain the dip for long because of its delicious taste.
For a shorter cooking time, refer to the instructions in this video.
Total time: 10 minutes
Here's a meal starter for a party by the beach. Each shrimp is coated with seasonings, dipped in egg, then covered with coconut. The seasonings give the shrimp flavors, the shredded coconut gives a great look, and the eggs stick everything together.
Frying turns white coconut golden brown and makes it crispy, which enriches the dish. Besides, the cooked shrimp is firm and chewy, and the tails become extremely crunchy.
These buttery shrimp appetizers are a fantastic way to jumpstart your party on a lively note. They are also light enough to keep your belly ready for the main course.
Total time: 40 minutes
Kothimbir means cilantro, and Vadi refers to cut squares or slices, which are related to the shape and how this appetizer is served. Specifically, you need to make a big round cake, then cut it into bite-sized pieces to enjoy.
This cilantro gram flour cake is savory and crispy, featuring a signature Indian flavor that will wow everyone's minds. The cake's look is also unique, with yellow and dark green colors mixed in a random pattern. Kothimbir Vadi is a treat to both the eye and the taste buds.
You can steam the cake ahead, store it in the freezer, and use it whenever necessary. It can last for a couple of months.
Total time: 30 minutes
To top off the list of gluten-free appetizers, I cannot help but mention pie crust chips and pumpkin dip. Pumpkin is an autumn vegetable, and its color also matches the season's vibe. So, this recipe is the best for Thanksgiving dinner!
There are two parts to complete this appetizer: the chip and the dip. As for the dip, it's creamy, pumpkin-flavored with sweet-sour cream cheese. On the other hand, the pie crust chips are simply pie crust cut into pieces, then baked to obtain a nice crispness.
Both the chip and dip are good in the refrigerator for about two days. It means you can make the meal-starter ahead and serve whenever you want to.
Here's Your New Favorite Gluten-Free Appetizer!
Through this post, I hope you will no longer be afraid of preparing gluten-free appetizers and start having fun with these dishes. It's obvious that making food for gluten-sensitive eaters is not that difficult, isn't it?
And I cannot wait for your updates on delicious meals you can make from these amazing recipes. Don't forget to share your experience with me in the comment section.
Last but not least, share this article with more people. Whether they need gluten-free recipes or not, these tasty appetizers will be great to add to their menus.