German recipes? I know so many negative stereotypes will come up in your mind when it comes to German foods. However, this beautiful country has a ton of delicacies waiting for you to try. German diverse cuisine is far beyond bratwurst, beer, or sauerkraut.
German foods are rich, greasy, hearty, and flavorful as this country also adapts a wide range of other countries' recipes and condiments. And it will be a huge injustice if they're labeled with negative out-of-the-truth adjustments.
In this post today, from the appetizers, main courses to desserts and drinks, I will show you divine German recipes that should not be missed in your menu!
Let's get started right now!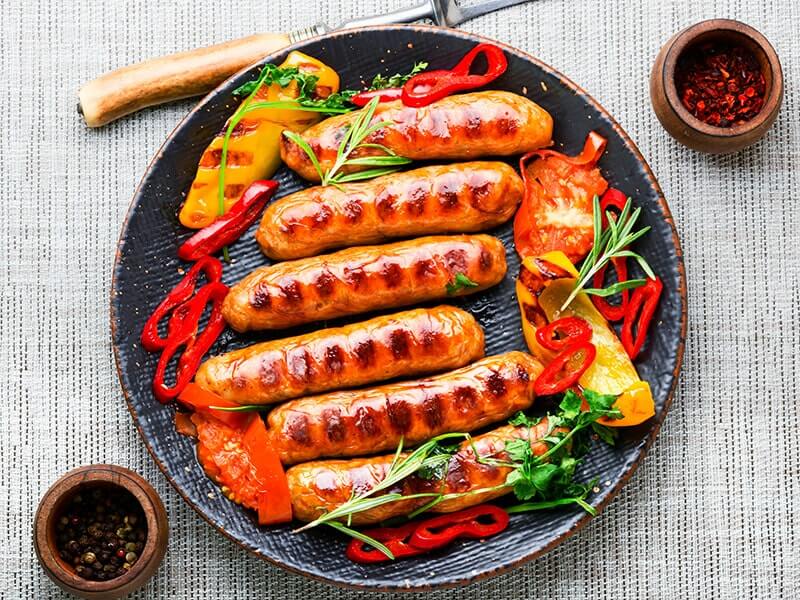 30 German Recipes That Can Break All Of Your Stereotypes!
Let's take a quick look at what I want to share with you today. These precious German appetizers, main courses, desserts and drinks recipes can blow all of your doubts!
German Appetizers
Krautsalat (German Coleslaw)
Swabian Kartoffelsalat (German Potato Salad)
Sauerkrautsuppe (German Sauerkraut Soup)
German Tomato Soup
Sauerkraut Balls
White Asparagus With Hollandaise
Currywurst
Wild Garlic Butter (And Bread)
Main Dishes (8)
Zurich Ragout
Sauerbraten (German Pot Roast)
Reuben Brats
German Beef Rouladen
Kartoffelkloesse (German Potato Dumplings)
Falscher Hase (German Meatloaf)
Flammkuchen (German Pizza)
German Schnitzel
Desserts (8)
Schwarzwälder Kirschtorte (Authentic Black Forest Cake)
Springerle
Oma's Apfelkuchen (Grandma's Apple Cake)
Classic Stollen
Raspberry Custard Kuchen
Milchreis (German Rice Pudding)
Laugenbrezel (German Pretzels)
Franzbrötchen (German Cinnamon Pastry/Rolls)
Drinks (6)
Apfelschorle (German Apple Spritzer)
Spezi (German Orange Cola)
Glühmost (Mulled Hard Cider)
Gingerbread Smoothie
Glühwein (German Mulled Wine)
Kinderpunsch (German Non-Alcoholic Punch)
8 German Appetizers That You Shouldn't Miss!
German appetizers have never ever brought discomfort. They have always been treasured by Germans for thousands of years because of the appetizing beginnings they bring to the meal. Here are the top 8 must-try savory German appetizers for you!
Krautsalat is one of my favorite salads! This appetizer is simple but a should-be-added item for your meal. They are crunchy and irresistibly delicious.
Unlike most American salads with thick and creamy mayo dressing, German coleslaw is mixed with vinegar (mostly white vinegar). That's why this dessert is so refreshing and addicting. The vinegar's sourness is the main key that helps to stimulate your appetite.
Note: You shouldn't forget the cilantro and black pepper too!
One of the reasons why I love German salads is because they are mostly seasoned with vinegar instead of any other fatty and greasy dressings! Swabian Kartoffelsalat is no exception.
This German Southern-style delicious appetizer is super easy to make. All you need are boiling sliced potatoes (peeled or not) and mixing them with some other simple ingredients. Serve them with grilled fish or chicken. Trust me; it's not a waste of your time!
Sauerkraut lovers, you will not be able to escape the spell right after you try this sauerkraut soup! It's hot, tasty and aromatic! And bacon seems like a perfect mate for sauerkraut as it turns this simple food into a symphony.
Everything you wish for in a cold and dark German winter can only be a bowl of hot sauerkraut soup. Remember to serve the soup with crispy slices of bread. Choose your favorite bread. You know, the Germans have thousands of bread recipes!
I almost just want to hide this treasure from you all. This creamy, fragrant, and tangy soup will trap you for a lifetime! You know, as it does with me! Whipping cream turns your thin tomato juice mixture into a thicker and more appealing consistency.
If you want your soup to be more nutritious, add ground beef to the recipe. In addition, milk is a good pick too. Your kids will love it. Even with its vibrant look, this soup is definitely a lovely appetizer that you just want to keep for your own.
It's incredibly hard to resist the crispy and delicious deep-fried dishes. Sauerkraut balls don't sound very attractive until they are brought in front of you. It is genuinely a pleasant enjoyment!
This appetizer is made with traditional German bratwurst, cream cheese, and sauerkraut. This mixture is rolled in breadcrumbs and deep-fried in hot oil until it turns into crispy honey-brown balls. I bet even non-sauerkraut fans cannot say no to this sweet invitation.
Let's celebrate spring with this simple but elegant version of white asparagus. Go to a farmer's store for the freshest bunch. Bring them home and boil them. It may sound boring, but only boiling can keep your asparagus's sweetness more than any other method.
With the richness of egg yolks, melted butter and the mild sourness of vinegar, hollandaise sauce will make your white asparagus a party queen in the upcoming dinner!
Who doesn't know about currywurst? No one! It is an iconic street food that you can find in any city of this country. Currywurst is actually bratwurst covered with a special sauce from tomato paste and curry powder. And fried potatoes are just like an indispensable companion.
A glass of wheat beer or pale ale will absolutely raise your appetite. For those who have tried this dish already? You don't need me to say anything more, right? Currywurst is one of the big reasons people fall in love with German cuisine!
Watch this video to know more:
Wild garlic butter is very popular in Germany. Germans use it as a paste to spread on their bread. In addition, this type of butter is also very suitable for vegetable or grilled meats. My favorite treat is adding wild garlic butter to the top of the rib-eye and leaving it melting in the oven.
The smell of wild garlic butter is very distinctive from the regular ones, but I'm sure it will go perfectly with your tender rib-eye. Also, make sure you have the bread on hand too!
Main Dishes – 8 Traditional German Beloved Recipes
Now, let's talk about the main dishes! All these flavorful and sharp-flavored recipes below can be good candidates for your family reunion dinner!
Serving zurich ragout at your family dinner tonight! This quick and easy-to-make appetizer should be your priority list! Bring a fresh veal fillet home, then stew it with the creamy sauce and tender mushroom to perfection.
It only takes you a few minutes to finish. And it would be a mistake if you forgot the boiled potatoes. They are the traditional side dish for Zurich ragout.
Note: If you don't have the veal fillet, use pork loin as a substitute.
Excluding pickles, I've never known any dish that takes so much time to marinate than sauerbraten. This famous German main course takes up to 3-10 days to be served. What? 3-10 days?? Yes. You didn't hear it wrong.
What makes marinating time take such a long time?
Well, because chewy chuck or bottom round cuts are the key ingredient. The long marinating time helps to tenderize the meat. And red wine with tart vinegar will keep the meat fresh during the marinating time. Believe me! Sauerbraten is well worth all your efforts!
Curious about Sauerbraten preparing process? Check out the answer now!
If you're too busy to prepare a hearty meal, reuben brats definitely belongs to you! Not only is reuben brats quick to make, but also can satisfy your hungry belly in just a few seconds.
The main ingredients for this recipe are bratwurst. Simply heat up the bratwurst by deep-frying or grilling, then make a simple sauce with onion, mayonnaise, chili sauce, and ketchup. Finally, reheat the buns and serve with sauerkraut.
You don't want any sauerkraut or bratwurst anymore? No problem. German beef rouladen can meet your needs! Though this is one of the classic treats you usually see in Oktoberfest celebrations, it does not require any complex techniques.
German beef rouladen is simply baby dill pickles wrapped inside seasoned thin beef slices and braised in red wine sauce. For serving, you can choose to eat with boiled potatoes, mashed potatoes, swabian kartoffelsalat, or any kind of your favorite salad.
The lovely German house owner made this to celebrate my 21st birthday while studying abroad in Germany. What a fool I am to think that Germany has no dumplings. But they really do!
Not only that, but German dumplings are also as delicious as Chinese dumplings or Japanese Gyoza! If you are confused between different types of dumplings, kartoffelkloesse will be your best pick!
Falscher hase is the German version of meatloaf. This dish is made with ground beef, but you'll also sometimes see pork in some recipes. This dish was created to have a more hearty meal after World War II, when meat was still scarce.
Falscher hase differs from American ones in that an egg is added to the inside of the meatloaf. It is said that it's because German housewives want to create the shape of a rabbit.
Pizza lovers, it would be a pity if you skip out this list. Here Flammkuchen is a gem you can't miss. This German pizza does not have a thick and heavy crust like the usual pizzas we often eat. It's thin, crispy, and fit for a bite!
On top of the pizza is a layer of delightful sour cream cheese, plus diced bacon and sauteed onions. It won't take too long to have a delicious lunch for yourself. Plus, it's budget-friendly too!
I just learned this recipe from Leopold (my German boyfriend) when he invited me to his home during the Christmas celebration. Schnitzel is cemented with all of our beautiful memories.
It was Leopold who taught me how to make schnitzel, and my goodness, it was breathtaking!
The condiments are well absorbed into the pork chop and the crispy bite comes from breadcrumbs! Although fried, schnitzel is absolutely a juicy and tender dish if prepared properly. And you know what? This dish is easier to make than you thought!
Desserts – 8 Wonderful Treats You Will Want To Own!
I never thought German desserts could be that fantastic until I went there and enjoyed the culture for five years. Dreams are never that good when it comes to 8 German desserts below!
There is no excuse to say no to this soft, spongy, and creamy famous German dessert?! Schwarzwälder kirschtorte redefines how a masterpiece is! And I just can't live without this sweet.
Classic treats are always the best treats! Just in one bite, you will immediately fall in love with this delicious cake. And for me, schwarzwälder kirschtorte is almost an obsession. I make them year-round so that my family flees away when I come home with the ingredients.
How can they run away from this hearty chic?
Watch this video to know more:
These lovely springerle have a long historical profile. They are also considered a gift given on special occasions or religious holidays in Germany. You can also find springerle everywhere at any German bakeries on Christmas.
Just with the cute appearances, you will want to have these cookies in your pantry all the time. The best way of enjoying springerle is to serve them with a hot cup of tea. Either enjoy it slowly, or add the springerle directly into your tea!
I love the taste of this cake, and the name too. Oma's Apfelkuchen in German means Grandma's Apple Cake. Almost all Germans give a high respect and love to their grandparents. When I met Leopold, his grandma was the first person he introduced to me.
And of course, Oma's Apfelkuchen lives up to its name. It is sweet, soft, and flavorful. Memories just come back as it reminds you of your grandma's kitchen with delicious apple pie in the old oven.
Stollen is a traditional German fruit bread. Its ingredients are flour, nuts, or dried fruits. In addition, there are orange, or tangerine peels inside as well. And although they are a type of cake, they do not contain too much sugar.
Like springerle, stollen is also often served at Christmas, and it will be called by another name: Weihnachtsstollen, meaning "Christmas stollen." This dedicated dessert is really not a bad choice after your lunch.
Impress your friends when they come to visit your home on a beautiful Sunday morning with this vibrant raspberry custard kuchen. With simple and easy-to-find ingredients, it won't take you too long to prepare.
Furthermore, if you like cream cheese, you can add them on top of the pieces when they are served. You decided to make it tomorrow? Awesome! This recipe will not make you disappointed. I guarantee.
I'm not sure if rice is your favorite, but I'm sure milchreis totally can win your heart! It may sound strange to choose a rice-based dish for dessert. However, milchreis is naturally a sweet treat.
Therefore, nothing is impossible when it can be served as a dessert after your meal. The texture of this pudding is also very delightful, suitable for all of your family members, including your 1-year old child.
Your kid would really love this homemade German rice pudding!
It is fun to see those knots sitting in your tiny bamboo-made basket. This delicacy can meet all of your expectations about a dinner dessert. You also can keep your Laugenbrezel in the fridge, then eat them tomorrow morning with a cup of hot milk.
And ta-da, your breakfast resolved too! Don't worry about the texture. Laugenbrezel is a soft and spongy bread. In other words, it does not harm your tooth health!
I love Franzbrötchen as much as I love my croissants! They all have the aromatic and delightful smell of flour, yeast, and milk. Most importantly, they go especially well with my favorite jasmine tea!
I have made this recipe a hundred times. So, don't be afraid. Franzbrötchen deserves a corner on your must-try dessert menu.
Drinks – 6 Options For Both Alcohol & Non-Alcohol Ones!
Excluding beer, there are also various German drinks out there you need to explore. Here will be my 6 recommendations!
This drink is essentially a blend of apple juice and sparkling water. Hence, you can find many other fancy versions of apfelschorle. At first, this drink was originally created for children.
However, because of the refreshing flavor, apfelschorle has also quickly become one of the favorite foods of Germans of all ages. If you are a non-alcohol person, then apfelschorle is the way to go.
Mixing cola and sodas is a recipe for a welcoming drink in Germany. You can choose between orange or lime soda, but usually, orange is preferred.
Spezi is usually produced as a bottled product and is sold in supermarkets throughout Germany. On the other hand, if you want to make your homemade spezi version, go for it! Oranges and Cola are all you need to buy.
Eierlikoer is a special drink made from egg yolks with a mixture of vanilla bean, whipping and sugar. In addition, the Germans also add a little alcohol to this mixture, leave it overnight in the refrigerator and use it the next day for better taste.
This drink has a mild sweetness and a hint of alcohol. It is pleasant and will be a great drink for your family parties. Moreover, according to German custom, you can also give it to your friend as a Christmas gift.
Watch this video to know more:
Ginger is best known as a cooking condiment, but they are also used to make beverages like tea. In Germany, ginger is used to make smoothies too! Gingerbread smoothie is a smoothie served cold in Germany.
Along with cinnamon, ginger only is added as a "spice" instead of a main ingredient. So you will find its ginger flavor is not too strong. Moreover, this drink is also very good for health. If you are on a diet, Gingerbread smoothie should be your priority.
Glühwein is a hot-served red wine in German Christmas when the snow begins to fall and the sun almost fades away. This hot wine can keep your body warm and protect you from those nasty colds.
Glühwein is best to drink in winter. It is also very suitable for family reunions. You know what I mean, aren't you? Pine tree, fireplace, and mulled wine. It's definitely the most memorable moment you want to keep for the rest of your life.
Kinderpunsch is actually a non-alcoholic version of glühwein (German mulled wine). It also has the signature red color as glühwein as well. However, as its name implies, this is a very suitable drink for children as they do not contain any alcohol content.
Therefore, if you are looking for a German drink for a party with your kids, kinderpunsch is absolutely a decent choice.
German Cuisine Is A Bunch Of Joy And Traditional Reflections
Just like the French, the Germans are also very proud of their cuisine. German dishes are rich, hearty, and filled with traditional and cultural resonance. And it's totally wrong to say German recipes are nothing out of bratwurst and beer.
As soon as you jump into the German food journeys, you will love them as much as American ones too. Their nut-plenty bread, creamy potatoes, greasy meats, and refreshing salad are like a flavor explosion!
Now, it's time for sharing! What are your most favorite German dishes? Please leave a comment below to let me know. I would really love to hear about that!