When mentioning German desserts, you might think about Christmas classics you can find in grocery stores or at markets. But there are many special and unique sweet treats in Germany beyond your knowledge.
It's tough to know all of the German desserts since they are super diversified. Unlike sweet desserts in other nations, sometimes you will find German desserts are spiced and warm like ordinary foods. This characteristic differentiates them from others.
They can be spaghetti ice cream, fruit flan, and rice pudding that you might not try before. Fortunately, these German dessert recipes I picked up for you in this post are all straightforward to make but insanely good. Let's scroll down and save these fabulous recipes.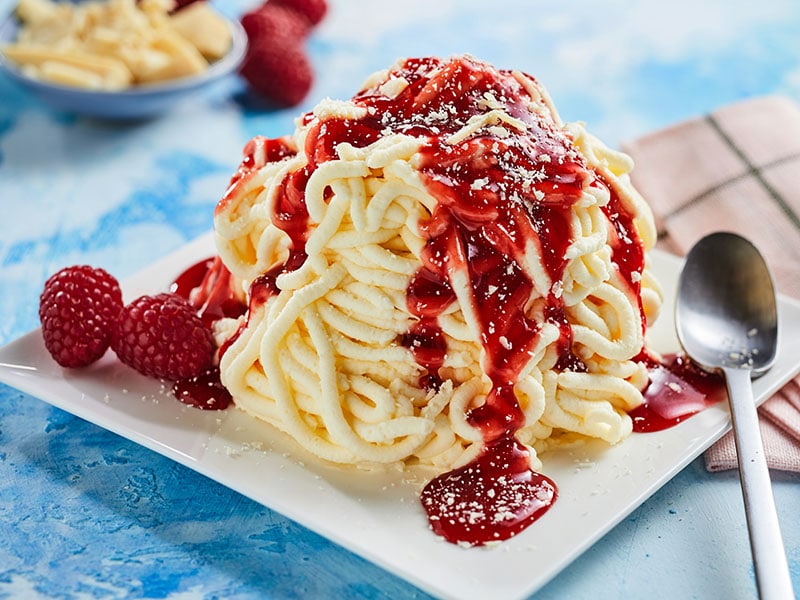 Top 22 German Desserts For Your New Experiences In Culinary World
Please take a quick look at my list of 22 German desserts before exploring each tasty dessert in detail. These recipes are everything you are searching for, categorized into six groups: cakes, cookies, pastries, ice creams, puddings, and other sweet treats.
Cakes
Black Forest Chocolate Torte
Rhubarb Streusel Cake
German Apple Cake (Versunkener Apfelkuchen)
Bee Sting Cake (German Bienenstich)
German Chocolate Cheesecake
German Spritz Cookies
Peppernut Cookies (Pfeffernusse)
Cinnamon Star Cookies (Zimtsterne)
German Springerle Cookies
German Gingerbread (German Lebkuchen)
Ice Creams
Spaghetti Ice Cream (Spaghettieis)
German Chocolate Ice Cream Pie/Cake
German Black Forest Ice Cream
Puddings
Kirschenmichel Bread Pudding
German Rice Pudding (Milchreis)
German Red Berry Pudding (Rote Grutze)
Other Sweet Treats
German Fruit Flan
German Plum Dumplings (Zwetschgenknoedel)
Apple Strudel (Apfelstrudel)
Berliner Donuts
German Quark Balls (Quarkballchen)
German Stollen
5 Breathtaking Cake Recipes For German Desserts
German cakes will knock your socks off with how pretty and tasty they are. You just need to follow some steps, tips, and tricks to make a spectacular German cake for your great desserts.
This black forest chocolate torte looks so pretty with a fruity flavor from fresh cherries. This fantastic cake has a soft and moist chocolate cake layer topped with whipped cream frosting and garnished with fresh cherries.
This black forest chocolate torte is a well-known and scrumptious chocolate dessert in Germany. Luckily, you can easily make this at home. It is also flavored with cherry liqueur to brush on each layer for more moisture.
After you've already made all parts of the cake, assemble them to have the perfect dessert. Put your first cake layer on a plate, then pour the cherry liqueur over it. Top your cherry mixture with whipped cream, and then repeat.
Rhubarb streusel cake is an incredible German classic treat. Locals use fresh rhubarb to make it and top it with a sweet and crispy streusel.
Streusel is a crumbly topping made from fat, flour, and sugar, and often cinnamon. In this recipe, you can use coconut oil or butter and coconut sugar. Moreover, flavoring your rhubarb streusel cake with coffee is also a new twist to create the best version of rhubarb streusel cake.
This rhubarb streusel cake is a fancy way to enjoy your summer since it is so moist and tender with tons of delicious and warm flavor from fresh rhubarb and a sweet streusel. Enjoy your cake with a cup of warm coffee or tea, or you can serve it with yogurt or coconut whipped cream.
This German cake is an amazing apple-based dessert to serve for teatime. It is easy for beginners with stable ingredients like fresh apples, eggs, flour, and cinnamon. But the result will give you an incredibly soft and subtle cake with impressive flavor.
This cake is supremely moist, thanks to apple cider, oil, and juicy apples. You can use different types of oil available in your pantry to make your own German apple cake. Vegetable oil and coconut oil are great options for you to try.
Serve this tasty German apple cake with confectioners' sugar. Besides, a drizzle of salted caramel sauce or a spoon of ice cream are also intelligent options to make an ideal dessert.
Bee sting cake is a yummy classic German cake made of excellent yeast dough. This cake has a creamy vanilla custard layer in the center and caramelized almond on the top, making it an elegant and delicate torte ever.
This bee sting cake can be made into different versions. And you can certainly make it a vegan version by using vegan yeast dough and skip the egg part. Vegan yeast dough is also extremely fluffy as regular yeast dough, which can help your cake stay so moist and soft.
Bee sting cake will make you interested in every single bite. You can see this video to know more:
German chocolate cheesecake is an out-of-this-world dessert using Oreos, creamy chocolate cheesecake, and delicious coconut pecan frosting. The great pair of smooth cheesecakes with crunchy coconut and pecans make the cake unbelievably tasty.
This phenomenal cake is effortless to make and suitable for novice home cooks. Your finished cheesecake needs chilling for an hour before you slice it.
This German chocolate cheesecake can be made ahead of time. You can keep it in the fridge for about three days. So convenient! And feel free to remove pecans if you are allergic to nuts.
Who can refuse these crunchy and crispy cookies? I am sure that you cannot, so keep going on my German cookies list below to learn more about five awesome cookies recipes.
German spritz cookies are a conventional Christmas cookie, having a gorgeous look and tasting sweet and buttery. They are a wonderful German dessert for any occasion, not only Christmas.
These impressive cookies are buttery, fragile with a hint of nutty flavor from ground hazelnuts or ground almonds. Don't hesitate to use the ingredients on your hand.
After baking your cookies, let them cool and brush melted chocolate over half the cookies. Store them in a cookie tin, and they can keep delicious and crunchy for up to three weeks.
Peppernut cookies are an adorable sweet treat made with ginger, cardamom, cinnamon, and clove. These ingredients give these German cookies a delicious and unique flavor.
Pepper is the special ingredient to make these cookies different from other cookies. Usually, pepper is not often used in sweet treats. But after trying these delicious cookies, you might change your mind about this fantastic ingredient.
White pepper is highly recommended to make these cookies to get the best result. Besides, a splash of brandy can also be added to help these yummy cookies have a bright color. If you want your cookies more crunchy, cut your dough into small balls and bake them longer.
Peppernut cookies are ideal for serving on holiday time. You can see this video to know more:
Cinnamon star cookies are a traditional cookie for holidays in Germany, like Christmas. These stunning cookies are super easy to make, but you have to be patient in making their unique frosting.
These cinnamon star cookies are not as crunchy as other cookies since they are chewy, so don't expect them to harden completely. In this recipe, you had better use ground almonds instead of almond four to retain the sticky texture of your dough.
These Springerle cookies look so elegant, beautiful, and lovely. They are an ideal gift to send to your friends and family on holidays or any special occasion. In every bite, you will feel the crunchiness and a bit of chewiness in the center.
These delicious cookies are also straightforward to make with stable ingredients on hand, but you must have patience since making these cookies will require some techniques to reach the best look, flavor, and texture.
After taking your cookies out of the oven and cooling them, you still have to wait and be patient since they should be kept to soften in an airtight container for at least two weeks before serving.
Lebkuchen is one of the most prominent German Christmas cookies that cannot be refused as they are scrumptious, soft, and moist. These cookies are packed with flavorful spices, candied fruit peels, and nuts.
The wonderful thing is that these cookies can be kept for weeks before Christmas, and they still stay moist and fresh provided that you keep them in an airtight container in a dry and cool place.
These tasty Lebkuchen cookies should be on your table on Christmas. You can see this video to know more:
Delightful Ice Creams For Your Astonishing German Desserts
Have you ever tried German ice creams yet? Fortunately, you don't need to visit Germany to enjoy these impressive ice cream desserts since you can make them at home. Let's follow these recipes and learn how to make them.
Spaghetti ice cream is a prevalent German ice cream filled with strawberry sauce. This spaghetti ice cream has an amazing appearance, like spaghetti noodles. With this fun look, I am sure that your kids will love them too much.
Are you looking for an exciting and delicious dessert? Don't find any more since spaghetti ice cream is the answer. After adding strawberry sauce to your ice cream, top it with shredded white chocolate or coconut to make it look like a plate of spaghetti with shredded cheese on top.
This to-die-for German chocolate ice cream pie or cake is loaded with a butter pie crust or chocolate cookie crust, filled with chocolate ice cream and topped with roasted pecans and coconut flakes, or a classic coconut pecan frosting.
This recipe is not hard to make, but it includes many steps that require your patience. The result will be worth it as this ice cream is seriously good.
This German black forest ice cream is a no-churn ice cream made from vanilla extract, sweetened condensed milk, and whipping cream. You can also add mascarpone cheese to make the whipping cream stable.
After preparing the whipped cream mixture, add chopped chocolate and cherries and fold in carefully. Cover your mixture with plastic wrap and foil or a lid. Then, you should freeze your ice cream overnight, or if you cannot wait for more, freeze it for at least four hours.
3 Mind-blowing Ideas For German Pudding Desserts
Puddings also play an essential role in creating diversity for German desserts. Finishing your meal with these out-of-sight German desserts will be your right choice. Let's check it out.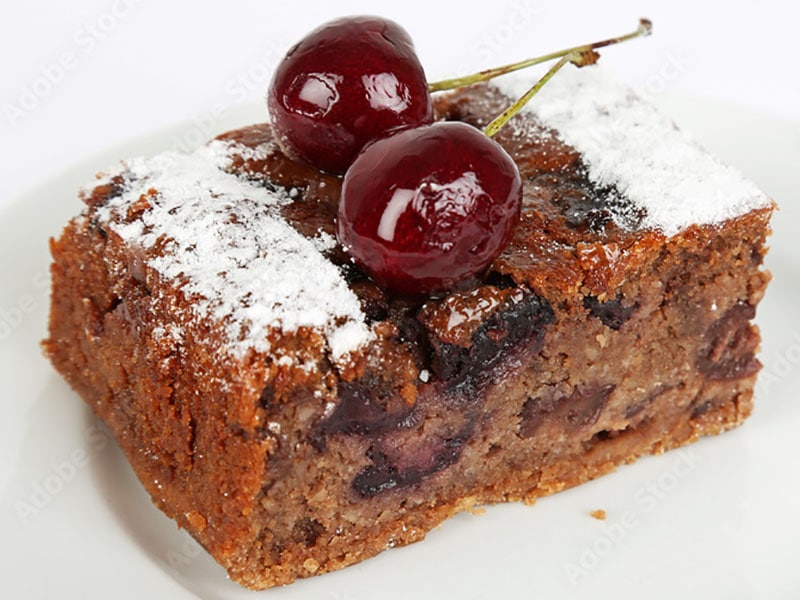 This Kirschenmichel bread pudding is filled with tangy bread pudding and sweet cherries, flavored with cinnamon and butter. Unlike other bread-based desserts, this Kirschenmichel is firmer and less soggy, but it still retains the juicy texture of a delicious pudding.
You can use Kirsch liqueur and cloves in your pudding to make it more flavorful. After adding cherries and placing your mixture in the springform pan, you should bake it for about 40 – 50 minutes until the top turns brown. Then let your cake cool before serving.
German rice pudding is a favorite German dish that you can find in grocery stores in Germany. But you can make this incredible dish at home easily. This rich and creamy dessert is made of rice and other simple ingredients like cinnamon and sugar.
This scrumptious German rice pudding might not sound impressive, but you will change your mind after trying this versatile dish. It can be served as a snack, dessert, or breakfast. Moreover, it will be a tasty dinner or lunch when you enjoy it with applesauce or fruit compote.
Rice pudding is a traditional German dessert that you can make at home. You can see this video to know more:
If you are looking for a no-bake German dessert with berries, this German red berry pudding is the best option for you. This fabulous pudding dessert can be made with effort in 10-15 minutes. It tastes so good, fruity, and refreshing that no one can resist.
With fresh berries, cold heavy cream, vanilla ice cream, or whipped cream on top, this German red berry pudding is worth giving a try. Your duty is to simmer red berries with sugar, corn starch, and juice or water. Place it in a serving bowl and top with your favorite toppings.
Other Easy But Distinctive Sweet Treats For German Desserts
Keep reading to know what else you can serve as impressive desserts. These ideas below will give you six options for German desserts. They are sure to satisfy your expectations.
Unlike other custard flans, this traditional German fruit flan is a rimmed and moist sponge cake with a tangy citrus flavor. This delicious dessert is filled with fresh fruits like sweet berries, apples, grapes, plums, peaches, kiwis, and other fruits, depending on your choice.
After completing the baking step, now it's time to decorate your fruit flan based on your creation. When you've done decorating, you should seal your flan with a jelly glaze to make it shine and bring it to the fridge for about 30 minutes to have a more refreshing feeling when eating it.
This German fruit flan will be a highlight for your party. You can see this video to know more:
German plum dumplings are made with yeast dough, filled with plums or apricots, rolled in the breadcrumb mixture, and topped with powdered sugar or cinnamon sugar. These palatable plum desserts will be a superb option for your tasty dessert, snack, or even main dish for lunch.
Make sure that you use starchy potatoes to make the dough hold together and not result in a mushy puree. Serve the finished dumplings with sour cream yogurt, vanilla ice cream, or plum compote to have an excellent dessert for your whole family.
This apple strudel is loaded with tart apples, cinnamon sugar, and a crunchy crust. Apple strudel is an ideal fall sweet treat or an amazing breakfast with warm coffee. This recipe is suitable even for a busy mom, and it can be made ahead of time.
This apple strudel tastes buttery, sweet, and decadent from rich, juicy apples surrounded by layers of flaky pastry. You can add lemon to the apple slices to prevent the apples from turning brown.
Berliner donuts are an unforgettable German donut made of sweet yeast dough and fried in oil. These donuts are filled with your favorite jam like apricot, plum, strawberry, or even chocolate. Unlike American donuts, these amazing donuts have no central hole and are so soft, fluffy.
Top your donuts with powdered sugar to make it a perfect sweet treat on Halloween or any holiday. This recipe calls for whole milk, but you can swap for rice milk or almond milk for your preference.
In addition, you can use any oil on hand to fry these donuts. Canola oil or sunflower oil works well and gets the same result.
Berliner donuts will let you stand in Germany and feel the culture of this country. You can see this video to know more:
These German quark balls are rolled in cinnamon sugar and don't force you to use yeast dough. Instead, you can use a simple batter to make these balls. These quack balls don't have the filling, but they taste so good, slightly crisp on the outside and tender, fluffy inside.
The use of these German quack balls is really versatile. It is ideal for serving them as a snack, dessert, or even a special breakfast. You can serve them with your favorite dipping sauce. Apple sauce, melted chocolate, or caramel sauce are great suggestions for you.
German almond-filled stollen is a traditional Christmas specialty in Germany. The dough of this German stollen is mixed with currants or raisins, candied fruit, almonds and coated with a drizzle of rum or brandy. Then, let the alcohol absorb the fruit mixture while the dough rises.
After baking the stollen, brush melted butter on your stollen while it is still warm. Then, add powdered sugar immediately to the top of your stollen. Almond-filled stollen can be kept for up to two weeks in a cool place and frozen for long-term storage.
Let's Enjoy These German Desserts To Feel Like You're In Germany
Each kind of German dessert has its own unique flavor, but these recipes are the most popular and delicious desserts in Germany that I helped you choose for some new twists in your following desserts.
Fun treats like spaghetti ice cream, quark balls, and Berliner donuts are excellent suggestions for your fancy and happy desserts next weekend. Why don't you discover German history and culture through their cuisines?
That's a creative idea since each German dessert has a signature taste and reflects the culture of this beautiful country. These scrumptious desserts can be enjoyed all time of the year, even Christmas cookies. Let's opt for your favorite German desserts and make them tonight.
I believe that these German desserts helped you broaden your dessert menu. Should you have any new ideas about German desserts or you want to share your thoughts, don't hesitate to comment below to let me know.
Nutrition Facts
16 servings per container
---
Amount Per ServingCalories90
% Daily Value *
Total Fat 4.3g

7

%
Cholesterol 34mg

12

%
Sodium 78mg

4

%
Potassium 91mg

3

%
Total Carbohydrate 11.7g

4

%

Dietary Fiber 0.5g

2

%
Sugars 4.4g

Protein 1.5g

3

%
---
Calcium

24

%
Iron

1

%
Vitamin D

4

%
* The % Daily Value tells you how much a nutrient in a serving of food contributes to a daily diet. 2,000 calories a day is used for general nutrition advice.