Let's enjoy the excellent and fun football match with the easy game day appetizers in this article. Learning these recipes is an effective way to diversify your cookbook for these fun days or special occasions.
What are you waiting for? Go to the kitchen and make these delicious dishes immediately! I guarantee their simplicity will allow you to complete them efficiently without too much effort. Read on and find out!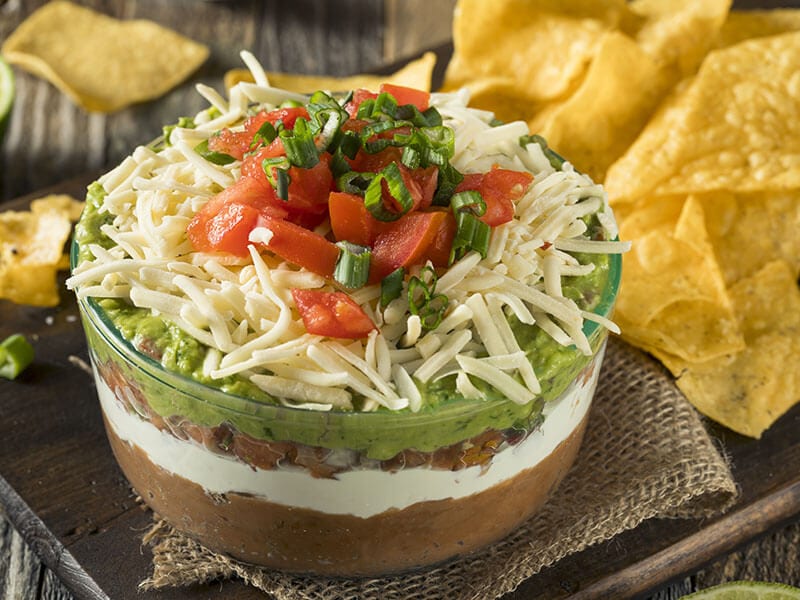 The List Of Wonderful Starters For Fun Game Days
Suppose you are about to participate in a game day, in this case, you can refer to these unique and delectable appetizers to stimulate your taste buds before coming to the other yummy main courses.
Total time: About 45 minutes
It is a fantastic experience to kick off a game day with crispy and rich Philly cheesesteak egg rolls. Preparing the dish with an air fryer will save cooking time and money, and the flavor will not disappoint you.
This yummy steak appetizer has the irresistible crispiness of egg roll wrappers, the meaty, rich taste of beef steak, and the cheesy touch of provolone cheese. Still, it will be a big mistake to leave out the sea of flavors coming from strong spices, especially garlic powder.
To roll it properly, let's place the wrapper on the flat location, fill it with meat blend and cheese on top. Roll the wrapper from the bottom corner and fold the rolls. Add a little water on the top corner to fix the roll.
Let's discover how to make delicious Philly cheesesteak egg rolls right now.
Total time: About 10 minutes
Guacamole is a traditional avocado-based dip in Mexican cuisine. Also, it is common in the United States and other regions worldwide. Nutritionwise, it is a high source of dietary fiber, vitamin A, E, B, and potassium.
Aside from the ripe avocado, this dip contains tomatoes, white onions, lime juice, and ground black pepper. The combination results in a citrusy, savory, and creamy dip to start a game day effectively.
Fun facts: National Guacamole Day is on September 16.
Total time: About 25 minutes
You can create a culinary masterpiece of a crab-based appetizer when you combine mayo, cheese, crab, and cream cheese in the same bowl. The thing that makes you remember this dish forever is the creamy cheese texture with the exquisite and unique flavor of the crab.
You are free to prepare the dip beforehand and store it in the refrigerator until you would like to use it. Instead of using canned crab meat, you can upgrade the mouthwatering dish with fresh crab meat.
When making this wonderful recipe, you do not need to worry about measuring the ingredients. You can add lots of crabs if you like a dip with an intense flavor.
Total time: About 45 minutes
Perhaps, you are no stranger to mushrooms as a culinary ingredient anymore. Today, I'll show you how to mix this meaty veggie with cream cheese, Italian sausage, grated parmesan, and gouda cheese to create a fantastic mushroom appetizer.
It looks neat when cheese and sausage are stuffed inside mushrooms. I usually prefer cremini and button mushrooms for this recipe to make stuffing easier. You should not skip cleaning and drying mushroom parts before making the dish.
Before stuffing them, you have to precook the mushrooms to remove the excess moisture. For the best result, I love to consume this excellent and tasty food with jalapeno popper pinwheel and crab rangoon.
Explore the directions to get excellent sausage stuffed mushrooms.
Total time: About 30 minutes
It's time to enjoy the fun of the game day with family members with the mouthwatering ham and cheese Hawaiian roll sliders. In addition, it can act as a tasty finger food for Luau as well.
You must prepare Hawaiian rolls, melted Havarti cheese, peppery ham, and onion-poppy seed sauce to make this treat. After around 30 minutes in the kitchen, you'll have a savory and buttery starter for game day.
It is better to bake the bread with metal or glass casserole dishes. These options will make your post-baking cleaning process simpler and faster.
Total time: About 1 hour 10 minutes
In case you are already familiar with potato chips at game day, why don't you try something new with baked popcorn chicken? In this delicious chicken appetizer idea, I'll make use of potato chips on hand to create a crispy crust with an eye-catching shade.
The tender chicken will become richer with the addition of low-fat buttermilk. Not only that, you can feel the warmth of the dish from oregano, basil, cayenne pepper, and thyme. Do not forget to beautify it with parsley.
Total time: About 30 minutes
One of the delicious and well-known bread recipes you must try once in your life is cheese and garlic crack bread. It has many similarities with pull-apart bread. Besides the garlicky taste, it gets the stretchy touch of mozzarella cheese.
Usually, I will cut the bread into diamond-shaped pieces so guests can easily tear them into bite-sized pieces to consume. It does not matter to bake the bread in advance and microwave it when the game day starts if you opt for crusty sourdough.
In case you would like to make this excellent food beforehand, you can use the sourdough. This element can get the crusty texture when you bake it. In particular, it still keeps the original consistency as you reheat the treat.
Total time: About 25 minutes
Are you finding a delicious dip like buffalo chicken dip on game day? This dip is the ideal suggestion you should consider since its smooth and creamy texture can please your taste buds.
If you are following a healthy and low-carb diet, you should make this yummy food right now. For variations, blue cheese is a perfect substitute for cheddar or mozzarella cheese. Don't forget to serve it with carrots, tortilla chips, crackers, and celery.
Here is one of the best ways to create buffalo chicken dip.
Total time: About 25 minutes
Loaded sheet pan beef nachos are an indispensable game day food in my cookbook. Are you wondering what I will put in the sheet pan? Melted cheese, red onions, jalapenos, and sour cream are the critical components of this delicious treat.
To enhance the dish's flavor, add taco seasoning to this recipe. Aside from ground beef, feel free to make this delicacy with ground pork or shredded chicken. Before serving, let's top it with salsa, sour cream, and jalapeno sour cream.
Total time: About 25 minutes
This outstanding food is loaded with bacon, cheese, ranch, and chicken. They will be wrapped in a tender and warm crescent dough. Besides the fascinating flavor, the gorgeous dark golden can captivate you in no time.
The first step is to mix chicken, cheese, and spices to create a well-combined mixture. Place the mix on the rolled dough and roll it. Keep the roll in a plastic wrap and store in the fridge for about 30 minutes. Finally, cut the roll into slices and bake them.
When biting it, the crispy outside and cheesy inside can melt your heart. For a better dining experience, I usually top the pinwheels with bacon crumbles and shredded cheddar cheese. It is the best companion with a green salad for a memorable meal.
Total time: About 40 minutes
Bacon-wrapped tater tot bombs recipe is my best-loved bacon appetizer on game day. At first sight, the fantastic golden-brown shade can catch your eyes immediately. This dish has a savory and lightly sweet flavor with the presence of brown sugar.
The soft and meaty bacon will blend well with cheddar cheese's pungent flavor. To enjoy the high-quality dish, you should consume it immediately after baking. Typically, I add parsley to accentuate the look of this treat.
Total time: 20 minutes
The cheesy Qdoba Queso is an ideal choice to enjoy with crispy tortilla chips. This delectable Mexican food is a collection of 3 different kinds of cheese, namely cheddar, American, and Monterey Jack cheese.
The smooth and creamy consistency of this treat is also created by heavy cream. You will be impressed with this treat's characteristic spicy and smoky flavor, thanks to the ground black pepper and chili pepper.
It's best to grate cheese by yourself to give this dish the smoothest texture. You can enhance the flavor by adding herbs, meat, and spices. I recommend cooking the dish on low heat for the best consistency.
Total time: About 35 minutes
Do you have an intense passion for egg-based delight? Deviled eggs recipe is one of the best suggestions I want to mention in this game day appetizers list. This treat is suitable for beginners due to its easy-to-find ingredients and simple preparations.
All components you must prepare to have a delicious starter are apple cider vinegar, mayo, mustard, and other seasonings. Furthermore, the appearance of paprika raises the heat of this fantastic food.
Apart from the mayonnaise, you can create this yummy treat with plain Greek yogurt for a healthier recipe. On the other hand, you can try any suitable method to get hard-boiled eggs, but boiling is my top suggestion.
Follow these tutorials if you want to enjoy yummy deviled eggs.
Total time: About 25 minutes
A delicious finger food I would like to show in this list is air fryer pizza rolls. Rolls are satisfactory when they have a crispy exterior and fluffy interior. Plus, this yummy pizza starter is flavored with mozzarella cheese, fresh basil, and marinara sauce.
Baking them in an air fryer gives the recipe an appealing golden-brown color. Before baking the roll, you should pinch the pizza's bottom to prevent the cheese and sauce from leaking. And please note that parchment paper is an indispensable tool when baking pizza rolls.
It is acceptable to add ham, pepperoni, or turkey to this recipe. Besides serving it as an appetizer, you can also consume it as a breakfast or snack.
Total time: About 5 minutes
Hormel chili cheese dip is a product of 3 essential ingredients, including cream cheese, chili, and shredded cheddar cheese. Moreover, you can use red onion, diced avocado, or hot sauce to enhance the aesthetic and heat of the dish.
The first thing you remember about this dish when you see it is the beautiful and harmonious color of yellow, white, red, and green. The combination creates a balanced and eye-catching appearance that you can hardly refuse to consume the dip.
What's more, you will be speechless when you enjoy its smooth, soft, creamy chili dip. It even tastes better when served with tortilla chips, crackers, mini peppers, and cucumber slices.
Total time: About 1 hour 20 minutes
I love to start a game-day meal with the crispy oven-baked potato skins. Making this dish is one of the greatest ways to turn russet potatoes into a delicacy. The colorful look makes you want to consume it more and more.
When you look at this fantastic food, you can imagine wooden boats carrying bacon, cheese, and other spices. You can dive into these treats' savory, creamy, and cheesy taste.
Before serving, I often add sour cream, chives, and green onions on top to make them look more appealing. However, please take note that you must give the baking sheet a layer of cooking spray to keep it from sticking while baking.
Total time: About 4 hours 30 minutes
Buffalo chicken wings are the best-loved slow cooker appetizer for die-hard football fans. The tender and rich chicken wings will be an excellent choice to entertain your stomach during the match. In addition, I love the gorgeous golden-brown shade of this dish.
This treat tastes more delectable with the addition of melted butter and garlic powder. And the buffalo wing sauce is the soul of this fantastic dish. You should use the remaining sauce to brush on the surface of the wings to bring the light juiciness.
Fresh, thawed, and frozen wings all go well in this simple recipe. For a more fabulous sensation while consuming, you should eat this finger food with veggies, blue cheese, or ranch dressing.
Total time: About 8 minutes
Air fryer jalapeno poppers are a great appetizer, or play as a flavorful treat to consume with succulent scallops for a fulfilling course. It will make your game day more enjoyable and memorable, thanks to the beautiful colors and light crunch of the breadcrumbs on top.
You'll fall in love with the cheesy and creamy ranch filling stuffed inside spicy jalapenos. If you are not into spicy food, don't worry because you can remove all the chili seeds when making this dish.
Nonetheless, you should wear gloves while discarding the seeds to protect your eyes and hands. Remember not to put too much filling in the jalapenos. Furthermore, please feel free to add hot sauce to the delicacy as you wish to enhance the heat.
Let's step into your kitchen and make fantastic jalapeno poppers right now.
Total time: About 30 minutes
If you are looking for a delicious starter for your fun game days, let the cheeseburger sliders kick off your parties effectively. I am sure this wonderful recipe will be suitable to satisfy the hunger of you and your loved ones.
I have a massive passion for golden-brown foods since they look appealing and delicious. And this treat is one of them. It's difficult to forget the tenderness of the roll, the rich taste of ground beef, and the glaze when you take a bite of this food.
In reality, many chefs love to add a bit of buttery touch to dishes with the addition of peanut butter. Alternatively, you can put tomatoes, pickles, or bacon on top of the sliders before consuming them.
Total time: About 20 minutes
The deliciousness of the 7-layer dip makes it worthy of appearing in the list of ideal appetizers for holidays or fun game days. It looks stunning with the colorful shades of cheese, olive, green onions, and other components.
It comprises 7 distinctive layers, including refried beans, guacamole, sour cream, tomatoes, and 3 mentioned components above. You can change it according to your preference. For example, add pickled jalapenos for extra heat.
If you stir the sour cream perfectly, you will have a creamy and spreadable dip. I recommend using Roma tomatoes to keep your dip from becoming soggy as they are low in juice.
Total time: About 20 minutes
You can create a delectable appetizer with mozzarella simply with an air fryer. After about 20 minutes, you'll have mozzarella sticks with their golden-brown hue and the perfect crunch of the breadcrumbs on the outside.
After sublimating with a mesmerizing crunch, you'll come to a layer of cheesy and stretchy mozzarella. This is the moment when this delicacy will steal your soul. It will taste better when you eat it with BBQ sauce, marinara, or comeback sauce.
You need to prepare the mix of eggs and flour. Next, add spices, breadcrumbs, pepper, and garlic powder to another bowl and mix them.
Dip the mozzarella sticks into the combination of egg and flour, and cover them with breadcrumb mixture. Lastly, bake these sticks until they turn to the golden-brown.
Total time: About 40 minutes
The vegan spinach artichoke dip always accompanies me at weekend football matches. I am addicted to its garlicky, tangy, and creamy flavor. Even better, this delicious finger food is good for your health as the ingredients are vegan ones.
The cream consistency of the yummy dip blends perfectly with the crispiness of the chips, so I always enjoy them together. Alternatively, you can try serving it with crackers or crudites or spreading it on a sandwich.
Find out the best instructions to prepare vegan spinach artichoke dip.
Total time: About 15 minutes
When it comes to the fabulous appetizers for a game day, the tasty bacon cheddar football cheese ball is always in my mind first. The smokey, cheesy, garlicky touches of bacon, cheeses, and garlic powder create a contrasting yet balancing taste.
If you want to leave this fantastic dish in the pantry, you should consume all of them in 4 hours. You must place the leftovers in the fridge at this time if you have any. You should prepare pretzels, apple slices, crackers, and veggie sticks to serve with this dish.
In order to prepare this delicacy, first, you should make a smooth blend of cream cheese, green onions, and garlic powder. The next thing you need to do is to form the mixture into balls. Add a layer of bacon and chopped almonds around the balls.
Total time: About 33 minutes
Whenever I crave mozzarella cheese, pepperoni, and pizza sauce, the savory gooey pepperoni pizza dip always comes to mind first. And it is a familiar option on game days to make my taste bud happy while enjoying the excellent football matches.
I recommend enjoying this fantastic dip with toasted bread, pizza rolls, or crackers to increase the dish's value. You can customize it with some toppings like cheeses or Italian sausage.
In case pepperoni is not your favorite, using cooked sausage ham, turkey pepperoni, or chicken is also an ideal solution. Plus, it's simple to turn it into a vegan dip if you omit the pepperoni and add your best-loved veggies.
Total time: About 31 minutes
I guarantee you would like to make these cranberry sauce meatballs again and again after the first try because this fantastic treat's tangy and sweet taste will tickle the tip of your tongue immediately.
You will have softer and richer meatballs if you use a slow cooker to make this dish. There is no problem with making the dish ahead of time and using it later. You just need to reheat the delicacy when you are ready to enjoy them.
The cranberry sauce is the heart of the dish as it adds juiciness and appealing flavor to the dish. It's a mix of orange juice, chili sauce, cranberry sauce, and honey in a saucepan on medium heat for the best texture and taste.
Total time: About 1 hour 10 minutes
Why don't you start your gathering with creamy, flavorful, and crispy pick dip pinwheels? To make this wonderful delicacy, cream cheese, diced pickles, and sliced ham are the indispensable things that you should prepare.
After cutting the ham and pickles, you'll mix them with beaten cream cheese. Pour this mixture over the tortillas and roll them up carefully. After chilling the roll in the fridge for about 1 hour, you should dice it into small rounds for serving.
Total time: About 1 hour 50 minutes
Soft pretzel is an edible knot with eye-catching golden-brown color and a fluffy texture. You will fall in love with salty, buttery, and sweet flavors when you take a bite. It often appears as an appetizer, snack, or side dish.
For other experiences, do not hesitate to add cinnamon, grated cheese, or ranch seasoning to this wonderful recipe. I highly recommend boiling the fresh pretzel with baking soda to bring the chewy inside and crispy outside.
Dipping sauce also plays an essential role in the deliciousness of this food. You can opt for cheese dip, spinach dip, honey mustard, or yellow mustard to elevate the taste of the recipe.
What Do You Think About These Game Day Appetizers?
Perfect appetizers can make your game day more exciting, so you should not miss any idea in this post because you might regret it later. Indeed, the simplicity of these recipes allows you to finish them in a short time. Let's spend a little time making them!
Lastly, it would be a huge support for me if you click like or share this helpful post with many other people to introduce various excellent dishes to them. Thanks for your time and good luck!